Date of Exploration :
23 - 27 Aug 2013
Crowded with posh restaurants, local
warungs
and fast-food chains competing for the wandering appetite, every palate gets to be whetted along the colourful Jalan Pantai Kuta (Kuta Beach Road). From Japanese sushi bars to American diners to traditional Indonesian favourites, deciding on something to eat can actually be quite a daunting task.
Out one night searching for a place for dinner, I wanted to try the tempting streetside local fare but had second thoughts about hygiene standards (my tummy is especially sensitive to food poisoning when overseas). Something safe and trusted would be the familiar fast-food chains, but I can have them at home. So that trimmed my search down to those swanky eats offering fusion experiments. But these restaurants usually have me paying more for presentation rather than serving size. No deal.
The dilemma of my hunger made for a long walk which eventually ended at KFC. As I bit into the very salty pieces of chicken (they tasted much saltier than in Singapore), I chided myself for not taking my dinner at
Sheraton Bali Kuta Resort
's Feast restaurant. Having had breakfasts, a lunch and a Sunday brunch there, I wanted to venture out to try something different but realised on hindsight that Feast already has all that I'm looking for - creativity, variety, authentic tastes, great value and good location!
Time to Loosen the Belt Buckle
A multi-cuisine concept that brings together nom noms from different continents and best-loved Balinese dishes in an extensive buffet spread and à la carte menu, Feast is reinventing the dining experience with a dash of playfulness in its décor and one-of-a-kind Sunday Market Brunch at Kuta.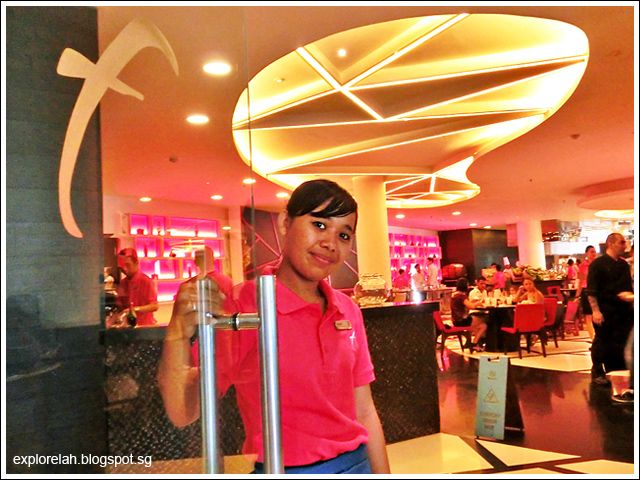 Step into a Feast for the eyes with the unusual choice of hot pink for its identifying colour and energetic star-lines motifs. It's like walking into a disco club that serves food.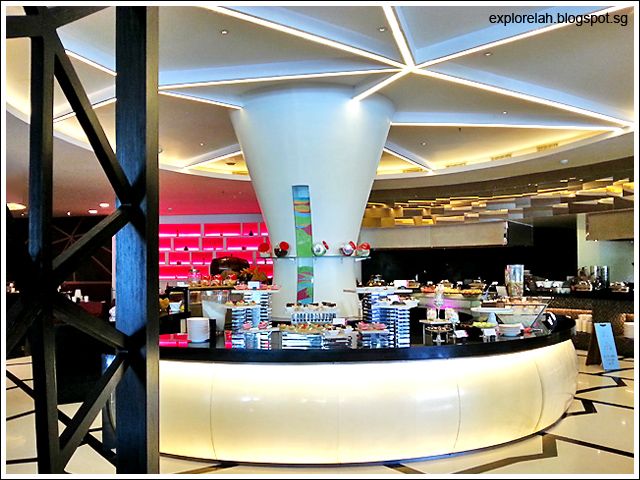 The bold lines and colour scheme are refreshing and somehow worked in Feast's favour.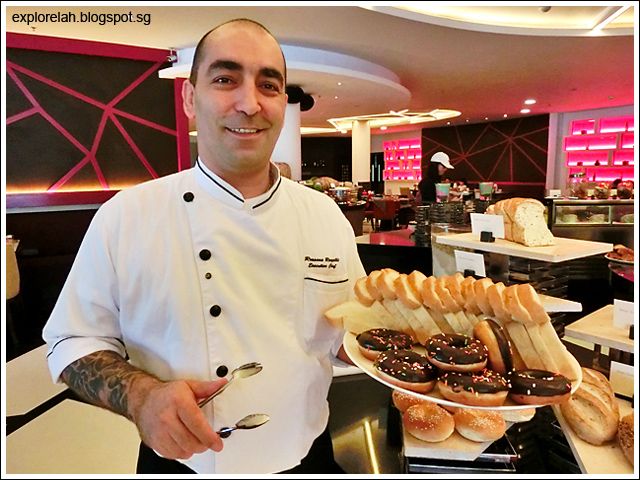 Rossano Renzelli, the resort's Executive Chef is ever ready to serve up a delectable meal at Feast and Bene (an Italian restaurant also in Sheraton Bali Kuta) or a smile. And check out those cool tatts on his right arm!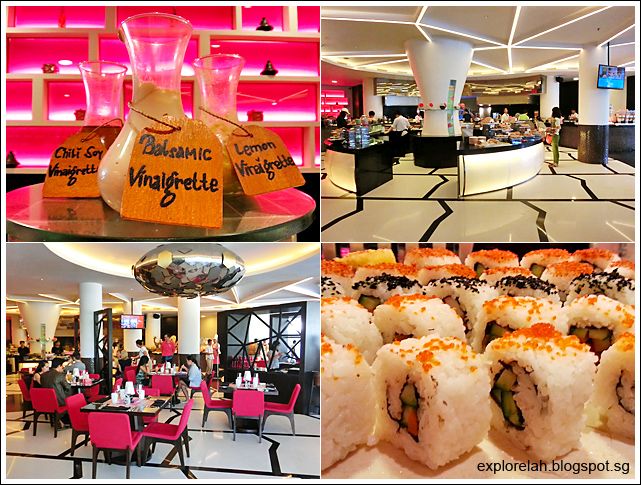 The buffet at Feast is an extensive spread that covers all kinds of gastronomical fancy both savoury and sweet. There's a salad station, sushi and sashimi bar, Western grill, Middle Eastern section, Asian section, dessert carousel... just to name a few.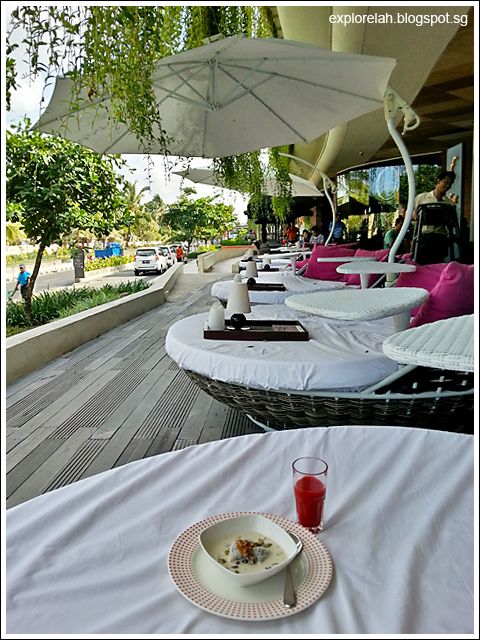 The main furnishing highlight at Feast for me are these generous sunbeds on a patio facing the Kuta avenue. Great for chilling out and people watching. Or be watched. I enjoyed a breakfast here while watching the street come alive.
Sip, Savour and Shop at Feast Market Brunch
Feast serves breakfast, lunch and dinner daily but come Sunday, the dining venue puts together a unique brunch experience like no other I've been to before.
Happening every Sunday from 12 - 3pm, the Market Brunch features close to 20 'live' cooking stations with ingredients fresh from the farm to table. And if you like something you tasted, for example a bottle of wine or a cut of meat, you can purchase the produce much like shopping in a market!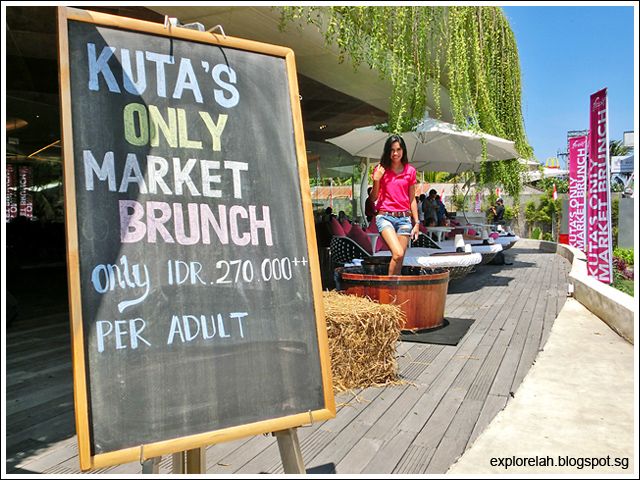 The brunch is very well-priced at Rp270,000 (S$30) for the variety and high quality of food being served. And you can top-up to include a free-flow of wine and champagne.
Feast's Sunday Market Brunch also comes with a number of interactive stations such as this where diners can get a leg in on the wine making process. There are buckets for washing and towels to dry the feet after squishing around so too bad if you wish to have drunks kissing the ground you walk on.
My glass is not empty. It is full of the live-band's jazzy chords that entertained guests with breezy renditions of favourite hits.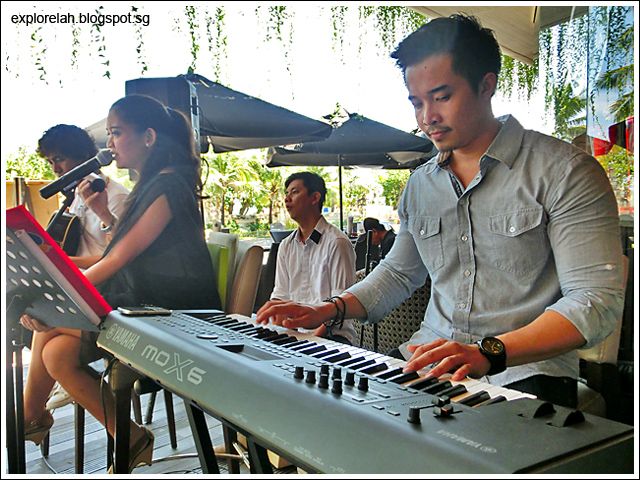 Good food, fine wine, and chill-out live music... I wished the brunch wasn't only 3 hours!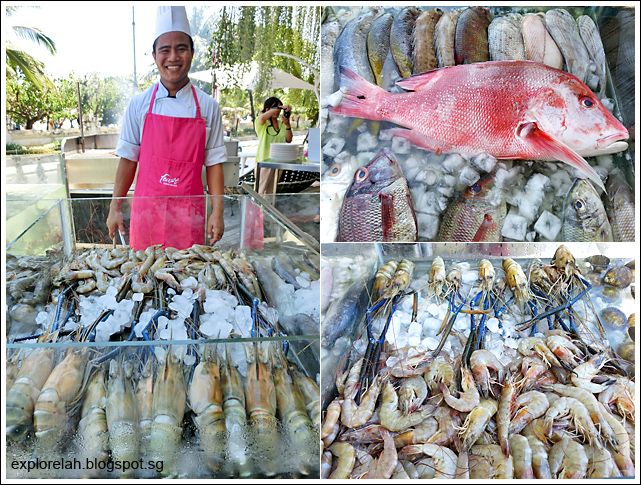 Quite possibly my favourite station at the Market Brunch because I'm a seafood fan fanatic! The swimmers all looked so fresh and plump!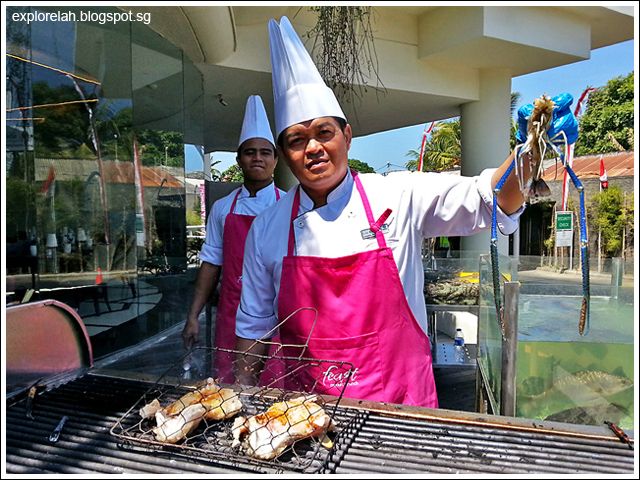 Check out the size of the prawn! Yup... that's going onto my plate...
... and into my stomach. Had this BBQed monster of a river prawn and a fish all prepared on-the-spot at the outdoor cooking station. Juicily fresh and succulent seafood infused with a smoky flavour... I shan't describe anymore because I'm getting very hungry just reminiscing the gorgeous taste!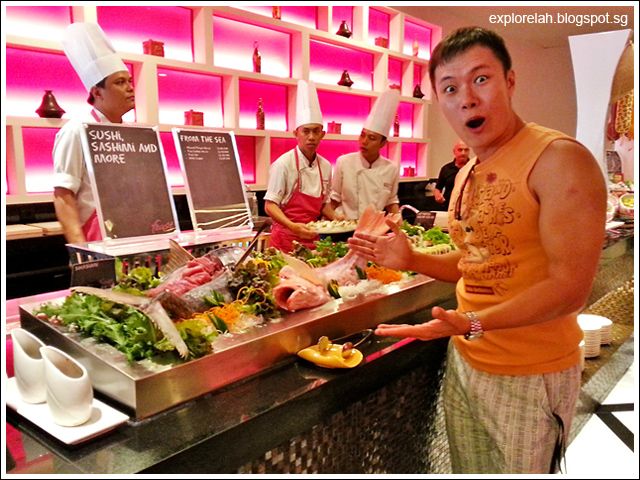 I love sashimi and this is the first time I see the carved out meat served on the fish (tuna and snapper)! I was really surprised by the presentation and avoided looking into the eyes of the fish as I picked their flesh.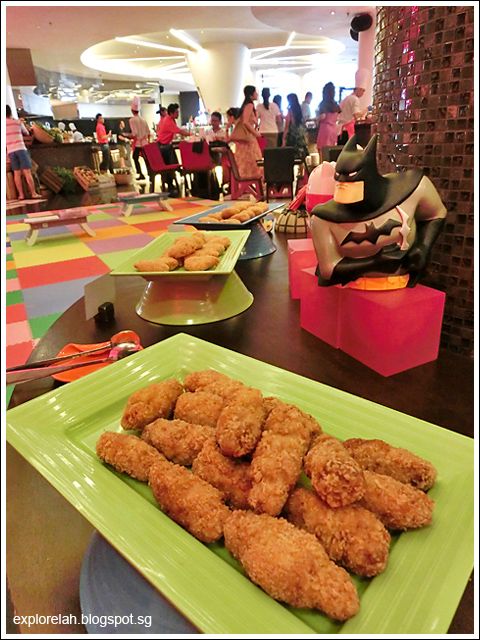 Another I've not seen before at a buffet restaurant is a section dedicated for the kids with a spread of party finger foods.
Low furniture and a play space in a restaurant with a male nanny? Feast sure has something for the whole family to enjoy.
Toys, games and handicraft keep the little ones busy while parents wine and dine.
Depending on the fresh produce that are in season, the buffet spread changes along with the groceries on sale.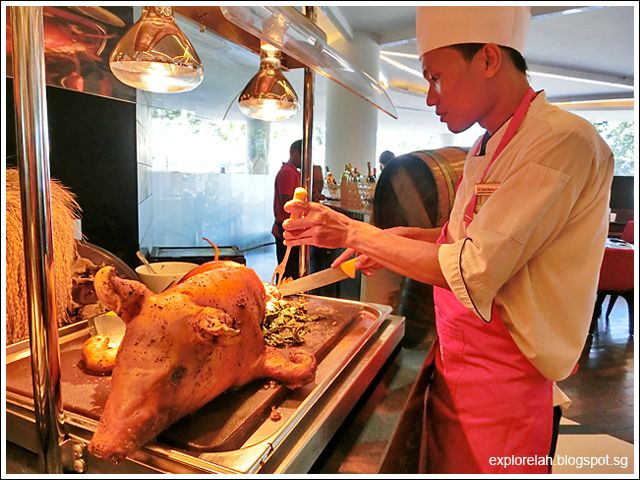 The must-eat when in Bali... Babi Guling (suckling pig)!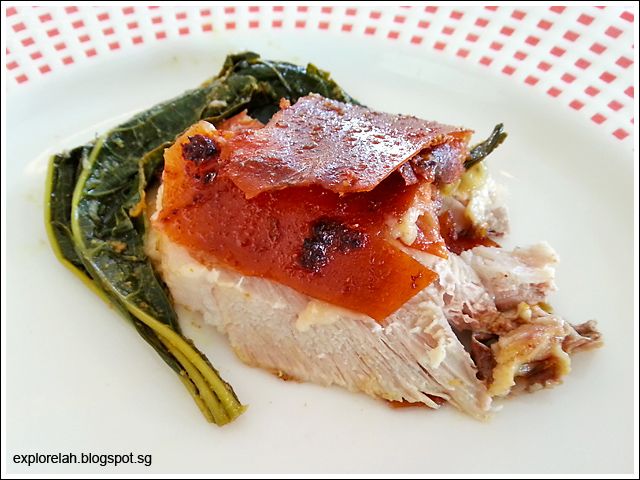 Crispy skin and soft meat... I went back for seconds but the next serving I got had quite a bit of stray hairs still on the skin. So check before you chow down.
Apart from Babi Guling, the Market Brunch has a collection of exotic tastes such as fine Italian cheeses, gourmet sausages, wines of local vintages, delicious grilled meats, unusual chocolates, and delightful desserts.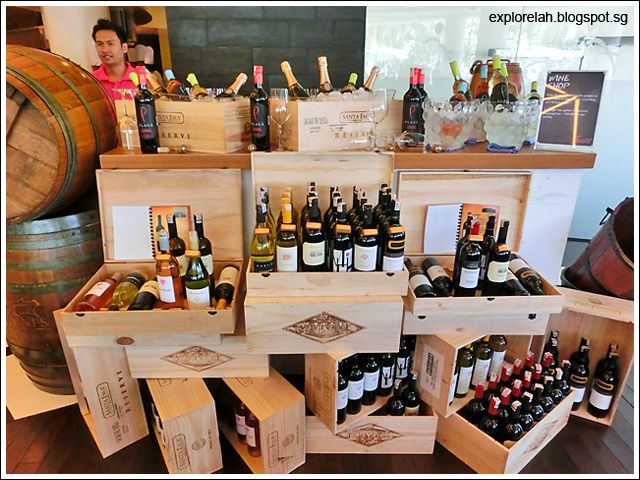 Like something you sipped at the wine buffet? Look for the label and purchase the bottle.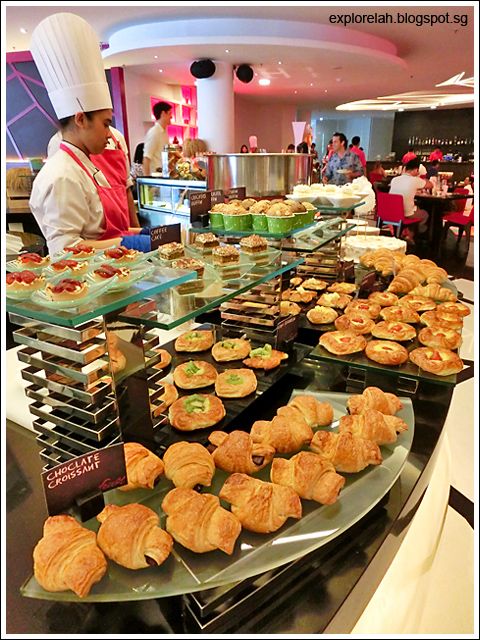 The sweets occupy the central island in Feast, making it hard to resist the sugary temptations.
In addition to Western confects, local Indonesian desserts make a delectable showing at the Market Brunch as well. Feast is the best place to sample Bali and beyond all within one fuschia-hued hall!
I rounded my Market Brunch with these curiously named chocolates. Chilli kiss tasted spicy and Sea Salt Caramel was salty! It's the first time I tasted a salty chocolate. These chocolates are made from cocoa grown organically on Bali island. Nice!
Here with Muiee (an exceptional and meticulous travel blogger friend) enjoying a toast to a truly unique Feast!
For a sumptuous taste of Bali and the world with some creative twists and turns, Feast is definitely a great place to come to for a meal or chill on the welcoming daybeds. And if you get to spend a Sunday in Bali, don't miss checking out the Market Brunch that let's you sip, savour and shop to your heart's (and belly's) content!
Market Brunch
- Rp270,000++ (Adult), Rp135,000++ (Child)
Breakfast Buffet
(Daily) - Rp200,000++ (Adult), Rp100,000++ (Child)
Dinner Buffet
(Daily) - Rp250,000++ (Adult), Rp125,000++ (Child)
À

la carte
menu also available for lunch and dinner starting from Rp70,000
All prices are subjected to 21% government tax and service charge.
Feast by Sheraton Bali Kuta Resort
Address :
Jalan Pantai Kuta, Bali 80361, Indonesia
Contact :
(62) (361) 846 5555
Website :
sheratonbalikuta.com/feast
and
sheratonbalikuta.com/market-brunch
Facebook :
facebook.com/SheratonBaliKutaResort