Date of Exploration :
30 May - 2 Jun 2013
The once sleepy Johorian town of Batu Pahat and I go back a long way. Sixteen years to be exact. That's when I made the acquaintance of someone who later turned out to be one of my most enduring friends. He's from Batu Pahat and through him and his parents, I learnt of the town's simple charms and idyllic allures.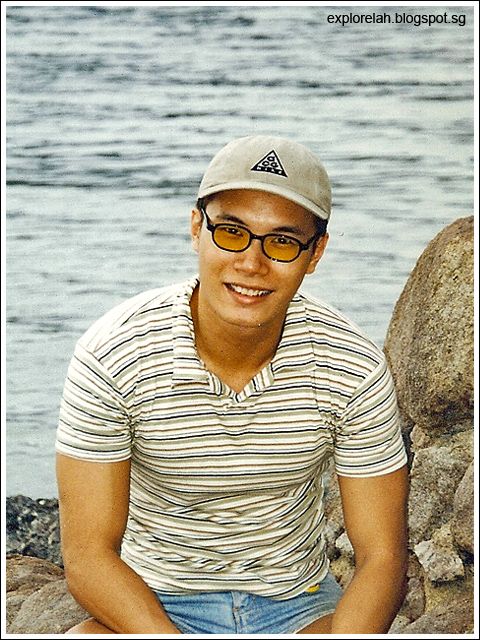 My first trip to Batu Pahat on 27 Jun 1997. Tinted glasses and short, short cut jeans were all the rage then.
But Batu Pahat and I also have a bittersweet relationship. After my parents' divorce, my birth father came to Batu Pahat and started a business as well as another family. Our father-son connection had always been estranged and we seldom kept in touch. Then in 2005, Chinese New Year got us to meet at my ah ma's place and maybe because of age, a feeling of kinship was rekindled. Since then, I've visited him and his new family a couple of times until 2007 when he passed on. His ashes are still somewhere in Batu Pahat. I didn't get to say goodbye and I've not attempted to reclaim his remains because I think his family in Batu Pahat needed a memory of him more than I did.
This trip to Batu Pahat, I wasn't there to look for my late father's urn or for vacation. Instead, I was there to be with my friend as his father's health was in critical condition.
Perhaps it's because I didn't get to bid my own father farewell that I felt so strongly about what my friend was going through.
I know there's nothing much I can do, but I hope my presence can provide some moral support in whatever small way.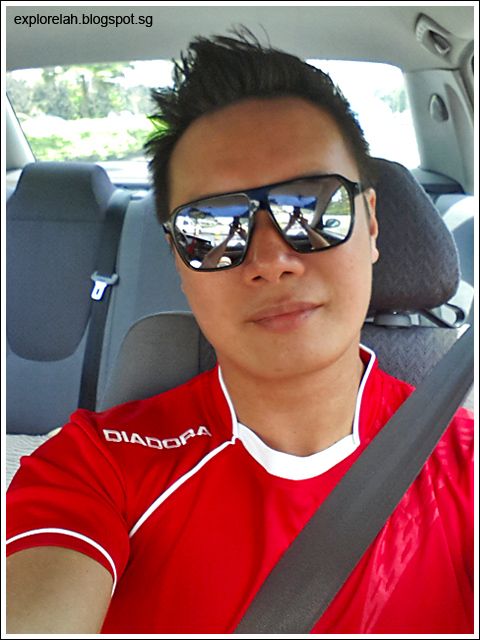 A convenient way to get to Batu Pahat is via door-to-door transport operated by private car owners. One way is RM60 per person and the journey takes about 2 hours.
I was prepared for the trip to be emotionally charged, but my friend and his mother were stronger than I thought. There were moments where they broke down, but they were not broken. His parents have been married for more than 50 years and no matter how rational we are, I'm sure the pain of losing a life partner can be unbearable.
Doctors predicted that my friend's father had only a few days left but by the time this post was written, more than a month from the 'deadline', uncle is still doing well and improving! I continue to pray for him and his family and ask for an easy transition when the time comes.
My apologies if this post started off so 'heavy'. This is what Batu Pahat is to me, a place with deeper roots than all other destinations. It is almost like a second home. I may not know it at the back of my hand, but with each visit, I uncover a little more. So here are some impressions I took away with me from this trip...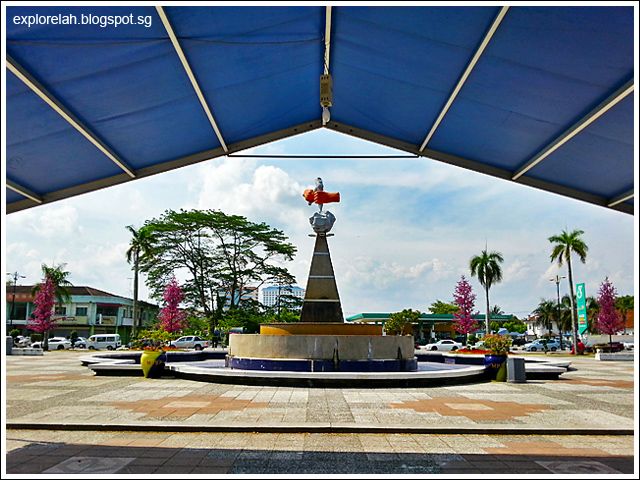 Batu Pahat means "chiseled stone" which was derived either from Siamese troops hacking away rocks in the hope of finding water or the fortress built by Portuguese troops with stones from the town's river.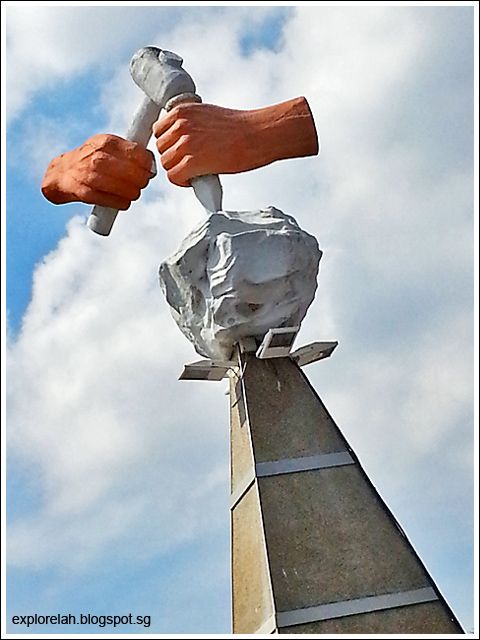 A monument to encapsulate Batu Pahat's namesake is erected in the town square as an iconic tribute but I thought it looks rather unsettling with the 2 hands hanging in mid-air.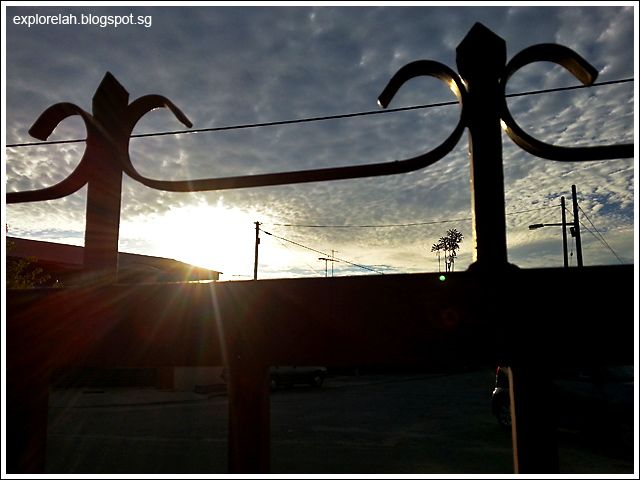 I stayed at my friend's place for the trip. The quiet neighbourhood of landed properties sits not far from some of the more happening spots in Batu Pahat.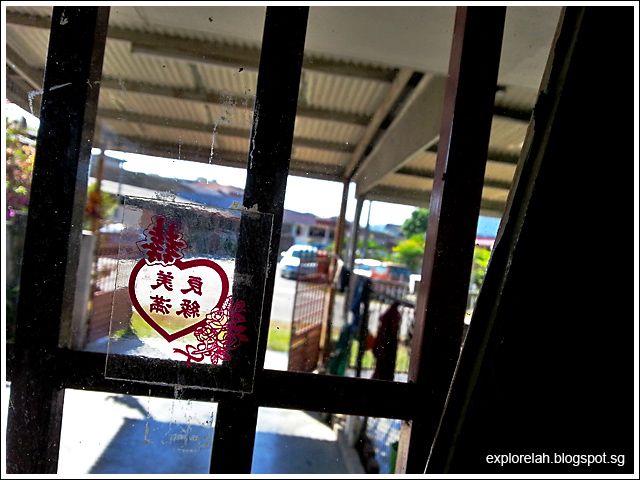 Retro flavour is on overdrive at their house.
There's no room for the shadow of nostalgia as life here is as it was in the yesteryears.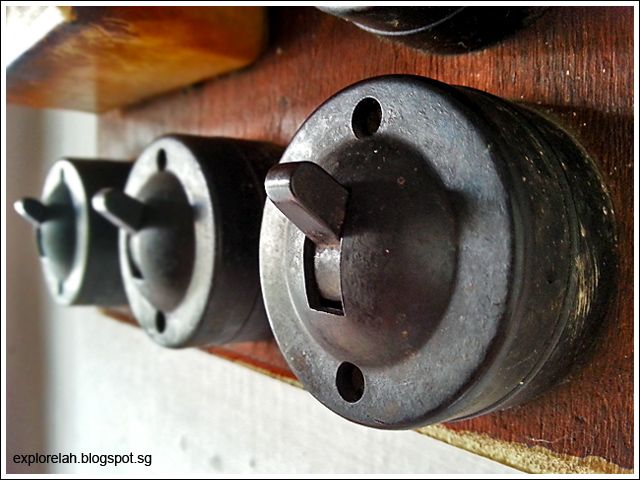 Haven't seen these switches in such a long time!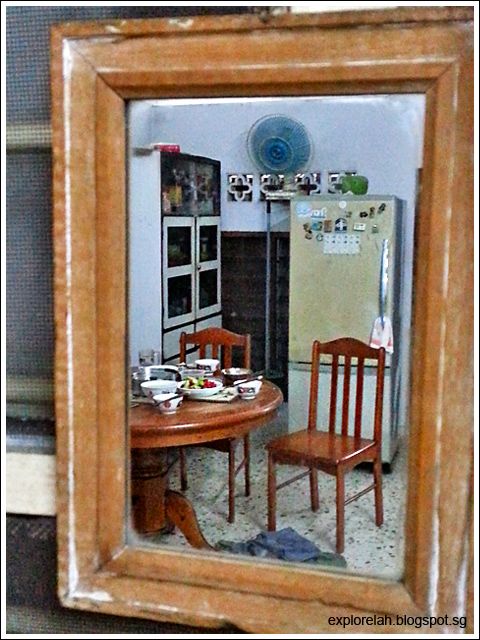 A feast of the past and present. Well, past mostly.
When I was growing up, my ah ma's house had a similar wall well in one of the bathrooms. I always enjoyed standing inside the 'pool' while being bathed.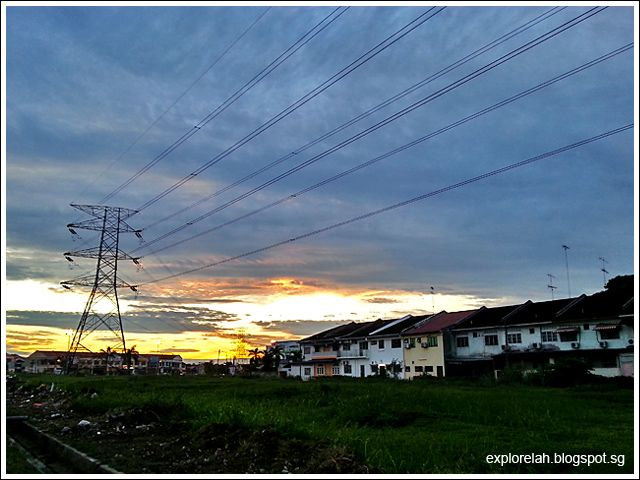 One of the mornings, I decided to go for a jog.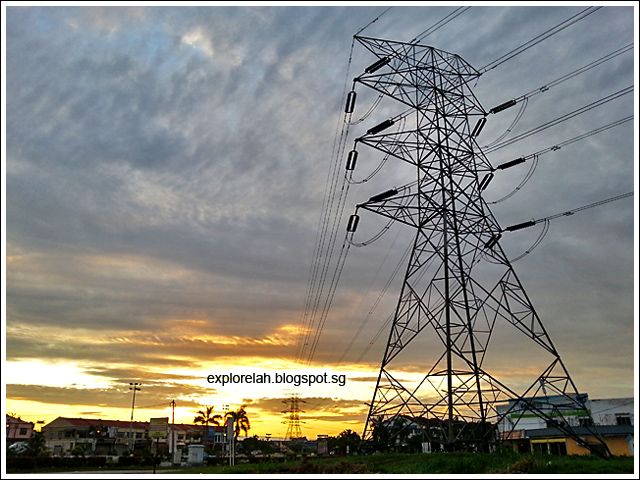 But I ended up taking photos of the scenery and sunrise instead. Some distance away from my friend's home is a trail of massive transmission towers.
Powering up the past. The retro school bus reminded me of the one I used to ride in to primary school.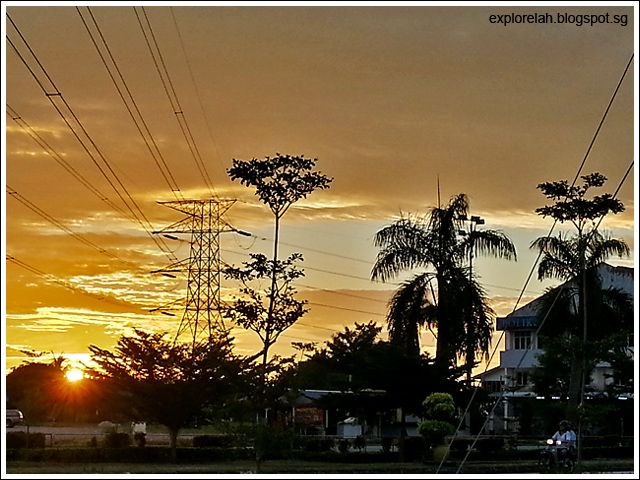 I purposely left all my cameras at home on this trip so that I won't be tempted to go photo hunting. But alas, I had my Samsung Galaxy S3 with me. All photos on this post were taken with it.
An electrifying sunrise!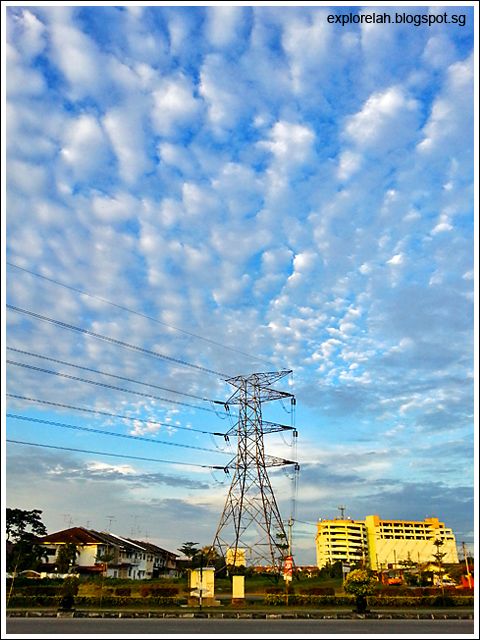 The sky was charged up with an army of clouds.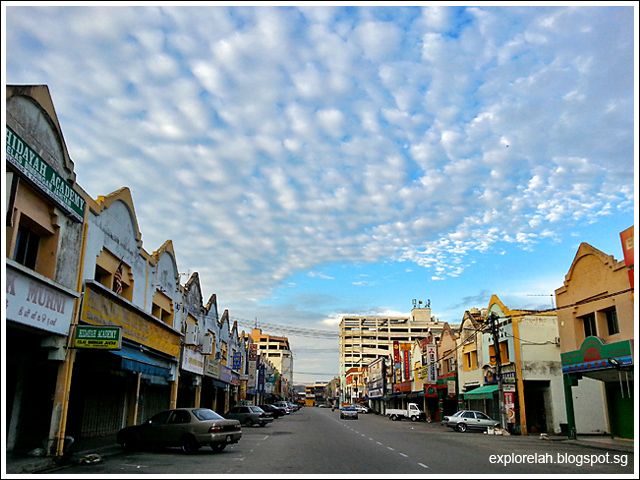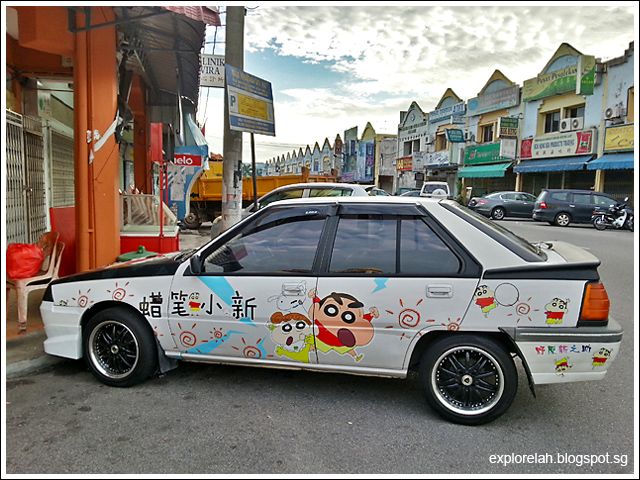 Crayon Shin car! I couldn't stop laughing when I saw this obsession with the Japanese comics of a cheeky boy and his mischiefs.
One of the must-eats while at Batu Pahat is the town's heat quencher... Akbar Cendol!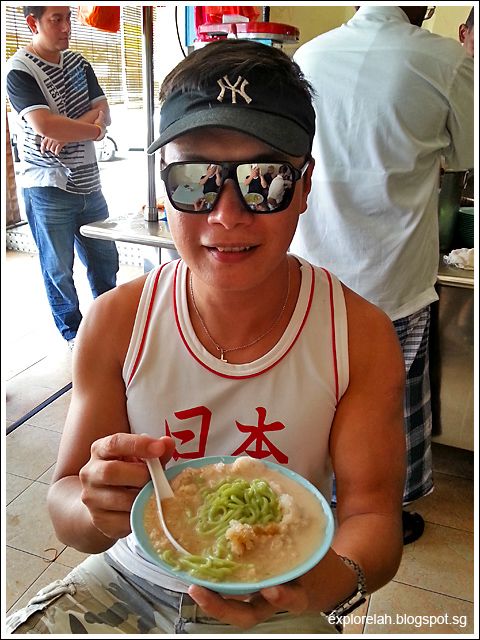 Original flavour is at RM1.00 and RM1.50 with red beans. Personally, I find the taste to be rather mild.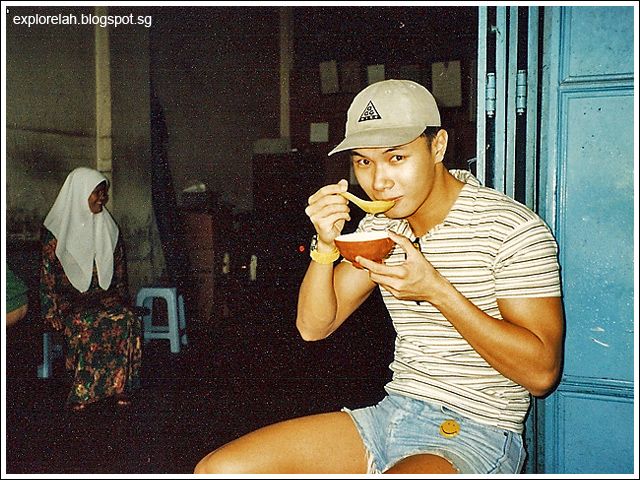 That's me having the cendol in 1997!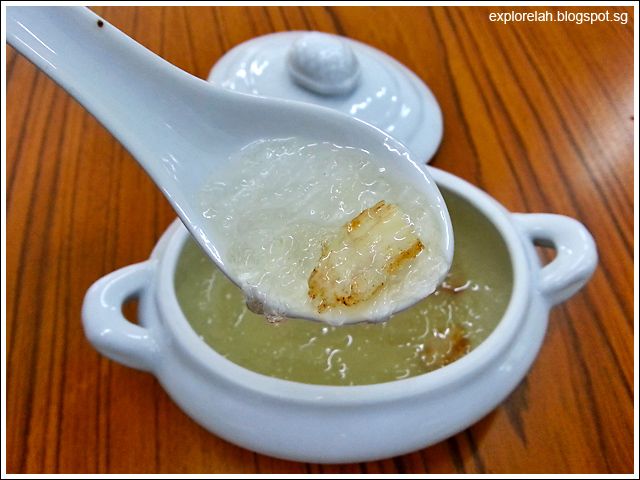 Batu Pahat used to be a hub for bird nest collection so quite a few eateries continue to serve the dessert. We had this at a zichar 'restaurant' for RM28 per bowl.
Black chicken soup to tonify the body.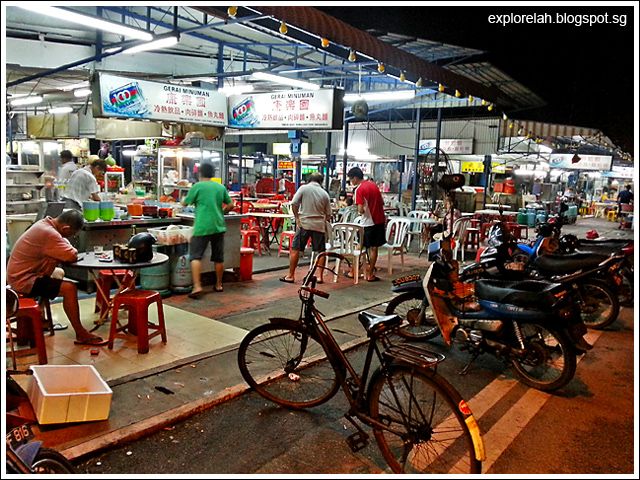 Glutton Square is Batu Pahat's go-to place to indulge in some local hawker fare.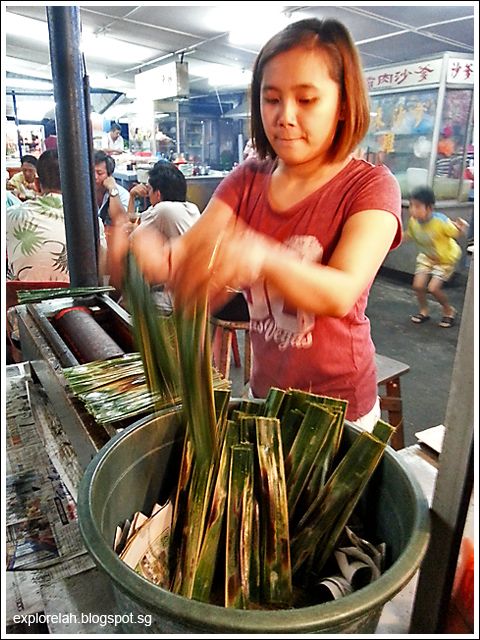 Muar otah... 10 for RM5.50. Muar is a neighbouring town famous for its wide variety of otahs (BBQ fish paste wrapped in leaf).
Taste was so-so. Don't eat it straightaway after it's been BBQ-ed. Wait a while for the fish meat to absorb the flavor from the leaf and cool a little before tucking in.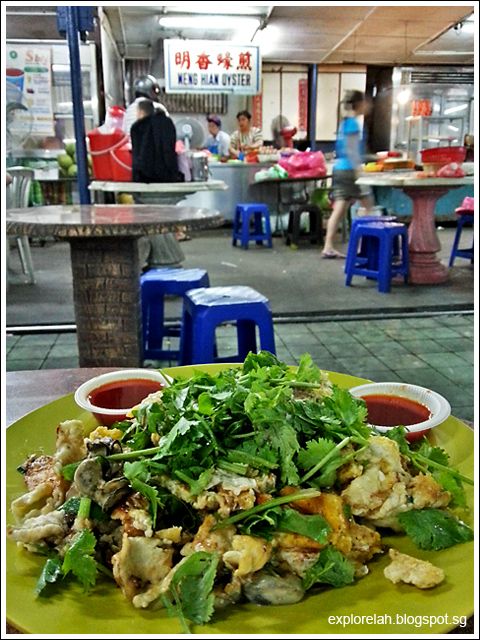 Oyster omelette, one of my fave when food hunting in Asia. Taste was so-so but I love the generous sprinkling of parsley.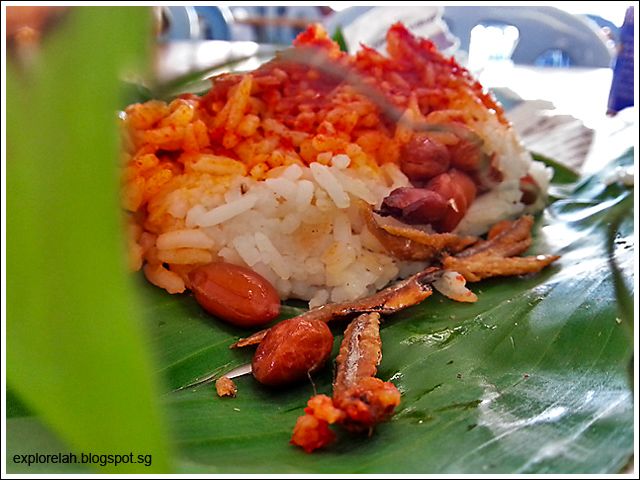 The most memorable chow for me on this trip was a modest pack of nasi lemak at a coffeeshop for RM1.50. The chilli paste brought me back to my primary school's tuckshop.
Batu Pahat has definitely gone through a lot of changes over the last 16 years. I was surprised by the number of modern malls that have sprung up during this visit which makes shopping the main draw for tourists to this town.
Unfortunately, public transport is a bane so getting around is a challenge unless you drive to Batu Pahat from Singapore. To get the best out of a visit to Batu Pahat, stay at one of the prominent hotels which are located along the main shopping district. This way, you don't have to worry about securing transport as the stores are within walking distance.
This will definitely not be my last visit to Batu Pahat. Maybe the next time I can try to track down my late father's remains as I've lost the contacts of his family there.