Date of Exploration :
30 Dec 2015
While scouring for unusual old-world sights to explore in Kuala Lumpur, I stumbled across something 'new'...
Chin Woo Stadium
(精武体育馆). So here I am, compact camera in hand, all eager to bring home images of this architectural memoir authored by a time period I never knew.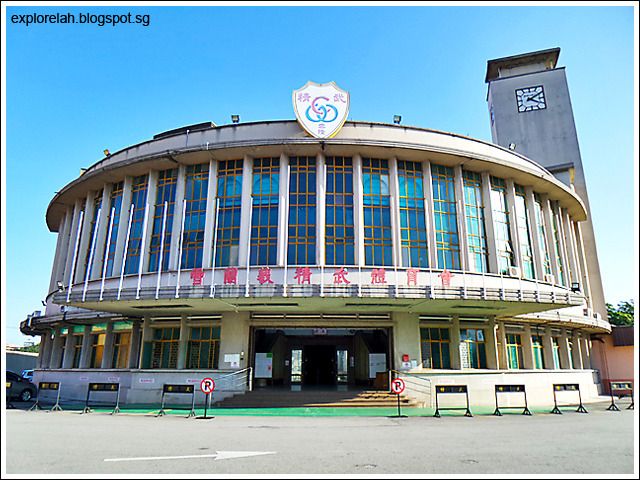 Construction of Chin Woo Stadium started on 31 August 1951. It was officially opened on 11 December 1953 and remains till this day, in untouched mint condition
More of a sports hall than stadium, what makes Chin Woo Stadium a rare historical gem is that most sports facilities that are passed their shelf-life get torn down with a new one built as replacement or redeveloped since stadiums take up quite a lot space and are hard to re-purpose (unlike old shophouses which can get a second life as modern cafes, hotels, retail shops, offices and homes).
I've seen a lot of nostalgic old shophouses, magnificent inherited monuments and historical religious constructs around Malaysia, most with a refreshed coat of paint to entice tourists, but this is the first time I'm walking into an old sports hall, and one that is not afraid to show its age.
Getting to Chin Woo Stadium
Perched on a low hill not too far from KL's famous Chinatown district (Petaling Street), the stadium is pretty accessible. You can get here either by dropping off at either one of the two LRT stations that serve the area (Maharajaleela LRT Station and Pasar Seni LRT Station) and walk, it is quite a distance to walk, or take a cab.
We chose the cab option which cost us about RM10 on the meter from the Jalan Bukit Bintang area (KL's most popular shopping street) on a smooth traffic day.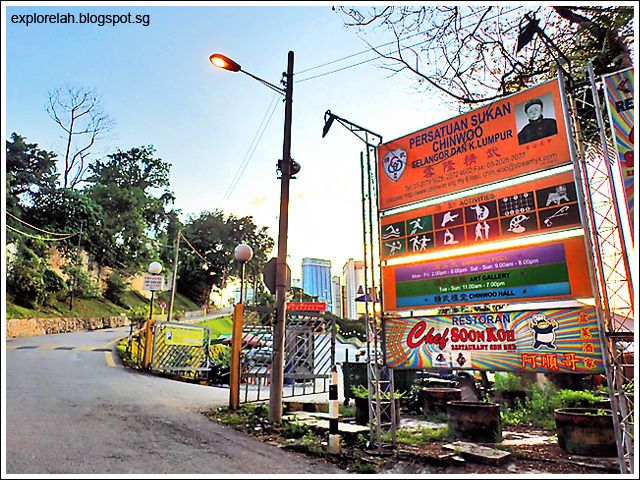 This photo shows the uphill side street off Jalan Hang Jebat that leads to Chin Woo Stadium. Look out for the signboard at the mouth of the side street that advertises the stadium's presence. It is about a 200m walk from the bottom to the top of the hill.
Get Your Kungfu On
If, like me, you grew up with Hong Kong kungfu movies that immortalised the heroism of Chinese folk
wushu
(martial arts) masters such as Wong Fei Hung (黄飞鸿), Fong Sai Yuk (方世玉), and Yip Kai Man (now popularised as Ip Man 叶问 by Donnie Yen), then you will be no stranger to the name Huo Yuan Jia (霍元甲).
An expert marital artist famed for taking on and defeating foreign fighters who dared challenged Chinese
wushu
, Huo Yuan Jia was an inspirational figure in China. He co-founded the Chin Woo Athletic Association in Shanghai in 1909, which later established charters in over 20 countries worldwide with no less than 59 branches. There is a Singapore Chin Woo Athletic Association too located at No. 90, Neil Road!
Chin Woo (精武 jing wu) means "essence of marital arts" or "highly skilled in martial arts".
When I first laid eyes on the circular facade of Chin Woo Stadium, time went on a spontaneous rewind. Nothing seemed to have changed since the 50s. There were no refurbishment attempts to modernise its exterior, no visibly new architectural extensions that try so hard to blend into the retro aura, or even a fresh coat of paint.
The amazing thing to me is that the stadium is still a fully functional sporting outlet that is still in use today!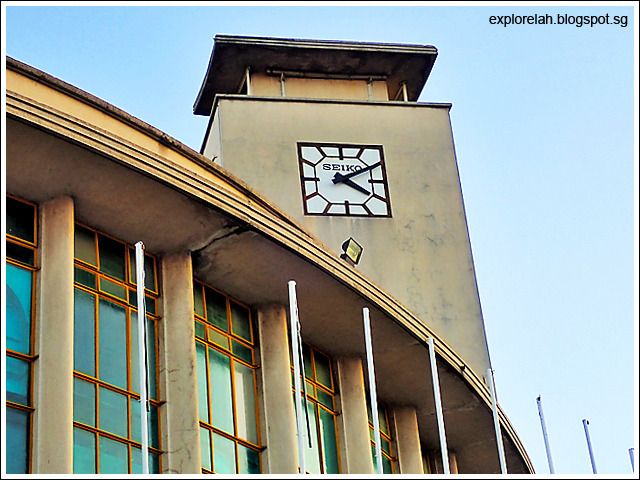 Time really comes to a standstill here. Don't believe me? Take note of the Seiko clock tower at Chin Woo Stadium and see if the hour and minute hands moved from the time you arrive to the moment you leave. The clock is frozen in time.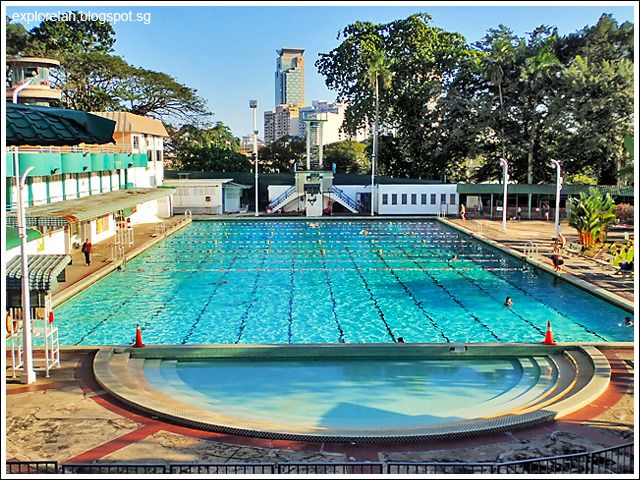 Kuala Lumpur's Chin Woo stadium is one of the earliest sporting facility in Malaysia and the first to own an Olympic-sized swimming pool in the country. Bring along your swimming gear if you would like to take a dip. The pool opens from 2 - 8pm with an entry fee of RM2.00 per adult.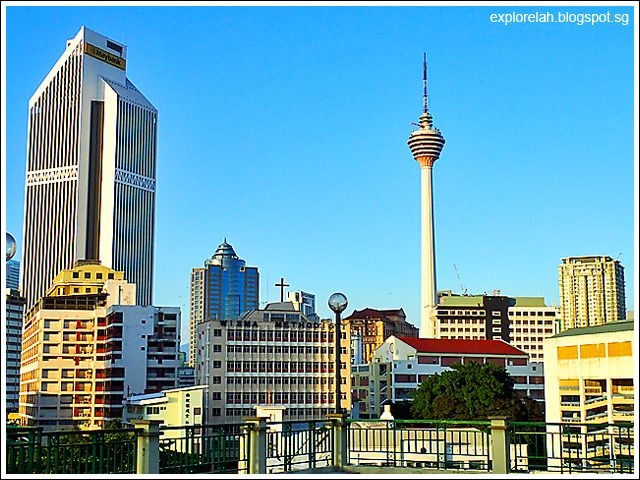 View of Kuala Lumpur's city skyline with the KL tower from the carpark of Chin Woo Stadium.
Strike a Pose
Because of its unpretentious ode to a forgotten period in history, Chin Woo Stadium makes for a great location for cam-whoring. There is really nothing much else to see or do here except take photos of the historic building and you in it.
A reflection of KL's youthful skyscrapers on the wrinkled glass of Chin Woo Stadium.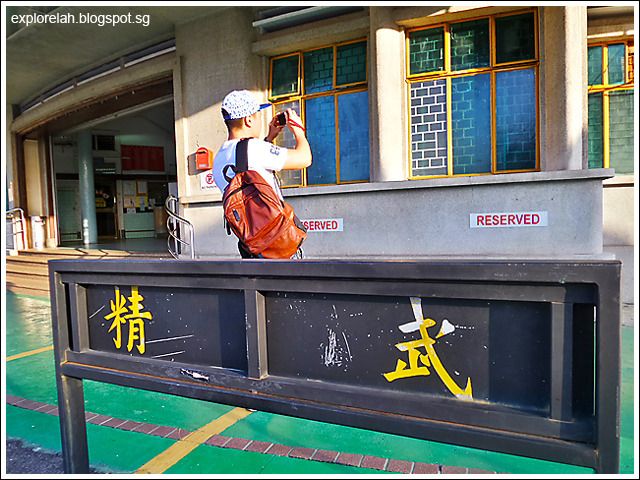 The best time to visit is around sunset when the retiring sunshine strikes its golden rays on the face of Chin Woo Stadium. We arrived at about 5:45pm and the lighting angle was perfect.
"This is not a tourist attraction place," chided a staff at the stadium. Indeed, Chin Woo Stadium still serves as a sports club for paying members so do be respectful when visiting. We were only allowed to explore the ground level with the upper levels being out-of-bounds for non-members.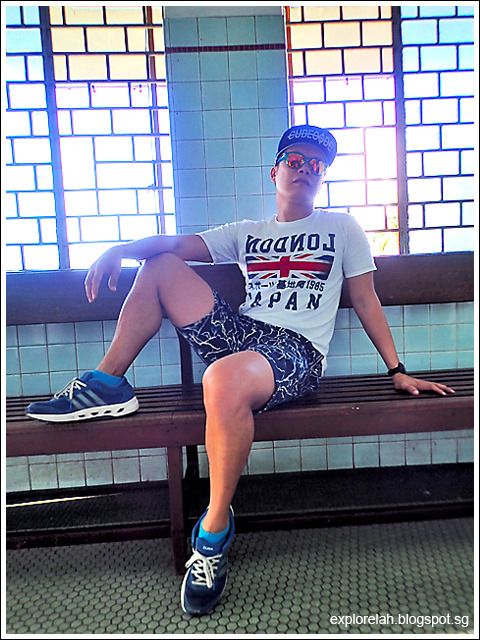 It's Kuala Lumpur. My t-shirt getting it all wrong about where I am... and I'm trying very hard to summon Justin Bieber in my 41-year-old body lah!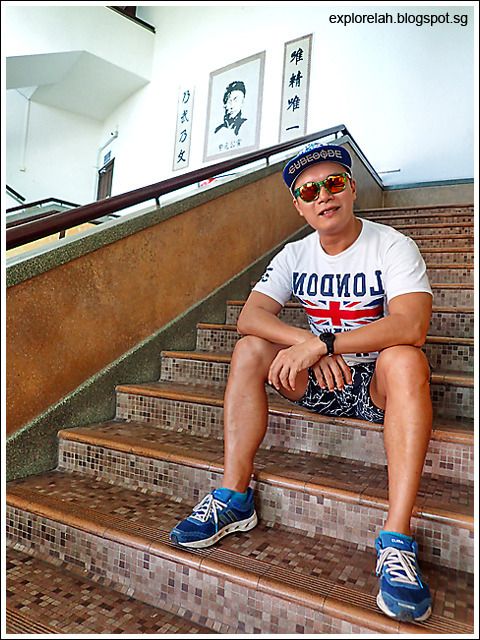 The portrait behind me is that of Huo Yuan Jia (霍元甲), the co-founder of the Chin Woo Athletic Association.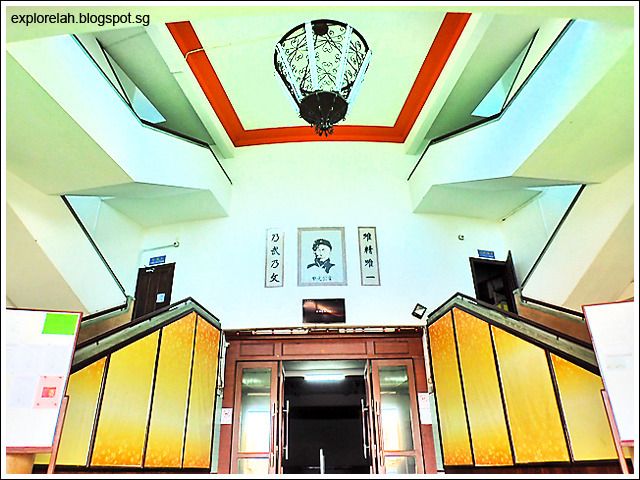 First level foyer of Chin Woo Stadium.
Interior of Chin Woo Stadium.
A rim at the ceiling lets in natural light. A simple yet brilliant design to save electricity.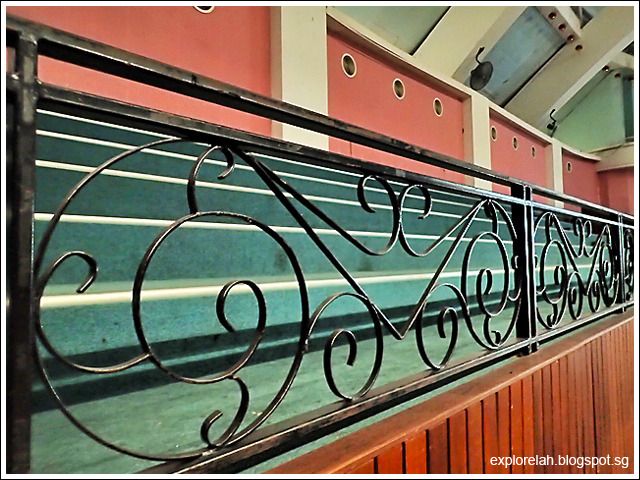 Getting a dose of retroliciousness with the wrought iron decor that's all the rage in the 80s.
The 'stadium' is actually more of a multi-purpose / badminton hall with an adjoining swimming pool.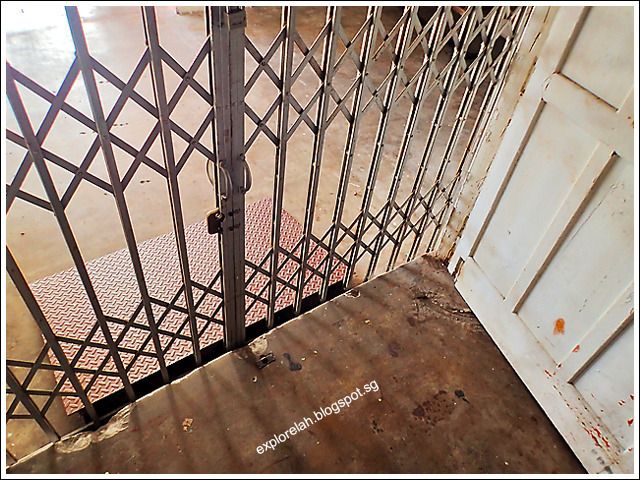 Getting into a corner with the yesteryear folding gate grille design that I grew up with at my maternal grandfather's shophouse along what used to be known as Gor Beh Lor (Fifth Road) in Singapore's Bencoolen district.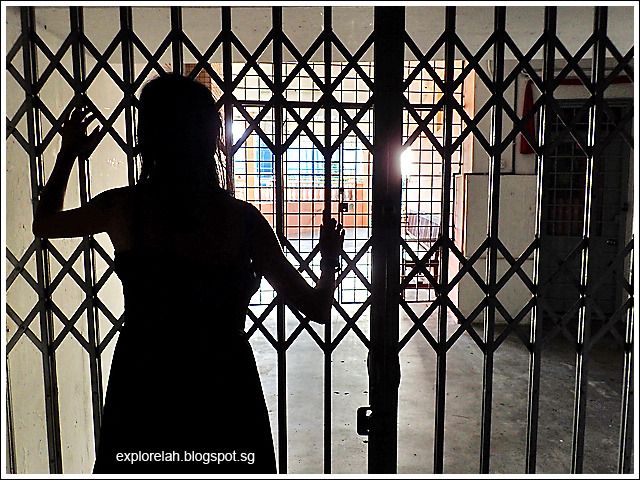 Sometimes we lock ourselves up in the past. Because it is something we know. What we know is safe. Or is it?
On the open air second level porch of Chin Woo Stadium where the toilet is. Our cam-whoring here was short-lived as the security guard promptly chased us away. So here I am trying to be I -Don't-Know-What before being escorted away by security.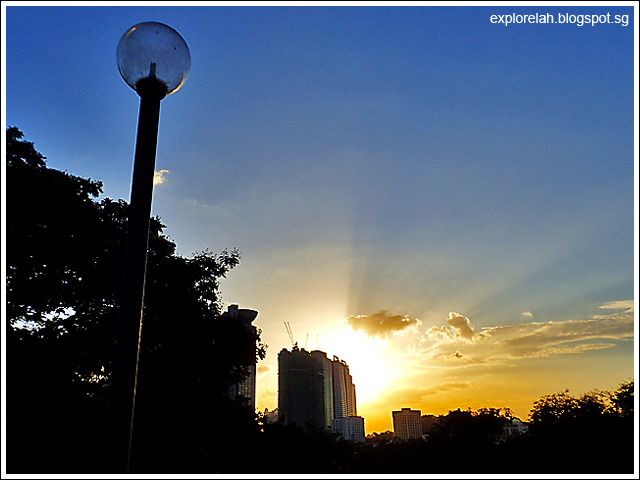 Chin Woo Stadium is touted as an ideal spot to watch a sunset over KL but the month we came (December), the sun went down behind a building and it was a no-show.

Nevertheless, it was a one-of-a-kind mini adventure that brought on a big experience of stepping back into a bygone era that's authentic, unpretentious, and bell-bottom classic!