Date of Exploration :
26 Aug 2013
It may come across as a little odd, but I sometimes prefer no-frills accommodations over the pamperings of a luxury hotel when on holiday. The reason? I tend to succumb easily to the seduction of doing nothing at these luxe pads instead of sightseeing and exploring attractions.
If I stayed in a basic hotel that offered nothing more than just a room, I'm motivated to get out there as soon as I dropped my bags. But with posh stays, I become a willing hostage to the beautiful rooms, comfortable beddings, delightful environs and comprehensive range of facilities. Such a 'hostage' situation happened recently during my stay at
Sheraton Bali Kuta Resort
.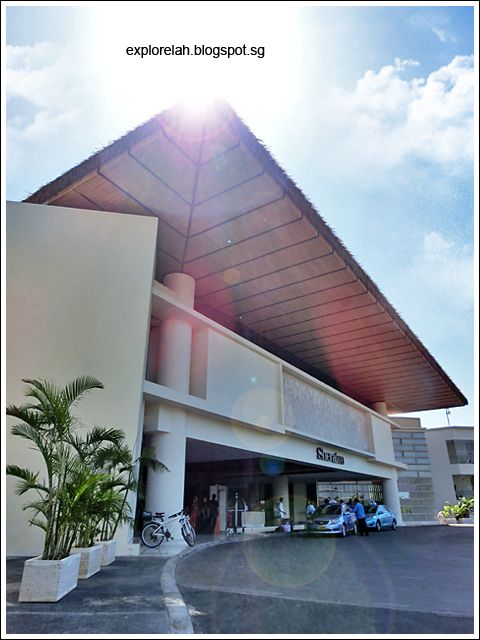 The sun tried to coax me outdoors but I was too caught up with the chillaxing I had going on inside Sheraton. It took determination to leave this cradle of bliss and finally step outside.
The weather on the 4th day of my stay was brilliant, a perfect blue for heading out to the beach but tried as I did with all my might, I couldn't peel myself off the bed. I was contented to just laze the day away under the sheets with a remote control in hand, and later, pasting myself on a sundeck recliner by the pool to soak in the gorgeous Kuta sunset. It's a massage for the mind.
If not for the persistence of Eugene, my travel buddy, I wouldn't have gotten out of the hotel to check out Dreamland Beach. We hadn't planned to go there but Eugene's friend raved that it is the most beautiful beach he has seen. With such a strong recommendation and Eugene's help to unglue me from the bed, we made it to...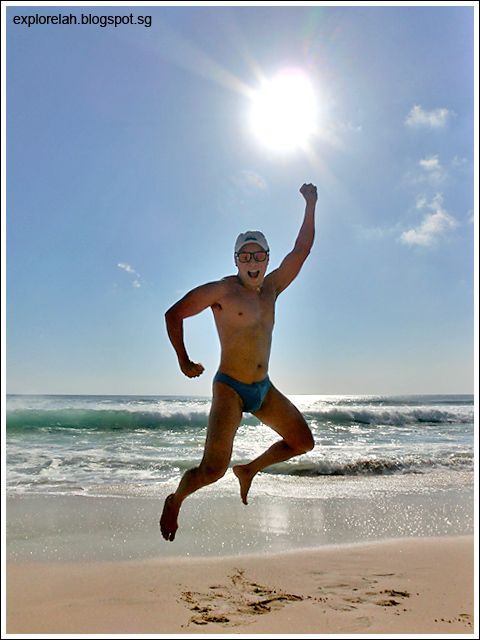 ... Dreamland Beach!
So, was the beach really such a dream spot to be at or was it better to have stayed in bed? Read on to decide for yourself...
Getting to Dreamland Beach
The best way to get to Dreamland Beach, or to anywhere in Bali is to hop on a cab. We took a Bluebird Taxi (which charges by the meter) from Sheraton Bali Kuta Resort and the ride took an hour.
We were told by hotel staff that the journey should be about 30 minutes and under Rp100,000 but our meter fare recorded around Rp149,000. I'm not sure if the longer time taken and higher fare was due to some traffic jams along the way or that the driver had taken us on a longer ride to jack up the fare. the ride back seemed to be much shorter and metered at around Rp130,000
It is a good idea to book a cab for half a day to go to Dreamland Beach as there didn't seem to be any cab there to take you back. We did encounter an errant driver who offered to take us back to the hotel at Rp200,000 but we've already made arrangements with our cab driver to wait for us and take us back. The wait was charged at Rp30,000 per hour.
Our total fare for the taxi to take us from Sheraton Bali Kuta Resort to Dreamland Beach and back with a 2-hour wait was Rp350,000 (approx. S$41.00).
We arrived at a huge carpark next to a water theme park where the taxi driver waited for us.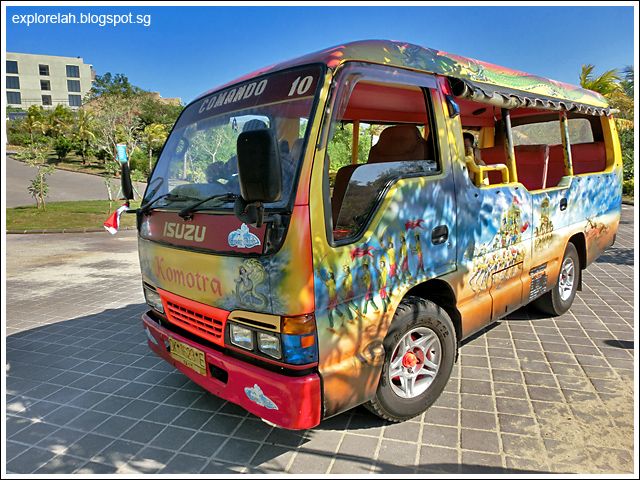 From the carpark, we took this colourful van that took us to the mouth of Dreamland Beach. The van plies between the carpark and Dreamland Beach at 10 minutes interval. The ride takes less than 5 minutes.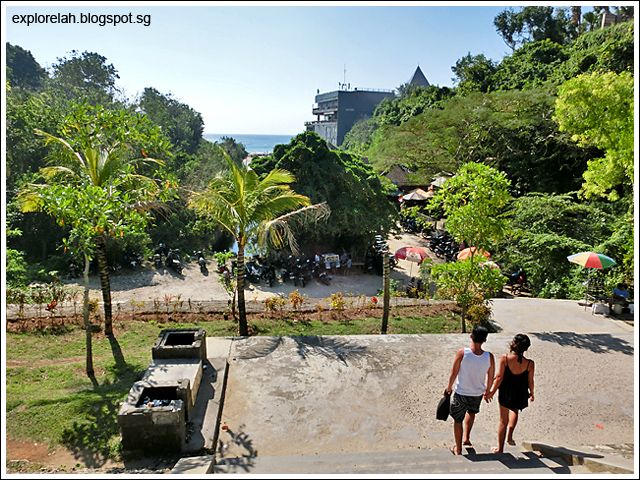 The van dropped us off at a flight of steps that leads down to the beach. If our cab driver knew the way, he could've dropped us here instead of the carpark. Here, we encountered an errant driver who offered to take us back to Sheraton for Rp200,000. If we went with him, we wouldn't have to pay our driver the arrival fare and his waiting time. But of course, that would be despicable.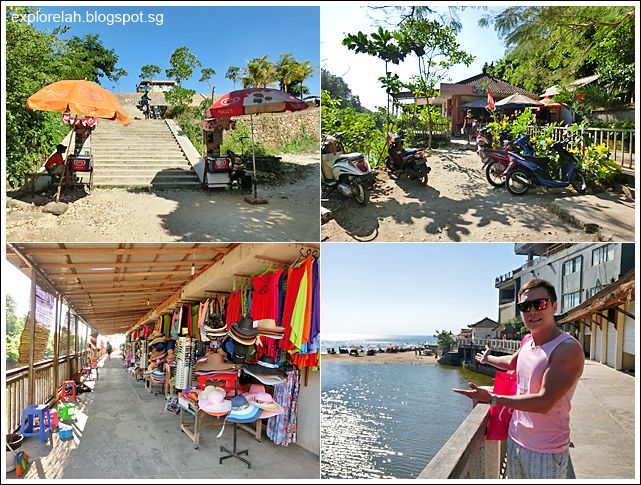 It's a short walk from the van drop-off point to the beach passing a row of stalls in the wall. Bring along beach towels and lots of sunscreen if you don't want to leave looking like a suckling pig.
Capricious Waves & Curvaceous Rocks
Located in Pecatu Graha, a gated community of luxurious residences and hotel developments sprawled across a massive plot of land, Dreamland Beach used to be accessible only to residents in this affluent area. However, developments didn't quite take off and the beach is now opened to the public as well.
At the time of my visit, constructions were still ongoing although a couple of handsome looking apartments and resorts sat amongst very well manicured landscaping. Perhaps in time, the beach may be off limits to hoi polloi and tourists.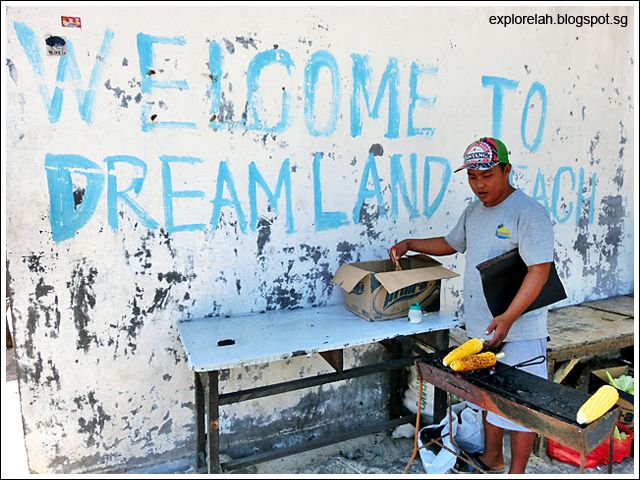 Those big blue words indicated that we were at the right place for there's a lack of any official sign. Even our cab driver got lost momentarily trying to get us here.
A sickly-looking waterway greeted us as we walked down the alley of shops which kinda made me feel icky.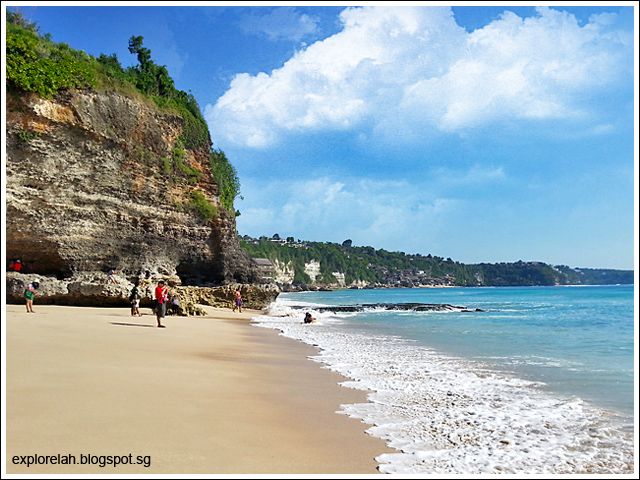 But passed the greenish drain, a turquoise sea throws up frothy surf with loud booms!
Also known as New Kuta Beach, Dreamland Beach was purportedly discovered by a surfer in the 1970s and remains to be a very popular surfing spot as the waves here are wild and unpredictable.
The beach itself is made up of a chain of smooth brown broken up by rock cliffs with a warung (café) providing food and drinks to beach-goers.

View of Dreamland Beach on the slope of a cliff o the left.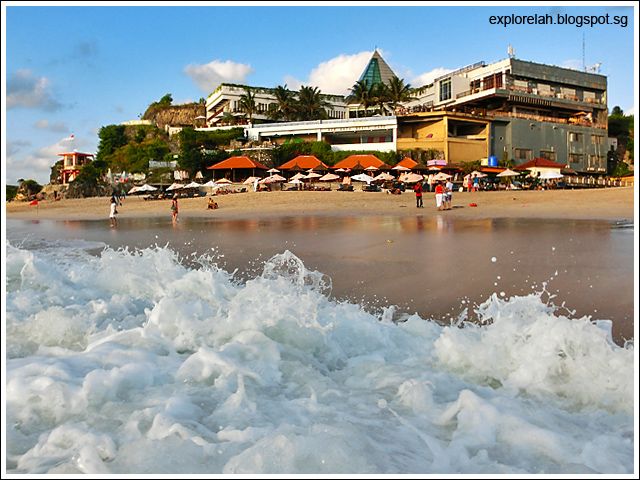 The sea rushes to meet the shore.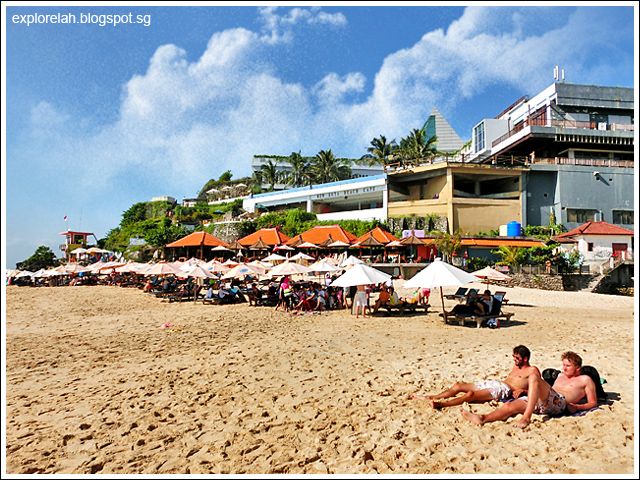 Due to its secluded location, Dreamland Beach is not as packed as the beaches of Kuta, Legian and Seminyak.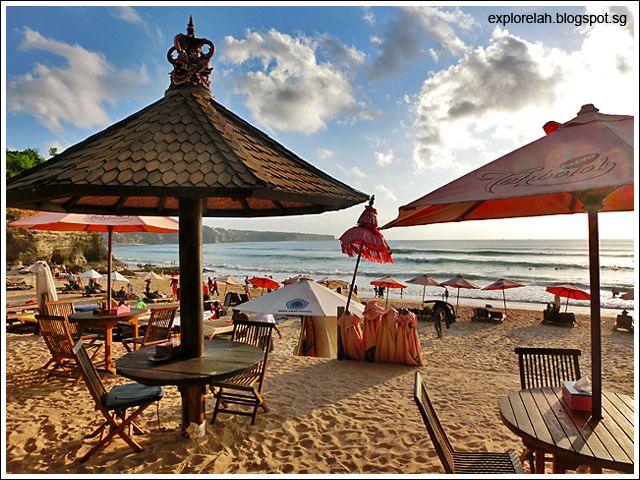 Grandparent and grandchild.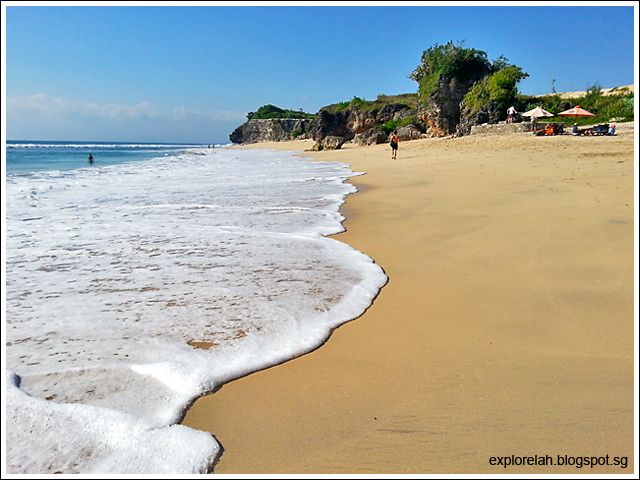 Away from the main section of Dreamland Beach to the right is a quieter stretch of respite.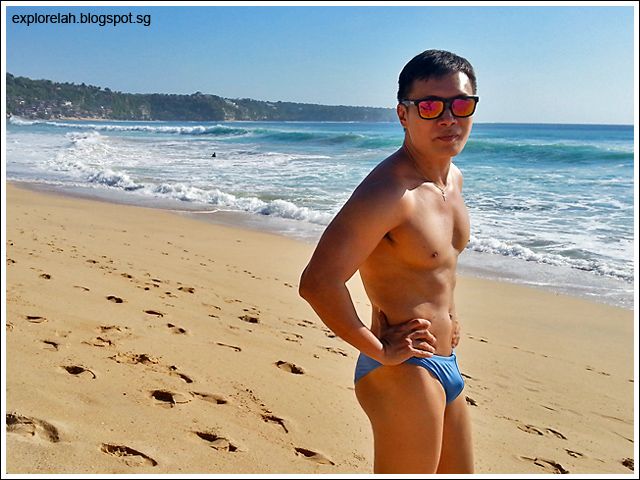 Not a good idea to wear triangle trunks here as most guys were in surf shorts or box trunks. Felt so self-conscious strolling the beach in my skimpy lycra. Bleah!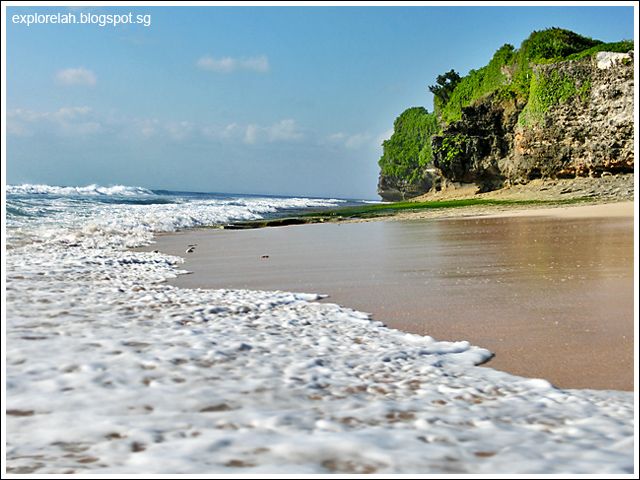 A dreamy shot of the beach with a necklace of foam.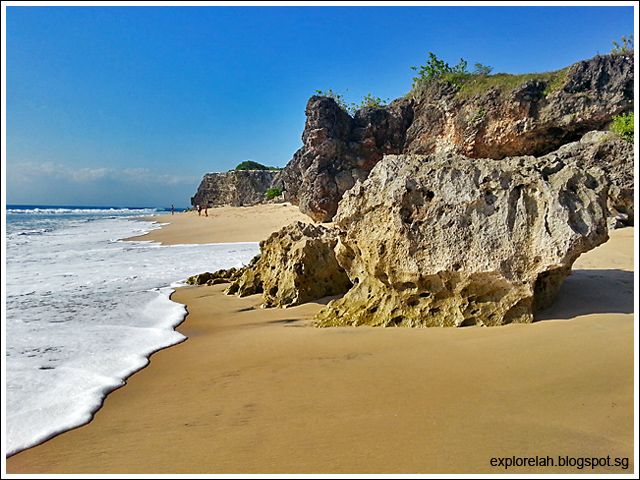 Rock boulders turned the beach into an avenue of natural art.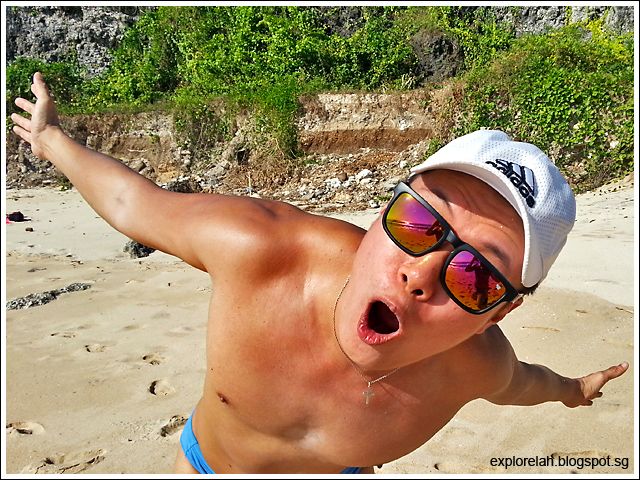 Soaring with the Balinese sunshine and breeze!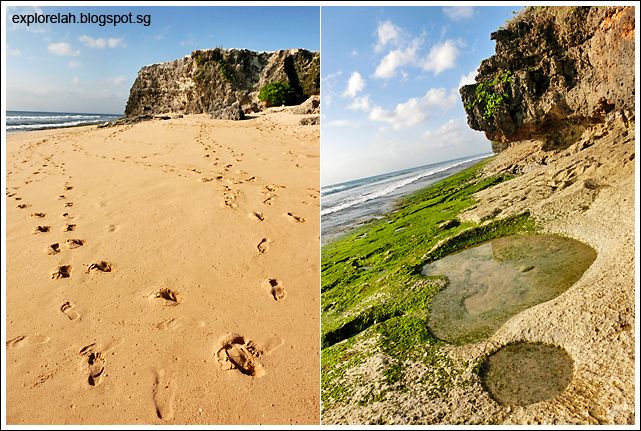 Beyond the sandy shoreline is a rocky pavement carved by the waves and carpeted with aquatic greens.
I love how the water washes over the rocks in an eternal caress.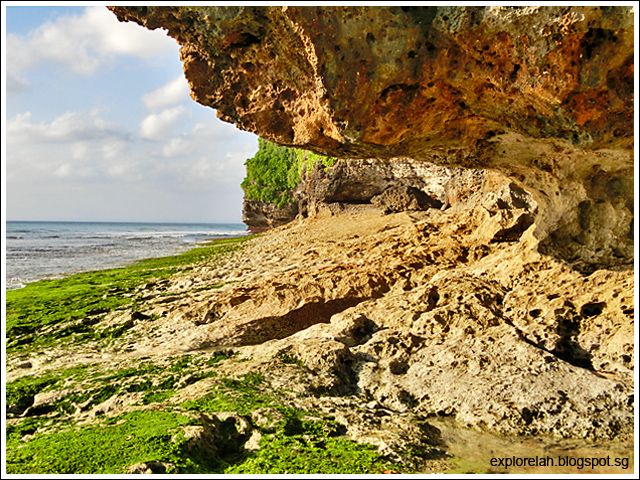 Personally, I found Dreamland Beach to be rather photogenic. I wished I brought my DSLR. Most of the photos in this post were shot with my Casio Exilim ZR1000 compact camera and some with Samsung Galaxy S3.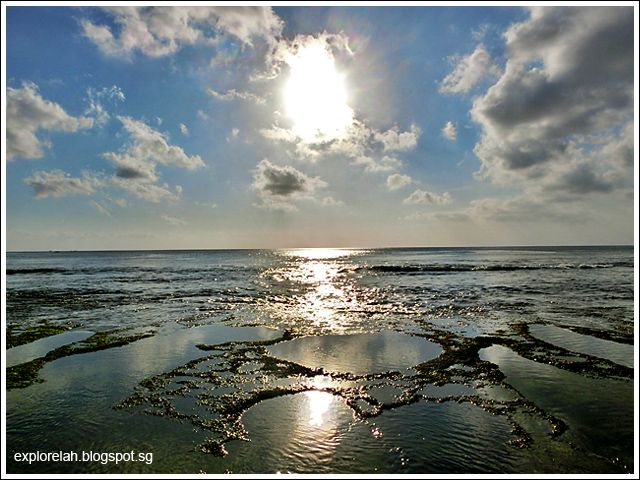 The pockmarks on the stony shoreline made for some interesting patterns as the water receded. I think this spot would be awesome for sunset shots (provided that the tide is retreating).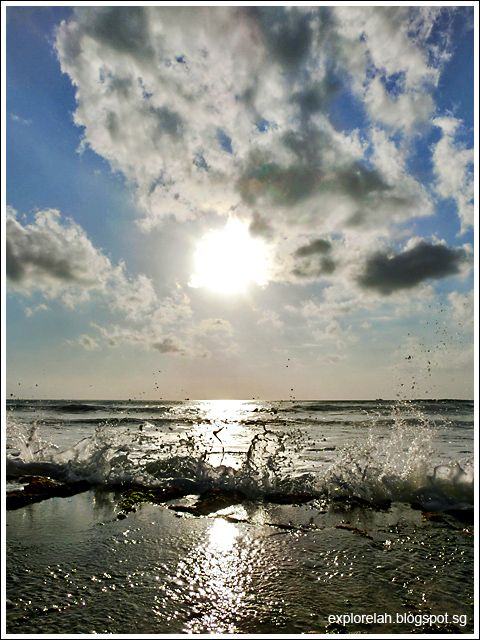 Dance of the Indian Ocean.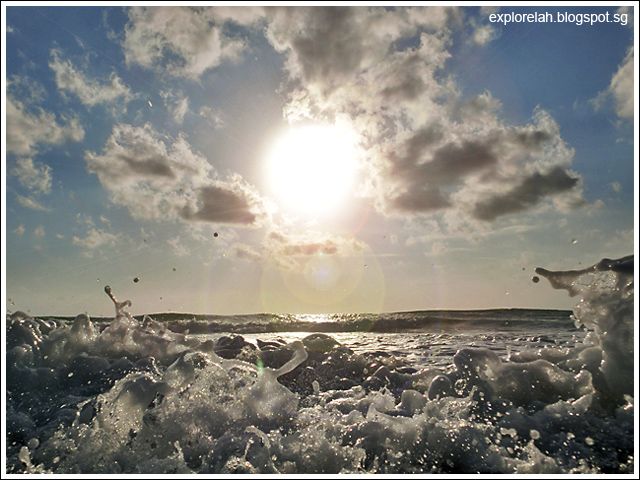 High waves plus a low camera angle made this shot possible. It's times like this that I wish I have a waterproof camera. Had to run back to shore a couple of times to dry my shooter as the waves were very enthusiastic about being on camera! LOL.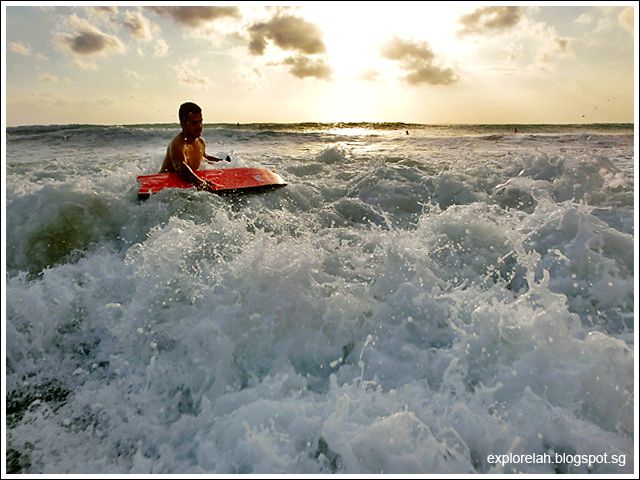 In troubled waters, a float comes in more handy than a bridge.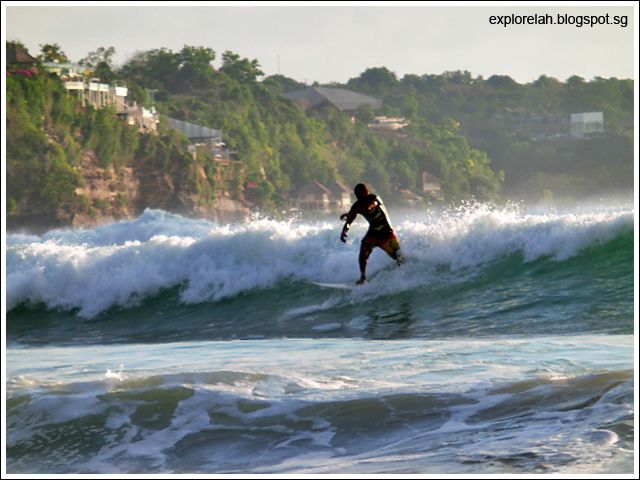 Was chasing surfers for a long time to get a shot of them in action. It ain't easy with a compact camera!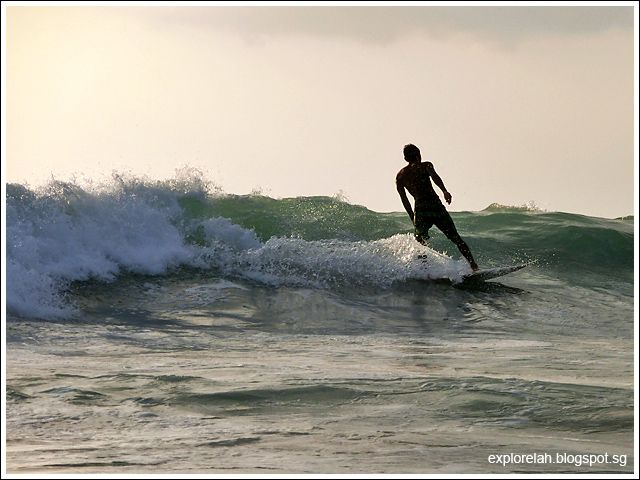 Stay calm and ride the waves. Shot with Casio Exilim ZR1000.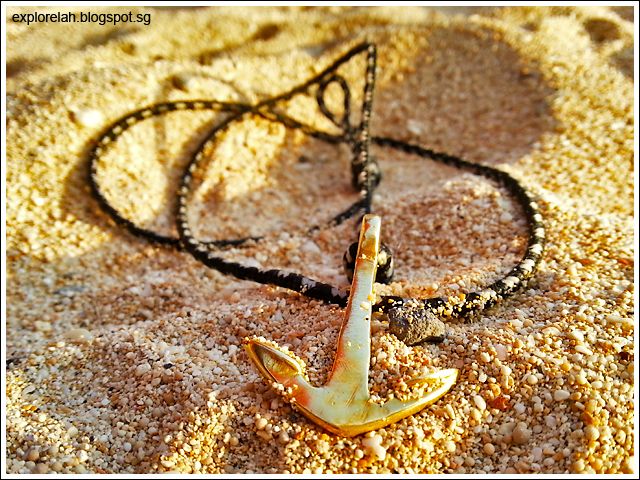 After shooting in the waters for some time, I decided to call it a day. As I waded towards shore in the turbulent waters, I felt something wrap around my shin and slid between my pinkie toe. I thought it's a strand of seaweed gone astray although I hadn't seen any flotsam at all. Then as I got to shallower waters and lifted my leg, I saw this gold anchor tied to a string. What a pleasant surprise! The sea is so wide and the waves so violent, what an incredible chance that we found each other! I take it as a gift from the sea. I am thankful for this impoosible occurrence.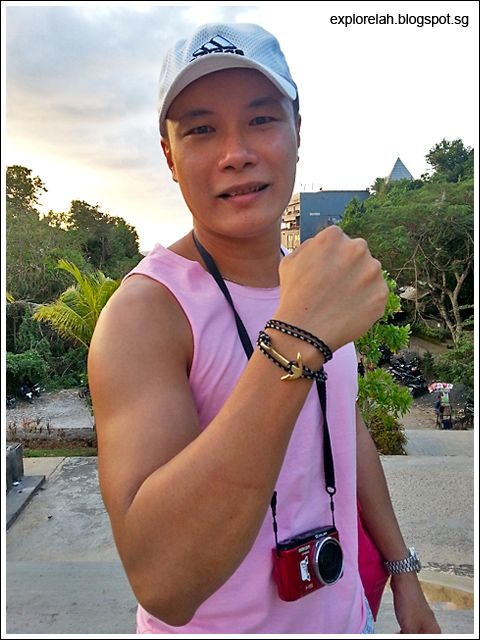 I have no idea what it is for, maybe it's the identification tag for a surfboard, but it wraps around my wrist nicely as a bracelet. I still can't believe the incredible circumstance in which I found this... Or it found me.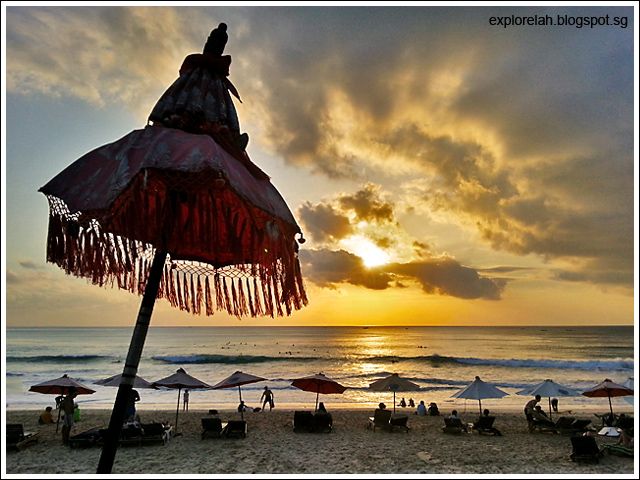 Parting shot of Dreamland Beach as the sun sank behind the day's frolicking clouds. We arrived at the beach at around 3.30pm and left at 6.00pm. I think if we stayed later, the sunset would've been even more jaw-dropping. The beach closes at 7.30pm so I would recommend arriving at 4pm and staying till 7pm for the sunset.
Having spent over 2 hours at the beach taking photos, I wondered if I got out of bed for nothing since I didn't play in the waters at all or laid on the beach to suntan. But looking at the photos, I remembered what a good time I had exploring and photographing the busy waves and calm boulders.
Many people come here to surf, lots more to chill, and some to capture a dream photo. I think Dreamland Beach doesn't disappoint on all fronts but getting here required quite a bit of effort and cost that may be deemed as something not worthwhile by some.
In my opinion, strictly coming from a photographic point of view, I think Dreamland Beach is a photographer's fantasy. Well, at least it was mine. Calling it the most beautiful beach takes some imagination but it is definitely worth getting out of the bed for.