Exploration Date :
7 Dec 2013
No longer satisfied with encountering the paranormal behind the safety of a big screen or LCD monitor, I made that reel-to-real crossover recently in a visit to the supposedly haunted
Penang War Museum
. The historical Malaysian site was featured in an episode of National Geographic's "I Wouldn't Go In There" edutainment series which investigates some of the most haunted places in Asia.
I don't possess the power of clairvoyance. Neither do I aspire to be a ghostbuster. I just find the prospect of entering a possible metaphysical realm seductive as a means to affirm the existence of God. If ghosts / evil spirits exist, surely angels, and therefore God, must too be true. Well, I'm digressing. I'm really here to spook myself with a real-life haunted house. And learning that the truly scary thing is the horrors of war along the way.
Built in 1930 by the British as a fortress against Japanese maritime attacks, the site was overtaken by Jap forces during World War II when they surprised the Brits with inland invasion rather than the sea. While historical hand-me-down accounts vary, it is believed that the Japanese garrison is a butcher house for civilians and prisoners-of-war.
The location of Penang War Museum is enough to set goose pimples running amok. It sits on Bukit Hantu, which means 'Ghost Hill' because local folklore is apparently rife with ghostly sightings and encounters in the vicinity. It could also be the result of active imagination due to the fort's dark past as a purported Jap torture camp during World War II that the hill got its name.
Penang War Museum sits on a hill and is far from the usual Penang tourist staple of Georgetown heritage attractions,

Ernest Zacharevic's wall art and famous hawker fare.
Getting Here
As Penang War Museum is located near the airport and away from the island's city center, I paid a visit the moment I disembarked from the plane before checking into my hotel in Georgetown.
If you are going to the museum from Georgetown, you can take Rapid Penang bus numbers U302, U305 and U307 from the bus terminal located next to KOMTAR, the tallest building in Penang. The journey will take about 1.5 hours and the bus doesn't stop right outside the museum. They stop at a bus-stop at the foot of a hill so get the bus driver to tell you when to alight. After getting off, look out for signs that point to a winding path that leads up a hill to the museum. It's quite a long walk uphill so wear comfortable shoes. Penang War Museum isn't exactly easy to get to.
I took a cab from the airport to the museum and it was less than 15 minutes to get there but the fare was a pocket burning RM31.40. So if you plan to visit, I would suggest coming here directly from the airport upon arrival or en route to the airport before departure.
However, do note that not all cab drivers know the location of Penang War Museum but if you mention Batu Muang, most of them would know. Driving along the main road leading to Batu Muang from the airport, look out for signboards pointing the way to the museum when you get close.
As cabs seldom come uphill to pick passengers, you can seek the help of the museum's reception to call for a taxi after your visit. My flat-rate cab fare from Penang War Museum to Georgetown was RM50.00 and the ride took approximately 40 minutes.
Hauntings From the Past
Penang War Museum is a privately-owned preservation site that receives negligible funding from the local tourism ministry. Due to the lack of financial support to develop it into a polished tourist attraction, much of the open-air museum retained the mortar and relics in their original state, in which lies the authenticity of an unadulterated battle station.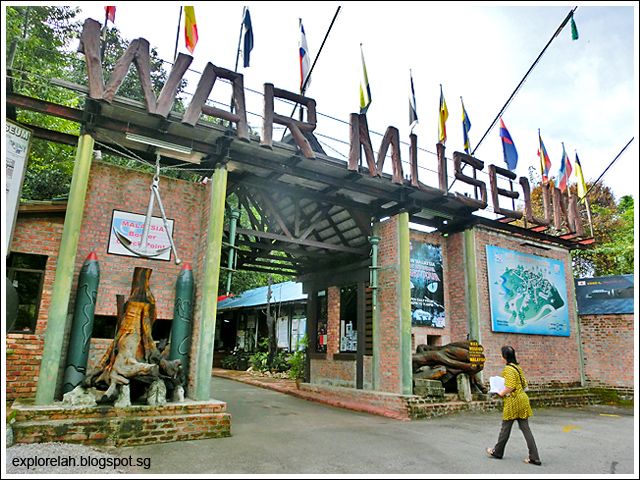 Entrance to the War Museum.
Foreigners visiting the museum have to pay a fee of RM35.00 with an additional RM2.00 levied for photographic gadgets be it a compact cam or DSLR. (Right) The staff were very friendly and helpful by pointing out a costume photo op at the mouth of the fort where you can pretend to be a yesteryear infantry soldier.
Pathways with huge arrows points the direction to explore the museum set within a forest. Miniature replicas of traditional Malay architecture accompany a section of the cement pavement leading into the historic site.
A tight passage that lead to an artillery shelter within the hill.
Inside the womb of destruction where bombshells and ammos were stored and delivered.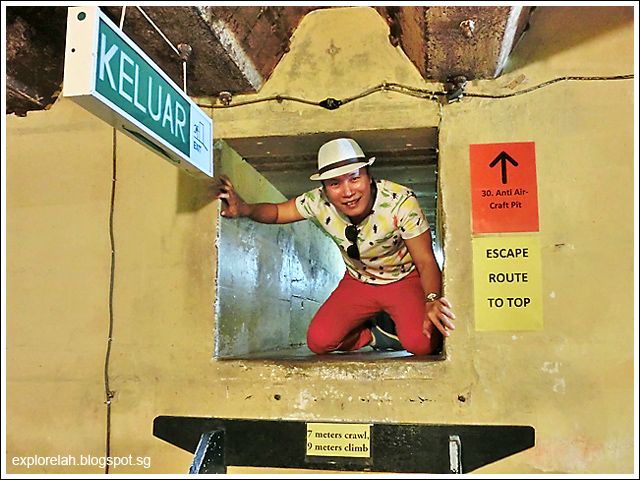 An anti-aircraft shaft that serves as a tunnel through time.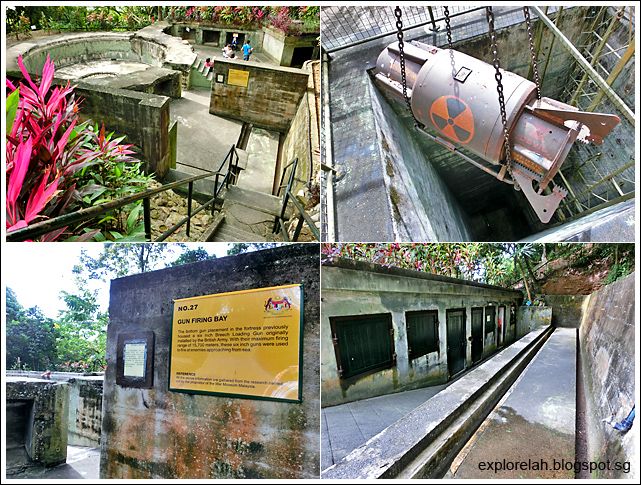 The ecology of a military strike was preserved in a bomb transport system, gun firing bay and deployment shelters. These are among other trenches, sheds and pill boxes found around the fortress.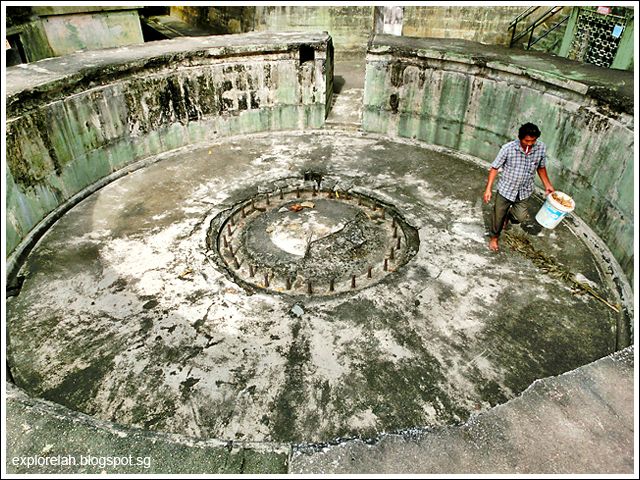 Smothering cannons gave way to cigarette smoke as a caretaker cleared the grounds of fallen leaves. Dead foliage is like the human lives that this gunnery may have claimed.
No mercy on these grounds.
Bullet cavities on the wall in this room marked the executions of rebels by Japanese forces from 1941 to 1943.
Left : Soldiers rest in the ground they defended. Right : It is not a yeti who missed his manicure appointment but one of the few monsters reportedly seen by locals.
A segment of Penang War Museum is dedicated to the immortalisation of ghouls and supernatural beings that were encountered in the hill.
Dare you stay the night to verify their existence?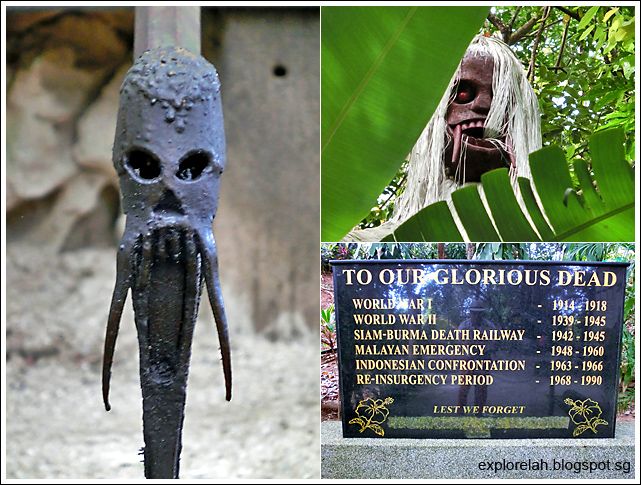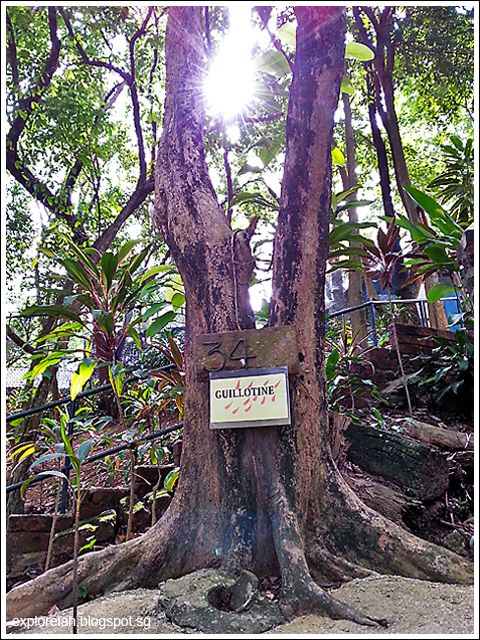 According to a write-up next to the tree, this is supposedly the site of numerous beheadings carried out by Colonel Suzuki. I wondered if the tree grew up feeding on blood.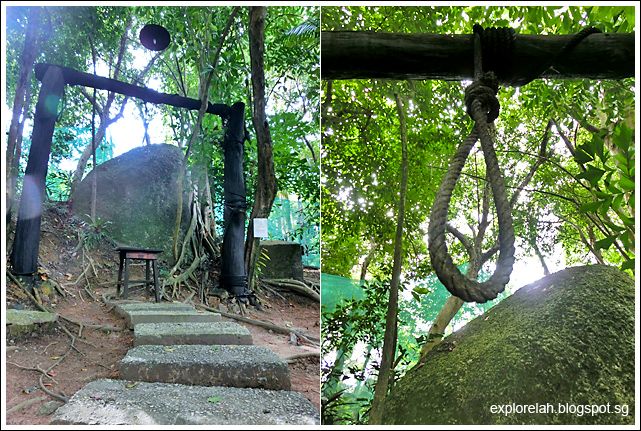 Staying alive is an art in this hill filled with many ways to die.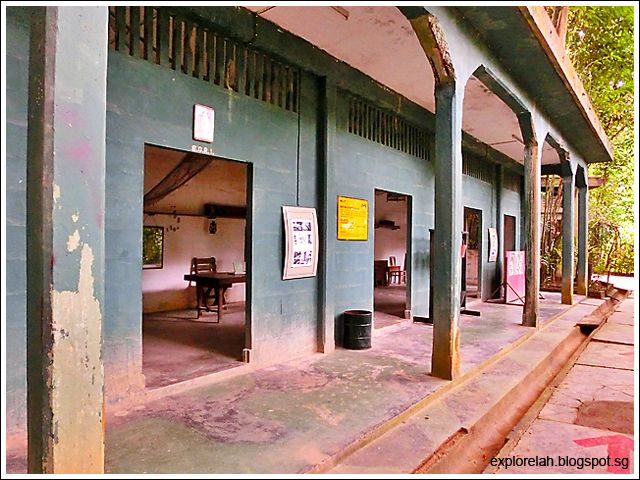 Visage of one of the few barracks used as offices and lodging units.
The beds are missing but remnant furniture provided a peek into the lives of its occupants.
Reflections of a turbulent past where I found the British soldier in a loin cloth to be rather peculiar.
Much of the tales of haunting spotlight the restless spirit of Colonel Suzuki, a fearsome and bloodthirsty executioner of the masses who is believed to be still roaming the museum grounds looking for victims. The colonel can be seen in various photos in a bunk. Another alleged ruthless character in the region's WWII history is General Tomoyuki Yamashita.
An empty shell remains of what so many men had fought vehemently for.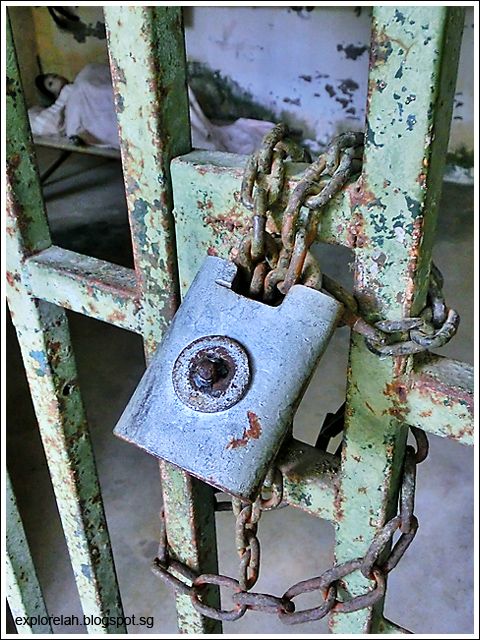 No room for the living. Some of the bunkers were converted to prisons and mortuaries during the military contest.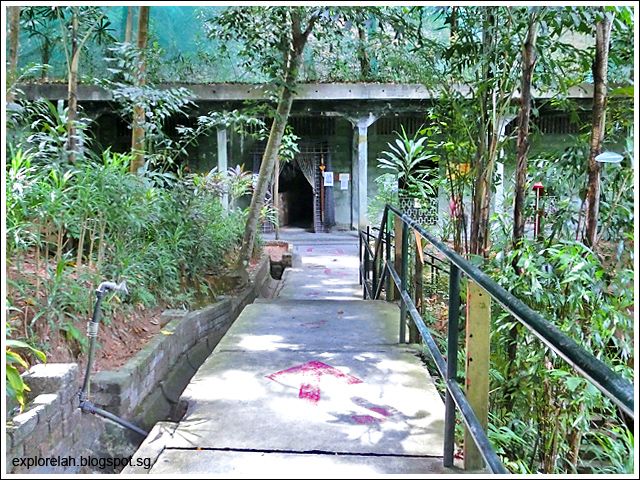 This barrack was inhabited by Malay soldiers when the fort was operational. Before I began my self exploration of the museum grounds, I chatted with one of the cleaners and asked if he encountered anything unusual. He told me that he'd heard voices coming from the Malay barrack but when he checked, there was no one there. Unlike the other bunkers I saw earlier that were bright, the interior of this one was dark and ominous.
*Creepy!*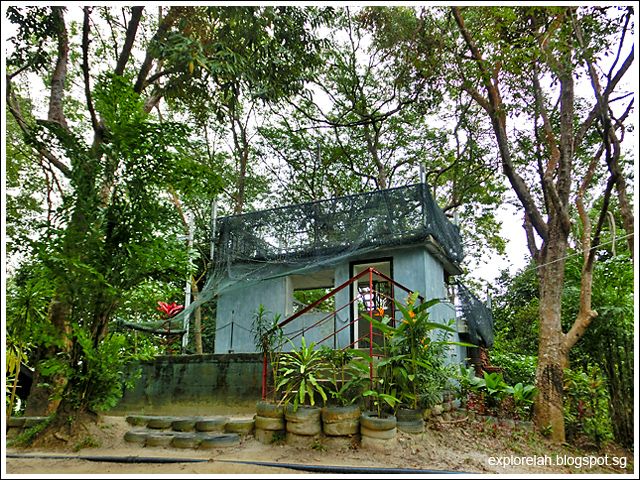 Can you imagine seeing a Japanese soldier wielding a samurai sword and rifle with bayonet standing on the rooftop waving to you to go over? According to NatGeo's haunted Penang episode, that's what a night watchman saw during his patrol.
Curious, he walked towards the figure but when he climbed up the observation post, you guessed it, there's not a single soul in sight... Or is there? *Goosebumps overdrive!*
It's nice to see life bloods again after exploring this mostly deserted war relic alone. Before leaving, I took a photo with the museum's manageress who maintains a very neutral stance on reported paranormal sightings here.

In all her years working there, she hadn't witnessed anything otherworldly but a couple of tourists did asked her about a lady in red loitering around one of the bunkers near the beach. As ground-keepers wore dull coloured uniform t-shirts, she had no idea who the lady could be. But she pointed out that bullet holes on the bunker's outer wall facing the beach suggest that the area may have been a rifle execution site. Was the lady a victim caught in an eternal search for her killer?
I spent almost 2 hours at Penang War Museum and although I didn't encounter any supernatural occurrences, the excursion back in time to where WWII left its ugly scars reignited my appreciation of peace. It is not ghosts that haunt this place. It is its horrific past.
Address :
Lot 1350, Mukim 12, Daerah Barat Daya, Batu Maung 11960, Penang, Malaysia
Tel :
+6 016-421 3606 / +6 04-626 5142
Opening Hours :
9am to 6pm daily
Night Tour :
7 - 11pm daily
Entrance Fees :
RM35 (Foreigners), RM20 (Malaysians). Children pay half price.