Date of Exploration :
13 - 14 Feb 2012
Huddled by rims of undulating mountains, the invitation for lyrical romance hangs thick in the air at Sun Moon Lake. Ranked amongst one of Taiwan's top tourist destinations, this sanctuary qualifies as my favouritest spot in a nation who is spendthrift with its natural attractions.
My arrival at Sun Moon Lake on a February evening coincided with the brink of sunset. By that time, the mountains were painted gold with the shimmering lake waters flashing their hellos. I could still vividly recall, to this day, how my breath escaped me the moment I encountered its beauty for the very first time...

Sun Moon Lake during a bright sunny day.

As the evening creeps in, another kind of magic begins.
Home to several indigenous Taiwanese tribes dominated chiefly by the Thao, Sun Moon Lake got its name because its northern precinct resembles the sun while its southern part has the shape of a crescent moon.
I stared at the lake's map for a long time but see no shape of sun and moon. Nevertheless, the poetic name is befitting of a place such as this.
Getting to Sun Moon Lake
Being one of Taiwan's key attractions, Sun Moon Lake is served by coaches that departs at hourly intervals from Taichung (Central Taiwan) Railway Station and High Speed Rail (HSR) Station.
The 6 of us took a cab from Alishan (阿里山) to Sun Moon Lake which cost us about S$200 for an approximately 6-hours drive (we stopped at various scenic spots along the way so the ride duration was longer) so I don't have actual experience of getting to Sun Moon Lake from Taipei.
But on the return trip to Taipei, I took a coach from Sun Moon Lake to Taichung HSR Station (approx. 1 hour), and then took another hour's train ride to Taipei.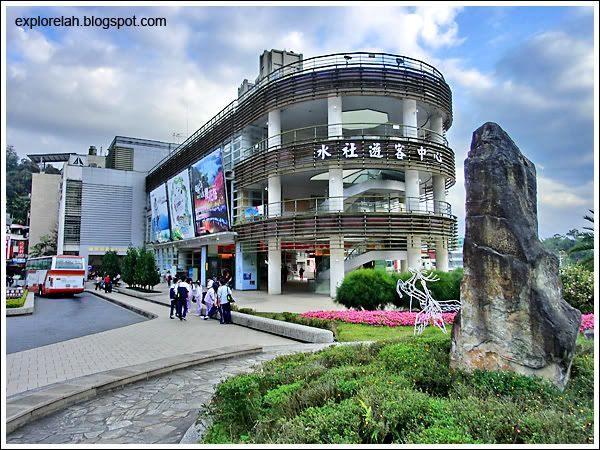 Sun Moon Lake's Shueishe village Tourist Centre that also serves as a pick-up point for coaches. Coach tickets to Taichung Rail Station or HSR Station can be bought here.
A little miffed in this photo because there is no proper system to control passenger count. Apparently, we can buy a ticket for a specific departure time but don't have to adhere to it. I got a coach ticket for 5pm but took the 5.45pm coach instead. It's good that they are flexible, but the problem occurs when they encountered more people leaving at a certain time than there were seats on the coach. What ensued was a lot of arguing and time wasted waiting for irate passengers to cool off.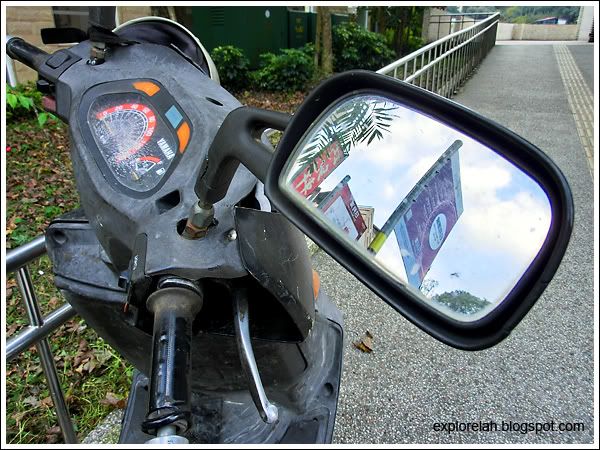 The coaches are pretty punctual so queue early to be sure you get a seat. There's a no standing rule onboard so if you can't get a seat, you'll have to wait for the next coach.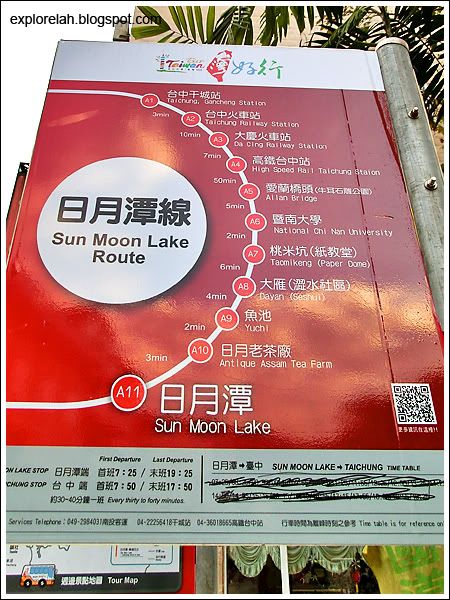 Coach route from Sun Moon Lake to Taichung HSR Station and Rail Station. HSR takes about an hour from Taipei to reach Taichung. Normal rail takes a much longer time.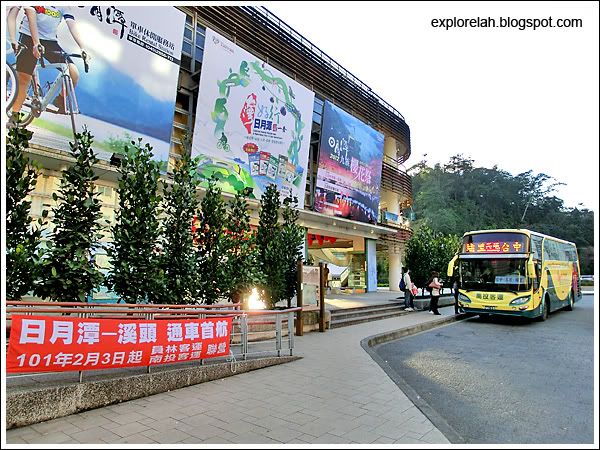 The coaches have 2 different routes - One drives through a few districts before reaching the rail stations (1.5 hours) while the other is an express service (1 hour). The coaches leave at different times so check with the ticketing counter the departure schedule for each before purchasing. Then again, it seems that they are not strict with which coach you get on so long as you have a ticket. I got a ticket for the 1.5 hours coach ride but got on the 1 hour express coach instead.
Shueishe Village (水社)
Shueishe is the main drop-off point for all tourists coming to Sun Moon Lake. The small lakeside town has quite a few hotels, restaurants and tourist-friendly businesses crowding a small collection of short streets.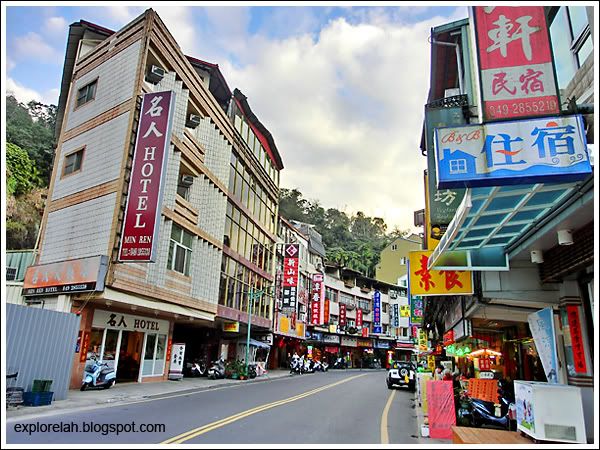 Main road that fringes Shueishe village. The village can be covered on foot in about 30 minutes.
For accomodation, we put up at a rather 'interesting' hotel called
潭暉
(Tan Hui Hotel) at Shueishe. I found the hotel amusing because its decor was ostentatiously saccharine with an unabashed plea for honeymooners to lie on its beds. One could get diabetes just looking at the rooms.
But sweet isn't a bad thing. Couples would probably adore it. Unfortunately, the painstaking transformation of the rooms into a lovers' nest was acid on my eyes.
The narrow hotel block sandwiched between rows of shophouses. Tan Hui has two sections of rooms within what looks built as a residential apartment block.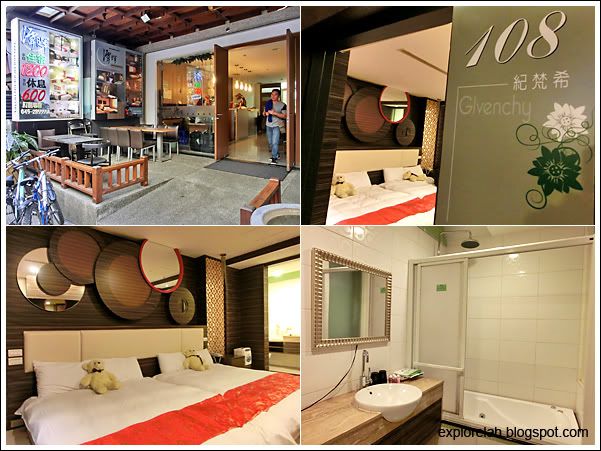 Our rooms were at the basement level. One room sleeps two while another had four of us sharing.
What really tickled me about the rooms were the placement of teddy bears on the beds! It was rather comical for 6 grown men to walk into a room with teddies. I wonder how many people the stuffed toys have slept with. Yeeeks!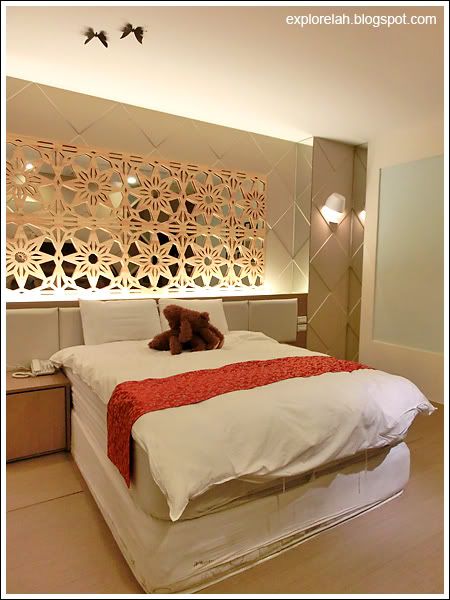 This was the twin room. Kinda obiang and check out the two butterflies on the ceiling! So 梁山伯与祝英台 (a.k.a. Butterfly Lovers)!
Although the 80s decor was a little too much for me, the hotel was a pretty good stay for the price point and the rooms were clean and well-kept. It's also just a minute's walk to Shueishe Jetty where boats will take tourists to other lakeside attractions and villages.
Itashao (伊达邵)
Around the perimeter of Sun Moon Lake are a number of small townships and scenic treks clustered into four zones - Shueishe (水社), Wen Wu Chao (文武朝), Itashao (伊达邵), and Xuan Guang Si (玄光寺).
Due to time constraint, I only managed to explore Itashao, another pint-sized village that is a 10 minutes boat ride directly across from Shueishe. Itashao means 'our homeland' in the aboriginal Thao language.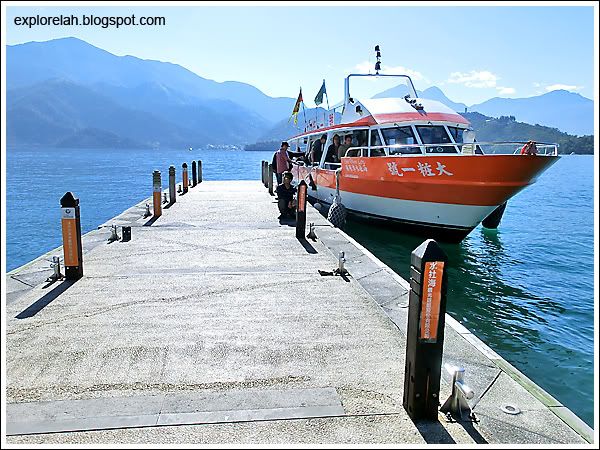 A boat ride costs NT$400 but with our hotel's discount, we paid NT$150 (S$6.00) for a round trip.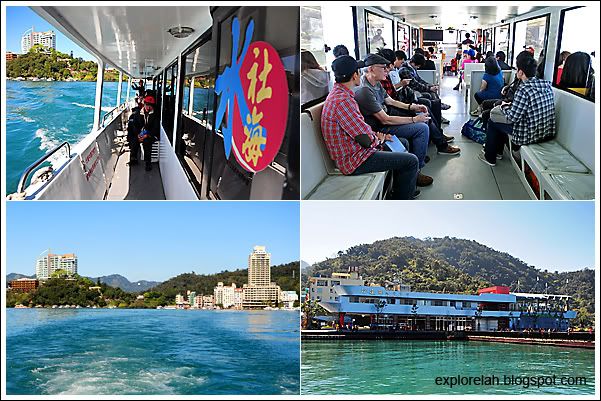 On board the boat leaving Shueishe behind and reaching Itashao Jetty.
Full oranges and orange wedges? Or abstract inception of bananas and nipples just to get honeymooners in the mood? Haha.
The white pavilion at the back is the cable car station. For an aerial view of Sun Moon Lake, don't miss taking a ride. When I arrived at Shueishe, I thought the cable car was at the village but realised it's actually at Itashao.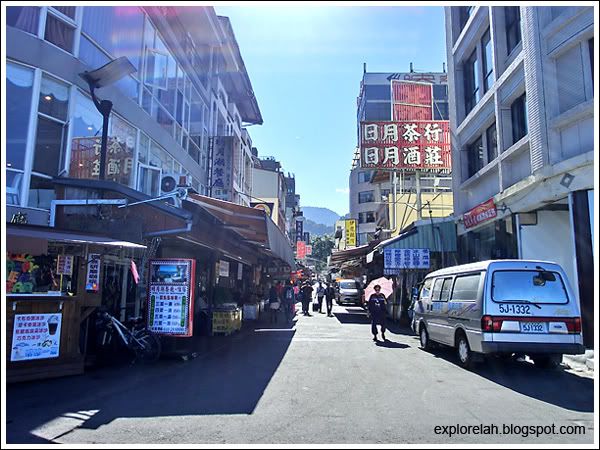 Street scene of Itashao. Like Shueishe, it's a conglomerate of tightly packed short houses that offer accomodation, food and souvenirs.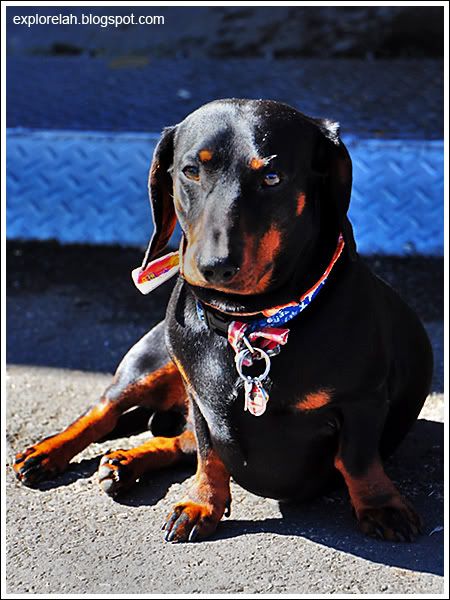 So cute... Reminded me of a dog I used to have. He's called Lucky. But unlucky him, I was a terrible dogowner during my early teens.
Passing through a lakeside section of Itashao village, a planked path skirting the coastline leads towards the cable car station and the town's Butterfly Garden.
Itashao Butterfly Garden
Ever the butterfly lover, I was attracted to the check out the garden like a moth to a flame. It is not too far from the cable car station and the wild woods surrounding the garden provided an unusually majestic respite to urbanism. Furthermore, the prospect of meeting temperate species of butterflies stoked my excitement.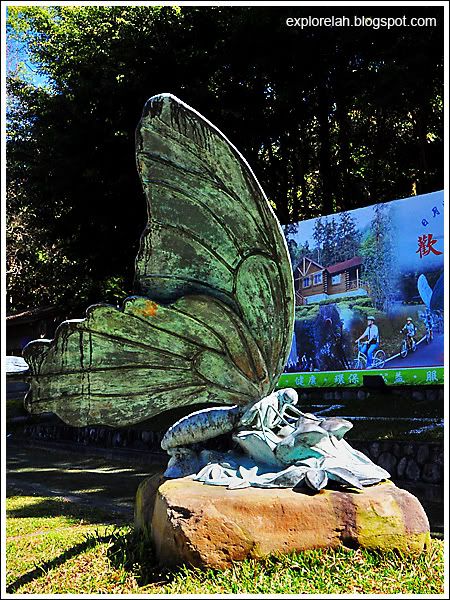 No weak flutter of delicate butterflies but a bronze winged monster greets visitors near the entrance.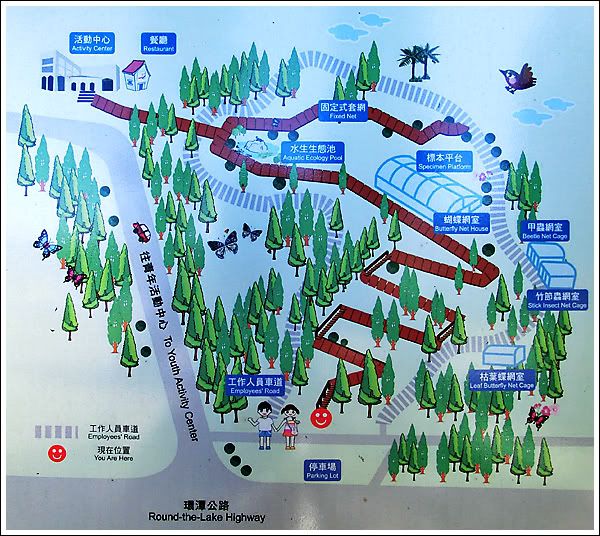 Map of the park. It showed various specialised insectariums by the side but I found none of them.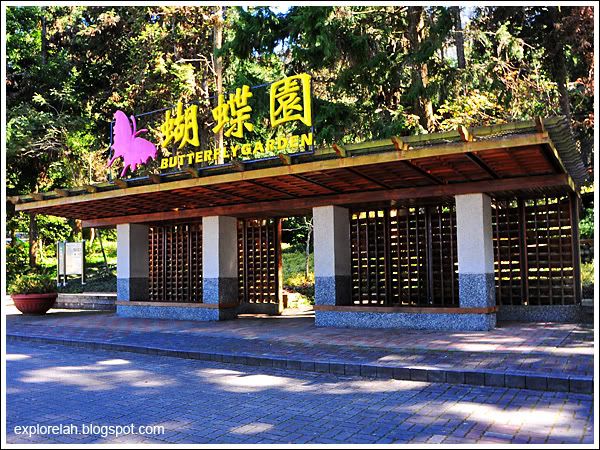 Gateway to meet the forest fairies.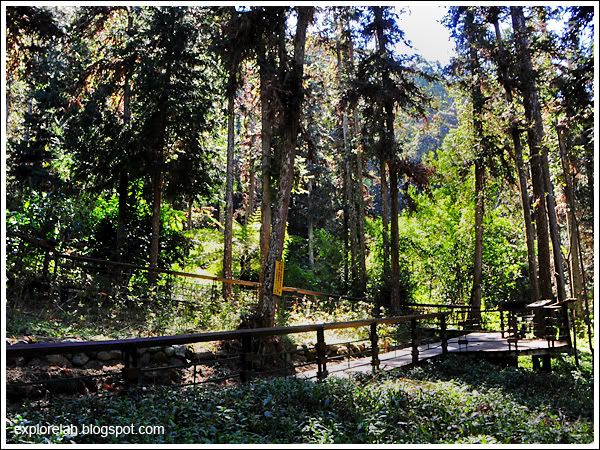 A scenic stroll amongst vast greens to the butterfly enclosure.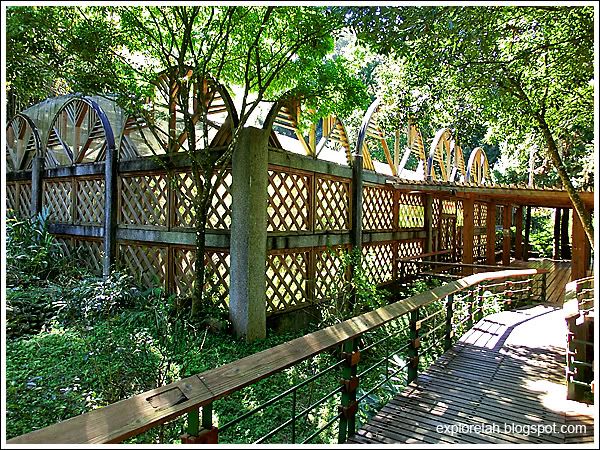 The butterfly garden is a rather smallish netted hut resting in the midst of hillside flora.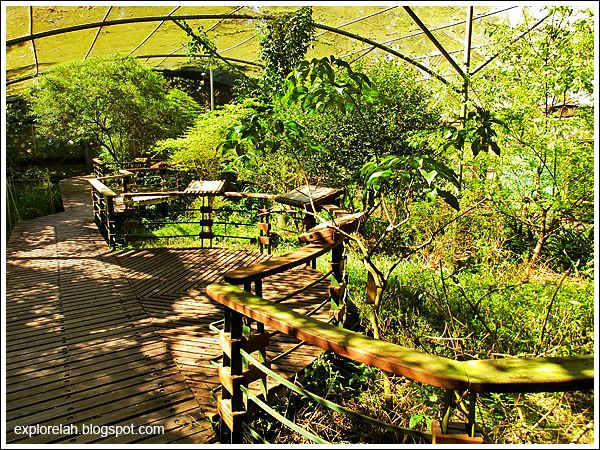 Interior of the Itashao Butterfly Garden. Not a single insect or butterfly in sight! Did I come at the wrong season?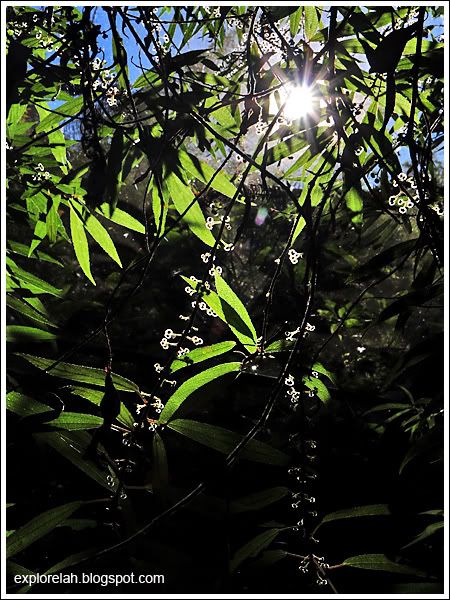 No butterflies so take photos of flowers instead.
I was utterly disappointed with the Itashao Butterfly Garden as there were no butterflies within the enclosure at all and it was devoid of any other tourists. Some butterflies can be seen fluttering amongst the surrounding greenery but not enough to render the effort of coming this way worthwhile.
Perhaps the park should erect signs to advise on the best times to visit. However, the foresty backdrop made for a rather refreshing escapade to enjoy a leisurely commune with nature. Signs along the pathway leading to the enclosure's entrance warn of bees attack so keep a lookout for stingers although I didn't encounter a single humming terror.
Sun Moon Lake Ropeway Cable Car
Unexpectedly dismayed by the no-show of butterflies, I proceeded to take the cable car for an aerial view of Sun Moon Lake. Although this is one of the key attractions, I was ready to give it a miss because I've developed an unfounded fear of height and enclosed spaces. I have no idea why. I used to love the thrill and adventure but it is now a dread and being in mid-air gives me stomaches.
Taking the cable car married aerophobia with claustrophobia so I felt a tinge of discomfort deciding to take the ride. But I wasn't ready to be defeated by unfounded fears yet so I decided to f**k the 'handicaps' and fight them with a defiance.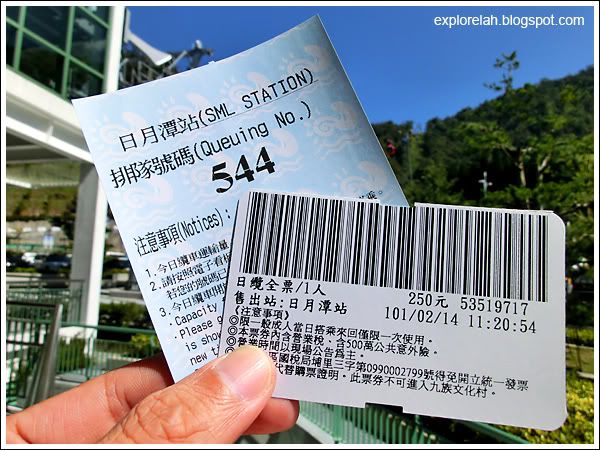 There are a few ticketing options to view Sun Moon Lake from the air. There is the return ticket to just take the cable car and view Sun Moon Lake (N$250 / S$10.00) and a package that included admission to Formosan Aboriginal Culture Village (N$780 / S$32.00). I bought the ride-only option but I think the package is a better deal on hindsight.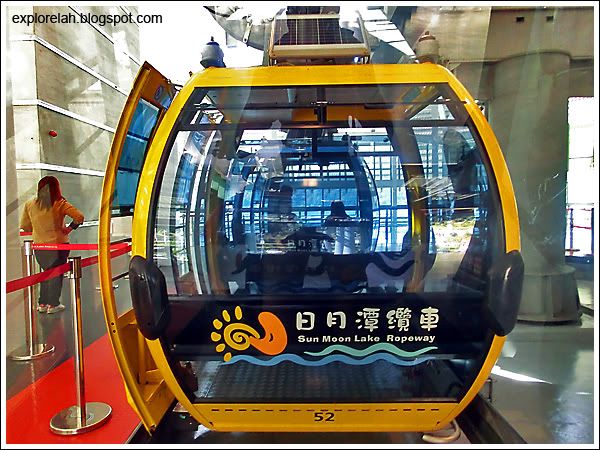 The cable car ride takes about 10 minutes to reach the end station where the Formosan Aboriginal Culture Village is located.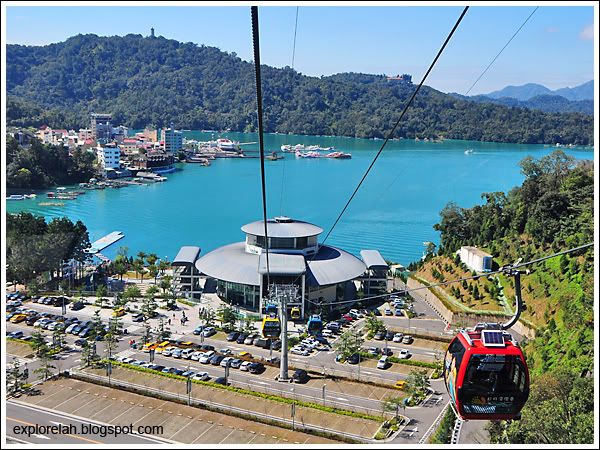 At Sun Moon Lake, this mode of transport is not called 'cable car' but 'ropeway'.
Metal cocoons transporting visitors one one state to another.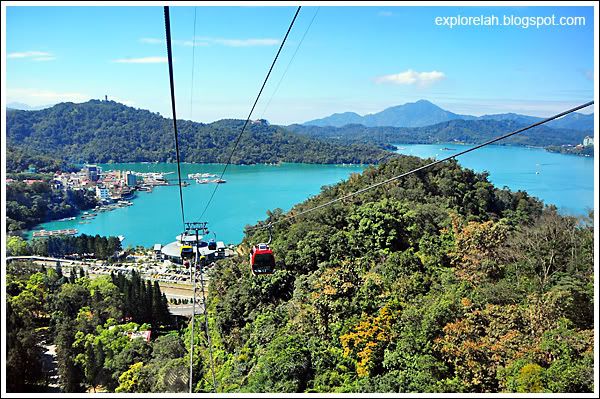 I was so thankful I got the whole cabin to myself and that made me feel better about my dread of height.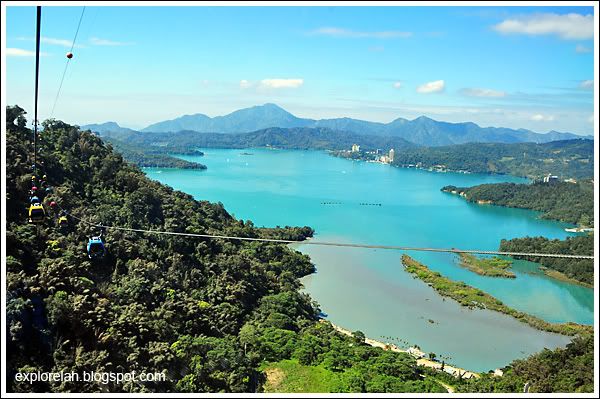 Breathtaking view of Sun Moon Lake. Watch the video at the end of the post for more of the cable car ropeway journey.
Ropeway station at Formosan Aboriginal Culture Village.
Formosan Aboriginal Culture Village Theme Park
The ride-only ticket basically just allowed you to take the ropeway from Itashao to Formosan Aboriginal Culture Village station and back down. There's nothing to see or explore at the station unless you visit the theme park.
Not ready to face the 'trauma' or a down-mountain ride so soon, I decided to visit the theme park anyway. At ths point, I decided to do an experiment. I wanted to determine the level of English proficiency at a major Taiwanese tourist attraction. So I pretended to enquire about admission in a faux-American accent, abett terribly, and would be exposed immediately in English-majority countires.
But I could get away with faking it here. The entrance ushers had no idea what I was talking about and had to get an English-speaking colleague, who didn't understand English very well either, to attend to me. So if potato is all you can muster linguistically, learn the art of pointing. I pointed to my ride-only ropeway ticket and pointed to the park indicating my intention to enter.
The youngsters guarding admission were so patient and kind. They told me I could enter by topping up the price difference if I'd purchase the package ticket at the foot of the mountain. I was pleasantly surprised because entrance to the theme park was much higher if bought it at the door and not as a package at the Itashao ticketing booth. Great that they allowed top-ups... and the compliment two of the female ushers unwittingly gave me when discussing how cute I am amongst themselves. Haha. Looking at how young they were, I could've been their father!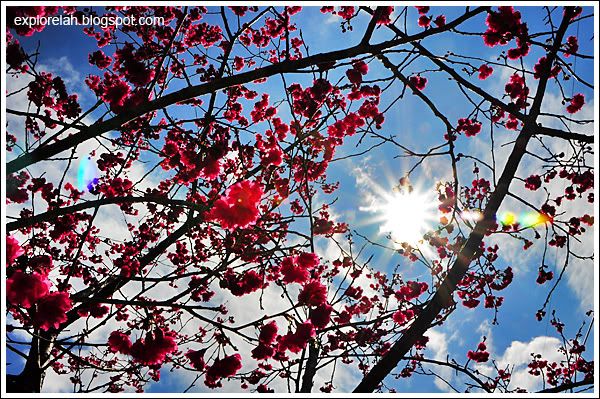 Pink cherry blossoms are so very cheery!
Formosan Aboriginal Culture Village is a rather extraordinary theme park spanning a mountainous nave in two sections - a cultural segment showcasing the heritage and aborigines of Sun Moon Lake and an amusement park speckled with joy rides and thrill conceptions.
Due to time constraint, I missed the cultural experience and headed for the amusement offerings. Getting to the amsement section is another short ropeway ride and this section contains a blend of thrill attractions with outdoor replicas of aboriginal dwellings of the nine tribes that occupied Sun Moon Lake.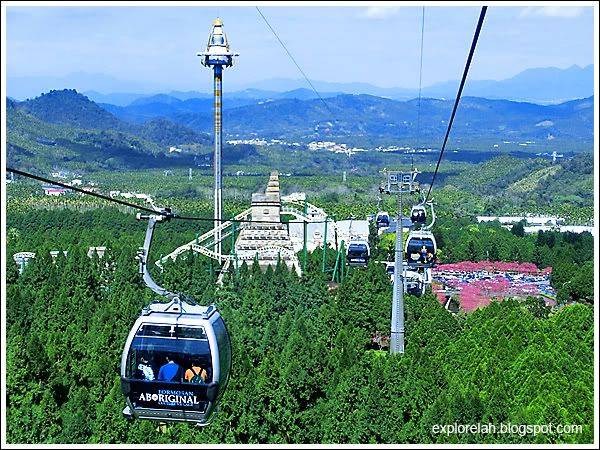 Ropeway ride within the theme park is inclusive in the entrance ticket price.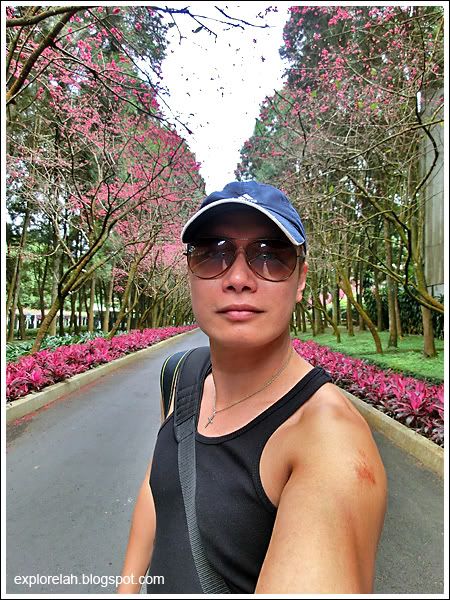 Cherry blossoms were coming into bloom, lining park streets with a delightful explosion of fuschia.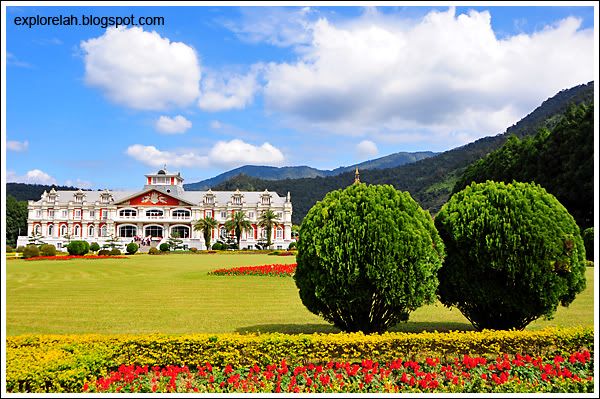 A sampling of European architecture provided some unusual photographic opportunities. A food canteen is housed within the 'palace'. I had a simple set lunch there for about S$6.00.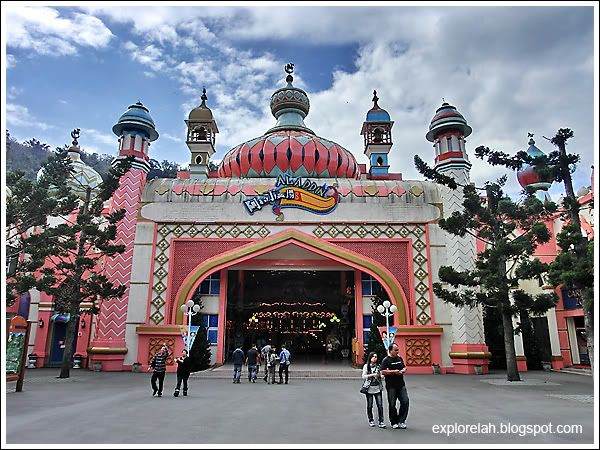 Facade of an indoor amusement area (Aladdin) with merry-go-round, viking boat and other child-friendly playthings.
Interior of the Aladdin play zone.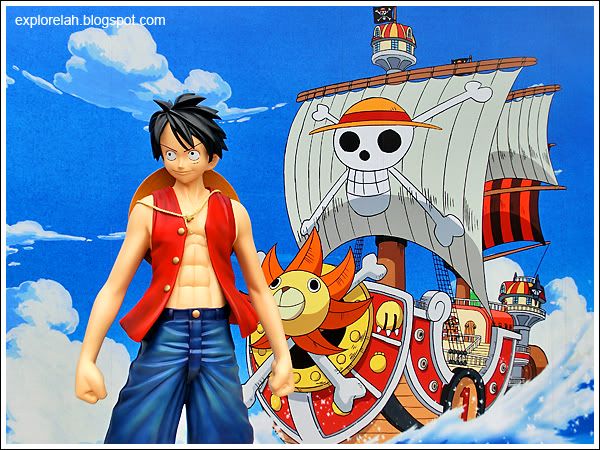 Characters from the comic series, One Piece, were a main feature at the amusement park.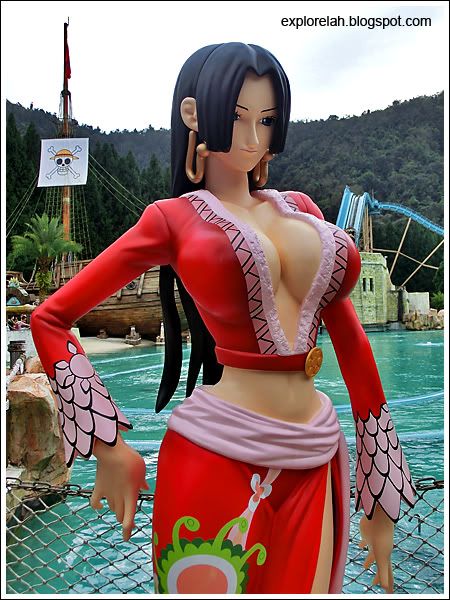 Nose bleed...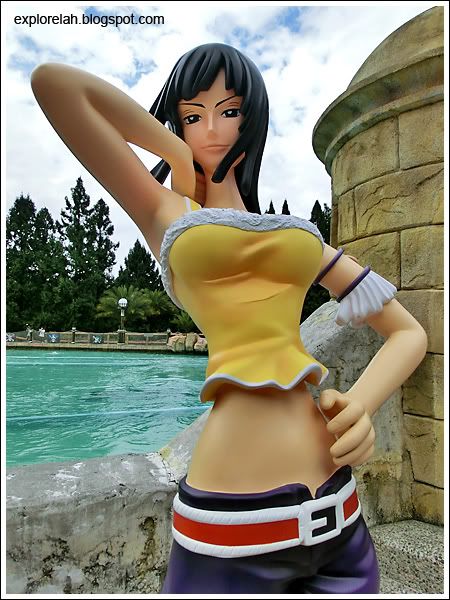 I need blood transfusion...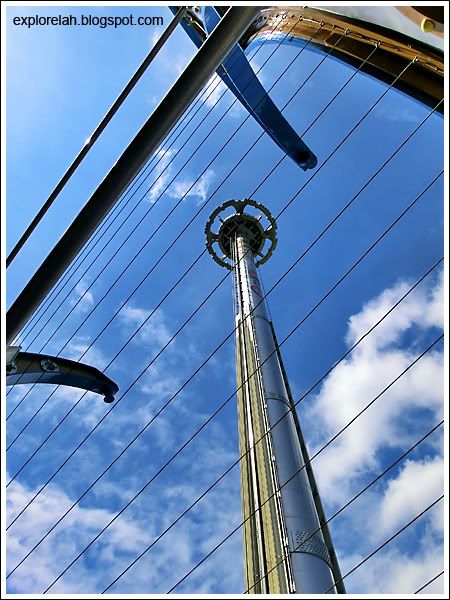 UFO ride where visitors were raised on the tower and then dropped suddenly. No idea what came over me to take it. My heart was at my throat the whole time. Watch the video at the end of the post for a 'live' recording of the hoist and drop with an awesome aerial view of the park.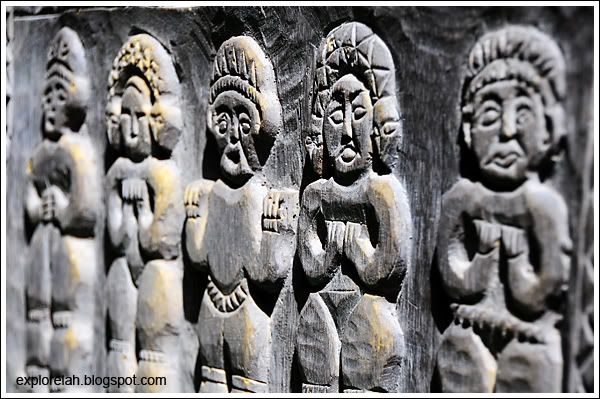 Impressions of Sun Moon Lake's native inhabitants.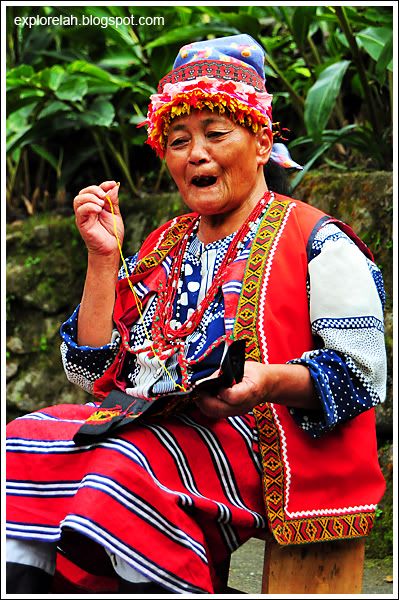 Life as it used to be. A toothless Ah Ma in traditional tribal costume making handicrafts as they have been done for generations.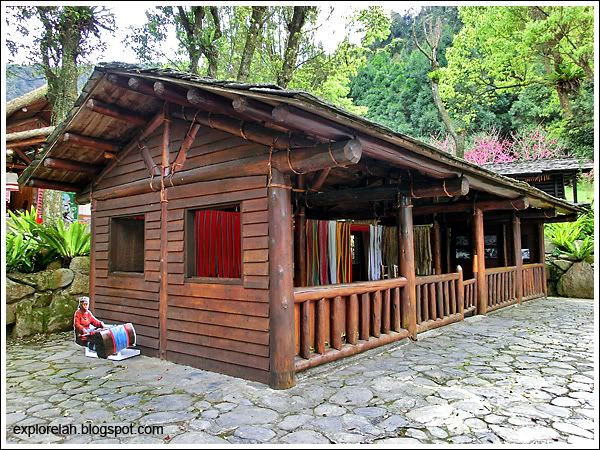 A cloth-weaving hut.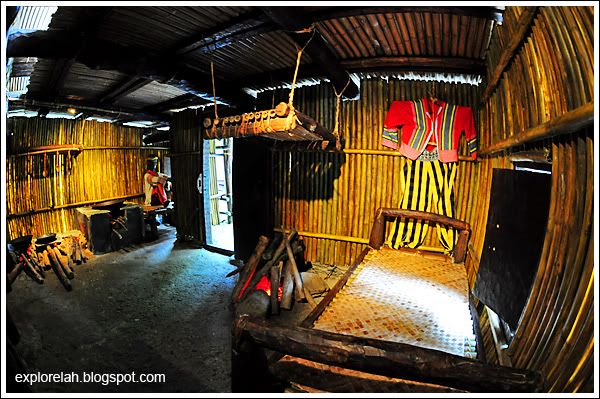 Interior of living space for one of the tribes.
Exterior of the timber and bamboo huts.
Interior of a tribal hut relocated from Wanda Village. The tribe's lodging is partially submerged into the ground.
My first-ever attempt at archery. NT$100 (S$4.00) got me 20 arrows to play Robin Hood.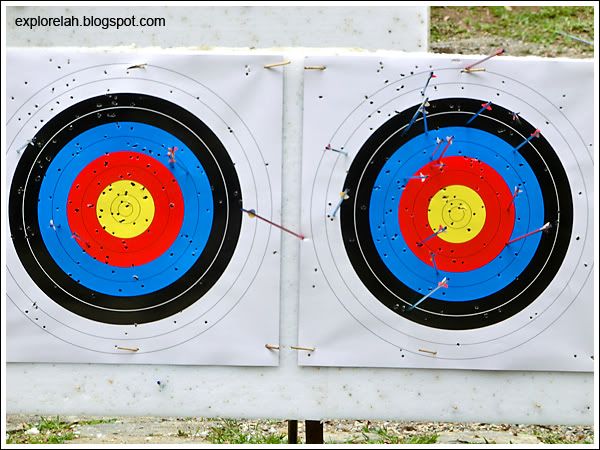 Not too bad! Got most of the arrows onto my target board (right) with a few misfires to the left.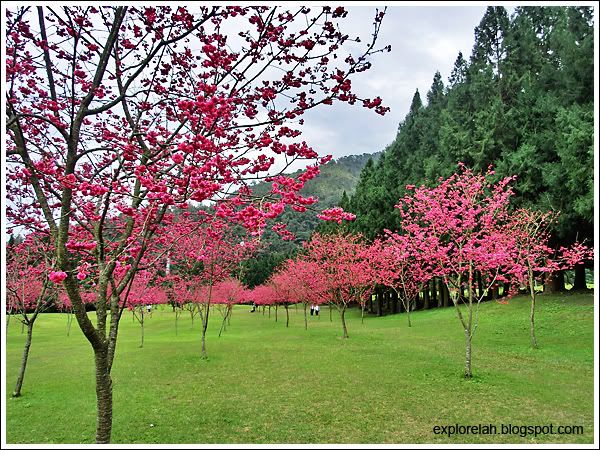 Beautiful grazing with a pasture of blushing blossoms.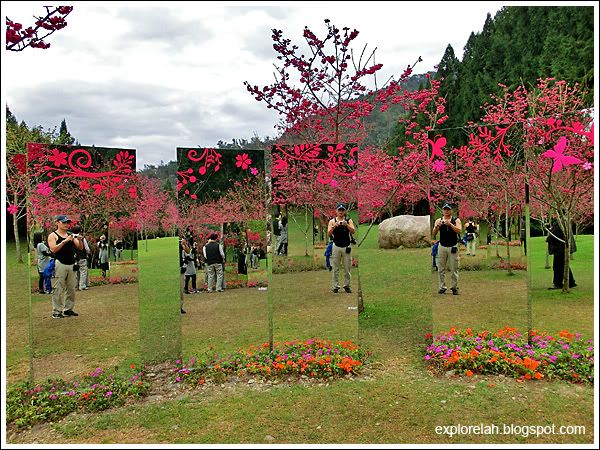 桃花阵?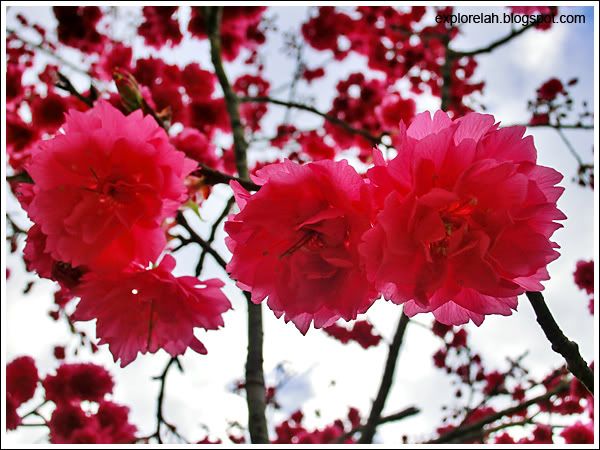 An unforgettable encounter with a profusion of cherry blossoms at Formosan Aboringinal Culture Village.
I wished I had more time at the amusement park we had to leave to catch the train back to Taipei. If you plan to visit Itashao and the Formosan Aboriginal Culture Village, I would recommend that you set aside a full day to allow enough time to enjoy both culture and adventure at the sprawling theme park.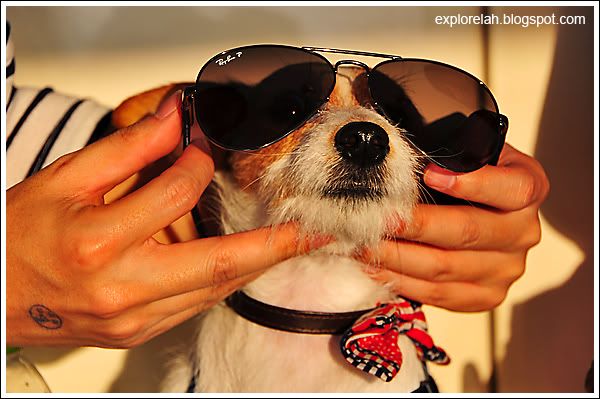 It was really great that the park allowed dogs onto its premises. In fact, many places in Taiwan welcomes pooches. Too bad that isn't the case in Singapore.
Loving it at Sun Moon Lake
Two days one night was definitely not enough for me to take in all of Sun Moon Lake. Although the villages were small and nightlife is practically non-existent, it was nice to take it slow and just enjoy the lake waters, the picturesque mountains and the feeling that you could touch heaven.
Hopefully I'll get to visit again and go to the other attractions I missed out during this brief trip and take more photos of its gorgeous sunsets.