Date of Exploration :
9 - 11 Sep 2013
After Seoul, the next Korean mega city would be Busan, home of the renowned Busan International Film Festival (BIFF) that stakes an Asian presence in the congregation of Euro and American rooted film fests. That's also how I heard about Busan, through BIFF when Singaporean director Roystan Tan beat other acclaimed Asian filmmakers to clinch the top prize with his film "69" in 2012. I've participated in one of Royston's experimental film projects many years ago so we're sorta friends and on each other's Facebook list. His status updates introduced me to Busan.
Having just come into the knowledge of Busan's existence, I was naturally very excited to visit so soon. The modern city is the first stop in my whirlwind 10-day vacation in South Korea, which included a 3D2N tour with the
K-Shuttle
deluxe bus. We boarded the bus in Busan and travelled up to Seoul, passing various minor cities and provincial attractions along the way. Find out the sights I visited with K-shuttle en route to Seoul
here
.
Beginning with this post about my first day in Busan, I'll be sharing more about my explorations of Korea during the 10 days in upcoming entries. Hopefully the information provided will be useful in helping you plan your Korean escapade!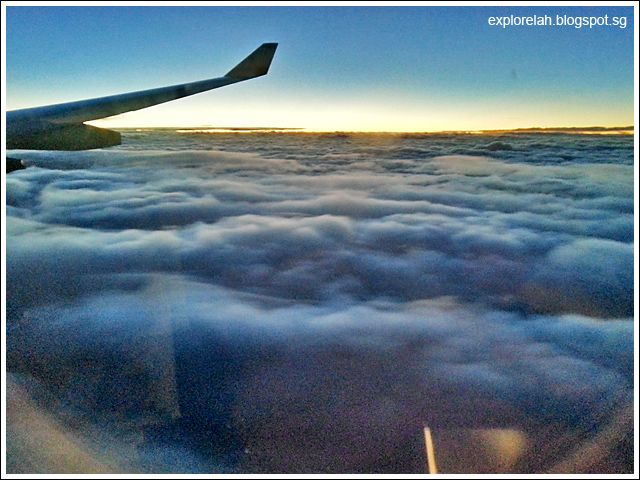 My journey into South Korea began with an overnight flight from Singapore to Seoul (6 hours) followed by a domestic flight to Busan (1 hour). I haven't taken an overnight flight in a long while and was delighted to catch sunrise on the plane. The sky looked like it was still snuggly asleep under a thick cotton blanket that morning.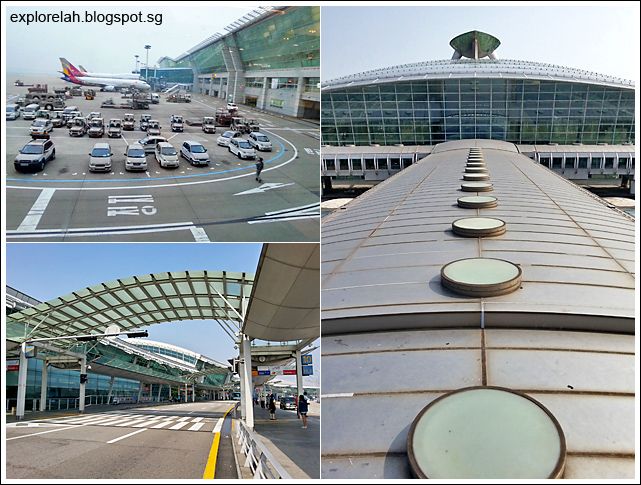 Incheon Interntaional Airport (ICN) in Seoul. Rated the best airport worldwide for 7 consecutive years (2005 - 2012), the airport resembles a massive futuristic spaceship waiting to take off.
We collected our pre-ordered SIM card from Evergreen Mobile at a bookshop at Incheon Airport. Mobile plans for travellers are not available at the airport so if you want to stay connected, you have to pre-order online at
www.egsimcard.co.kr
and collect upon arrival. You have to set up the SIM card and connection yourself. After inserting the SIM card, search for and connect to the operator 'Olleh'. The signal is really strong whether it is in the subway or up on the mountain!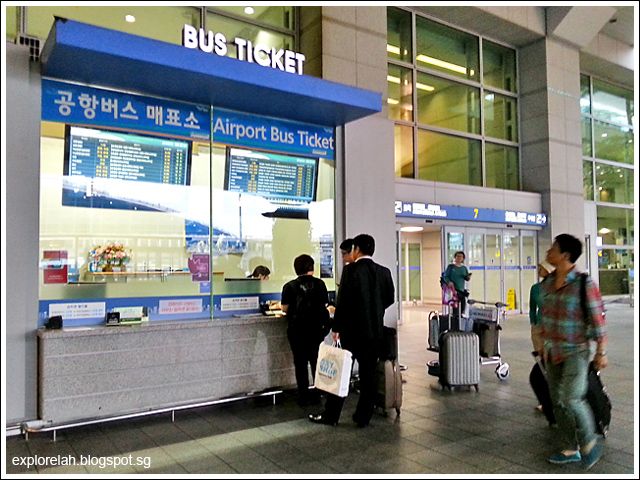 As our destination was Busan, we proceeded to purchase bus tickets to Gimpo Airport for our transit flight. The bus ticketing booths are located at various exits outside the arrival hall.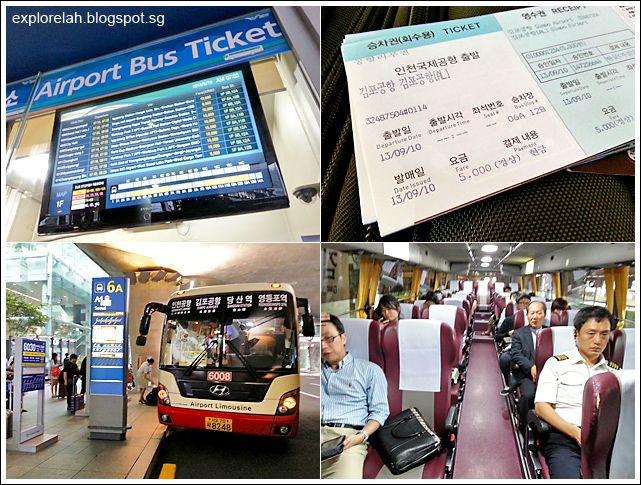 The airport bus (also called Limousine Bus) links to various parts of downtown Seoul such as Seoul Station, Myeong-dong, etc. so this can be a transfer-to-city option other than the Airport Rail Express (AREX) or cab. The fare was W5,000 to go to Gimpo Airport.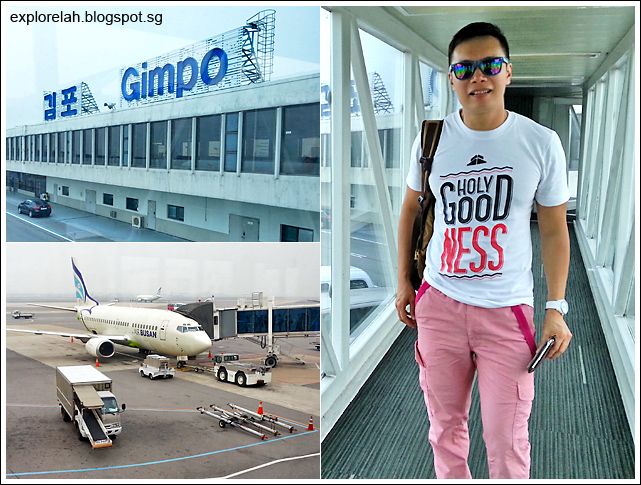 After a 30-minute bus ride, we arrived at Gimpo Airport for our transit flight to Busan.
After an hour's flight, we arrived at Gimhae International Airport, the doorway to Busan! An easier way would be to fly directly to Gimhae instead of going through the plane-to-bus-to-plane transfers.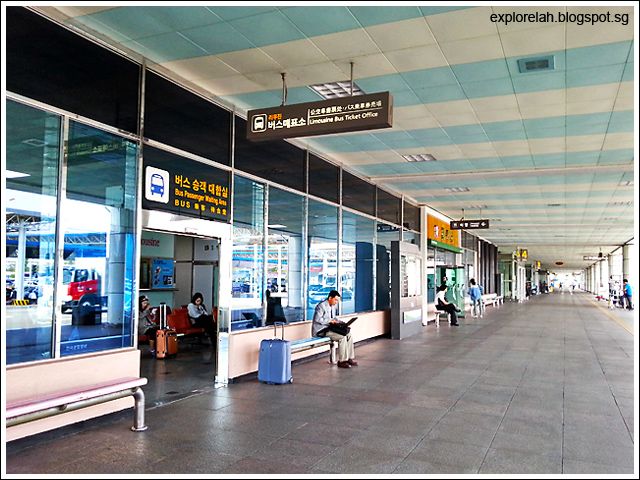 To get to downtown Busan, we took another bus from Gimhae International Airport. The bus ticketing booth is located at the end from Exit 4.
There are various routes and drop-off points so find one that's closest to or at your hotel. Our bus dropped us at Seacloud Hotel for W7,000. Ride duration : 1 hour 15 minutes.
After almost 12 hours of travelling and transiting, I finally caught a magnificent first glimpse of...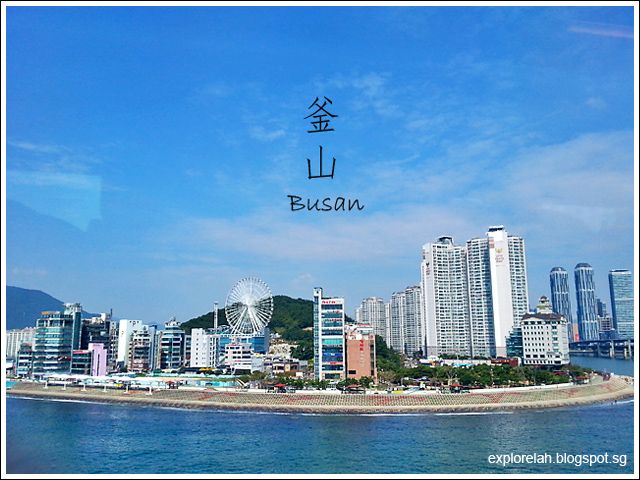 I remember my breath escaping me when I saw this waterfront scene of downtown Busan for the first time.
Dipping its toes into the East China Sea and Sea of Japan, Busan (also spelt Pusan) served as the temporary capital for South Korea during the Korean War and is a key trading port with Japan due to its proximity to the land of the rising sun. It has 3 popular shorelines (Songjeong Beach, Haeundae Beach, and Gwangalli Beach) and numerous other smaller sandy bays, making this seaside city an irresistible draw for holidaymakers both local and overseas.
The metropolitan city also has 3 large : largest beach in Korea, longest river in Korea, and largest departmental store in the world!
I got to spend 2D1N here and checked out some of the fabulous sights this city seemingly built on water has to offer and had lots of fun in the
sun
Busan!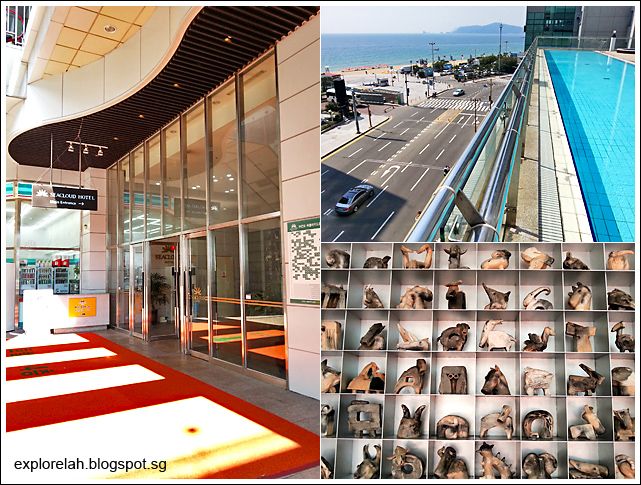 We lodged at Seacloud Hotel which is next to Haeundae Beach. We can see the beach from the hotel's pool.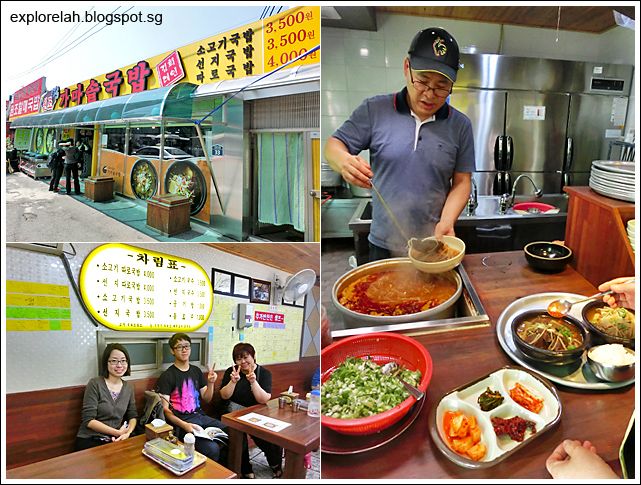 After dropping off our bags, we headed to Sogogi gukbap Street for our first Korean meal of beef soup. There are a number of shops along the street which faces a bus terminal and from W3,000 onwards, you can enjoy a steaming hot broth with a choice of beef or ox blood with rice or noodles. Taste-wise, it was nothing to shout about for me but for the price, it was about the cheapest there is of Korean meals.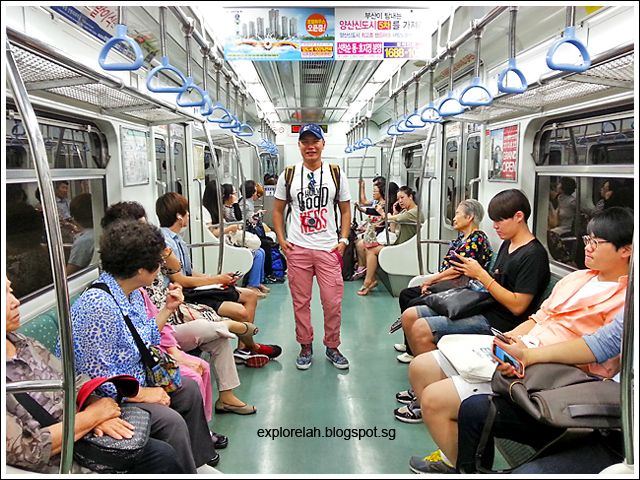 Following lunch, we rode the subway to our next destination. The Koreans must be thinking to themselves that I have a screw loose to snap a pic on their public transport. LOL. Getting around Busan with the subway was a breeze as stations have English names.
Jjimjilbang : What? I Need to be Nude??
Our next destination is Shinsegae Centum City, the world's largest departmental store. However, we were not there to thin our wallets with shopping but to relax our tired buttocks from all that travelling at a jjimjilbang.
I know, I don't get the double 'j' in the spelling but that's how it is spelt. A jjimjilbang is basically a public bathhouse that offers hot and cold pools, jacuzzi, steamrooms, saunas and sleeping area for overnight stays. They are usually open 24 hours and many Koreans may spend the night after working late or after a late night out and do not want to spend the cab fare home.
This was my first time going to a jjimjilbang so I was pretty shy about having to go nude at the wet areas initially but after a while, it felt really liberating and surprisingly, relaxing!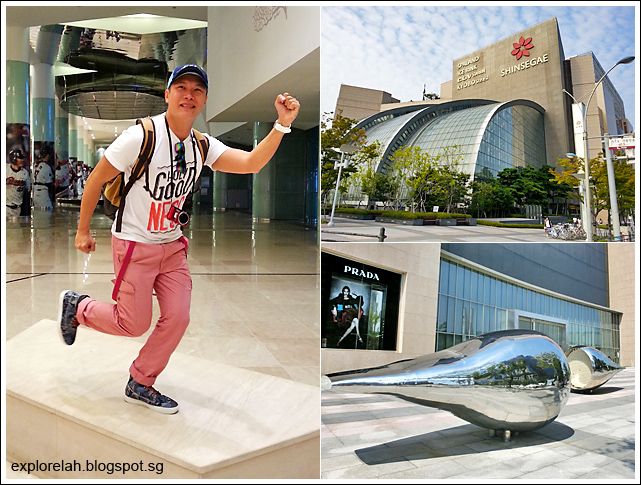 Off to my first jjimjilbang experience at Shinsegae Centum City.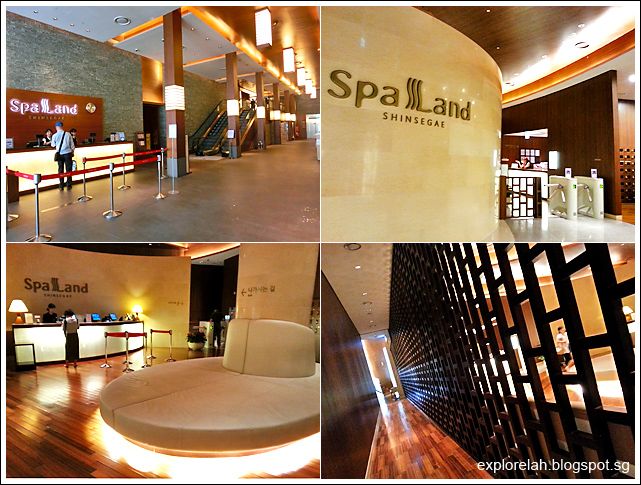 The jjimjilbang here is called Spa Land, an upmarket bathhouse that charges more than double the regular ones. We got the 4-hour stay ticket which costs W12,000 per adult. Regular jjimjilbangs charge around W7,000 - W9,000 without a time limit. But the experience is worth the premium price. Spa Land is open from 6am - 12am (not 24 hours).
Rest area with deck chairs. Can suntan here! No nudity at the dry areas though as they are co-ed.
Roman steambaths and urn-shaped sweat rooms are just some of the 13 themed steamrooms and saunas. In addition, the jjimjilbang houses 22 spas that are fed by 2 different kinds of natural spring water pumped from 1,000 meters underground!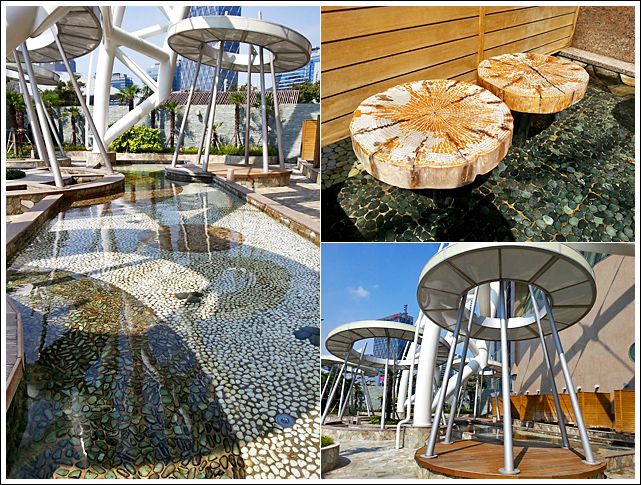 There's even an outdoor foot spa with peddled paths for foot reflexology and air-conditioned entertainment room that comes with huge comfy sofas attached with personal TVs. Initially, I thought 4 hours would be a long time to stay but looking at all the facilities, time would pass easily. Especially when you can let it all hang loose.
BEXCO Yacht B : Adrift at Suyeong Bay
With bodily knots bubbled away and my skin all soft and supple from the jjimjilbang session, we packed into a cab and headed to Busan Yachting Center for an hour's cruise along Suyeong Bay onboard
Yacht B
operated by BEXCO.
Starting from the yachting center in Haeundae, the catamaran sails past the Marine City, Dongbaekseom, and Nurimaru before drifting at a rendezvous point below Gwangan Bridge. Light food and beverages are catered for onboard and guests can get a foot soak on deck, go fishing and snap lots of memorable shots with the scenic marina for a backdrop.
Ahoy, ahoy!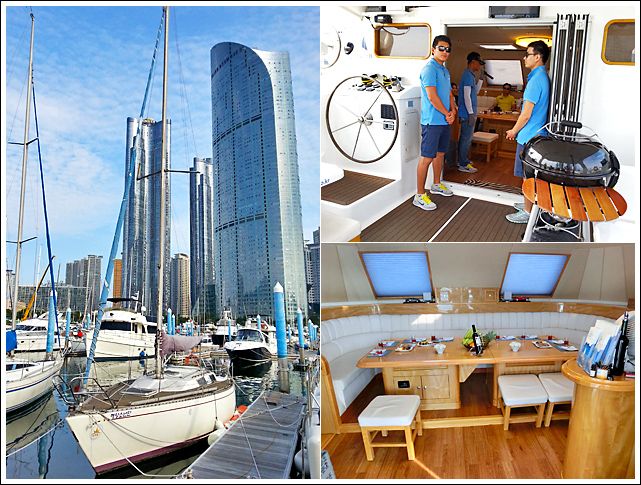 Photos : (Left) Cruising out of Busan Yachting Center with the city's height-defying skyline waving bon voyage! (Right) Yacht B's crew ensures guests have a good time.
What are they looking at?
The couple was awestruck by the grandeur of the Gwangan Bridge seen upclose. The double-deck bridge connects Haeundae to Suyeong and is the second longest suspension bridge in Korea.
Not Captain Hook, but a peace sailor :)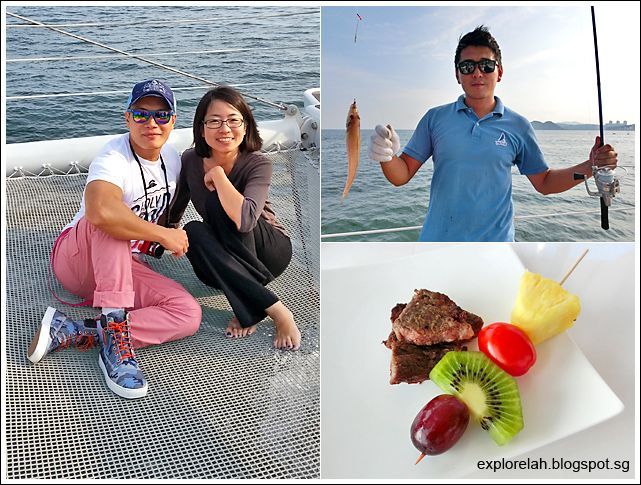 Photos : (Left) Look what the net brought in... a dugong and a mermaid! (Right) The dashing boatman reeled in a catch which he later released back into the sea and nibbles served onboard. The beef tasted great. Would've been even better if wine was served free-flow throughout the ride.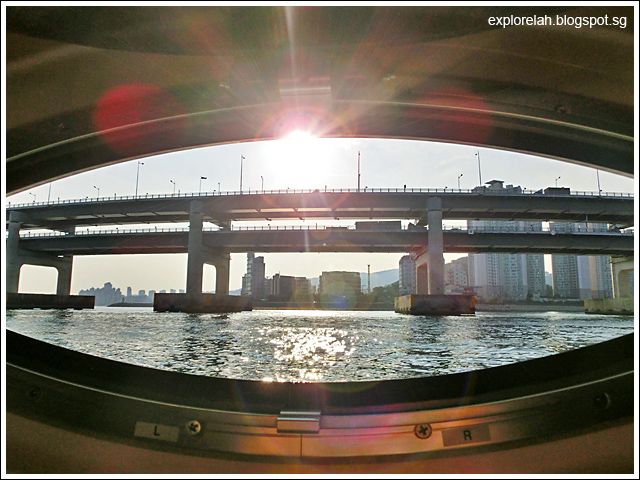 Shine like a diamond... Gwangan Bridge (a.k.a. Diamond Bridge) as seen through a pothole in Yacht B's onboard suite. With a boatful of activities, the cruise felt like it ended as soon as it got started! Price : W60,000 (adult), W40,000 (child). Reservations : http://www.yachtb.co.kr/_ENG/index.asp
Gwangalli Beach : Catching the Sparkle of Diamond Bridge
One of the 3 popular beaches in Busan, Gwangalli forms a half-moon coast that's perfect for admiring Gwangan Bridge (Diamond Bridge) from a distance, especially when the bridge comes alive with a glittery light-up at night.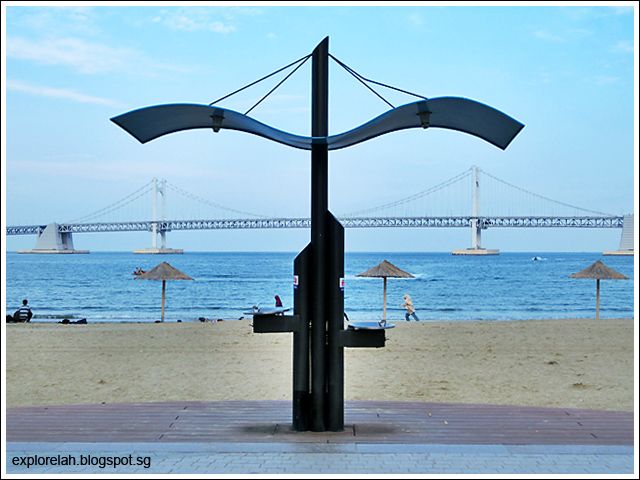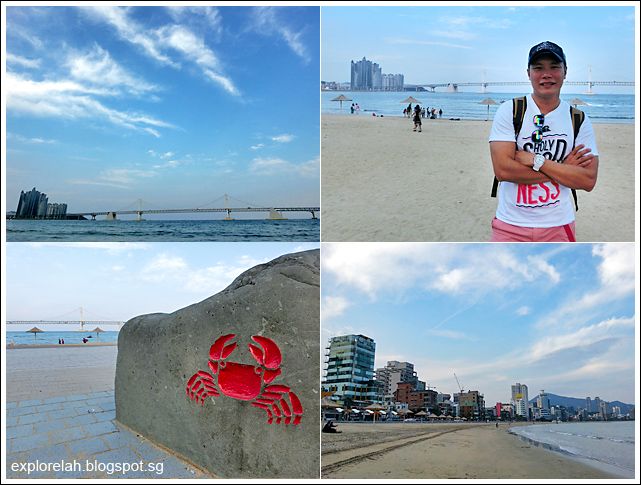 The beach is popular with youngsters and a bevy of cafes and restaurants skirt the sandy waterfront. Water quality and clarity is much like what we get at the beaches in Singapore.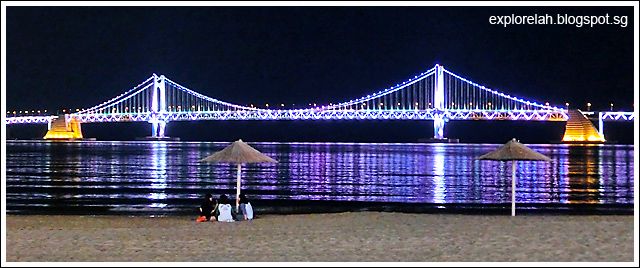 Gwangan Bridge living up to its nickname as Diamond Bridge.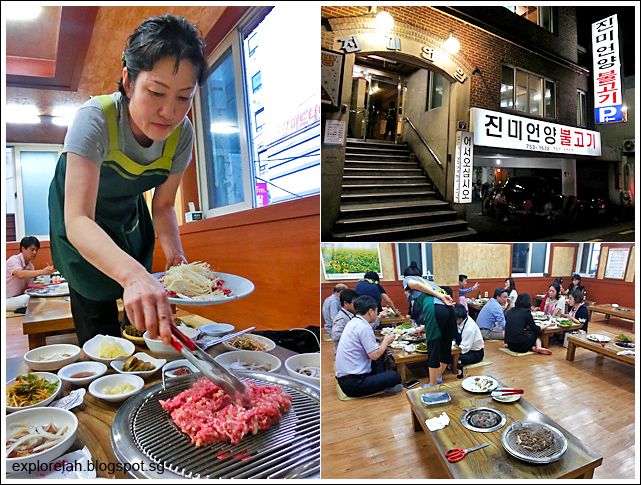 Dinner was a sizzling affair at Jinmi Eonyang Bulgogi. The restaurant is located at a back lane parallel to Gwangalli Beach where a number of Eonyang Bulgogi eating houses are found.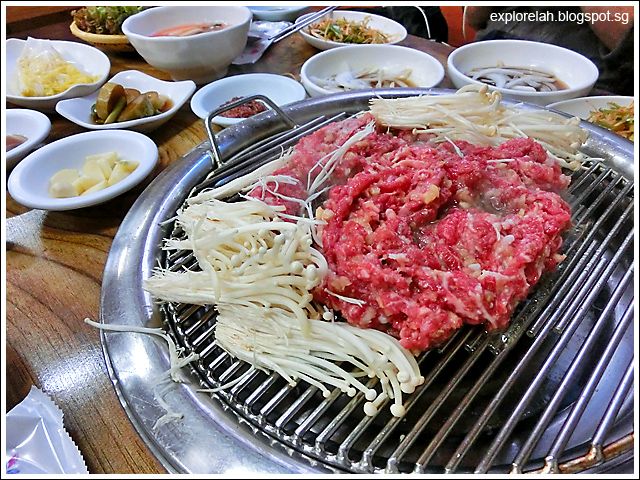 Bulgogi means 'fire meat' (bul means 'fire', gogi means 'meat'). Eonyang bulgogi is basically beef raised in Eonyang and it is minced and marinated while other bulgogi styles go with sliced meat. Dinner was 2 thumbs up but didn't come cheap. A set for 4 persons costs W100,000 (approx. S$120).
Haeundae Market : Getting Acquainted with Local Flavours
Before turning in for the night, we headed to Haeundae Market with the intention of a quick browse and get a feel of the local traditional market but ended up stuffing ourselves with delicious street food instead.
Located just behind our hotel (Seacloud Hotel) and near Haeundae Beach, the market sells an assortment of vegetables, meats, groceries and is lined with restaurants hawking fresh eels, sannakji (live octopus sashimi), and some weird looking seafood I've not seen back home.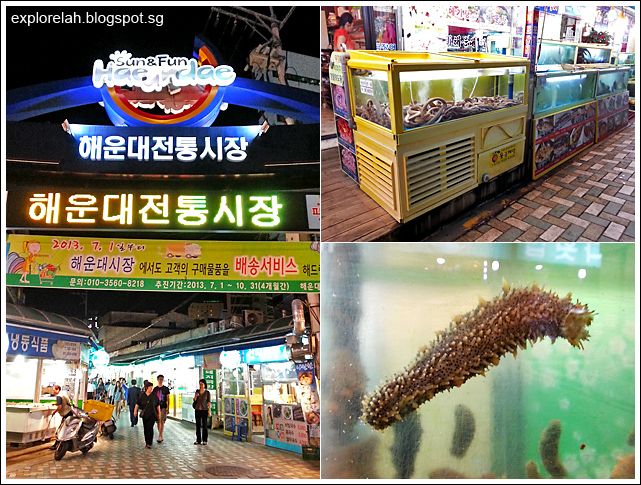 Photos : (Left) Entrance to Haeundae Market. (Right) Restaurants with tanks of live eels (the grilled eels are a favourite snack for Koreans) and nightmarish seafood. I wondered if they will taste like a wet dream.
Up for some fishy business, I flounder an aquatic clown that made me feel sorry yet laugh at the same time.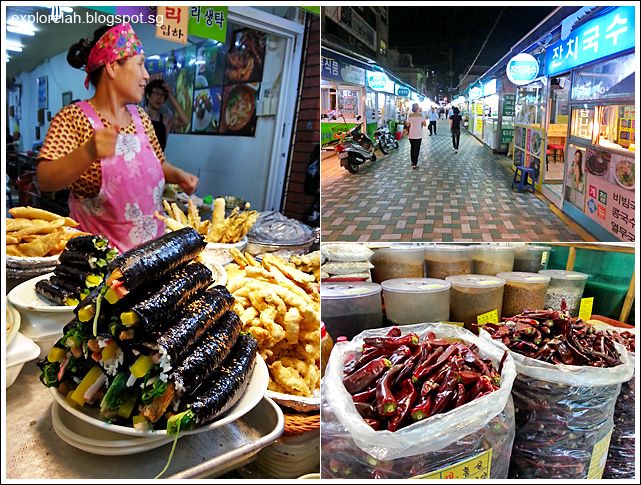 Succumbed to the tempting street food for supper. Had kimbap (seaweed rice roll) for W2,000 each, tteokbokki (rice cakes in spicy sauce) and various tempuras. Very yums and the stallowner (left photo) we bought from was very nice and kindly. She kept offering us free samples to try.
Phew... it had been one very long day starting with the journey to Busan from Singapore, experiencing my first jjimjilbang, cruising with Yacht B, checking out Gwangalli Beach and the various eats.
And this is only Day 1 of my Korea trip! Although I was tired, I wasn't exhausted (maybe the jjimjilbang helped) and I can't wait for more adventures up ahead...
This post has been made possible by
Korea Tourism Organisation Singapore
.
Sole companion : Timberland.