Date of Exploration :
29 - 30 Mar 2013
A coastal district buttoning the tip of Malaysia's southeastern collar to the Straits of Johor, Pengerang is a seafood paradise that is famously unfamous. It is famous because those in the know flock here for fresh and relatively affordable seafood. But at the same time, Pengerang is unfamous as a holiday destination for it doesn't enjoy the same level of awareness as other Johorean hotspots (such as Johor Bahru, Batu Pahat, Mersing, and Kota Tinggi).
I visited Pengerang with Siow Har and another friend 3 years ago to sample its harvest of the sea but we got more than we could chew. Siow Har got into a rather
bloody accident
while cycling there and we were at a loss for what to do but thankfully, help came promptly. In many ways, that accident brought out the best of Pengerang and we discovered the other great thing about the place apart from mouthwatering seafood... its people.
Our return visit this time round was long overdue and instead of just indulging in marine gluttony, Siow Har and I decided to attempt something that we've never ever done before - long distance cycling.
Perhaps preceding its reputation for good chow, Pengerang is a well-loved destination amongst cycling enthusiasts for its wide open roads flanked by rustic beauty and sparse traffic. Many Singapore long-distance cyclists would start their Malaysian cycling expedition from Pengerang into Kota Tinggi to Johor Bahru and returning to Singapore via the Woodlands Causeway, a journey of about 190km and taking 9 hours (only if you are a pro cyclist!).
For inexperienced cyclists like Siow Har and myself, we decided to just cycle from
Sungai Rengit
(the unofficial chief township of Pengerang) to Desaru, a distance of 30km one way and should take under 2 hours. For the pros, this distance doesn't raise any eyebrows but for virgins like us, it's like attempting to fly to the moon!
Getting to Sungai Rengit (Pengerang's Main Town)
There are a couple of ways to get to
Pengerang (Sungai Rengit) from Singapore
. You can either drive (approx. 1.5 hours), take a bus from Singapore's Queen Street to Johor Bahru's
Larkin Bus & Taxi Terminal
and taking a coach by
Mara Liner
(3 departures daily, RM10.40 per adult, 1.5 hours) to Sungai Rengit, or by bumboat from Changi Point Ferry Terminal to Tanjong Pengelih Ferry Terminal (S$11 one way, 1 hour). From the ferry terminal, take a taxi to Sungai Rengit (RM20 per car, 20 mins).
Like our
previous trip
, we chose to go via the sea route although it is the most unpredictable way to travel and involves a lot of waiting time. The bumboats to Tanjong Pengelih don't depart on a fixed schedule and boatmen leave once they get 12 passengers per boat. The bumboats operate from 7am - 7pm (from Singapore) and 7am - 4pm (from Tanjong Pengelih).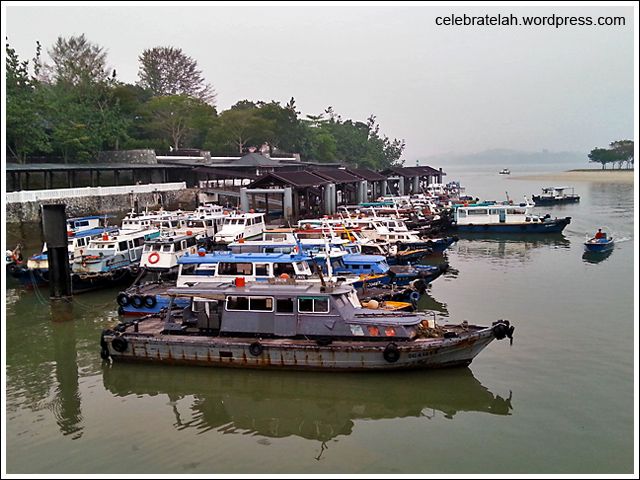 Bumboats at Changi Point Ferry Terminal. The boats serve 2 destinations - Pengerang and Pulau Ubin.
During weekends and holidays, there are no problems filling the boats but the wait is long because there aren't enough boats to take passengers. On weekdays, the problem would be getting enough passengers to fill a boat for it to depart. Either way, expect a lot of waiting.
There's no pre-purchase of tickets and you need to be at the ferry terminal to place your passport on the counter to queue for a boat. It can be quite chaotic and you have to listen out for your name to be called when a bumboat is ready to leave.
The
last trip
, we arrived at Changi Point Ferry Terminal at 8am and waited till about 12pm (4 hours) to board a boat. This time round, we decided to go earlier and reached the terminal at 6.45am. It was a Good Friday weekend so the terminal was already pretty busy. We waited 2 hours to get our boat ride this time round.
We boarded the bumboat after clearing immigration and Singapore customs. The boat fare of S$11 is collected onboard and it's an extra S$3 if you brought a bicycle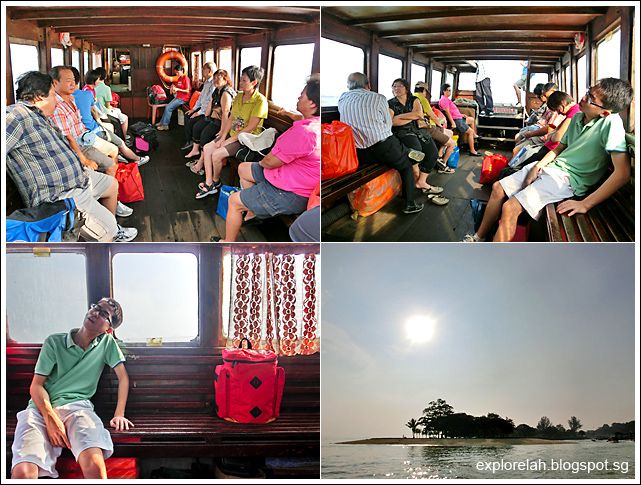 It is hot and stuffy inside the noisy bumboat so be prepared to perspire. Sit close to the tail of the boat for better ventilation.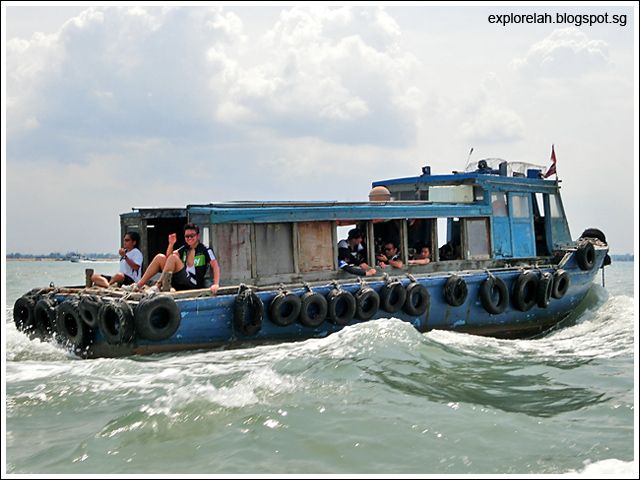 A cycling group which had 12 members chartered a full boat and didn't have to wait as long at Changi Point Ferry Terminal to depart. If you get 12 friends, you can book a boat too and beat the queue.
Along the way, we passed by numerous rigs that sat on the ocean like monstrous iron lotus pads.
Heavily fractured window of the old bumboat. With the sun at full force, it felt like a sauna inside the cabin.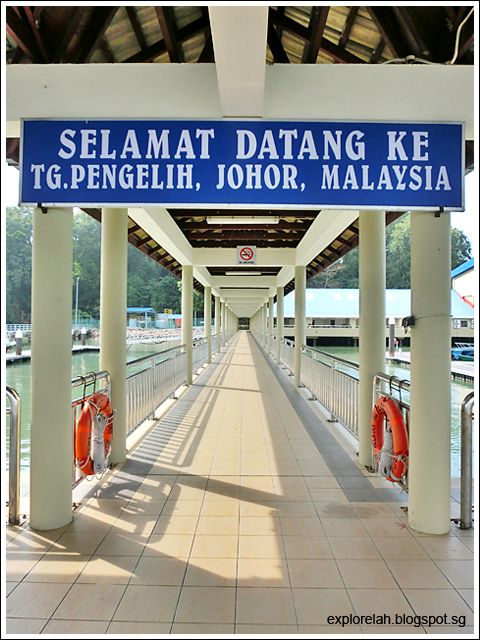 After slightly over an hour of enduring the bumboat's noisy engine, kerosene fumes and heat, we reached Tanjong Pengelih Ferry Terminal, the gateway to Pengerang.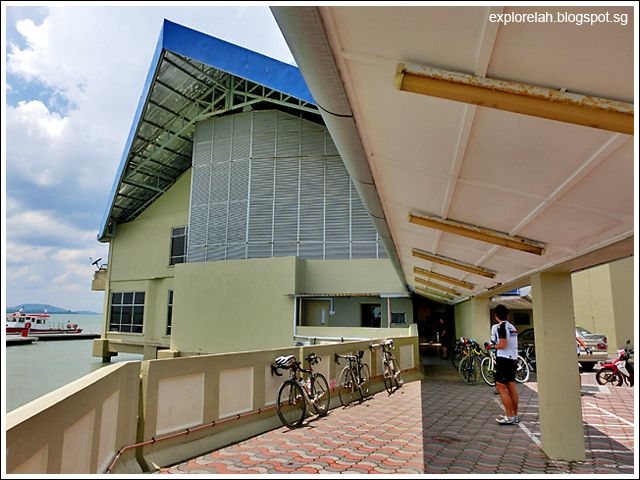 Met a group of long-distance cyclists called the
Joyriders
who completed a 9-hour ride departing from Singapore's Woodlands Checkpoint and arriving at Pengerang to take a boat ride back to Singapore. Maybe one day I'll attempt it!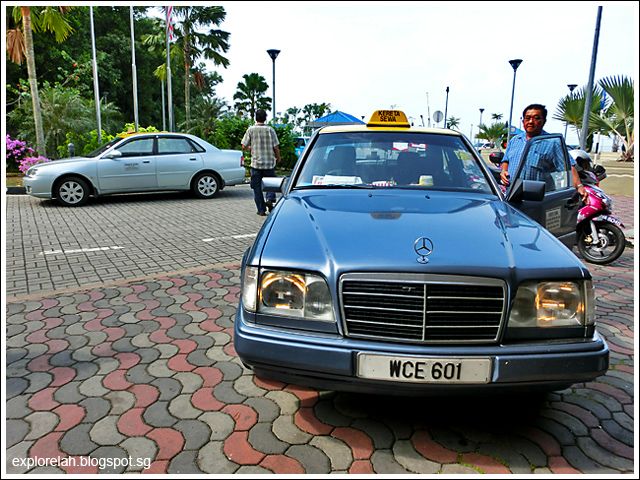 From Tangjong Pengelih Ferry Terminal, you can take a cab to Sungai Rengit (20 mins) which costs RM20 per car. Our driver, the guy in checkered shirt walking towards his white taxi was really friendly and shared a lot of info about Pengerang with us.
Sungai Rengit - The Heart of Pengerang
Locally known as 四湾 (Fourth Bay), Sungai Rengit is a small town where all the action of Pengerang is located. Here, you can find accommodation, bicycle rental and get your fill of the seafood Pengerang is known for.
Calling Sungai Rengit small is actually an overstatement because the town is essentially built along 2 short streets. You can practically explore the whole town in under 30 minutes on foot.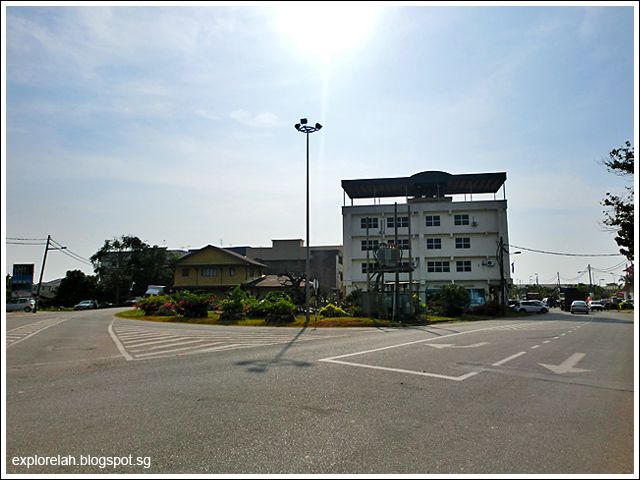 Entrance of Sungai Rengit. The seaside town is built along the roads running on the left and right.

Sungei Rengit taxi and bus terminal. This is where you can get a cab to Desaru or bus to Larkin Bus Terminal in Johor Bahru.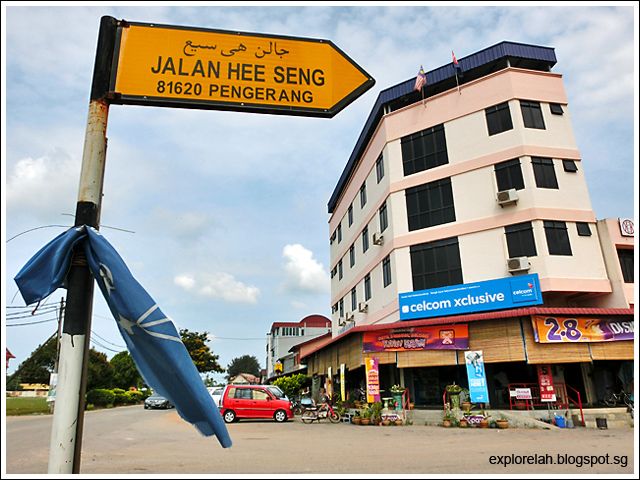 Sungai Rengit is a sleepy town with no nightlife and very little going on... a perfect place to just chill and take things really slow.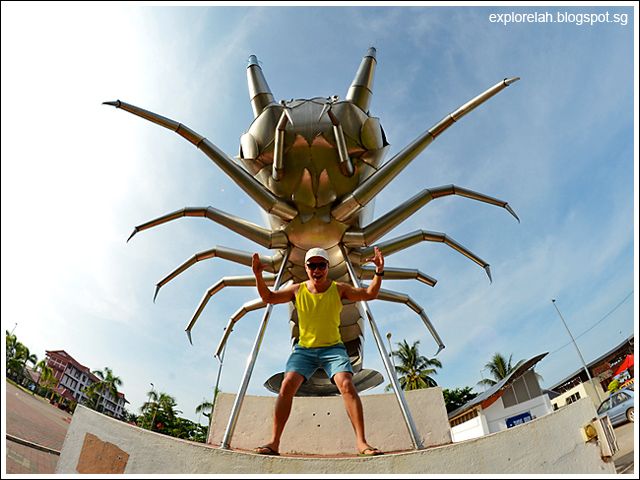 Sungai Rengit's mascot is this giant sculpture of a lobster at the town square. Someone must've ate one of its legs! LOL
Accommodation
There are a few hotels but expect the very basic. As the town is very small, it doesn't quite matter which hotel you choose as they are not far from each other. Rates range from RM50 - 100 per night for a twin room.
We stayed at
Hiap Hwa Hotel
during the previous trip and Tai Hoe Hotel this time round.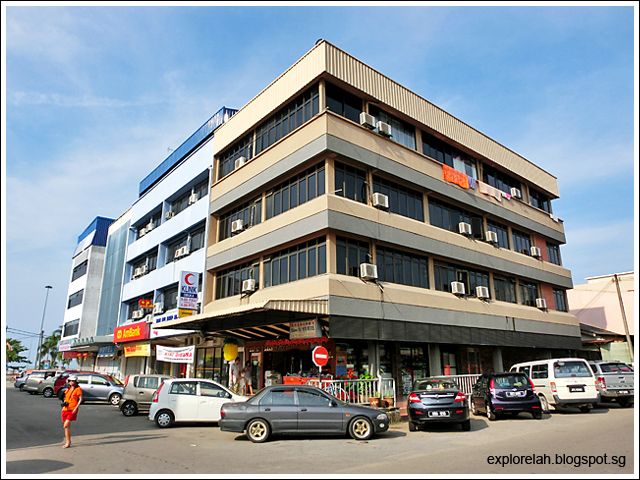 Façade of Tai Hoe Hotel (brown section). Our twin room cost RM98 per night. We didn't make any prior reservation and just walked in. As it was the Good Friday weekend, rooms were going fast. Reception of the hotel is also the cashier for a provision shop. The shop closes at 10pm along with the reception so don't expect 24hrs service.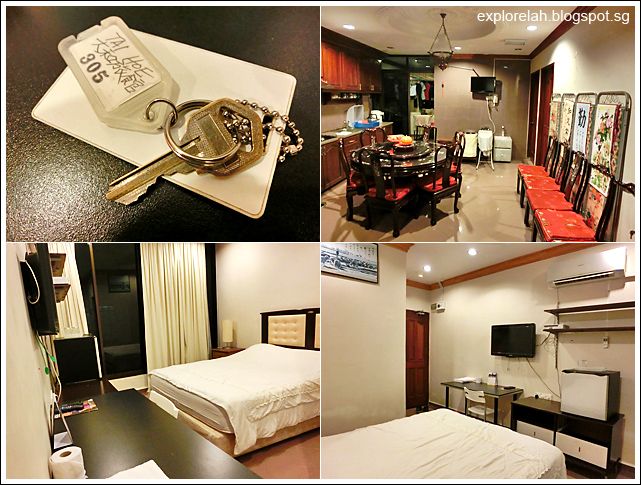 Our room was on level 3, next to the room of the hotel's owner! Outside our room was the family's kitchen and dining area so it felt as if we were part of household rather than hotel guests. But in the morning, a strange smell invaded our room as the family cooked their meal. I wouldn't recommend staying on this level.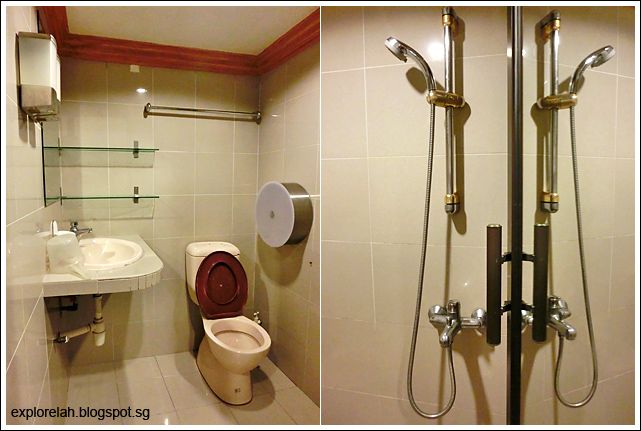 The room was generally clean although some stains were seen on the blanket cover. Bring your own toothpaste and toothbrush. No hairdryer available.
Sungai Rengit's Gastronomic Trail
The only tourist attraction at Sungei Rengit is served on a plate. The key draw here is the town's lobster dishes offered by a couple of seafood restaurants but there are minor local eats to check out too.
Here are some of the popular foodfare in Sungai Rengit as well as reviews of 2 seafood restaurants we tried...
At Lai Lai coffeeshop, there's the town's favourite Wanton Noodle and Chee Cheong Fun (steamed rice roll with fillings).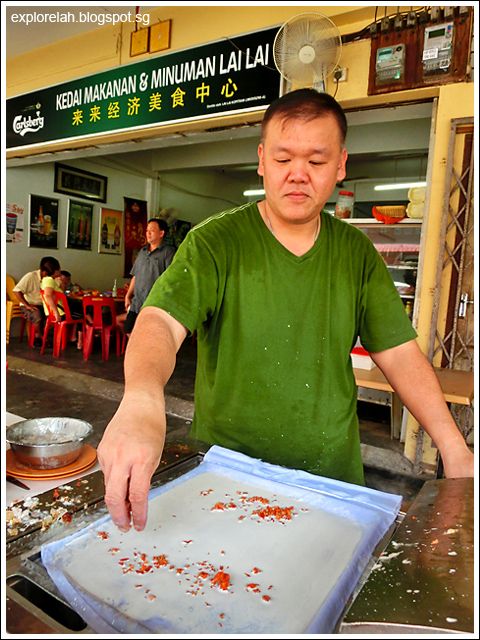 Chee Cheong Fun's stallowner sprinkling finely diced char siew (roast pork) onto a freshly steamed sheet of rice gum.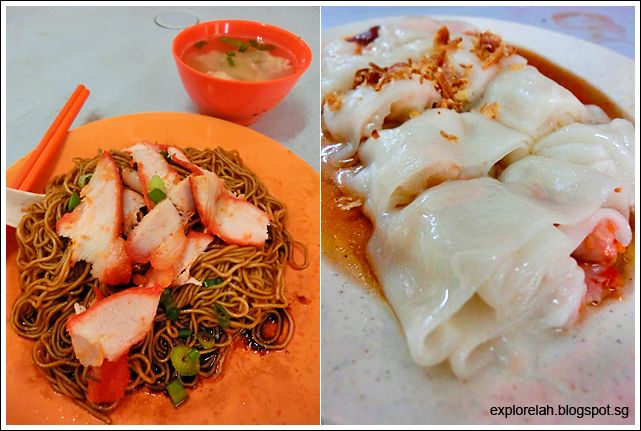 The Wanton Noodle was nothing to shout about but the Chee Cheong Fun's skin was smooth and delish.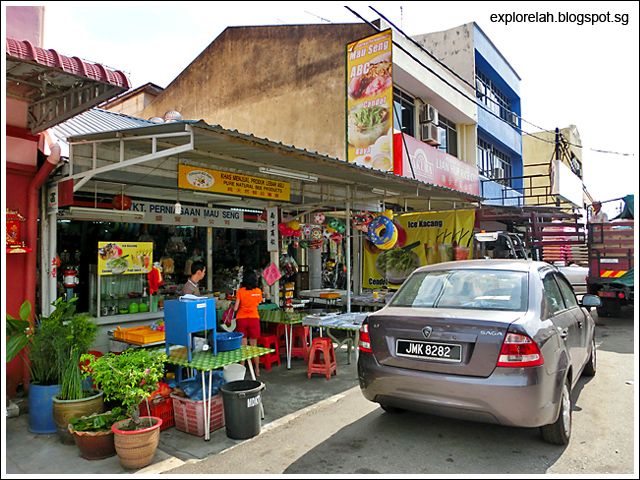 Further down the road is Sungai Rengit's only dessert stall selling Ice Kachang and Chendol.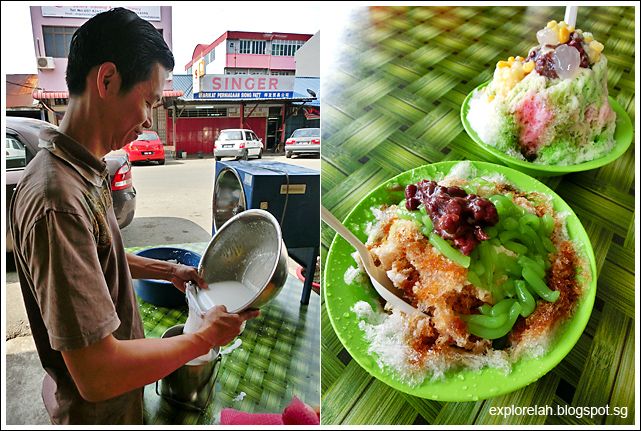 The coconut milk used for the Chendol was freshly ground and extracted at the stall daily. The Ice Kachang was nice but the Chendol was quite tasteless. Nonetheless, it's a great way to cool down the April heat.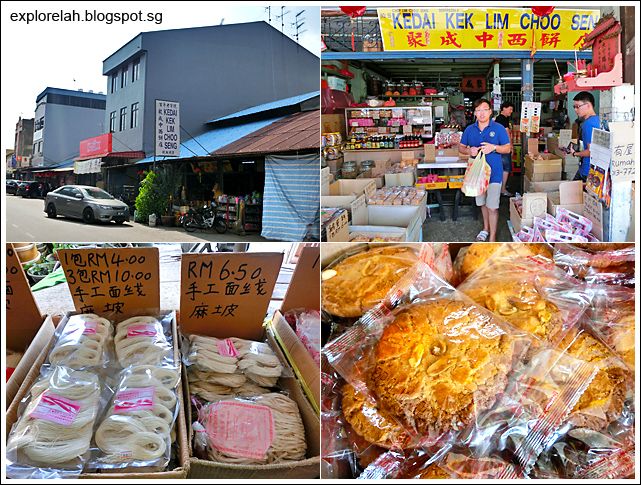 Diagonally across from the dessert stall is Lim Choo Seng pastry shop which hand makes their cakes and biscuits fresh everyday.
We went to the shop at around 10am and they have just baked a tray of fresh 老婆饼 (Wife Biscuit). But they were no ordinary Wife Biscuit. Each biscuit was the size of my face! It's huge! And really yums when freshly baked as the skin was crispy while the sweet, chewy filling remained warm and fragrant!
Any visit to Pengerang would not be complete without a lobster lunch or dinner. Since we came this far and spent a night in town, we had lobsters for both lunch AND dinner! Our tastebuds were so pampered by the freshness and succulence of the lobster meat at the 2 restaurants we ate at - Jade Garden Seafood Corner and Sin Kong Seafood Restaurant.
The 2 eateries are just opposite each other but Jade Garden charged RM16 per 100gm for lobster while Sin Kong priced theirs at RM15 per 100gm. Jade Garden is bigger and looks more organized but Sin Kong has an air-conditioned section.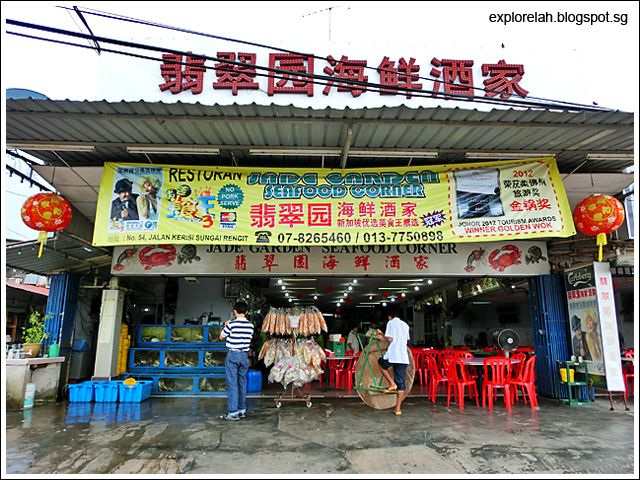 Shopfront of Jade Garden Seafood Corner. It's a big restaurant by the town's standard.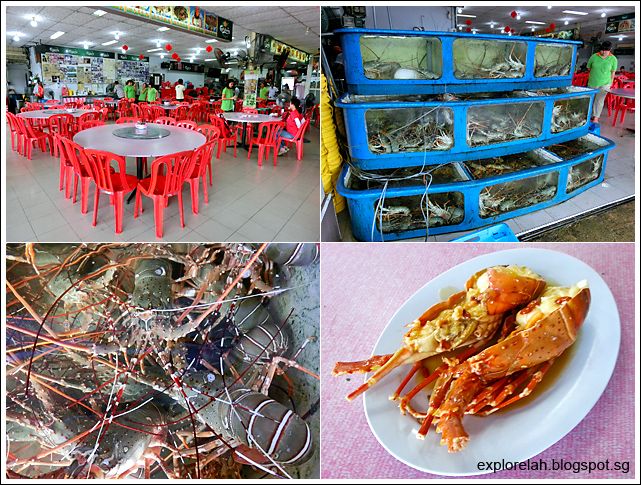 Lobsters fresh and alive! We were told that the lobsters were caught off the coast of Pengerang. If so, I would be very concerned with contamination. Fishermen used to sell the crustaceans to local restaurants at RM8 per 100gm. But Singapore restaurants started buying from Pengerang too and offered a higher price. A bidding contest ensued, leading to higher lobster prices at the local restaurants now.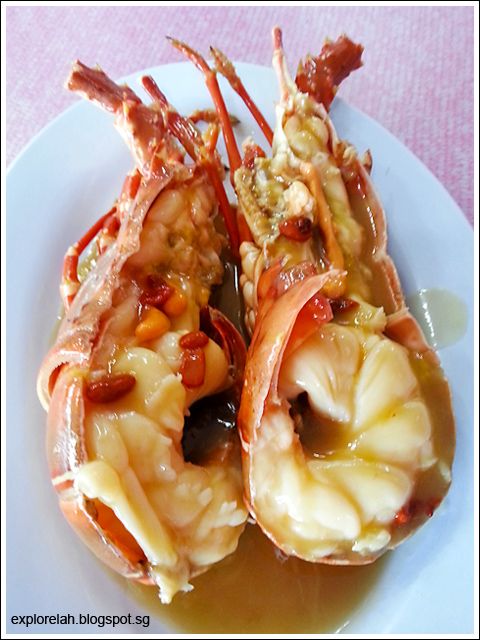 We tried Jade Garden's signature Lobster in Superior Sauce. The lobster weighed 640gm so it cost us RM102.40 (S$41.80). Taste-wise, well, the sauce was a tad salty and didn't wow although the lobster's freshness was undeniable.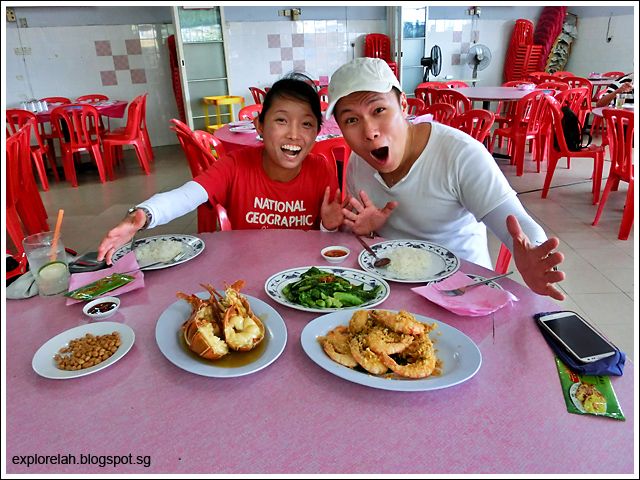 On top of the lobster, we had Cereal Prawns (300g at RM8 per 100gm) and Stir-Fried Baby Kai Lan. The dishes were okay and total bill came up to RM156.20 (S$63.80).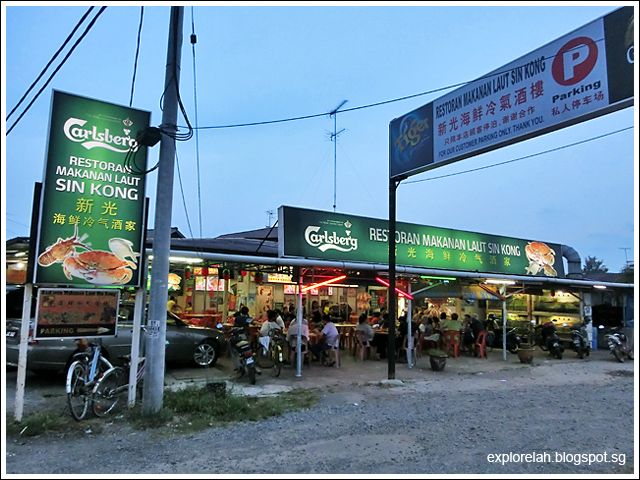 For dinner, we tried Sin Kong Seafood Restaurant, which is right across from Jade Garden.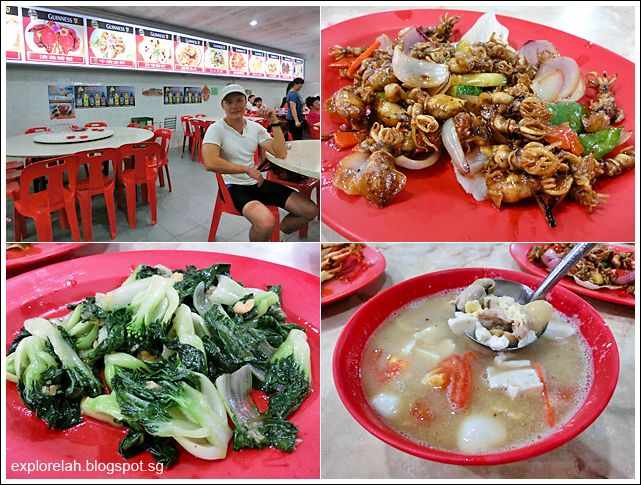 The restaurant has an air-conditioned sitting area which is a welcomed treat from the heat. Especially after cycling under the sun all day. We ordered Stir-Fried Nai Bai, Deep-Fried Baby Squid and Mushroom Soup. The soup was so-so, the octopus not crispy enough, but the vegetable was pure fireworks on the tongue. Very yummy!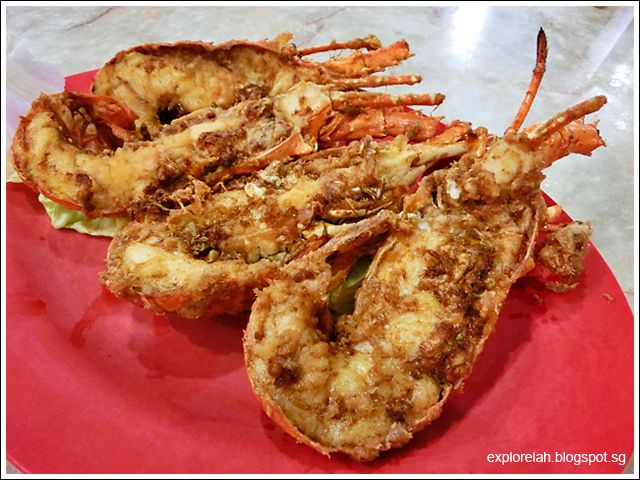 And we ordered 2 Buttered Lobsters (although 1 would have been enough) weighing a total of 850gm and set us back RM127.50 (S$52.00). It was well worth parting money with as the lobster was not overcooked and the butter crisps complemented the soft meat wonderfully!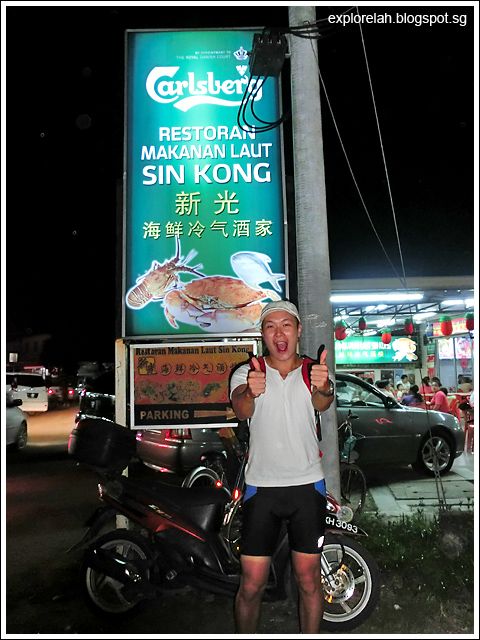 Our total bill at Sin Kong came up to RM$159.50 (S$65.10). Among the 3 restaurants I've sampled on this trip and the last, my thumbs up goes to Sin Kong. However, as I didn't order the same dishes at all 3 restaurants, it's not an apple-to-apple comparison. Regardless of which restaurant you choose, freshness is guaranteed.
Bicycle Tour from Sungai Rengit to Desaru
After savouring the local delicacies and fresh catch, it's time for the 'suffering' to begin with our ambitious attempt at being
road
rode warriors! This part of the post will capture the sights we passed on our riding journey and tips for long-distance cycling novices like us.
There are a few options for cycling in Pengerang. You can bring your own bike or rent one from Changi Village (S$18 for 2 days) and start cycling from Tanjong Pengelih Ferry Terminal to Sungai Rengit (approx. 18km).
Alternatively, I read that there's a mountain bike rental service near the ferry terminal called
Tristan Park Group
. You can contact them a day before your Pengerang trip to arrange for rentals (S$10 per day).
For us, we took a cab from the ferry terminal to Sungai Rengit and rented a mountain bike from S.H.H Motor & Bicycle Trading at RM15 (S$6.10) per day.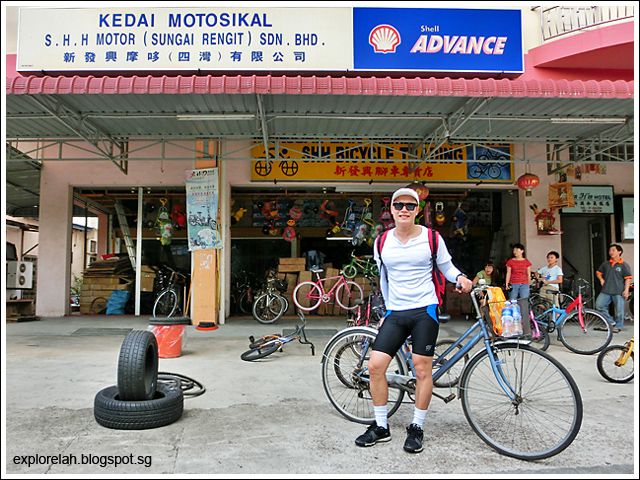 S.H.H seemed to be the only place offering bicycle rental. We rented our bikes from a shop behind Hiap Hwa Hotel during the last trip but that shop no longer exists. The bikes were in reasonably good condition. Always check that the brakes are working and choose a bike that allows you to switch gears while cycling.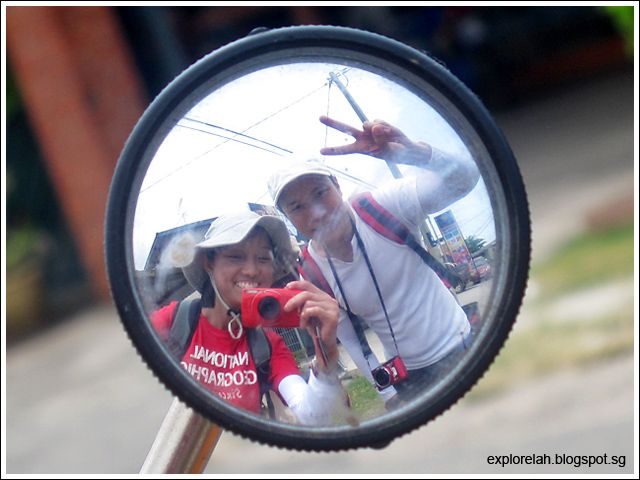 All set and ready to go! We rode in the direction towards the Ostrich Farm. Desaru is located further up from the farm so you can drop by for a visit en route before continuing to Desaru, spend a night there and cycle back to Sungai Rengit the next day.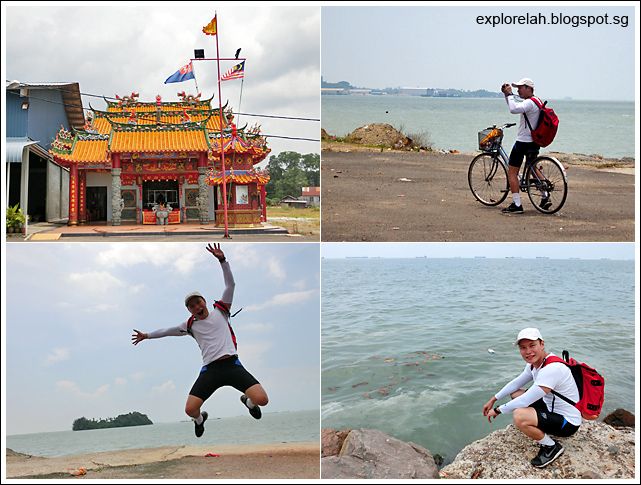 The great thing about a bike tour is that we have control over where we want to explore. Just slightly outside Sungai Rengit's town centre, we took an off road and visited this quaint little sea-facing temple. We were so full of energy and jumping around for shots but my advice is to conserve energy!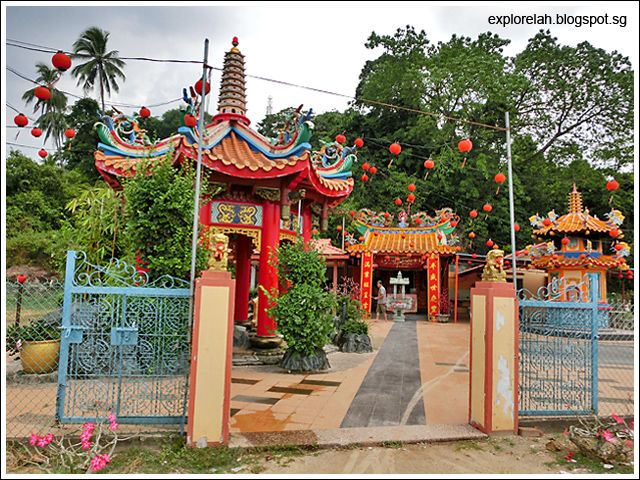 A short ride later, we arrived at the striking Pengerang Guanyin Temple. Siow Har fell a few steps from this entrance during our last trip and needed 9 stitches to her knee. We sought help here when the accident happened and a lady devotee drove Siow Har to a nearby clinic. How nice!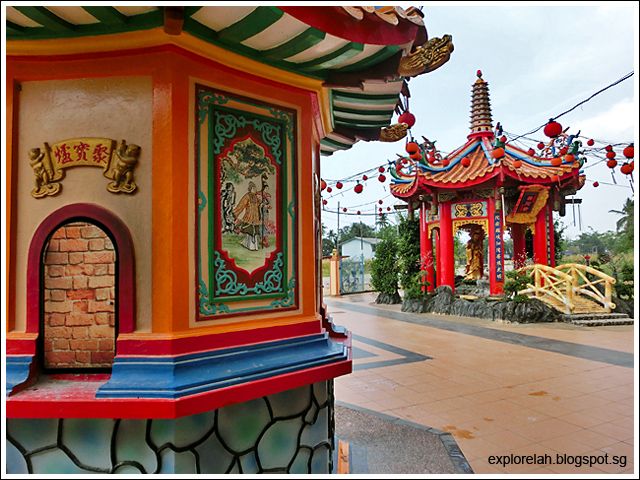 The temple stood out against the mostly ochre and green landscape.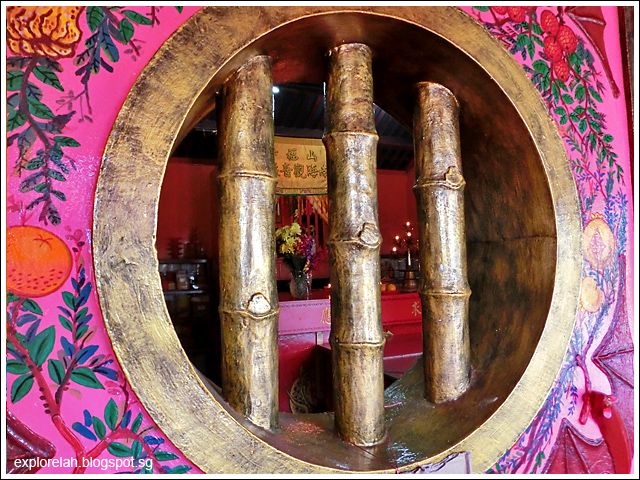 The temple is the size of a postage stamp so after a quick browse and some shots, we continued our cycling expedition...
... but we got lost in a tall lalang field instead.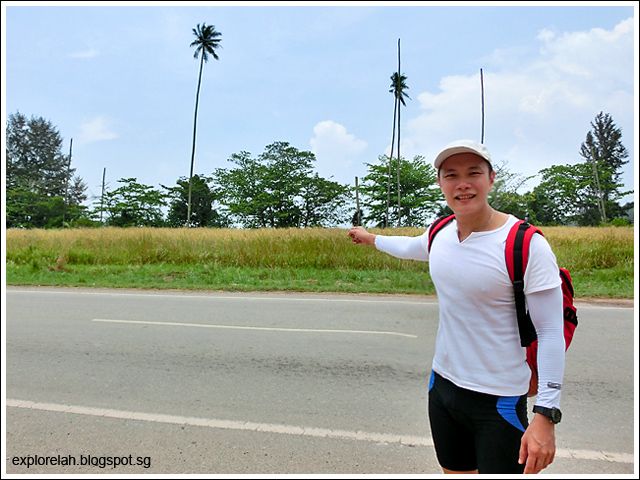 Actually, the lalang field was just by the roadside opposite the Guanyin Temple but it seemed like a world away!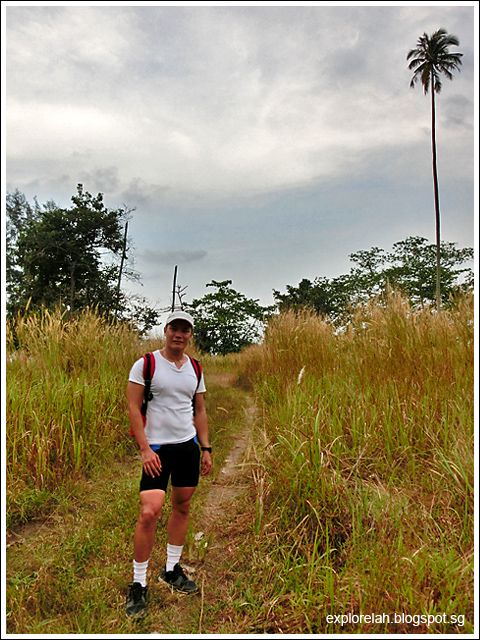 We liked the wild appeal of the field so much, we dropped in for some more shots on our return.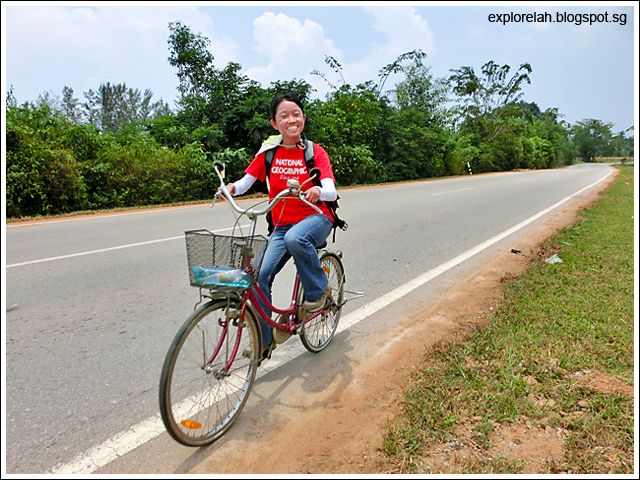 Siow Har got a bike with only a single gear setting. For long-distance cycling on uneven terrains, a bicycle with multiple gears would make paddling more efficient. My bike has got a 7-gear range. For flat roads, use gear 3 or 4. To climb a hill, use gear 1 or 2. For down slope, use 5 - 7 to gain speed and extend the momentum to cover a greater distance at the end of the down slope.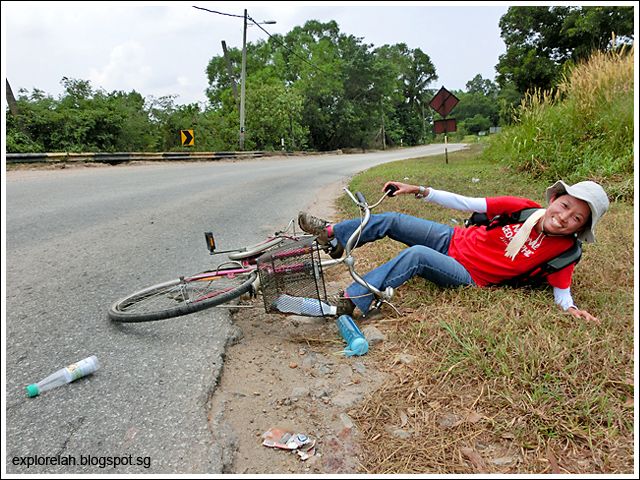 Not too long into our cycling expedition, Siow Har fell down. Thankfully, no serious injury was sustained except for a bruise the size of Russia below her right knee. Since she's rather accident-prone, we decided that she should wear jeans while cycling despite the insane heat!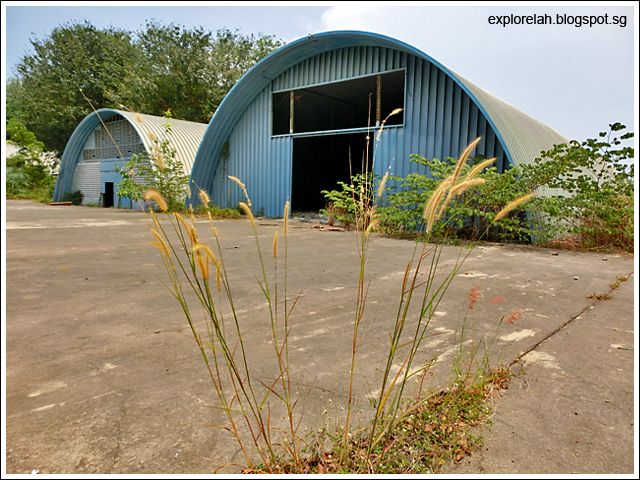 On our way, we passed by these abandoned godowns and decided to swing in for a look. It's almost never that we get to encounter something like this in Singapore.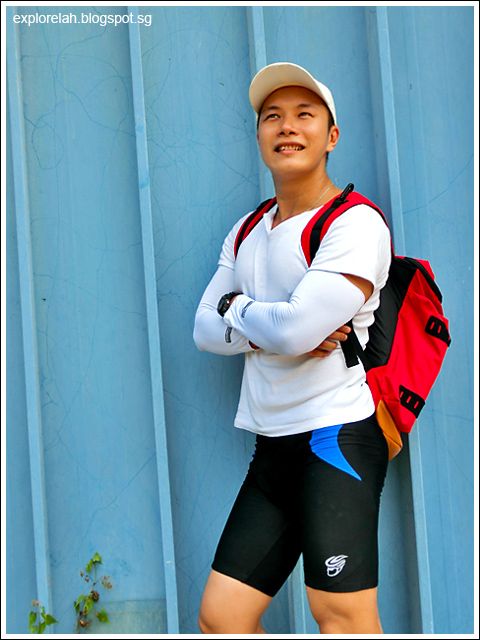 The still vibrant blue of the warehouse provided a great backdrop for some camwhoring. Before coming on this trip, I was in two minds about purchasing a pair of padded cycling shorts (which cost S$69.90). I'm glad I did. Best investment I've ever made! If you're cycling long-distance, cushion the ass.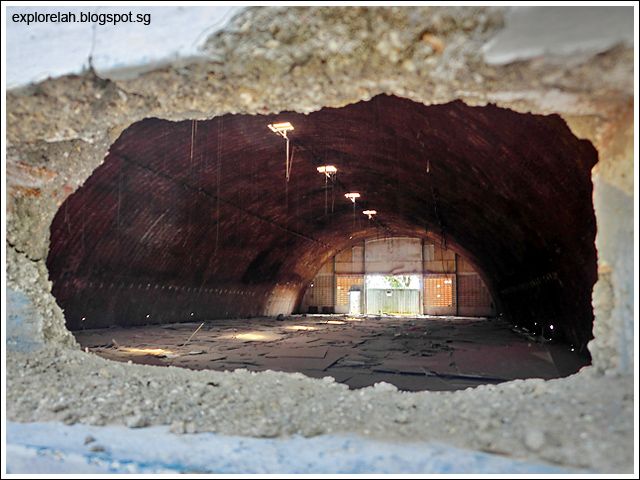 Peeping through a hole in the wall of the smaller of the 2 dilapidated godowns. It was pretty atmospheric inside.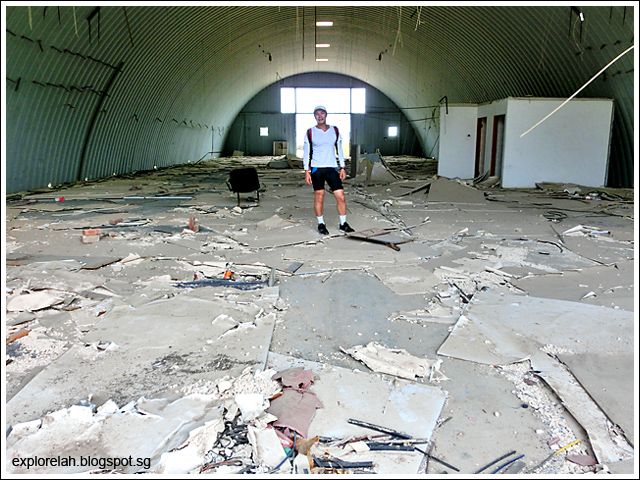 A beautiful mess. Glad we dropped in for a visit as the neglect and building structure made for some rather interesting shots.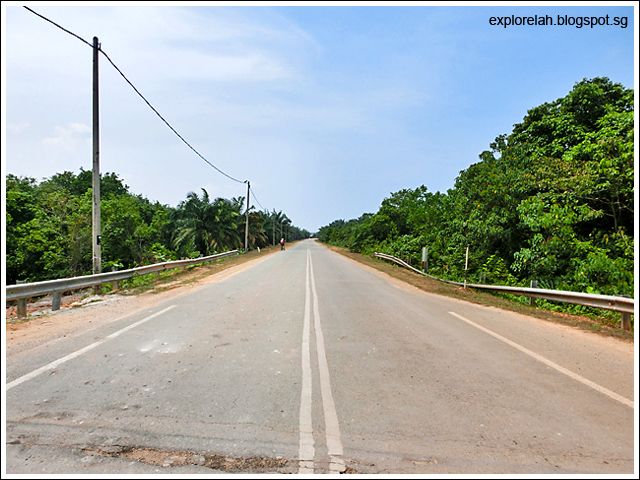 Our ride took us along many open roads that stretched endlessly into the horizon. It felt really daunting at times when we climbed an upslope only to come face-to-face with another stretch of road that goes as far as the eyes can see.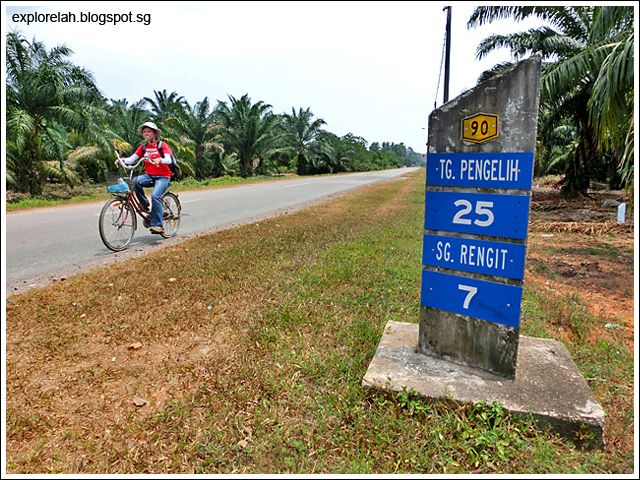 We relied on the road markers to gauge our distance.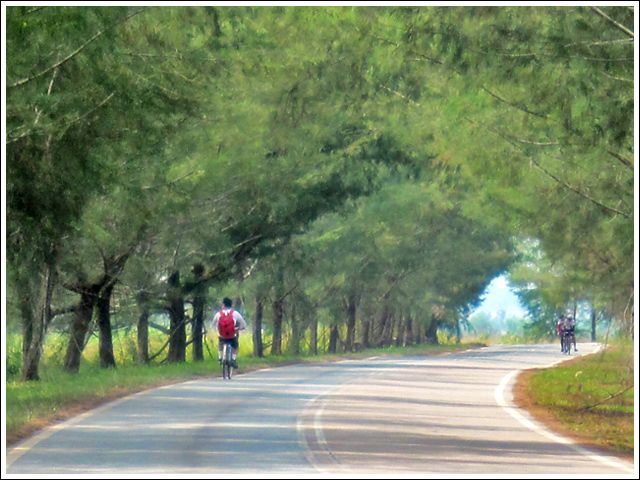 For most part of the ride, there were no shade and we cycled under the blazing sun. It was such a relief when we encountered heavily foliaged road segments such as this to hide from the merciless fireball, even if just for a fleeting moment. Along the way, we also passed by many pro cyclists and there's an invisible camaraderie that drew us to acknowledge each other with a simple nod of the head or hi.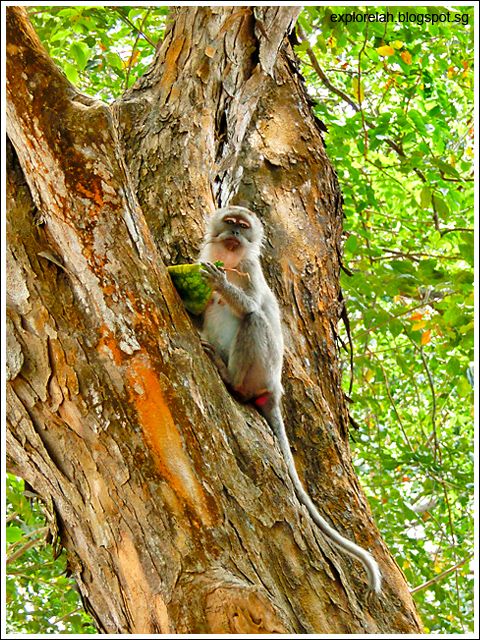 Came across a clan of macaque monkeys enjoying huge slices of watermelons.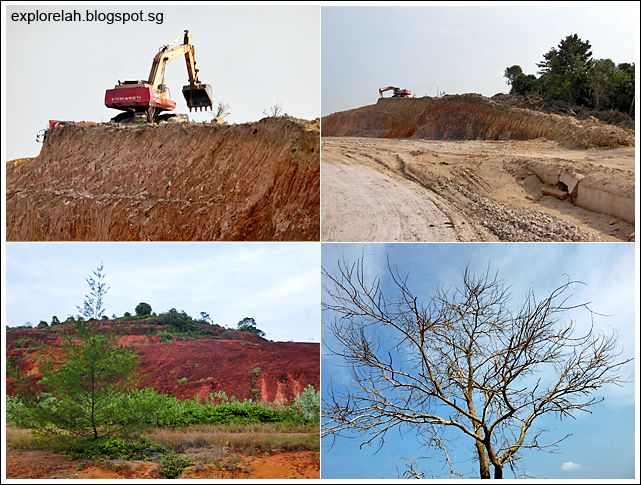 While one side of the road was filled with lush wheat field fields and an unbroken chain of coconut trees waving by the sea, the other side showed earth stripped raw due to sand mining. Many of the hills were being leveled for a land reclamation project currently ongoing at Pengerang. So better enjoy the naturescape soon before they are all gone.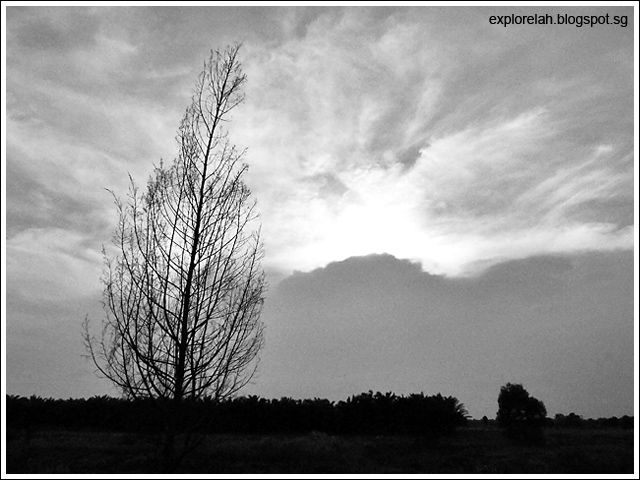 Trying out the black-and-white mode of my Casio Exilim ZR1000 camera to see the rustic countryside in a different mood. See the colour version of this scene here.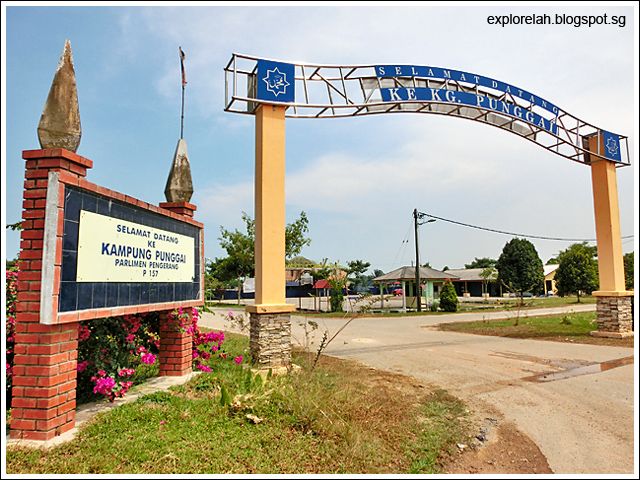 Once past the vicinity near the Ostrich Farm, there are no major settlements en route except for Kampong Punggai. We were ill prepared for the cycling tour and dried up our water reserve so when we saw this compact village, it felt like godsend! We took a rest and refilled our water supply at a provision shop immediately to the right of this entrance arch.
OMG. I got cramps in parts of my legs that I never knew existed! I first felt cramps of the teardrop muscle of my thighs. Then it was the whole quadriceps. Then the feet and toes and finally, the most crippling of all, the inner thighs. I had to stop a couple of times to rest the cramps and rub ointment to appease the overworked legs muscles.
We wanted to cycle from Sungai Rengit to Desaru and back but this was out last stop before turning back because instead of taking 1.5 hours, we took almost 4 hours and still haven't reached our destination. Our cycling time was extended by the many photographic stops we made and we were worried that if we pushed on with the 5 - 6km ride into Desaru, our return to Sungai Rengit may coincide with nightfall. We were concerned about safety with riding in the dark so we decided to turn back.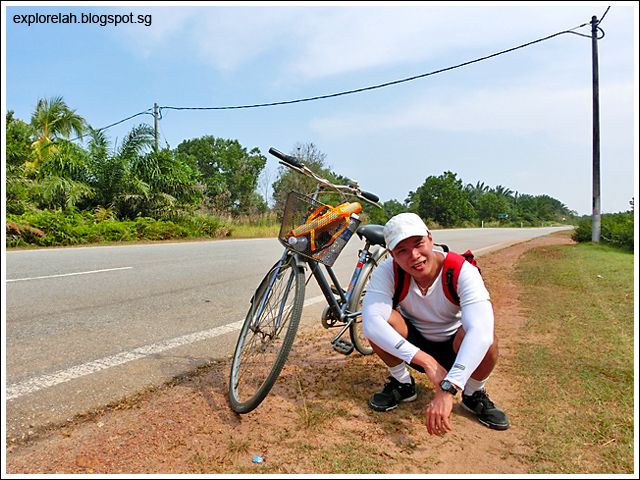 So, so, so tired!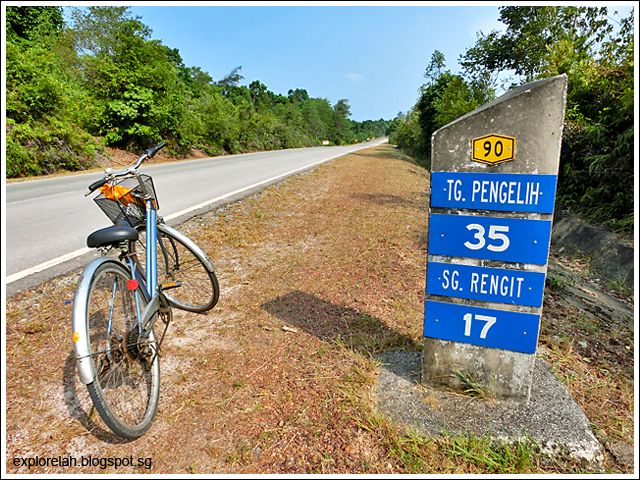 And we had to ride back. At one point, it felt like we were not going to make it back to Sungai Rengit because the ride had ceased to be an adventure but became a torture!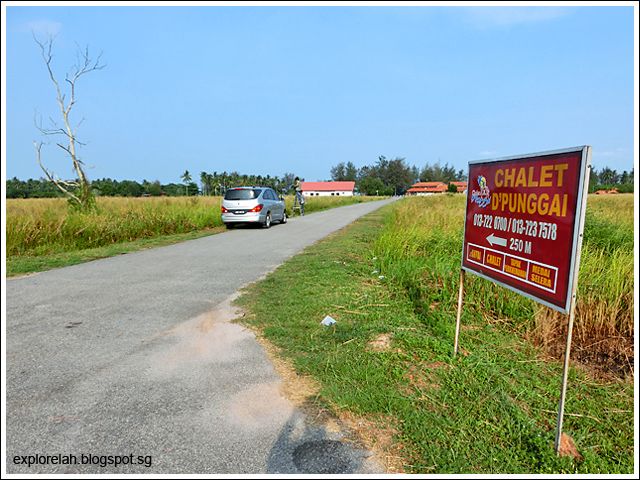 On our way back, we decided to check out Punggai beach which we passed by.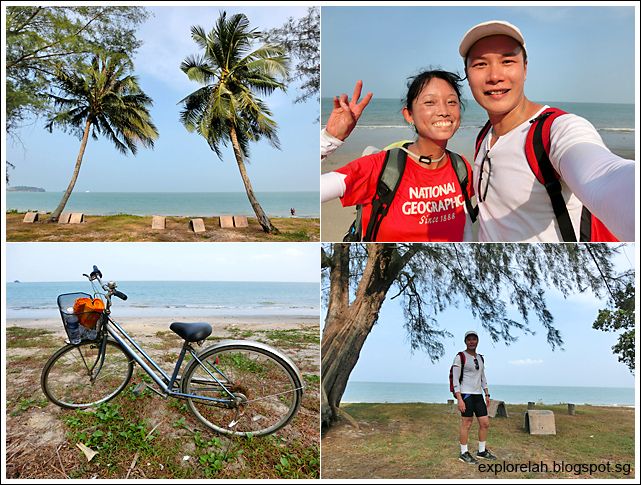 Since we didn't reach Desaru beach, Punggai was sort of our consolation. But because we cycled everywhere and they took so much determination and effort to get to, anywhere we arrived at was a celebration!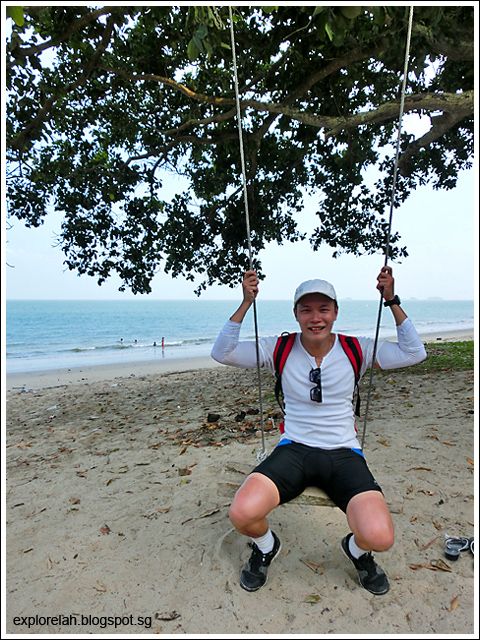 Rekindling childhood gallantry on a tree swing. I was so glad the branch didn't break.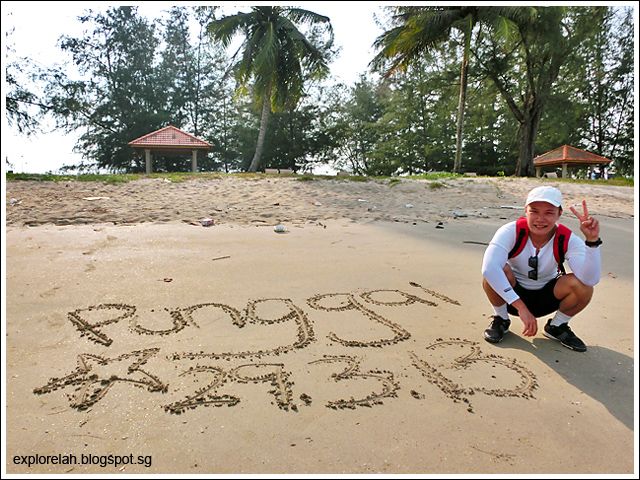 Didn't reach Desaru, but 'V' for victory nonetheless for making it so far on our own.
A return trip from Sungai Rengit to Desaru is a distance of about 60km and should take 3 hours (but we took 7 hours). Although we didn't reach our intended destination of Desaru, missing by about another 5 - 6 km, the experience was truly memorable. All-in-all, we would've easily cycled 50km to and fro with all the off-track stops we made.
I've never cycled such a long distance before but while the journey was very arduous, it was fabulous. I was in control of where I wanted to go, when I wanted to stop, and discovered more parts about my body! It wasn't just an exploration of the countryside but what's going on inside my body as well as in my head.
Long-Distance Cycling Tips
If you've never done a bicycle tour before and would like to try, here are some tips drawn through the experience of this excursion :
- Make sure your bike is in good condition and the bike seat should be at the height that allows your legs to be almost full extended on the downward paddle.
- Padded cycling pants keep the butt from feeling sore but get the long ones rather than the shorts I wore to protect your legs from the sun.
- Don't stinge on sunscreen, wear long sleeved tees, gloves and helmet (we didn't know it but a police car that passed by us radioed that we need to wear helmets).
- Wear sunglasses and a face mask to protect from the dust and fumes of passing vehicle.
- Stock up on lots of water (I brought 1.5 litres and it wasn't enough) and have isotonic drinks along the way.
- Keeping your focus on the front of the wheel and the scenery will keep your mind from being overwhelmed by the unending stretch of road ahead, especially after cycling up a slope.
- Bring muscle rubs and have on some some music (but don't listen through headphones).
- Stay alert and always be mindful of vehicles passing you.
Savour and Suffer
The next day after our 50km ride, our bodies felt like Lindsay Lohan's acting career... a total wreck. Each step we took was agony but I totally enjoyed this trip because of the food and the novelty of a long-distance bike tour. Loved it!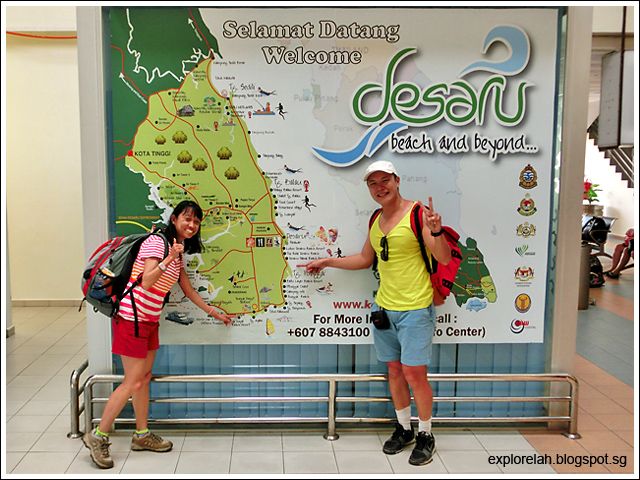 Siow Har and I pointing to where we started and ended up on a huge map at Tanjong Pengelih Ferry Terminal.
Although we didn't feel like moving, we had to head home and arrived at Tanjong Pengelih Ferry Terminal at 2.00pm. Bumboats don't leave according to a schedule and will depart once there are 12 passengers. The last boat back to Singapore is 4pm so it's best to arrive at the ferry terminal by 3pm.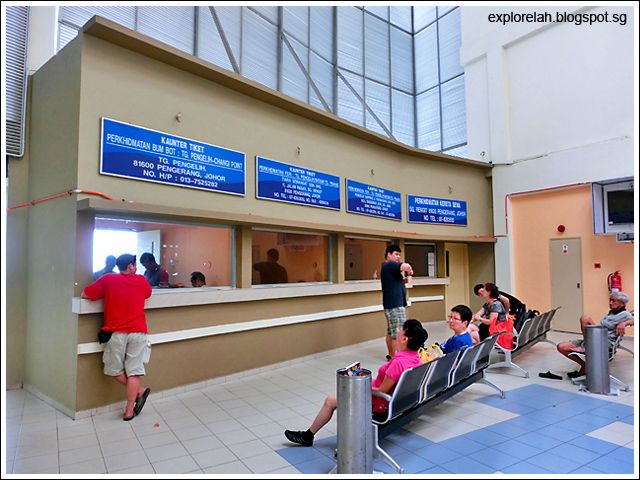 At the ferry terminal, we handed our passports to the leftmost counter and were lucky to wait only about 30 minutes to get a boat.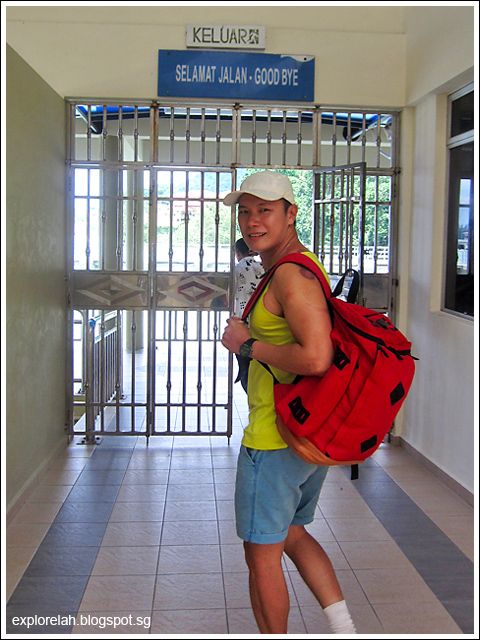 Goodbye Pengerang. See you again!
Although I was rather disappointed that we fell short of reaching Desaru, the attempt was a personal feat for pushing my mental and physical endurance to their limits. On top of the deeply memorable cycling 'torventure' and good food, the other thing that left a deep impression was once again, the friendliness of the Pengerang folks.
It is nice to take a break from the big city and experience the sincerity and simplicity of a rustic small town to remind ourselves that life is uncomplicated.
I will definitely come back to Pengerang again and make another attempt at cycling all the way to Desaru. And the next time, I shall succeed! Yeah!
Related Post :
Rustic Serendipity at Pengerang