Date of Exploration :
9 Mar 2014
Translucent turquoise waters, inviting foamy surf and an unspoilt powdery beach... I've never dreamed of using those adjectives on Singapore's beaches but a virgin trip to Lazarus Island had filled my vocabulary with praises for this little known piece of paradise!
Singapore is a nation of beach lovers starved of charming coast to chill. Not anymore. Lazarus Island has all the makings of a lost beach Eden that can rival some of the most popular beaches around Asia. The only thing missing is a so-spectacular-you-want-to-cry sunset view that would be the icing on this most handsome beach of our tiny red dot.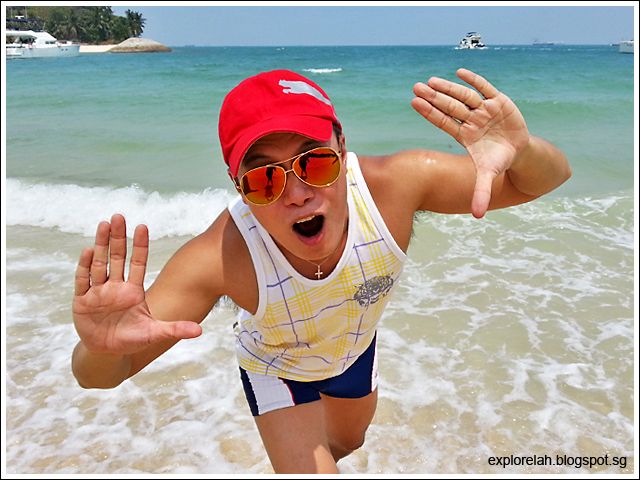 Exploring the beach of Lazarus Island for the first time and I liked what I saw.
While the seawater here is not crystal clear and the absence of marine life won't delight snorkel fans, the island's pristine coastline trumps that of East Coast Park, West Coast Park, Pasir Ris and the highly commercialised Sentosa beaches.
The appeal of Lazarus beach lies in its underdevelopment and anonymity. For now. So before the island gets turned into another money-maker with hordes of beach-goers jostling for space, hop over to this best kept secret of Singapore beaches and have your Blue Lagoon moment under the tropical sun!
Getting to Lazarus Island
Lazarus Island is part of a group of 8 islets collectively known as Singapore's Southern Islands which include Sentosa, St. John's Island, Kusu Island, Pulau Seringat, Pulau Tekukor and the two Sisters' Islands.
Currently, there are no direct ferries to Lazarus Island and getting there involves either chartering a private yacht (costing about S$400 for half a day) or taking a ferry to St. John's Island and walking over to Lazarus via a link bridge. The ferry serving St. John's Island can be boarded at Marina South Pier. You can get to the pier either by taxi or public transport.
Here's how to visit Lazarus on a budget...
1. Take the MRT to Marina Bay Station and use Exit B.
2. Go to the bus-stop (no. 03531) near the exit and take bus no. 402. The bus operates at a frequency of between 15 - 25 minutes depending on time of day. Check the bus' schedule
here
. It's 2 stops from Marina Bay MRT Station to Marina South Pier.
3. At Marina South Pier, look for the Singapore Island Cruise and Services counter (pictured below). A round-trip ferry ticket to St. John's Island then to Kusu Island and back to mainland costs S$18 (adult) and S$12 (child). Check the ferry's schedule
here
.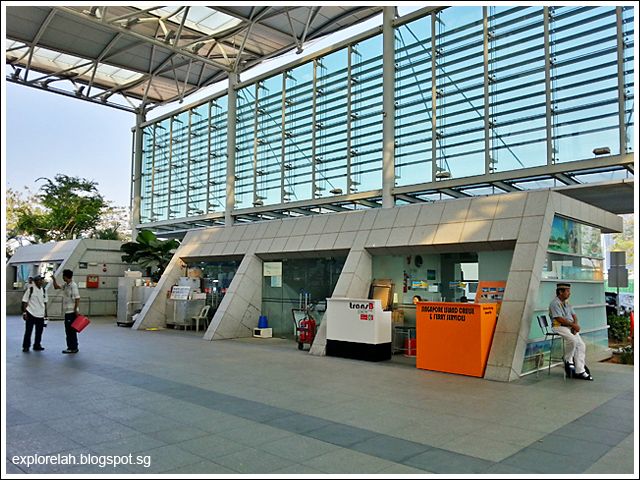 Marina South Pier... The orange stand is the Singapore Island Cruise and Ferry Services counter. No pre-booking or reservations of tickets allowed so you'll have to purchase on the spot. We arrived at 10.30am to board the 11:00am ferry.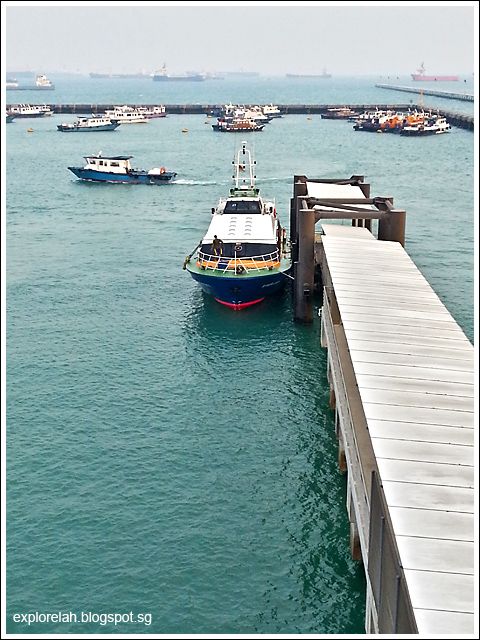 Pictured is the ferry that took us to St. John's Island, Kusu Island, and back to mainland. There are toilets onboard and it takes 30 minutes from the pier to St. John's Island.
Tips when visiting :
- It is best to visit the islands on Sundays and public holidays as the ferry service operates till later compared to other days.
- Stock up on drinks and food before going as there are no shops on St. John's and Lazarus Island. There's a provision shop and small eatery at Marina South Pier where you can purchase supplies and pack meals.
Singapore Maritime Gallery
If you arrive early at Marina South Pier and have time to spare, check out the cool Singapore Maritime Gallery on level 2. The gallery is open Tuesdays to Sundays from 9:00am to 5:30pm. Admission is FREE.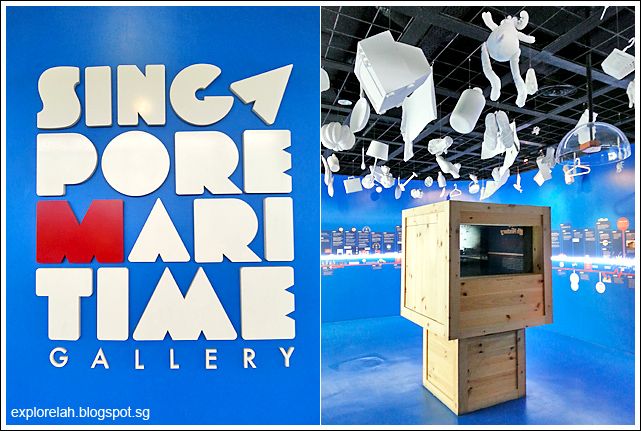 I love the creative conversion of 'A' in Singapore into a directional arrow. The gallery features some pretty cool exhibits although I felt rather overpowered by the amount of information to read.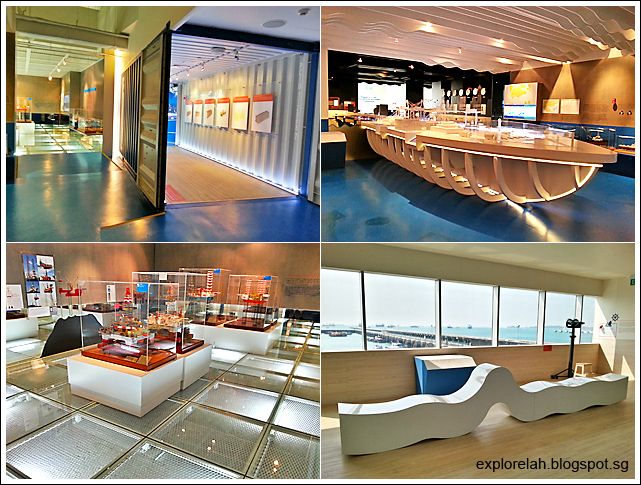 The innovative staging that featured containers, crates, oceanic waves and textures added life to a subject matter that doesn't have a natural audience. In addition to static ship model displays, there are also a couple of experiential exhibits where you can pretend to be a cargo controller at the maritime command center.
St. John's Island
A former island used to quarantine population with infectious diseases such as cholera, beri-beri and leprosy in the late 19th century, Saint John's Island was converted into a jail and drug rehab centre during the middle of the 20th century. Today, the island offers refuge from Singapore's hyper urbanity with tranquil greens for picnic or a frolic in its saltwater lagoons.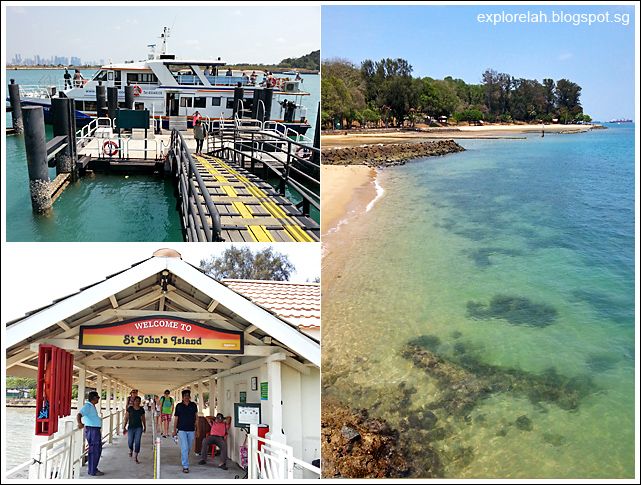 The last time I stepped on St. John's Island, I was listening to a cassette of Debbie Gibson's Out of the Blue album in a walkman. That's a loooog time ago!
From St John's Island's jetty, turn left to Lazarus Island. If you turn right, you'll head towards the lodges and lagoon of St John's Island.
As Lazarus Island is still not ready to receive visitors, there are no directional signs pointing the way at the moment.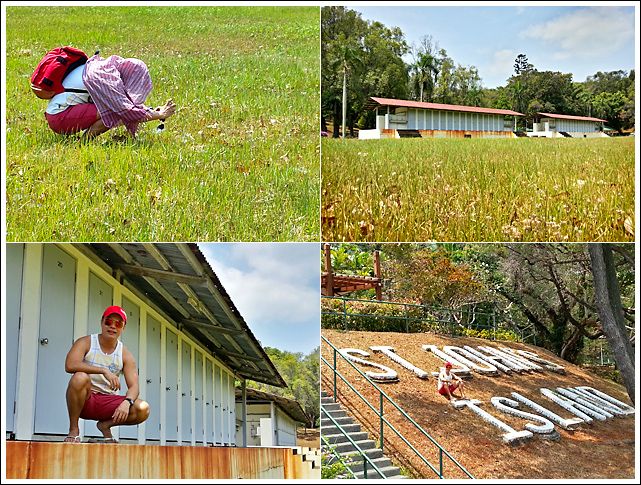 Facing the end of the jetty were remnant fences and structures of St John's sentinel past. Instead of heading straight to Lazarus Island, we couldn't resist snapping the peculiars at our docking island.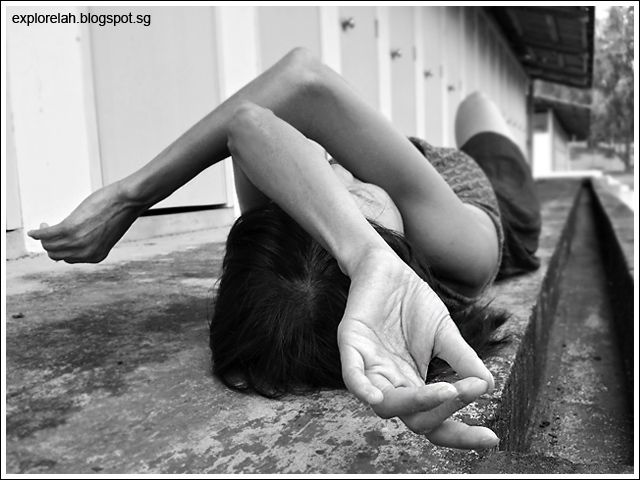 Thought the perspective would make for an 'artful' shot so got Siow Har to lie down on the ground for this pic...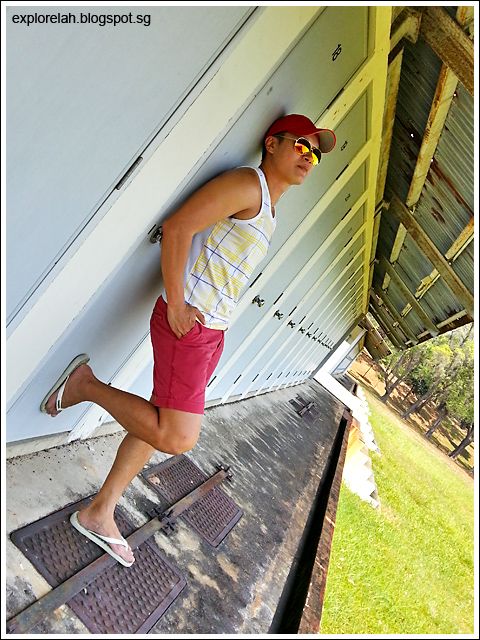 ... we were actually cam whoring at the ex-prison's toilet! LOL.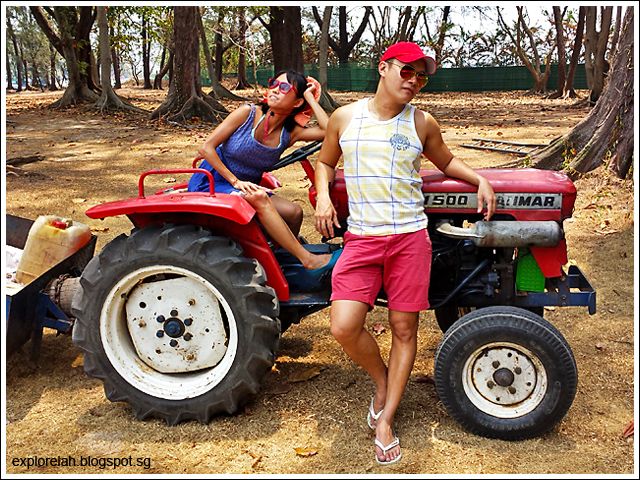 On foot to Lazarus Island, we passed by this piece of heavy machinery and decided to pose as Tractor Trash.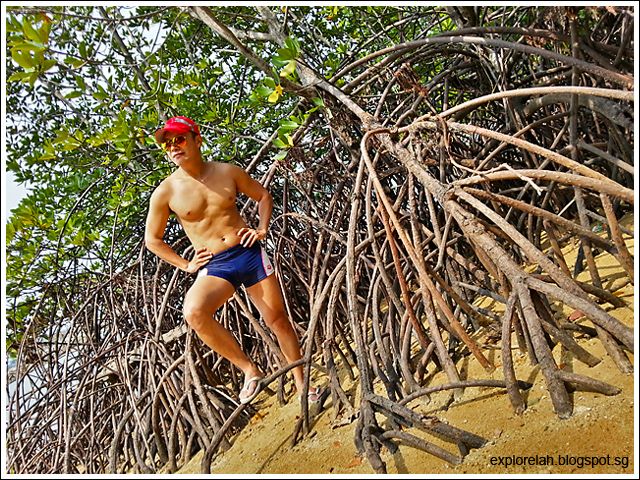 Low tide at St. John's Island exposes a mess network of sculptural mangrove roots that made for an interesting backdrop for narcissicsm. This photo brought 3 letters to mind... C. M. I.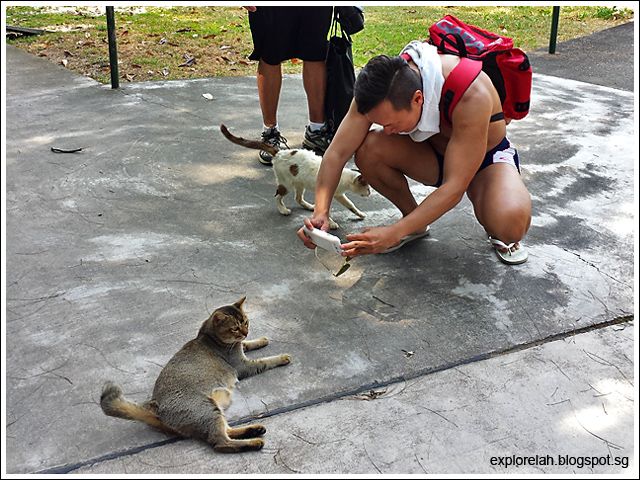 Lots of cats lounging on St John's. If you have food in hand, you'll find fast feline friends. Okay, this cat was obviously not into pork coz it ignored me.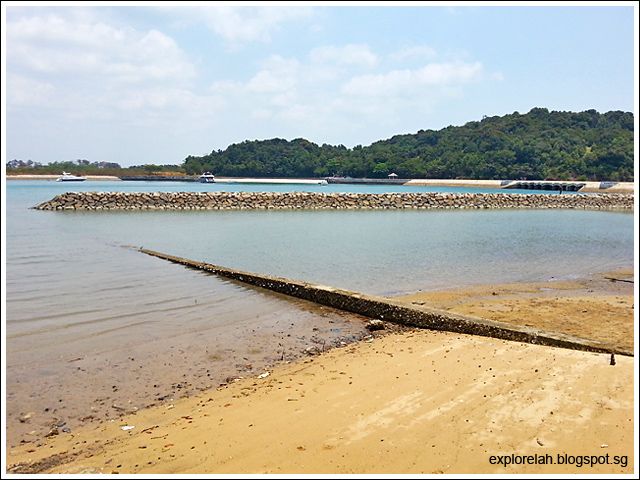 View of Lazarus Island from St John's Island. The two islands are linked by a bridge (mid right of the photo behind the breakwater).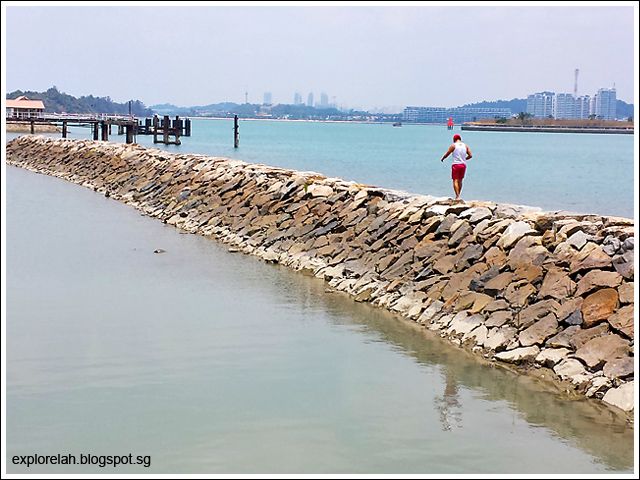 Toeing the breakwater for a shot...
... of Singapore's commercial skyline.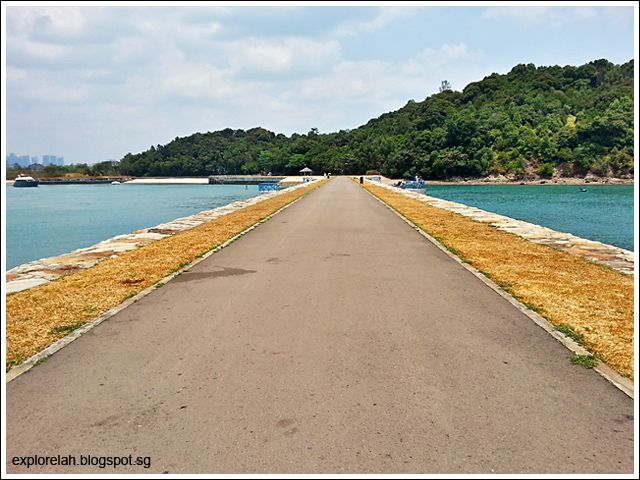 Bridge to Lazarus Island from St John's Island.
Lazarus Island
Sandwiched between St John's Island and Kusu Island, Lazarus Island is also linked at one end to Pulau Seringat. Recreational developments are currently underway by Sentosa Leisure Group to possibly turn Lazarus into a resort.
Camping is not allowed on St John's, Lazarus or Kusu islands and the islands are fast becoming favourite spots for anglers to hook up fresh catch such as selars, tambans, groupers, squids, etc.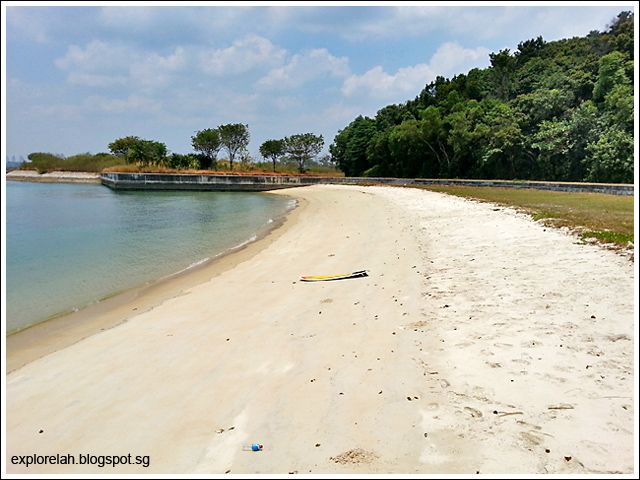 Upon stepping on Lazarus Island, we saw this tiny stretch of beach. We weren't impressed. And disappointed that we made the effort to see something this nondescript.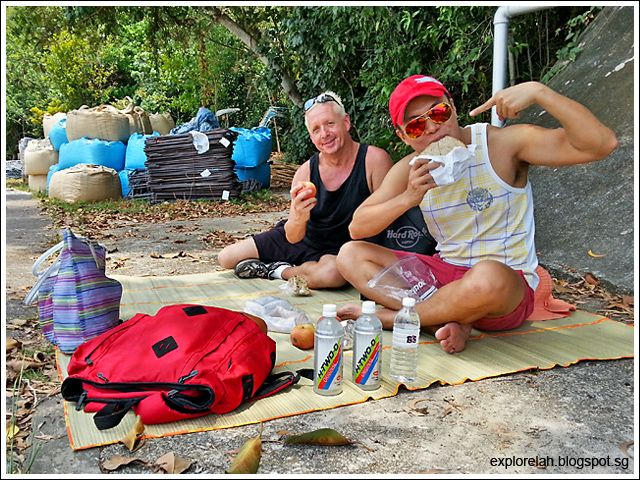 Dismayed that Lazarus Island had nothing more than a puny coast of sand, we decided to settle for a picnic in front of the beach, unglamorously next to a construction site.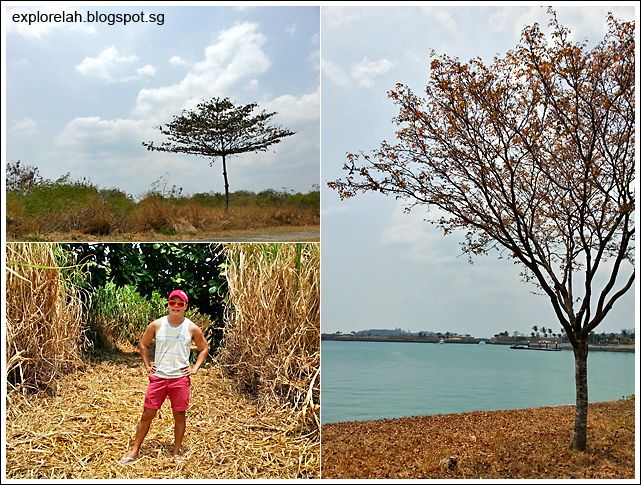 After some food, we decided to explore more of Lazarus Island and were faced with devastations of the recent drought. For the first time in more than 150 years, rain hadn't fall for over 2 months in our rainforest climate.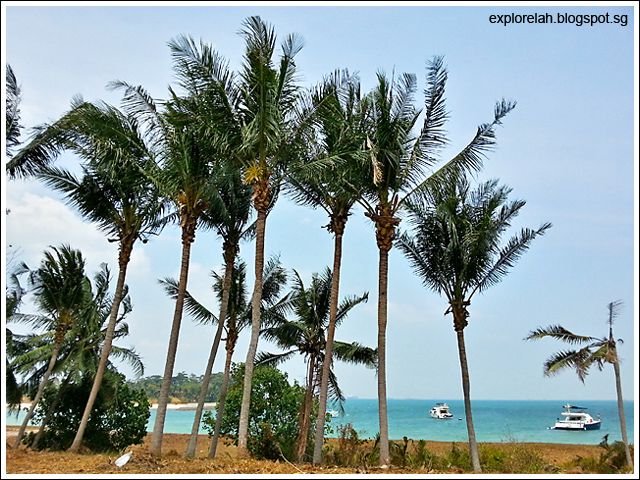 Our aimless wander brought us to the other side of Lazarus Island. The side that took our breath away. It was one of those eureka moments!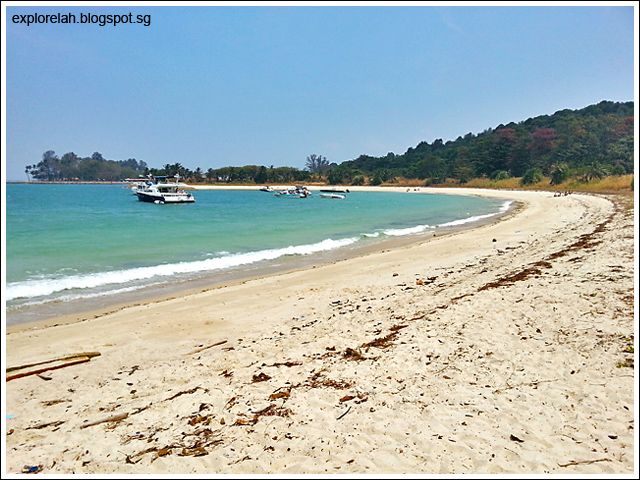 Compared to all the beaches in Singapore, Lazarus Island has the most gorgeous beach I've ever seen locally. I couldn't believe I'm in Singapore!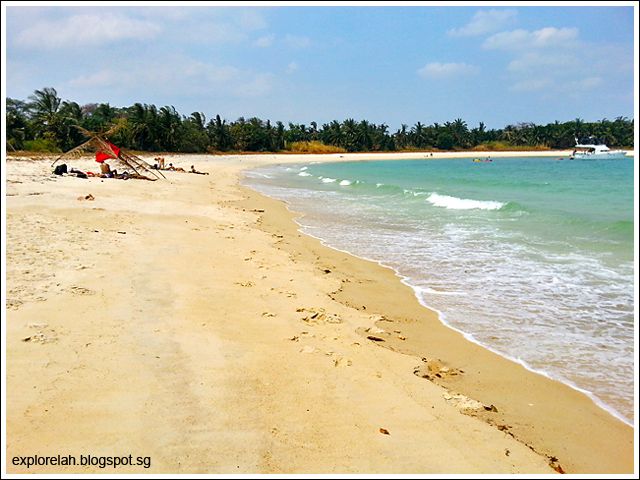 The beach is unknown and undeveloped so visitors are few and it is devoid of amenities. Except for a few private yachts and beachgoers, the beach was practically empty. And surprisingly, most of the visitors seemed to be non-Singaporeans. Such an irony that foreigners know better than the locals to sniff out such a hidden gem.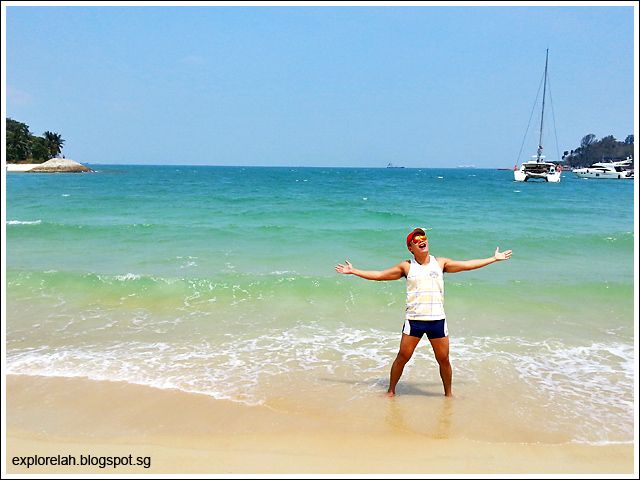 Totally loving it here with the clean and green waters! Better come soon before it gets populated. My only grouse was that although human presence was minimal, flotsam and jetsam weren't scarce. I cleared out a square of drift-wood with rusty nails, styrofoam meal boxes and an empty water bottle with cigarette butts in them from the sea and beach.
I'm not trying to interview for a job with NEA (National Environment Agency) but I hate to see such a beautiful place marred by inconsiderate litter. If you visit, please keep the place clean as no one picks up after you since the island is kind of ulu.
Kusu Island
The last stop of our three-island excursion ended at Kusu Island. If you do not wish to visit Kusu, don't get off the boat and take it back to mainland.
According to legend, a tortoise turned itself into an island to save two shipwrecked sailors - one Malay and a Chinese. That's why this island is affectionately known as Tortoise / Turtle Island and there's a Chinese temple (大伯公) as well as Muslim shrine on it.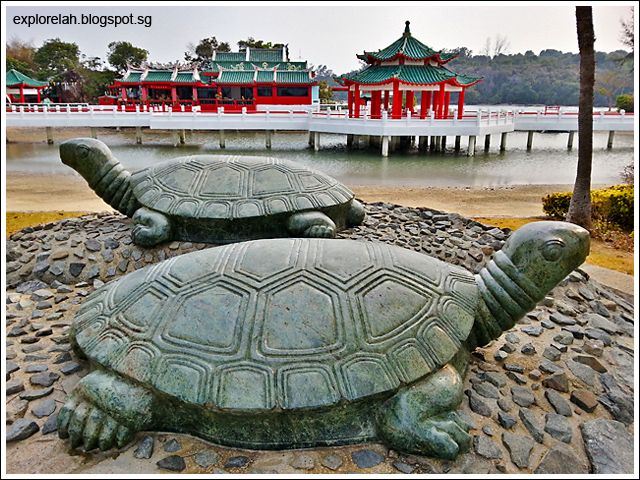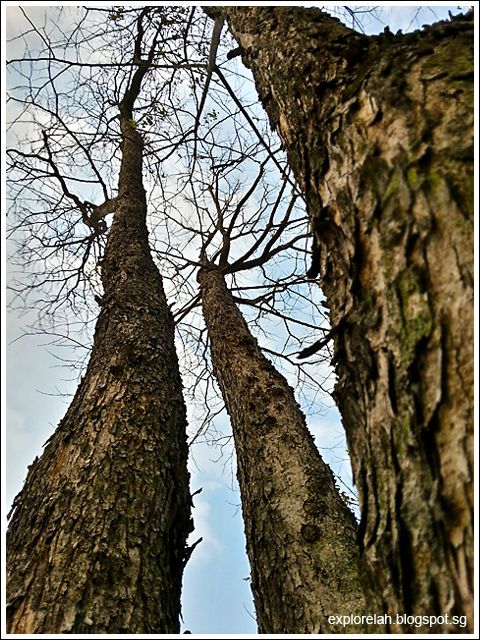 Trees on Kusu Island were not spared the effects of the drought.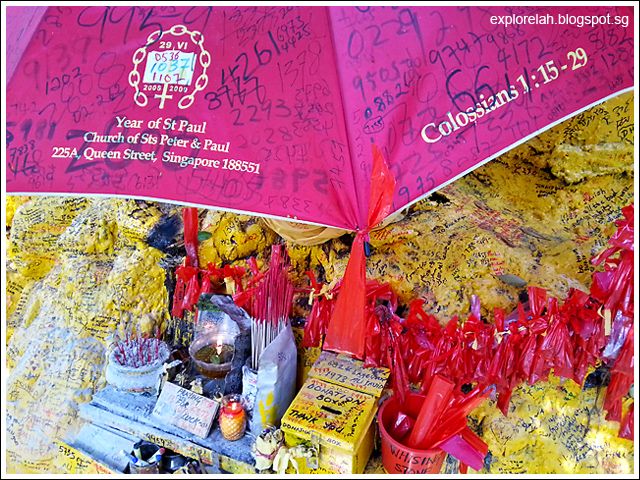 Religious harmony... a Catholic umbrella sheltering a Taoist altar at a Muslim Shrine. Only in Singapore!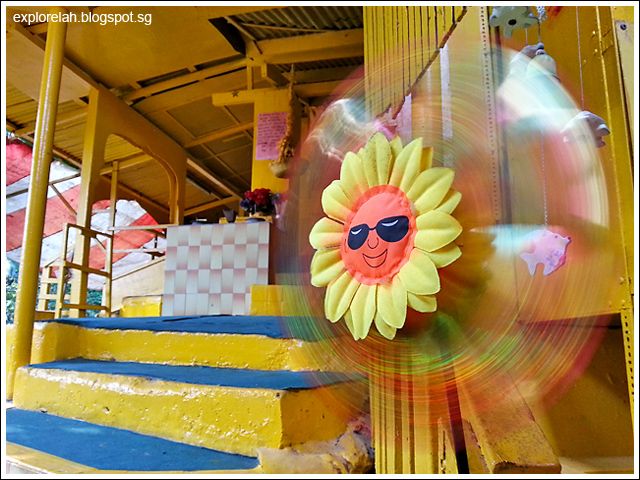 Three Malay kramats (holy shrine) sit at the top of a jagged low hill at Kusu Island.
Glad for a wonderful exploration of Singapore's little known Southern Islands! If the lobster red of Jeffrey, our friend visiting from Hawaii was any indication, sunblock is a must and love for adventure is a plus!
Maritime Sunset
Back at Marina South Pier, our haste to find comfort after a long day was postponed by the beautiful sun setting over PSA (Port of Singapore Authority). On your return from visiting the Southern Islands in the evening, don't be in a hurry to leave. Head up to the rooftop of Marina South Pier and take in the sunset view.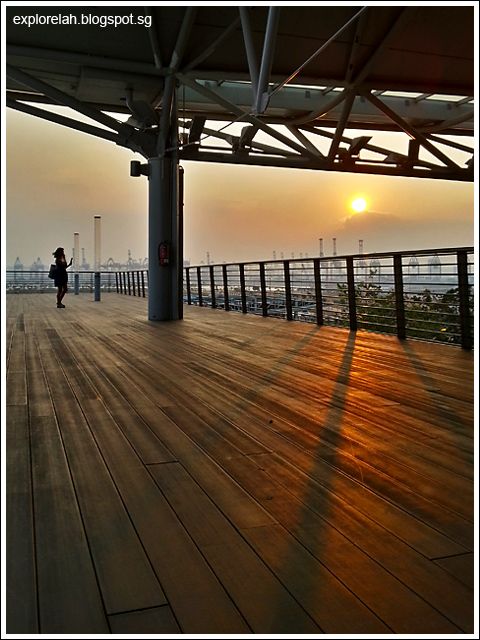 The rooftop on level 3 of Marina South Pier offers a 360-degree lookout of the surrounding.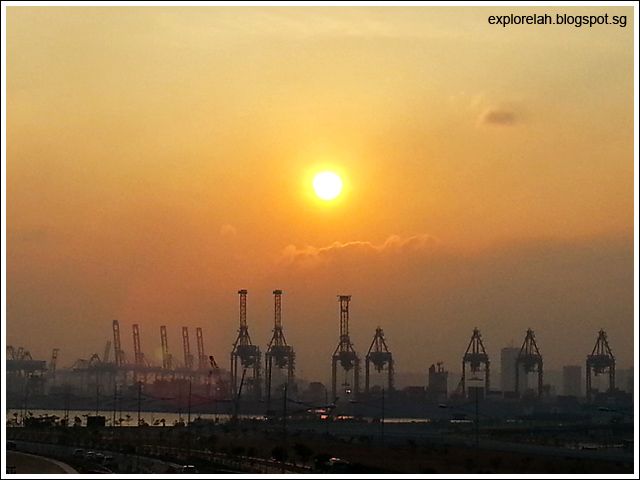 6:45pm... I'd seen many breathtaking sunsets over beaches but this unobstructed appreciation of an urban sunset over our port was an equal spectacle in wonder and grandeur!
I've read about Lazarus Island for quite some time and finally got to check out the place for myself. Personally, I think it was well worth the effort to visit and get lost in one of those last few deserted spots left in Singapore.
I truly enjoyed this hard-to-come-by pristine stretch of shoreline and urge you to contribute towards its conservation by keeping it clean when you visit. Happy splashing!