Date of Exploration :
23 - 27 Aug 2013
Introducing classical Italian flavours against a picturesque backdrop of the Indian Ocean, Bene blurs the line between being in Bali and a hint of summer in Italy. Well, at least for me.
Layered over three floors at
Sheraton Bali Kuta Resort
, the mid-priced Italian restaurant offers a differentiated wine and dine experience on each level with the first floor combining the thrill of watching chefs at work in a show kitchen with a choice of air-conditioned or alfresco dining by the poolside while the second floor cozies up to a more intimate setting for family dinners or a romantic feeding affair. On the third level, a rooftop terrace welcomes guest with a panoramic view of Kuta and serves as the best spot to catch the Balinese sunset.
Bene is more than just an Italian dinner place but very well qualify as a minor tourist attraction to make the appreciation of Kuta that much more special!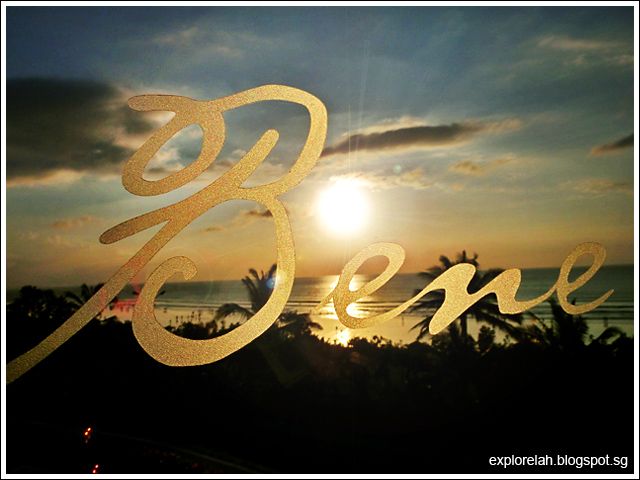 Bene's logo on a floor-to-ceiling glass panel with a bewitching sunset over Kuta Beach in the background. Bene feeds the eyes as well as the stomach.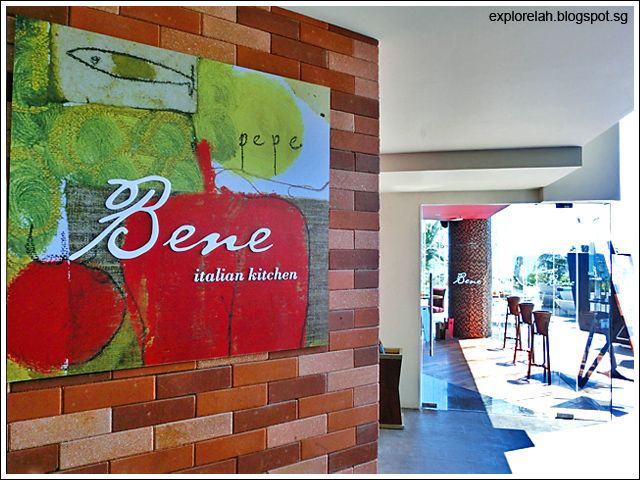 The entrance art piece of Bene celebrates the playful joy of Italian gastronomy.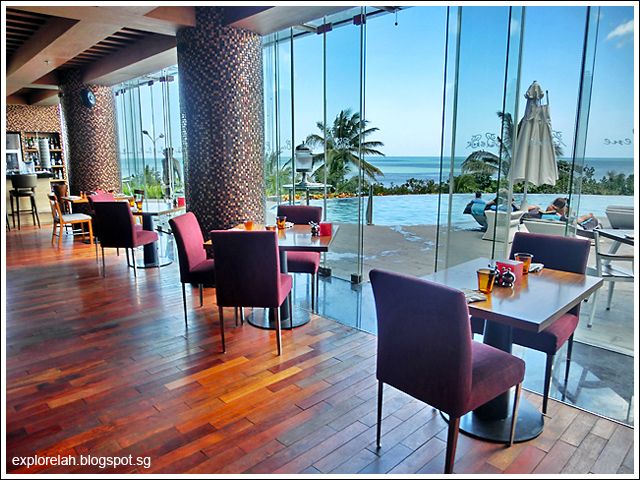 Indoor seating on the first level looks out to the resort's pool and oceanscape of Kuta.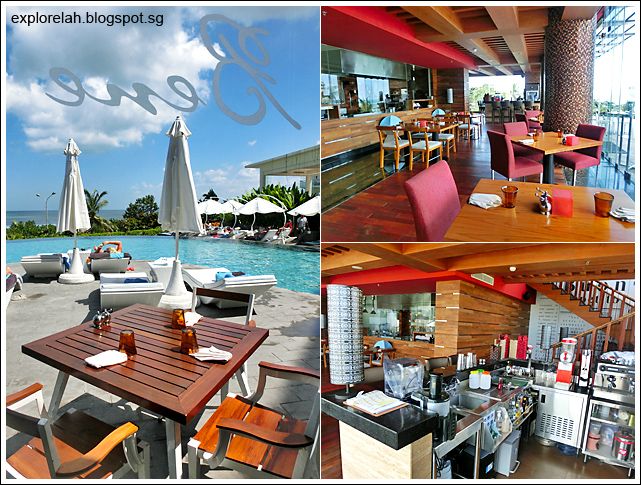 Eating in with the comfort of air-conditioning or alfresco caressed by the coastal breeze, Bene caters to both Eskimos and sun lovers.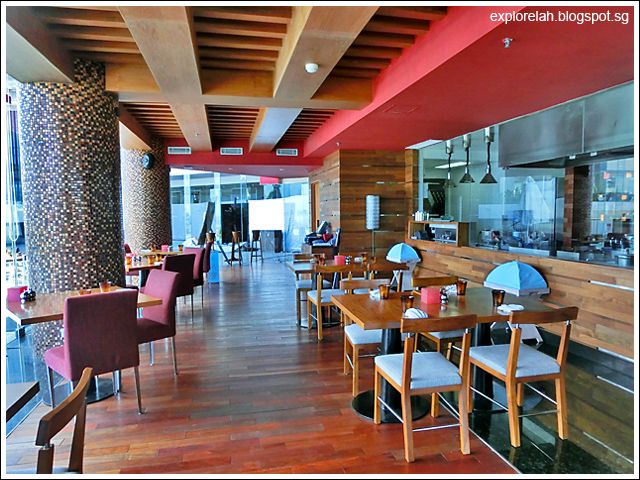 An open kitchen on level one lets Bene chefs be the pre-dinner appetisers for guests.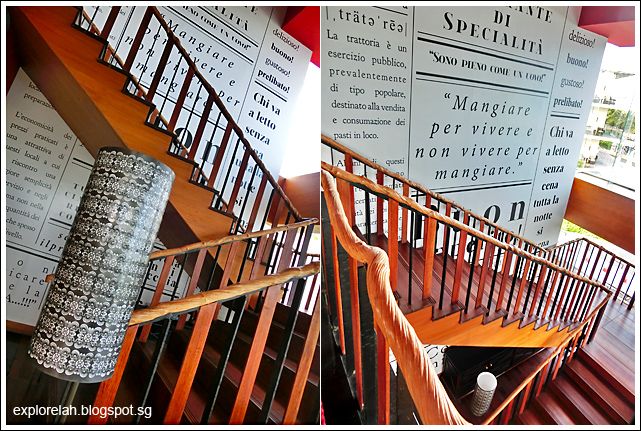 Mamma mia! Pick up some Italian while climbing the stairs to the second floor.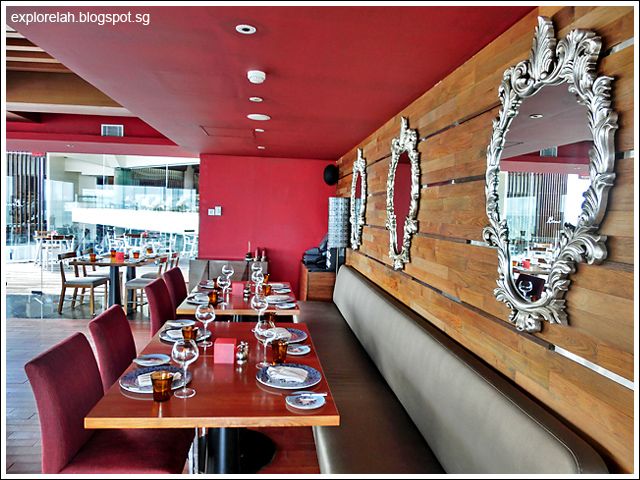 The second level offers a cozy seating for family and small groups. I find the contrast of silver Baroque mirrors on raw wood very subtle yet eye-catching.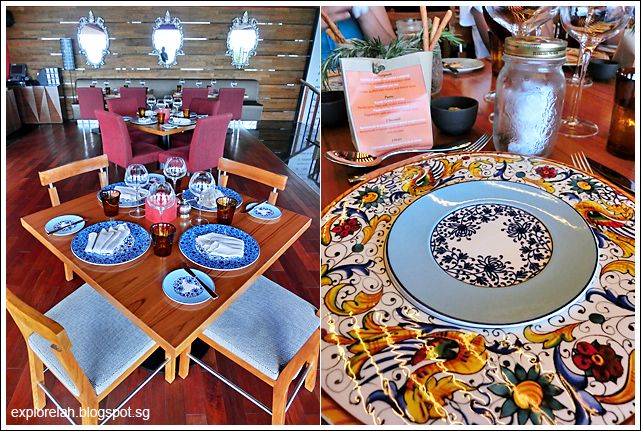 Patterns on the plates used at Bene had been personally designed by the restaurant team, displaying their artistry both in and out of kitchen!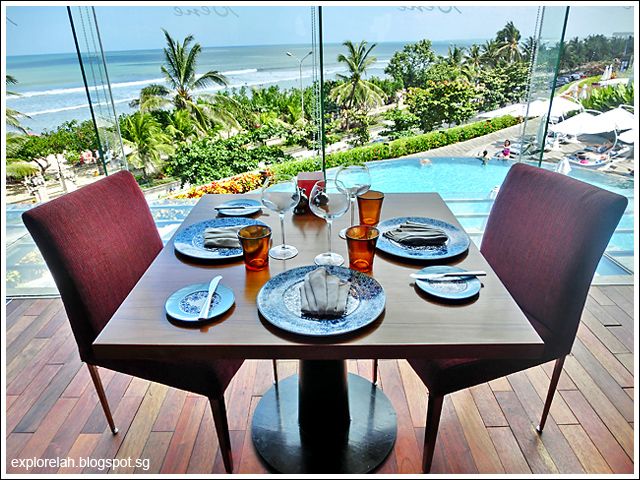 IMO, the most romantic spot on the second level would be this table by the picture window's edge.
The second level also houses a private dining room that can hold up to 10 people around a table that's been fashioned from a single slice of a tree trunk. Within the dining room is also a floor-to-ceiling wine cellar featuring over 60 Italian vintages.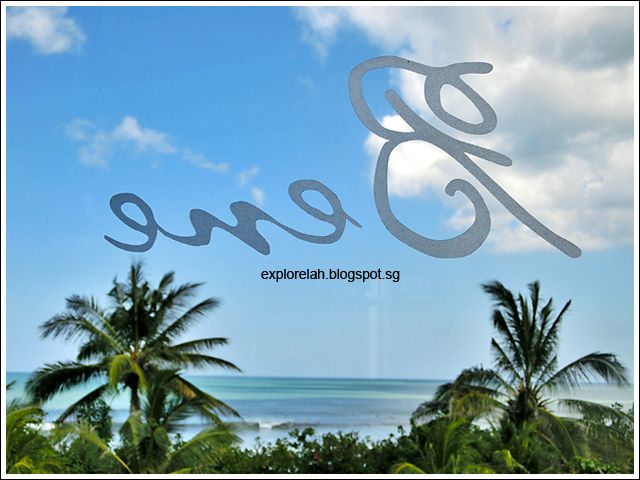 Fine Italian food and wine inside, a moving painting outside.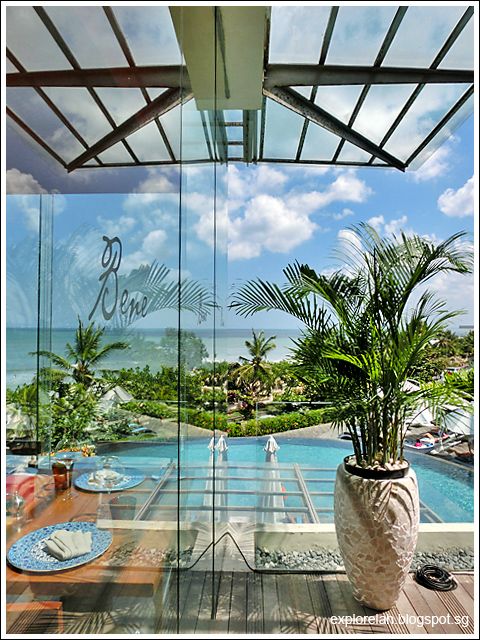 The second level also has outdoor seating on a sun deck.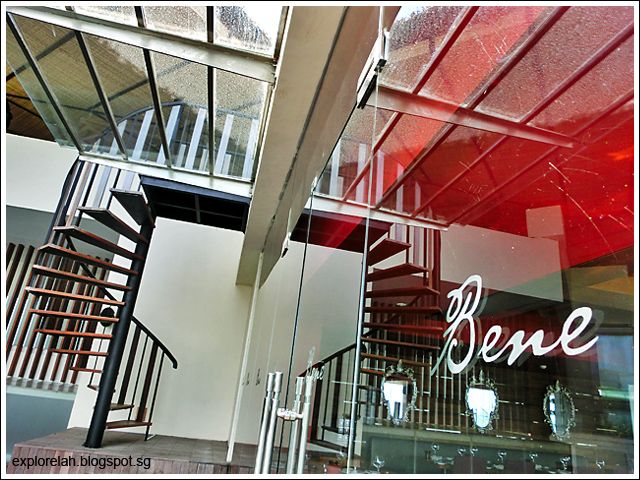 A curvy stairwell leads to the third floor of Bene.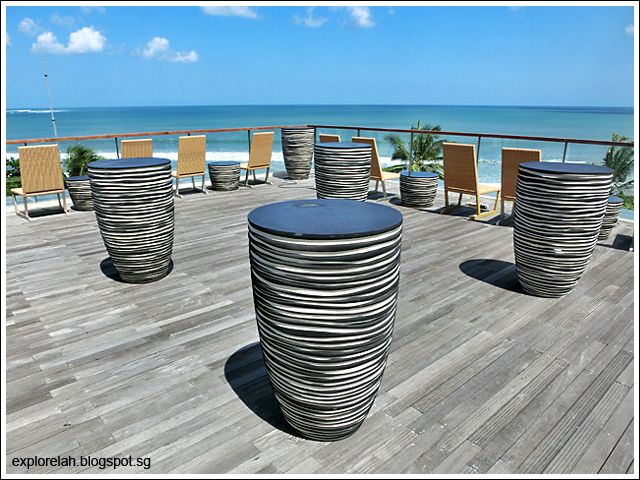 Level three is a rooftop terrace that offers an unobstructed view of Kuta Beach. This is where a Sunset Gathering is held every evening.
Sunset Gathering at Sheraton Bali Kuta Resort
Starting from 5pm daily, Bene's rooftop terrace welcomes both resort guests and non-guests to bask in the glorious Kuta sunset with free-flow wines, chilled Sangria and hors d'oeuvre for just Rp149,000++.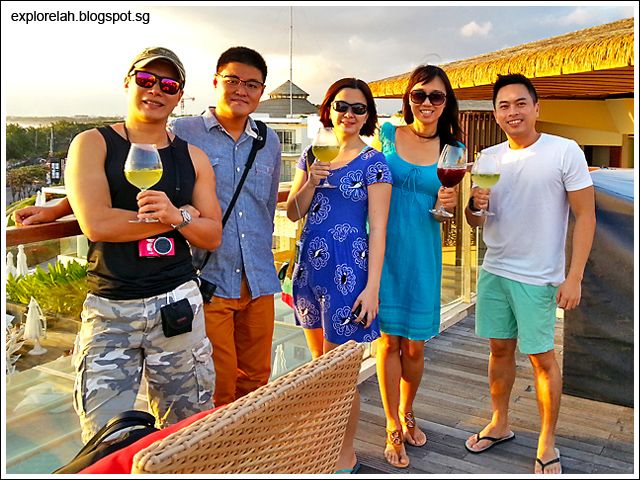 A great place to enjoy a toast with friends new and old. Here with Christopher, Jaclyn, Muiee and Eugene. Click on their names to check out their insightful blogs of our stay at Sheraton!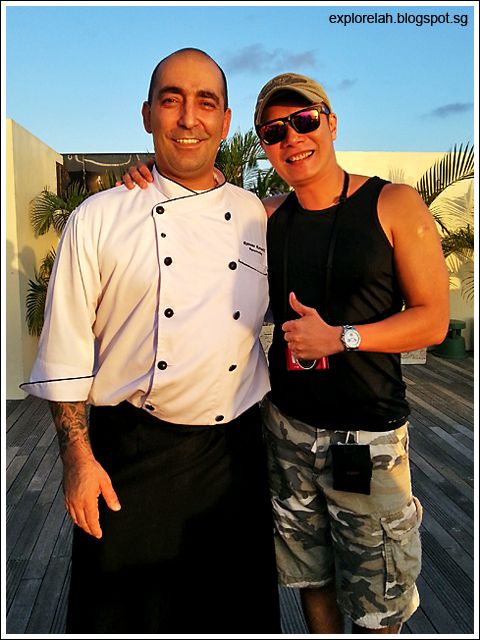 The man who holds it altogether is Executive Chef, Rossano Renzelli. He uprooted from Rome to plant his unique interpretation of Italian cuisine and a whole lot of belly pleasers here at Sheraton Bali Kuta Resort about a year ago.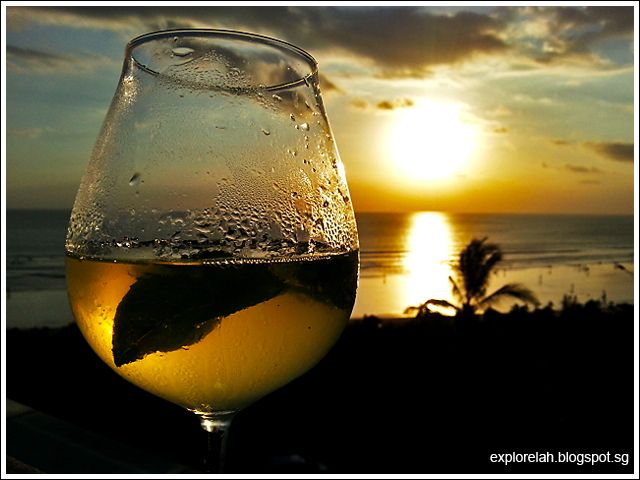 A spectacular sunset accompanied by a sweaty glass of ice-cold white wine sangria with chill-out grooves spun by a DJ drifting in the air... When I looked down, I saw cloud nine.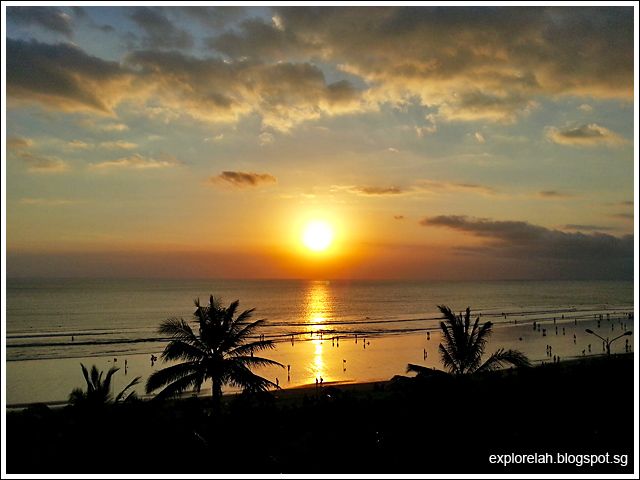 Admiring the sunset over Kuta Beach at an elevated view added another dimension of grandeur.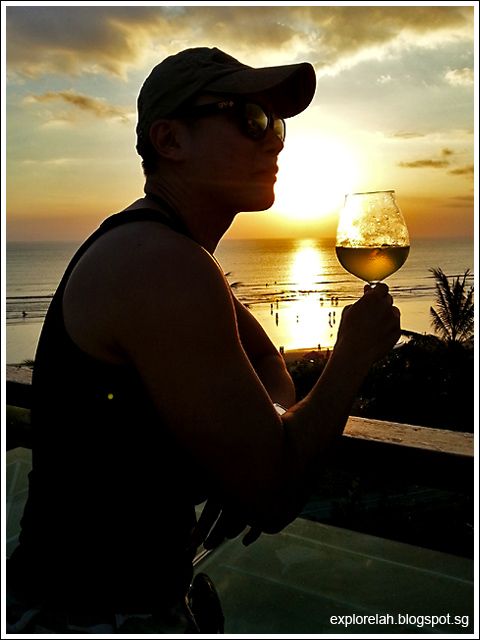 夕阳配美酒。。。爽到鸳鸯不羡仙,而是羡慕我!哈哈哈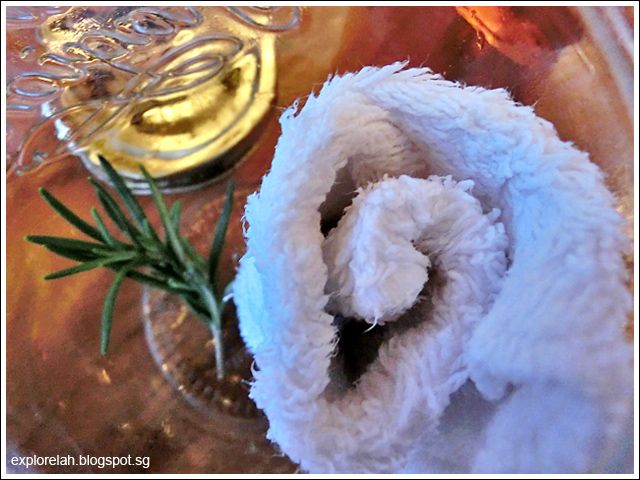 After the Sunset Gathering, we headed down to the second level for dinner. To cool off from the heat, we were offered little jars containing cold towels infused with the calming scent of rosemary. There's even a sprig of the herb inside the jar! Love the attention given to something as minor as a towel to freshen up.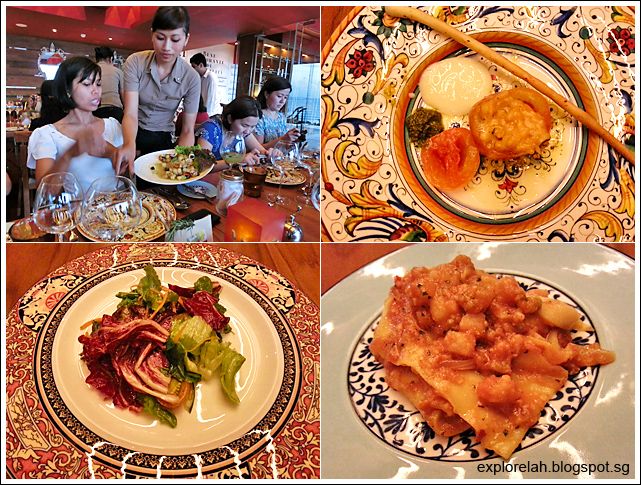 As the sky outside continued its indigo ballet into night, we settled into the flow of our casual dinner on plates that were as delicious looking as the food. Pictured here are Pomodori Con Riso (an appetizer of tomato stuffed with risotto and cheese sauce), mixed greens, and Pappardelle All Amatriciana (pappardelle with pancetta in tomato sauce).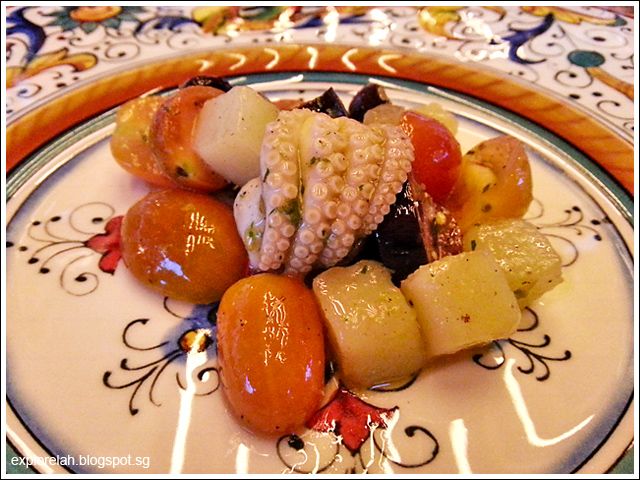 This chewy octopus, potatoes and asparagus salad made up the second course of appetisers on our menu. The freshness of the sea seeped through this mildly flavoured opening to a meal.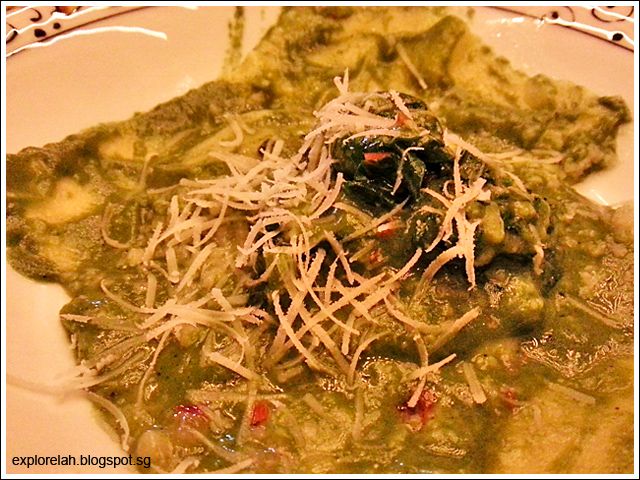 My personal favourite is this Ravioli Ricotta e Spinaci. The hearty serving of broad sheet pasta coated with a rich spinach sauce topped with ricotta cheese made me forget my scrooge on carbs intake.
After the appetisers and home-made pastas came the main... Barramundi in tomato sauce served with roasted potato and mixed salad.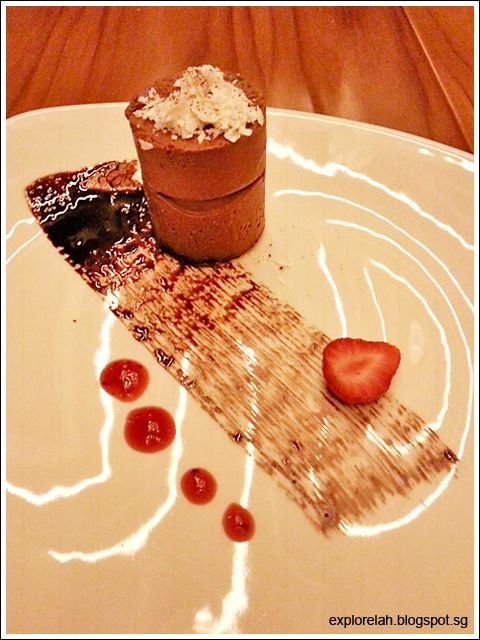 Dinner ended on a fluffy note with this chocolate mousse with mango sauce (Cioccalato Broadway).
Although my plate was constantly filled with food, I didn't feel
gelat
(Malay word for 'overtly rich in taste') after dinner like how foods that are too rich in dairy can come across sometimes.
Bene is open for dinner daily from 5pm - 10.30pm
with prices starting from Rp54,000++ for an appetiser. Personally, I think Bene is an exciting place for dinner given the ocean-front view, authentic Italian taste, beautiful dinnerware and price point right at the heart of Kuta.
Chef Table (a.k.a. Kitchen Table Dinner)
The kitchen is usually a chef's guarded secret but we got a chance to go on a tour before a specialty dinner known as the Chef Table or Kitchen Table. This dinner is not offered within the resort's list of dining venues and is available by-invite only. That is, the Chef Table is opened only to an exclusive group of patrons invited by Sheraton Bali Kuta Resort for this unusual dinner experience.
Some examples of guests who would make the Chef Table's invite list include CEOs and top management personnel, celebrities, socialites and VIPs at the resort. I'm fortunate to be granted access to the kitchen and Table even though I'm none of those mentioned in the list.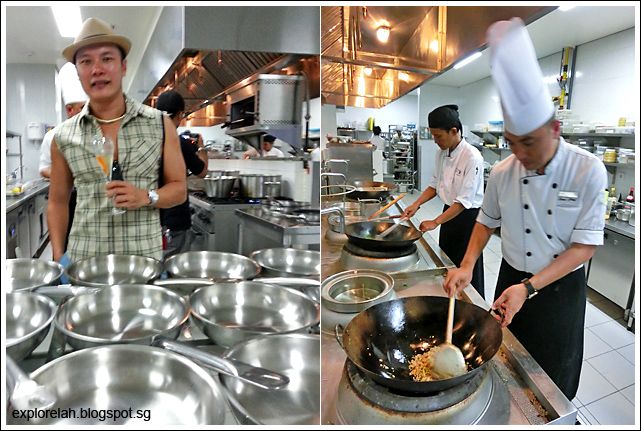 A glass of bubbly greeted our entrance to the kitchen. I've been on a couple of kitchen tours previously but this was the first time it was done with champagne. There's even a carrot stalk in the glass to refresh the palate after sipping.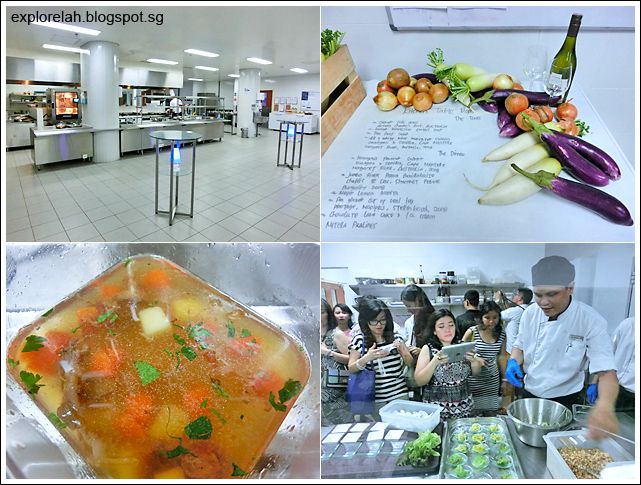 While on tour, we were served canapés and food fresh from the chopping board or cooking pot. I drank braised Indonesian oxtail soup directly from a plastic container used to store food instead of a proper bowl and felt as if I'm part of the kitchen crew doing a taste test. Cool!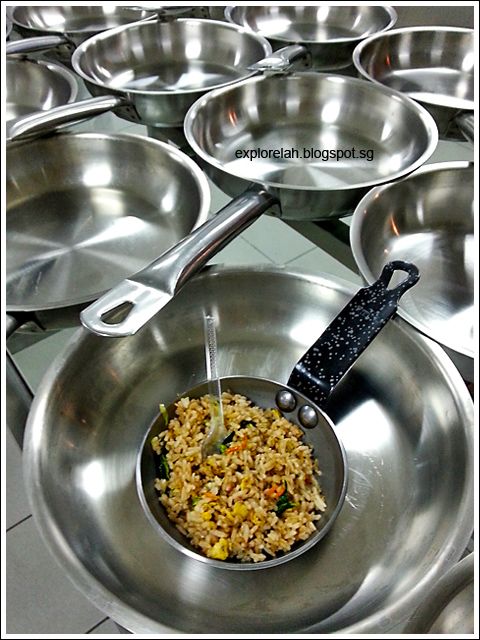 This Nasi Goreng fresh off the wok was served on a petite frying pan. Utensils used to served food during the tour and Table earn top marks for being quirky and unconventional.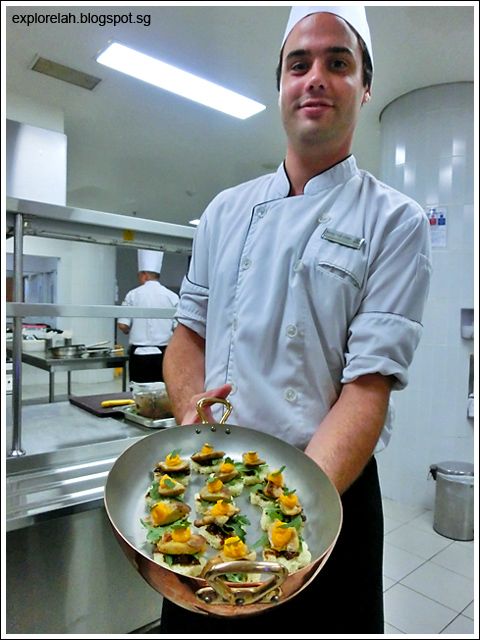 Seared foie gras... Delish!
Chef slicing a dill and white wine marinated salmon.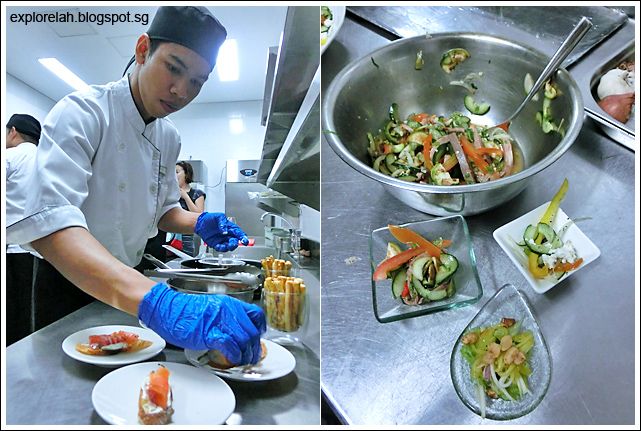 A young chef assembling an assembly of appetisers. Sheraton Bali Kuta Resort's kitchen is like a Benetton ad of multi-nationalities and age.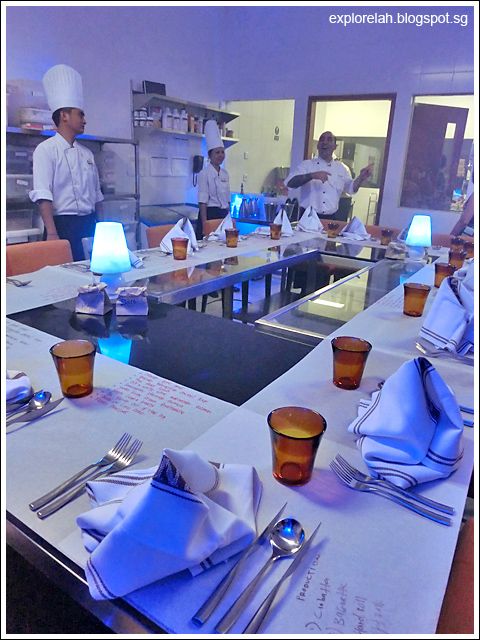 After the kitchen tour, we were ushered into a room for our Chef Table dinner.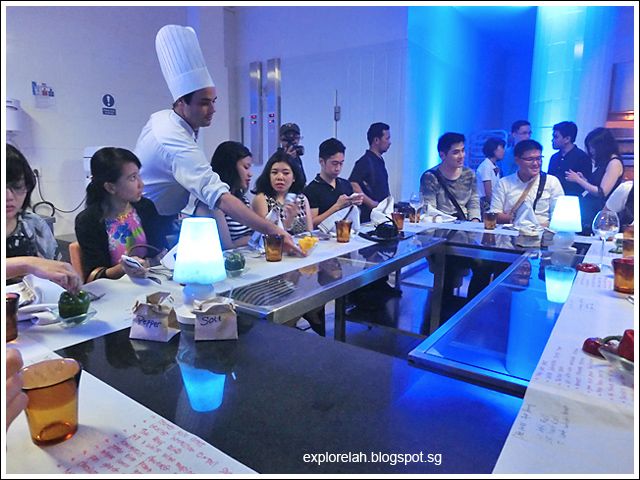 Dinner was a very lively gathering of journos and bloggers from Indonesia and Singapore.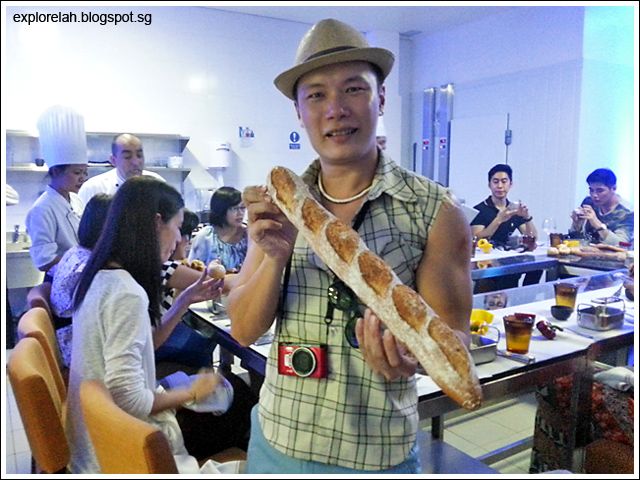 Dinner started with a collection of breads fresh out of the oven and tossed onto the table. The baguette I'm holding was still hot!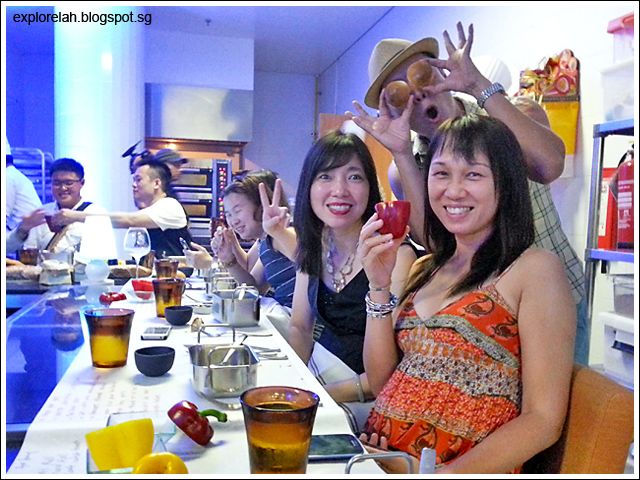 The Chef Table has quite some unusual dinnerware and serving surprises that invite diners to have fun.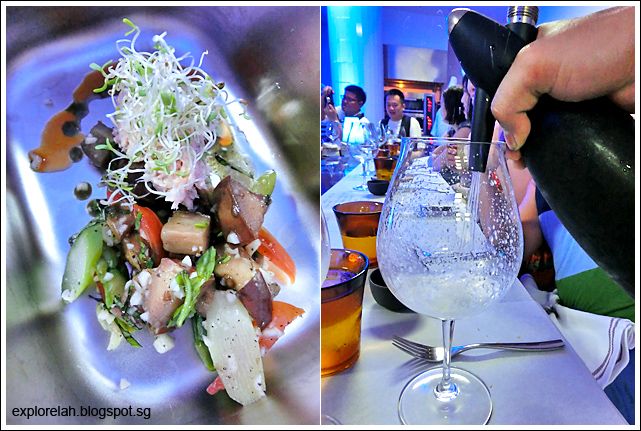 Salad served in a mess tin and instant 'champagne' were some of the eye-openers at the Chef Table.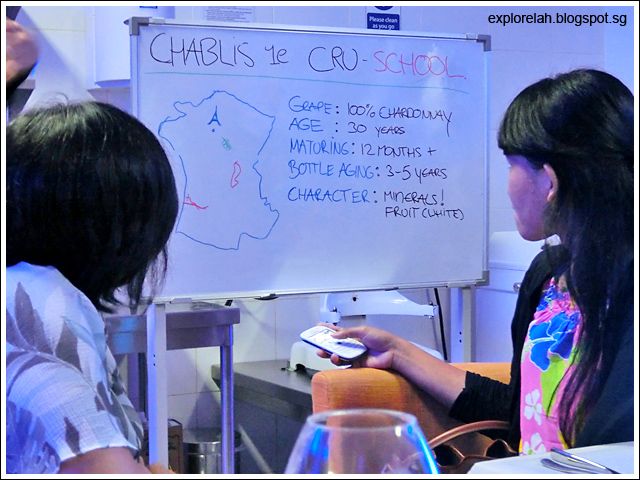 We were also given a 101 on the wines that were paired with our dinner courses.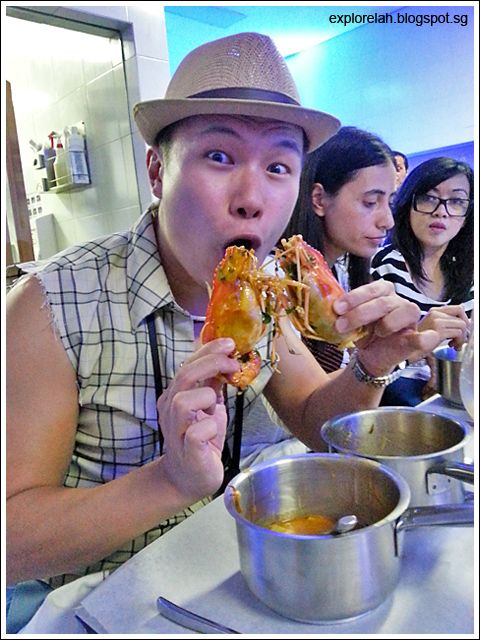 I was already very full after all that nibbling during the kitchen tour but the appetising dinner inspired the growth of a second stomach. The Jumbo River Prawn Bouillabaisse was thick without being too heavy.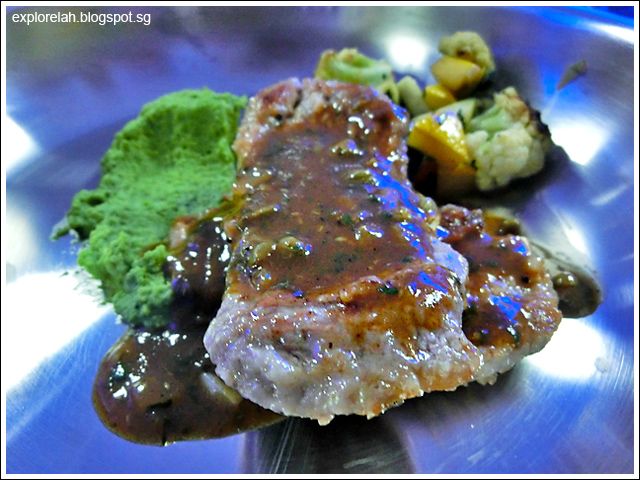 Main course was this pan glazed cut of veal leg that was tender and moo-ing with flavour!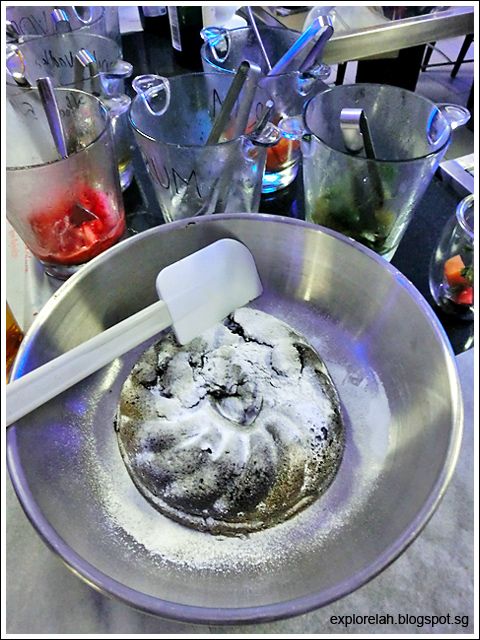 Dessert arrived in the form of a gorgeous Chocolate Lava Cake with ice-cream that was to diet for.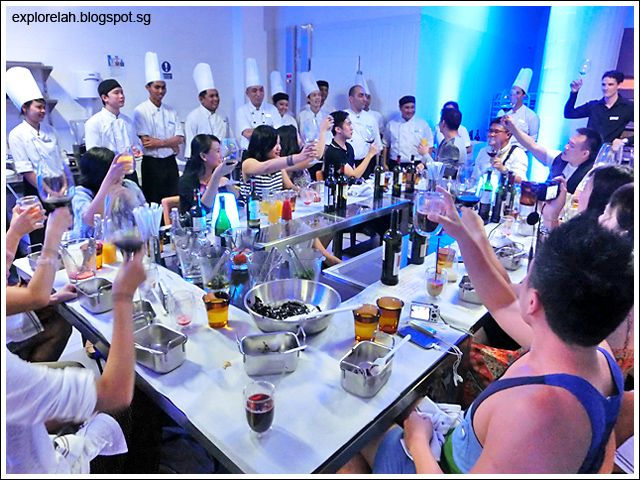 A toast to the culinary team at Sheraton Bali Kuta Resort's main kitchen for a wonderful meal peppered with creativity, bursting with great taste, soaked in fun and well matched with fine wine.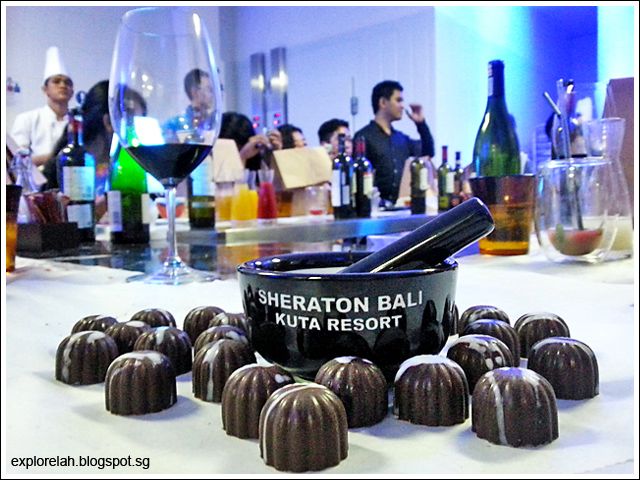 A mortar and pestle keepsake to remember the wonderful Chef Table by.
The Chef Table was one of the most interesting dinner experiences I've had that went beyond good food and wine. I enjoyed the interactivity with the kitchen staff, unusual setting, presentation methods, educational elements and the atmosphere of spontaneity.
It is definitely a great dinner idea for organisers seeking something extraordinary to impress their VIP guests or bosses. Prices for the Chef Table dinner are not available though as it is tailored according to group size (maximum of 20, I think), menu and vintages.
Having participated in the Sunset Gathering, dined at Bene Italian Kitchen, enjoyed an experiential dinner by the Chef Table, and sipped, savoured and shopped through a refreshing Sunday
Market Brunch
,
Sheraton Bali Kuta Resort
is definitely more than just an accommodation choice in Bali but a culinary powerhouse!
Sheraton Bali Kuta Resort

Address :
Jalan Pantai Kuta, Bali 80361, Indonesia
Contact :
(62) (361) 846 5555
Website :
sheratonbalikuta.com
Facebook :
facebook.com/SheratonBaliKutaResort