Date of Exploration :
22 Feb 2014
Seeking to detox myself of the usual sights in Bangkok, I decided to pay a visit to the Museum of Contemporary Art (MOCA) and discovered that creativity is not the only thing that runs deep in this time capsule of Thailand's artistic evolution. The other thing that MOCA is steeped in is... pheromones. And lots of it.
There is no lack of information online that will give you the
101 about MOCA
and what a delight it is to visit so I will not delve into too much details about its origin and purpose. Instead, I'll set out to confirm my suspicion that underneath all that aesthetic flair, the museum is actually a glass closet homage to sexuality! If Singapore had something like MOCA, maybe then our birth rate has hope of resuscitation. LOL.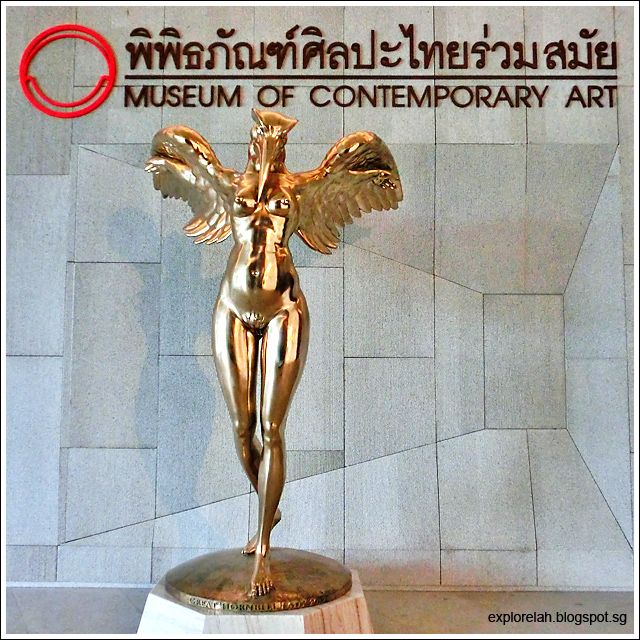 The Louvre has its 'Winged Victory of Samothrace' and MOCA has the 'Great Hornbill Lady' as one of its defining artworks. Found at the museum's entrance, this huge sculpture represents the everlasting nature and instinct of love.
This post is going to be heavy on photos so I shall keep my ramblings short to let the pictures speak their thousand words. Many of the photos will be of artworks and although I placed my blog address on them, I don't claim copyright of the works other than having photographed them.
I love museums and galleries where I can take photos of their collections!
Okay, copyright disclaimer stated, let's explore this latest visual aphrodisiac in Bangkok...
An Outdoor Gallery of Graffiti
I'm not sure if they were commissioned by MOCA, but there's an impressive line up of graffiti art on bridge pillars near the museum. There were countless of them along a stretch of about 2 kilometres of concrete bones and they form an unofficial welcome party to MOCA.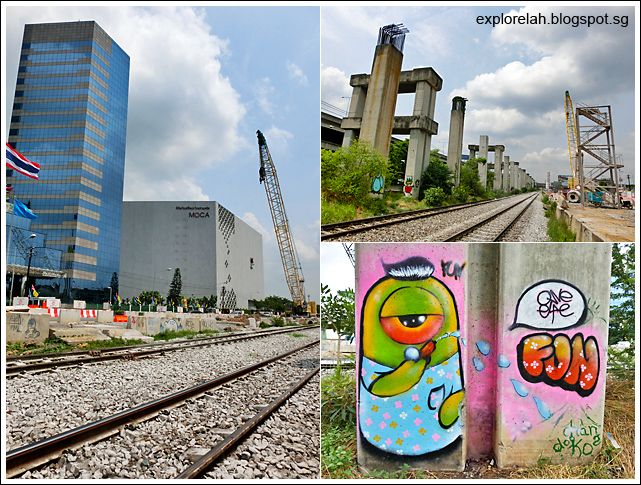 MOCA sits next to a train track with construction ongoing for an expressway at the point of my visit. I wonder what fun led the Minion to squirt. Hahaha...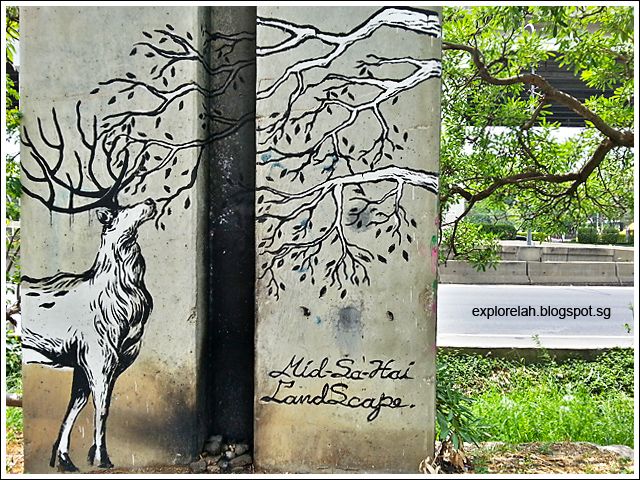 My favourite art-ffiti (graffiti that is art) is this ingenious blending of the painted mural with the real world. I didn't realise it initially but after a shot, I realised that the artist was trying to assimilate the branches of a nearby tree into his painting. Let's hope the tree grows slowly and doesn't get removed!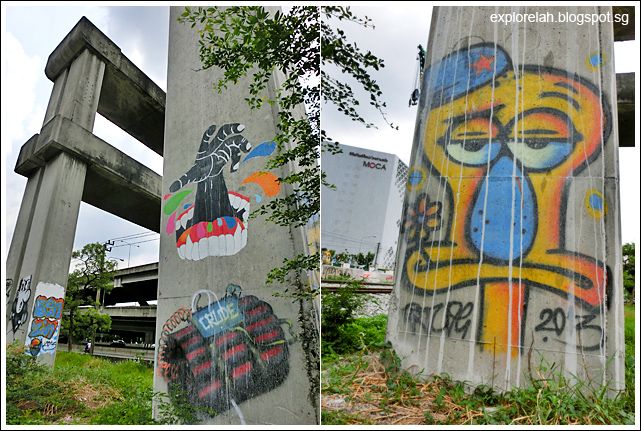 Spray-painted doodles are found on every pillar like tattoos on a limb. Some pillars are even 'tattooed' on all 4 sides.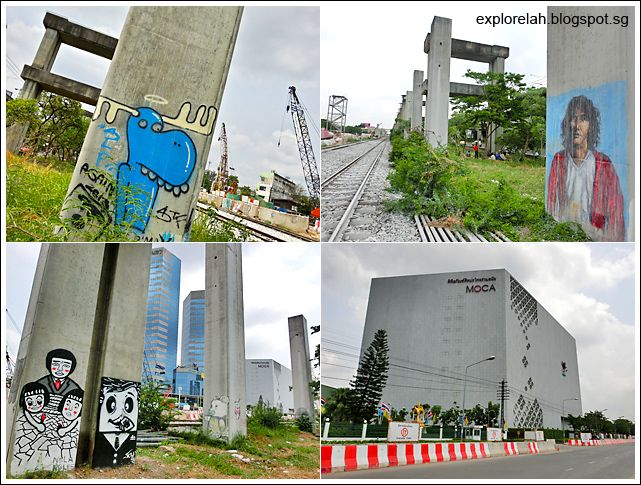 What's amazing about the free-form graffitis here is the variety of artistic styles.
I think it is fun to drop by this gallery of graffiti across MOCA as a supplement to visiting the museum. But look out for traffic while crossing the road and watch for the occasional passing train too!
Giftbox on the Horizon
Rising seemingly out of nowhere, the windowless Museum of Contemporary Art Bangkok building resembles a giant understated giftbox; the kind of minimalist boxes that looks expensive because they have very little going on.
Opened on 23 Mar 2012, the museum is the result of one man's vision to provide a solid platform on which Thailand's contemporary arts can proliferate and reach new corners of creative expressions. I was floored when I found out that MOCA and its entire collection belonged to one man... Mr Boonchai Bencharongkul. A business mogul who founded one of Thailand's biggest telco, DTAC, Mr Boonchai is a passionate patron of the arts who amassed his collection over many years. Not sure about the value of the entire collection at MOCA but the man's net worth is estimated at over US$1.4 billion as of 2013.
I want to call him godfather!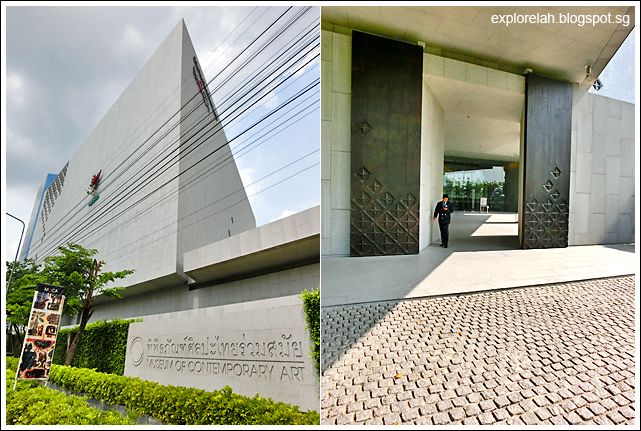 Entrance of MOCA. No bottled water is allowed inside the museum so you'll have to either drink up or leave it at the ticketing counter. A drink coupon is issued with ticket purchase (180bht per adult) and you can exchange it for a bottle of drinking water at a cafe inside.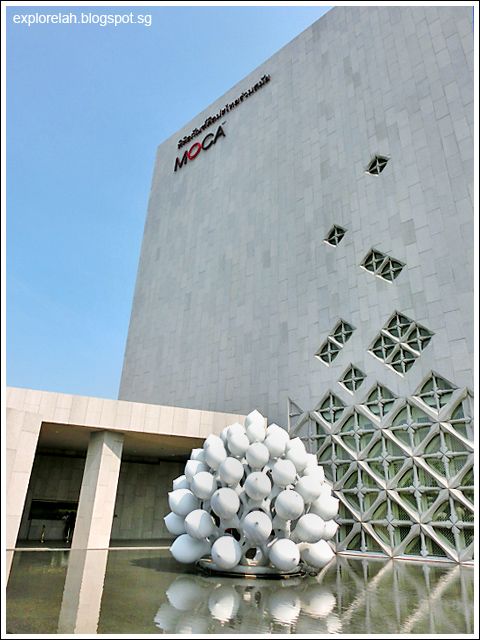 A sculpture catches the eye at the entrance. Don't you think it resembles a lotus bud made up of breasts and nipples?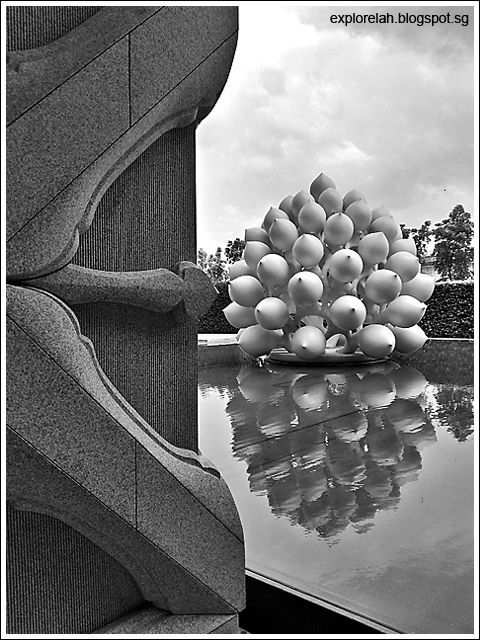 From another angle, the motive on the building looks like... erm... a guy with his legs spread out and his schlong pointing to nipple lotus!
The MOCA Collection
Mr Boonchai's collection of paintings, sculptures and some artistic installations are distributed across five levels within MOCA with all the country's National Artist recipients have a spot here. Some of the bigger pieces have been specially commissioned to take up feature spaces and the museum has every artistic genre represented... from traditionalists to surrealists, from folk art to mixed medium experiments, from religious to the controversial, from scenes of everyday life to screams of wild imagination!
Most of the artworks are anything but boring and many are provocative, thought-provoking and even funny. Oh, and of course, lots of nudes.
Level 1 of MOCA's minimalist interior acts as a canvas for shadow 'wallpapering'. A cafe is found at a corner and there's also a gift shop.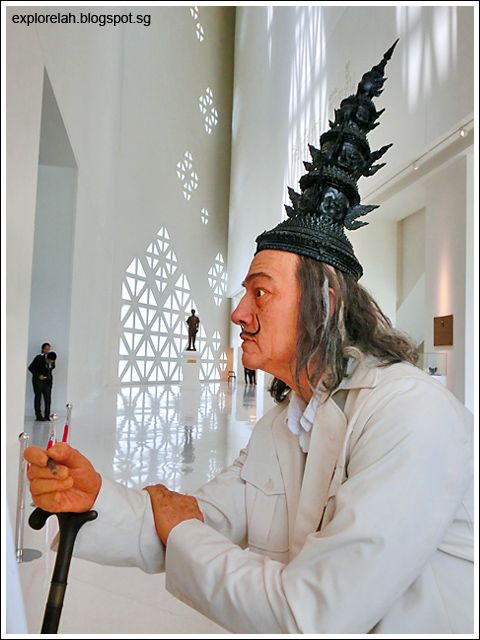 A life-size Madame Tussauds-esque figure of Salvador Dali wearing a traditional Thai head dress by Watchara Prayoonkum sets the tone of the museum's collection. Expect the unexpected it says.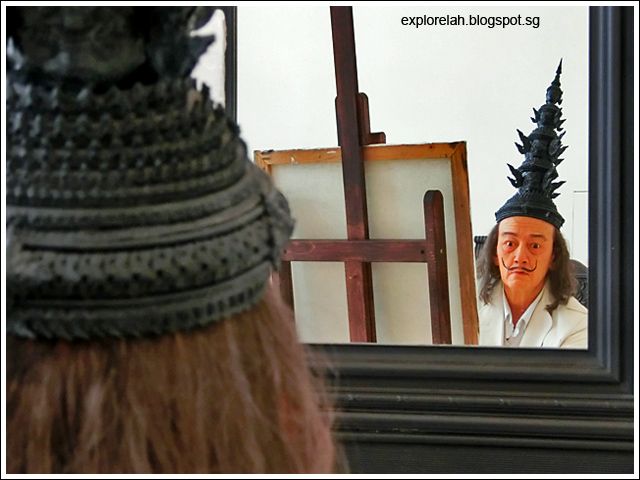 The father of impressionism finding inspiration within himself?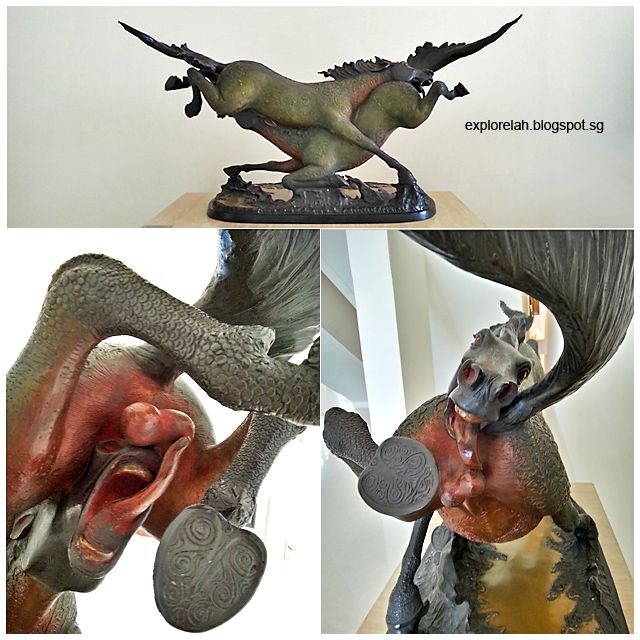 From afar, I thought the sculpture depicted a farm accident. Then I got closer and oh my, the stallions were having a Brokeback Mountain thing going.

Titled 'Adum & Steve' by Roengsak Boonyawanickul, I wonder if the misspelling of 'Adam' is intentional because 'U' resembles the tongue in a tribute to all that lapping action. LOL.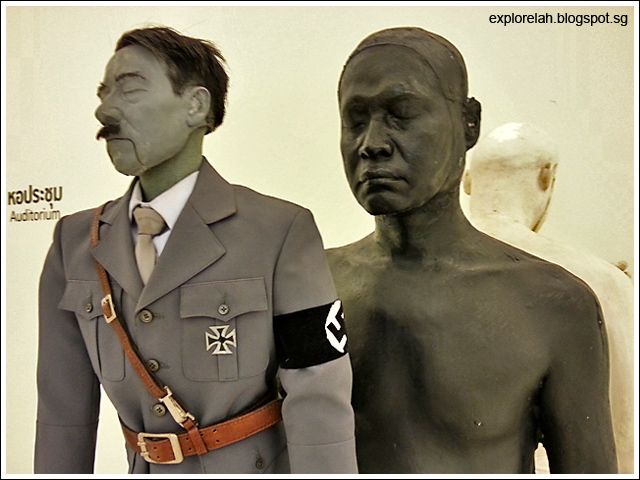 Of late, I've grown fond of photographing sculptures to form a personal interpretation of a piece through the captured angle. This black mannequin holding a Hitler puppet speaks of our actions being manipulated by an inner demon.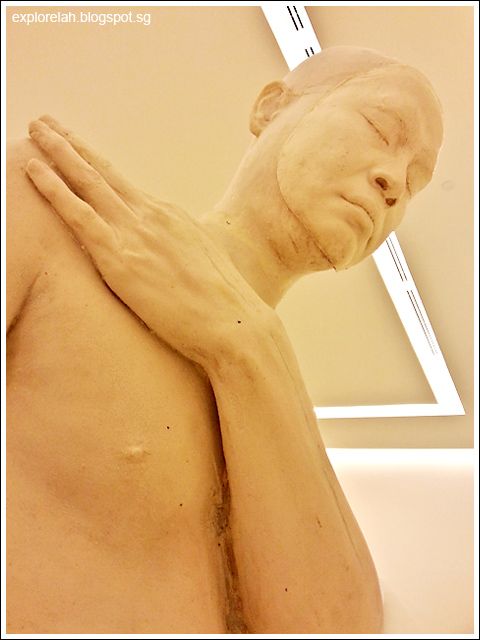 Behind blackie is a solemn white mannequin that suggests evil happens when we turn away from our conscience.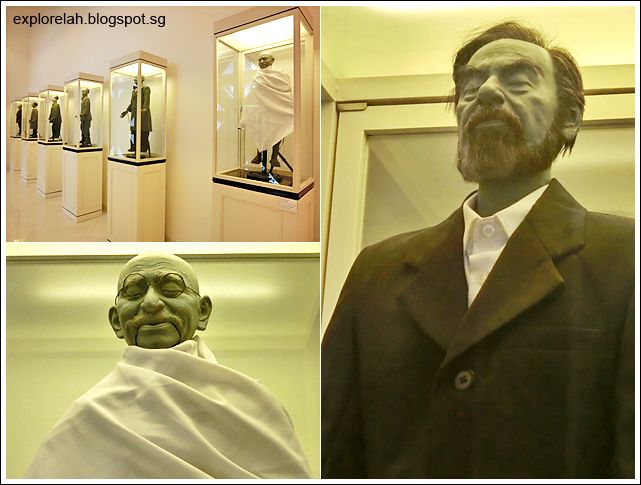 Eerie puppets of political figures including Gandhi (bottom left) and what I thought is Abraham Lincoln but turns out to be Saddam Hussein (right).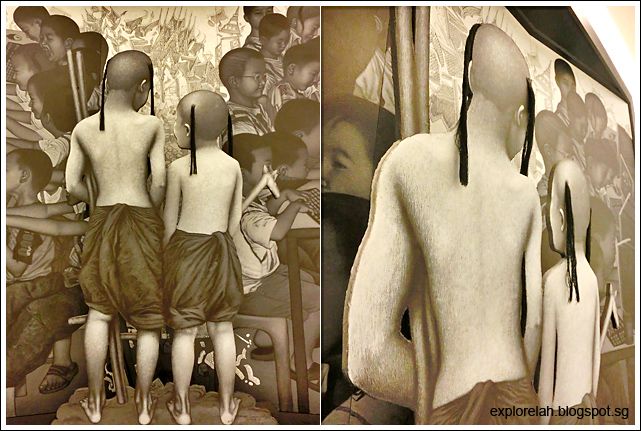 'Toy in 2008' by Suradej Wattanapraditchai. Interesting mix of media where the 2 boys in the foreground are actually painted on 3D wood planks with strings for hair.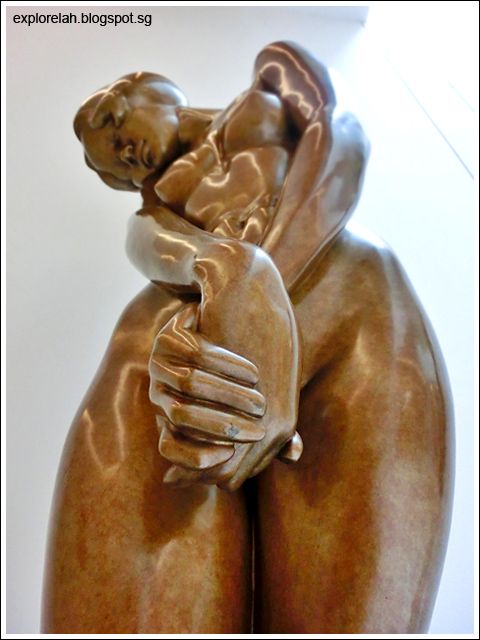 Here's how to act virgin with Nonthivathn Chandhanaphalin's work simply titled 'Nude'.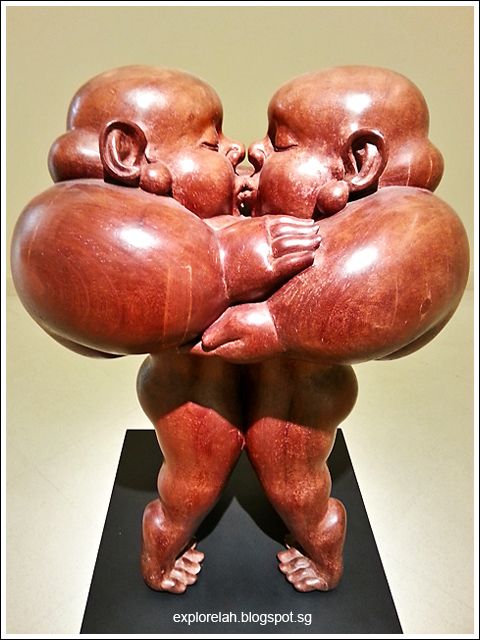 Make love not war... Kissing 'Sumo' sculpture by Riharn Opas.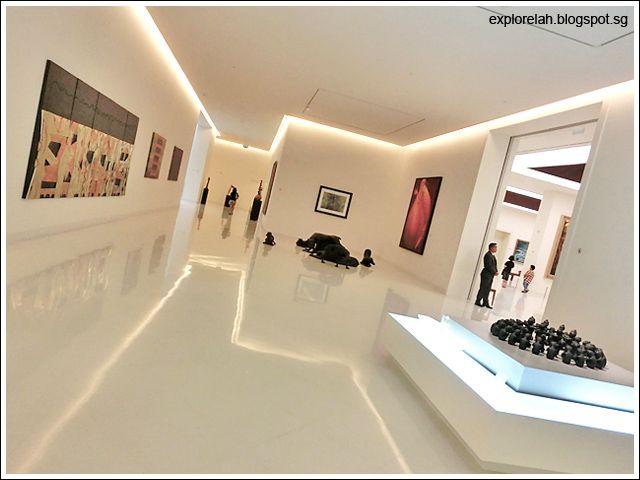 Level 2 is one of my favourite because of the totally disturbing and bizarre sculpture series found here...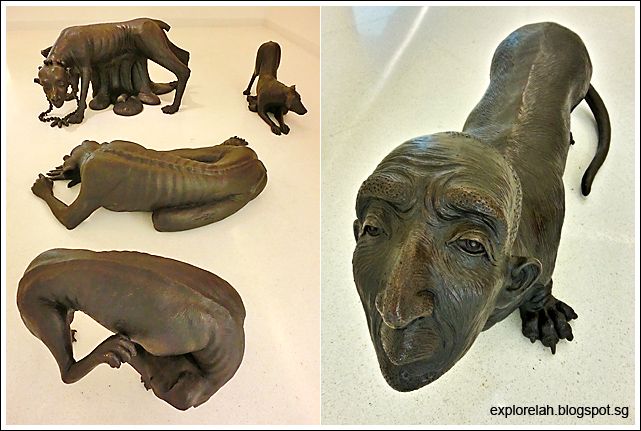 ... that looks like Dr Moreau's experiments ran amok!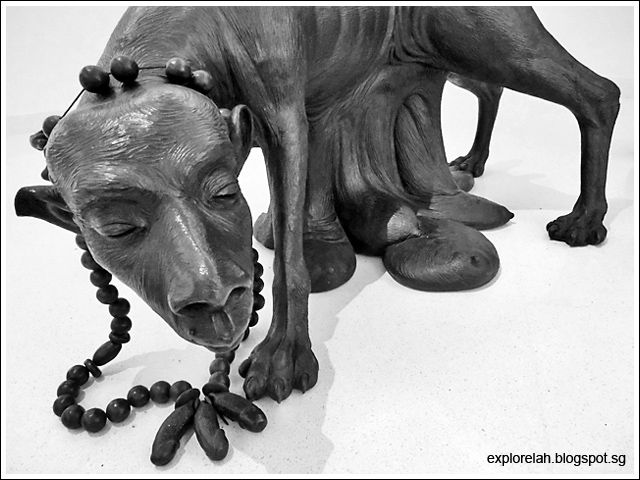 Someone left a comment on my Instagram (@darrenn9) that the man's face belongs to that of Jumlong Srimuang.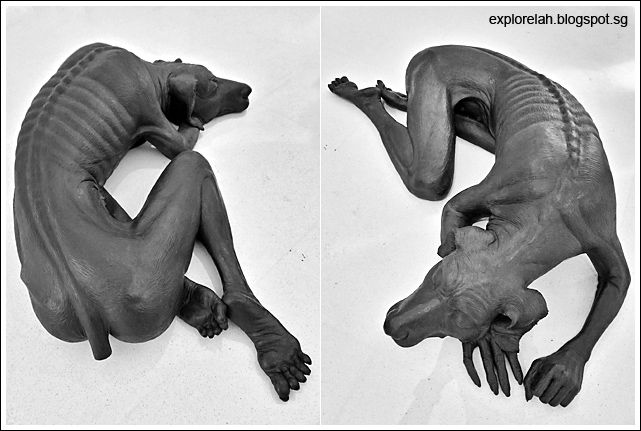 Petting is allowed.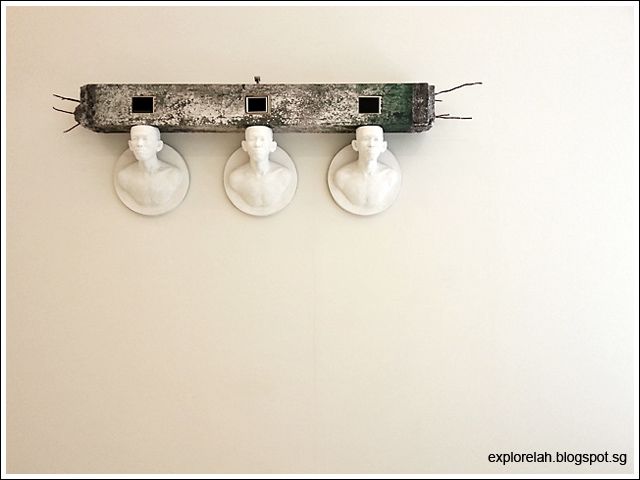 This installation titled 'Responsibilities' is being irresponsible with malfunctioning screens. I think the blackened screens are supposed to show something that adds to the full appreciation of this work's message.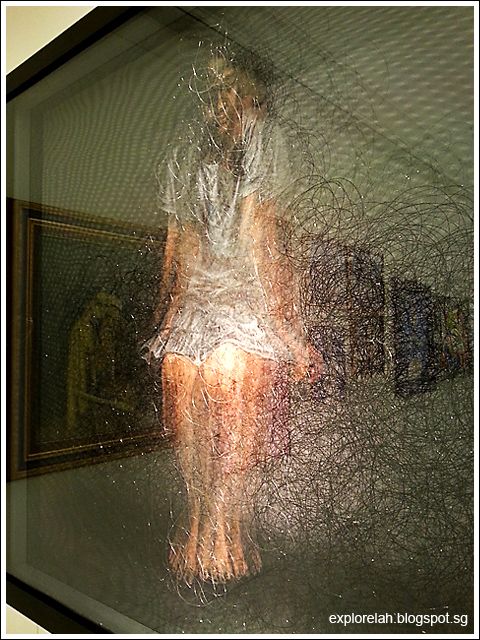 'Knot' by Uttaporn Nimmalaikaew is an ethereal piece where a mesh of wires support layers of translucent canvas that form a sitting girl. Subtly captivating.
In an environment-built section of MOCA, Thai classical literature "Khun Chang - Khun Paen" where two men fought over the beautiful Pimpilalia was interpreted by two artists of different generations - Hem Vejkorn and Sukee Som-ngoen.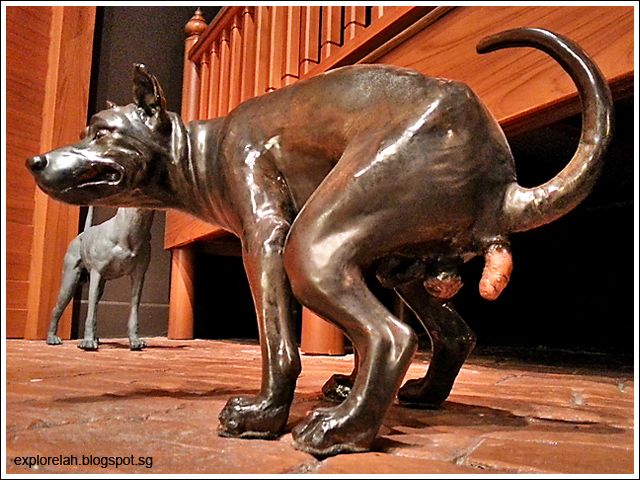 Cute sculptures and figurines of dogs are plenty so I was totally amused by this tongue-in-cheek depiction of a pooch pooing! The dog's expression is just hilarious!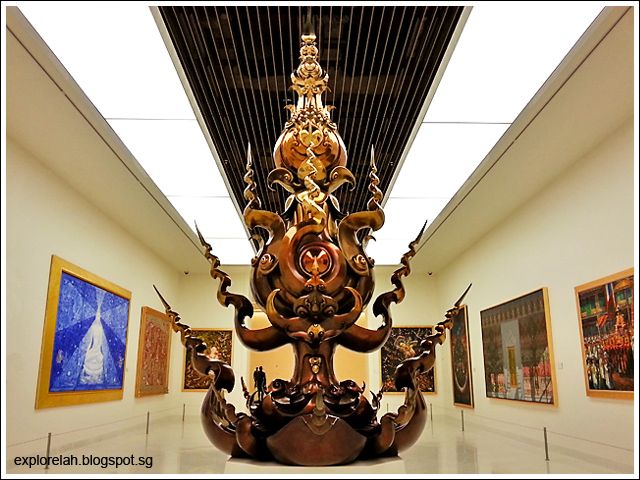 A spaceship the gods arrive in?
Ganesha all bronzed up.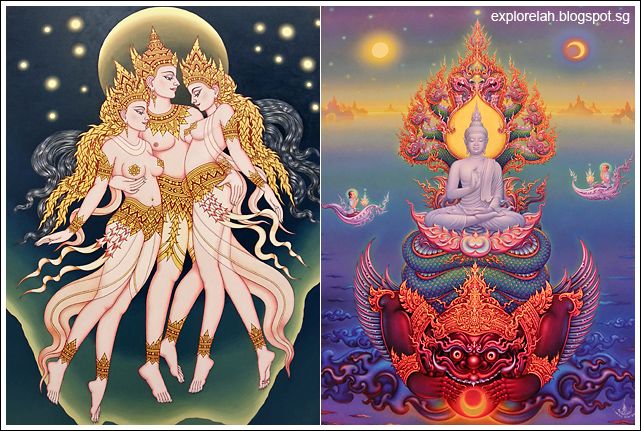 Left : Carnal meditation. Right : 'The Blessing of Lord Buddha' by Chalermchai Kositpipat.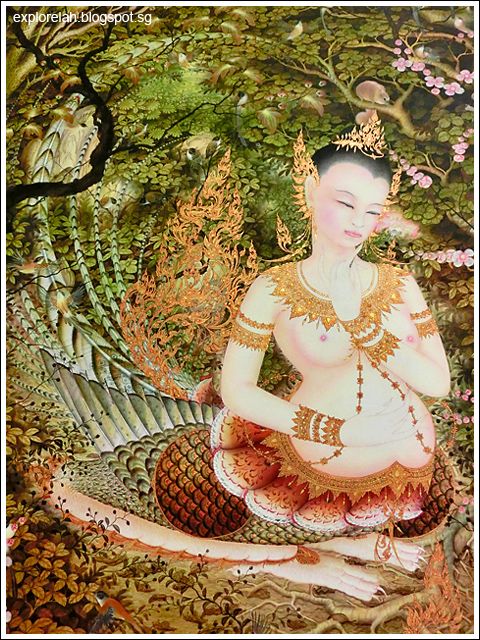 'Nursing' by Vichai Noonpun.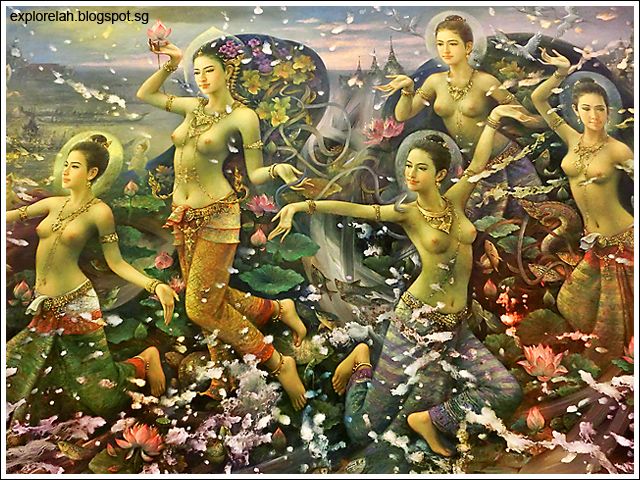 'Chao Praya River 2' by Sompop Budtarad.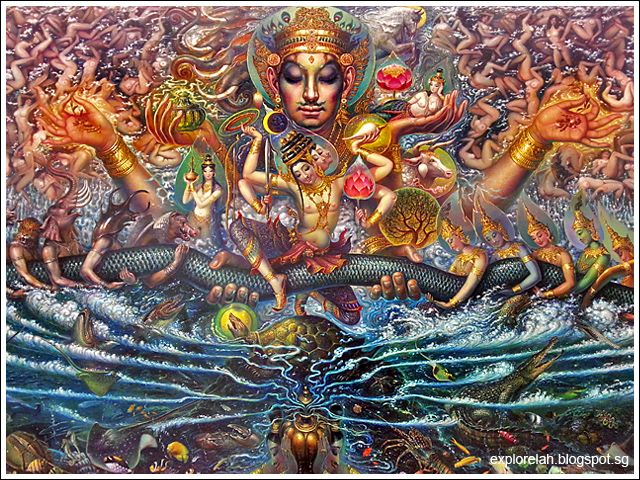 'Churning of the Milk Ocean' by Prateep Khotchabua.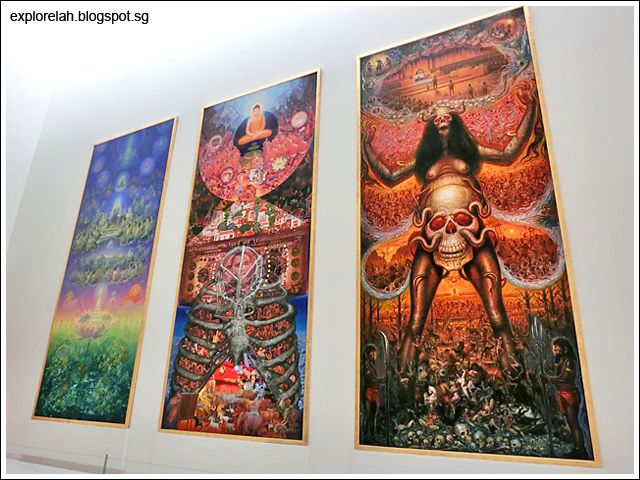 The Hereafter's colossal artwork of The Three Kingdoms - The Human Realm, The Celestial Realm (Heaven), and The Unfortunate Realm (Hell).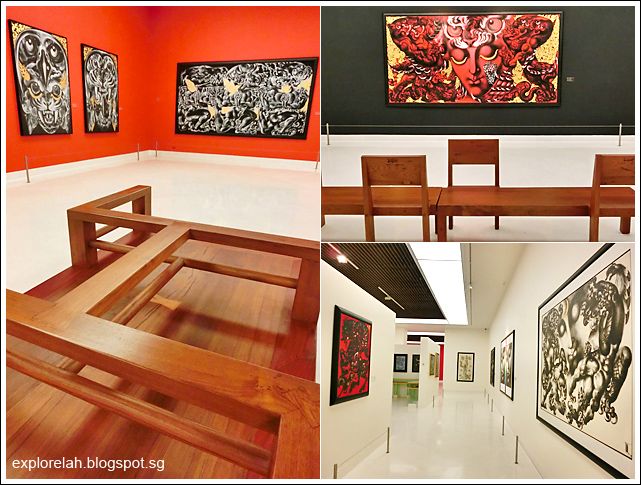 Gallery of Thawan Duchanee, National Artist (Level 4).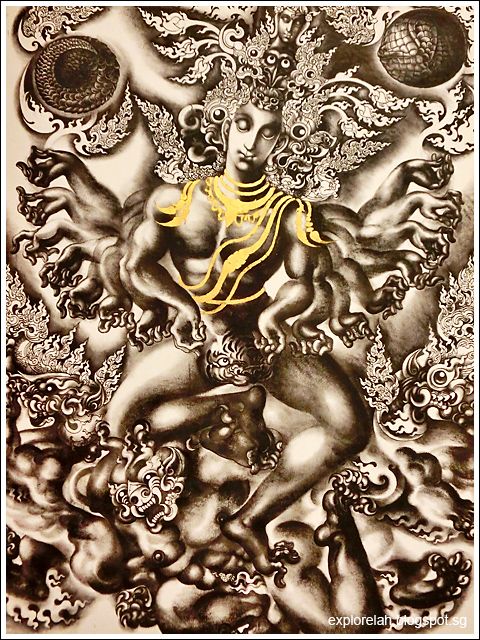 Buddha on steroids.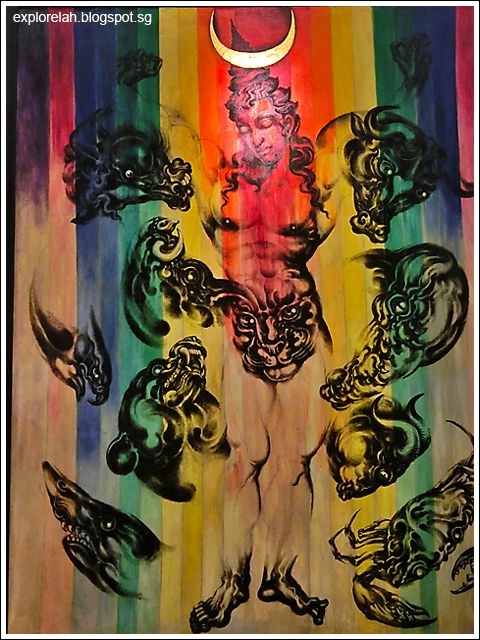 Free your rainbow beast with Stud Krishna? Check out those pecs!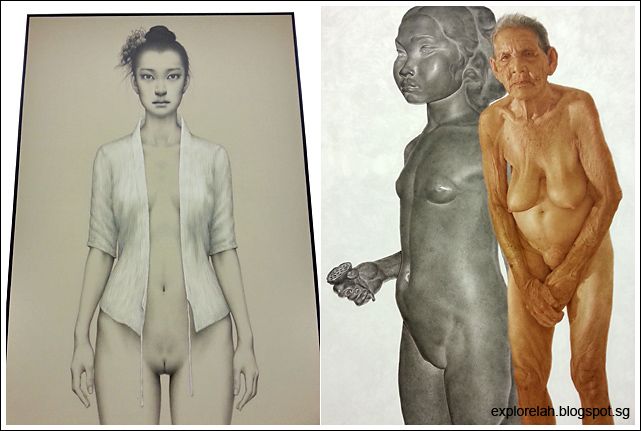 (Left) Mesmerising piece that drew me in so much that I forgot to register the work's title and artist. (Right) 'Time' by Chairat Saengthong.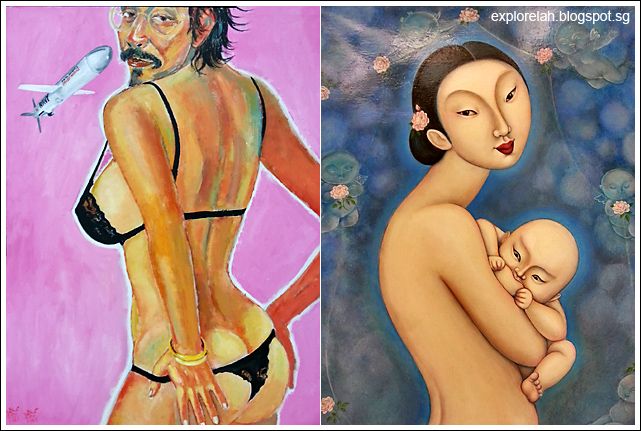 (Left) 'MK82 GP Bomb' by Vasan Sitthiket. (Right) 'Madonna with 6 Bebies' by Singaporean artist Olga Polunin (yup, it was spelt 'Bebies' on the label).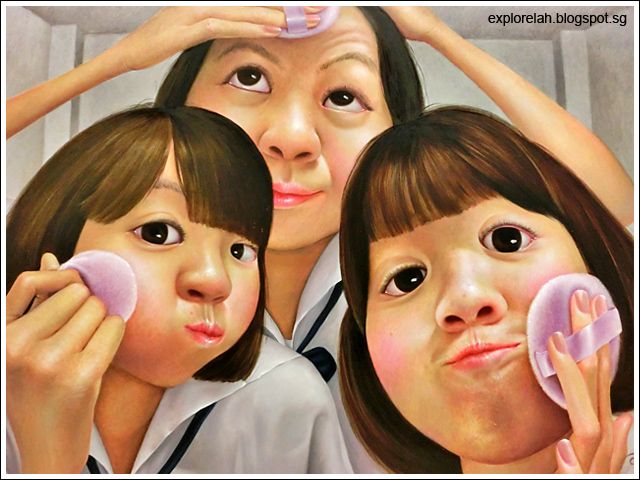 'Mirror No. 5' by Amarin Buppasiri.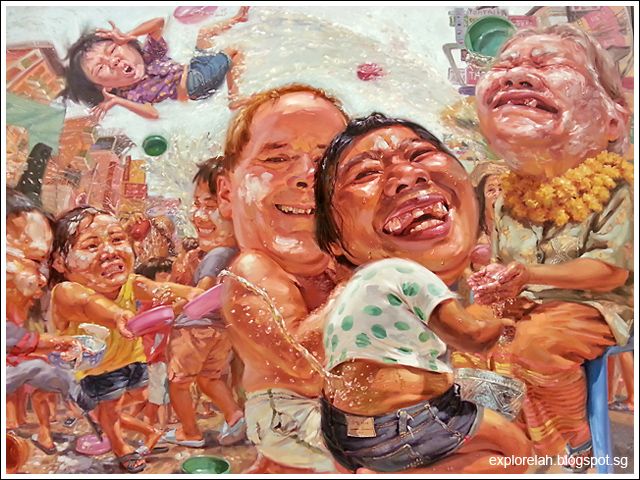 'Songkran' by Lumpu Kansanoh... accurate right down to the sleazy looking farang.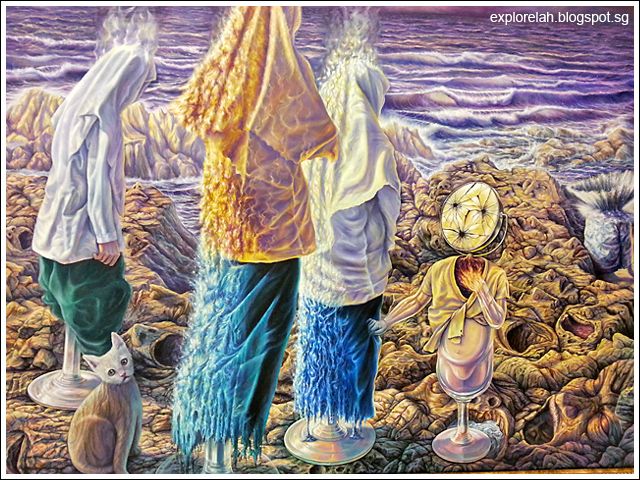 'Their Family & Your Family' by Sirote Thongchompoo. Hmm... Thong chomp poo.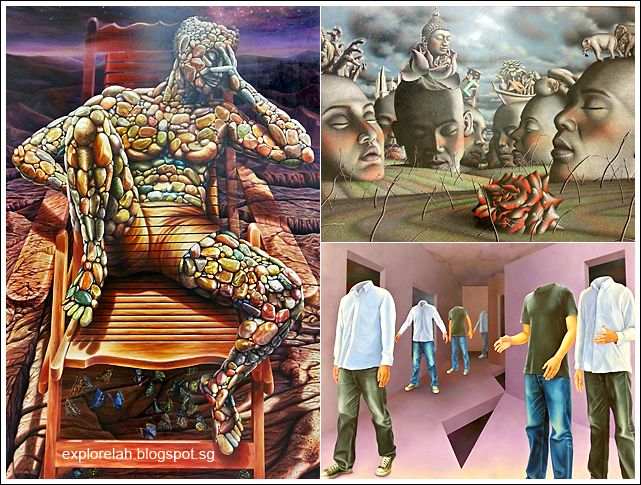 Life as interpreted by 3 different artist... (Left) 'Real Life' by Sirote Thongchompoo. (Top Right) 'The Differences of Living 1' by Sudjai Chaiyapan. (Bottom Right) 'The Steps of Life' by Kiettisak Chanonnart. Looks like Kiettisak left the heads in Sudjai.
'Heaven Garden' by Wuttikorn Kongka.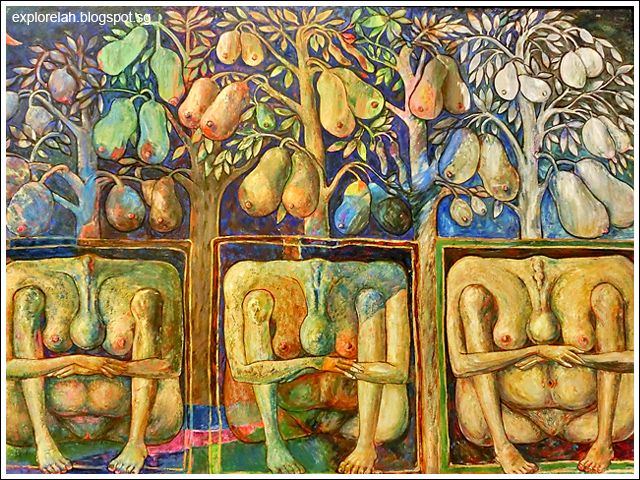 'Prostitutes Under the Tree' by Tawee Rajaneekorn.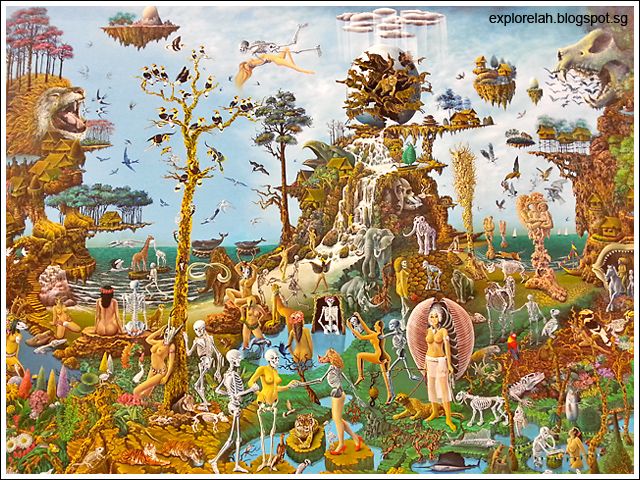 'Two-Dimensional Village' by Sompong Adusarabhan is an allusion to "the Buddhist doctrine in which all created being must pass through the cycle of birth, growth, decay and death

."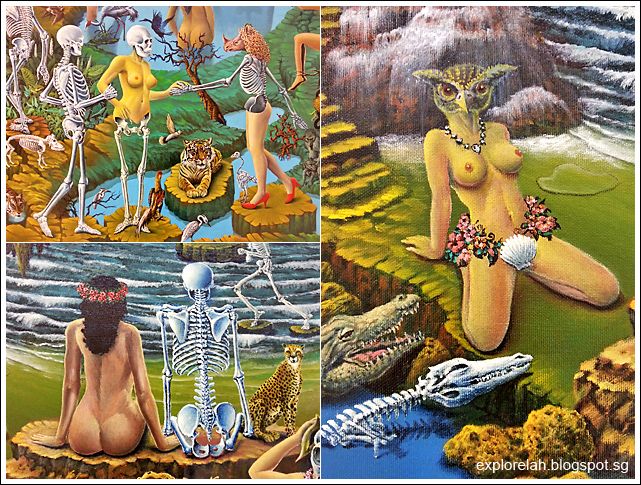 Zoom in of visual components in the village illustrating that beauty will fade and what remains in death is a mere skeleton.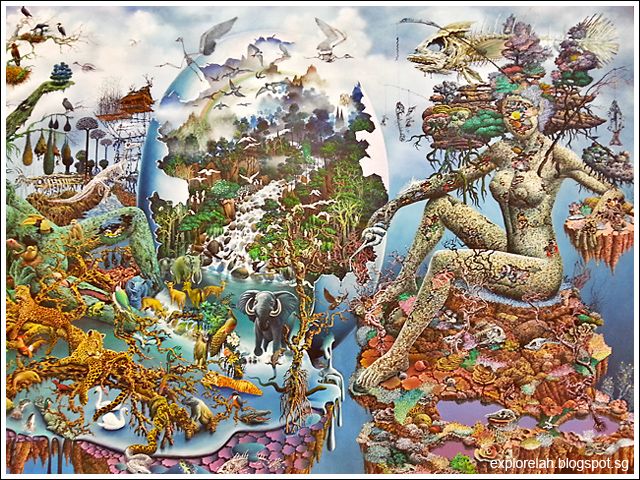 'Stream of Life' by Sompong Adusarabhan.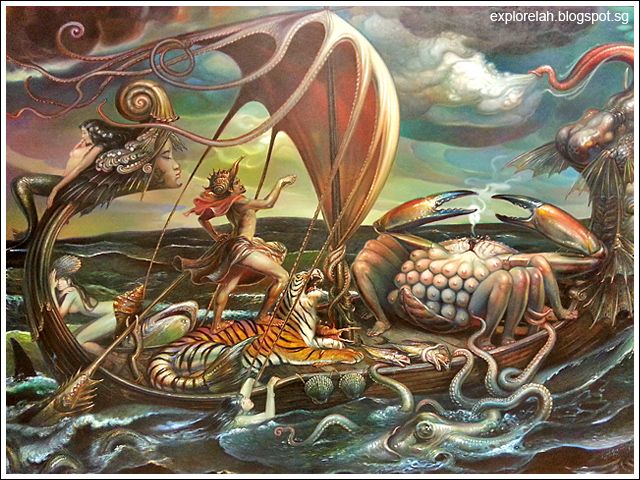 'Journey to the Next World IV' by Prateep Khotchabua. Did MOCA get the inspiration for the titties sculpture at its entrance from this crab of bosoms?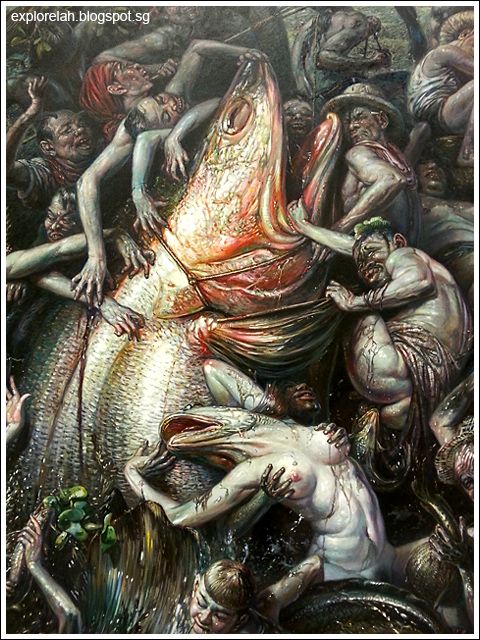 'Out of Buddhist Lent' by Prateep Khotchabua. Fancy some sashimi served on a naked torso?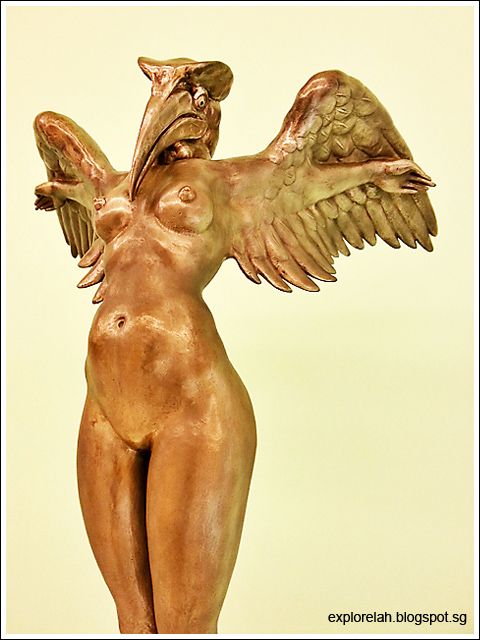 Miniature of 'Great Hornbill Lady' by Thongchai Srisukprasert. While its beautiful naked form inspires promiscuity, the work is actually a metaphor for monogamy. Hornbills mate with a single partner life, a diminishing practise in today's world of sexual liberation.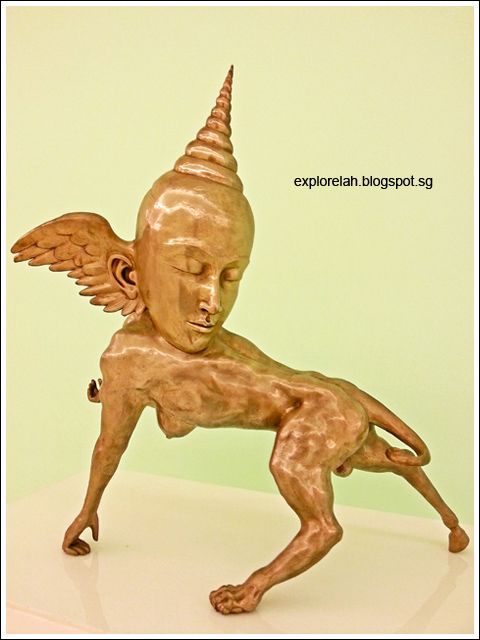 'Three Worlds' by Thongchai Srisukprasert.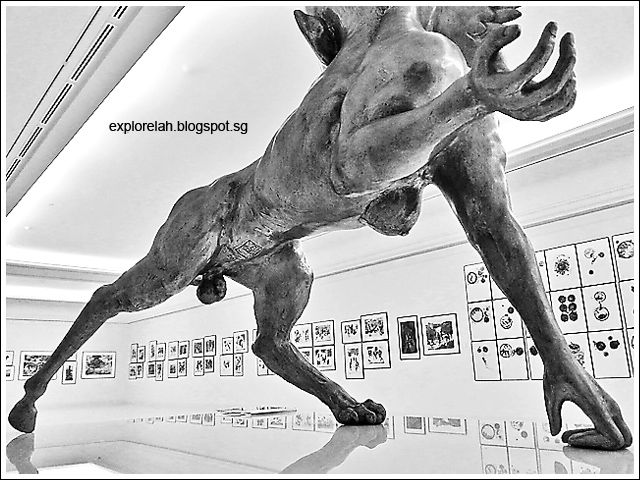 Breasts, testicles, animal hinds, human torso, demon, god... the under view of the sculpture sure straddles more than 'Three Worlds'!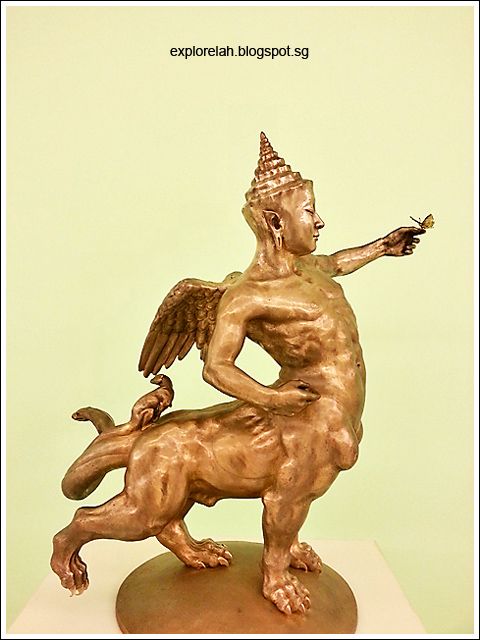 'Kama-Tanha' by Thongchai Srisukprasert.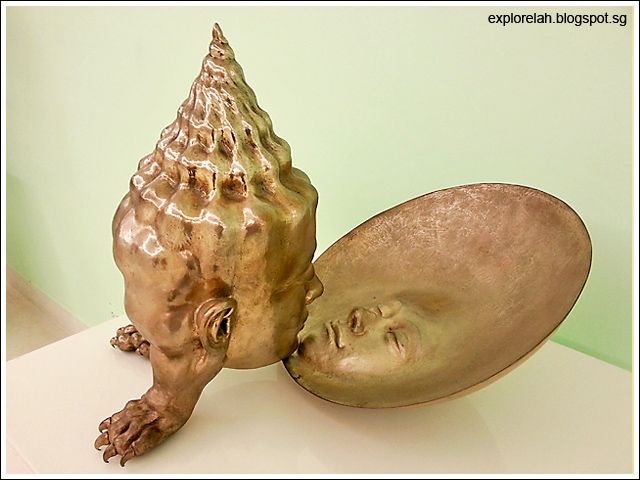 'Enchantment' by Thongchai Srisukprasert.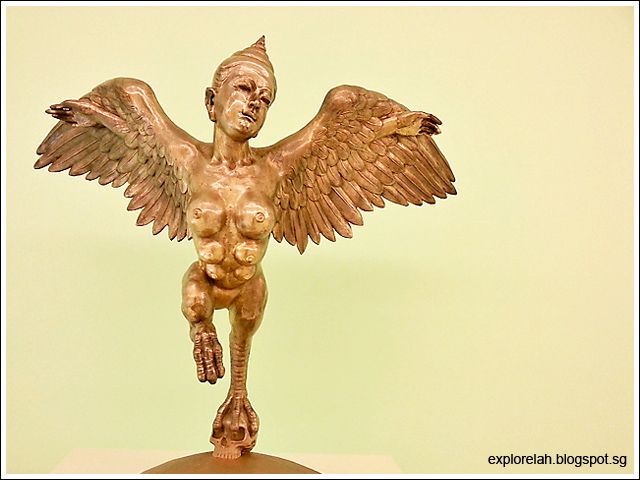 'Orahan' by Thongchai Srisukprasert.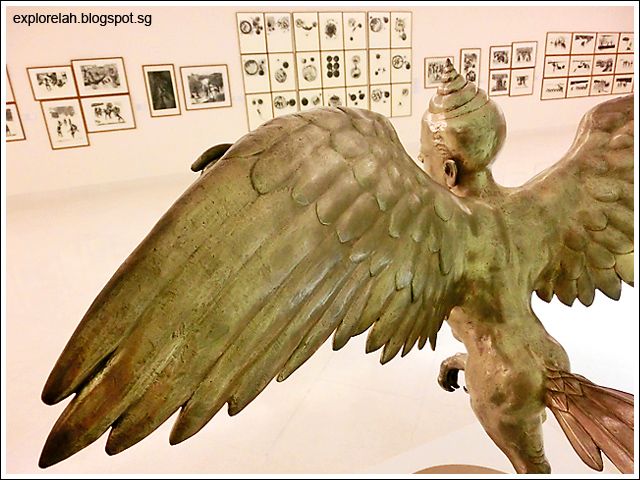 What 'Orahan' wants to fly towards...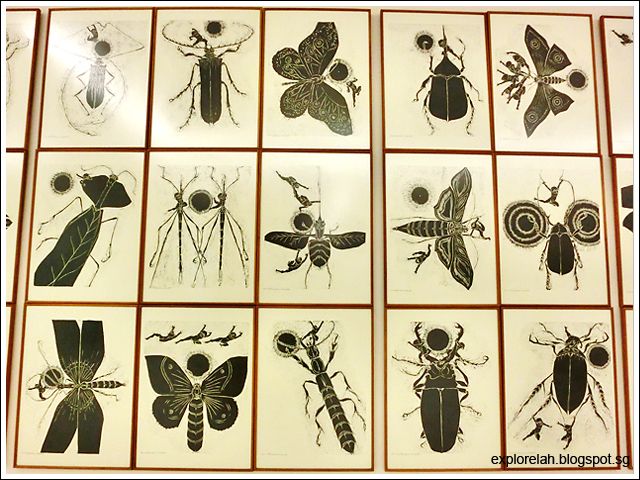 ... more winged creatures by Praphan Srisouta titled "The Brave Versus Mara".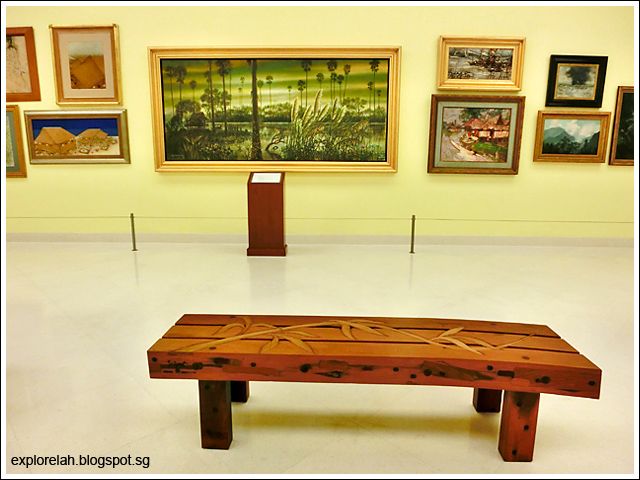 After all the weird and crazy works, it's comforting to find a mental breather through more 'normal' paintings of landscape and the rural in Thailand.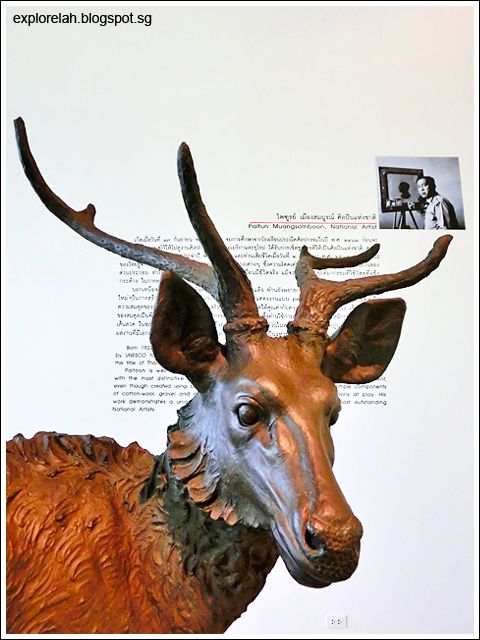 There's also a gallery that features temporary exhibits next to where the cafe (Level 1) is so be sure to check it out after touring the other levels.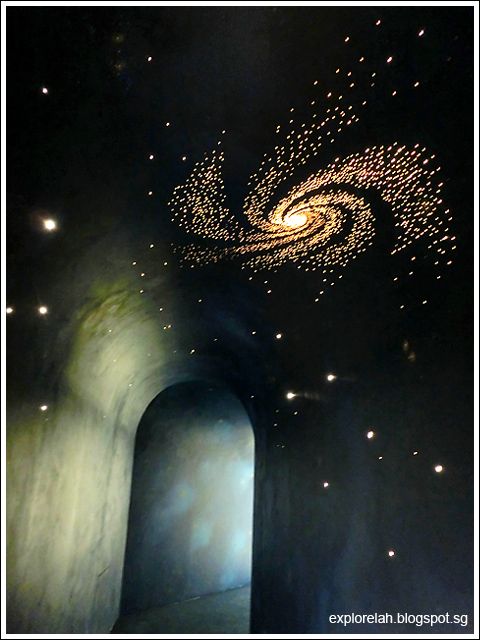 The oddest 'room' that seemed out of place at MOCA is this space-themed ambient chamber that would make a nice entrance for any science centre. But it was pretty mesmerising looking at the swirl of stars.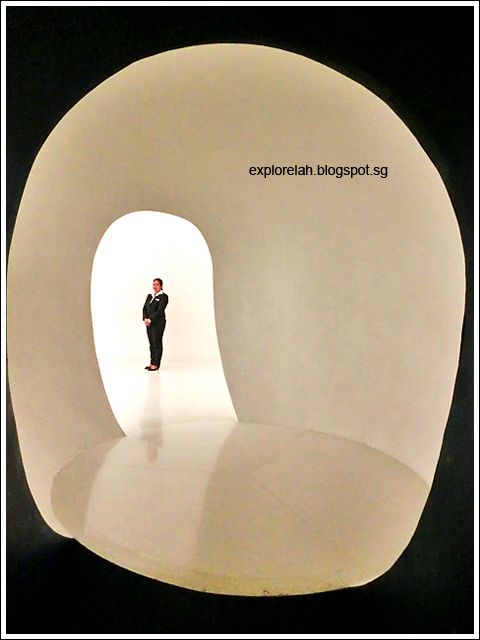 I'm no art connoisseur but after visiting MOCA, I felt like I've gone through a rebirth in art appreciation.
I budgeted 2 hours for MOCA but ended up spending 4.5 hours in this enchanting playground of creativity and imagination. I haven't been to that many art houses but MOCA sets a standard that would be really quite hard to top.
This is definitely one place worth checking out... if not for an induction into Thai contemporary art, then it's for looking at truth through the nakedness of the many pieces. After all, sex = the moment of truth so what better way than way to allude reality than nudity right?!
Getting to Museum of Contemporary Art, Bangkok
The museum is located 10 minutes by cab from Chatuchak Weekend Market.
Take the BTS to Mo Chit Station OR MRT to Chatuchak Park and catch a cab from there. The cab will drive along Vibhavadi Road, pass the museum and make a U-turn into Changwattana Road (a small road running along a train track) to reach MOCA's entrance.
Tip : It is useful to print the Thai name of the museum (found on MOCA's website) and show it to the driver.
Address
: 3 Vibhavadi Rangsit, Chatuchak, Bangkok
Tel
: +66 (0) 2953 1005
Website :
http://www.mocabangkok.com
Opening Hours :
Tuesday - Sunday, 10:00am - 6:00pm (closed on Monday)
Entrance Fee :
180bht (Adult), 80bht (Students)