Date of Exploration :
11 Sep 2013
Day deux in Busan was another round of heavy-duty sightseeing that had us drilling into the colourful and cheery
Gamcheon Culture Village
as well as coming face-to-face with the heart-wrenching beauty of the cliffs at
Taejongdae park
. It's heart-wrenching because who would've thought that a place of such captivating serenity can have a sinister side? If you have not guessed the heartaches that the cliffs caused, read on to find out.
After being on high alert the whole day (as we needed to be vigilant to find our way to the attractions on public buses and don't want to miss the bus-stops to get on and off), we boarded the
K-Shuttle
bus in the evening and began the worry-free leg of our Korea tour. No more map reading and guessing the stops, we just kicked off our shoes, sat back, relax, and arrive.
Gamcheon Culture Village - Santorini of the East
Don't let the title of a 'culture village' mislead you. Gamcheon Culture Village is not one of those traditional villages that make time travel possible. My initial expectation was for Gamcheon to be a heritage settlement in the style of the traditional Korean hanoks built during eons passed but I was so far from the truth, even NASA can't reach it.
Defying the 'regular' tag of a culture village, Gamcheon does have a unique brand of identity that qualifies it as a fraction of South Korea's multi-faceted modern culture. With pastel paints, quirky art installations and chirpy wall murals, Gamcheon Culture Village is the kind of place to go to to put a smile in your heart.
Getting to Gamcheon Culture Village
Being gung-ho, we opted to 'rough it out' with the local bus system. But it turned out to be a pleasant ride that provided a chance to be one of the locals. The buses in Busan were comfortable but knowing which bus to take can be a bit of a challenge as route information printed at the bus-stops were not always in English.
I shall attempt the brave act of directing you to Gamcheon Culture Village based on the bus route I took and if you decide to follow, you are even braver.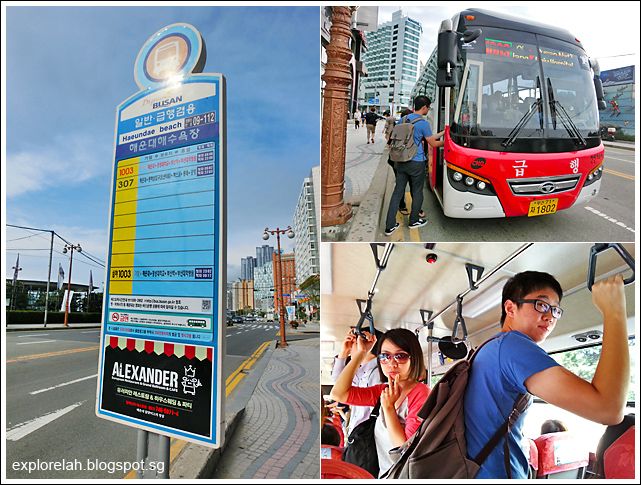 We took Bus 1003 along Haeundae Beach (opposite the Busan Aquarium) and alighted 19 stops later at Chungmu-dong Intersection, crossed over to the bus-stop with same name and transferred to Bus 2 (or 2-2). Total journey took about 45 minutes.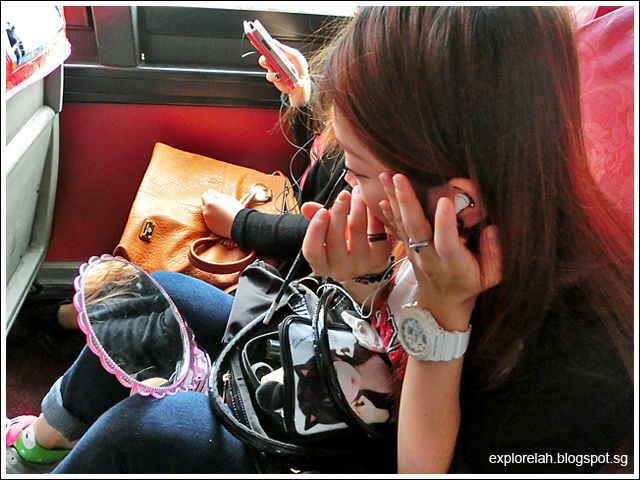 We've seen Shaolin Kung Fu, Kung Fu Panda, and Kung Fu Hustle... now we see Kung Fu Make-Up.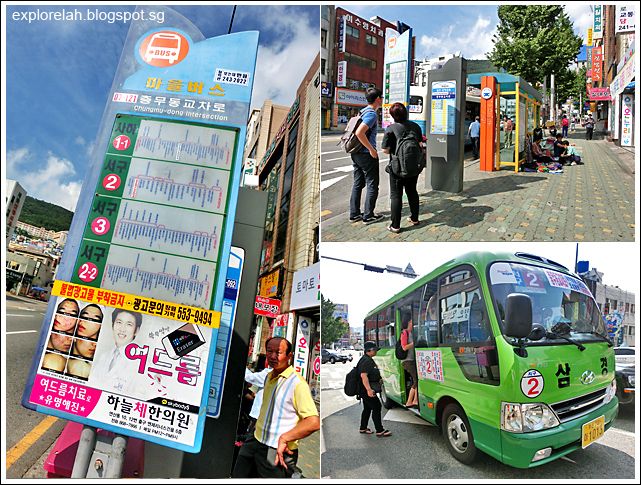 After alighting from bus 1003, we crossed over to Chungmu-dong Intersection bus-stop to take bus 2 or 2-2. The inter-village buses such as bus 2 are much smaller. We used the stored value card known as T-Money (the equivalent of our Singaporean EZ-Link Card) so I can't remember the fares, but they should be under W2,000 per ride.
This uncle not putting on make-up but catching up with childhood.
A 15-minute ride up a steep and winding slope brought us to Gamcheon Culture Village. This photo of the village's entrance was taken opposite the alighting point which is where the wavy rainbow sculpture stands (extreme right of the photo).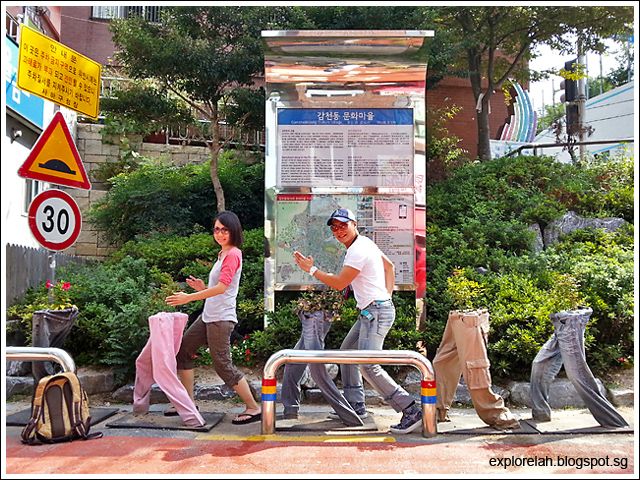 Follow Flower that ass... all eyes will fall on the comical pants pots near the entrance to Gamcheon Culture Village.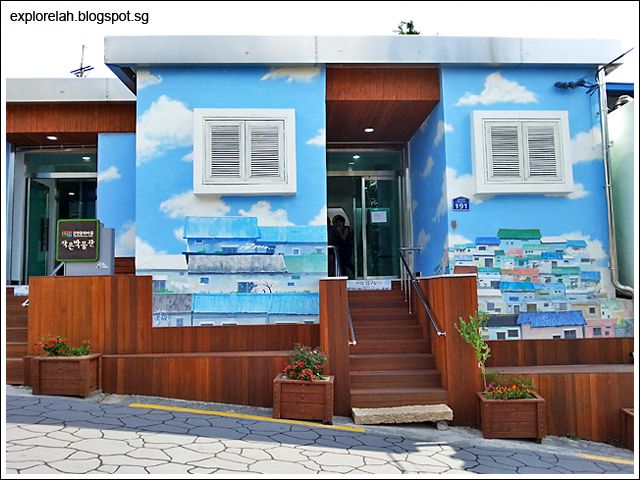 A clear blue day sported by Gamcheon Culture Village's visitor center. Inside is a small museum / gallery showcasing the development's history and yesteryear artefacts but write-ups were in Korean.
我是'游'客。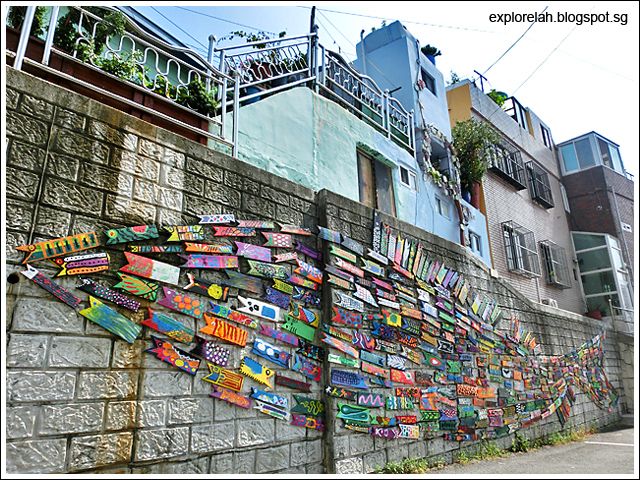 Gamcheon Culture Village is a hub for artists and arts students who constantly create projects to be exhibited at the village. This mural of a huge fish made up of painted wooden fishes is part of the "Culture Garden" series that called on the villagers to contribute a piece of their creativity. Pieces of these wooden fish are also strewn all around the village as path pointers to help visitors find their way.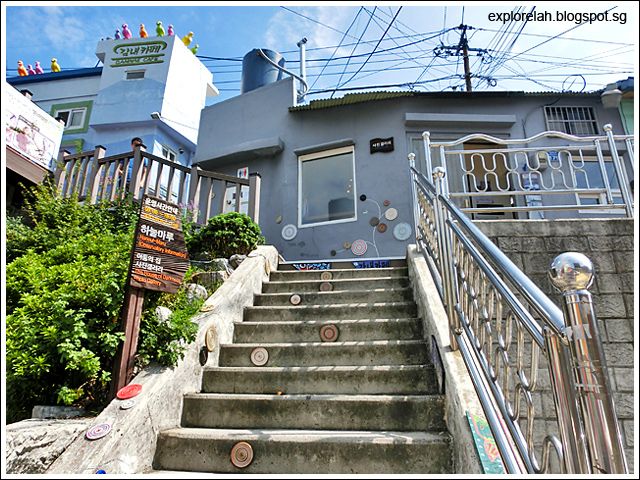 Due to time constraint, we didn't explore very much of the village and headed straight to the observatory for a bird's eye view of the area.
But we side-tracked to a cute little café while on the way up to the observatory.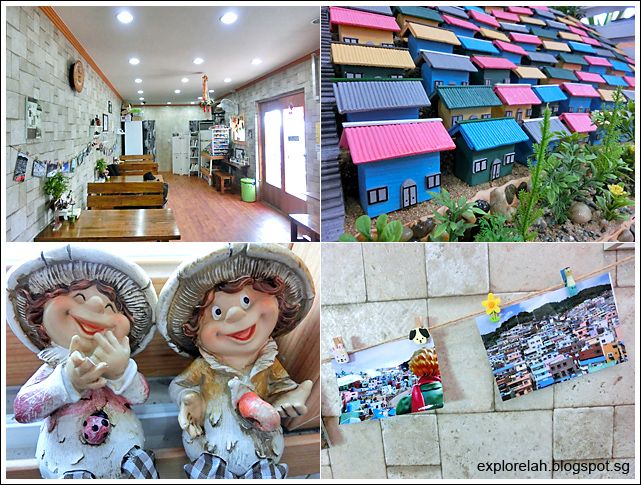 The café is a nice shell to enjoy a cuppa while checking out all the cute figurines and knick knacks. My favourite was this pair of adorable ajumma (Korean for 'middle-aged woman'). So happy looking at them.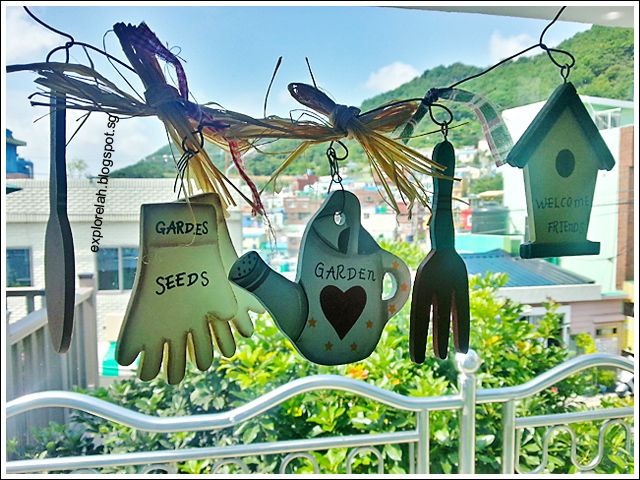 Can you spot me hanging with the decors too? Heh heh...
A short climb led us to the Gamcheon Culture Village observatory.

Pano view of the village. Famous for its brightly coloured terrace houses spread across the face of a steep hill looking out to the sea, Gamcheon Culture Village has been nicknamed Santorini of the East or Busan's Machu Picchu. I prefer Santorini coz Machu Picchu is in ruins now.
Big kids (?) in a village that looks like it popped out of a children's storybook.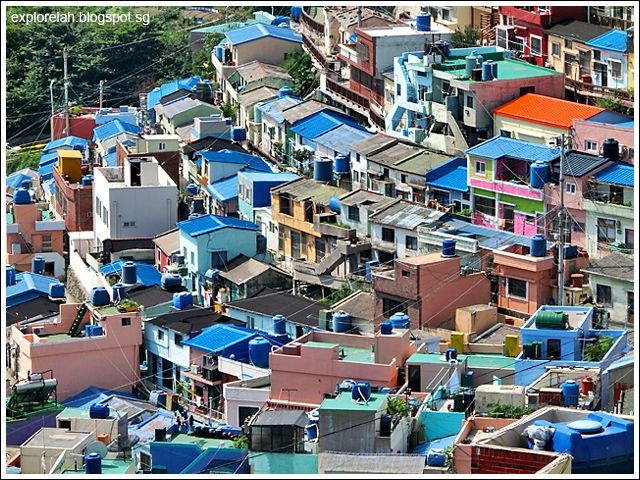 A minor architectural marvel of sorts is how the houses are all tiered like a stadium arena such that no house blocks another.
Other than taking in the sights atop the observatory, you can also explore the labyrinth of narrow alleyways below the viewing platform as there are some artworks waiting to be discovered along the walls or housed within a rooming unit.
Our visit was very brief so I didn't get to explore this delightfully artistic village very much. So if you are there, try locating "The Little Prince" from the novel who stares out to the Busan Harbour atop a fence which I missed!
Taejongdae Resort Park - Rock Solid Beauty
We left Gamcheon Culture Village by taking Bus 2 at the bus-stop opposite the village's entrance and got back to street level. I have no idea which street but it's near Seo-gu Office bus-stop. There we took Bus 8 to Taejongdae Resort Park.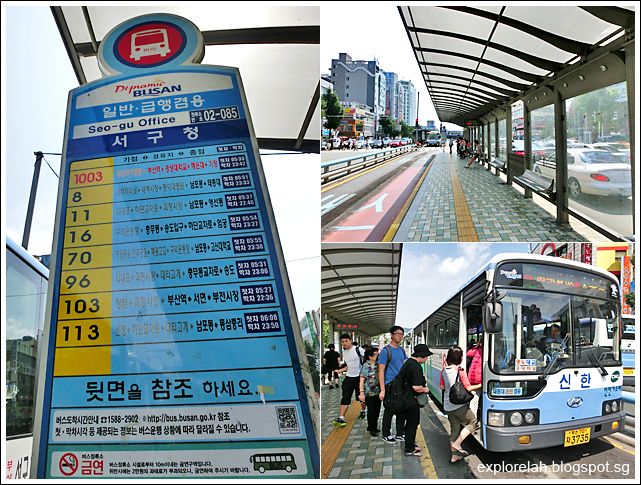 The bus ride took about 30 minutes.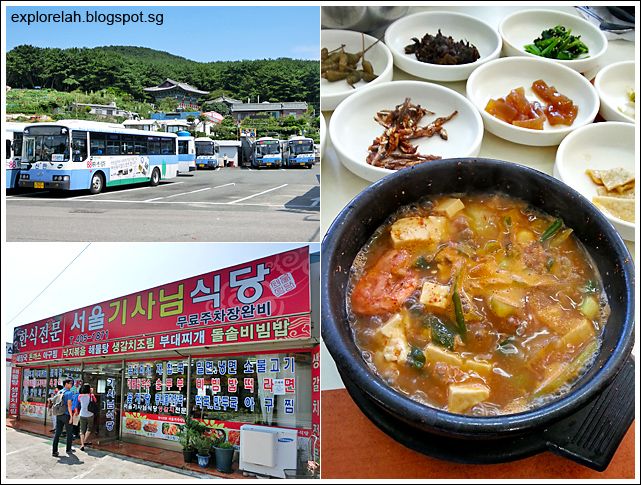 Tanjongdae Resort Park is located near the terminal station for Bus 8 and opposite the terminus are restaurants to fill up before a lot of walking at the park. I had Haemul Dwaenjangjjigae... the spelling is a tongue-twister for my fingers but it means bean paste soup with seafood. Delish!

Filled up on lunch, we walked along the wide road that leads to the entrance of Taejongdae Park.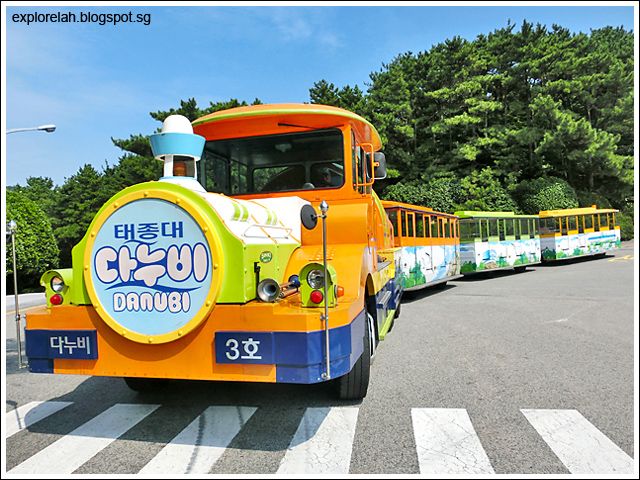 No vehicles are allowed within the park to protect the environment. Visitors get around by hopping on and off the Danubi Train which makes various stops around the park.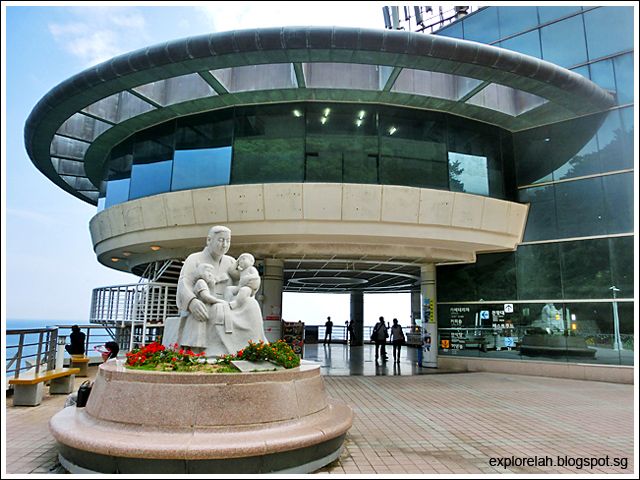 Taejongdae Observatory. Here, you can get a panoramic view of the Korea Strait and the dramatic rocky cliffs the park is renowned for. Outside the observatory is a statue of a mother with children to remind anyone contemplating suicide to stop and remember a mother's unconditional love. Although beautiful, the cliffs are notoriously known as Suicide Rocks for the number of people who chose this site to be their graves. What a sinister reality.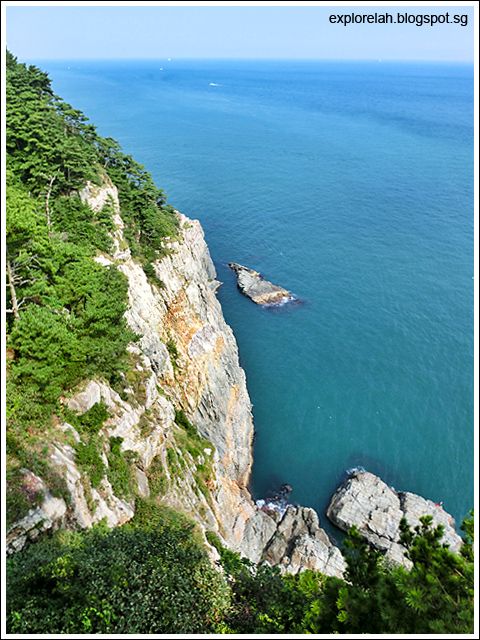 Taejongdae used to be the site for rain rituals during the Silla dynasty (BC57 - AD935) and is designated as a Busan monument. The ancient rocks are a must-see when in Busan!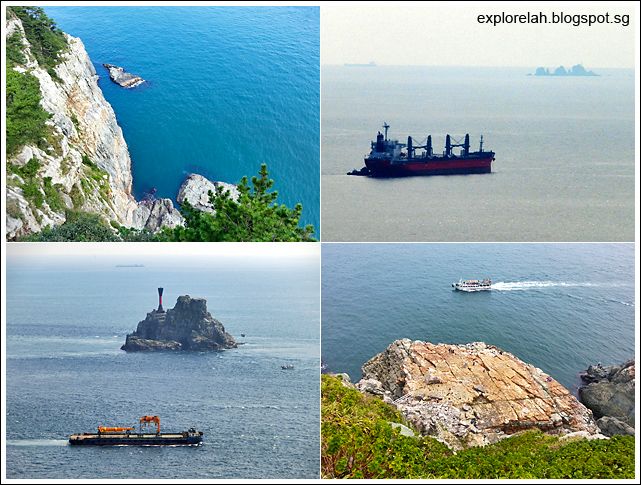 On clear days, you can see Japan's Tsushima Islands from the observatory. A few small islets litter the surrounding sea, one of them being the Three Brothers.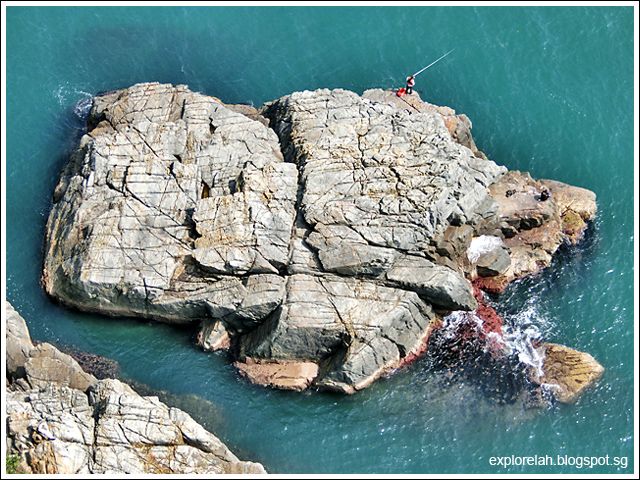 See anything odd in this photo? How did that fisherman get onto that piece of isolated rock without any bridge and seemingly no floatation craft?!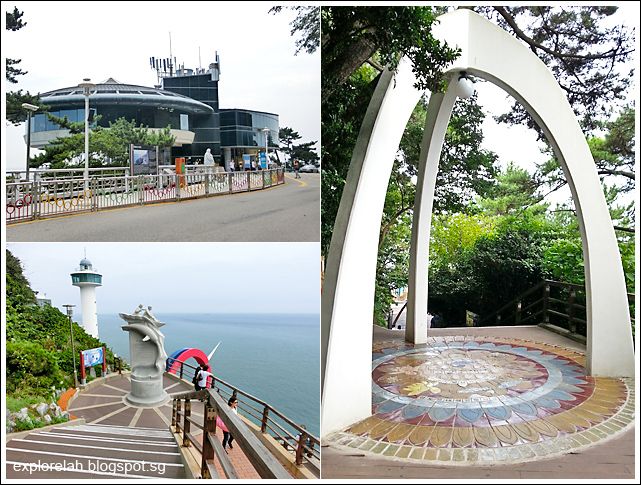 Walking up along the slope from the observatory, we arrived at a pathway that leads down to some iconic markers (such as a Buddhism arch, lighthouse and various sculptures) at Taejongdae Resort Park.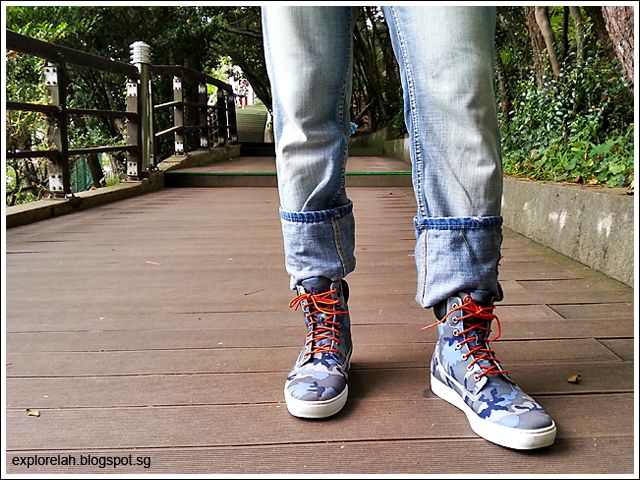 Wear comfortable shoes as there's quite a bit of walking. Brought my Timberland camo canvas boots on this trip and it's a foot saver. Plus really stylo-mylo too!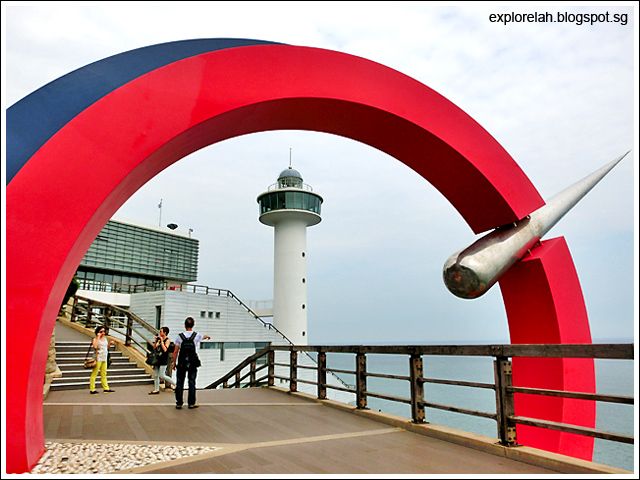 This sculpture that looks like a giant nose ring is called "Light Beyond Limitation" and symbolises a gateway through which "people can progress together in the spirit of harmony and friendliness".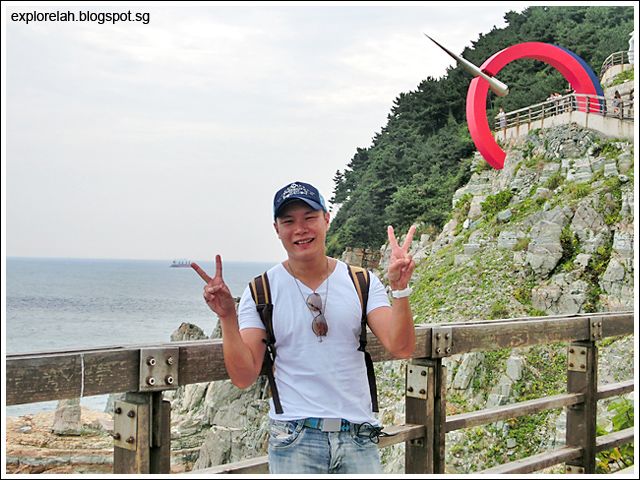 Behind me is Sinseon Rock, another famous attraction at Taejongdae Resort Park. We were rushing for time so we didn't get to go all the way down to the rock.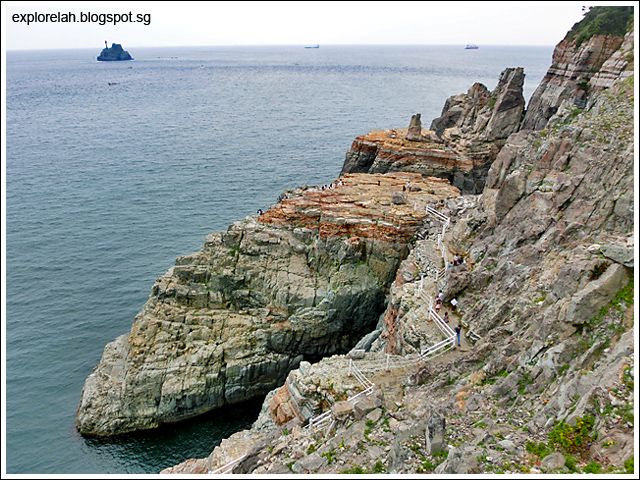 This outcrop of rocks is the Sinseon Rock. I posted this photo on Facebook and a friend commented that it looks like a ship docked by the cliff. After he mentioned it, the formation does look like a ship doesn't it? Mother Nature has a sense of humour!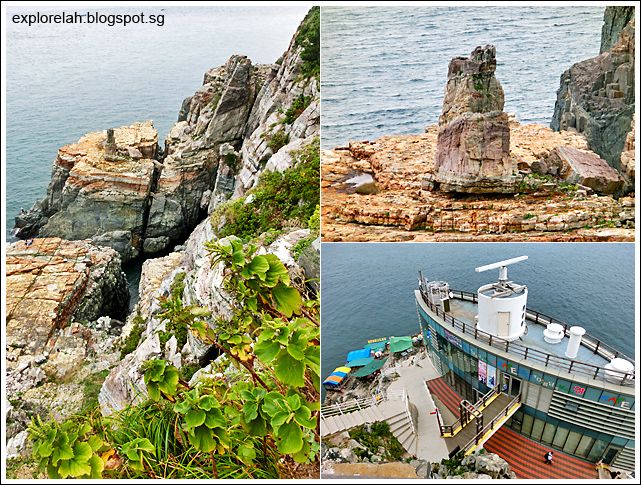 On Sinseon Rock stands a single boulder called Mangbuseok. It is named after the story of a woman who waited here longingly for the return of her husband who has been taken to Japan.
View of cliffs on the other side of the viewing deck leading to Sinseon Rock. The deep emerald water looks so inviting along that small curve of beach.
Again, we were pressed for time and didn't stay very long at Taejongdae Resort Park which has a couple of temples, trekking paths and viewing points within its vicinity. But I guess the observatory and Sinseon Rock are the main attractions so we've seen the best part of the park.
K-Shuttle to Gyeongju
From Taejongdae, we took a cab back to Seacloud Hotel to collect our luggage before heading to The Westin Chosun to meet our K-Shuttle guide, Mr Kim, and continue our journey with the tour operator to see more of Korea.
We had some time before the bus departs so I took my last view of Busan before saying goodbye. Directly behind The Westin Chosun is one end of Haeundae Beach.
What's really cool was that there were air pumps to blow off sand from the shoes after walking on the beach! My Timberland camo got a good blow job. LOL!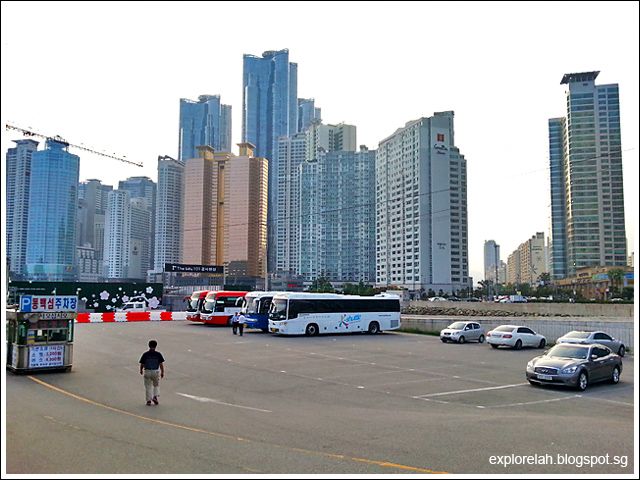 From The Westin Chosun Hotel, we crossed over to a nearby carpark to board our K-Shuttle bus.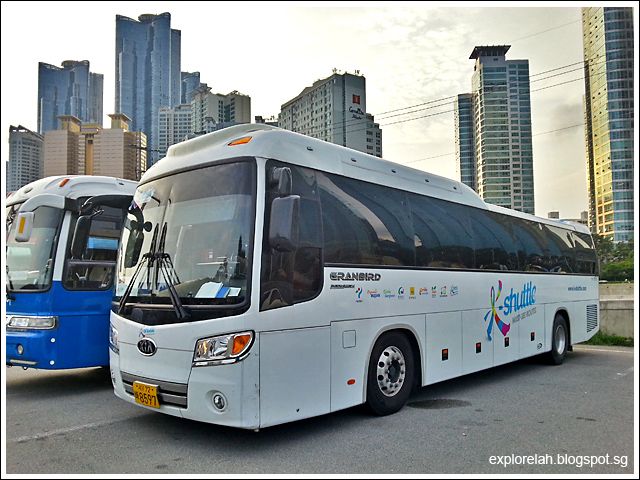 Riding our 'white horse' to see Korea! I think the clean design and overall white of the bus makes it very handsome and a hint of playfulness.
We departed Busan for Gyeongju onboard K-Shuttle. Along the way, the Busan sunset gave us a spectacular send-off. Shot this on the bus.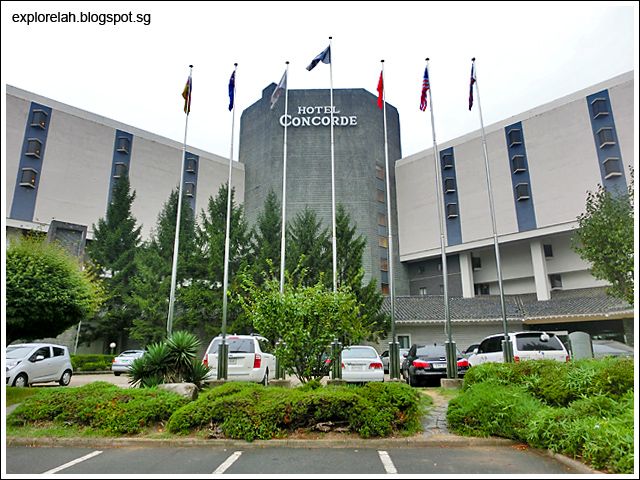 After a 2-hour ride, we arrived at Hotel Concorde, our stay for the night. It's pitch dark by the time we got here and this photo of the hotel's façade was taken the next morning.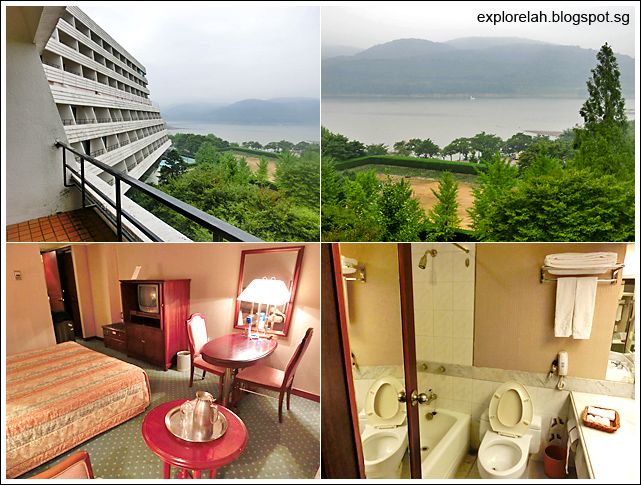 Sitting next to a huge lake, Hotel Concorde is a massive development abet a bit dated but it's comfortable. Above is the view from my room's balcony. A good thing about staying here is that the water is natural spring water pumped from underground and contains skin enhancing minerals! I was tempted to make the bathtub my bed and soak the whole night.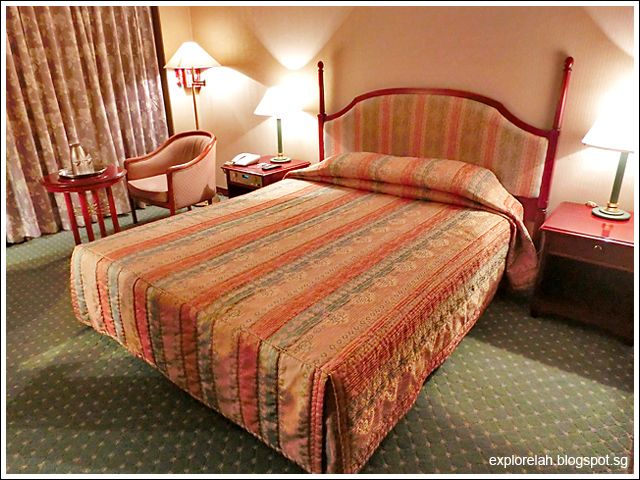 As with lakeside lodges, mosquitoes can be a problem. The room was mossie-free but at night, I got a few bites, one of them at the worst place there is to be bitten... the earlobe! Exasperated, I activated the electronic mosquito repellent provided by the hotel.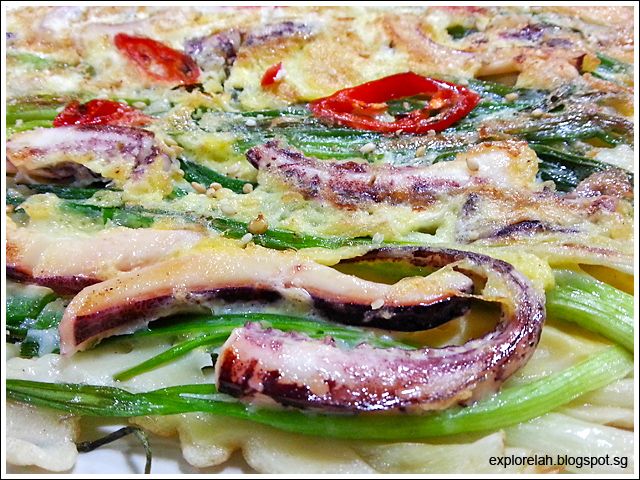 Having dropped off our bags at Hotel Concorde, our guide brought us to a nearby restaurant for dinner. We had squid pancake...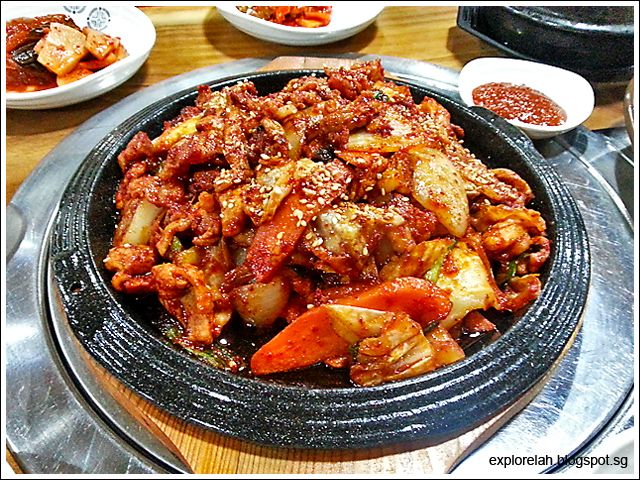 ... and stir-fried black pig (Heukdwaeji Bokkeum) which was a celebration in the mouth!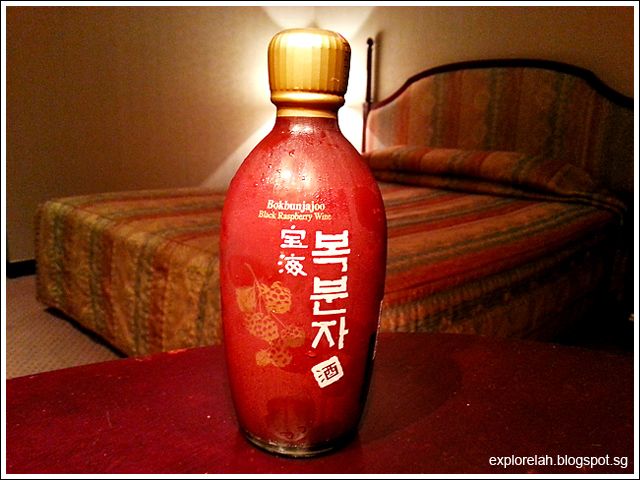 My bed companion for the night was this black raspberry wine (W7,600). It's a lot more expensive than the popular soju (rice wine) which goes for about W1,500 for the same volume. But I was curious about the taste. Turned out to be pleasantly sweet and easy on the palate.
Just 2 days in Korea and I already felt like a veteran tourist in the country with a crash course on Busan's public transport system and attraction hopping.
Travelling free and independent has its challenges but really the best way of experiencing a destination, its people, and way of life.
This post has been made possible by
Korea Tourism Organisation Singapore
and
K-Shuttle
.
Sole companion : Timberland.