Date of Exploration :
12 Sep 2013
Having enjoyed 2 days of glorious sunshine, I awoke to my first autumn drizzle in Gyeongju on the third day of my Korea trip. I was still nursing a fever that came the day I departed Singapore so the morning cool felt especially chilly. Wasn't about to let a lousy fever ruin my vacation, I decided to fight fire with fire. Or in this case, cold with cold by taking a stroll around the lake behind our hotel in the damp morning.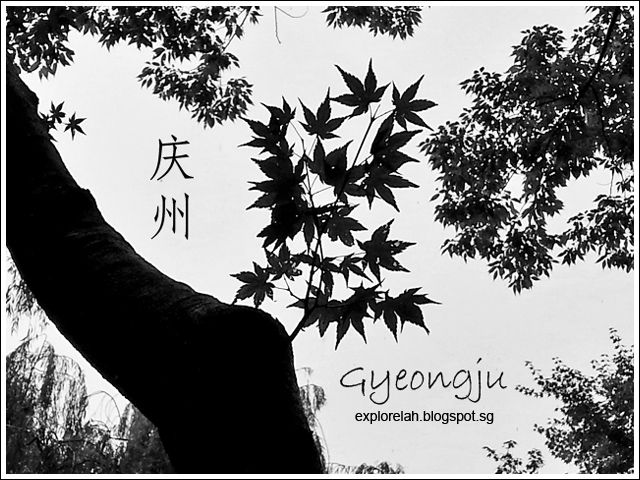 The rain splattered onto the day's sceneries like ink on a Chinese brush painting.
The austere morning harboured a mood for melancholic reflections. I felt a little homesick. Or maybe I'm PMS-ing due to being unwell. Thankfully, the quiet and peaceful lakeside soothed my temperature as well as soured temperament.
As I strolled along the path by the lake, Chinese Egrets and other waders foraged the wetland while the distant mountain strained against the morning mist to make known its presence. On a day like this where you can't see much ahead, you start looking within. Hence the melancholy I was experiencing.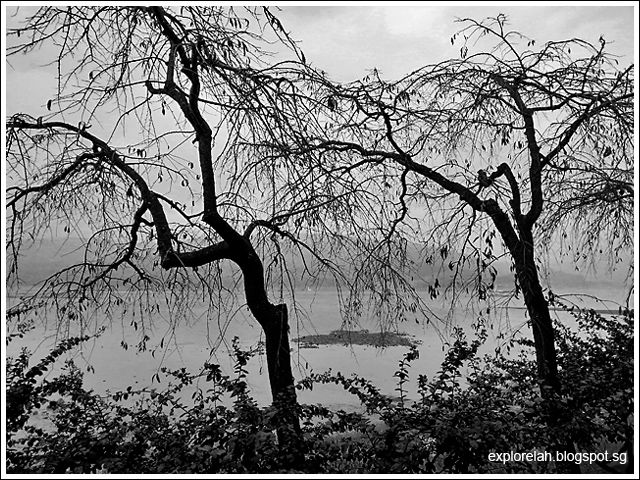 秋雨化作水墨,为湖岸思乡这一幕滴成一幅凄美的水墨画。我感谢青天的热情,也感恩阴天的安慰。
I didn't walk very far or for very long. But somewhere between photographing the calm and watching the birds, my fever dissipated. By the time I was back in my room to prepare for the day's excursion onboard
K-Shuttle
, I was refreshed and more ready than before. The light rain, country fresh air and serene waterside scenery acted like deep cleansers for the soul!
Here we go... It may look like the bus won't be able to clear the low roof but it did and we're off to explore Gyeongju!
Dubbed "a museum without walls", Gyeongju is a treasure trove of ancient sites and relics inherited from its days as the capital city of the Silla dynasty (57 BC - 935 AD). Popular attractions here include
Seokguram Grotto
,
Bulguksa Temple
,
Cheomseongdae
(meaning star-gazing tower), and the
Gyeongju National Museum
.
K-Shuttle
brought us to 3 of those top attractions in Gyeongju and lunch at a traditional Korean folk restaurant before making a pit stop at
Hahoe Folk Village
in
Andong
and finally delivering us to
Wonju
to spend the night at Hotel Inter-Burgo.
It's another full day of sightseeing so place your finger over your mouse's scroll button and join me for a day of cultural explorations!
Seokguram Grotto
Sitting 750 meters above sea level on Mt Tohamsam, Seokguram Grotto is designated as National Treasure No. 24 by the South Korean government and a UNESCO recognised cultural heritage site. The grotto (an indoor structure that resembles a cave) was built in 751 and houses some of the best examples of Buddhist sculptures in the world. It continues to serve as a devotional center to this day.
Here with UNESCO's mark of recognising Seokguram Grotto as a World Cultural Heritage Site.
Street hawkers selling mountain herbs at the carpark leading to the entrance of Seokguram Grotto. Check out the size of those reishi mushrooms! Bottom right photo is that of a bell pavilion at the entrance.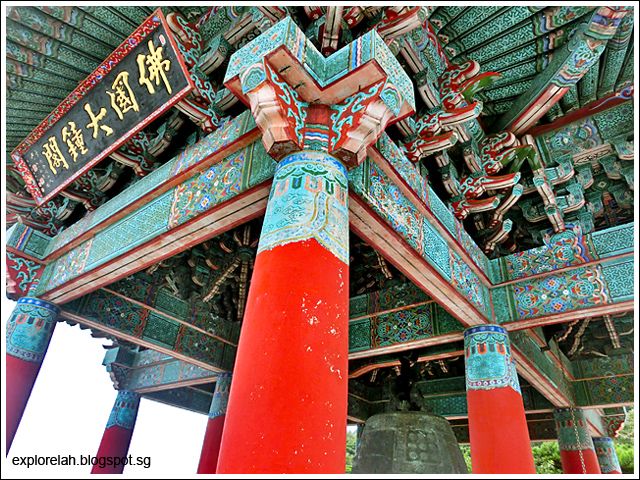 Ceiling decorations of the bell pavilion.
For a donation of W5,000 (I think), visitors get to sound the bell for good luck.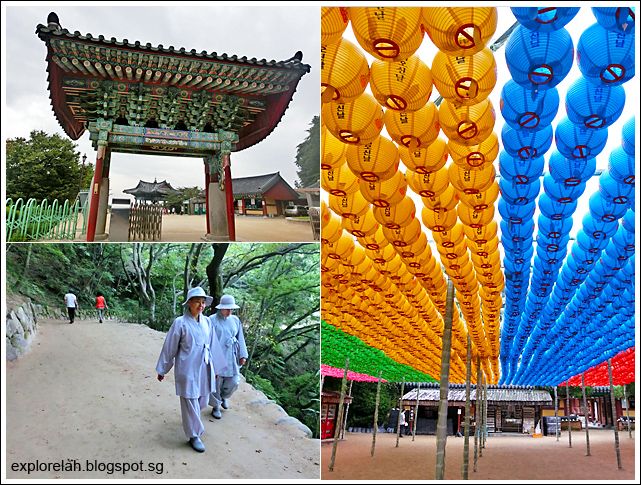 Entrance costs W4,000 per adult (included in our K-Shuttle package) and a medium-length hike along a winding dirt path leads to the foot of the grotto temple. The line-up of colourful lanterns leads to a gift shop.
Photos : (Top Left) Next to the gift shop, devotees can donate a piece of roof tile and pen down prayers and wishes on the tile. (Top Right) View of 2 temples on the slope. The highest one is Seokguram Grotto. (Bottom Left) Zoom in shot of Seokguram Grotto. (Bottom Right) Stairway leading up to the hillside temples.
Taking a sip of the mountain spring before the climb up the steps.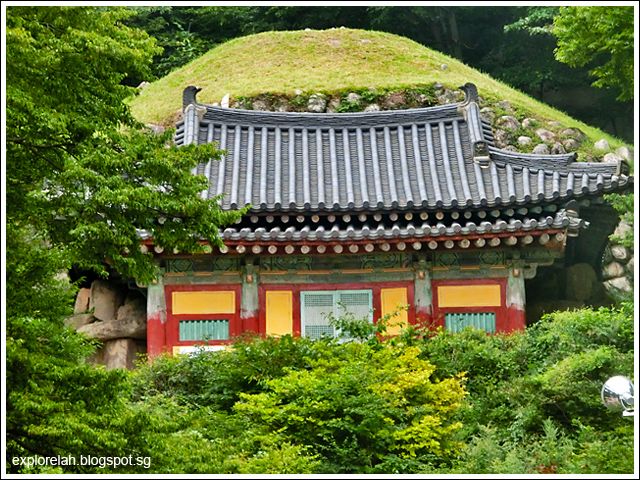 Seokguram Grotto is partially built into the small hill behind it.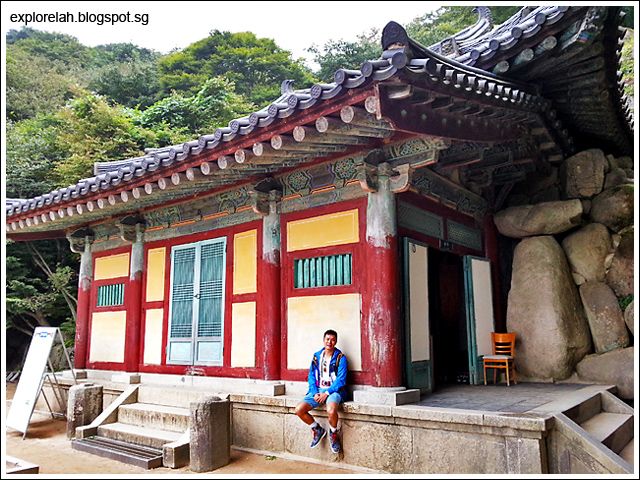 Taking a rest outside Seokguram Grotto temple after clearing the steps. The climb up is short and not strenuous like the Big Buddha at Hong Kong's Lantou Island or KL's Batu Caves. Notice how the temple merges with the hill.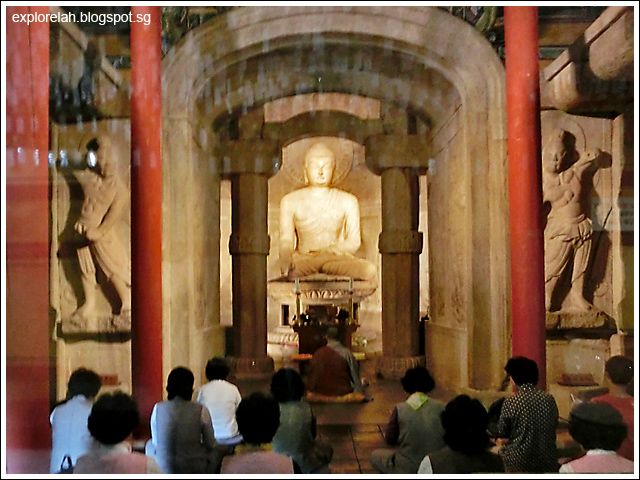 We cannot enter the prayer hall so I can't see what fine examples of Buddhist sculptures the grotto contained. The main Buddha carved from granite is 3.5m in height and sits on a lotus pedestal measuring 1.34m. Photography is not allowed inside the temple but I sneaked a shot to remember my encounter with the incandescent Buddha by.
Bulguksa Temple
Seokguram Grotto actually forms part of the overall collection of shrines under Bulguksa Temple which meant that the chief temple isn't far away. A short ride downhill from Seokguram brought us to Bulguksa.
Another UNESCO heritage site, it is classified as Historic and Scenic Site No. 1 by the South Korean government which speaks volumes about the
must-seeability
of this temple. It houses 7 National Treasures of South Korea which includes 2 stone pagodas (Dabotap and Seokgatap), Blue Cloud Bridge, and 2 bronze Buddha statues.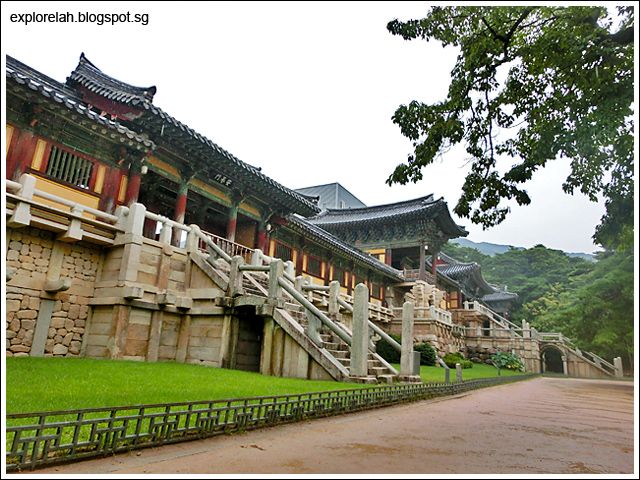 Completed in 774, the temple is an architectural masterpiece that exemplified the golden age of Buddhist art during the Silla Dynasty.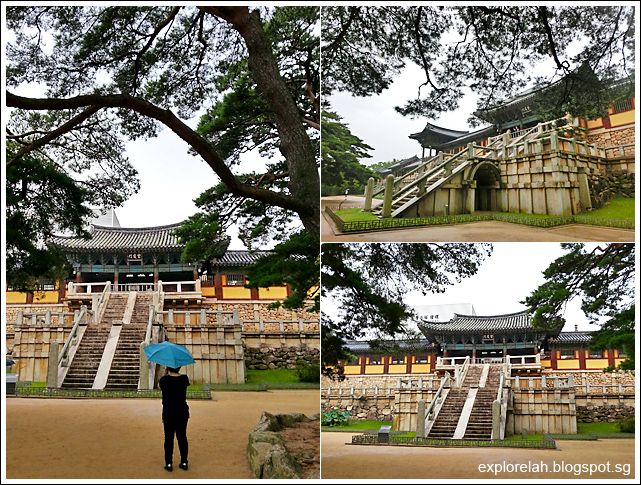 The twin stairway is known as Blue and White Cloud Bridges that leads to the entrance of the temple. They are designated as National Treasure No. 23 and no longer in use. To get into the temple, visitors have to follow a path to the right that leads to a side entrance.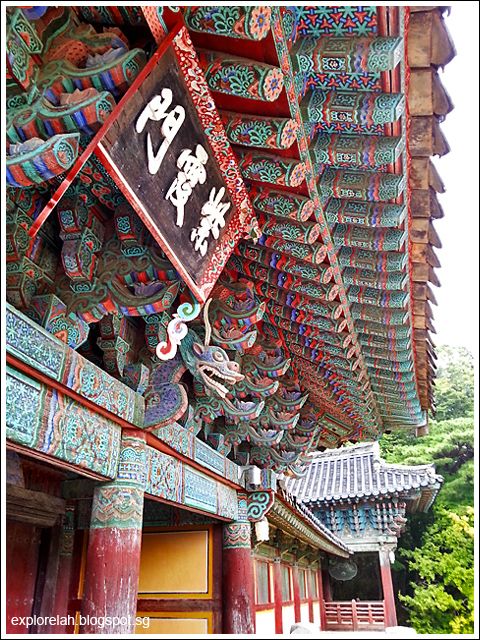 Jahamun, the main entrance of Bulguksa Temple.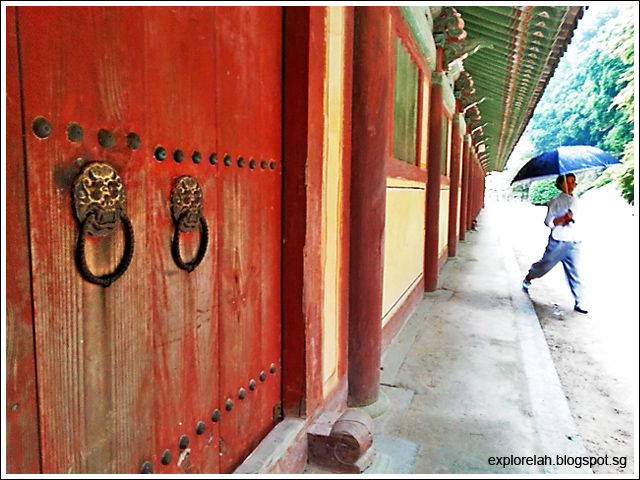 I had wanted a clean perspective shot of the temple's outer perimeter but this lady started walking from the very end towards me. As she got closer, I thought it would make an even more interesting shot with a human element. Just as I was about to tap my phone camera's snap button, she strode off the pavement. The shot wasn't what I had in mind but I felt that the 'accidental' capture of her in mid motion added movement that complemented the rigidity of the building's lines rather well. This is a simple shot but one of my favourites. The lady had a piece of shelter and protection even though she left the roof of the temple. It seems to say that we bring along a piece of blessing into the storm as long as we have faith.
The neon green roofing of the numerous corridors that surround Bulguksa. Someone in the photo was equally enthralled by the beauty of the temple as me.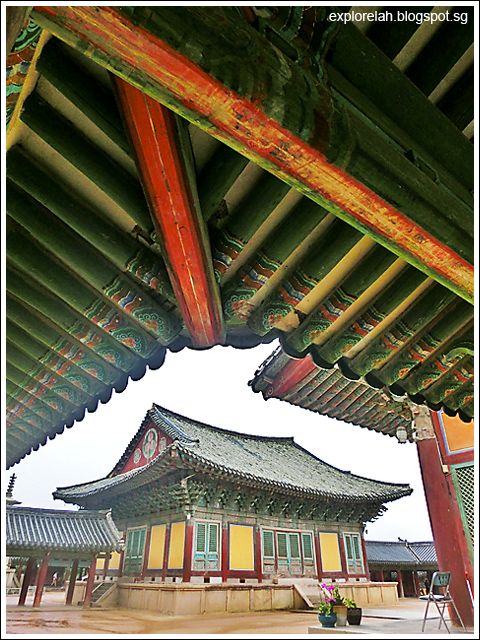 The sky was muted by the rainy weather so I decided to create a 'sky' with the painted roof of the corridor.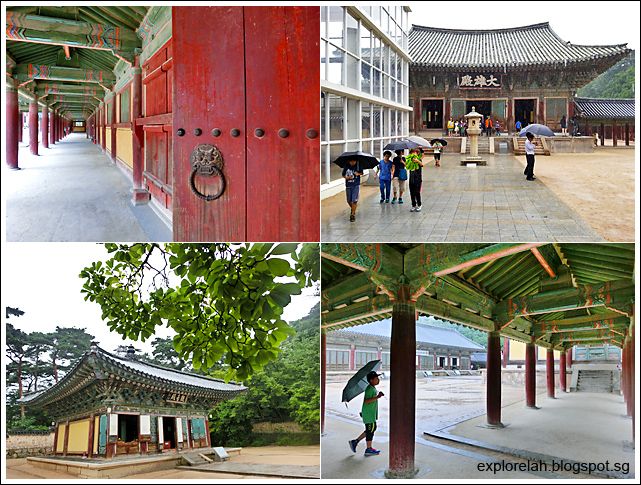 Shots around Bulguksa. The temple is popular with tourists so it's not easy to get clean shots. Be prepared to exercise a bit of patience if you don't want photo bombs in your pictures.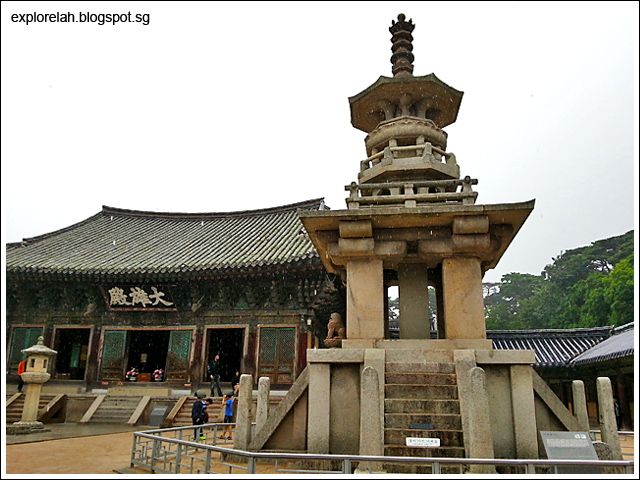 The main temple is guarded by 2 pagodas - Seokgatap and Dabotap. Seokgatap was covered up for restorative works at the point of visit. Pictured here is the Dabotap which translates to "pagoda of many treasures". The 10.4m pagoda is dedicated to the many treasures mentioned by Buddha in the Lotus Sutra (妙法莲花经). But the true marvel of this structure is that it is simply stacked together and not held by any cement or 'glue'.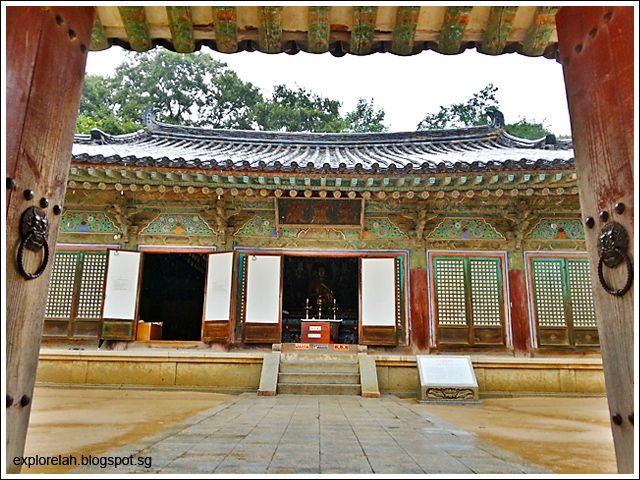 This inner courtyard houses yet another National Treasure (No. 26), which is the 1.77 gilt-bronze statue of the Buddha of Enlightenment.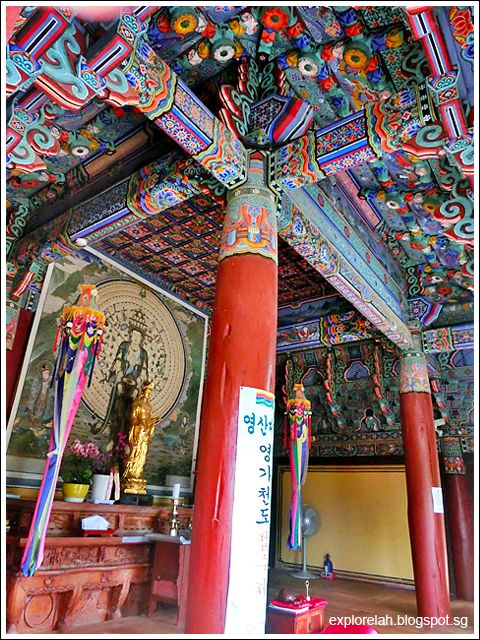 Shrine of Guanyin at Bulguksa Temple.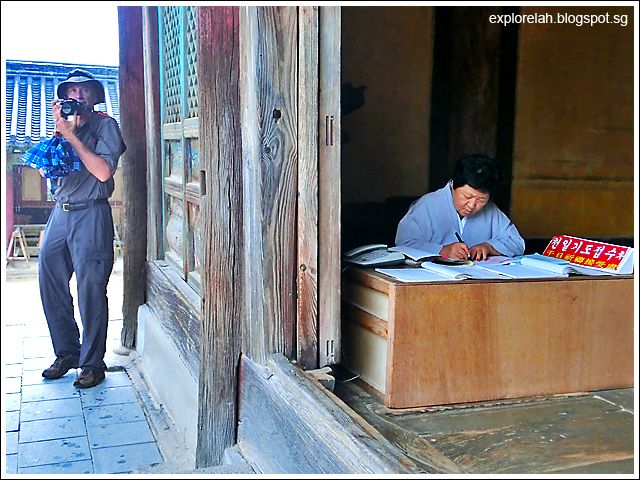 The other side... yang and yin; awareness and nonchalance; recording with camera, recording with words. I found the polarity interesting. I was standing here for quite some time. The nun paid me no attention but the ang moh photographer stared at me a few times. I think he wanted me to be out of his photo while I waited for him to get out of mine. In the end, I 'lost' and shot this study of contrast and left smiling to myself. Our focus determined our attention and action. I didn't want to 'fight' with the other photographer for a clean shot and worked with the best that the situation provided me. I think this photo is cute. *Smile*
Nom Nom at Folk Restaurant & Cheomseongdae
Leaving Bulguksa, we rode on K-Shuttle for about half an hour and reached our lunch destination, a Korean folk restaurant called Kuro. The restaurant's culinary signature is Ssambab, a set menu that features a seemingly endless train of sides dishes (called 'banchan'). The whole table was filled with so much food, I had a hard time deciding where to start!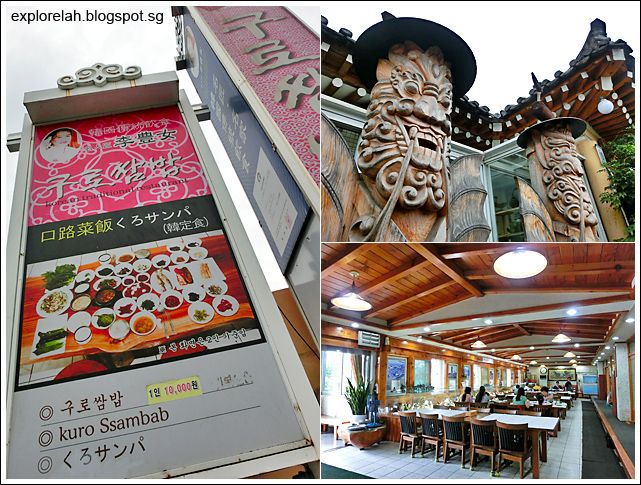 Cost of lunch was W10,000 per adult. Very good value for money considering the variety. K-Shuttle brings us to such interesting places for meals!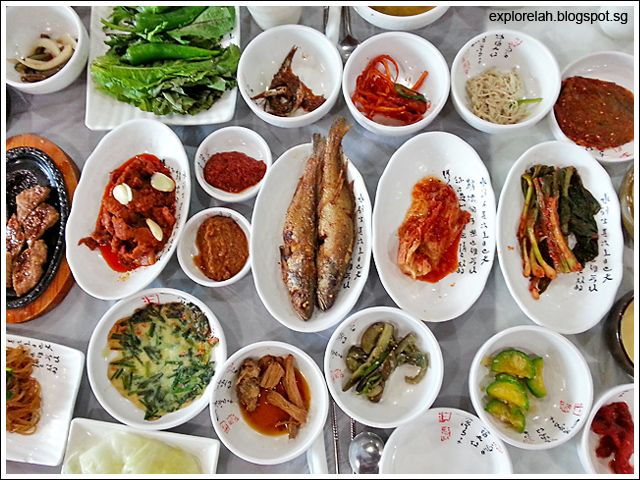 Many of the banchans I've never seen before and many tastes yums but my favourite was pickled oysters. I've never had raw oysters prepared with a coating of Korean spices and it's like tasting cloud nine.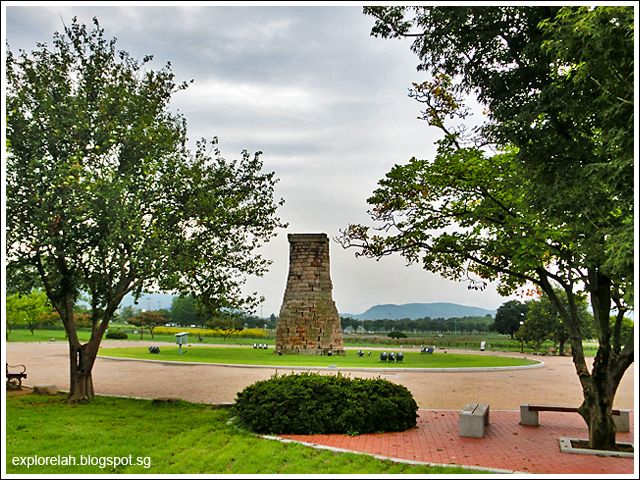 Opposite Kuro restaurant is a park where Cheomseongdae is located. Designated as National Treasure No. 31, the ancient star-gazing tower was erected between 632 - 647 and is the oldest astronomy observation tower in East Asia. There's an entrance fee to see the tower upclose but we didn't go in as we had only 15 minutes after lunch to browse before boarding the bus.
A few steps from Cheomseongdae is a plain dotted with unnatural mounds. They are actually tombs of royalties of bygones eras who made sure that their presence are not forgotten.
Andong - Hahoe Folk Village
From the massive lunch and brief browse of the remnants and tombs from the Silla era, I Instagramed and caught up with friends on Facebook for 2 hours before arriving at Hahoe Village in Andong. The connection by Evergreen Mobile's
EG SIM Card
was really good. No down time and speed was the pace of lightning.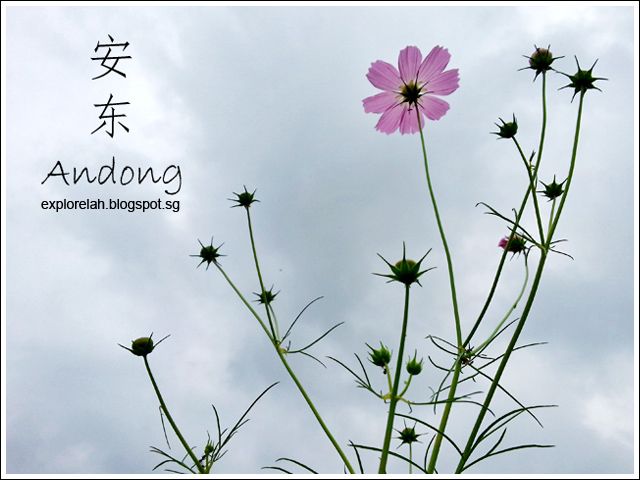 Holding up the sky... The rustic countryside of Korea went into bloom at Hahoe Folk Village.
A city in the Gyeongsangbuk-do Province, Andong is one of Korea's most prominent cultural hotspots that traces the nation's roots in agriculture and folk traditions. In mid-October every year, the Andong Folk Festival is held here and participants brings the famous Andong masks to life. And the place to be is Hahoe Folk Village.
'Ha' means 'river', 'Hoe' means 'turn around'. Hahoe village sits at a S bend of a river and that's how it got its name. But I have a personal theory about how the village got its name. Read on to find out... :)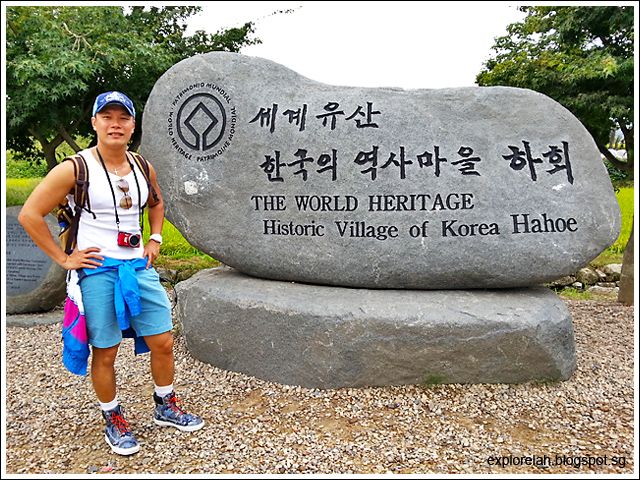 Another UNESCO nod on Hahoe Folk Village's status as a Historic Village of Korea.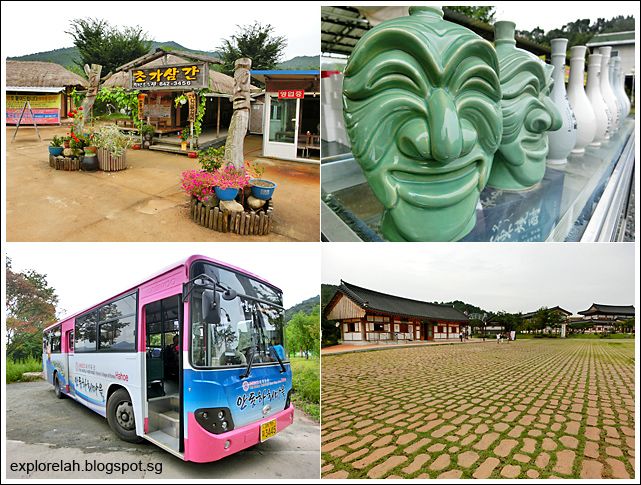 The village has 2 parts... the tourist part where restaurants and gift shops congregate and the living quarters where the actual village sits. To get to the village, we had to take a short bus ride in. And I got a first of the Andong mask in the form of a porcelain bottle at the village's entrance.
At Hahoe Folk Village, you will see numerous wood-carved figurines. They are the guardian gods of the village.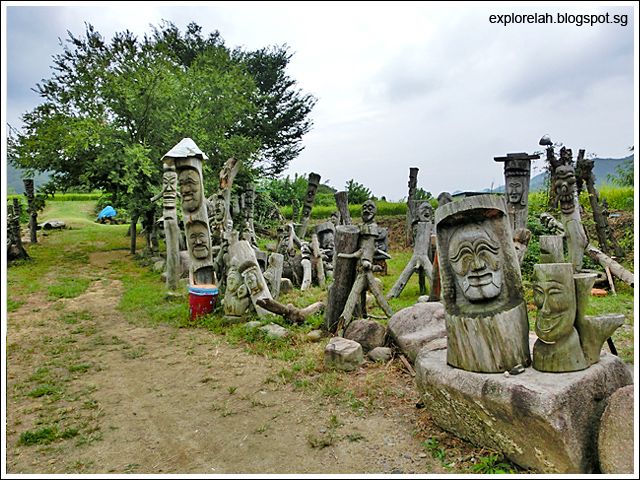 At the living quarters part of Hahoe Folk Village, I came across a motley crew of carved faces and wood sculptures getting *ahem* wood.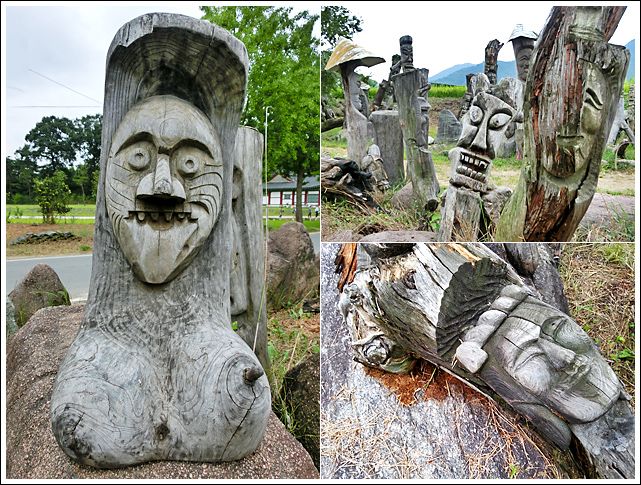 Crazy nipples and faces that scare with being funny.
I found my long lost brother! LOL. Amongst the collection of guardians were numerous representations of fertility gods to bestow the land with plentiful harvests. Interesting to know that certain Korean communities practice phallic worship too.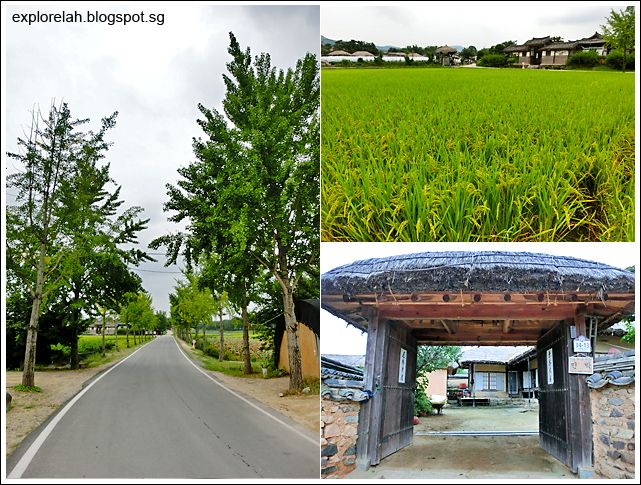 Looking at the lush padi fields, the woodies are doing their job. Heh heh... The village has well-paved roads next to mud paths where the crops are.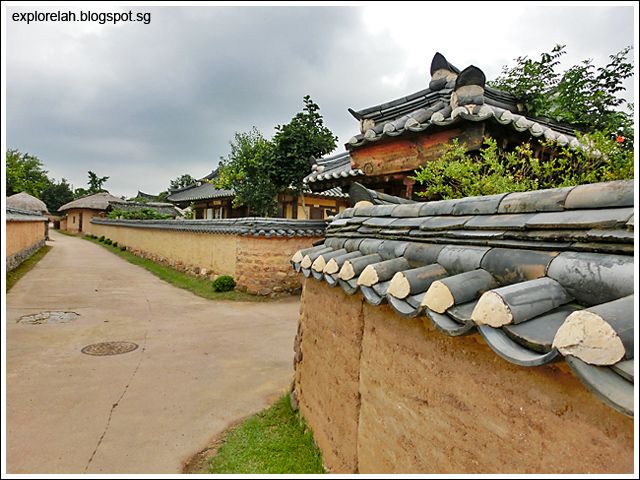 Streets and houses at Hahoe Folk Village were very tidy and neat. Not the typical kampong at all.
The place was so well-kept, the traditional houses felt like upper-class landed properties rather than farm houses. We saw this monstrous dog in one of the houses. The pooch is seriously huge. Could be as tall as me if it stood on its hind legs. But it was docile.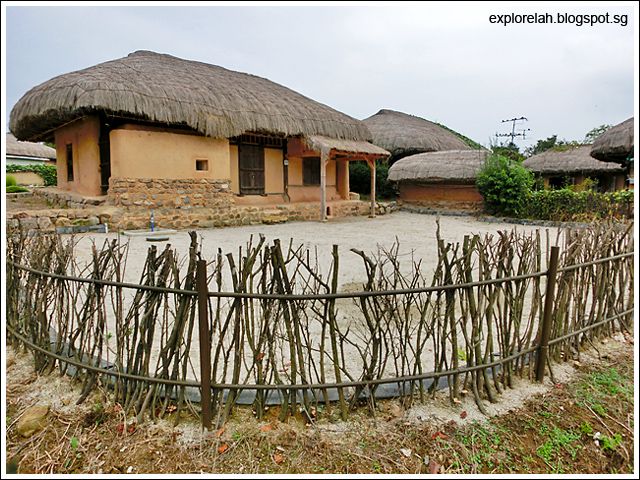 The thatched houses reminded me of some waterfront chalets at Malaysian / Indonesian beach resorts.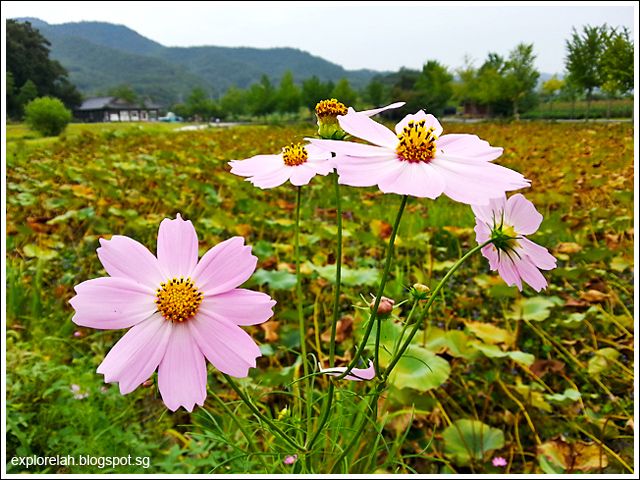 The Korean countryside at Hahoe Folk Village was a well-ordered plough into the rustic.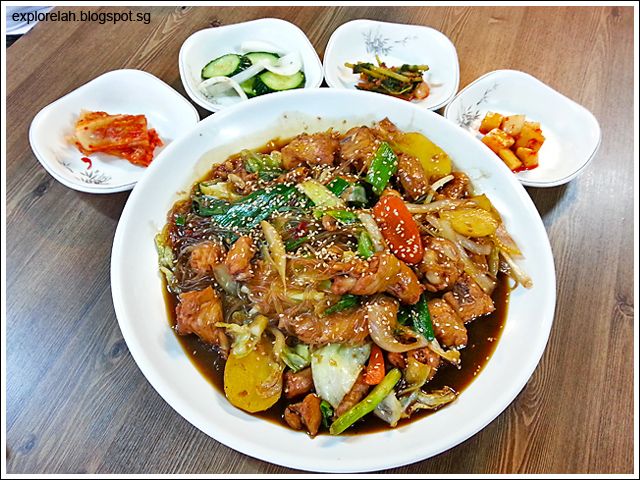 We had dinner at Hahoe Folk Village and sampled the popular Andong Jjimdak (Andong braised chicken) which we pawed through right down to the last drop of the sauce... W30,000 per serving which fed the 4 of us.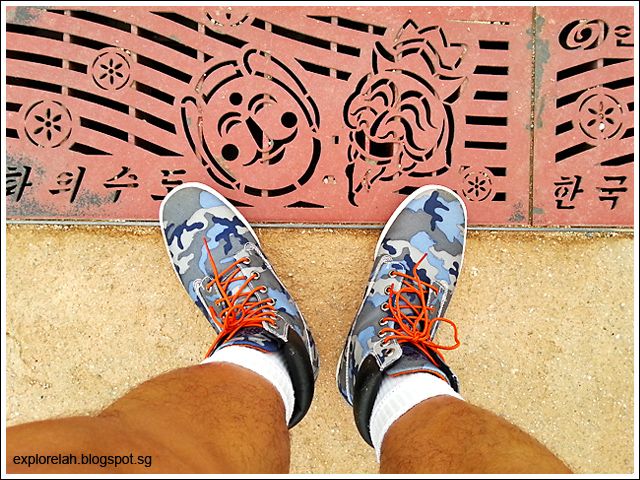 Now for my version of the name of Hahoe... The area is facing for its cheerful and smiley masks. So 'hahaha' and 'hohoho' (the sound of laughing) must be how Hahoe got its name! Hahahah... hohoho!
Wonju
Leaving Hahoe Folk Village in Andong, it was another 2-hour bus ride to Wonju where we checked into Hotel Inter-Burgo for the night. It was already 9pm by the time we reach the hotel so photos you see below were taken the next morning.
Wonju has been designated as a bio-city and undergoing development to meet that vision with various industries and factories related to life sciences and medicine setting up base here. From what I saw, the city feels somewhat like an industrial town favouring commerce over tourism.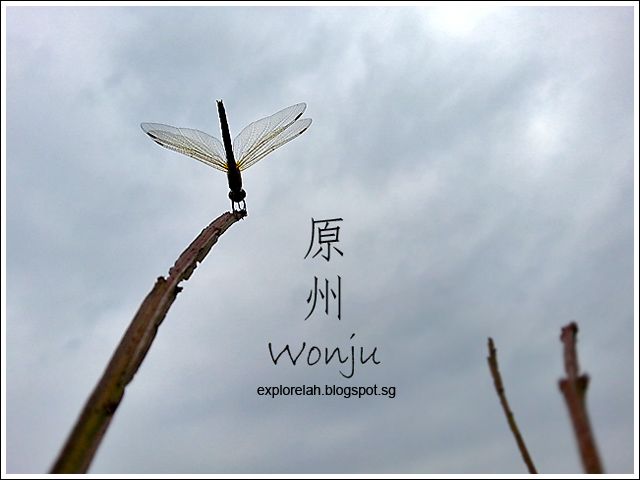 Facing up to a storm... shot this at a bush across the road from our hotel.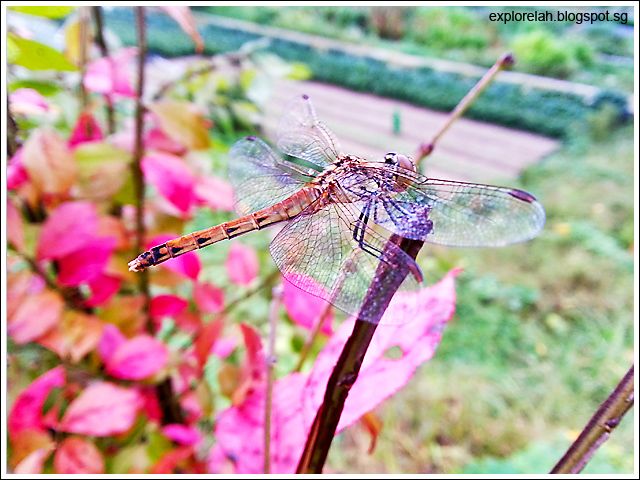 Same dragonfly, different perspective. The above photos looks bleak but this angle shows a more vibrant and colourful mood. Sadness and happiness is a matter of perspective, I thought to myself. The bush overlooks a farm.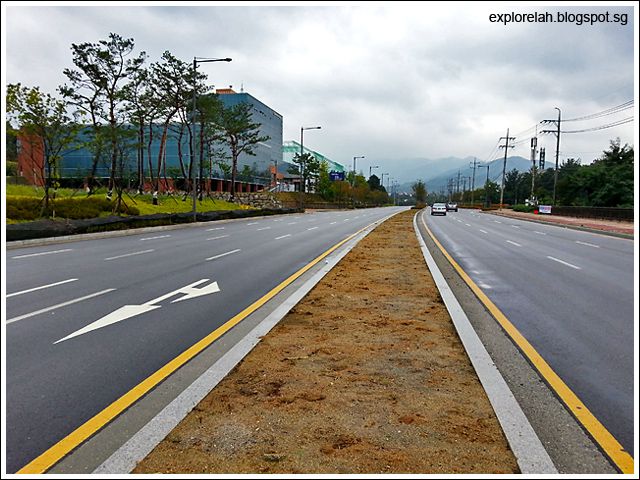 That's Hotel Inter-Burgo on the left and on the right is acres after acres of farmland right next to the highway! Kinda cool and shows that the city is really holding up to this ambition as a bio-city that attempts to seamlessly blend urbanism with sustainable nature.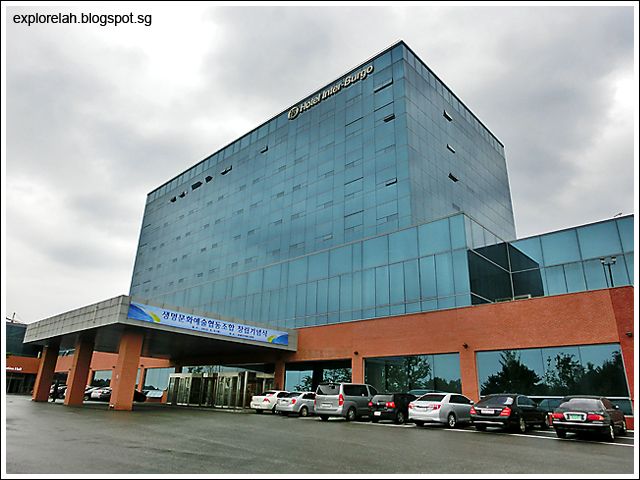 Façade of Hotel Inter-Burgo, a Spanish hotelier. We were advised to have dinner at Hahoe Village and to buy tidbits and supplies at a rest stop leading up to the hotel because there were no eateries and convenience stores within the vicinity of the lodge.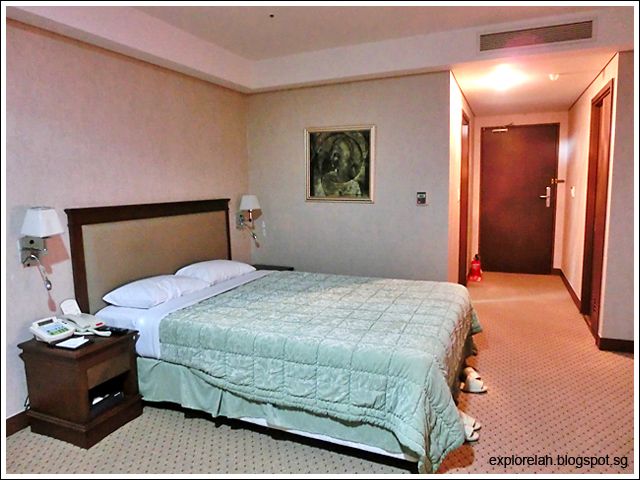 The room was spacious and comfy enough but I had trouble locating the switches for the bedside lamps. They are apparently obscured at the bedside table where the phone is.
More of the room and bathroom and an elevated view of the farm across the hotel from my room.
By the time we reached Wonju and I enjoyed a nice bottle of red wine with Samuel, one of our K-Shuttlenites who's a Californian-born Korean taking his mum on a visit of their hometown at Hotel Inter-Burgo's wine bar, I've entered another kind of
melancholy
reverie.
The reflection stemmed mostly from my conversation with Samuel, hearing what he and his family went through, and thinking how amazing it is that they pulled through. I respect his privacy so I won't divulge details of our chat but it got me thinking about the notion of home (coz I was feeling a little homesick in the morning); and here I was with a total stranger a few thousand miles from Singapore but I actually felt at home. Maybe it's the wine.
But I think home is about connection. If we can connect with a place, person or persons when travelling, we are home. It could be temporary, but we are home. And when we are home, we can start to heal... perhaps through people's stories, through not thinking about ourselves, through forgiving situations, and people who walked into our picture-perfect photographs.
Hmm... the ending of this post sounds quite emo. Did I mention I was PMS-ing today? LOL.
This post has been made possible by
Korea Tourism Organisation Singapore
and
K-Shuttle
.
Sole companion : Timberland.