With its feet firmly planted in the Andaman Sea and rolling back across acres of luminous jade green fields embraced by a mountainous arc, Langkawi is without any doubt, naturally well-endowed. And it's not hard to see why. Langkawi's rich natural heritage owes itself to the island's geological history dating back some 500 million years!
Considered to be the birthplace of the Malaysian archipelago, one might expect this resort destination to be all rural and primal in order to conserve its natural beauty. That's not really the case. The island is pretty built up with a pronounced effort in merging urban developments and environmental sustainbility through eco-consciousness. Of the developed areas, Pantai Cenang and Kuah Town are where most of the island's urbanisation efforts are clustered. And in this post, let me take you on a cyber tour to some of the attractions in these 2 districts.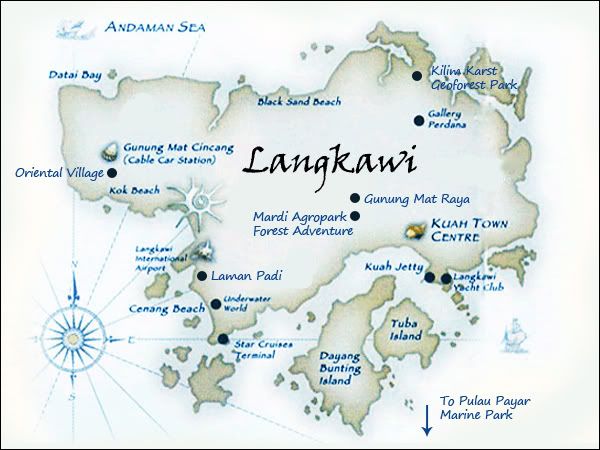 Map of Langkawi showing some of the attractions we visited during the trip. The island would make for a nice self-drive vacation as it isn't very big and could be driven from one end to the other in under 2 hours.
Getting to Langkawi from Singapore
Let's start this last post of my Langkawi exploration at the beginning... getting there. The day of the departure was the first time I met up with all the bloggers and coordinators for the trip. Thankfully, they were such a lively and affable bunch, we skipped the awkwardness of being strangers and went straight into being buddies.
Our carrier was Malaysia Airlines (MAS). First time flying with MAS and I just adore those colourful seats. Feels like a party rather than the standard sombre and uniformly coloured seats that most airlines use.
Perhaps airlines should come with thematic decors like those boutique hotels that have a different theme to spice things up for passengers! Going to an island destination? Step into an underwater or safari themed cabin. Flying during Halloween month? Get spooked by plush spiders lurking in the overhead lugguage cabinet and freaky meals. But of course, that would mean increased budget at a time where budget airlines are siphoning off passengers.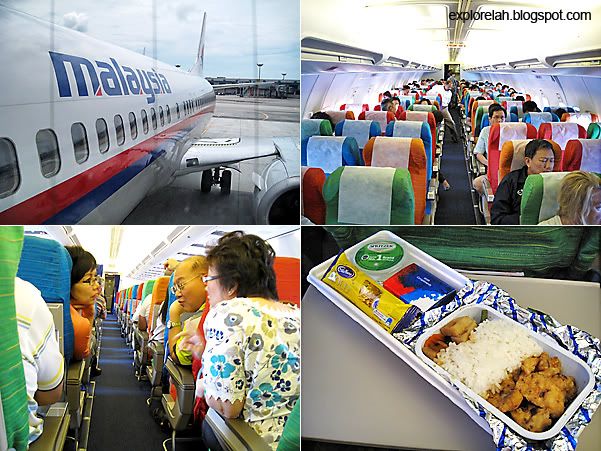 Service onboard MAS was pretty good. On our flight back, Stephanie was feeling nauseous and a steward intuitively brought some slices of lemon for her. The meals were nice too. We had a choice between fish with steamed rice and chicken with fried rice. I tried both. Go with the chicken if you're flying MAS.
The funny thing with flying MAS to Langkawi is this... it doesn't fly direct. We had to fly about 1.5 hours to Penang and transit for 40 minutes before boarding the same plane again for a 30 minutes ride to Langkawi. We could've saved more than an hour and the hassle with other airlines that fly direct from Singapore to Langkawi.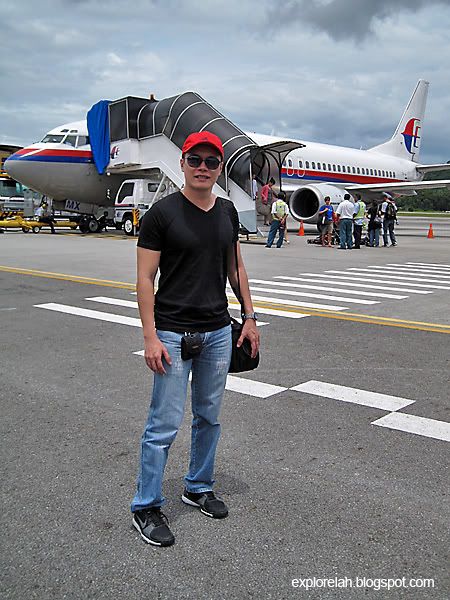 Our departure flight was delayed for about 30 minutes. From accounts by friends who had flown MAS, tardiness is to be expected.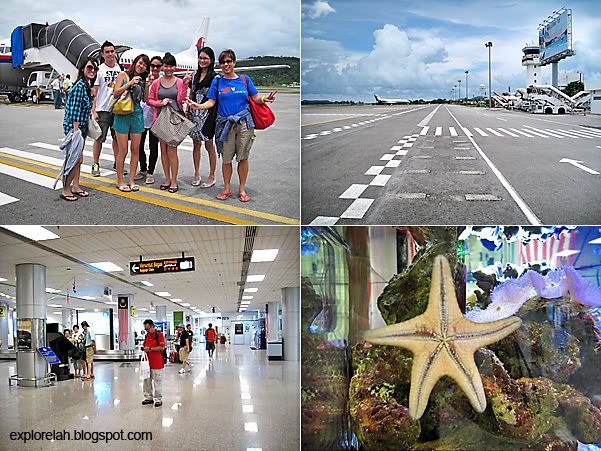 Langkawi International Airport is small but clean and modern. So nice to be greeted by a starfish upon stepping into the airport.
While Langkawi is developed, don't expect an ultra modern metropolis with a wide offering of well-connected public transport system. There is no MRT, no trains, and I don't recall seeing buses or a bus-stop.
The best way to get around the island is to rent a vehicle (car, minivan, or bike) for self-drive or book chauffeured transportation. There are quite a number of rental companies offering their services near the baggage collection area.
I didn't check out the prices but I got a pricelist from Aseania Hotel and rates range from RM40 (hourly) - RM350 (daily) depending on the kind of vehicle and whether it is high season or low season. Our trip coincided with the rainy low season. The difference between low and high season is a RM50 - RM80 surcharge.
Pantai Cenang
Also spelt Pantai Chenang, it is a stretch of public beach popular with the locals and tourists just 10 minutes drive from the airport. Along the beach is a street lined with hotels, shops, spas and restaurants that bustles at night. It's considered the most happening street on Langkawi.
Personally, I found the street to be rather boring with shabby-looking restaurants and uninteresting shops. But maybe because I didn't really spend time to browse the businesses there. Our trip coincided with Malaysia Day and the street was packed with people that night. There was an outdoor concert and fireworks!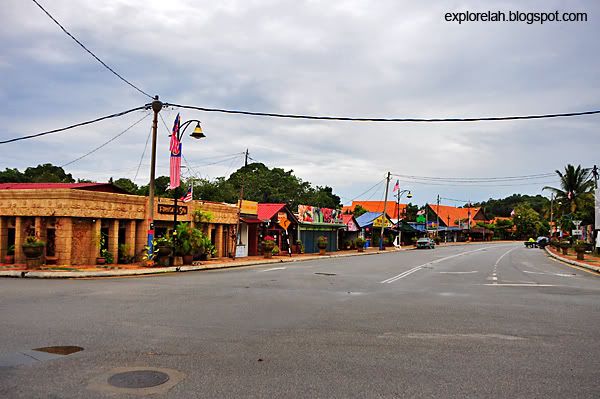 Life at Langkawi moves at a leisurely pace. Its beachside developments are not as dizzying and chaotic as Phuket, but they lacked the artistry and polished appearance of Bali.
Along Pantai Cenang, you can find Laman Padi Rice Museum and Underwater World, the two biggest attractions in the area other than the beach. I didn't have a chance to see Cenang beach but I read reviews on TripAdvisor that it is rather dirty.
A cleaner and quieter stretch of beach would be Pantai Tengah where you'll also find the greenest resort in all of Malaysia, The Frangipani Langkawi Resort & Spa (read review
here
).
Aseania Resort Review
If you're coming from the airport and going down Pantai Cenang street, you'll come to
Aseania Resort
which sits at a junction at the end of the street. Some of us spent a night here.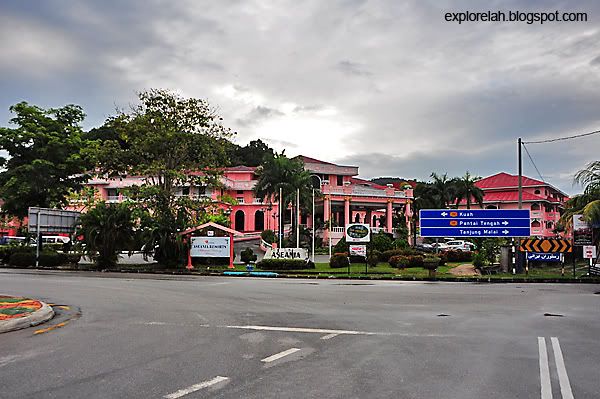 Aseania Resort is hard to miss with its screaming pink exterior that is at the brink of being an eyesore. Parked at the end of Pantai Cenang street, the hotel offers a quieter stay without being too far from all the action.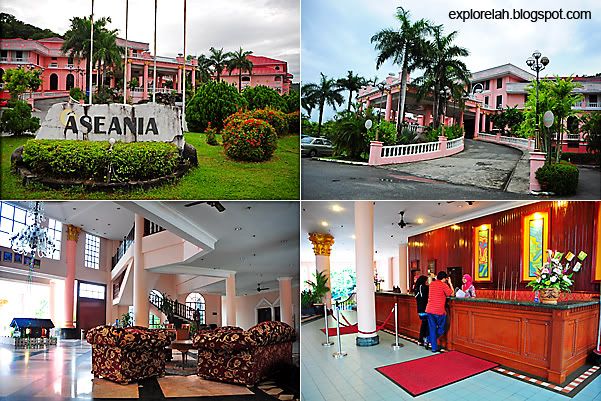 The hotel is a sprawling development with a few accomodation wings. Decor here is a patchwork of aging chandeliers and cheap floor tiles. Expect generosity in space but not aesthetics.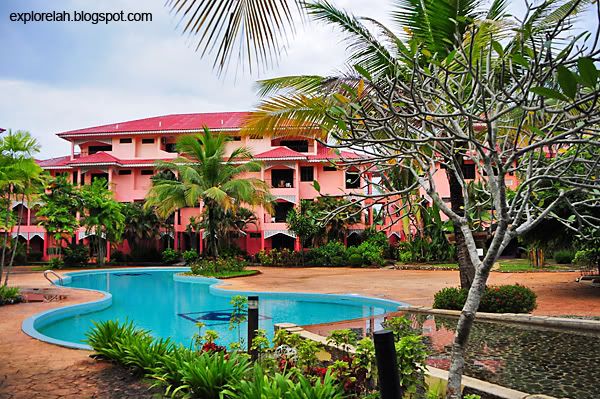 What's rather nice at Aseania Resort is its abundance of water bodies with a 154.4m swimming pool making it into the records as the longest pool in Malaysia.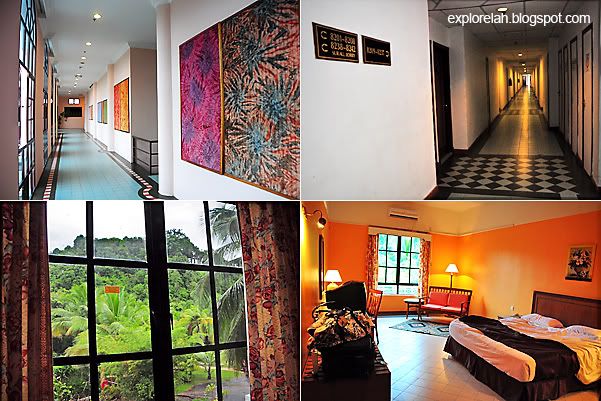 To get to my room, I had to walk down two long hallways which showed just how big the hotel is.
When I got into my room, I didn't feel like coming out again because of the long walk but I had to because there was only 3 channels on TV. All in Malay. So I got out to a nearby convenience store to get some beer and drink till I'm not bored.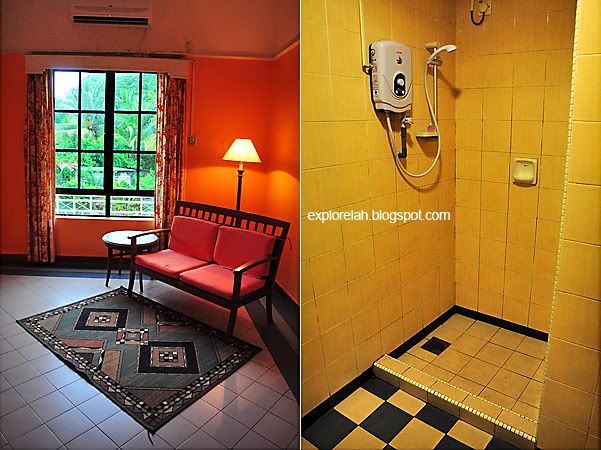 Perhaps Aseania Resort is so big that its upkeep is a challenge. The hotel looked rather tired.
The saving grace at Aseania was that the room is really huge and it has free wi-fi access compared to the other 2 hotels we stayed in where wi-fi access is available only at the lobby area.
Room rates range from RM175 - RM480 for a Superior Room to Suite / Apartment-type lodging arrangement per night. Prices include breakfast and differential charges between low-high season . At this price range, Aseania Resort makes for a good-value-for-money stay.
Laman Padi Rice Museum
Opening Hours : 10:00am - 6:00pm daily
Entrance Fees : RM2.00 (Adult), Free for Children below 12yo
If you are a rice queen or king like me who only know how to press 'On' on the rice cooker, a visit to Laman Padi may be an interesting excursion to learn more about how this Asian dietary staple gets to our table. Entry is free (I think) and it's located at Pantai Cenang so there's good reason to pay this museum a quick visit.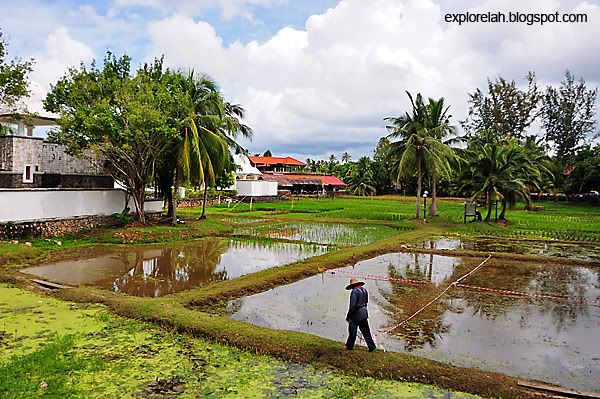 Meaning 'Rice Garden', Laman Padi has an outdoor working padi field and an indoor exhibitory gallery.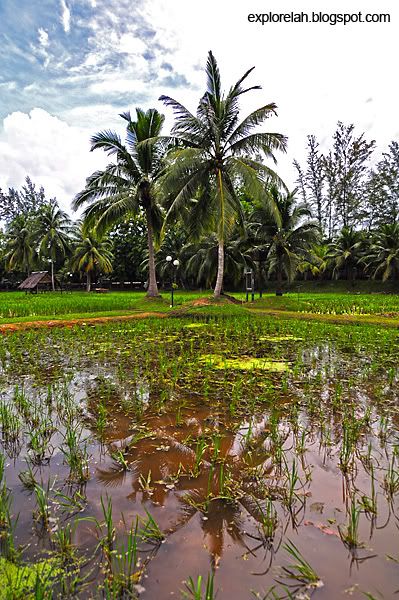 Love the petri dish kampong-rustic setting.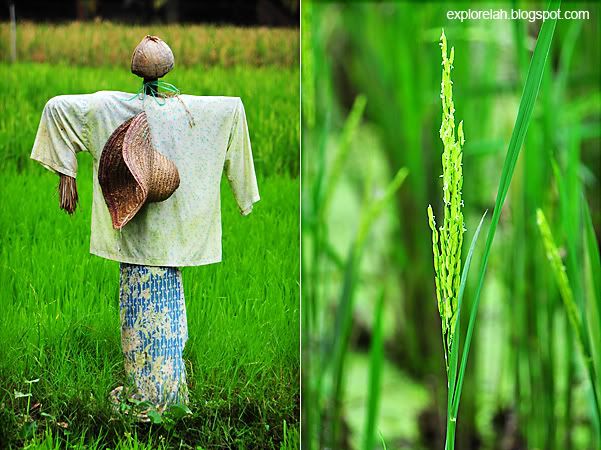 This scarecrow looks kinda gum jek. Need more wheat to fatten up!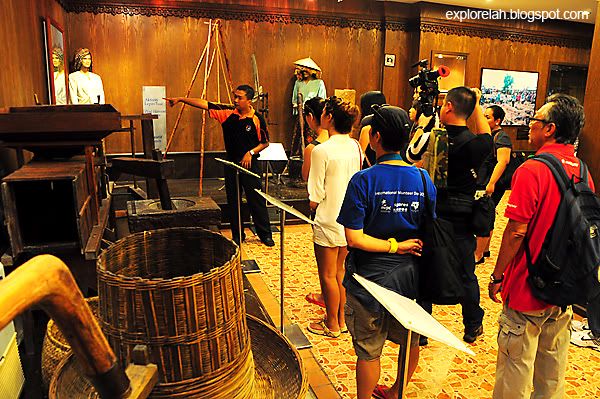 Guided tour of the rice museum where we gained an intimate knowledge about the rice farming process, traditions and apparatus used. The planting of rice sapplings is traditionally the women's job while the menfolk till the soil.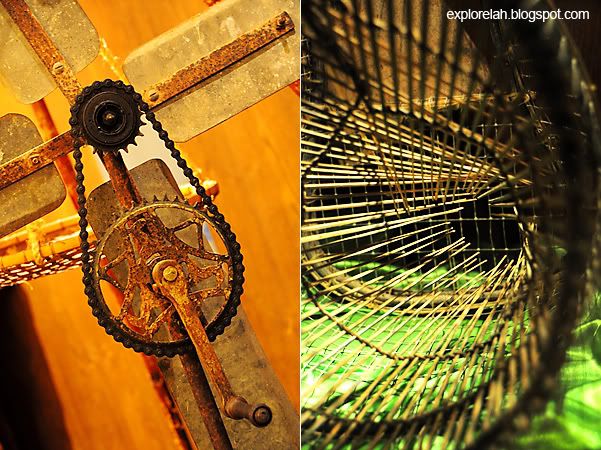 A partnership of machinery and traditional tools to optimise produce from the rice planatations. The funnel-shaped basket is used to trap fish found in the rice fields. Rice-fish farming is practised in many Asian countries. Fish helps to eat water-borne insect larve and its poo becomes fertiliser for the plants. And when the fish matures, they provide a source of food and also a second income.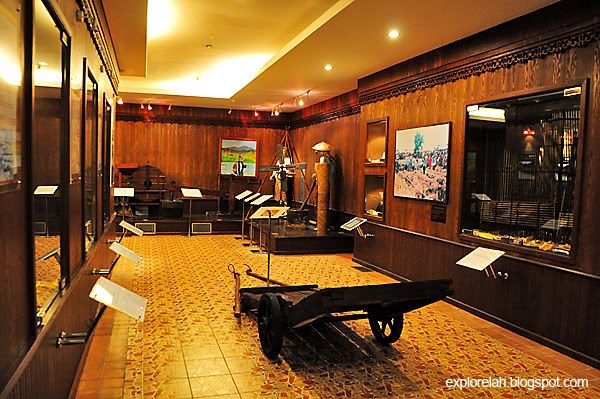 The rice museum is simple but clean and well-maintained with a lot of ethnic flavour.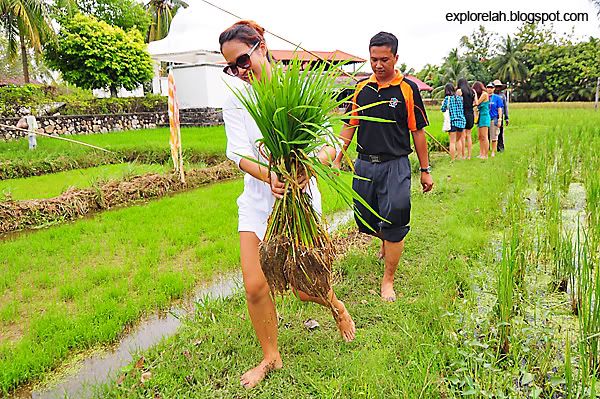 We got to walk the field and get a first-hand taste of planting rice after the tour! Joanne made agriculture look so glam.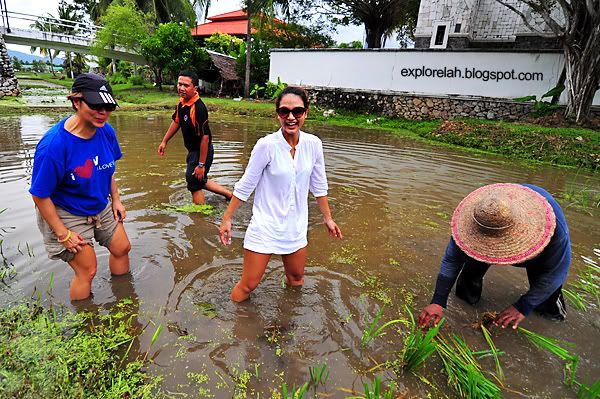 It's hard work having fun!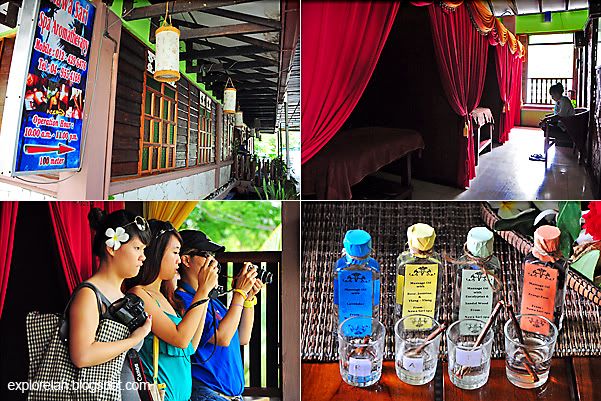 After 'working' at the fields, drop by the adjourning Nawa Sari Spa for a massage with homemade therapeutic oils. Didn't get to try the treatments so no comments on the service and masseur's skills.
Legenda Park
Opening Hours : 8:00am - 11:00pm daily
Entrance Fees : Free
About a half-hour drive from Pantai Cenang is Langkawi's town centre - Kuah Town. One of the sights we visited briefly was the Legenda Park (a.k.a. Lagenda Park). Our visit lasted only about 15 minutes because the weather was threatening rain and an earlier downpour rendered the park grounds rather puddly.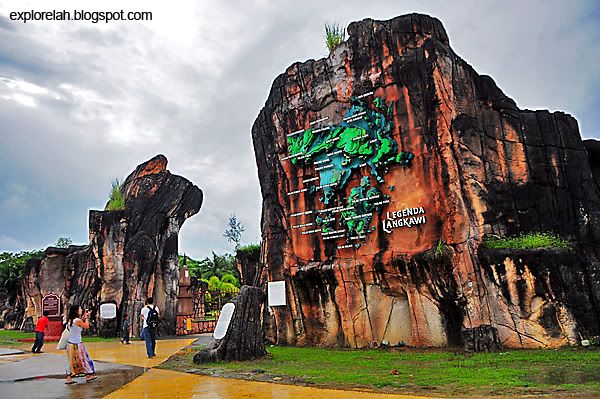 Opened in 1996, Lagenda Park was closed in 2008 for renovations till 2010. The imposing rock entrance is impressive and looks like a miniature mountain.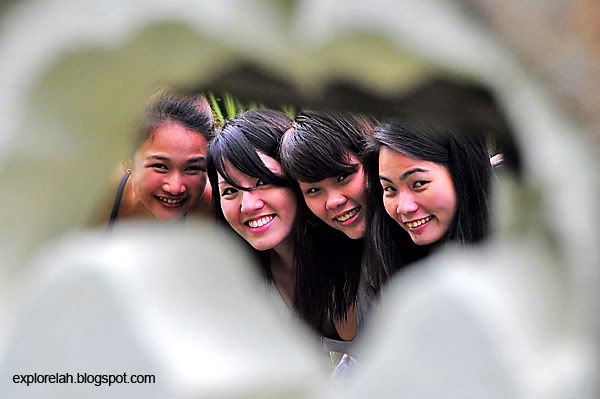 With the dull sky light, landscape shots were grey and flat so I decided to shoot brighter subjects... the girls! They were framed through one of the many beautifully carved stone dustbins (see the right corner of the last pic in this Legenda segment)!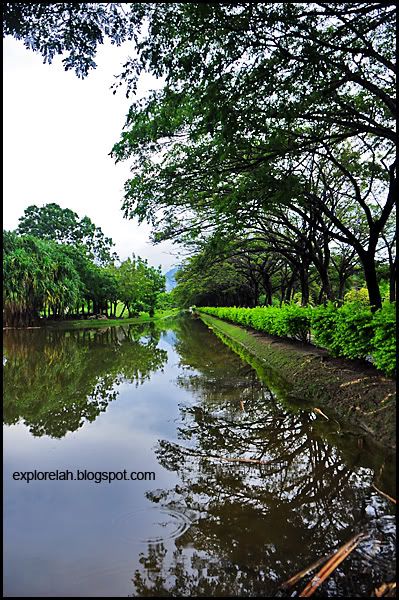 It's a pity we didn't get to see more of the park as I think it would be really beautiful. Legenda Park contains 17 story-monuments that tell the many myths and legends of Langkawi.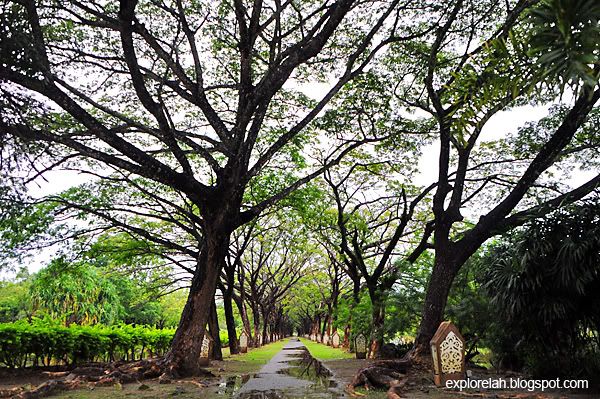 We were about to leave when I decided to run and see a bit more of the park. Thankfully I did! To the right after entrance into Legenda is this boulevard of trees that runs from the beginning to the end of the park. Really love the diminishing point of view flanked by the trunks and branches.
Kuah Town
Kuah
means 'gravy' in Malay and legend has it that this was the place where a pot of gravy was spilled when 2 giant fathers fought each other during their children's wedding. The 2 giants were Mat Machincang and Mat Raya. If you find the names familiar, that's because they are the names of the 2 most prolific mountains on Langkawi.
According to the folk tale, the 2 men were BFFs but got into a fight when the father of the bride saw his son-in-law ogling another woman during the wedding. During the scuffle, the pot of gravy was spilled which is now Kuah Town and the 2 men were turned into mountains.
To really appreciate Langkawi, it really helps to get acquainted with the island's many myths. The legends and folkores add another layer to the fabric of experience that sort of holds all the natural wonders found here all together.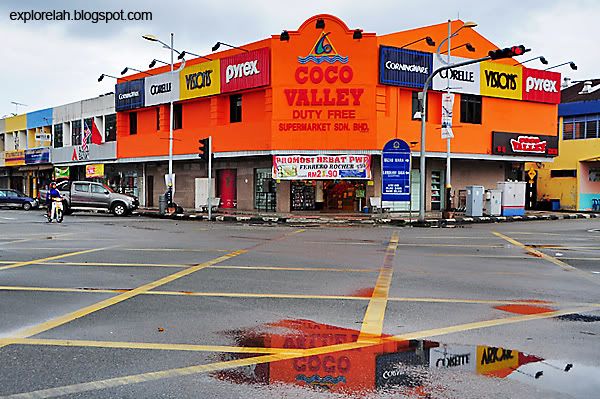 More of a commercial and retail centre rather than an attraction, Kuah Town is probably the best place to get any shopping done on Langkawi. The island is given duty-free status so it is potentially a treasure trove for brand hunters.
I'm not much of a shopper so I didn't buy anything except chocolates. I've NEVER in my life spent so much on chocolates at one go. My brown loot costs a total of about RM170 (S$70) and weighed over 5kgs! A family-sized choc block weighs about 250g so you can imagine how many I bought! But my money went mostly to the Whittakers' Almond Gold slabs.
In Singapore, a bar of that costs S$1.80 - S$2.20. Over at a duty-free shop called Zon at Underwater World (Pantai Cenang), triple packs of 3 Whittakers' Almond Gold went for RM16.90! That's 9 bars for S$7.00 or S$0.78 each!!! I heard the chocolates are even cheaper at the duty-free shops in Kuah Town. Since I came back from Langkawi 2 weeks ago, I've been snacking on chocs constantly. My pants are getting tighter :o(
Booze is also cheaper here too! A can of 330ml beer costs only around S$1! In some instances, it's cheaper than flavoured beverages!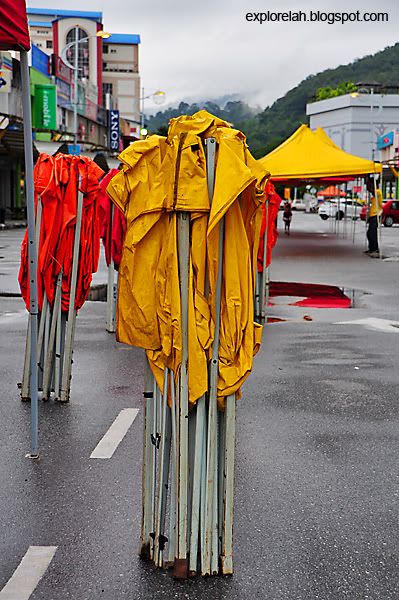 Tenting up for a pasar malam. Not sure if there's a night market going on every Sunday in Kuah Town but I came across preparations for one during our visit.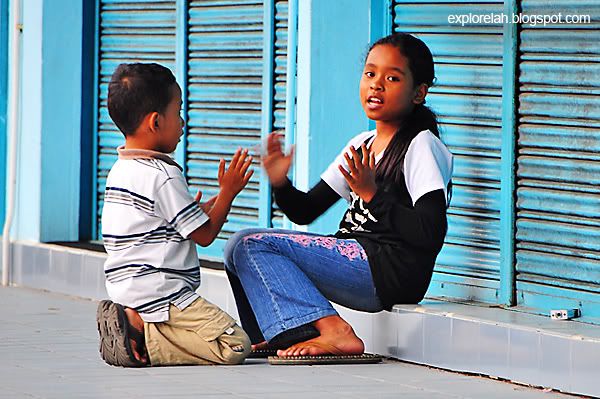 Island kids playing a clapping game I used to play. Lost its name to age but watching them heated up nostalgia in me.
Since I landed in Langkawi, I've been on the lookout for a spa to de-stress. But due to our hectic schedule, we never stayed at one place long enough for an hour's bodywork to be done. We had slightly over an hour in Kuah Town but I was torn between walking into one of the number of spas I saw there and taking photos of the town.
Working my fingers got the vote although there isn't really much to take pictures of here. then I came across 2 kids playing a familiar game and took their photos from afar. The girl saw me and they began to move. They were very shy. In an attempt to quell their uneasiness (and in the hope of taking more shots of them... heh heh... *scheming*), I walked over and showed them their photos. A lady walked over, whom I assumed to be the mother, and asked to see the shots too.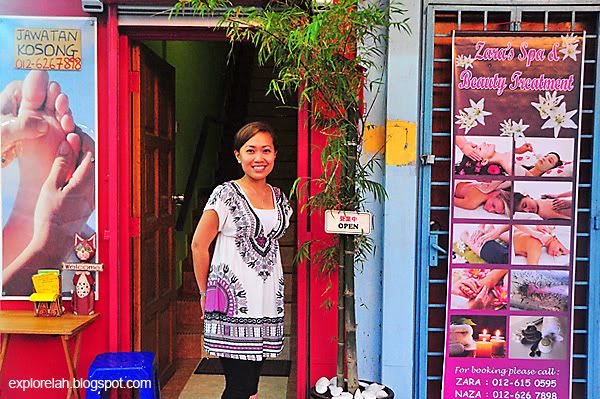 The verygood-looking and friendly owner of Zara's Spa & Beauty Treatment. Address : No. 8, 1st Floor, Jalan Pandak Mayah 5, Pusat Bandar Kuah. Tel : 012-615 0595, 012-626 7898.
As it turned out, she runs a spa with her sister and handed me a flyer. Her name is Zara and I took it as a sign from God to ask me to rest! By then, I barely had an hour left so I tailored my therapy and asked for a 30 minutes foot reflexology (RM25) and 15 minutes head and back massage (RM20, original price is RM40 for 30 mintues).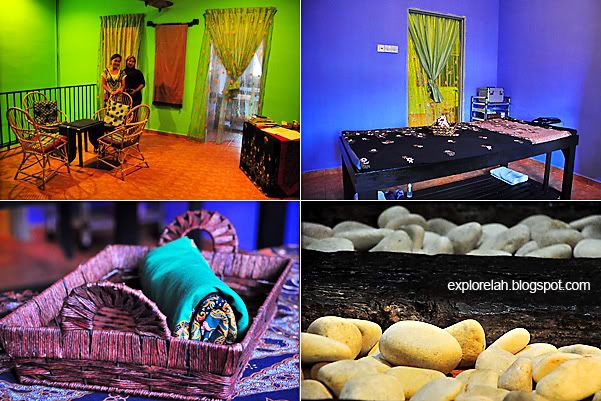 I've visited quite some heartland spas in Singapore and overseas and I must say that Zara's Spa is not too bad in its set-up. Zara had only taken over the spa from a previous owner and was in the middle of reworking and installing her own dream for this place. A few of the treatment rooms weren't ready yet. I think when the place is done up, the atmosphere should be pretty conducive and the services comprehensive.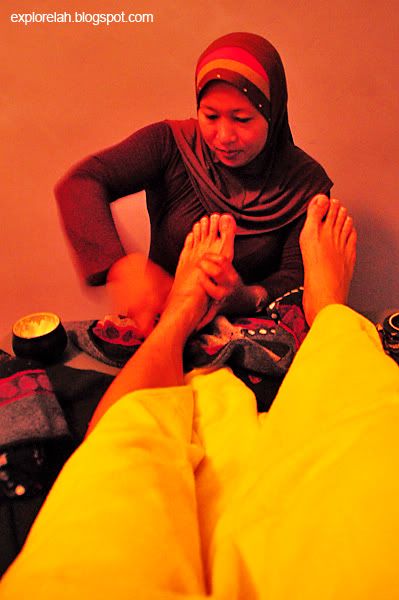 This is my therapist, Naza. She's the sister of Zara and mother of the two kids I photographed. She must be wondering why this Singaporean has feet from Hong Kong.
So what do I think of the treatments I received and the service quality? I must say, I was pleasantly surprised. Maybe because I didn't expect much as previous experiences with small spas usually left much to be desired.
At Zara's, the ambience was comforting enough even though I'm accustomed to white or muted colours to be the de facto hues for calm and not the saturation of palettes here but somehow, when the lights were dimmed, the green, purple and orange worked. The two ladies were friendly and accomodated my requests and the treatment steps felt balanced and professional. Balance is very important because some therapists tend to work more on one side and less on the other or the steps were different and I'll be feeling something is amiss throughout the massage.
My only grouse was that Naza should give the treatments barefoot or with soft bedroom slippers. The slapping and dragging sounds of rubber slippers on tiles when she walked around was disconcerting for me while having the head and back massage done. While she did check with me on the pressure of her strokes, I was a little embarassed to tell her to go harder so I told her it was okay. They just started business and met a thick-skinned cow like me, I didn't want to tire her out. But yeah, she could add more strength. Then again, maybe it's just my preference.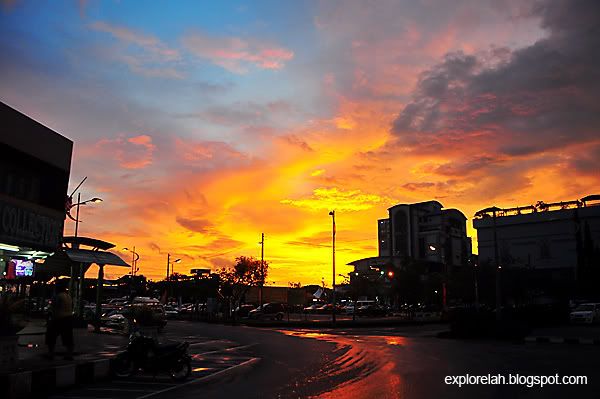 Saw 3 sunsets in Langkawi - one by Tengah Beach (bluish and looming with clouds), one while coming down from Gunung Raya (purplish and violet), and this one at Kuah Town (golden and vermilion). So awesome!
When I submitted
my entry
for the
in2it.sg
Langkawi blog contest, I said I wanted to come here for a wardrobe update because during my visit here in 1992, I was photographed wearing super
obiang
clothes. It's the early 90s and the shadow of the terrible 80s fashion sense still loomed. I'm allowed to make mistakes!
Almost 20 years later, I'm back in Langkawi. How time flies. I've become less disastrous in my choice of wardrobe (I hope!) and this time, I got to see more of the clothes Langkawi wears rather than fussing on my own. It has been a great trip and I can't thank my companions,
Langkawi Development Authority (LADA)
and
Tourism Malaysia
enough!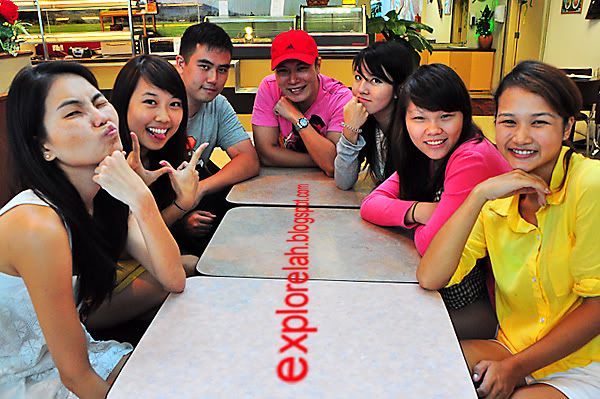 It has been a fun time and may our journeys meet again someday!