Laying claim as the greenest resort in Malaysia, this right to brag is not without its substantiation. Taking great pains to create an eco enclave that goes beyond the mere placement of recycling bins on its premises and seeking guests' help to reuse towels and beddings,
The Frangipani Langkawi Resort & Spa
has a plethora of national as well as regional green awards to recognise its contributions to sustainable tourism.
Evoking a sense of the tropics, the sheer elegance of the Frangipani flower has become somewhat of a mascot for resort destinations and spa establishments in Southeast Asia.
I didn't get to ask the owner, Mr Anthony Wong about the choice of Frangipani as the resort's name, but I think it could be due to the plant's hardy nature and wealth of symbolisms in different cultures. The Frangipani tree can survive arid conditions, neglect, abuse and also immune to a wide array of insect invasions.
Culturally, the Frangipani (also commonly known as Champa in SEA and Plumeria in Western continents) is held sacred by Buddhists and Hindus which garnered for it the nickname, Temple Tree; while in Malay folklore, the fragrance of its flower is a red herring for the pressence of a pontianak (a mythical female ghost that dwells in banana and frangi trees). In Polynesia, women wear the flower (or hibiscus) on their right ear to announce that they are single and over the left, they are taken.
The simplicity of the common White Frangipani flower is spa on the senses. Yeah, I know, there's some yellow in it but this variety is classified as white when compared to the other coloured species that come in an assortment of blushing pink, lipstick red, sunset chrome or slightly variegated with all of those hues.
We were told that in Malaysia, the frangi flowers are used to symbolise the solemnisation of marriages. That affiliation of bliss is far from what we associate the tree with back home. In Singapore, frangi trees are held as taboo for its image signifies death. The Australians call it 'dead man's fingers' because of the tree's pale, digit-like branches.
Apart from lotuses and orchids, frangi flowers are the next perennials that count amongst my favourites so I was happy as a moth at the resort. Moth because that's what the flowers usually attract with its fragrance to help pollination. The flowers don't produce nectar so you won't usually find bees making a beeline for them. Pardon me, I just had to use that pun. Haha.
Eco Farm Tour
Since ecology is the currency at The Frangipani Langkawi Resort & Spa, instead of going straight into showing you the hotel, its surroundings and rooms, I shall start with the Eco Farm Tour.
Located at the side of the resort premises, this organic farm functions as the green lungs, liver and kidneys of the hotel development. While our tour of the farm was hosted, you could just as easily take a stroll into this backyard garden near the staff quarters.
It has a rural feel and things are kept as natural as they are so for the nature-phobic, armour up with insect repellent and covered footwear before stepping in. I think sneakers are more appropriate than slippers here because it keeps the sand and most importantly, ants off the feet. I made the mistake of not looking where I was stepping when taking photos and soon felt nibs of fire on my toes!
The farm is well signposted with info blurbs that lets you know what you're looking at and explain how the feature is eco-friendly. These 2 photos show the natural treatment of used water using water mimosas and hyacinths. Waste waters from the resort flow into these ponds where the aquatic plants clean them out before the water is used to hydrate land crops and vegetation. When the water plants overgrow, they are harvested and turn into compost.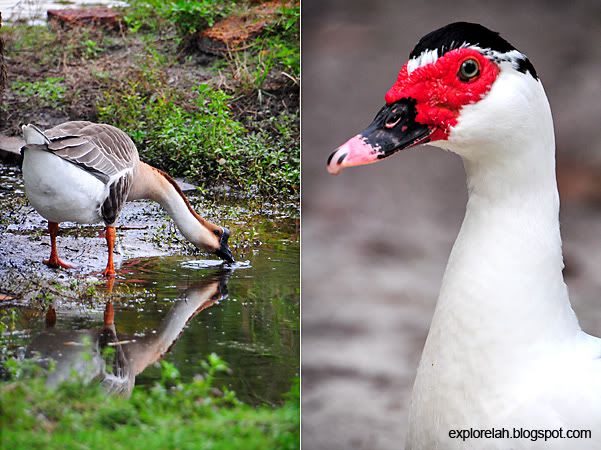 There are quite some free-ranging water ducks, geese and chickens scurrying around the farm. But don't get too attached to them unless you enjoy playing with your dinner.

Other than rearing the fowls for food, many of the plants grown at the Eco Farm and around the resort are used in cooking for staff and guests. It's like one big outdoor live market and pharmacy!
Forgot to bring insect repellent? No problem. Pick off some lemongrass or citronella leaves, crush them and rub the juice on your skin as a natural turn-off for mosquitoes. Need to add some tang to a meal? Simply pluck fresh dill at your hotel room's doorstep.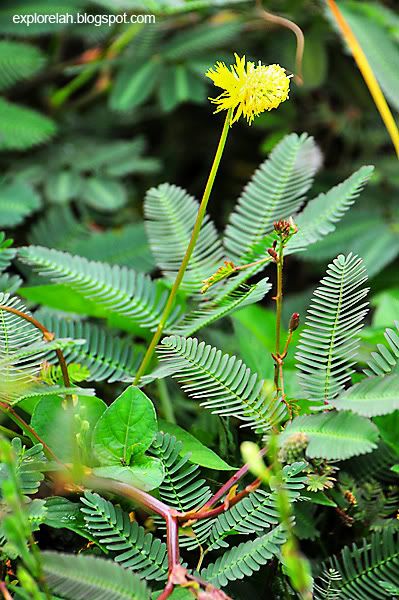 Had my first taste of fresh, tender young mimosa leaves right off the bush. This species of touch-me-not has yellow flower-heads. I wonder if the pink ones found near my home can be eaten too.
Do you know that the young leaves of the mimosa plant can be eaten raw? I had no idea too until during the tour when the guide plucked off a couple of the yellow-flowered mimosa leaves and ate it. You know I so
yao gui
one lah, so I followed.
What's the taste verdict? Bitter. Raw. Grassy. The strong flavour is not totally unpleasant, and I could imagine it waking up any dull salad, which is what the young mimosa shoots are usually added to. I kinda liked how the aftertaste glowed in my mouth like rocket leaves. I think I would make a good cow in my next life.
The eco tour was an enlightening pollination of the mind on nature's self-sustaining system.
Coming out of the Eco Farm, I thought the incidences of environmental efforts ended there. But there's more. All over the resorts are features and recycling practices that would put any
karang guni
(rag-and-bone man) out of a job.
Bones off the dinner tables are buried in the soil to act as fertilisers, leftover fruits and peels are converted into compost, old bathtubs are used as seeding pots, empty bottles find a second life as light shades, coconut husks are turned into ashtrays, and the list goes on. Even air-con water is collected for washing purposes!
And huge black tanks can be found at the hotel which are used to store harvested stormwater. At one end of the resort, a pool filled with rainwater is salted to give guests an alternative to swimming in the sea when the weather gets rough.
All these recycling and resources conservation practices don't just benefit the surrounding ecosystem, but make good money sense too in terms of savings from acquiring new materials. Frangipani Resort & Spa really puts the eco in economy!
Frangipani Resort Review
With all that junk-made-reuseable philosophy, does it mean guests at this hotel have to live with the bare minimum of squalid conditions? Not at all. In fact, the resort is one of the top-rated in Langkawi and command a pretty premium accomodation rate.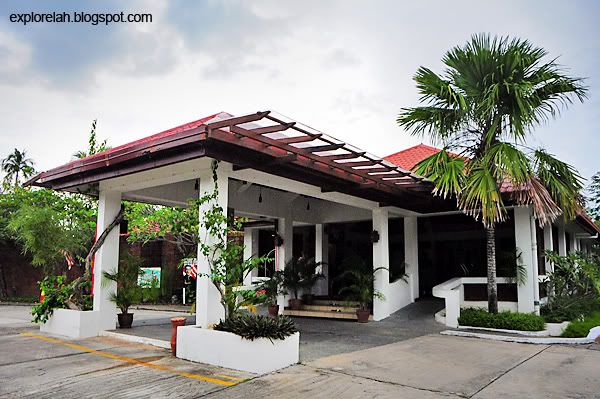 Entrance of the resort with more pillars than walls to maximise natural air circulation.
A curious-looking lamp at the reception reminded me of a spiral shell while a wood-carved circular dish supported by a pair of Aso got me rather excited as I've just read them. Aso is a mythical dog-like creature with a serpent/dragon body that originates from the Dayak tribe of Borneo. It is revered as a powerful nemesis of evil spirits. Impressions of the Aso is tattooed on the tribes people as a talisman, while in the greater Malay community, furnitures and accessories adorned with its likeness communicates a status of prestige. I was so thrilled to see an actual artefact.
The beautiful hotel pool looks out to the sunset. It's a pity I didn't have the time to take a dip in it during my one night stay.
Dine by the beach and for some exercise, take a walk on the pebbled acupath. The area is installed with acrylic roof for it to be illuminated by sunlight, thereby cutting down on electrical consumption during daytime.
As part of our holistic experience of Frangipani Resort & Spa, we were treated to an organic meal. It consisted of fresh
alum
(Malay for salad) from the garden, fried Frangipani flower fritters, Frangipani tea, chicken and beef redang, and a sweet-sour fish dish.
My favourite was the frangi flower fritters (photo above). I didn't know they can be eaten! The way it was prepared, the flower retained its velvety texture with the distinctive hint of frangi fragrance. The flower tastes as delicate as it looks.
Another interesting dish in the spread was the fried fish in sweet and sour sauce. It was not one big fish but many small ones with oval bodies. No idea what species they belong to but I felt like I was eating discus cichlids from someone's home aquarium. The meat is very fine but very bony. Due to it's small size, it was kinda hard to truly appreciate it.
The resort offers various chalet-type accomodations that rise in price the closer they get to the beachfront. It was our first night in Langkawi and I shared a chalet with Jonathan. He's a very easy-going roomate but I didn't get much sleep that night because I was worried my snore would wake him.
That's the thing with travel contests. You don't get the finer details of the prizes before taking part. Initially, I thought the contest was to blog and win a vacation to Langkawi, but it turned out to be a fully hosted trip, a.k.a. media trip.
Media trips are good in that everything is planned for and you get access to a lot more things. But such trips are usually very tiring with activities and programmes packed back-to-back within a short time and a PR person loading you with information. Friends always think I have a good life going on free holidays. Now you know it's sort of like a work trip so no need to envy!
But here's something that should be envied... my resortel room...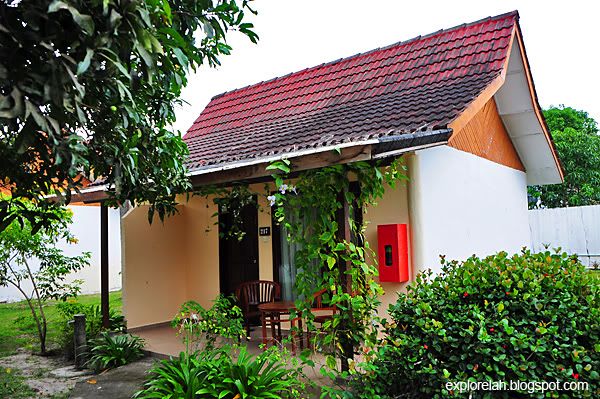 Although it is not beachfront view like the one I stayed at Ao Prao Resort in Ko Samed, what my unit lacked in view was made up for by the much opportunity in communing with flora and fauna.
The spacious room is clean and frills-free with a naturalistic note.

A picture window looking into an outdoor rain shower! This would make for a romantic escapade.
The best part of the accomodation was the open air shower. Taking a warm shower in the early morning with the passing clouds as my ceiling while birds sing to the dawn was so invigorating.
And at night, showering under the moon and stars accompanied by an orchestra of crickets and cicadas, I was reminded again what magic felt like.
Pantai Tengah
The word
pantai
means 'beach' in Malay. But it may as well be the next best secret code to describe females from hell. So instead of calling your wicked female boss / client / colleague / friend / girlfriend a b*tch, use
pantai
! Haha. She wouldn't know. Unless she read this blog entry. LOL.
Jokes aside, there are many
pantais
on Langkawi and Tengah Beach is reserved for the use of Frangipani Resort & Spa's guests.
This beach is one long stretch of powdered coastline that's really, really clean. Jet skis and parasails dot the skyline and waters and I can only imagine what an incredible feeling it must be to parasail with brooding mountains as a backdrop.
Didn't get a chance to enjoy the beach except to take some shots of it and the sunset. The horizon that day was overhung with a large piece of cloud so the setting sun was blocked. Otherwise, I believe that the sunset here will be totally sensational.
They should put a sign for the jellyfish that says, "Beware of Darren." I love eating them.
With the photo of coconut trees waving in the wind, this post on The Frangipani Langkawi Resort & Spa waves a farewell to your eyeballs too. Thanks for making it this far on such a long blog entry and it doesn't take staying in a resort to remind ourselves to Reduce, Reuse and Recycle. Let's start living ecologically where we are! :o)