First of all, a BIG thank you for supporting my participation in the
SAFRA in2it.sg Langkawi blog contest
. I made it as one of the winners because of your votes and had this amazing opportunity to scale the heights and dive into the depths of Langkawi!
This would be the first of a series of post to share experiences, attractions, reviews and tips from my encounters during the trip. To start off, here are some snapshots of the impressions Langkawi left with me.
Leaving my Havaianas and going au naturale on barefoot at Pulau Payar. I learnt so much fascinating stuff about nature on this trip, it awakened the naturalist in me.
Of all the sponsored trips I've had the good fortune of going on so far, this would have to be the most packed in terms of itinerary. We changed a different hotel every single night and were almost always on the road.
It's very
siong
(tough) as I'm split between taking photos, videos and notes on all the sights, sounds and tastes. In other words, you peeps better appreciate Explore Life Lah! for I give my best each time to bring you as much photos, stories and information about a destination as possible okay?! Hahaha... But of course, I totally enjoy the process of recording each trip! I hope you've enjoyed this blog so far and continue to come back for more travel posts :o)
A pretty purpulish-orange Van Hyning cockle shell found along Pantai Tengah.
When I told a colleague I'm coming to Langkawi, she said it's a boring place. To me, anywhere can be fun or yawn-inducing depending on what kind of traveller you are. For Langkawi, as with all nature-adventure sort of quasi-rural destinations, city-folks like us would do well to ditch the urban shell and let sweat be the measure of fun.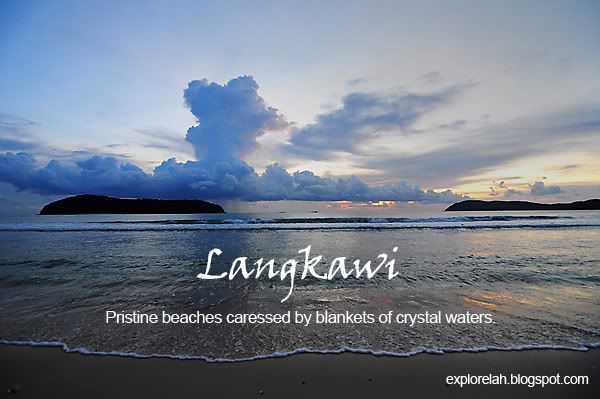 Beach view in front of Frangipani Resort and Spa.
This is not to say that to enjoy Langkawi, it's all about hard work and one has to go all out of the comfort zone. The beauty of this place is that we can choose to take it really slow just bonding with the clean, powdery beaches or we can opt to rough it out with day trips and excursions into the mountains or surrounding islands.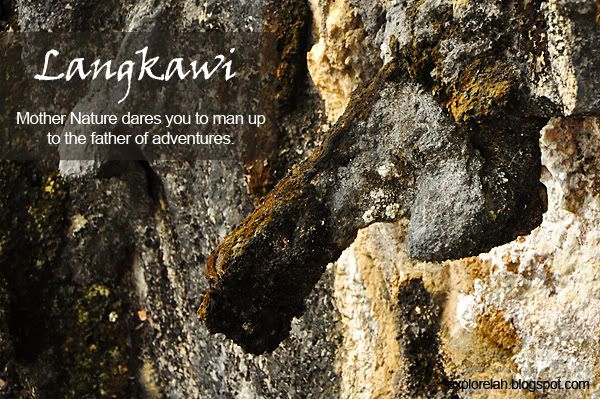 Pricky rock formation observed during the Kilim Mangrove Tour. Gaia loves dirty jokes.
Sitting on the Andaman Sea off the Malaysian state of Kedah's west coast, the Langkawi archipelago consists of 99 islands so there's plenty to explore if adventure is in your chromosomes.
I've been to a couple of resort destinations in the region such as Bali, Batam, Bintan, Phuket, Ko Samed, Cebu, Boracay and Penang; and while I've not stayed long enough or explored every cranny of each of those islands, I would say that Langkawi is possibly the most eco-minded of them all. At the very least, trash doesn't run amok in the drainages and landscape of this island.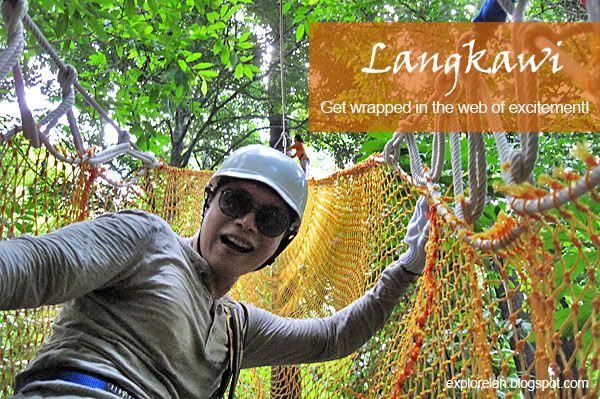 Playing Tobey Maguire at Mardi Agrotechnology Park adventure course.
We got to experience a lot of things during the trip and it's non-stop action the moment we touched down. From understanding how resorts can work with nature to be eco-economical, to getting our hands and feet into the padi fields, to zipping through the forest at an adventure camp, to swimming with baby sharks, to learning about the avian wildlife, to walking into the clouds atop the highest peak on the island, to trekking through prehistoric caves… Langkawi is the go-to place to feel the heartbeat of tropical Asia.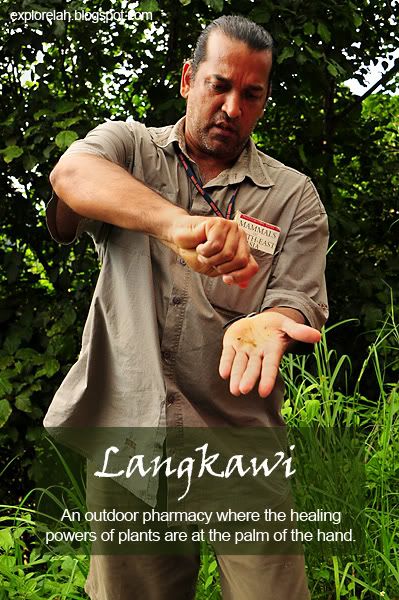 An enlightening evening with the maestro of taxonomy, Mr Irshad Mobarak.
One of the most enriching experiences on this trip was being in the pressence of veteran naturalist, Irshad. We were all so fascinated with his stories about the Hornbills, herbs and his personal hero, Alfred Russel Wallace, an opponent of Charles Darwin's theory of the survival of the fittest. We could listen to him talk for hours!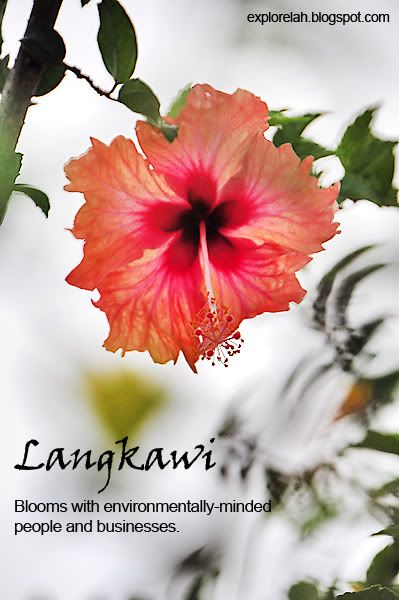 Hibiscus, the national flower of Malaysia and a representation of delicate beauty,
Any successful environmental conservation project requires the partnership of people and authorities and it seems that the Langkawians have a strong cause conviction towards that mission. That's why I had the feeling of coming to Langkawi as a vacationer but returning home as a planeteer!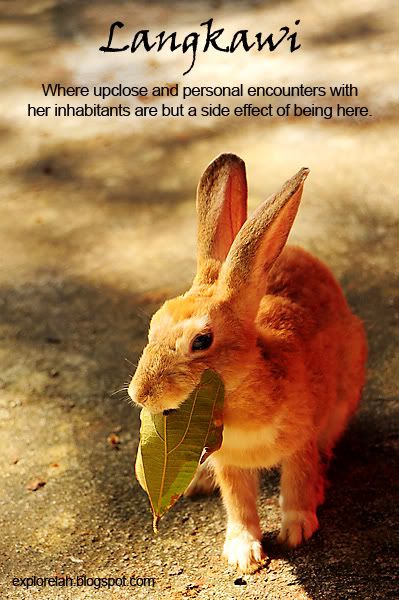 A bunny I met at the Geopark rabbit enclosure.
By all standards, Langkawi is pretty well-developed, so it's surprising to come across exotic wildlife without even trying too hard. Monkeys can be spotted on roads, cows come to you, cicadas sing a different song throughout the day, while colourful birds dart from tree to tree just outside the windows of my hotel rooms. It's really kinda cool. Made me feel like some fairytale princess where woodland critters love to stick themselves to.
The roof of Langkawi at D'Coconut Resort which sits at the peak of Gunung Raya.
Langkawi has always been synonymous with blue skies, the sun, sea and sand for me. But this trip expanded my synonymic dictionary to include smoky mountains and cooling highlands. The best part is, it's all within an hour's drive or so and doesn't require rocket science to get to.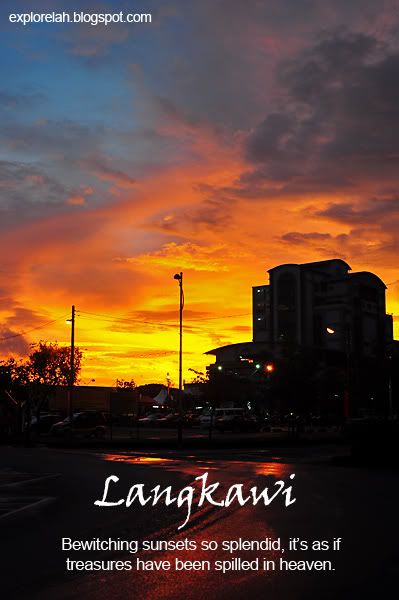 The day's departing hues at Kuah Town.
They say the grass is always greener on the other side. I say that the sunsets are always prettier on this side because unlike in Singapore, there are not many tall buildings to block the celestial canvas for the full dusking palette to be admired.
Not sure if it's due to the time of the year, but the 3 sunsets I saw had been wonderfully hued from sapphire to amethyst to amber. It's like watching a the changing colours of Mother Nature's bejeweled cloak overhead.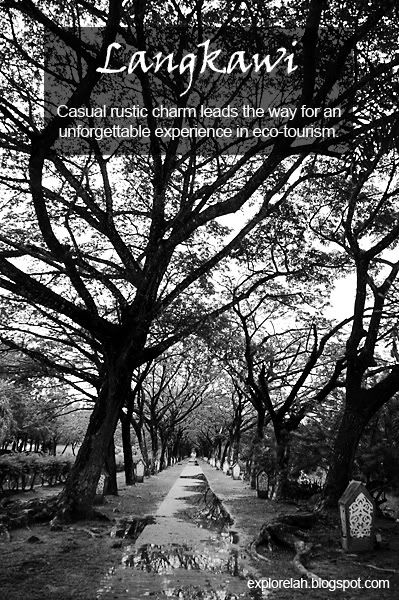 Picturespue stretch of dramatic trees at Lagenda Park.
I didn't know Langkawi had so much on it and even much more that I hadn't seen on this trip. I would like to thank
in2it.sg
,
Langkawi Development Authority (LADA)
,
Tourism Malaysia
and all the hoteliers and tour operators for this incredible insight of the island.
My hugs and muacks muacks too to all my fellow explorers on the trip who made an unforgettable holiday more memorable. Do drop by their blogs too to see Langkawi through their eyes!
Brenda
(
food. friend.or.foe?
)
A pencil thin gal with a tack sharp wit who's more gungho than many guys I know!
Germaine
(
Germaine Seraphyna
)
Self professed foodie who runs an online nail polish business. She's only 20!
Ivy
(
Ivy Goh
)
Our Queen of Wifi whose fresh face and beautiful smile rules and brightens up any day.
Joanne-Marie
(
Perfectly Imperfect
)
Aspiring actress who has no prima-donnaness and not afraid to really get down and dirty!
Jonathan
(
Jonnie Boy
)
The strong silent boy-man type who oozes coolness without even trying. I'm so jealous.
Stephanie
(
the girl at the traffic light junction
)
Unusually perceptive for someone her age and an absolutely sweet companion on long rides.
If you're thinking about visiting Langkawi, here's great news! SAFRA is having a promotion exclusively for its Facebook fans. Simply
click here
to 'Like' the page and pay only S$189 for a 3D2N package (excluding airfare). Usual price is S$379 so that's a 50% savings! Booking offer ends 30 Sep 2011.