Langkawi has long been adored as a choice seaside getaway, but since attaining the UNESCO World Geopark status in 2007, its touristic offerings has been increasingly expanded inland. This developmental spread in tourism has created a truly unique destination that offers a generous lineup of attractions from its coastline to its mountainous skyline.
Amongst the many things that one can see and do inland is visiting one of its biggest attraction, the Oriental Village. Sitting at the foot of Mount Machincang, I kinda had the feeling that it was built with the intention to let visitors participate in nature. There are various meet-the-animals enclosures, lakes to paddle boat on, and the chance to ride a cable car to the top of the mountain (see map below).
Initially, I thought the Oriental Village is the Geopark and that the Geopark is where the Oriental Village sits on. Right and wrong. Fact is, the whole of Langkawi including the collection of 99 surrounding islands is considered the Geopark, so it is not a single park space on the island that's bestowed the title. It doesn't work the same way as a UNESCO World Heritage Site, where only a specificed site within a land mass is awarded that recognition.
But there are 3 main conservation areas at Langkawi that embodies the Geopark mandate more than others - Mount Machincang Geoforest Park, Kilim Karst Geoforest Park (which I'll talk about in another post), and Dayang Bunting Marble Geoforest park (aka Island of the Pregnant Maiden Lake).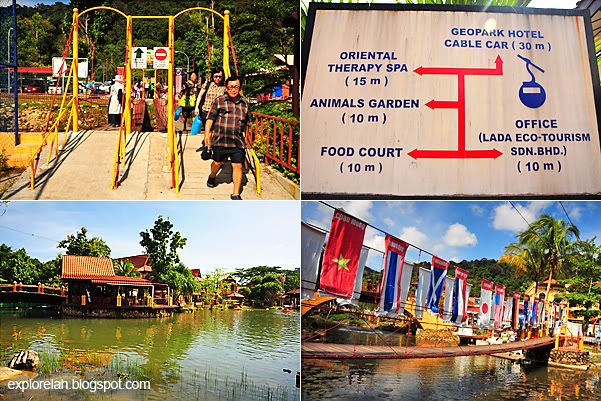 So what exactly is a Geopark?
According to UNESCO's definition, it is
"a nationally protected area containing a number of geological heritage sites of particular importance, rarity or aesthetic appeal. These Earth heritage sites are part of an integrated concept of protection, education and sustainable development."
The 3 pillars that support the concept of a Geopark center on conservation, education and geotourism. More than just being a walk-in laboratory for the earth sciences, a Geopark also celebrates the best practises in integrating the built-up environment with naturescape, anthropology and economy.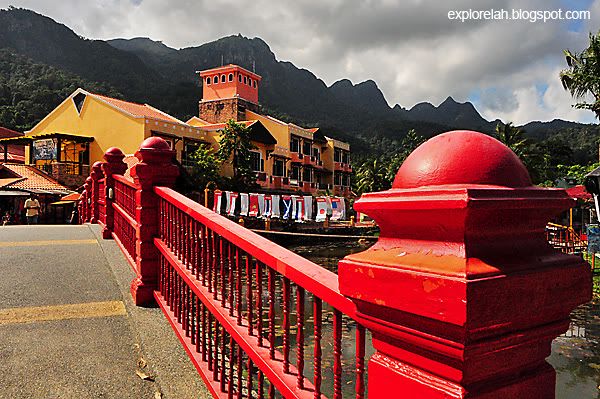 Juxtaposing what man has erected (Oriental Village) with what Mother Nature has perfected (Mount Machincang). A Geopark is the bridge between urbanisation and conservation.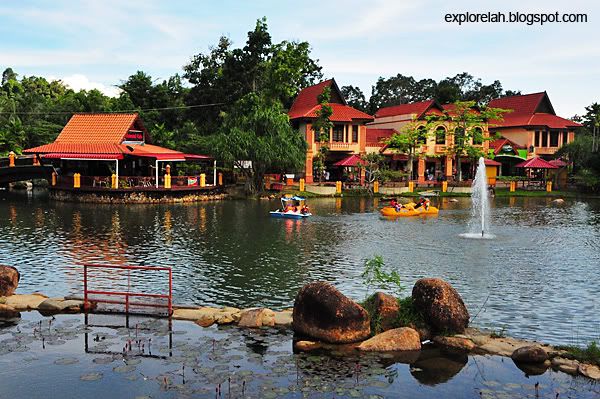 有山有水 (got mountain got water), Oriental Village is good tourism fengshui for a day of leisurely activities and exploration. My time here was very brief so I didn't get to experience some of the things I wanted to.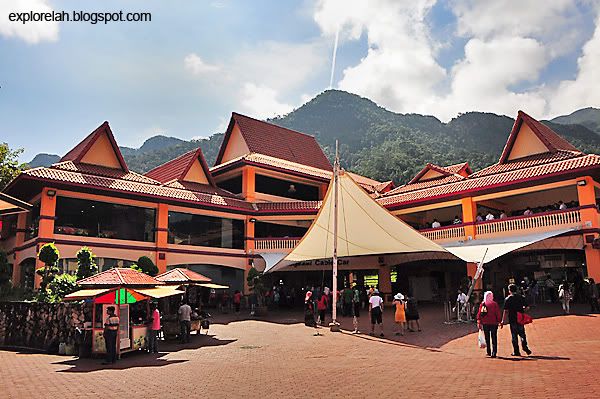 Oriental Village is the gateway to explore Mount Machincang. Visitors can take a cable car up the mountain and enjoy a spectacular view of Langkawi walking on a curved hanging bridge.
We were slated to take the cable car and see Mount Machincang on our last day but a heavy downpour marred our itinerary and it was cancelled. It gets pretty wet from June to September so a visit during this time is a roulette with the weather. Not ideal.
Contrary to year-end monsoon theory, the best time to come to Langkawi is actually between November and April.
Geopark Hotel Review
If you'd like to take you time to explore the area, you may want to consider spending a night here. There are 3 accomodation choices available within Oriental Village - Geopark Hotel, Geopark Domintory, or camping. Being a tourist, I'd go with the hotel.
But be mindful that this place is rather far out from everything else and shops within the village close at 6pm. It's like staying in Har Paw Villa in the middle of Bukit Timah Nature Reserve and about a 30 minutes car ride to Pantai Cenang, a busy beach stretch near the airport.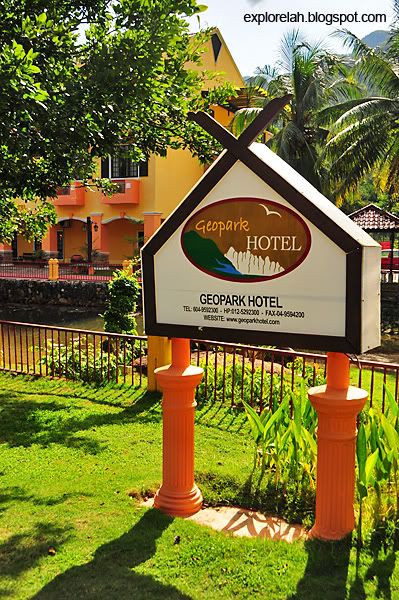 Room rates range from RM245 to RM480 per night.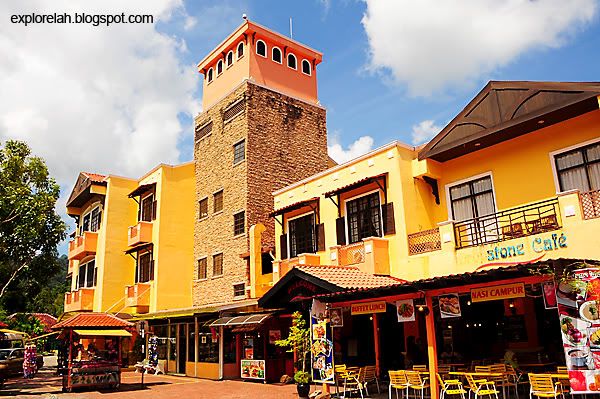 Back view of the hotel that faces the cable car square. Breakfast is served at a simple eatery between the tower and Stone Cafe.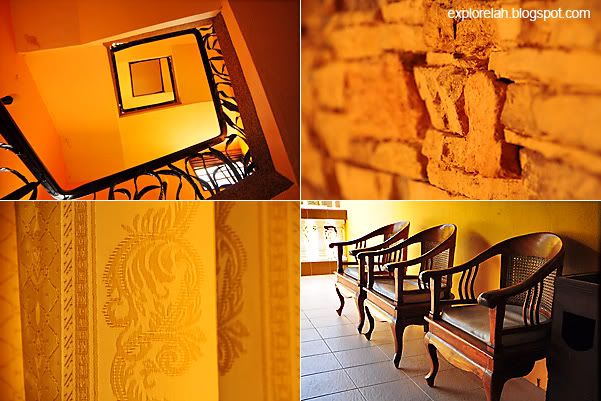 The hotel is very, very basic with a pleasant townhouse exterior and modest sprinklings of decorative focal points within.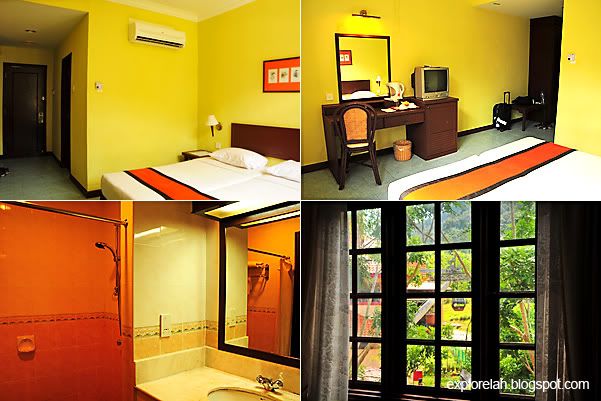 My room was spacious and comfortable enough. Nothing fancy though. The TV reception lets me appreciate the art of admiring static and encourages me to look out the window to get connected with Mount Machincang instead. Oh, and the room also brought the smell of the mountain into its sheets and towels.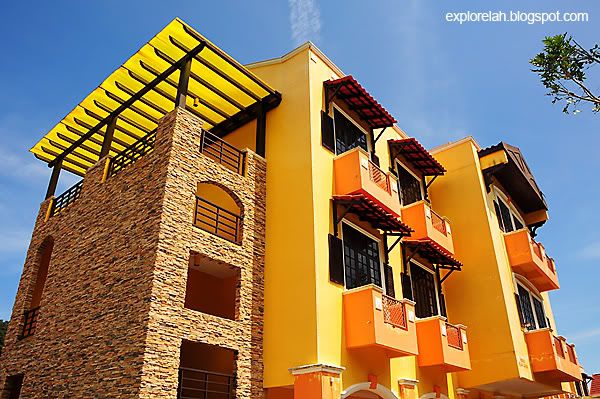 Location of my room (bottom left of the 4 windows). Geopark Hotel looks nice on the outside but needs a vacation on the inside.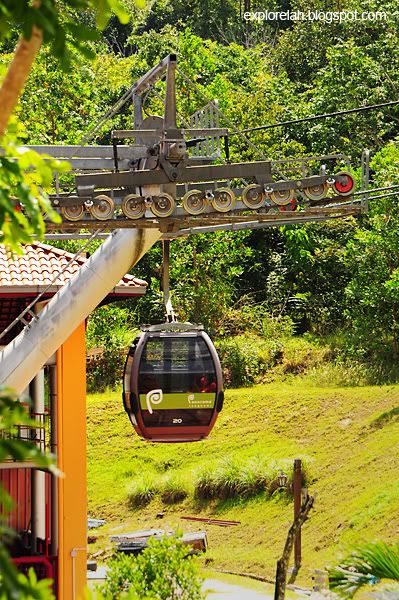 View from my room's window. Counting the cable cars can be rather therapeutic. My stay coincided with a holiday weekend in Malaysia so Oriental Village was busy and the queue for the cable car was full. The rides operate from 10:30am onwards. Tickets cost RM30.00 for adults and RM20.00 for children 2 - 12 years-old.
Favourite Oriental Village Moment
As mentioned, my time to explore Oriental Village was very short, less than 45 minutes. I had wanted to take the time to rest in the hotel room since we'd arrive here after a half-day visit to the mangroves of Kilim.
However, propelled by
kiasuism
, I decided to walk the grounds of this attraction to get a feel of it. Boy am I glad I did! Oriental Village is easily explored on foot within an hour if one dones't stop for any particular activity.
I didn't cover everything but I'm happy to have stumbled upon a rabbit enclosure. I used to have rabbits as pets. At one point, I had as many as seven when I was 15 or 16! Love 'em!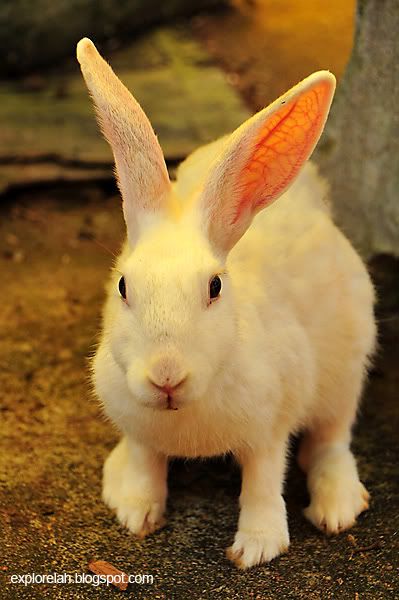 This bunny must have been Hugh Hefner trained. When I pointed my camera at it, it held a stance and posed. When I moved my camera away, it starts fidgeting too. But when I pointed my lens at it again, the furry white ball immediately struck a pose! Instead of a cam whore, this is a cam hare.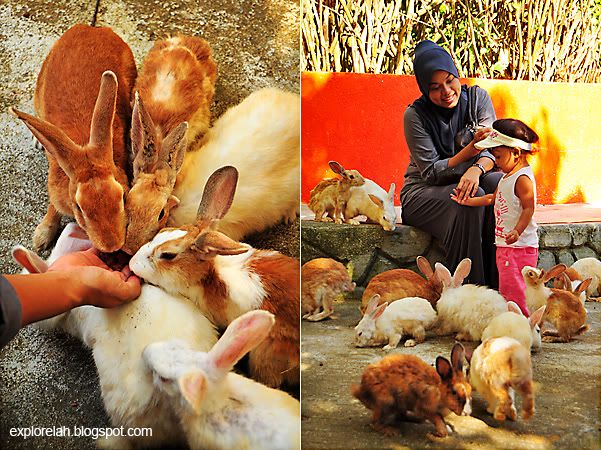 I think entrance is free for I just strolled right in. Rabbit feed can be purchased and the greedy critters will surround you the moment you squat down. Even if you have no food on you.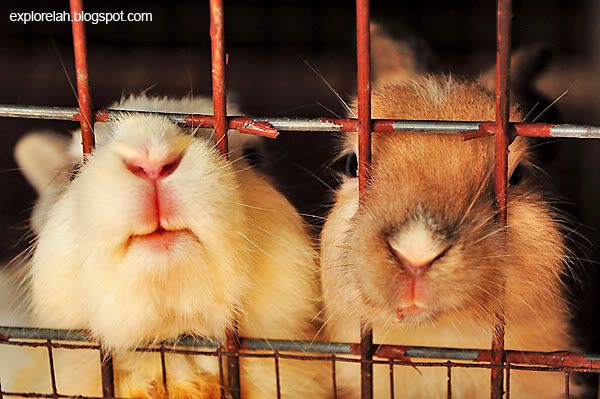 Aww... CUTENESSSSS to the power of infinity! Some of the bunnies are kept in cages and instead of shying away, they poke their faces to reach out to you in the hope of a feed. But be careful about reaching your hand to touch them. I reached out and they started to open their mouths thinking my fingers are baby carrots. So cute! So cute! So cute!!!
Apart from the rabbits, I saw some deers in another enclosure that welcomes visitors to have some bambi moments. I wanted to go but time didn't permit.
On a whole, the Oriental Village is a worthwhile attraction to check out. It has a down-to-earth, unpretentious air with no signages to restrict your interaction with it. In Singapore, we're so used to parks having multiple signs saying "Please do not this" and "Please do not that".
Come here and feel free to explore!