This entry title says it all. Langkawi offers a good balance of both blue activities (seaside respite, snorkelling, diving) and green fun (mountain trekking, forest adventures, eco tours)! In this entry, we'll go on a day trip to Pulau Payar and get the adrenalin pumping at Mardi Agrotechnology Park.
Although these 2 attractions are put together in one post, we did them on 2 different days. The agropark is located on Langkawi island itself while Pulau Payar is an hour's boat ride offshore.
Out of the Blue - Pulau Payar Day Trip
While the coasts of Langkawi offer smooth beaches and clean waters, to really appreciate the transparent quality of the Andaman Sea, nothing beats a visit to the virgin sand and surf of its surrounding islands.
Tour operators offer day trips to a couple of the islands but the most popular and perhaps best developed for tourism would be Pulau Payar.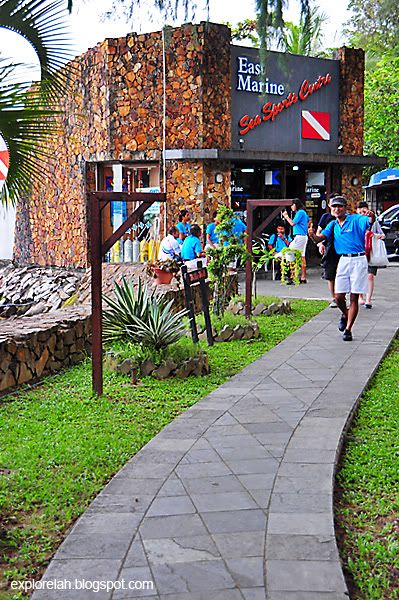 We took the Pulau Payar day trip with East Marine Holidays. Address : Royal Langkawi Yacht Club, Jalan Dato Syed Omar, 07000 Langkawi. Tel : 604 9663966, 604 9665805.
The East Marine day excursion lasts from 9.30 am to 4.00 pm. Cost is RM250 per adult and RM230 per child. If you're a certified diver and would like to go diving at Pulau Payar or would like to take an Introductory Dive Course for Beginners, your ticket rate would be RM350 per adult.
The package includes snorkel gear, life jacket and lunch, which in my opinion, was pretty yummy. Loved the pieces of fried chicken breast meat and the olive oil with herb penne. A taste of Italian in the tropics.
Click here
to visit East Marine Hoildays website for info and bookings.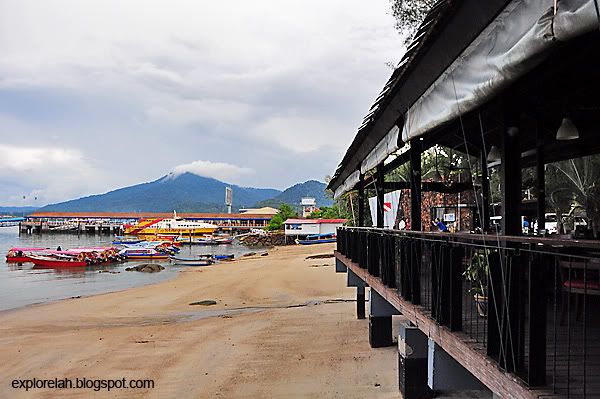 Located at the Royal Langkawi Yacht Club which is near Kuah Town, East Marine has the advantage of offering a nice cafe by the marina to host guests while waiting for departure.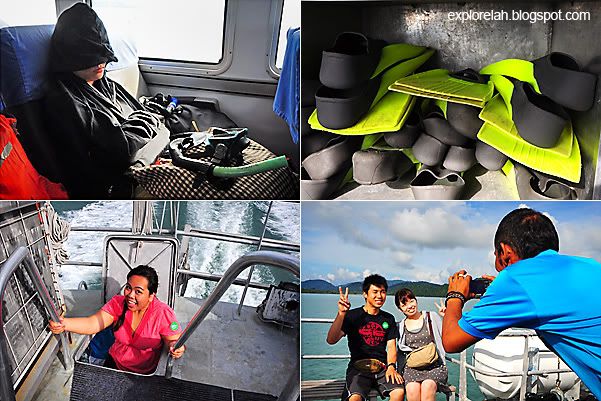 The boat is a mid-size double-decked vessel with air-conditioning and we can go on the upper open deck. Germaine was all cocooned up to recharge while Hasni painted the open blue with a dash of cheerful fuschia.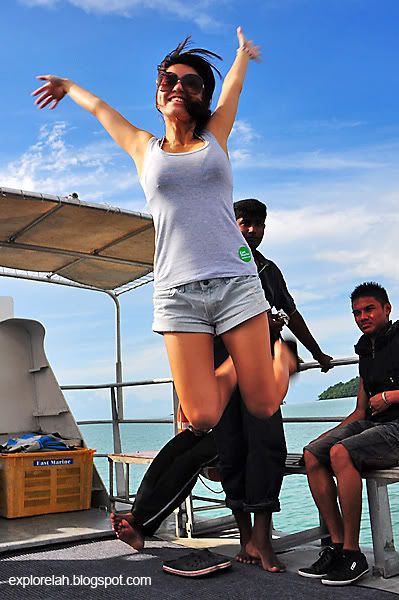 Tinkerbell does her rendition of the Langkawi eagle.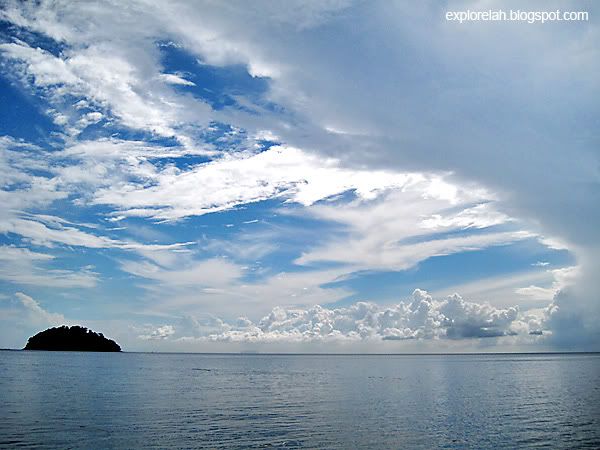 18 Sep 2011, 10:30am... Gorgeous blue sky. It's a pity that didn't last for we were pelted by quite a storm at around 1:30pm.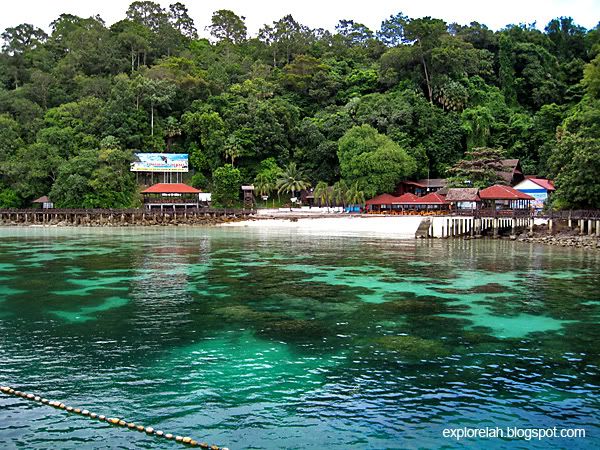 Shaped like a first trimester dog fetus, Pulau Payar is Malaysia's first and oldest marine park with teeming fish life very close to shore.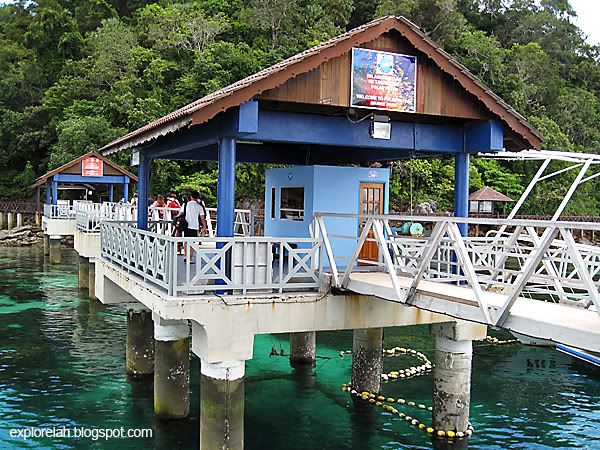 Love the glass clear aquamarine waters! It's like walking on a liquid sheet of emeralds.
It was low tide when we arrived so I was able to go down to the rocky shoreline for this shot. When the tide comes in, this area will be flooded.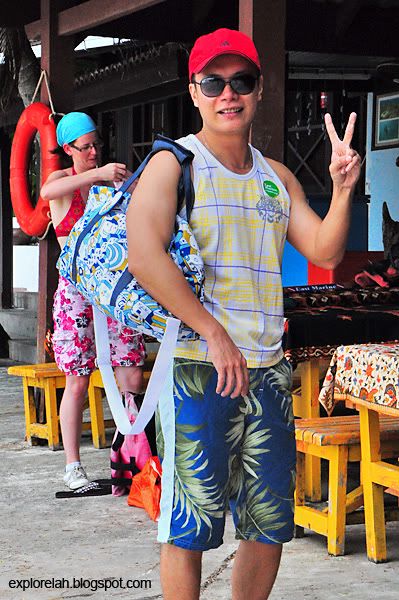 What's she doing behind my Zuji.com beach bag?! I don't blame her coz the bag designed by Singapore's hippest pop art designer, Soh Ee Shaun is just so delectably stylish!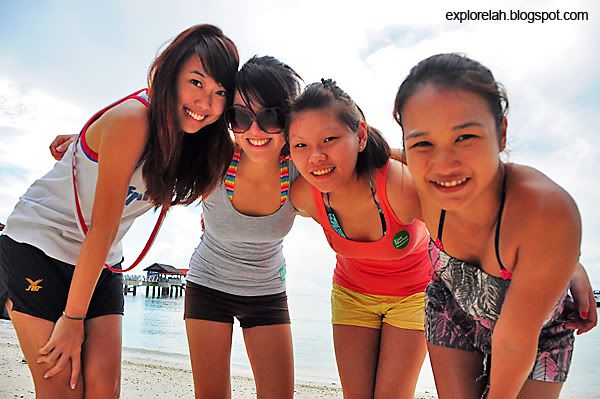 These hot babes made my camera extremely happy! Left to right : Ivy, Stephanie, Germaine and Joanne. Singapore's very own 四美 (four beauties) on Payar beach... *sizzle*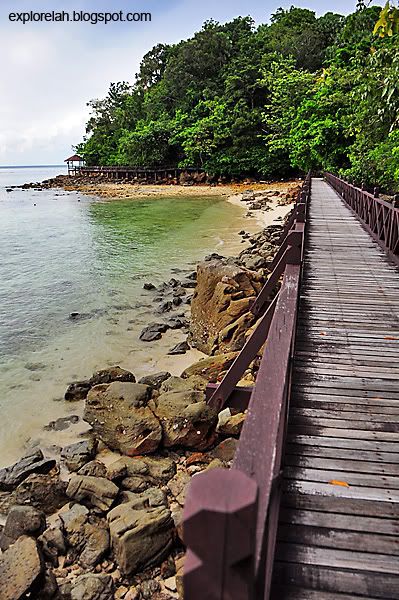 To both sides of the beach are planked alleys for taking a leisurely stroll and drinking in the islandic allure.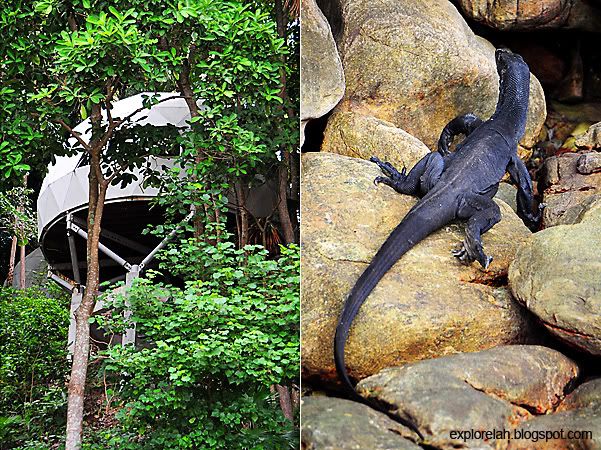 Came across some pretty impressive domes amongst the hill forest. I was told that they are the lodging capsules of a resort project which got abandoned. Very wasted coz the seafront development looks really interesting. Also saw a huge unbanded, saltwater dwelling Malayan Monitor Lizard. Only managed to capture one shot as it waded into its burrow when I moved closer.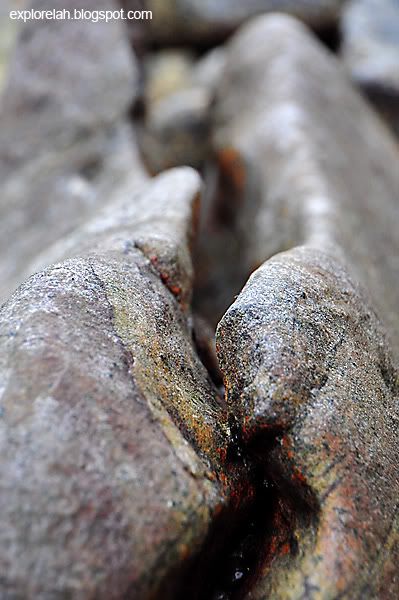 Saw many rocks hand-carved by nature. I wonder how this piece got a sunken valley and design like that.
Lots of crabs scurrying on the rocky surfaces. First time I saw live crabs in the wild with such intricate shell markings and colours. Sangat cantik!
My top Pulau Payar thrill would be encountering baby Black Tip Sharks swimming so close to shore. Managed to swim with one of them for a while (see video at the end of post) and it's kinda surreal. They are pretty harmless and don't attack humans, which is what I can't say about these pesky smaller fish that do bite (see in video too). One of them took a nib of my right calf and it bled. If only I can catch that bugger and BBQ it!
Baby Black Tip Sharks can be easily spotted circling Pulau Payar's coastal waters. A Korean lady tried to feed them a month ago prior to our visit and lost her thumb.
Tour operators used to hold feeding sessions of the sharks to amuse tourists but that has stopped. It is dangerous for the feeder and the sharks get so accustomed, they start coming towards people's hands when they are the water. Yikes! Talk about finger food.
Unforgettable too was snorkelling in the open seas off Pulau Payar and saw a massive puffer fish, colonies of neon blue soft corals, a giant rock garoupa that I almost missed because it was so well camouflaged, and a pair of big conch shells in their natural habitat.
It was a pity that the sky grew grey during our snorkel escapade and visibility was poor. We were caught in the storm and the sea got really choppy so it was rather unnerving to be floating in the middle of nowhere for 45 minutes. And it was so, so cold when we boarded the diving boat which was more of a floating platform with a propellor!
Despite the stormy weather at the later half of our day trip, or maybe beause of it, Pulau Payar has offered me a snorkelling experience quite different from previous islandic tours I've gone on. Plus the East Marine staff were friendly and attentive, and that made my exploration truly fabuloustica!
Into the Green - Agropark Forest Adventure
Getting out of the Pulau Payar blue, now let's go
orh yee orh
at Agropark Adventure Camp within Mardi Langkawi Agrotechnology Park. This adventure is definitely not for the faint hearted!
Address : Jalan Padang Goang, Lubuk Semilang, 07000 Langkawi. Tel : 604 9532550, 604 9532551. Opening hours : 9:00am - 5:00pm Saturdays to Thursdays (closed on Fridays).
I'm not kidding. It takes some guts to conquer the obstacle courses which costs a very affordable RM40.00 per adult and RM30.00 per child.
Click here
to book the treetop adventure which seems to be solely marketed by Golden Eagle Travel & Tours.
As our only objective here was to experience the adventure course, we did not get a chance to browse the well-kept agropark which looked rather nice.
Click here
to find out more about the park.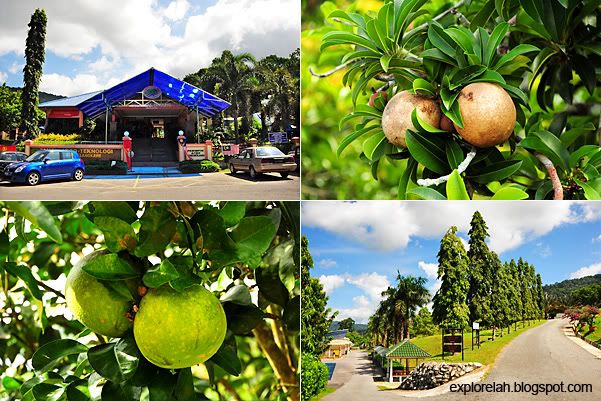 Some shots I managed to put in the memory card during our shot visit. Saw this comical chiku tree that bore 2 fruits with a branch sticking out. Kinda like a smiley face don't you think? I always thought pomelos grow on the ground like watermelons since they are so heavy, but the park showed me that they grow on trees!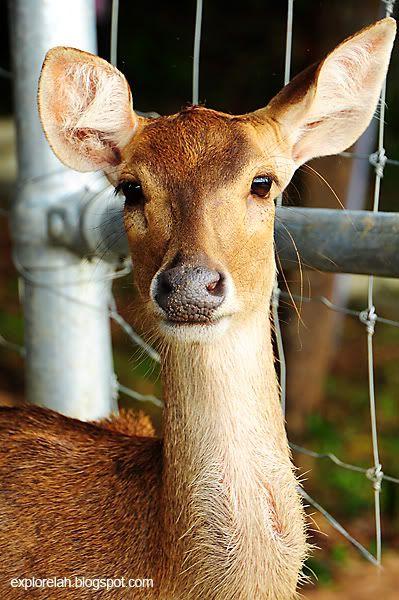 This deer is such a dear for being such a cooperative photographic subject.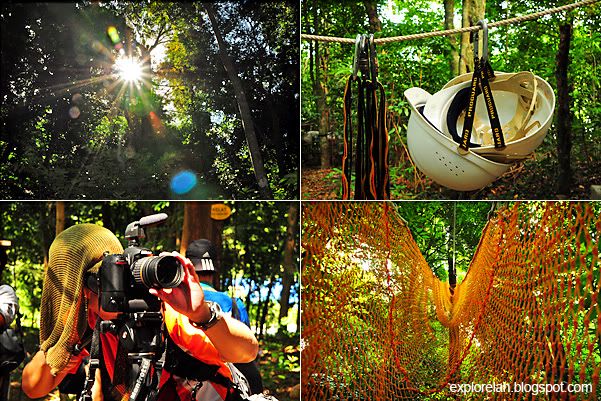 After a safety briefing, our high strung adventure over the forest's canopy awaits!
The forest adventure comprises 4 challenging courses - climbing up a Burma Bridge, crossing a thin strip of zig-zag plank, traversing on a tight rope known as the Postman's Walk, and zipping through the forest as a Flying Fox!
Be prepared to sweat. A lot.
Here are some tips to help you make the most of your treetop rendezvous and remember to wear insect repellent or better yet, come all covered up to avoid beoming a mozzies' restaurant...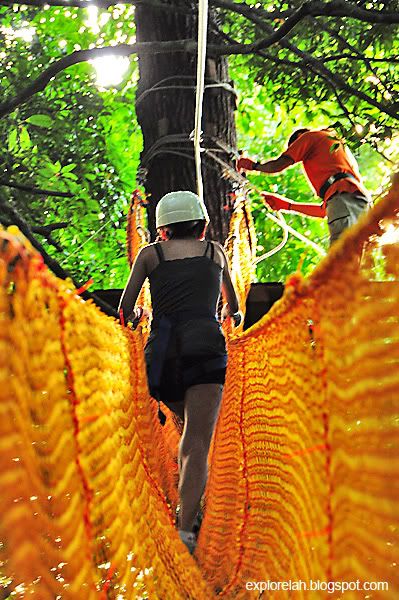 The Burma Bridge is a nylon net that connects the forest floor to a platform 10m above ground. This is the least difficult of all the courses and the trick is to keep your body upright at 90 degrees to make the climb easy.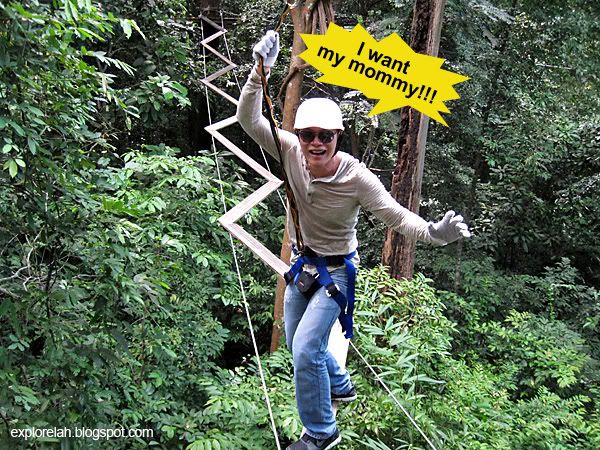 Next course is the Crazy Stepped Ladder. The name is very apt. One must be crazy to cross this skinny strip of wood that's smaller than the width of the foot!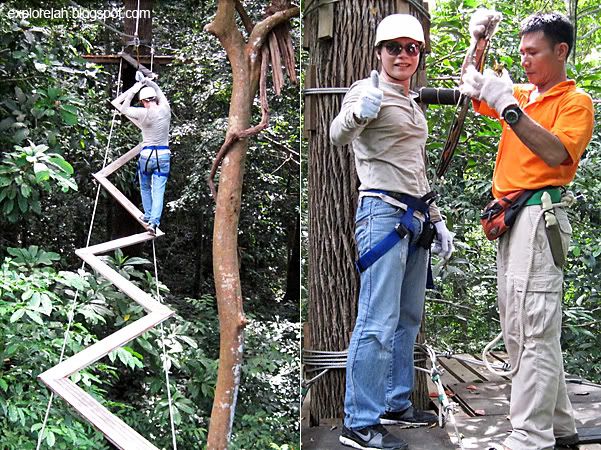 Tips to clear this challenge : 1) Stop legs from trembling. 2) Stop hands from shivering. 3) Pray.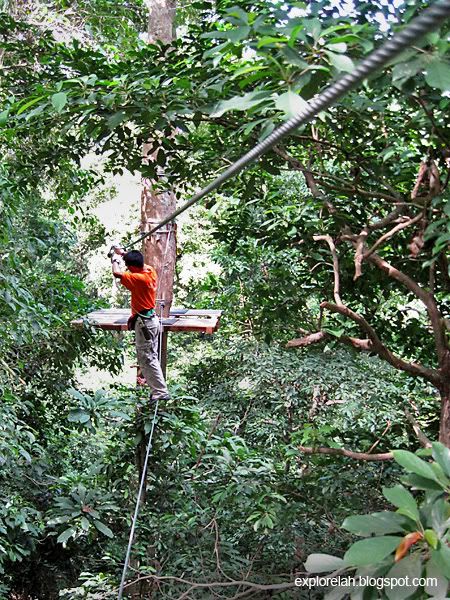 If you thought the ladder was crazy, the third challenge, the Postman's Walk was even more insane! We had to cross this tight rope and three-quarters of the way, we had to flip our bodies around and face the opposite direction. All while in mid-air. Tips to negotiate this course is as above. Except this time, pray harder!
After making it still in one piece, we arrived at the last course, a 10m slide through the forest. This activity is called the Flying Fox. I wonder if they should call it the Flying Elephant now that my fat ass has gone on it? Tip to conquer this obstacle : Don't think, just leap.
My fun-o-meter measurement went off the scale! First time on the Flying Fox and it's so thrilling! But it was over pretty quickly. I overshot the black tyre used to halt our slide down by a lot. I could smell the burnt of the rubber. Was that nature's way of telling me to lose weight?!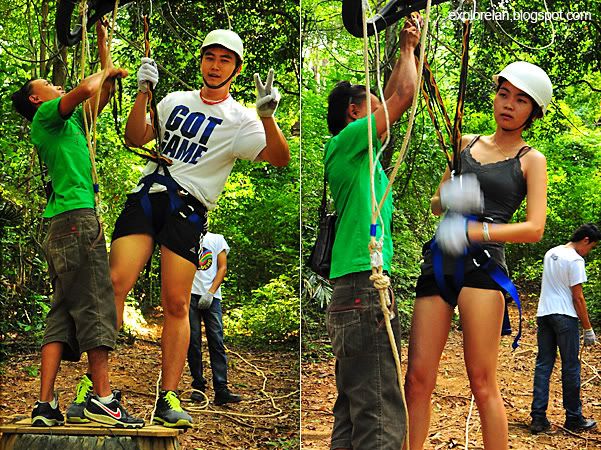 Jonathan confessed that he has a mild fear of heights but he overcame that and completed the whole course. Bravo! Brenda seem a little distraught in the photo but don't let that look fool you. She promptly went through the whole course again and did the Flying Fox a second time. Ironwoman or what?!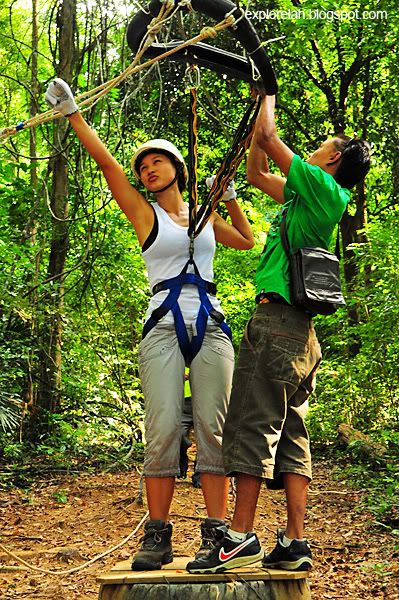 Best Flying Fox pose goes to Joanne who also went on the course a second time. I'm in the company of many steel magnolias on this trip.
From the photos, the Agropark Adventure may seem nerve wrecking. It is. Maybe because I'm sort of a wuss. For others, this could be just water off a duck's back. I thought the course would be some weak contraptions that would not raise the heartbeat above a morgue.
But of course, I was very far mistaken. It totally was a blast!