Date of Exploration :
13 Sep 2013
My fourth day in Korea was patted by rain but the temperature was just the right degree of cool. I could check out the vicinity around our hotel in a light t-shirt and shorts. I found out later that autumn in Korea arrived late this season which disappointed me somewhat as I was looking forward to see rows of trees turning amber or a mountain canopy of warm tones.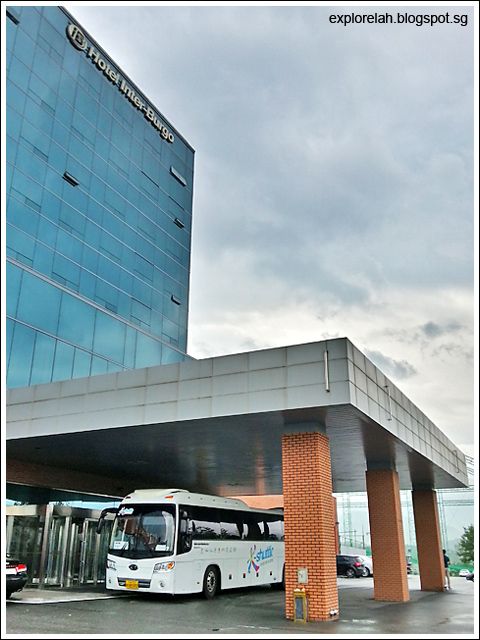 Our K-Shuttle bus was ever on time for pick-up and departure to embark on another day of fun-filled sightseeing.
Despite the gloomy weather and rain, I anticipated the day's tour itinerary as we were slated to visit the site of the 2018 Winter Olympics in
Pyeongchang
, the culturally-rich
Gangneung
, and ascending the majestic Seoraksan in
Sokcho
before arriving in Seoul.
Bidding farewell to our Spanish-influenced accommodation for the previous night, Hotel Inter-Burgo (whose name holds an affiliation to 'happy family'), we rode for about 1.5 hours to reach...
Pyeongchang is a county within the Taebaek Mountain region of Gangwon province. It is adored for its ice-capped mountains during winter, thus Pyeongchang is also christened the 'Alps of Korea'. While the county is home to several notable temples such as Woljeongsa, Pyeongchang has more recently garnered interest and fame as the site for the Winter Olympics in 2018.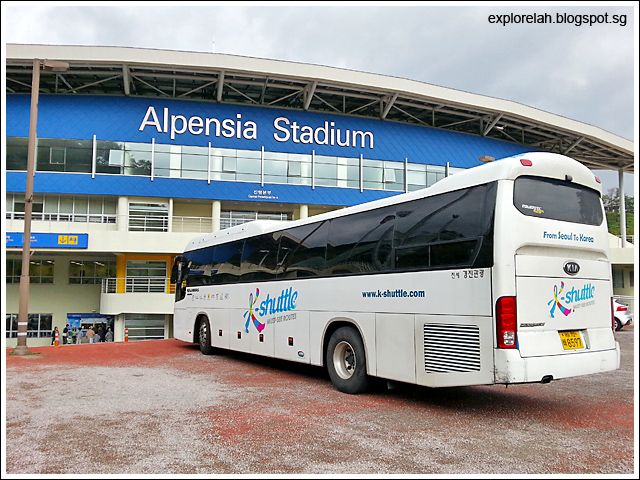 With playing host to the 2013 World Winter Games of the Special Olympics under its belt, Pyeongchang is gearing up for the 2018 Winter Olympics with a furry of construction activities for hotels and sporting venues. A ski town known as Alpensia Resort with a practice stadium (pictured here) are already in operation and expansion to cater for the games.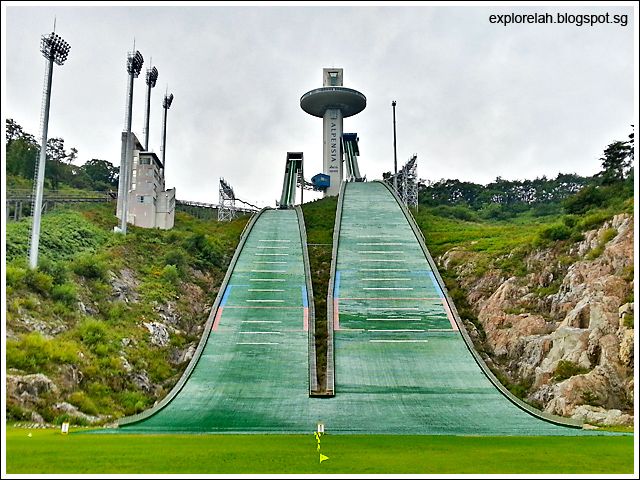 Ski jump tower and slopes at the Alpensia Stadium.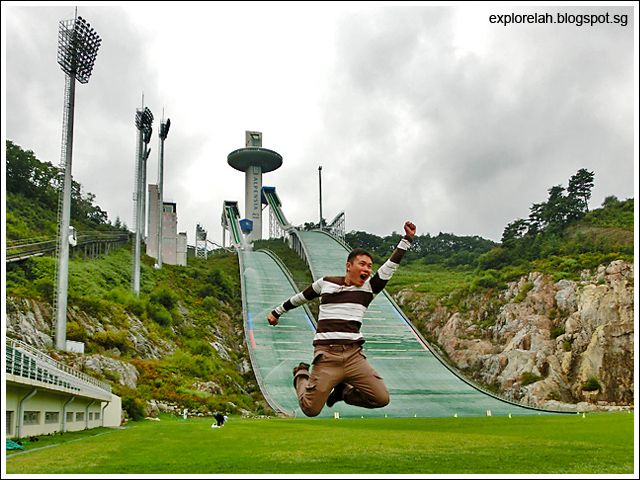 I've never skied before so pretending that I've just done an Olympian jump at ground zero of the upcoming games... and pretending I've won Olympic Gold in the video below! LOL...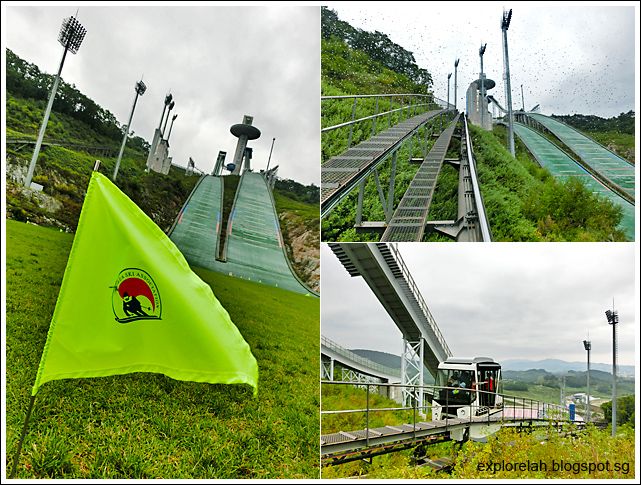 To feel the heartbeat of athletes at the Games, we took a monorail ride up to the ski jump tower where the leap off points are located.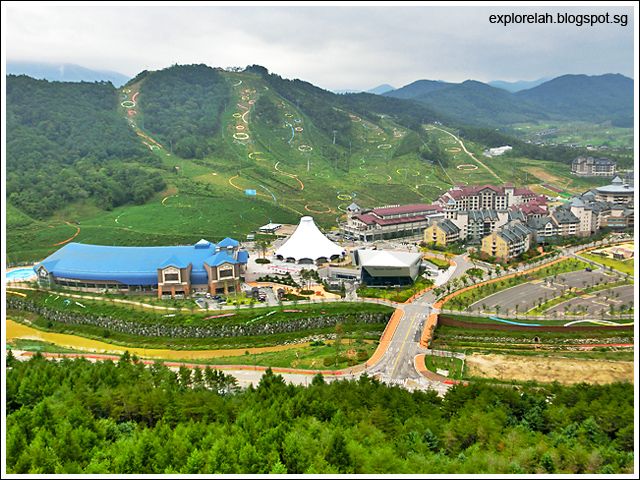 The upslope ride took less than 5 minutes and we transferred to a lift up the tower. Atop a hill and 69 feet up in the tower, we got an aerial view of the Alpensia ski resort as well as the bountiful mountainscape of Pyeongchang.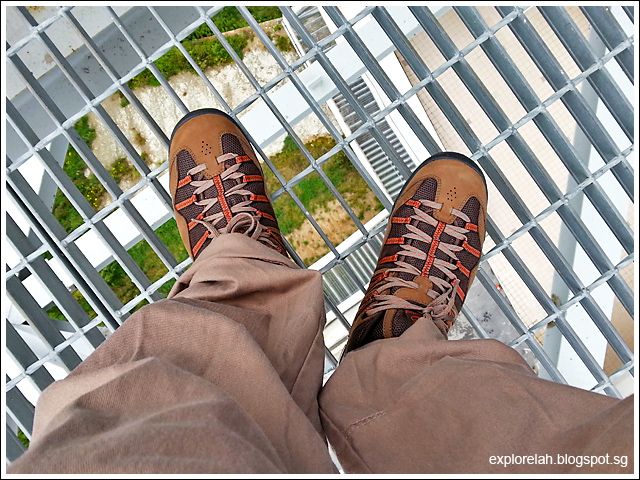 The grilled pavement leading from the ski tower to the jump off point is see-through! My knees got a little jellied especially since the grilles were a little slippery from the rain. Thankfully I brought my Timberland trekkers built with Gore-Tex, a breathable yet waterproof material to keep my feet dry on this trip. The shoe's grip on the wet metal surface was pretty good too. Phew!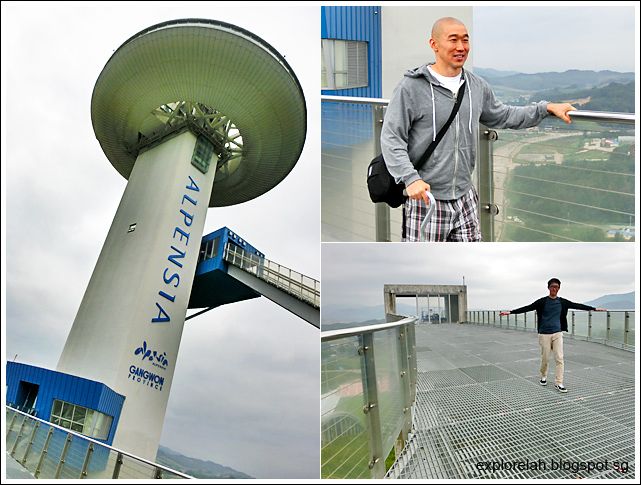 Samuel had to overcome his fear of heights to get to the leap off point while Jonathan soared with the elevation.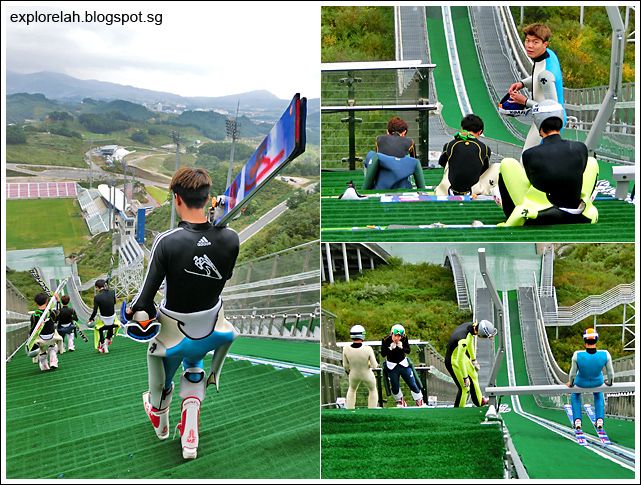 Ski jumpers were in training during our visit and we got to see these daredevils in action!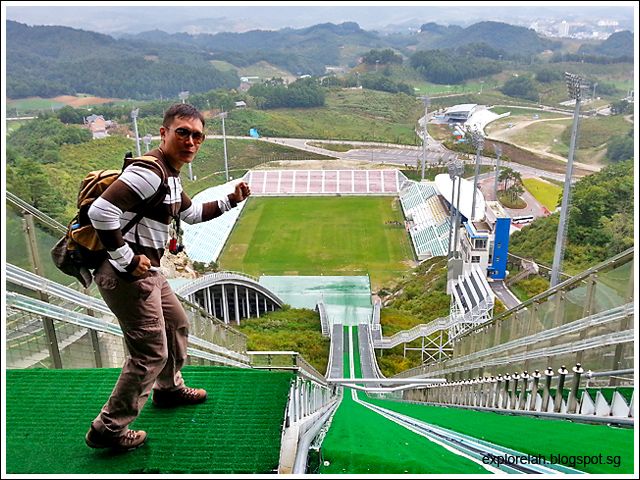 It's a long way down if I missed a step. I don't know how the ski jumpers can conquer the leap.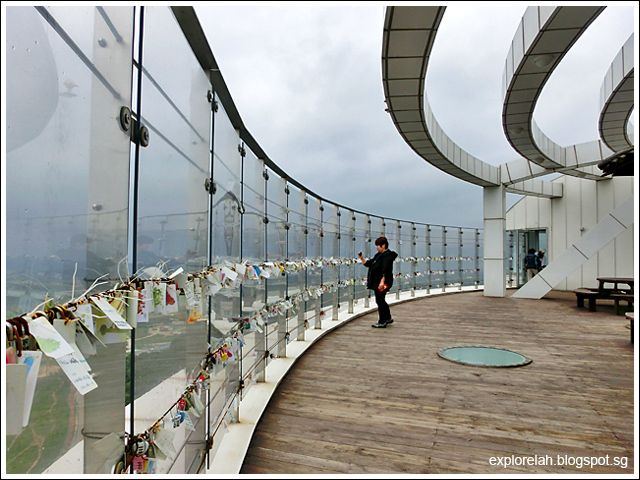 A few floors up from the jump off point is an observatory with its circumference lined with love notes. Makes the single heart feel even lonelier.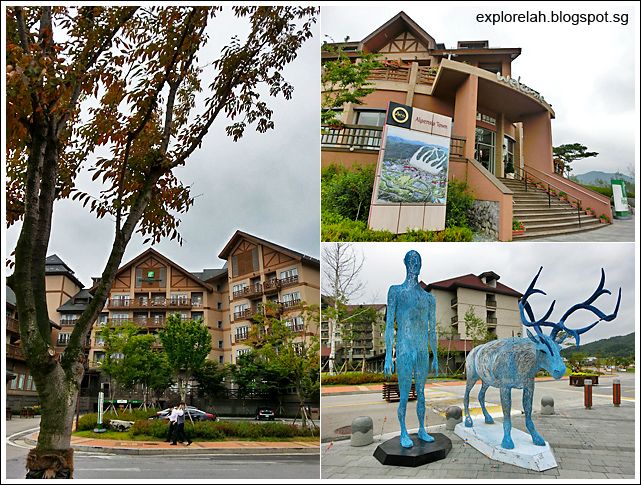 A cure for the mild dose of acrophobia was being back on the ground to take quick browse of Alpensia ski resort. I found the blue iceman and his reindeer rather amusing as they are hollow inside. Did the sculptor use a technique similar to paper mache?

The ski resort is a self-sufficient little village up in the mountains cut-off from urbanity yet not missing in modern comforts and amenities. I would love to stay here in winter to experience the snow and maybe go skiing!
Having gotten a behind-the-scene look at the place where history would be made, we got on K-Shuttle again for a 40-minute ride into...
An eastern coastal city in the South Korean province of Gangwon-do, Gangneung is the economic nerve center of the region which boost a number of popular tourist attractions and culturally significant architectural sites such as Ojukheon & Museum and Seongyojang.
Ojukheon & Museum
Our stop at Ojukehon & Museum was a extremely brief 30 minutes. We were given the option of enjoying this rest stop with a coffee break at one of the cafes next to the museum or paying the admission to the historical site. Due to the rush, I was torn between chillaxing with a cuppa or checking out Ojukheon. I decided on the latter. Except for speeding through the estate to snap some shots, I didn't have time to learn about its history at the in-house museum.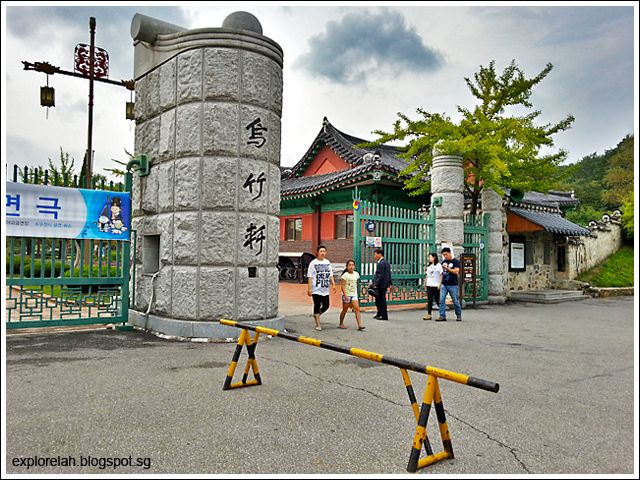 Entrance to Ojukheon & Museum. Entrance fee : W3,000 (adult).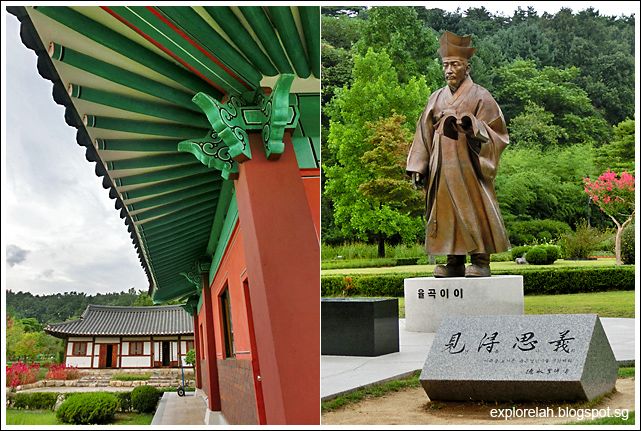 Ojukheon was so named from the many black bamboos in its surrounding and was the birthplace of Yulgok, a prominent scholar and politician during the Joseon Period. Yulgok's neo-Confucianism ideologies translated the spiritual, metaphysical philosophies of Confucianism and Taoism into more pragmatic applications in politics and secular life, which have since been woven into the fabric of Korean culture and society.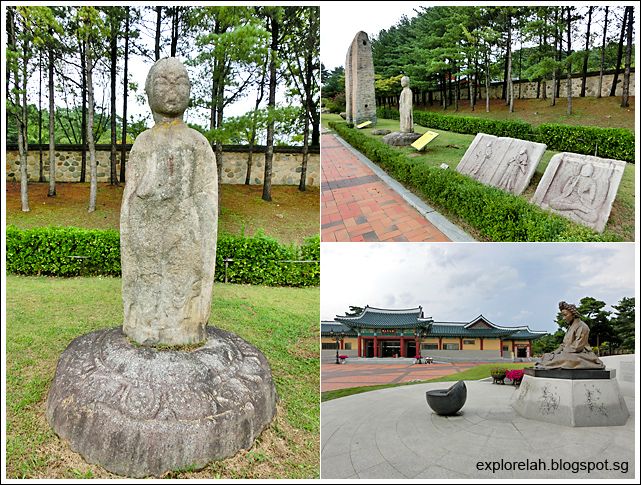 Within the compound of Ojukheon sits a small garden of stone artefacts salvaged from a temple that has been destroyed. The architectural remnants are listed under the Korean Cultural Property collection for their designs are representative styles of the Silla Kingdom (57 BC - 935 AD) and its successor, the Goryeo Dynasty (918 - 1392). Although badly defaced, I felt that the standing Buddha (or what's left of it) emanated some kind of energy.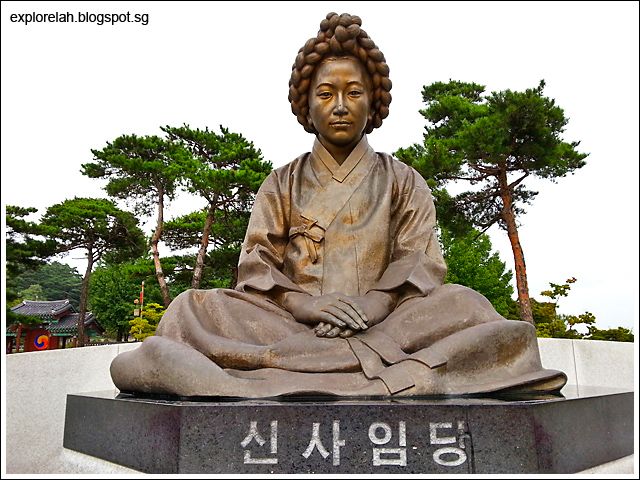 Ojukheon is also the hometown of another highly-respected figure during the Korean dynastic era of Joseon...Shin Saimdang, mother of Yulgok. The acclaimed painter and calligraphist who also excelled in poetry and embroidery is considered to be an embodiment of various Confucian philosophies such as kindness, gentleness and filial piety. Her artistic achievements and virtuous nature made her a model for Korean women and the face on the W50,000 note.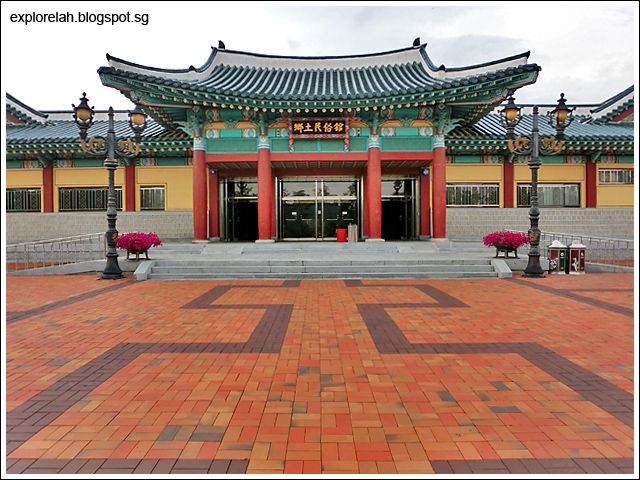 Various traditional houses with ornate sweeping roofs (roofs that arch slightly upwards at the corners; an architectural feature inherited from Chinese palaces, temples, and wealthy residences) within Ojukheon are converted into museums.
My flash visit of Ojukheon & Museum drenched my knitted top as I dashed from one point of interest to another, yet I didn't manage to cover everything. The estate isn't very big, but the buildings are pretty scattered. It would've been nice to get a little more time to spend here as not many of the heritage places we go to are homes to such prolific figures in Korean history.
Leaving Ojukheon, we arrived at a restaurant that specializes in Sundubu Jeongol (soft tofu hotpot) for lunch. I find it interesting that the dish emphasized the word 'soft'. Tofu is soft in the first place right?
While the hotpot simmered, we worked ourselves into the pretzel position for lunch. I can never get used to eating like this as my legs and butt cheeks kept falling asleep and go numb.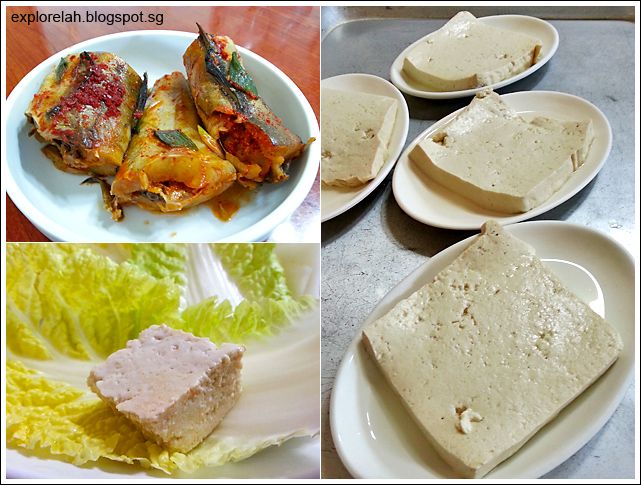 The emphasis on 'soft' was necessary as the tofu texture was softer than the tau kwa we have back in Singapore. I especially enjoy the beany and clean taste when eaten simply with a leaf of sweet cabbage. One of the bancans we were served included pieces of sardine which I felt was doing housework with my tongue.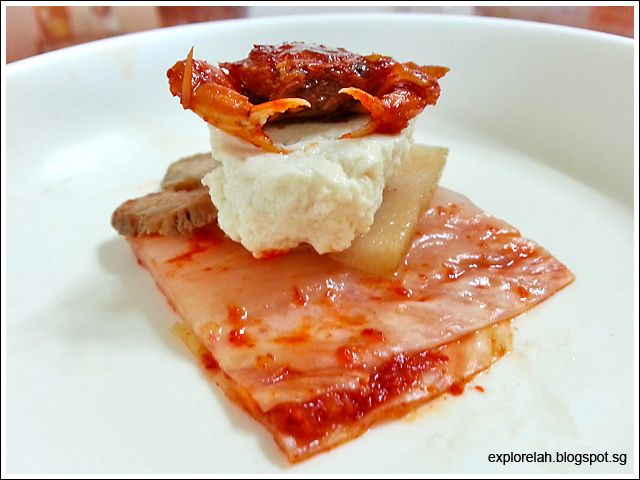 Another fave combination of mine was stacking the tofu in between kimchi, fatty pork and crab bancan. This combination of tofu softness, crispiness (from the crab), gamey flavor and chewy fibre was odd but rather divine. You can experiment with the bancans and main dishes to create your personal flavour.
Seongyojang
Done playing Lego with lunch, we took a short 15-minute ride to Seongyojang, an estate that exemplified the fine example of upper-class residences in the late Joseon Dynasty. Built in 1703 from the descendants of the royal household, the estate consists of separate men and women quarters, servants lodges, a library, and a pavilion.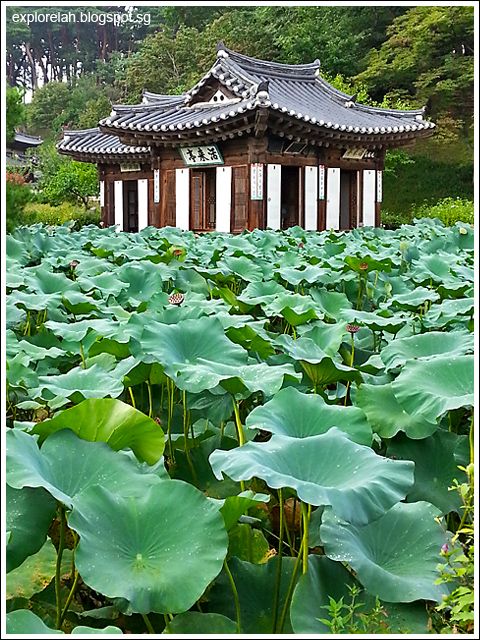 A

pavilion that seemed to float on a field of lotus leaves welcomed us into Seongyojang. Can you imagine the sight when the lotuses are in full bloom?
Sitting inside the pavilion and looking out over the lotus pond is like residing inside a poem.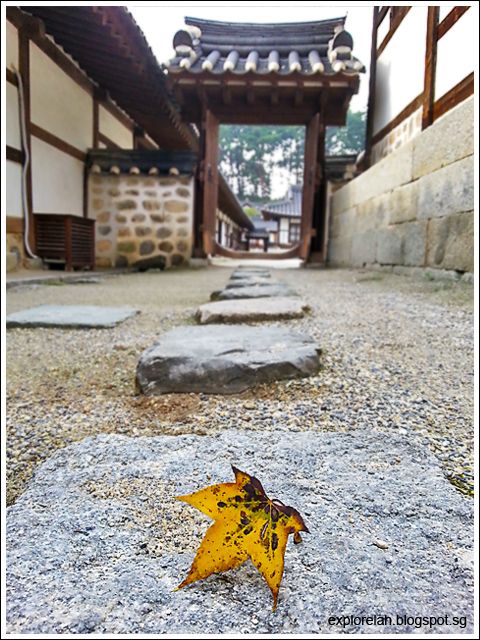 Since autumn wasn't in full swing during my visit, I contented with this speckle of yellow to herald the changing of seasonal colours.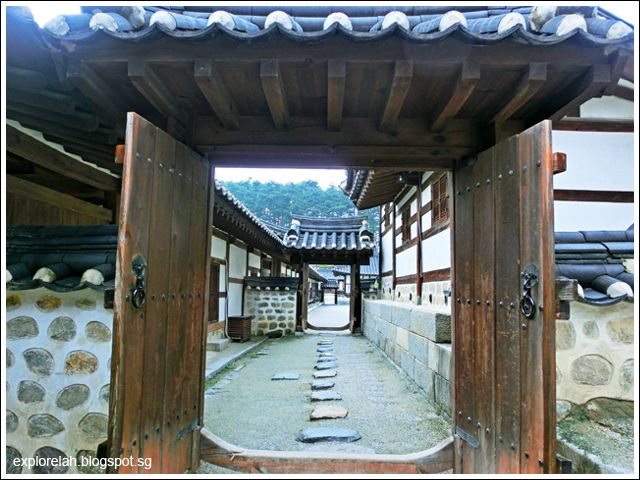 Impeccably maintained for over 300 years, Seongyojang is honoured with a nod into the Important Folklore Cultural Properties of Korea list in 1965.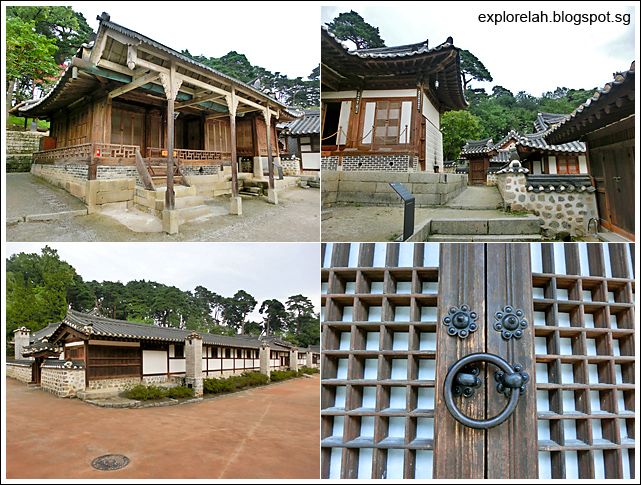 Seongyojang is revered as one of the best examples of Korea's premium traditional housing in the 20th century.
I rather enjoyed the earthy brown hues of Seongyojang, which was a break from the gregarious roof designs of the various temples and wealthy abodes I've visited so far.
After being given ample time to explore Seongyojang, we hopped on the K-Shuttle bus again for a 1.5 hours shuttle to...
The attraction that dominates over all other sights at Sokcho is Seoraksan (Mount Seorak). The highest mountain in the Taebaek mountain range (which is considered to be the backbone of South Korea), Seoraksan boasts one of Korea's most beautiful autumn spectacle with foliage of varying hues dressing the season.
Not limited by its beauty in autumn, Seoraksan is an all-season attraction as it offers various scenic treks that lead to picturesque temples, dramatic waterfalls and stunning geological formations.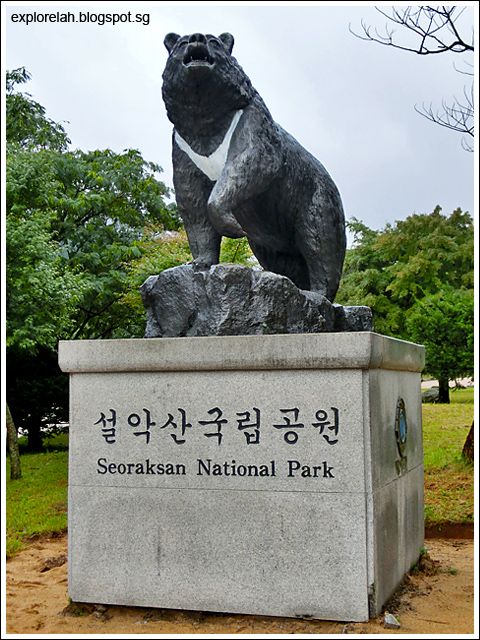 The entrance to Seoraksan was guarded by this Black Sun Bear immortalised in a silent call of the wild.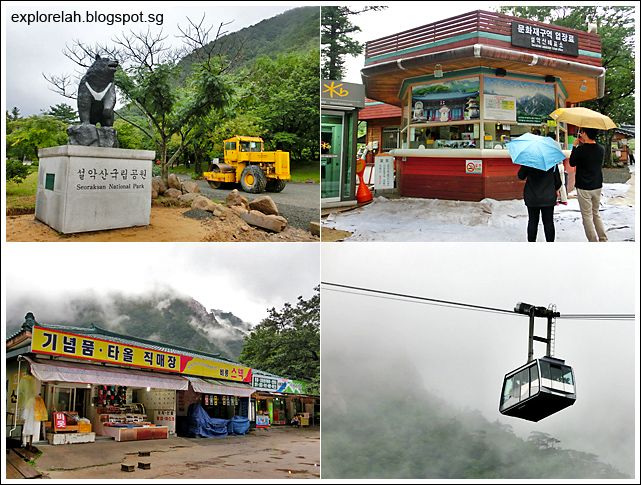 Instead of trekking up Seoraksan, a quicker way would be via the cable car service.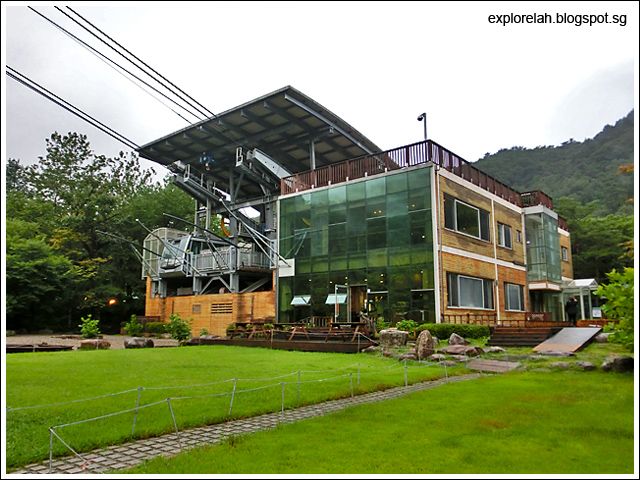 Cable car station at Seoraksan.
Cute moment... Lesley, Eunice and Jonathon praying playing with their phone cameras for a shot before riding the cable car up the mountain. Love the red penguin casing!
A peek of the mountainside before reaching the peak.
No, he's not a Korean monk but fellow K-Shuttle traveller Samuel who's touring his home country with his mum. He's an American-born Korean who's a fitness fanatic. He unfortunately tore the ligament in his left knee and just had surgery. But that didn't stop him from going the distance with his mum so that they could visit his ailing grandmother. So filial! And he's my drinking buddy on the trip. Muahahaha...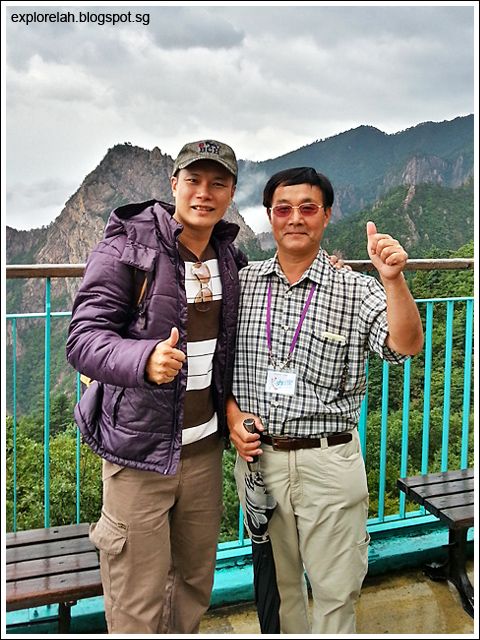 Here with our English-speaking K-Shuttle tour guide Mr Kim who's ever so friendly and attentive to the needs of passengers. During lunch when the restaurant's staff were overwhelmed, Mr Kim helped served food to everyone so that we don't have to hunger for long. Along the ride, he introduced the highlights of upcoming attractions although his Korean accented English needed some getting used to.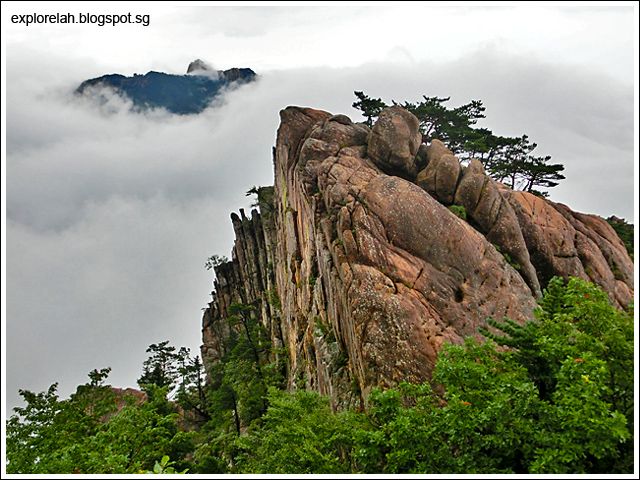 It was a foggy day during our visit. The sea of clouds concealed and revealed the peaks and cliffs of Seoraksan in a peek-a-boo game with visitors.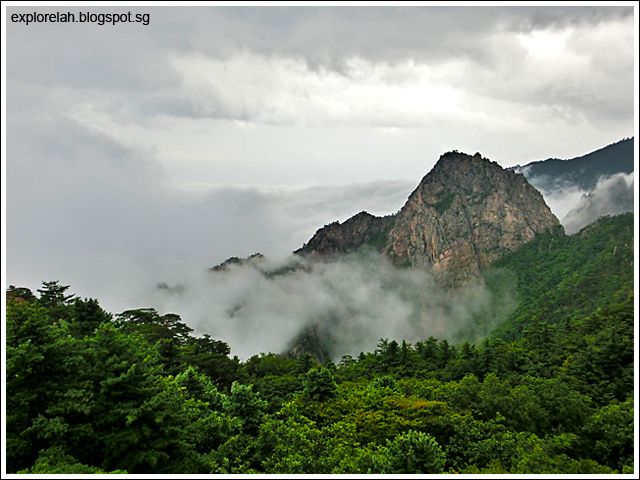 The mountainous carpet had yet to be dyed with the colours of autumn but that doesn't make Seoraksan any less alluring. With the mist constantly on the move, the scenery changes every few seconds from one of mystery to that of majesty.
I looked forward to some trekking action on Seoraksan to test out my Timberland trekkers but our visit was limited to the viewing platforms around the cable car station. Still I found a natural piece of rocky slope to confirm the superior anti-slip grip of my rugged walkers.
Waving adieu to Seoraksan, we embarked on a 4-hour drive into Seoul where we concluded our 3D2N K-Shuttle tour. Touring Korea with K-Shuttle really simplified the research and coordination work needed to ensure a smooth sailing vacation to see the popular but harder to get to attractions in Gyeongju, Andong, Pyeongchang, Gangneung and Sokcho.
When I decided to join the K-Shuttle tour, the first Korean question I seek out was "hwajiangshilee awdiyeyo", which means "where is the toilet?". Having gone through some long-haul bus tours where I have to hold in a full bladder and sometimes major load of digested meals, I'm paranoid about coach rides that test the breaking point of my holding capacity. But K-Shuttle makes well-spaced stops for toilet breaks and the driver was even willing to go off course for an emergency answer to nature's call.
Of all the attractions that K-Shuttle brought us to, my favourites were Bulguksa Temple (Gyeongju) and Seoraksan (Sokcho). The hotels that K-Shuttle checked us into were not shabby stays and the places that we were brought to for lunches and dinners showcased an interesting variation in authentic Korean cuisines (except for breakfast, other meals are not included in the K-Shuttle package).
To ease the planning of a free-and-easy holiday to Korea, a reliable trip planner could be
CTC Holidays
where they can help customise and advise on how to tailor your vacation with K-Shuttle to make sure you see as much as you want, or take it as easy as you please.
This post has been made possible by
Korea Tourism Organisation Singapore
and
K-Shuttle
.
Sole companion : Timberland.