It was 10:30 pm on Saturday, 24 July 2010… The night I met the rose of shopping districts in Hong Kong. And realized what sharp thorns it has.
After the sensory buffet onboard The Bounty, Sze Ping, Lawrence and I headed down to Mong Kok for some shopping. I wanted to go to this particular complex which houses a beehive of novelty shops selling apparels, accessories, bags and knick-knacks of all kinds.
I chanced upon it in my last visit to Hong Kong two years ago so I had only a sketchy idea of its location. I remembered it was along Fa Yuen Street (花园街), which is near to the famous Ladies' Market. But with so many shops and buildings packed together like carpet grass, it was hard to spot the damselfly amongst the dragonflies.
We couldn't find the complex and ended up at the Ladies' Market instead. Running the section of Tung Choi Street (通菜街) that is between Argyle Street and Dundas Street, the open-air market is a well-known hunting ground for bargains. It is also a great place to shop for insults.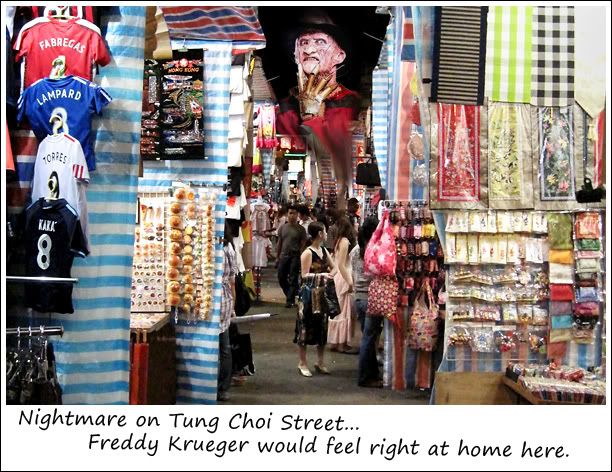 Open daily from noon till around 11:00 pm, Ladies' Market is notorious for having stallholders with some of the most acidic tongues! I've learnt about these street vendors from hell through online sources and accounts by friends, but nothing beats experiencing it firsthand.
Here're some incidences of what I witnessed in my less than half an hour walk there…
(Scenario 1: In the midst of price haggling)
Tourist :
HK$100 and I'll buy from you.
Vendor :
Go away, go away! If you can find HK$100, you buy from there! Zhan hai suey, yu dou dee ko-ong gwai (Such bad luck to meet this poor demon).
(Scenario 2 : After some haggling, non-Chinese tourists decided not to take up the vendor's price counter-offer and started to walk away. Vendor called them back.)
Vendor :
Okay, okay, that price okay. Ji-in yarn (Cheapskates).
Tourists :
Good. Thank you.
Have you learnt those Cantonese names for "poor demon" and "cheapskate" yet? I bet if I stayed there longer, I could pick up more phrases to share with you!
I had a personal encounter of these rude behaviours too. I walked past a stall and saw those bendy toys where you can twist to form certain shapes. In my early teens, I used to keep one of those on hand and always try to think of different shapes to form with it. Yet no matter what shaped I formed, I was twist it back to my favourite shape… that of a cross.
Having met that 'old friend', I couldn't help but took out my camera to snap a photo before asking the price. The photo didn't turn out well so I aimed my camera again. The stall-owner promptly came over, told me to stop taking photos and waved his hand in front of my cam to spoil the shot. Felt like I was a fly being shoo-ed off. Well, that's good in a way, helped me save the money I was going to spend. Heh heh…
Yet, the name-calling and photo disturbances were mild compared to what one tourist experienced. The vendor physically blocked the way to stop that person from leaving the stall. I find that both shocking and amusing.
Bullying should not be tolerated. I'm appalled by that act of intimidation, but at the same time, I'm amused to find that such plain disregard of mutual respect existed. In a developed place like Hong Kong.
For the most part, my encounters with Hong Kongers during the trip have been very pleasant ones. So those bad eggs presented themselves as an anomaly and became a stark contrast for me.
So here're some observations for shopping at Ladies' Market… Just smile and walk away if things are getting venomous because you can always find a friendlier stall that sells almost the same things. It is best not to take the rudeness personally.
If you bargain, do so only if you really want to buy that item and you can slash the price by as much as 50% and let the negotiating start. If the price isn't right, walk away and sometimes, the vendors will relent. If they don't, then just be prepared to learn some 'colourful' use of the Cantonese language! :D
For more photos, please visit my album
A Lingering Fragrance
.