I commemorated 08/08/08 with yet another KL escapade. Well, actually, it's not much of an escapade since this is the umpteenth time I've been there doing much the same things, just at slightly different locations. I had decided to make the trip mainly as a celebration of sorts for Eugene, and partly also because I wanted a vacation and going anywhere that required flying is too expensive nowadays. But I think I majorly overspent this holiday.
Darn of all darns, I fell sick before the trip and my nose ran all the way from Singapore to KL and back, all 4 days 3 nights. So with shopping bags in one hand, and tissue sheets in the other, I sneezed and signed my way through the malls and clubs of KL. I think my credit card caught my flu too 'coz it left trails of blue (sometimes black) mucus on countless receipts and bills.




TRAVEL FACTS :
Transport :
RM200 (S$85.10)
3 of us took a friend's car and it worked out to be RM100 per person each way for petrol and toll charges. We fed the car 3 times (petrol cost : RM138 + RM74 + RM100) and had to pay 3 tolls along the way (S$4.90 + RM$40.80 + RM10.80).
Travel Time :
Depart SGP (9.00am) → Arrive KL (12.30pm)
Depart KL (2.00pm) → Arrive SGP (7.30pm; traffic jam at Singapore Tuas Customs)
There are 2 lanes designated for private cars for entry into Singapore. However, many will cut the queue from the 3rd lane meant for lorries and buses. Our car was in the 2nd lane so we had to constantly keep close to the vehicle in front to stop any car from eating into our queue. For the law-abiding, the best lane to be in is the 1st lane (rightmost lane) as you don't have to deal with those road sharks. Trying to fend off these cheaters caused us to get into a minor accident. No big deal, just a few scratches near the front left-tyre cavity.
Accommodation :
8 – 9 Aug – Replica Inn Bukit Bintang, RM172 (SS73.20 per person for 2 nights)
11 Aug – Imperial Hotel, KL (Formerly known as Sheraton Imperial), US$30 (S$50 per night)
Replica Inn
is a standard budget hotel with just the basics (no pool, no gym, no fridge, no safe deposit, no restaurant or room service). The room is clean with a huge bathroom that is fuss-free in its design. The location is really great as it's at one end of the popular food street, Jalan Alor, and just across from Bukit Bintang Plaza. But it can get a bit dusty and noisy since its right at the heart of action.
Imperial Hotel
is what luxury is all about. I'm so used to budget travelling that anything with just a splash of color on the room's wall would make me see multiple stars. My friend redeemed some of his mileage points so we paid only US$30 a night for the room. I don't know what the rack rate is but staying on the 35th floor with such a great view, I would imagine the original price to be equally eye-popping.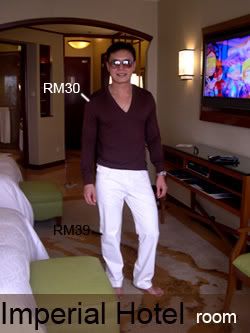 Everything is perfect about this hotel. The room is gorgeous with a contemporary oriental design; the bathroom is well-mirrored (a great place to get romantic, if you know what I mean…); the gym doesn't make me feel like a hamster on a wheel, the pool is positioned along the path of the sun with comfy, cushioned deck chairs and tents; the lobby is grand with layers of cascading marble stairs; and I discovered the deep relaxation of hot-cold jacuzzi at its spa recess.
I've heard of the practice where one gets hydraulically massaged in a hot jac and then going immediately into an adjourning cold pool. Without a thought, I stuck my leg into the hot pool only to realize that that thing can make soup out of me (you see, I've only been to jacs no warmer than my pee so far). And when I played human thermometer at the cold pool, I thought of the Arctic. It's pure Nazi therapy. But I tried. As I slowly immersed myself in the hot jac, the heat sent serious goosebumps all over my body that's still out of water. But once my body got accustomed to the warmth, it was just like soaking in any normal jac. I boiled myself for about 10 minutes. I think the steam must've dissolved grey matter along with my tension for I did the unthinkable… I crossed over to the other side.
The water was ice-cold but I felt so comfortable in it. I think fried ice-creams must feel that way too, just reversed. The feeling was indescribable. Heat emanated from my body, cold peeling it away. It was calming, soothing, relaxing, relieving, refreshing, serene, tranquil, peaceful, lulling… ah… and I stretched out my legs. Then the cold bit me right away. Stay in one position and it felt nice. Move around, and pleasure became torture. So staying in one's comfort zone isn't always a bad thing. Well, at least until it starts getting uncomfortable.
Exchange Rate :
S$1.00 = RM2.37 (Fri. rate) – RM 2.32 (Sun. rate)
Travel Insurance :
S$28
Total Spent :
S$450 + S$75 + S$310 (Credit Card) + S$101.30 = S$936.30!!!!!
Whore Wallet
Gasp! I'm still reeling from having just calculated my total expenditure. My wallet is such a whore! Always opening its flat legs, ejaculating cash and credit card every store I walked into. *sigh* I told myself I won't shop much this trip because I still have 6 to 7 bags of new clothes I haven't worn from previous trips. The only consolation is that what I bought this trip are all radically different from the largely singlet and t-shirt ensembles I had accumulated. This time round I went more for casual shirts, jackets and pants.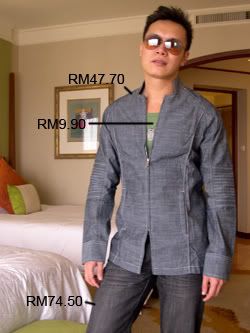 I succumb to sales easily and have this habit of storing new clothes and wearing them only after my old ones are worn out. Yet, I get so comfortable in those old garbs, I hardly throw any out. So I still have brand new clothes from previous purchases, some up to 3 years ago, still nicely folded and wrapped up in plastic bags. But I had given some out because I can't fit into them anymore. Those wretched cloth time-bombs, so unforgiving of age and a few extra pounds. So I better start wearing them soon or conduct a closet sale.
This trip to KL I discovered One Utama, another mega mall that's slightly further out from the city. Thanks to David who took us there or I wouldn't discover how loose my wallet was. But frankly, all the malls are infected by chain retailers and they carry similar products. It was just a matter of who has the right sizes or a slightly wider range. I'm quite a fan of the local brands Padini Authentics, PDI, and Seed. This time round I bought into Malaysian designers Key Ng and Michael Ong, mostly 'coz they were on sale. Key Ng's designs are very
wayang
and what female impersonators might wear on their days off, but his clothes are a nice fit for me. Initially I thought the designs were outlandish and didn't cast another look, but once I tried the more somber pieces on, my wallet opened its lips. Michael Ong is more understated and I bought 2 super low-neck long-sleeved pullovers. Don't know if I'll have the guts to wear them in Singapore though.
Silly Drunk Pics
The other large chunk of my travel budget went down in pisses. Drinking in KL is only slightly cheaper than in Singapore so with that minor discount at the back of my mind, I spent much more than I would on a night out back here. Here're some bar prices from the clubs we went to :
Absolut Vodka (0.75L) – RM300
Carlsberg beer (bottle) – RM20
Lychee Martini – RM30
Beer on tap (jug) – RM38.50 (happy hour), RM61 (after 1am)
Went to more or less the same places except for Ratkem Celap on Saturday night. This club was pretty obscure and rather out of the way. It looked like a bungalow converted into a party house with outdoor patios and a small, oblong dance floor, which was packed. Given that the door bitch had an attitude so grim, I wouldn't make the extra effort there next time.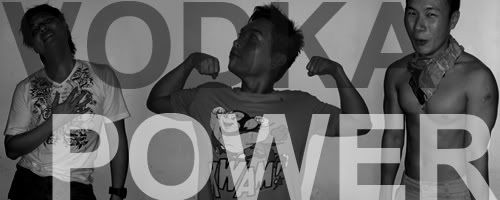 Of late, I had grown a penchant for photographing friends when they're in a very susceptible state for embarrassing poses. I, too, don't escape the fate of my Nokia N82 5-mega pixel eye. Edison Chen would've admired my camera work. But that's the fun part of getting drunk, to be possessed by the ability to act silly. And also have the pics as a refresher when alcoholic amnesia sets in. I used to think that it is bull crap when friends tell me they can't remember a drunk when they're drunk. Now, I'm experiencing memory lapses when I've gone too far off the end. I don't even remember bits and pieces. It's a total mental block or a very slow recall. Time to cut back on the drinks before I lose more of my existence.
Despite my flu, unfamiliar travel buddies and a reprehension that I would have much fun in this KL trip, I must say the score card added up pretty well with stories to tell. For one, I had witnessed the birth of an ear-licker. Ha.