30 Nov 2008 (Sunday)
Thousands of tourists stranded in Bangkok as anti-government protestors took siege of Suvarnabhumi Airport.

More than 190 dead and hundreds injured at Mumbai's luxurious Taj Mahal Palace Hotel when terrorist violence struck.

One muddle-headed Singaporean lost in Macau after his wallet and passport got pickpocketed.
Even though I had very little left, I was never more tired by the little that I have. My luggage was light, made even lighter by the missing weight of my passport and cash, but it felt heavier on my back. I had everything that I needed in my backpack, yet any place that I laid it down is not home. I yearned for Singapore soil. I missed the safety of home. Yet home, for the people of Bangkok and Mumbai, is the least secure place at the moment. Why do brothers gun down each other and sisters plunge a cleaver into a kin's heart? Is our right to believe so much more important than another's right to live?
As I waited to get back to Singapore, I watched our global home get destroyed on TV over smelly beancurd, stewed pig's intestines and cow's heart. After all, I'm trapped here and what else can I do but enjoy the inside stench of life?
But the unsavory combination was a delight (no doubt havoc to my cholesterol levels) made orgasmic with some beer. That supper was probably the best taste of Hong Kong. Despite raving reviews on Hong Kong's culinary traditions, I've never thought food there was great. Not now, not 10 years ago when I last visited, and I don't think ever. What with the dim sums, claypot rice, wax meats and abundance of fatty roast pork, it's a wonder that most Hong Kongers are still so slim!
A Vagrant in Fragrant Harbour
My misadventure started as a company trip to Macau from 27 – 30 Nov (Thurs to Sun). I popped over to Hong Kong on 28th and 29th and returned to Macau on 30th to catch the plane back to Singapore. After I cleared the ferry customs from Macau (customs clearing is required for commute between the two places), I proceeded to have my lunch and as I was about to pay, my being went into shock when I realized my wallet was gone. And my passport eloped with it.
In order to get home, I had to obtain a temporary Document of Identity (DOI) from the Singapore Consulate. Problem was, the Singapore embassy's at Hong Kong and I'm in Macau. Without the document, I cannot leave Macau. It was a Sunday and the Macau Immigration Department was closed so I had to stay a night, get an exit permit to go Hong Kong the next day, get my DOI and then come back to Macau to fly. I could've flown from Hong Kong back to Singapore but I had pre-booked my flight with Tiger Airways out of panic.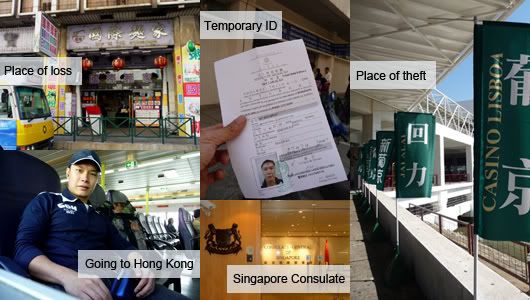 The events went like this… After I lodged a police report about my loss on Sunday, I immediately went to the airport and approached the Tiger Airways reservations counter to check flight availability. The staff told me that flights were all fully booked as year-end is a peak season for travel and she couldn't help me check for ticket availability because she don't have a computer. What?!! How can a reservations desk not have a computer?!! So I panicked at the possibility of being stranded in Macau indefinitely with depleting resources. But when I went back to the hotel and checked online, there were available seats on both Monday and Tuesday and many days thereafter. In fact, there were MANY empty seats. So I booked a flight for Tuesday (2 Dec) before even knowing that I had to go Hong Kong to get my document issued. Then when I was in Hong Kong, the consulate told me I cannot go back to Macau and have to fly from Hong Kong (by the way, Tiger Airways only fly from Macau and not Hong Kong)! After much waiting, finally, I was issued with a document that said I will leave Hong Kong via Macau. Phew… Anyway, what lousy service Tiger Airways provide and the airline don't even have a representative office in Macau. The female staff was such a lazy (*).Well, guess I cannot complain for being cheap.
Travel Facts
Currency used :
Macau (MOP), Hong Kong (HK$)
HK$ is accepted in Macau, but MOP is not accepted in Hong Kong.
Exchange rate :
S$1.00 = HK$4.70 - $5.00
Accommodation :
Golden Dragon Hotel, Macau (MOP780 incl. breakfast)
Standford Hillview Hotel, HK (HK$550)
Ferry ticket :
Ranges from HK$138 to HK $148
Cab fare :
HK$13.00 (HK$1.60 per increment)
Circus of Lights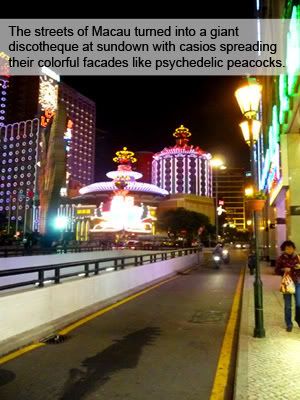 In Macau, the circle of life gives way to a circus of lights at sundown. The casinos explode into a symphony of lights; each trying to outdo the other in scale and design. They were captivating at first, but after one too many, my retinas burned. I saw Grand Lisboa Casino, Sands, MGM, Wynn, a few others, and Golden Dragon, the casino-hotel which I stayed in. No wonder this place is called Las Vegas of the East. But the most talked-about casino at the moment would be Venetian Casino.
Venetian is huge. It has the cityscape of Venice embalmed into its walls. From the European building visage, to the weaving canals complete with gondolas and singing boatman, to the opulently gold Baroque-styled frieze and décor, Venetian is pretty overwhelming. I don't gamble, neither do I recognize labels so the gamblers playground didn't appeal to me; equally uneventful was the shopping there which housed mostly luxury brands. The swanky casino-hotel is impressive for its sheer size but apart from that, I don't find it particularly remarkable. Maybe because it is not my 'style' for I find the faux European replica more plastic than fantastic.
Other than Macau being a gambler's high in getting a royal flush, there's really not much to see. I went to the A-Ma Temple, supposedly the oldest temple in Macau, hoping to capture some nice shots of Buddhist architecture but all there was is a small and crummy temple devoid of any 'wow' factor.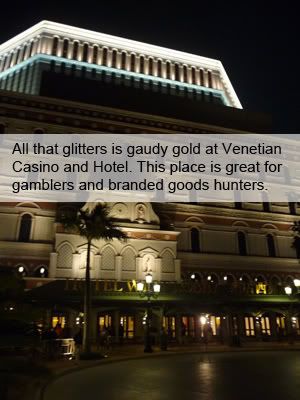 Nearby the temple, I had some authentic Portuguese cuisine. Out of adventure, I ordered the Pig's Ear Salad for starters and a Portuguese Chicken Stew with rice. Sony on the other hand ordered one of their specialty, Grilled Codfish. This Portuguese restaurant, Litoral, was recommended by Serene who's working and living in Macau now. Can't go wrong right? WRONG. Maybe it was a bad choice of selection. The Pig's Ear Salad was light and harboured the faint aroma of olive oil with shreds of onions to balance the musky taste of pork. When it was served, I sort of regretted my curiosity. The pig ear's was tender and crunchy and rather tasteless but not exactly something that opens up the appetite. Sony took a small piece and that was all he wanted to try. After a few mouthfuls, my tongue was feeling a little lardy and heavy, but in the spirit of not wasting food, I managed to finish most of it. That left my stomach little space for the chicken stew, but that dish was not too bad at all.
Then came Sony's order of fish and it looked delicious with a golden crust topped with heaps of fried garlic slices. When cut, the fish was snow white and tender on the inside, and put to the mouth, it was crispy on the outside… but wait, were we served salted fish soaked in water? It was like licking a salt popsicle! The fish was so salty! The waitress did warn us that it's going to be salty but I didn't imagine it would be pure saline terror. The meal cost MOP462 (S$92.40). Needless to say, it wasn't a meal that I pigged out for there were leftovers.
I don't find food in Macau great at all but I do like the famous egg tarts and almond biscuits. I don't have a sweet tooth but these 2 pastries deserve their Macau-ian repute. The best egg tarts can be found along the line of shops that lead up to the iconic attraction of Macau, the ruins of St Paul's Church. They cost about MOP7.00 each and are freshly made. I had wanted to buy some back on the last day of my trip but alas, I was pickpocketed.
The other 'swey' thing that happened was that more than 15 photographs were missing from my camera! I went trigger happy at the ruins of St Paul Church and another church nearby but when I preview my photos the next day, those photos were gone! It's strange because after I took photos there, I'd do a playback to see the images and they were all there. Then the next day, I went to Lantau Island, took pictures, and when I scrolled back to see the St Paul's lot, I got this message, "Thumbnails shown only." Thing is, there were no thumbnails shown and the batch of about 15 or more shots were gone! Without a trace! When I came back and loaded the memory stick, there was an obvious jump in the numbering of the photos. It was P1010999 and the next number was P1020070. And I didn't delete any photos at all. The peculiar thing was, the St Paul's set of pictures were in between images taken at the A-Ma Temple and the Giant Buddha at Hong Kong's Lantau Island. Could it be that the Panasonic Lumix camera I borrowed from Michael is an anti-Christ? Spooky…
The Lung of Hong Kong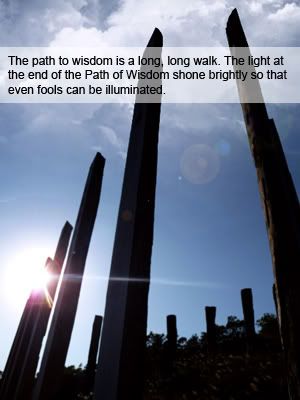 With its sprawling indigenous forests preserved, the majorly green Lantau Island is considered to be the lung of Hong Kong. But the ex-British colony would need more than one lung to clear that hazy, polluted air that shrouds it. Lantau Island was translated from its Cantonese name, 爛頭山 (literally meaning 'Rotted Head Mountain'), and I think it's called 'rotted head' or 'ragged head' because there're so many cliffs and clefs, which made for a picturesque view and the Giant Buddha atop one of those peaks more spectacular.
Getting there was very simple. We took the MTR to Tung Chung station (same direction as HK Disneyland), then took the Ngong Ping 360 cable car up the mountain. There're different price plans for the ride but we took a single trip up for HK$63. For the way down, we took a bus which costs HK$27.50. The cable car ride was about 25 minutes with a panoramic view of the island, while the slightly longer bus ride offered a ground close-up of developments and foliage abet being a tad too bouncy. Seats on the bus were matched exactly to the number of passengers for standing would be a hazard with the bus angled for downhill. Those who couldn't get on will have to wait for the next bus in about 20 minutes.
The main attractions of Lantau Island are the Giant Buddha, Po Lin Monastery and the Path of Wisdom. There's also a fishing village called Tai-O, but due to us arriving quite late and waiting for the wrong bus, we skipped that attraction. My favourite sight on this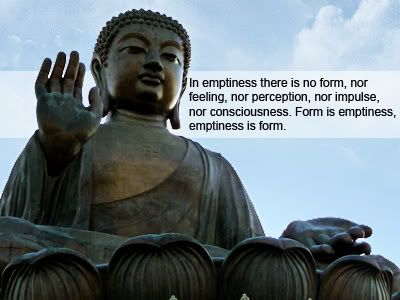 island which is almost twice the size of Hong Kong, was the Path of Wisdom. It was a pretty long trek in but the view was breathtaking. The path to wisdom is indeed a long and winding road, but at the end, it is quietly satisfying and self-contemplating.
Po Lin Monastery is a functioning temple and there's really nothing much to see. There's vegetarian set meal available there for HK$60 per person. Food's palatable but don't think it's worth the price. That's the thing about food in Hong Kong.. so expensive. But we needed the energy to climb the stairs to reach the Giant Buddha. The bronze statue was overwhelming and the climb will give you glutes that put J.Lo out of business (is she still in??). The view on top was more undulating mountains meeting a sea that stretches into the horizon. Awesome.
That's about the highlight in Hong Kong for I hardly shopped as it was winter and I have no need for thick clothes back in Singapore. But the one thing I was very impressed about was how polite the Hong Kongers generally are now. As part of my way-finding to a hotel there, I became lost and asked for directions at a shop retailing window fixtures. Even though the shopkeeper didn't know where the hotel was, he picked-up the phone and called his friend to ask. Then he wrote down the name and directions for me. Now, that's hospitality!