Date of Exploration :
28 Mar - 1 Apr 08. So I'm back in Bangkok… in black. Black is the color of sin. Black heals. I pawned my salvation in search of redemption. I found it. Thrice. But my squandering still bought me no cure. White becomes most apparent on black, and I observed my living contrast from whence and back. But I can see my thoughts becoming less stark; I can feel my light dissolving into dark. Black heals.
Oh well, enough of the soul searching and self reflection stuff… sometimes I reflect upon my actions so much, I lose sight of who I am. And the scariest is when I stumbled on some of the real reasons behind my motivation, and they are not something that I'd like to meet. I went on this trip weighing much on my mind and heart. Maybe that heightened my need to abandon myself to the senses. And Bangkok never fails to please for all 5 days and 4 nights.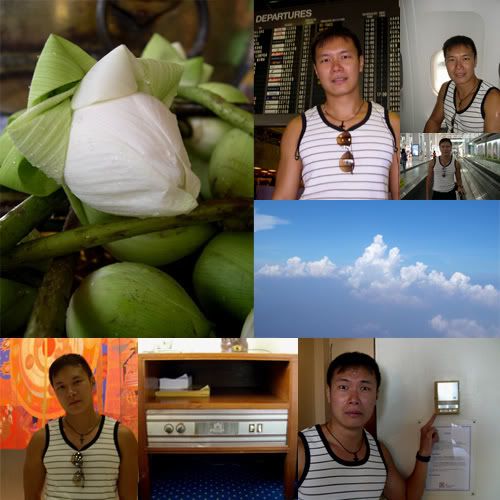 Travel Facts :
Exchange rate :
S$1.00 = 22.30 – 22.50baht
Air Ticket (Return) :
Jetstar (S$198, include. all taxes)
Accomodation :
Plaza Hotel, 1 Twin-share room X 4 nights (S$239.55, incl. breakfast)
Plaza Hotel is located at the end of the Surawong stretch of entertainment outlets and about a 10-minute walk to Patpong. I felt like I was living in the early 80s as I stepped into the room because the air-conditioning was still controlled by those push button switches and all the lamps had to be switched on individually. For S$30 a night per person, well, I don't ask for much.
Moreover, Mel and I were out on foot most of the time retiring to the hotel only for shut-eyes. The facilities were very modest, but the room was rather spacious and it even came with kitchen cabinets and an aluminum sink! It's like a pseudo serviced apartment, one with the very bare essentials. Some of the bath towels were frayed and had holes in them, and the room window peered over some debris littered roof top. The roof-top scenes from Bangkok love story came to mind, except that what's in front of me is way messier. And I was surprised to see a guy hanging out his laundry in that squalidness. Was that place even inhabitable? And when I turn back to face my room, suddenly it looked like paradise.
Airport-City Transport
There's an official airport transport service operator, AOT, which charges 900baht. Walk out of the Suvarnabhumi Airport and use the assisted public taxi service instead. Along the way, many taxi drivers will be offering to take you downtown for 600baht and claimed that it's the same price as the assisted taxi service, well, it was not.
We used the assisted service which required a 50baht surcharge. As soon as we got into the cab, the taxi driver tried to negotiate for a flat fare of 500baht (S$22.00) which will include the 2 toll charges and surcharge. We insisted he turn on the meter and paid the paid toll charges ourselves. The total cab fare turned out to be : Metered fare (269baht) + Surcharge (50baht) + Toll Charges (65 + 40baht) = 424baht (S$19.00)
Well, the difference was just S$3.00 but I just don't like to be coerced into tipping. Then again, if the traffic jam was any worse, the 500baht fare would have been more economical.
Travel Insurance :
S$28.00
Total Spending :
S$700 (excl. airfare, accommodation and insurance). Can use Singapore's ATM cards with the Cirrus, Maestro logo to withdraw cash from Thai ATMs)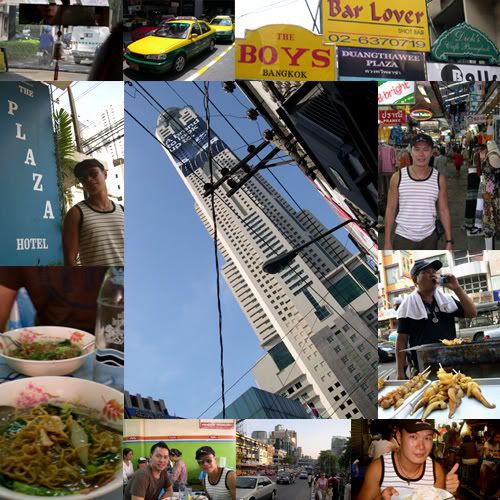 Pratunum Market – Wholesale Textiles
After checking into the hotel at about 2.30pm, we headed out for Pratunum Market. I've never been to this market before and had been told how cheap clothing items can be there because it is a wholesale center. To get to Pratunum Market, just look for the Baiyoke Sky Hotel. The hotel is reputably the tallest building in Bangkok so it's pretty well-known.
However, when I got to the wholesale center, I was kind of disappointed because instead of seeing garments strewn in heaps haphazardly (a sure sign of cheap bargains), the market is lined with shops neatly stacked and merchandize properly displayed. My action-ready wallet immediately went limp. We didn't explore very much of that area and had a late lunch at a roadside stall around there. It cost only 90baht ($4.00) for 2 plates of crispy fried noodles and a bottle of water.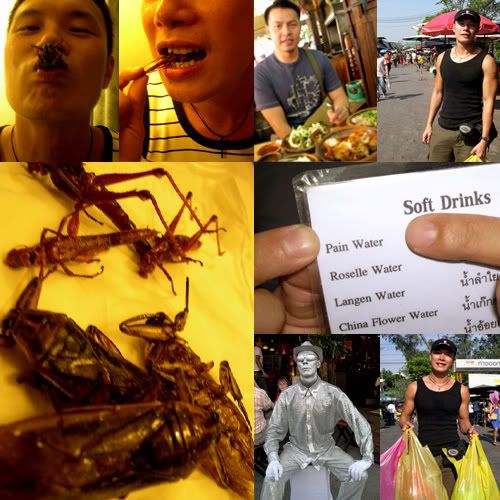 My Contribution To Pests Control
That night, I came across a cart that sold fried insects along Surawong Road. Jackpot! I remembered that roadside vendors selling insect snacks were plenty many years back, but had become somewhat of a rarity in the last few years. So I was delighted at the sight of one. The fried grasshoppers were really tasty. When I had them previously, they were huge with abdomens thicker than my index finger, but now, they resembled Kate Moss. The way to eat them is to pluck away the thorny hind legs (tibia) and then chowing down on the femur (thigh), the abdomen and working your way to the thorax and head. Well, that's how I would eat it because I found that by eating the whole grasshopper at one go pricks the tongue and mouth. Rather unpleasant. Plus by eating part by part, you can savor the different taste and texture. My favorite part is the femur as it is crispy and has a nutty flavor. It also leaves an aftertaste of aromatic fried chicken.
The other insect I have no idea what it was. I had seen it previously but because it resembled what my nightmares are made off, I couldn't convince my stomach to try. They are huge, black and with an underbelly that looked like a sleeping mummy with its arms folded. It cost 20baht for 3 of those terrors. And they weren't that palatable. The wings lay on the abdomen and they flatten out so they tasted like eating dust or dry grass and were tasteless. The juicy part is the section where the abdomen joins the upper thorax. That part is thick and when the abdomen was pried from it, it oozes a creamy, brownish emulsion. (Note to self : When something looks diahorrea, it tastes like it too)
I thought I struck gold and lapped at it. Big mistake. I felt like a human sewer. It wasn't an awful stink, but it had a pungent herbal taste that left the mouth smelling like the ass. I would imagine this is what faeces would taste like.
Pui.
There were also worms on sale but unless you enjoy doing housework with your tongue, give it a miss.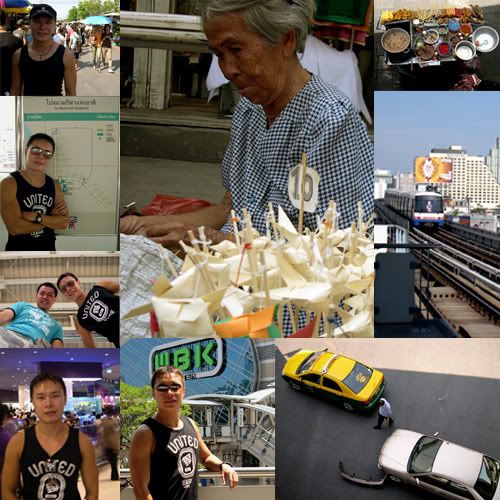 Pain Water At Chatuchak
I never agree with friends who tell me that things in Chatuchak Weekend Market are all the same. If you've seen one stall, you've seen them all. Each time I endured the sweltering heat and navigated the retail maze, I'm always surprised to find something different, something unique; and though some stalls do sell similar merchandize, there's differentiation in design. There're also many well decorated stalls with unique personalities and very delightful to look at.
Lunch was also yummy at one of the stalls that served its dishes on earthenware. The fried chicken was wonderful but the English menu left me to wonder… Pain Water? Is that fluid tapped from pregnant women's waterbags? Or water scooped from a baptism pool where people leave their pain behind and be reborn in Christ? Imagine when you open the bottle and it screams in agony. Then each time you pour the water out, it moans in pain. Haha…
But I did encounter pain… in seeing this very old lady selling weaved ornaments. But I don't think she needed my pity. Despite her old age, she was still working, doing something, even if it was just sitting in the middle of the road, under the hot sun and selling her crafts. In fact, there're so many incidences of cold comfort in Bangkok. Seeing this young guy going from car to car on the road, giving each car a deep bow before hoping to sell a jasmine garland; a beggar with only one arm and no legs on the street; people sleeping by the roadside… how lucky I really am. Despite their adversities, these people are fighting to stay alive, living in the hope of the next stranger that passes by.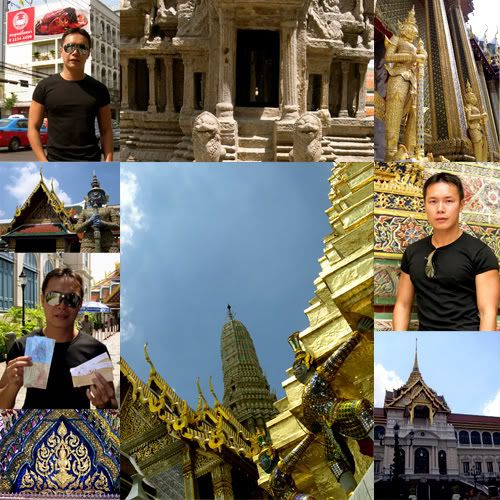 A Half Day Trip To Top Sights
I had always wanted to know more of Bangkok besides the shopping, bars and clubs. Too cheapo to book a sightseeing package, I decided to play compass and pray I don't end up in Laos. But as it turns out, it was pretty easy to find my way around and trust me, when it comes to map reading, my hair instantly turns blond. Here's a rundown on the itinerary and highlights of the day trip that lasted about 4 hours (including lunch time).
8:30 am Wake up, breakfast, make up
10:00 am
Wat Phra Kaeo (Temple of the Emerald Buddha) and Grand Palace
Address : Thanon Na Phra Lan
Wat Phra Kaeo shares the grounds with the Grand Palace. For an entrance fee of 250baht (S$11.20), you get to visit the 2 sites, but the Grand Palace is not much to see because a lot of areas are closed to the public. So spend most of your time at Wat Phra Kaeo instead. The 2 sites use a common entrance and are open from 9am to 3.30pm daily.
Expect to be blinded by gold and opulently decorated chedis and temples. The place literally assaults the eyes with a cacophony of colors and mirrored glasses against a still blue sky. We also saw the jade Buddha but it was not very big and sat on an altar of golden pagoda. As with all the other sites, you can book a personal tour guide at the entrance for 150baht per person (I overheard) for a half hour explanatory tour. Wat Phra Kaeo is a playground for shutterbugs.
After going one round the temple, we came to a small slip door that leads to the Grand Palace. Signage posts are pretty well installed so you won't miss the entrance. Grand Palace has a throne hall and a massive building with manicured gardens. That's about it. It can get pretty hot so ladies may want to bring an umbrella. And do dress appropriately as all the temples endorse a code of no sleeveless, no shorts or bermudas, and no slippers. If you still insist on tempting the monks, you'll be dismayed as there're clothes available for rental.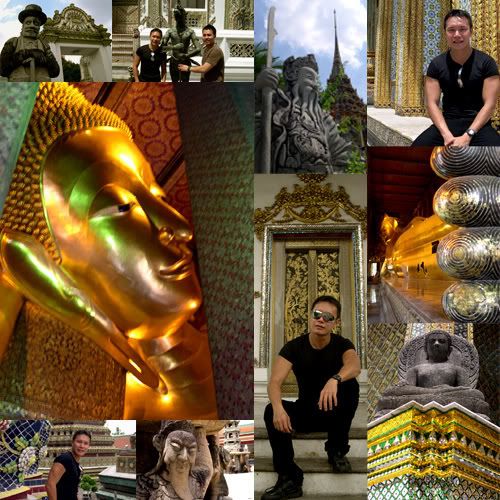 12:00 pm
Wat Pho (Temple of the Reclining Buddha)
Address : Thanon Maha Rat
Wat Pho is within walking distance of Wat Phra Kaeo. I asked the guards at the entrance to point me the direction towards Wat Pho. It is just a matter of walking along the parameters of Wat Phra Kaeo and then making a turn. It took us about 15 minutes of leisurely pace to get there. Along the way, we met a man who told us that Wat Pho was closed for the day. Thankfully, I've been forewarned that this would happen. These dishonest guides will tell you that Wat Pho is closed and then suggest bringing you somewhere else. Just keep walking.
The entrance to Wat Pho was rather unremarkable. Maybe that's a side entrance and not the main. The entrance fee is 50baht. The main attraction here would be the dunno many feet statue of a reclining Buddha. I'd seen it in my childhood memories, and now that I saw it again, I'm a different person, but the image remained the same. Well, except for huge black patches near the feet of the Buddha.
Other than the huge statue crammed into a small space blocked by pillars (why don't they relocate the statue to a place that will compliment its grandeur?), there were countless stone statues that around the temple grounds. What's interesting was that the statues all have different styles. Some looked Chinese, others looked lifelike while some are clutters of abstract carvings. There must be hundreds of statues in the temple grounds.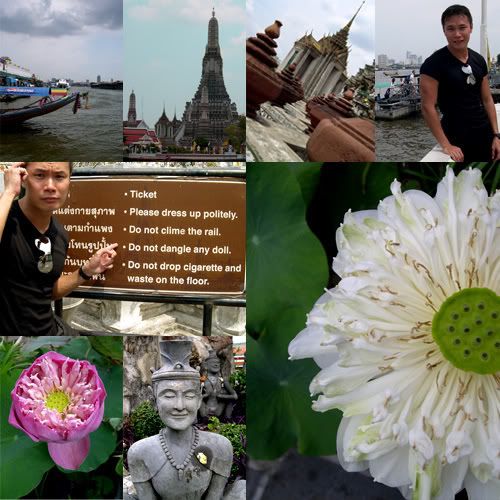 12:45 pm
Wat Arun (Temple of Dawn)
Address : 34 Thanon Arun
Wat Arun is across the river from Wat Pho accessible by boat. We walked from Wat Pho to a small jetty that provides the crossing for 3.5baht (S$0.16). Just follow stench of dried seafood and you'll find the jetty. When we went ashore, I saw these cut-out standees to pose for photos and excitedly went to one to take my picture. It cost 40baht. The pricing was obscure and blended into the painted boards so just be cautioned that everything in Bangkok costs money. Entrance to Wat Arun is 50baht.
I read somewhere that Wat Arun is most beautiful during sunset. Err… is there a mistake? The temple of dawn looking good at sunset? There was also a sign that read, 'Do not dangle any doll.' Huh??
It was a pity that by the time we got to Wat Arun, the sky was overcast and the stone chedis lost their color and looked really grey. Wat Arun is not for people with a phobia of heights. One of the features of Wat Arun is that you can climb up the main chedi. However, the height of each step is very high and the width is very narrow. I literally had to side-step up the stairs and pull myself up. You can go as high as 3 segments and get a 360-degree view of the Chao Phraya River and Bangkok's cityscape. Apart from the main chedi, there's nothing much else to see. It is noteworthy that the chedis in the 3 temples are decorated differently.
We tend took the boat back across the river and had lunch at a roadside zi cha stall. Generally, a plate of noodles, fried rice or chicken rice at these stalls cost about 35baht (S$1.57) per plate.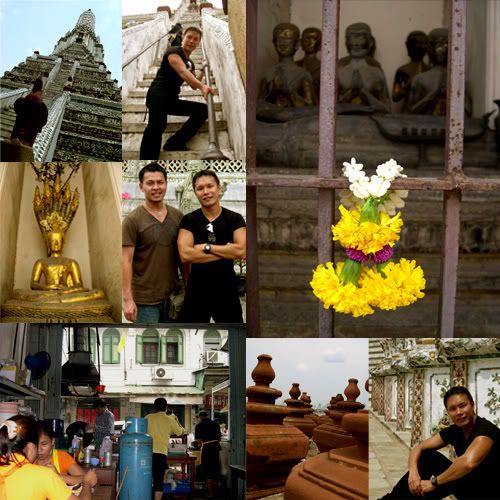 Walking Almost Nude Down Silom Road
On Sunday night, we went to Bed And Supperclub as a break from the usual JD. It was supposed to be a themed night called Think Pink, but all we saw was white. White men and ladies. And no wonder because the cover charge was 600baht (S$27.00) for 2 drinks! The place plays Zouk kind of music and there wasn't much of a crowd. Mel was especially bored and we left about 1:00am. Do bring along your NRIC or passport for identification and entry into the clubs.
So to make up, and it being the last night, we decided to party all out on Monday. It was surprising that even on a Monday night, JD still packs a comfortable crowd. It was good that Mel was my travel buddy this time round because he doesn't drink much so I ended up drinking less too. But it was the last night. So I ordered a Kamikaze for 500baht. It was potent stuff. I was reaching my desired state of clubbing nirvana and decided to join the podium crowd. So I reach out my hand and someone helped me up. As I was crossing over from earth to heaven, my black jeans ripped.
It wasn't just a small inconspicuous tear. You can see the photos for the damage. I immediately jumped back down from the stage. What a lousy pair of corduroy jeans! I had worn it about 4 times and washed it only once! The brand is Bontton and I bought it from Malaysia. Without a choice, I had to remove my t-shirt and tucked it as a half skirt to cover my ass. I could already feel the cold drafts circulating. The tear was massive.
Thankfully I was already quite drunk by then so the sting of embarrassment didn't hurt as bad… and I continued partying! Ha ha… So tragic. And when it came time to head back, I had to go topless, with rags on my ass, and walked the length of Silom Road and Surawong Road. It was hilarious!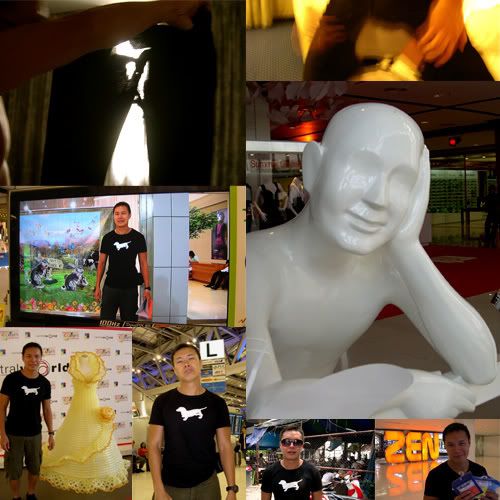 What Color Next?
Maybe it was symbolic that my black jeans was ripped wide open. Perhaps it represented the cracking of a paradigm, an old strategy that no longer works in this day and age. Join in the black. White stains easily. You can't see the bleeding ketchup on black.
For the moment, I think I will just open up and enjoy more colors of the rainbow…