Date of Exploration :
11 Jan 2014
Parking on the sand all day to roast every melanin cell for that golden tan was how I planned to spend my Krabi islandic escapade. Never mind about skin cancer or that uncomfortable raspy feeling of sand rubbing between the toes. But there is only so much sun the body can take before turning into human jerky.
So we decided to venture out of our nest at Ao Nang Beach and paid a visit to Krabi Town. Located 20km from Ao Nang, it is not exactly near but definitely worth a day's trip to experience the real Krabi away from the hyper-touristic waterfront.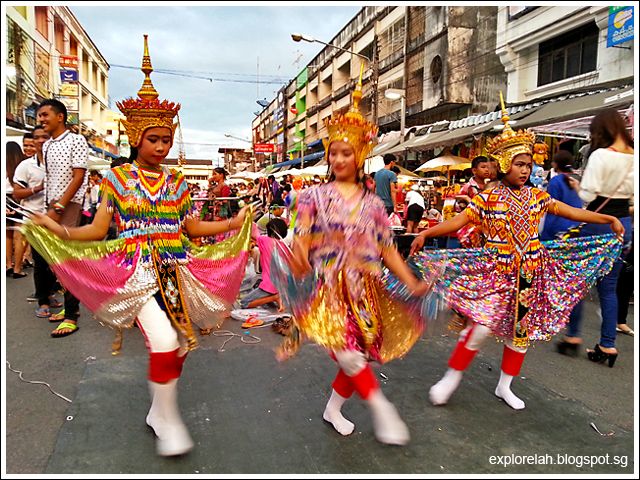 Child dancers livened up a night market that takes place every weekend in Krabi Town with impressions of Chatri, a traditional dance of Southern Thailand.
Small Town, Big Frowns
As we rolled into the provincial capital of the island, a sign welcomed us with the slogan "Krabi - Lively Town, Lovely People". It's a promise that warms the heart. Except, it wasn't quite entirely true.
We visited Krabi Town on two occasions - once on a Thursday night and another for a Saturday day trip; and except for a weekend night market that revived the area, the township seemed rather comatose and the folks weren't big on smiles. We were even chased off a songthaew while trying to make our way back. But I'll leave that incident to the end of the post.
Nevertheless, the township that's home to about 25,000 Thai southerners packs some rather nifty finds especially during the night market on weekends.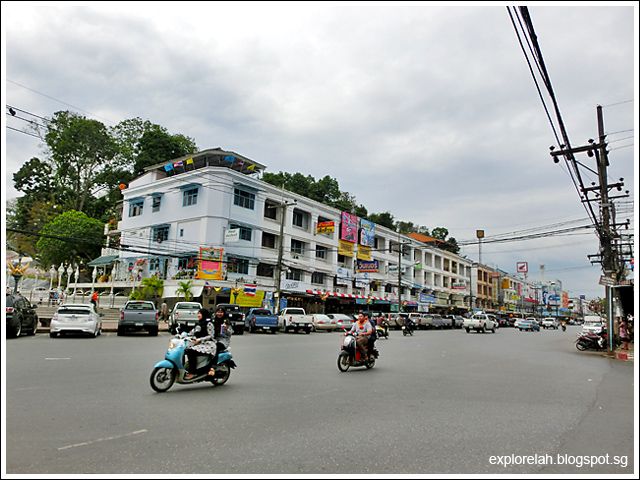 A 30-minute songthaew ride into Krabi Town from Ao Nang Beach costs about 40 - 60bht. This is the main street, Maharat Road (Thanon Maharat) and to the left corner is the entrance to Wat Kaewkorawaram. The quaint all-white temple is definitely shutter time and you can find out more about it here.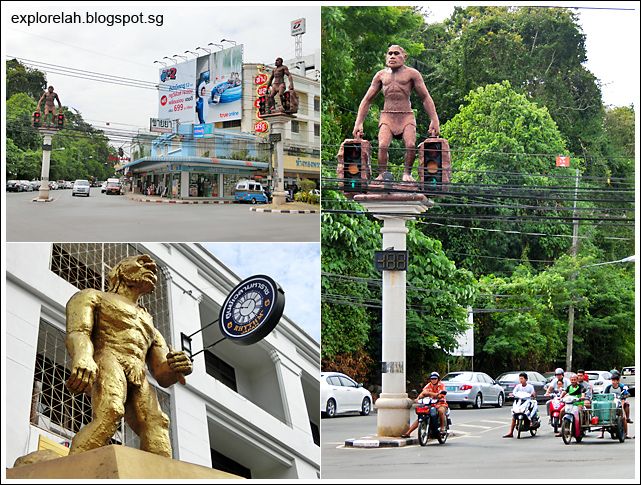 A hard to miss landmark at Krabi Town is the caveman junction with 4 huge statues holding traffic lights. Archaeological finds suggest that Krabi dates as far back as the Paleolithic Era (age of the cavemen).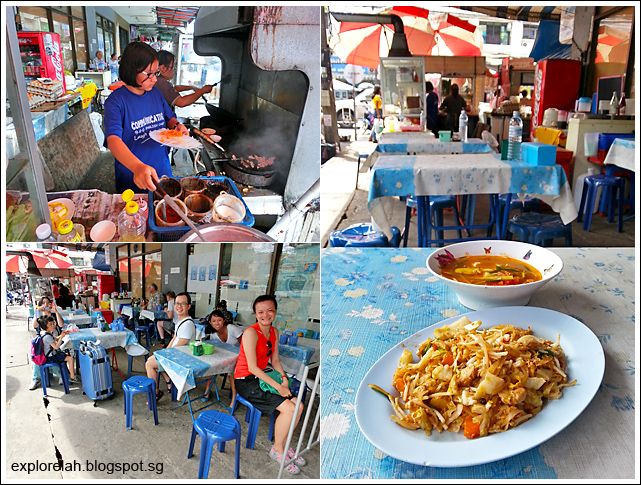 Although there were quite a few cafes and eateries around, an 'authentic' Thai diner was hard to find so we settled for lunch at a streetside zichar stall. Ordered Pad Thai, tom yum gai and stir-fried dishes for about S$8.00. Cheap but the meal wasn't big on taste and the teenage cook wore a bittergourd on her face.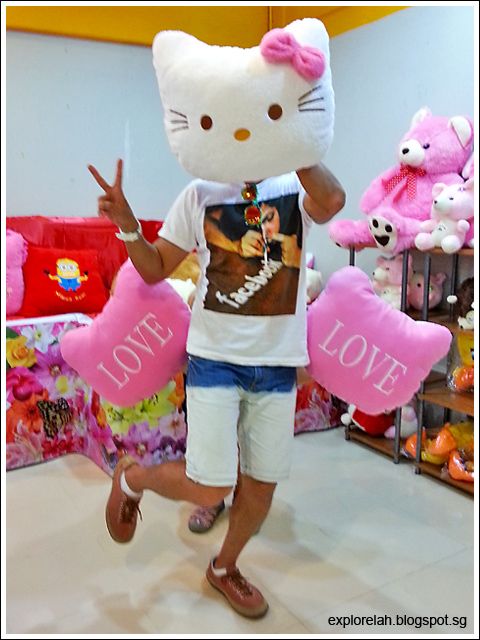 Shopping centers are scant in town. Except for Vogue Mall that retails typical branded stuff and a 4-storeyed souvenir shop (pictured here with the giant Kitty face), there're not many places to spend.
Main highlight in town is the Krabi Night Market that happens every weekend (Fri - Sun, 5 - 10 pm) at a carpark and street behind Vogue Mall. The zone is closed to traffic during the night bazaar to create a Walking Street brimming with food, sundries and handicraft stalls.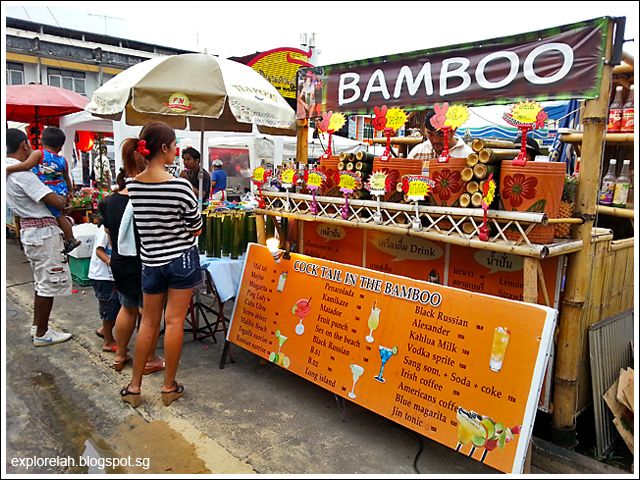 Cocktails in a bamboo tumbler? How's that for a natural high?!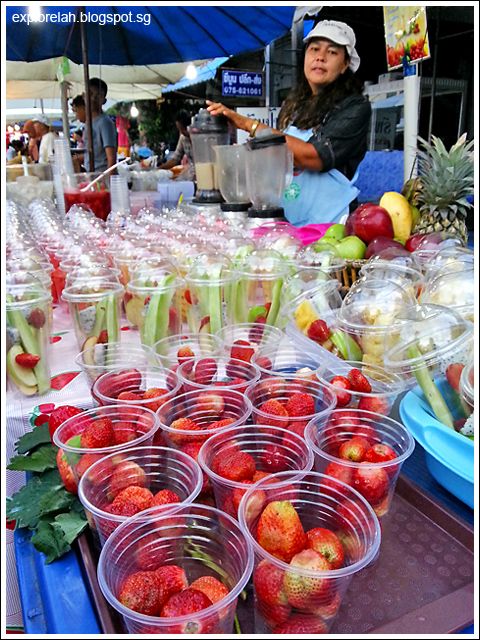 Health in a cup for 40bht.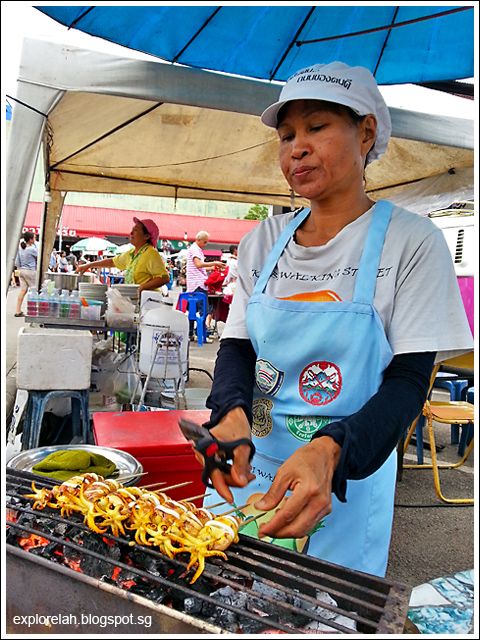 Juicy BBQ-ed squid... my carcinogenic weakness!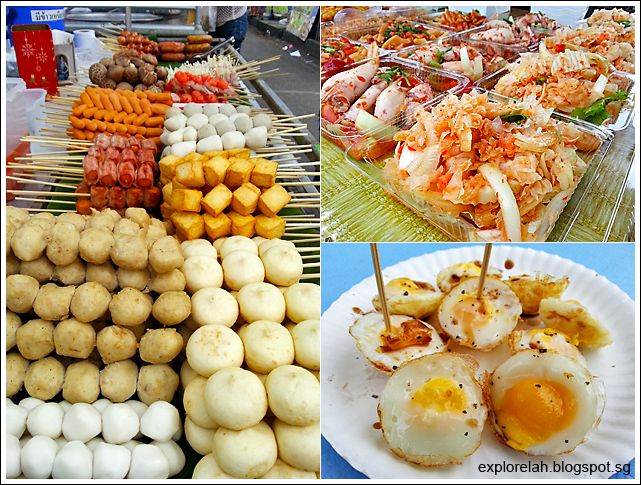 Street food galore!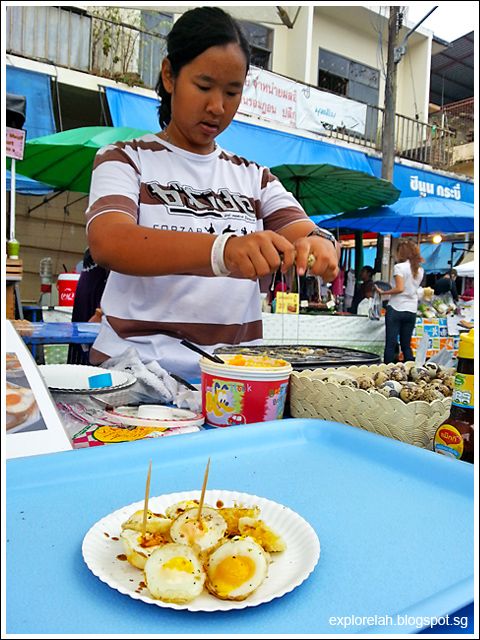 Fragrant fried quail eggs... my cholesterol weakness!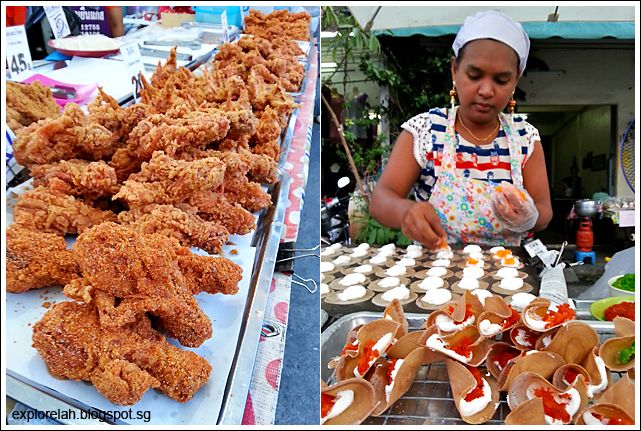 With savouries and desserts side-by-side, you'll need a huge appetite to come out of the market alive!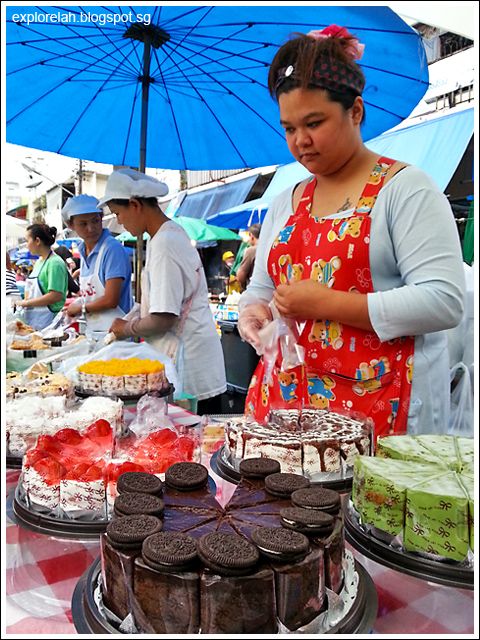 The creams may be melting, but these confections were still irresistibly tempting even to a sugar-phobe. Strangely, none of the purchases brought on a smile from the hawkers.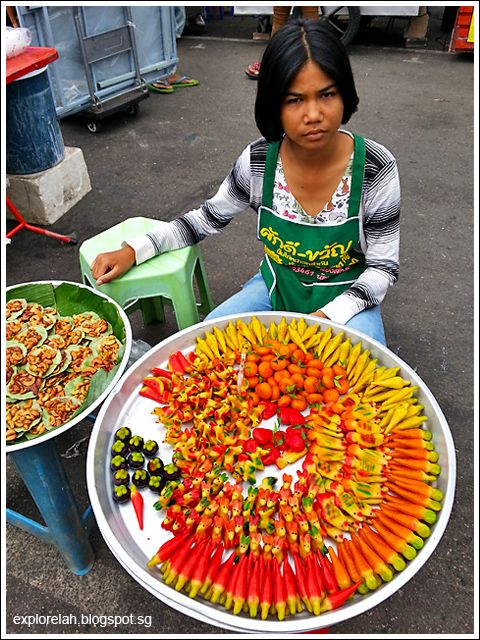 The biggest frown at the night market goes to this girl selling loop choop (also spelt luk chup) who had a sour face despite selling something so sweet. Bought a pack of the dessert from her and even that didn't elicit a smile.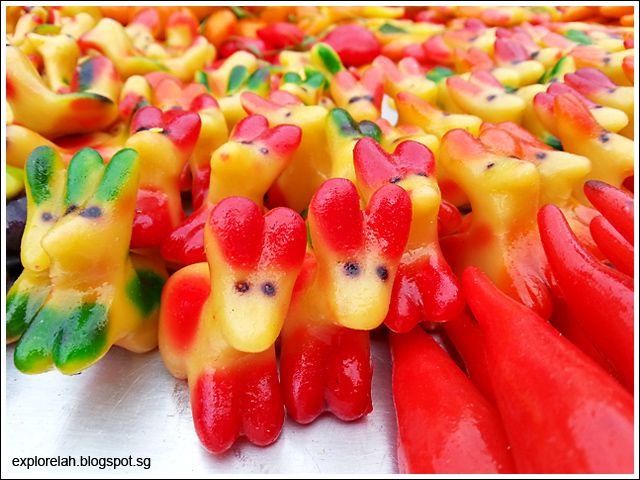 Made of mung beans coated with gelatine, the adorable loop choop was once the exclusive snack of the royal family until the recipe leaked onto the streets. It's kinda like mini ang ku kueh.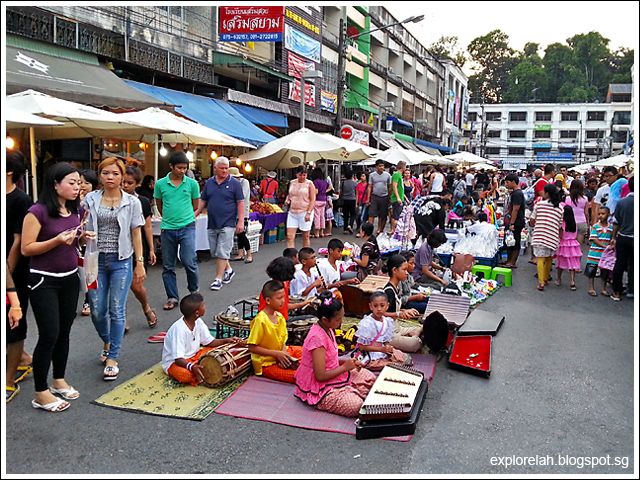 Adjourning the food section is a street lined with street performers and stalls for exercising your purse / wallet.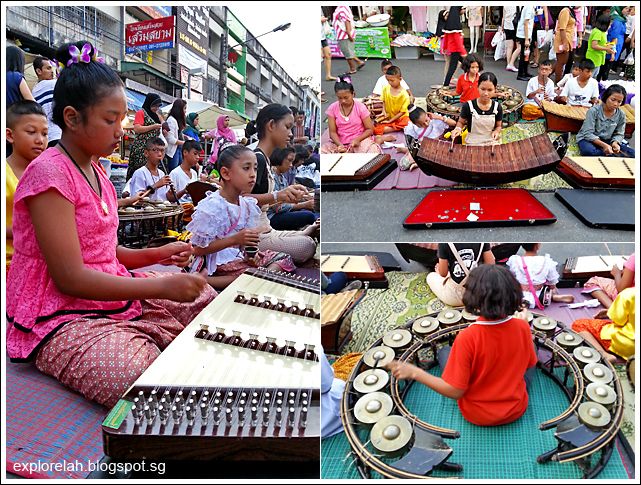 A pop-up children's orchestra lifted the atmosphere with
classical Thai chords

.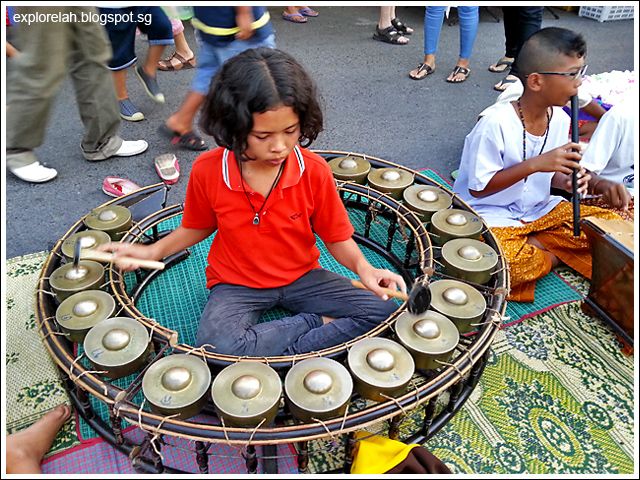 The girl striking the khong wong lek (gong circle) reminded me of a spaceship console being activated!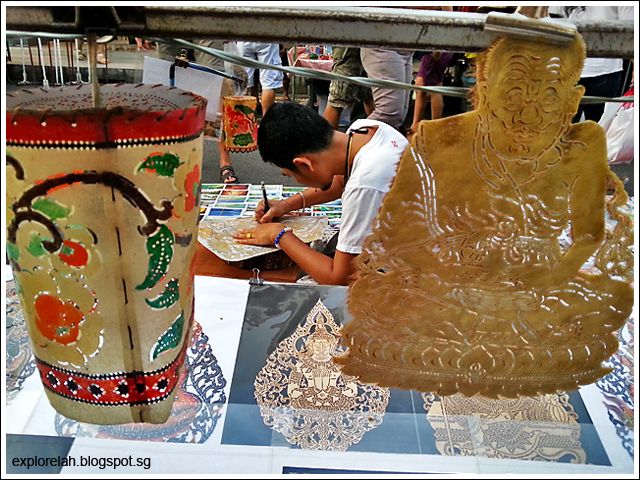 Can you guess what this intricate etchings are made on? Cow hide. They are really beautiful.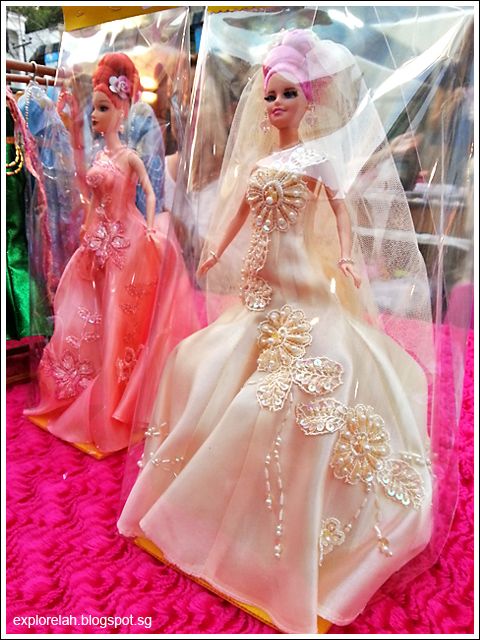 Barbies given a Thai ladyboy makeover. One-of-a-kind for Mattel doll fans!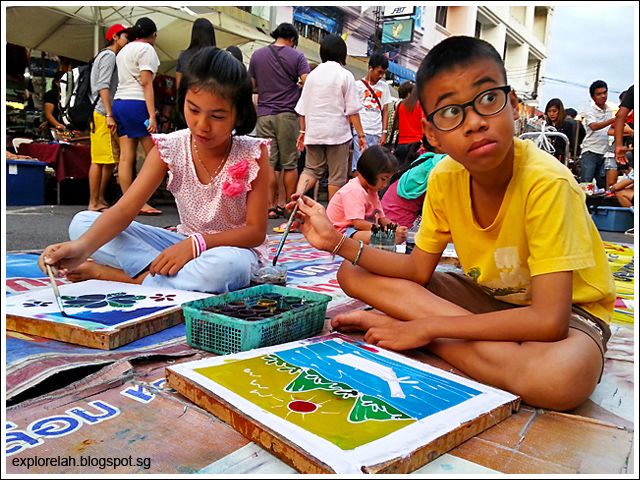 Street painting activity to nurture the creative minds of Krabi kids.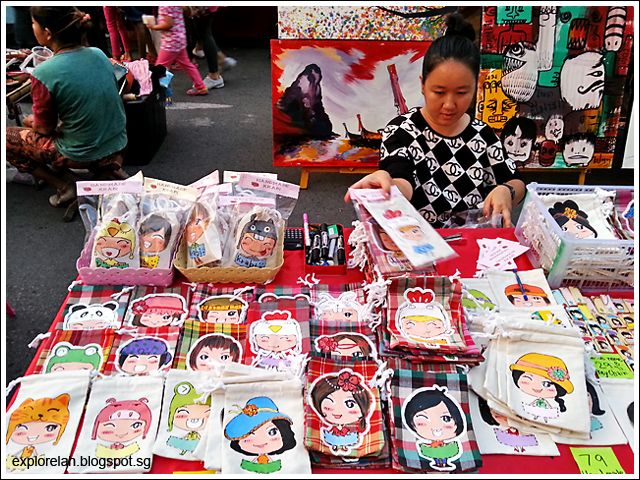 Hand-painted pouches with customisable names. Great as thoughtful gifts after selecting the caricature that most resemble your family or friends. Finding a match was all the fun!
As the sky grew darker, the crowd grew thicker. The Krabi Night Market is compact but surprisingly fun and filled with a casual air of Thai culture. Although stallholders weren't too friendly, I had a great time sampling the food and enjoying an introduction into the performing arts.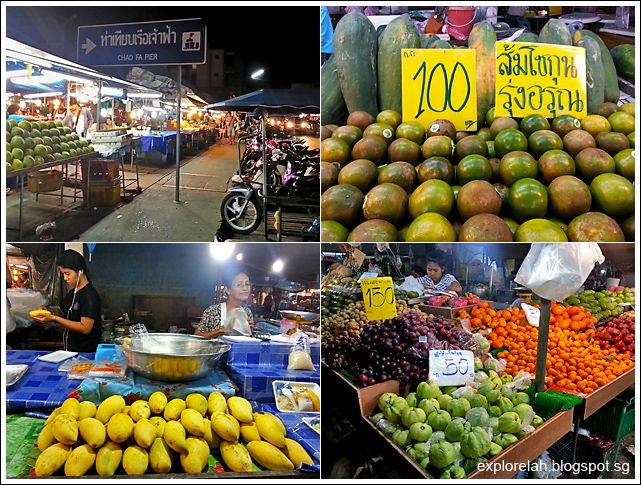 Not far from the Krabi Walking Street Night Market is a fruits and food market that is open nightly. Tried the mango here but it was sour.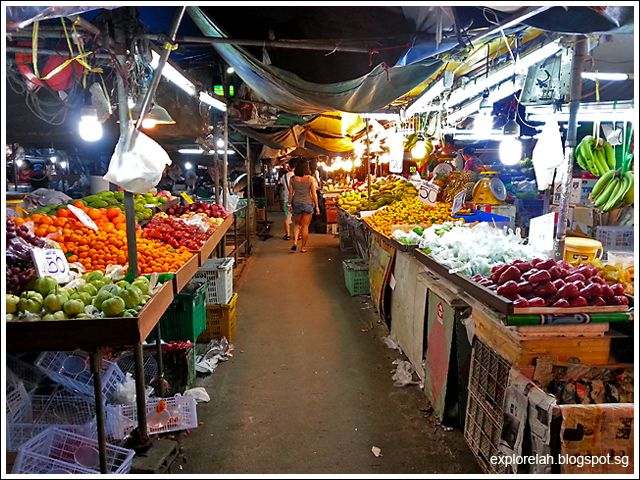 We came here on Thursday night and were initially confused that this is the Krabi Night Market but it is not. So the best time to visit Krabi Town is on a weekend to coincide with the actual night bazaar.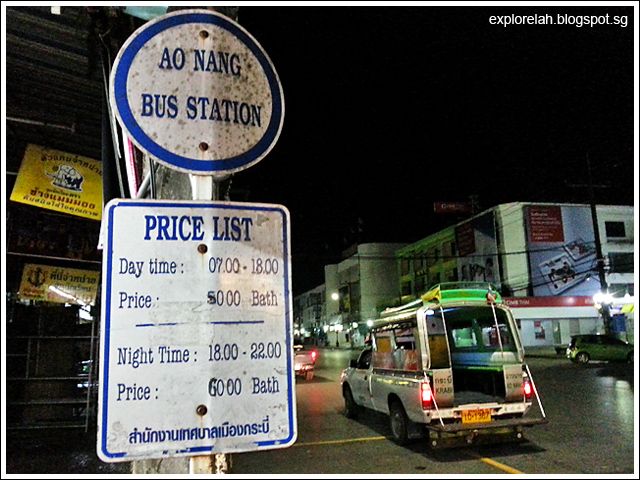 Linking Krabi Town and Ao Nang Beach are white songthaews like this one. The songthaew depot is just a small white sign in front of a 7-Eleven shop on Maharat Road near Vogue Mall. This is the drop-off and pick-up point to and fro the town and Ao Nang.

And now to the episode that got us booted off the songthaew. Our fare from Ao Nang to Krabi Town was 40bht but the return price asked by the station conductor was 60bht. We didn't see the listed price on the sign initially and thought he was trying to rip us off. Then we were told that the vehicle will depart at 8:00pm. But by 8:20pm, it still hasn't barged because there weren't enough passengers. Hungry and tired, the firecracker in our entourage flared and got into a heated exchange with the conductor and we were asked to get off.

So we went off and tried to get another songthaew back but there was none. Without a choice, we circled the block and had dinner before coming back to the station again, hoping that the conductor was no longer around, to board another songthaew back. Well, that guy was still around but he didn't pursue it further and we swallowed our pride and took a 9:00pm ride back.

Moral of the story : Be slow to anger and adopt the sabai-sabai spirit as systems may not always work the same way as back home. And don't piss a local off in a foreign land. You don't know where you might end up!
The night may not have ended on a happy note and the town didn't feel too cordial, but the overall experience of exploring Wat Kaewkorawaram and the Walking Street Night Market more than made up for it.
Krabi Town may be small and not architecturally sophisticated with few tourism attractions but it is a nice break from the constant whiff of suntan lotion by the beach.
Related Post :
The Immaculate Wat Kaewkorawaram