Date of Exploration :
21 Feb 2014
Literally adding some spice to a recent trip in Bangkok, I decided on trying my hands at local food preparation and signed up for a half-day class with
Silom Thai Cooking School
. What better souvenir to bring home than culinary skills for recreating my favourite Thai dishes in the kitchen right?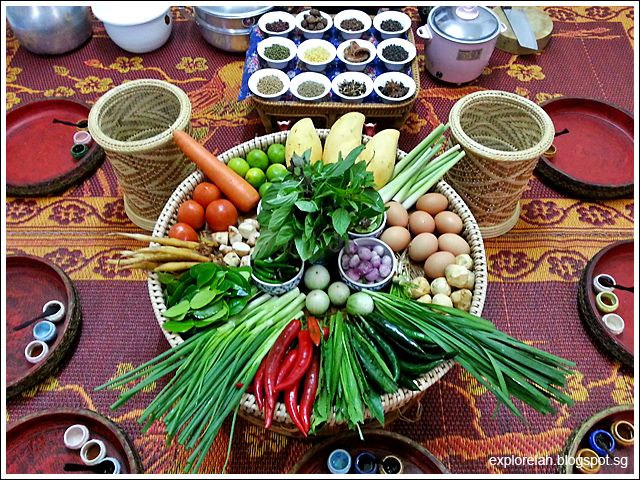 Chilli, spice, and everything nice... The half-day cooking class imparted preparation methods for 5 most common Thai dishes and we get to eat what we cooked!
A gifted glutton rather than a god of kitchen, I was tempted to wrap myself in handiplast instead of an apron to safety-proof myself around the wok and chopping board but the class turned out to be exceptionally novice friendly. The youngest participant the school had was 6-years-old!
Even if you've never held a spatula or turned on a gas stove, the class would make you an iron chef in no time. And all for an affordable 1,000 baht to learn how to cook Tom Yum Gung, Pad Thai, Lap Gai, Green Curry Chicken, and Mango with Sticky Rice. There's also a tour of a local wet market to begin the class and a comprehensive recipe book to end it off.
Of the dozen of popular cooking schools in Bangkok, Silom Thai Cooking School is the cheapest. The school offers 3 different cooking sessions -
morning (9am - 1pm)
,
afternoon (1:40pm - 5:30pm)
and
evening (6:00pm - 9:00pm)
. The dishes you learn is dependent on the day of class so you can sign up for multiple days to learn the full menu.
Getting There
As the school's namesake clearly states its location, Silom Thai Cooking School is located at Silom, which is in the same locale as Patpong (Bangkok's famous red light district). The BTS station that serves Patpong is
Sala Daeng
. From Sala Daeng, walk straight down along Silom Road towards Furama Silom Hotel (you will pass by a huge canal and Silom Plaza). The walk should take about 15 - 20 minutes.
Alternatively, you can alight at
Chong Nongsi
BTS Station, take Exit 3 and walk along the road until you come to a junction with Silom Road and turn left. Silom Plaza would be on your left. Look up and you should see Furama Silom Hotel. Walk towards the hotel. The meeting place is at
Silom 11
.
A tour of the local market is included in the morning and afternoon class. The meeting place for the tour is at the entrance of a small street (Silom 11) a few steps from Furama Silom Hotel and opposite Narai Hotel.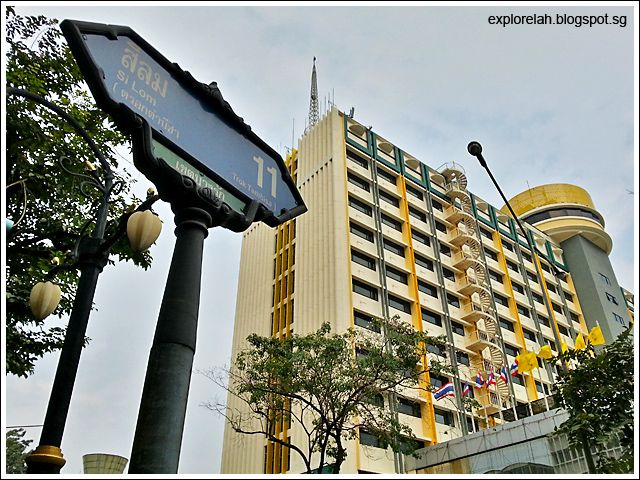 Silom 11 is next to Furama Silom Hotel and opposite Narai Hotel.
Silom Thai Cooking School's website provides pretty comprehensive directions so it is pretty hard to get lost. If all else fails, just take a cab.
Local Market Tour
I signed up for the morning class in order to coincide with a tour of a local market. The market is located just diagonally across the street from our meeting place so there's no need to take any transport to get to it.
During the market tour, we collected the ingredients for our dishes later while our guide and chef imparted knowledge about the fresh produce.
Street leading to the wet market. I think the girl with the rainbow tie-dye wished she was still in bed.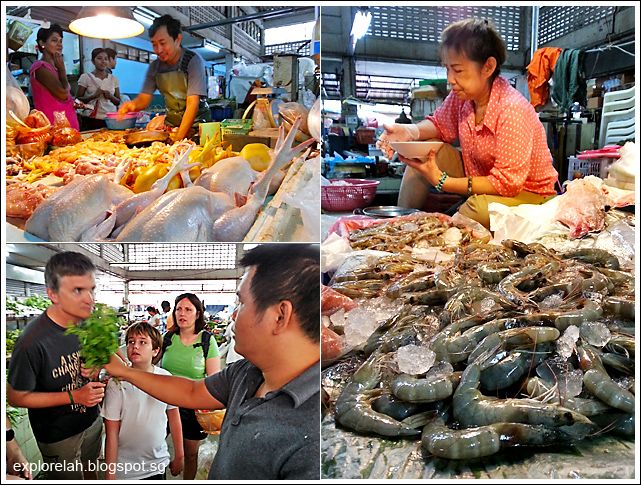 The market was well laid out and structured. I was hoping for one of those more chaotic and less sanitised versions though.
Fast becoming an obsolete trade in Singapore, I was delighted to rekindle the memory of freshly grounded coconut in the market.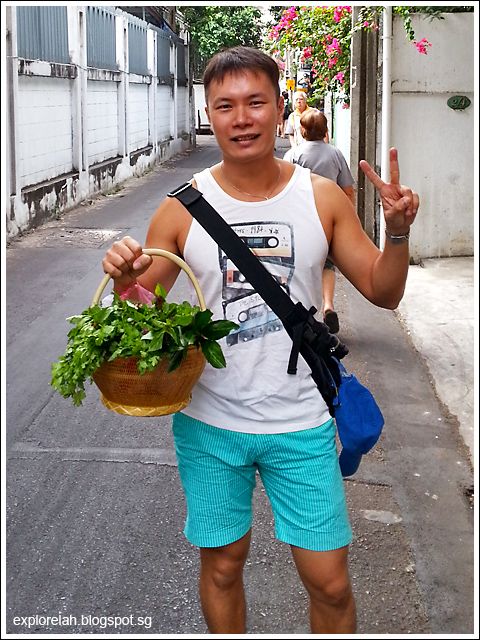 I thought it was rather comical to to carry a basket full of vegetables in a foreign land but I guess that's the best way to assimilate and appreciate the local way of life. After the marketing, we were led through an alleyway to get to Silom Thai Cooking School. The school was rather obscure and walking into the local neighbourhood opened up another dimension of the metropolis.
Wok on the Khao Side
I was worried that I would wake up late, miss the market tour and can't find my way to the school but the confirmation sent by Siliom Thai Cooking School gave clear directions in locating it. The key is locating the side street it is on and just follow the yellow signs pointing the way.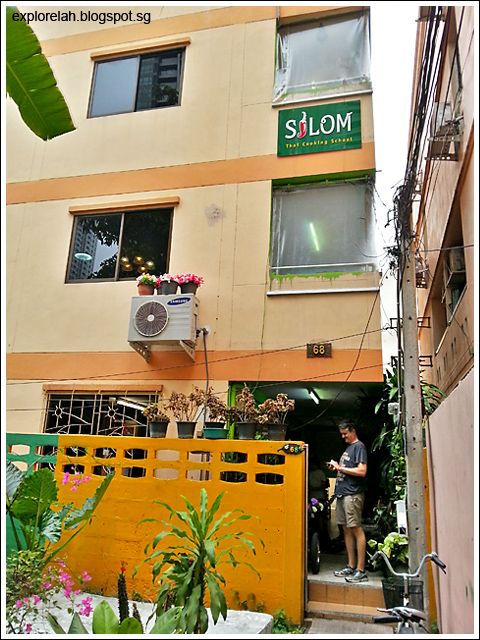 Silom Thai Cooking School is a narrow 4 storey apartment that's been converted into a house of the woks.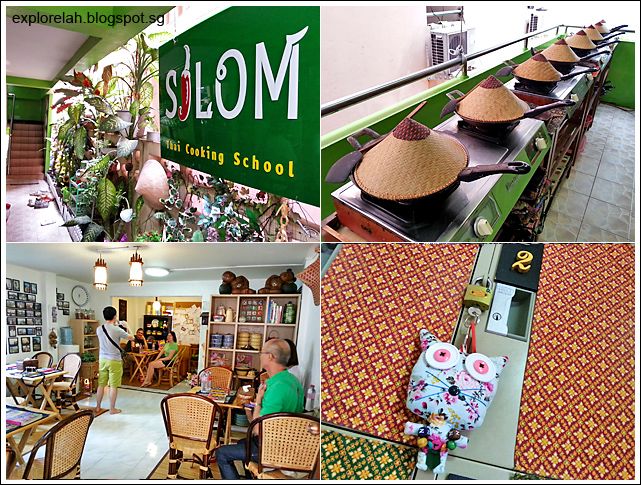 Taking 4 flights of stairs, 7 of us were brought to an air-conditioned dining room. Lockers are available for the storage of belongings and the effort to dress them up with ethnic prints was such a small but nice touch!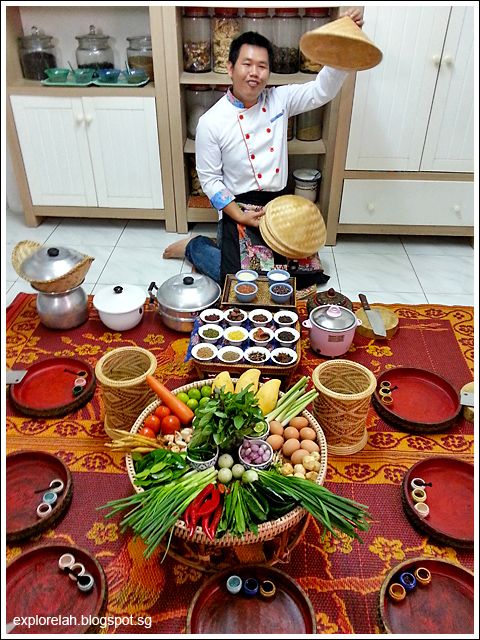 Preparation of ingredients was done in another classroom a door away. That's our instructor and chef signalling the start of our culinary experience.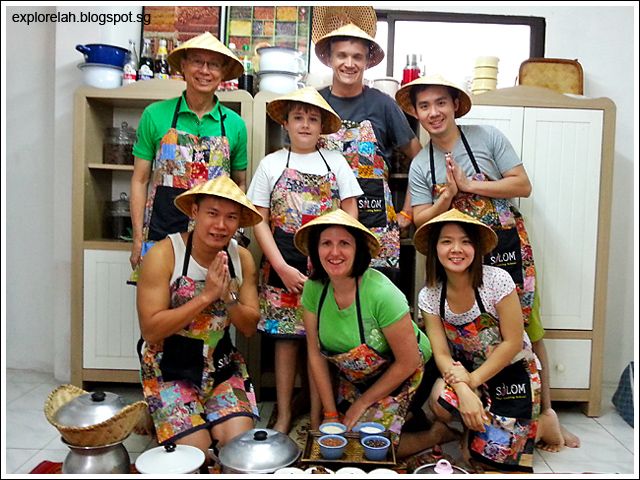 Cam whores like me would love the many photo ops during the class. These are my classmates... Wei Qiang from Jakarta, a Slovakian family of 3, and my fellow country folks, Damien and Phoebe from Singapore.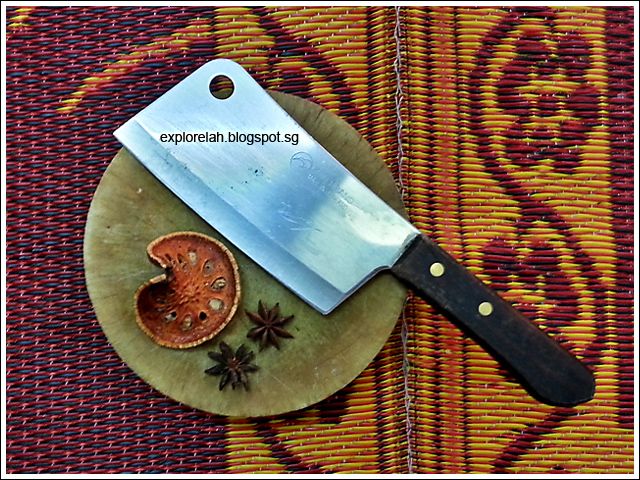 Time to slice, pound and chop!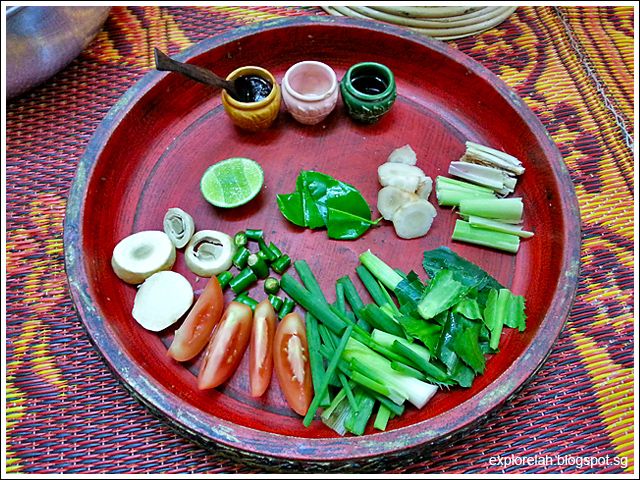 Indredients for Tom Yum Gung... Thai chilli paste, lime juice, fish sauce, pomelo leaves, blue ginger, lemongrass, Thai basil, spring onions, tomatoes, small green chilli and Thai ginger.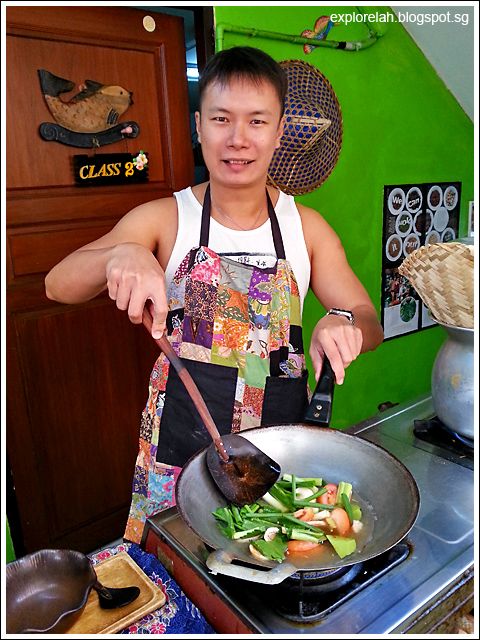 Unlike Chinese soups that simmer for hours, Tom Yam Gung is a quick boil of all the ingredients for a very appetising broth. They say that the quickest way to lover's heart is through the stomach... now I've got that covered. LOL.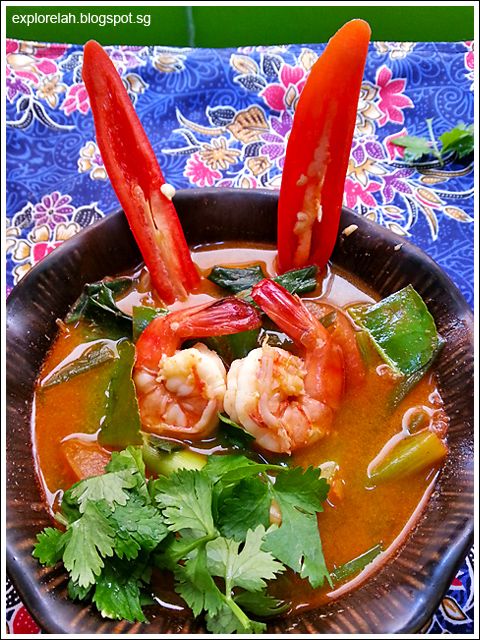 All it took was 15 minutes at the wok to serve up a Tom Yan Gung! Must try this at home if only I could find the Thai chilli paste, basil and ginger.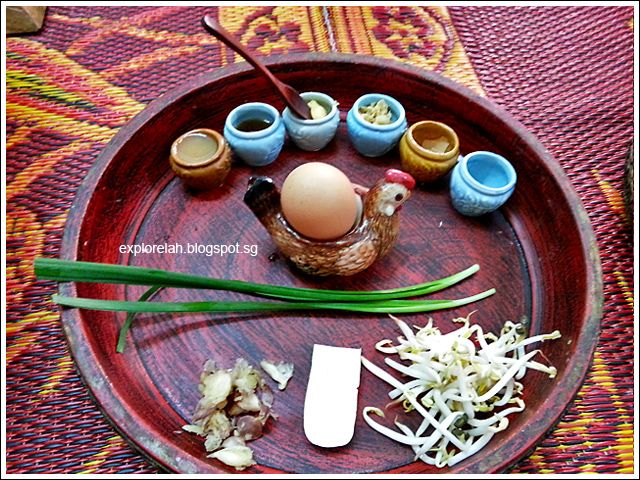 Ingredients for the national dish, Pad Thai... beansprouts, tau kwa, garlic, chives, egg, lime juice, fish sauce, tamarind paste, chai bor, and palm sugar.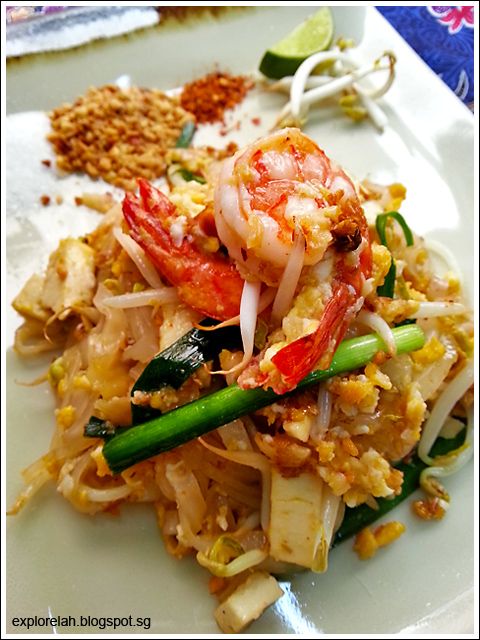 According to our instructor, Thais seldom cook Pad Thai at home and prefer to buy it off the streets because the ingredients are such a hassle. I didn't know that such a popular and seemingly simple dish is actually a kitchen feat for the locals!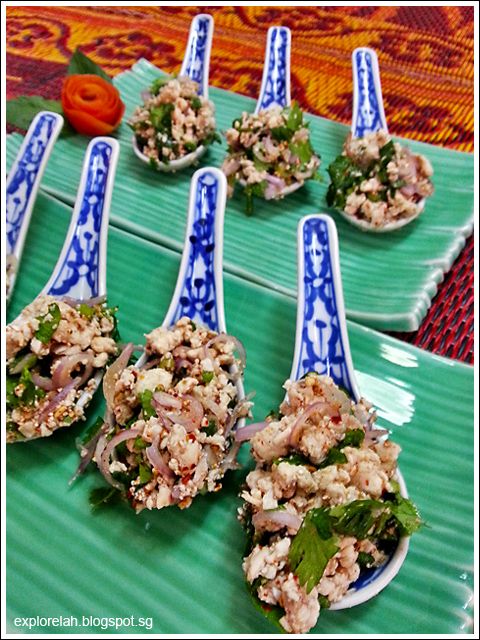 We chopped the onions and condiments but this Lap Gai (minced chicken salad with spicy sauce) was put together by our chef while we watched. It tasted too salty for my palate.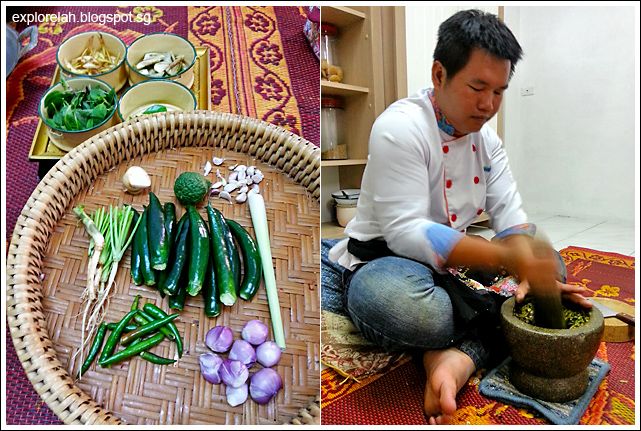 Next, we prepared the most colossal dish in terms of the number of ingredients needed... Green Curry Chicken. Just the number of ingredients needed was enough to cause amnesia. Green curry gets its colour from the green peppers as well as chillis.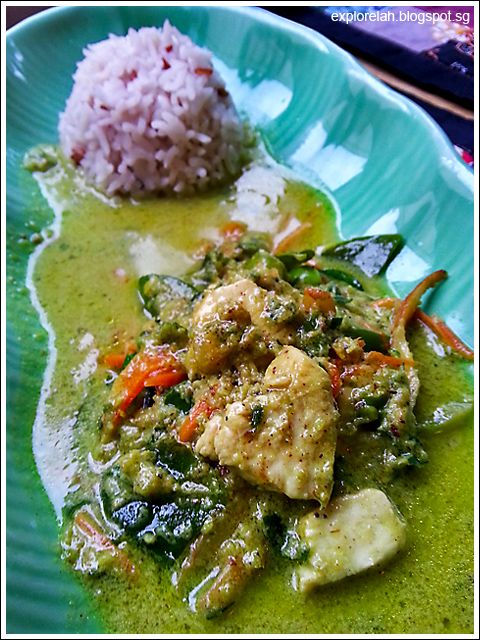 Ta-da! After cutting, mashing and pounding all the various spices and ingredients, we cooked green curry! Cooking was quick but preparing the ingredients was a lot of work. Instead of pounding, the convenience of blenders would shorten the process but take away the brag right of hand-grounding all the spices. Handmade just tastes more "real" if you get what I mean.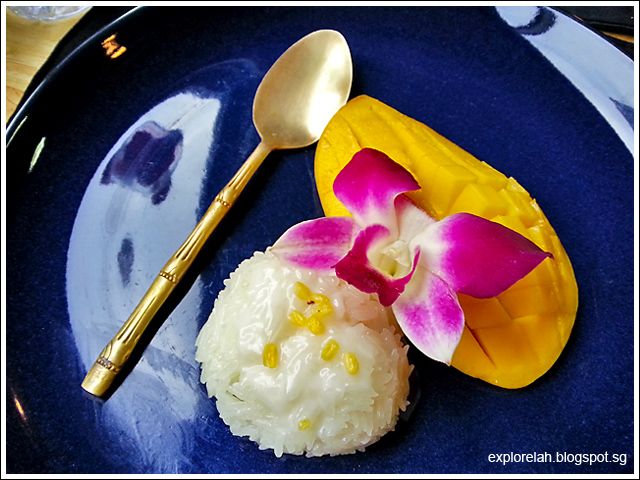 Khao Neaw Ma Muang (mango sticky rice)... our 5-course class and meal rounded off with this ever popular dessert and while we didn't 'cook' this, we were shown how sticky rice was to be prepared... soak the grains over night and steamed for 20 minutes in a closed pot. Normally, I would eat just the mango but the coconut cream and texture of the rice was so divine, I devoured everything... not the orchid though. Hahaha...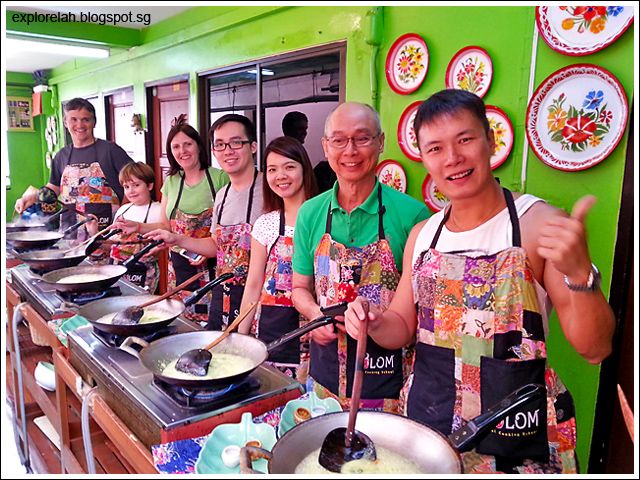 Totally enjoyed the process of making new friends over hot woks that added more flavours to my favourite Thai dishes!
I believe that different schools probably have slight variations in recipes and ingredients for the dishes but the ones provided by Silom Thai Cooking School were delicious. Except for the Lap Gai, the other dishes were yumilicious and tasted even better because we made it ourselves! And bring along a container to pack any remainder food (though there will be few) so as not to waste the work that has gone into them.
It came as a
shock
surprise to me when I was told that Thais would discard any unconsumed food and no one would "blame them". I felt that it is such a waste of effort and agriculture when so many are going hungry in the world. If I knew, I would've brought along containers to pack excess food to eat later or share with the less fortunate on the streets. Throwing away clean, delicious and edible dishes was just wasteful.
If you're looking for an authentic Thai experience, consider a cooking class and stir-fry your way to a vacation of salivations!
Address :
68 Silom Soi 13 , Silom Road, Bangrak, Bangkok 10500
Tel :
08-4-726-5669 (local)

;
+668-4-726-5669 (overseas)
Website :
http://www.bangkokthaicooking.com/