Date of Exploration :
4 Nov 2013
Having stepped into the nostalgia-laden heritage district of
Kota Tua
and swam in the eco-rich waters of
Putri
and
Sepa Island
, my discovery of Jakarta continued with an initiation into the city's shopping scene.
Historical, natural, commercial... my virgin trip to Jakarta is made complete with the 3 distinct faces of this wildly contrasting city. In the final segment of my vacation, we checked into Aston Marina Jakarta hotel and serviced residences before receiving retail therapy at ITC Mangga Dua and Plaza Indonesia, and pampering our palates with fine dine selections at Taste Paradise and indulging in a staggering display of nasi padang 'acrobatics' at Simpang Raya Istana Ayam Pop Restaurant.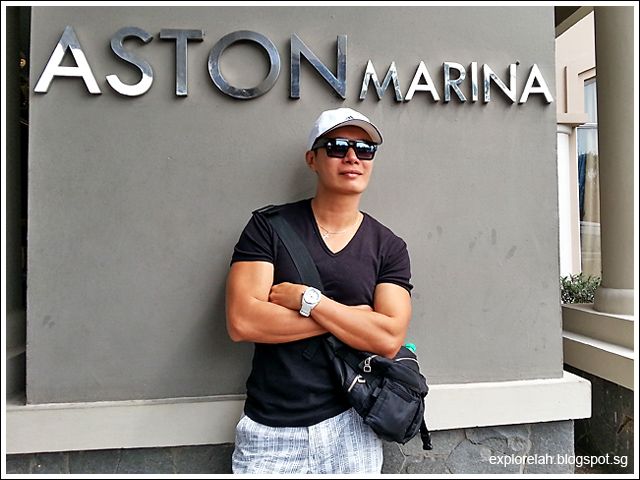 Our third hotel during my 4D3N Jakarta trip was Aston Marina hotel cum serviced residences. As the name suggests, the lodge is not too far from the coastal district of North Jakarta and a short ride from Ancol, a tourism hub with several themed parks.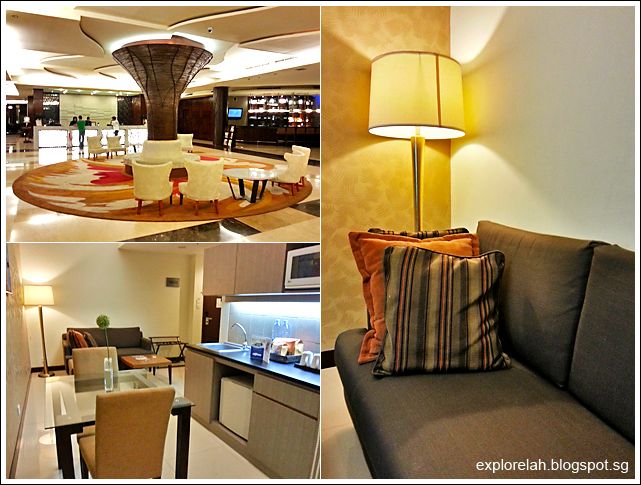 Stylishly pleasing and modern, Aston Marina is a good accommodation choice although it has no nearby lifestyle developments such as shopping complexes, eateries or shops.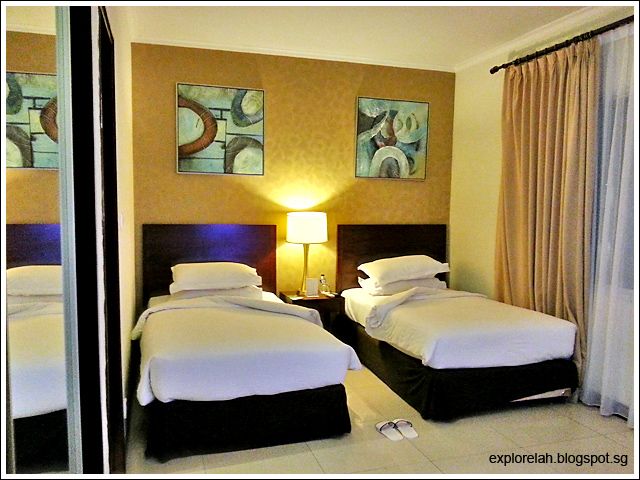 The apartment units come with an adjourning kitchen, cozy lounge area and dream space. A 2-bedroom unit costs around Rp1,158,000 (est. S$120 per night)

.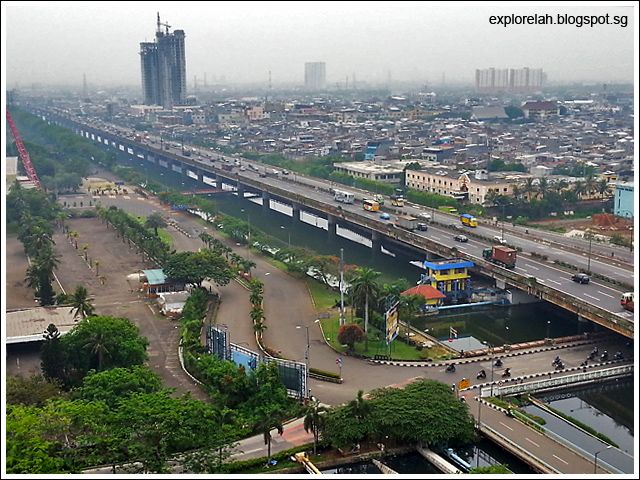 Aerial view of the sprawling Jakarta cityscape from my unit's balcony.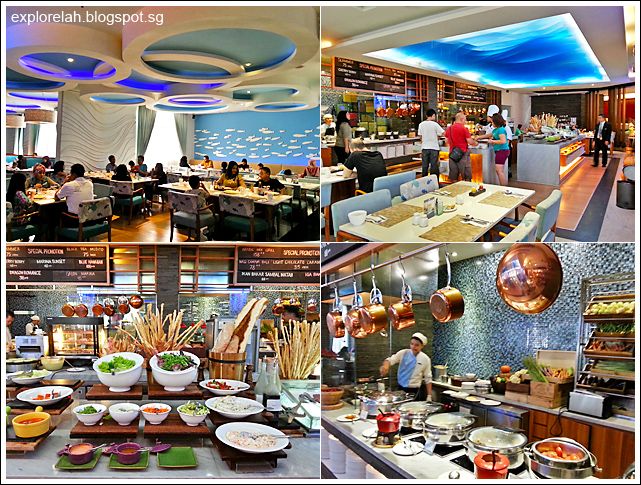 Breakfast at Aston Marina was a rather elaborate affair of western as well as local spreads.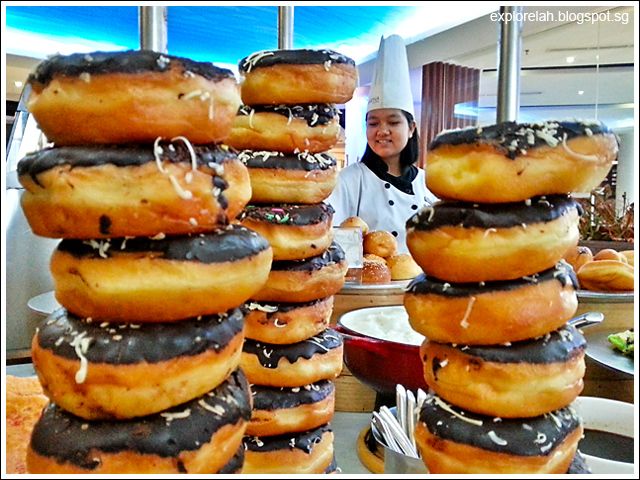 The donut towers were tempting but I preferred the saccharine smiles and services at the serviced residence.
Shopping - ITC Mangga Dua & Plaza Indonesia
After dropping off our travelling bags, we were ready to pick up shopping bags at ITC Mangga Tua and Plaza Indonesia, 2 of the city's many retail landmarks. Both malls are huge but that's where the similarity between the 2 megaplexes ends. ITC Mangga Dua is fertile ground for bargain hunting while Plaza Indonesia tips the luxury scale to create a shopping scene that caters to every fancy and budget.
Resembling a factory building more than a mall, ITC Mangga Dua is insanely packed with stalls selling everything that you can wear and decorate yourself with as well as food and snacks.

ITC Mangga Dua forms only one part of the colossal Mangga Dua shopping district which consists of 6 main shopping centres -
Mangga Dua Mall, Harco Mas Mangga Dua, Mangga Dua WTC, ITC Mangga Dua, Dusit Mangga Dua and Pasar Pagi Mangga Dua. Each mall specialises in different products such as electronics, furnishings, foodstuff, etc with ITC Mangga Dua being the hub for fashion and accessories.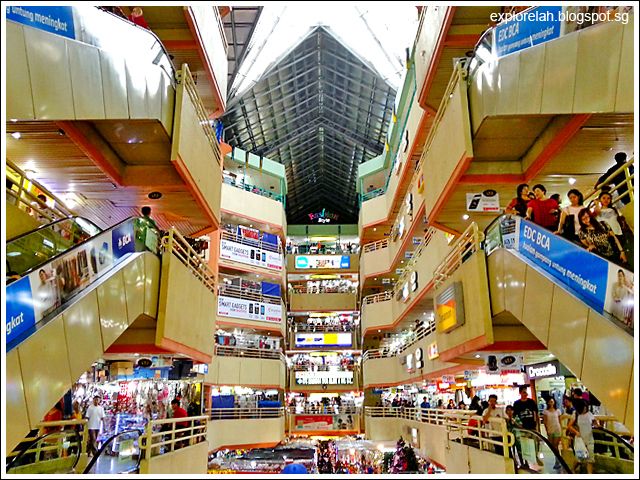 Hundreds of shops crammed onto 6 levels leaves narrow walking aisles between retailers and makes for a dizzying shopping experience to visually sieve through the myriad of merchandise. The human traffic can reach epic proportions during weekends so go on a weekday if you can help it. And as anywhere with a crowd, beware of pickpockets.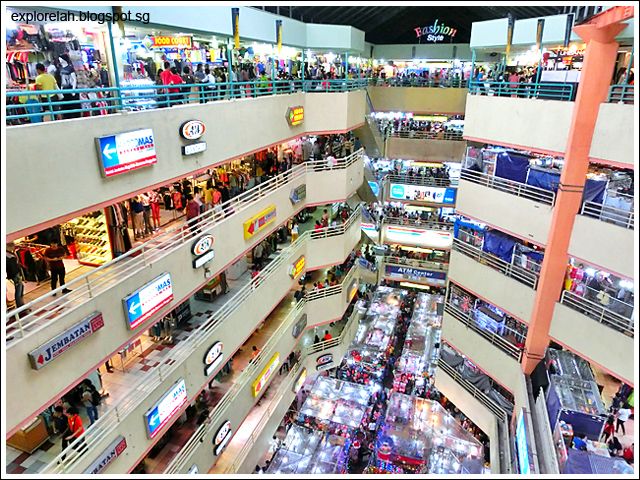 Always bargain when shopping at ITC Mangga Dua. Something that costs Rp300,000 may be bargained down to Rp200,000 or less. We bought 4 souvenir t-shirts for Rp100,000 but a street peddler at a restaurant later sold the same t-shirts at 5 for Rp100,000. So things may not always be cheaper here and be daring to slash prices.

If you see something that you like, buy it straightaway instead of trying to locate the shop in the retail maze later. The wholesale centre operates from 10am to at 6pm so do go early.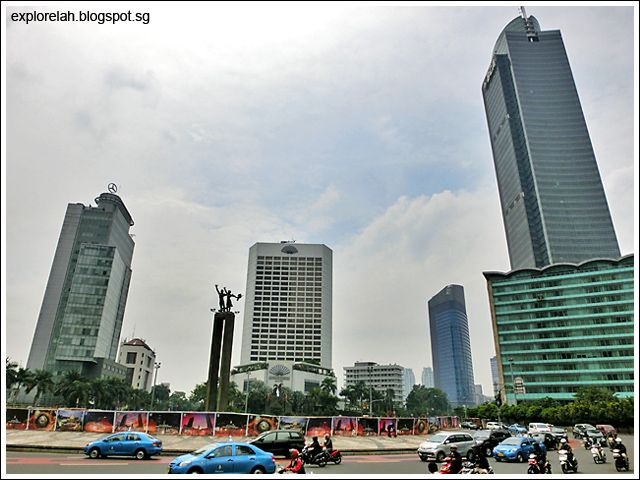 Located at the financial ring circling the famous Selamat Datang (Welcome) Statue about a 20-minute car ride (without traffic jam) from ITC Mangga Dua is the upscale Plaza Indonesia mall.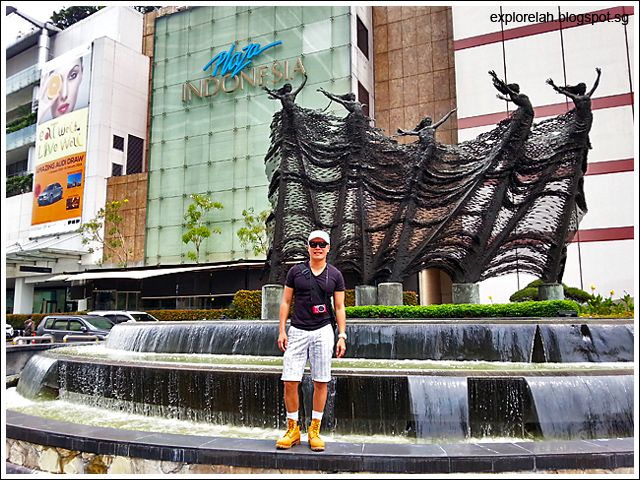 Doing a conjoin act with the Grand Hyatt, Plaza Indonesia is opened in the mid 80s with more shop space and offices added during a 2007 extension that turned Plaza Indonesia into one of the country's top-of-the-line mixed-use development.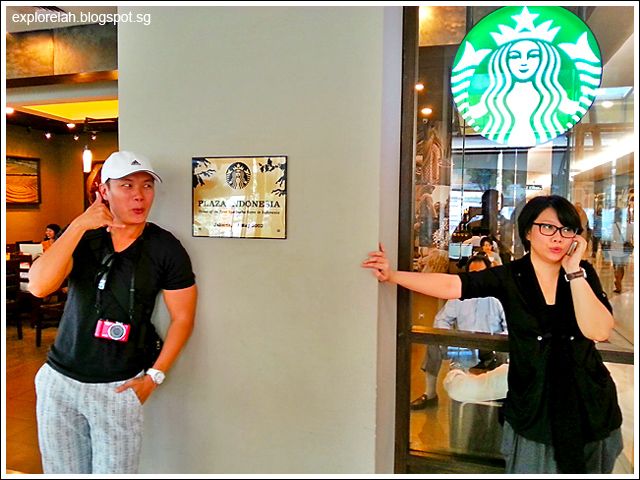 Call me maybe? Plaza Indonesia is also home to the first Starbucks (opened in May 2002) in the country. This lady was nonchalant about us taking photos with the sign so I decided to 'pose' with her in the shot after giving up on waiting for her to move away. The outcome is rather hilarious!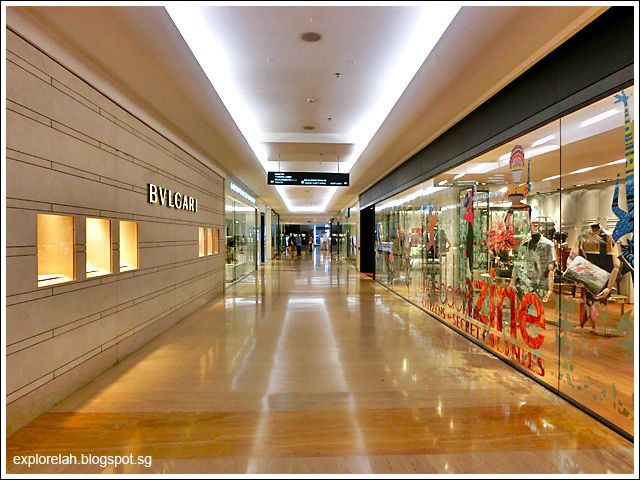 Bvlgari, Louis Vuitton, Gucci, Celine... the big brands in luxe are gathered at Plaza Indonesia that sees tai-tais arriving in chauffeured posh cars.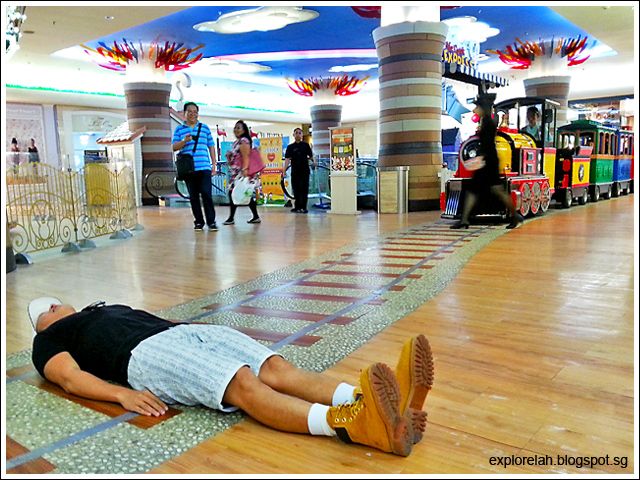 There's also an in-mall amusement deck for kids... and those who refuses to grow up. LOL.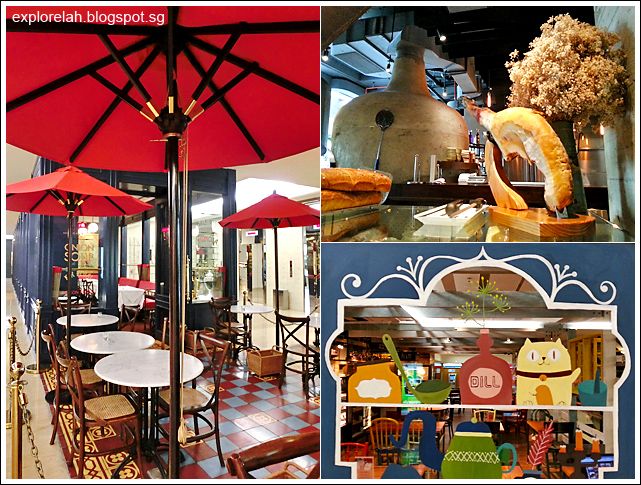 Brand shopping is not the only thing to do at Plaza Indonesia with funky boutique cafes and art-decor restaurants deserving eyeball time.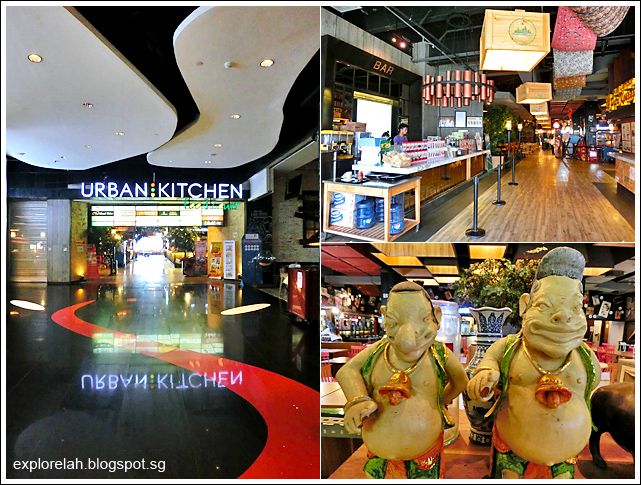 Even the mall's food court is an interior design spectacle that melted ethnic elements from various cultures into a feast for the eyes and stomach.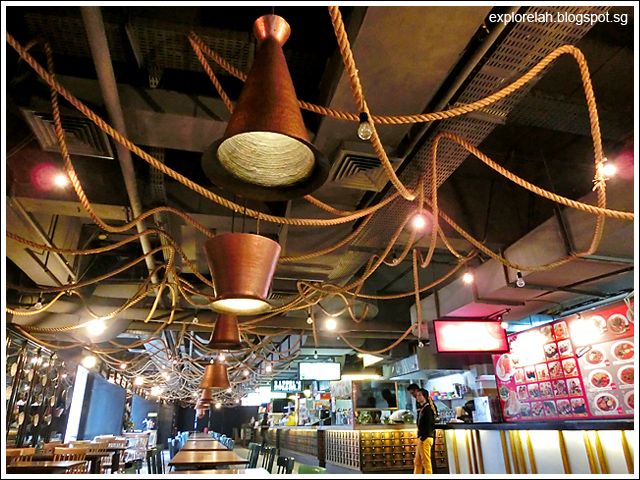 Love this industrial-meets-wharf ceiling installation and other artistic detailing that turned Plaza Indonesia's Urban Kitchen into a must-see attraction at the mall.
Taste Paradise
Address : Plaza Indonesia South Gate, 4th Floor #01 JL. M.H. Thamrin kav 28 – 30, Jakarta 10350
Tel : +6221 2992 3838
It is ironic that it took being out of Singapore for me to learn about a home-grown restauranteur made good. Being a Singaporean and somewhat foodie, I was almost embarrassed to admit that I've not heard of Taste Paradise which originated as a humble
zi-char
stall in a Defu Lane coffeeshop within one of Singapore's industrial park.
Known as Seafood Paradise when it started in 2002, the small business had since grown into the Paradise Group of restaurants with a bevy of signature dining outlets in Singapore, Malaysia, Indonesia, China and Japan. To make it so big from such humble beginnings, the food must be really something.
And it was.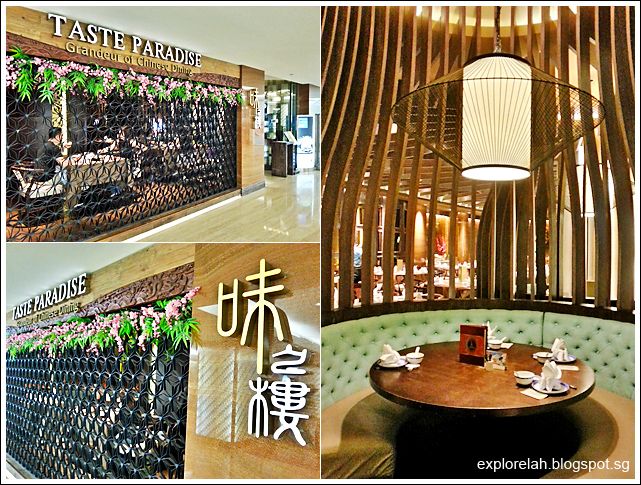 Taste Paradise Jakarta celebrates the Grandeur of Chinese Dining both in taste and ambience.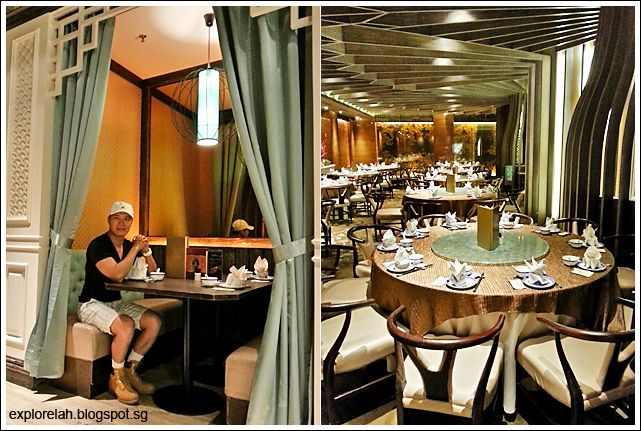 One amazing feature in the restaurant design of Taste Paradise is the creation of various dining settings - from the casual tea seating at the entrance to wooded nests with plush cushions to oriental boxes where curtains provide a screen for privacy to the resplendent open banquet hall hued in chrome and gold to 2 ornate VIP chambers, the restaurant is a library of eastern decorative styles.
The VIP seating reflected in the mirror door that cleverly serves as a wall to conceal the exquisite chamber behind it.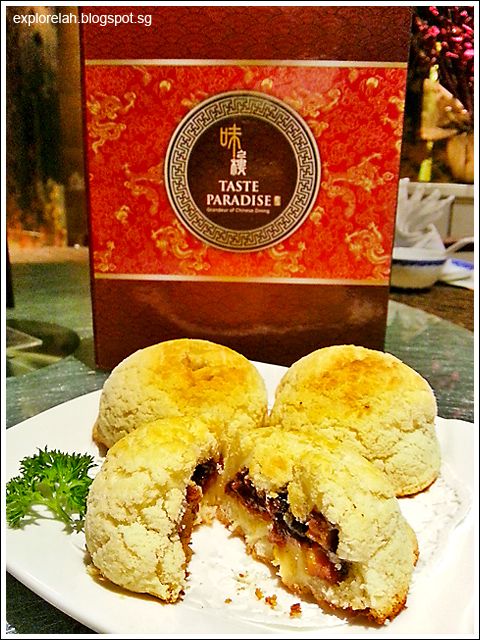 We were hosted to lunch where we sampled items mainly from its dim sum menu. Our opening dish was the restaurant's popular Snow Mountain Bun (雪山包) with a sandy crust that crumbles to reveal the char siew filling within. Having tried that Hong Kong brand dim sum restaurant that have Singaporeans queuing for hours for its char siew bao, I prefer this version at Taste Paradise. It is not oily and the bao skin's texture flakes like savoury snow. Loved it!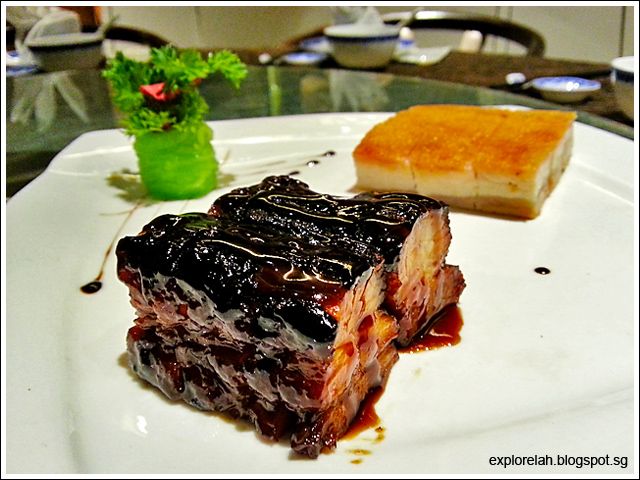 Honey glazed char siew that was fragrantly smoked and charred to perfection paired with crispy skin roast pork with a gelatinous layer of fat that melts in the mouth.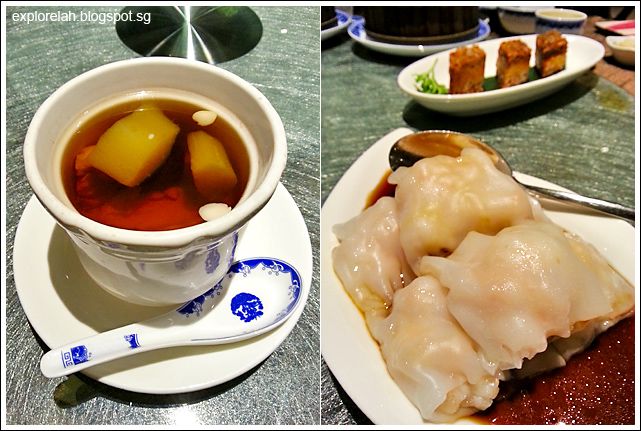 Soup of the day (left) and rice skin rolls wrapped with meat and seafood (cheong fun).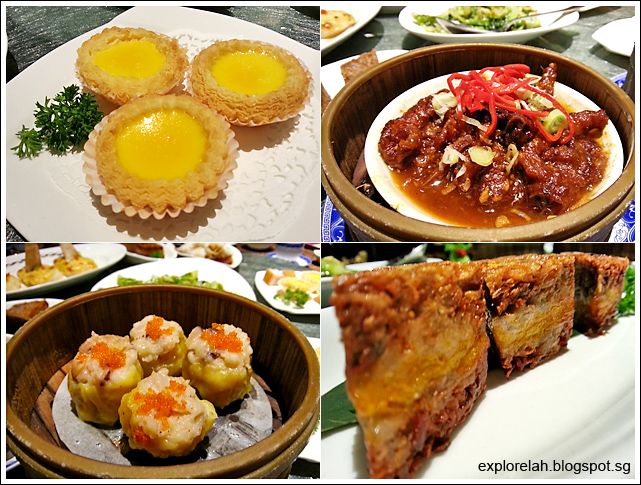 Top Left : Fluffy egg tarts. Top Right : Flavourful chicken feet. Bottom Left : Siew mai with fish roe. Bottom Right : Pumpkin and yam cake.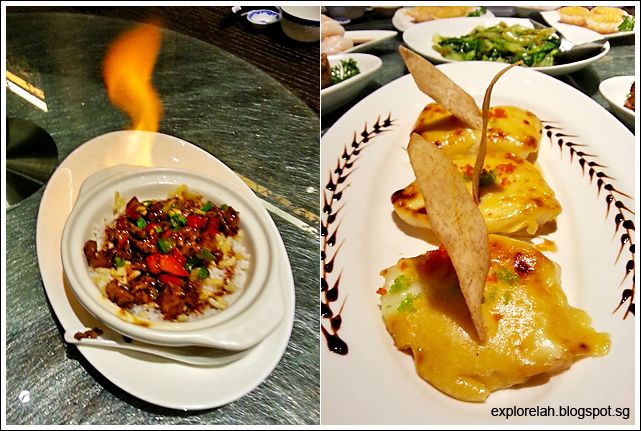 The showstopper on the table was the flaming claypot kurobuta pork rice (left) while the creamed cod medallions (right) was a fine example of the culinary innovations that are unique to Taste Paradise.
Dessert was a trio of Avocado Ice-Cream, Coonde Oonde Durian Ice-Cream and Aloe Vera Jelly that were almost too cute to eat. Taste ranged from mild to sweet to sour-tangy which brought the sumptuous luncheon to a crescendo. Taste Paradise is Eden on a plate!
Simpang Raya Istana Ayam Pop
Address : Jalan Kramat Raya No. 71, Central Jakarta City, Jakarta 10450, Indonesia
Tel : +6221 392 0161
When the dinner bell rang, we found ourselves at this restaurant with a zesty name, Simpang Raya Istana Ayam Pop. I was really tickled and imagined chicken (ayam) dressed in hip hop clucking the latest Billboard hits. But my expectation of it as the local equivalent of KFC quickly ran
afowl
when the restaurant's reputation as one of the best places to sample authentic padang food was revealed.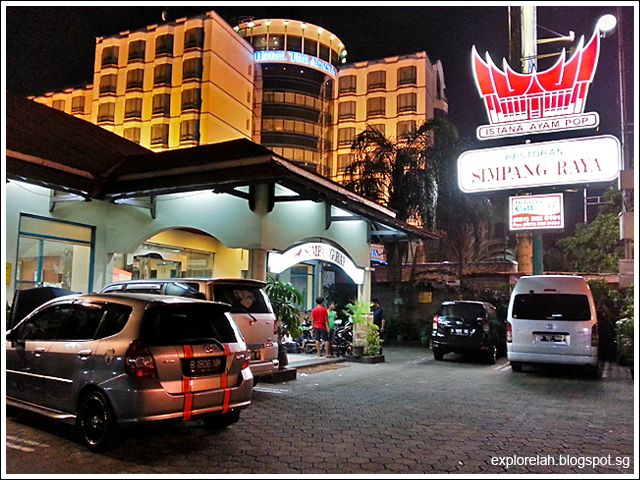 Padang food refers to the cuisine of the Minangkabau people of West Sumatra who favours curry, heavy spices and coconut milk in their recipes.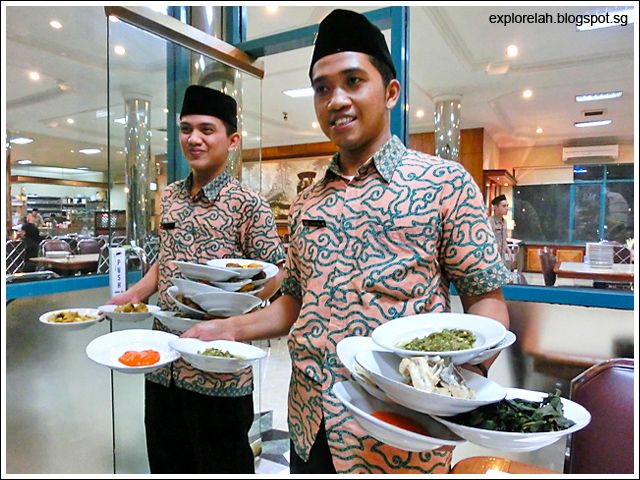 Dinnertime acrobatics. We were floored by the number of plates the waiters can balance on their arms! Can you count how many plates they are holding?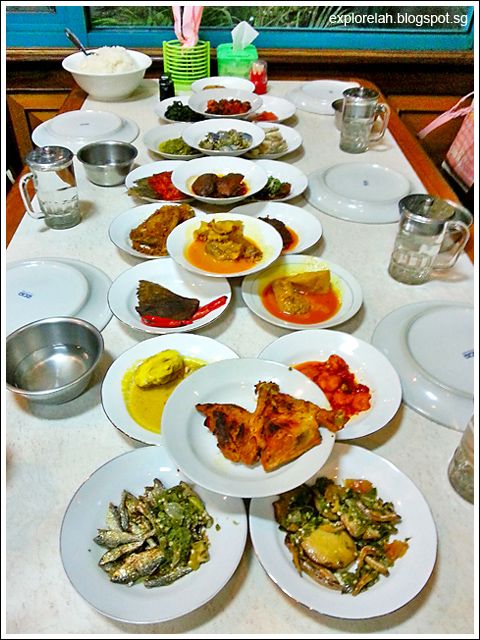 A train of food is laid out on every dinner table and customers are charged according to what they consume. Uneaten dishes are inherited by the next diners. As the food had been laid out for quite some time, they were cold and the fried chicken was rather dry and tough.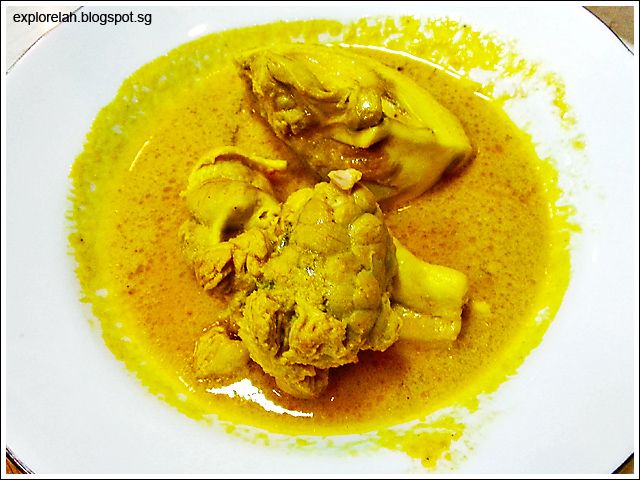 Of all the dishes, my favourites were the tiny fried fish and this... cow brain curry. The nutty flavour of the curd-like brain went really well with the aroma of thick coconut milk.
Perhaps because the dishes lacked warmth and most of the meats were rather overcooked, I didn't quite enjoy the meal although I found the interesting dining experience a fitting wrap for my first tastes of Jakarta. The city has a wide offering of tourist attractions all laid out for a memorable vacation, but most of them needed some reheating to keep delicious and fresh!
This post has been made possible by
Jakarta Tourism Office
(represented by Russell Cheong, Winsemius Consulting). For more vacation insights on Jakarta, visit http://jakartasavvy.com/