Date of Exploration :
3 Nov 2013
Docking at Ancol Marina after our 2D1N
Putri Island
stay-over, we began a new page in exploring Jakarta with a traditional Indonesian lunch at Ancol Putri Duyung Nyiur Resto & Cafe and giving our green fingers a stretch with the neighbouring Ancol Eco Park.
Ancol is a sprawling lifestyle and leisure waterfront resort with no less than 7 themed parks
(Atlantis Water Adventure, SeaWorld, Ocean Dream Samura, Pasar Seni, Executive Gold Fun, Jaya Bowling, Beach City, Eco Park, Gondola, etc)
5 beaches
(Pantai Ria, Pantai Elok, Pantai Indah, Pantai Carnival, and Pantai Festival)
and various recreational developments at the northern coast of Jakarta.
Ancol Dreamland (Taman Impian Jaya Ancol), heralded as Southeast Asia's biggest tourism precinct is also located here. I've heard much about this mega amusement park but I'll have to save this for another visit.
Nyiur Resto & Cafe
Address : Putri Duyung Ancol, J1. Lodan Timur No. 7 Ancol Jakarta
Tel : +62 21 2601 680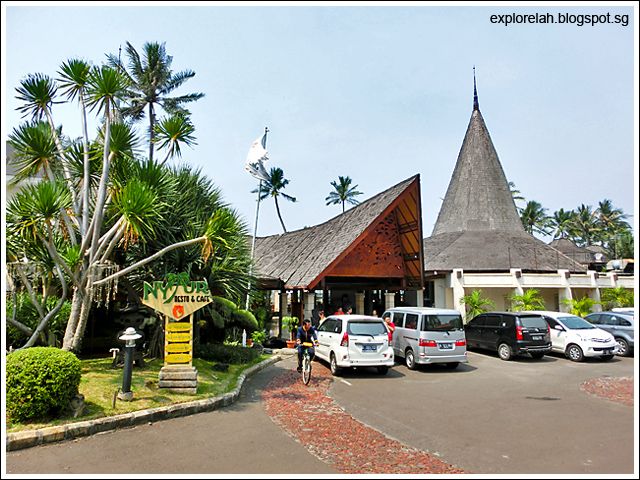 Spotting classical indigenous roofings, Nyiur Resto & Cafe's visage takes a cultural bite into the Putri Duyung Resort skyline.
Ample outdoor and indoor seating accented with bamboos and wooded hints cajole tradition to blend with the modern.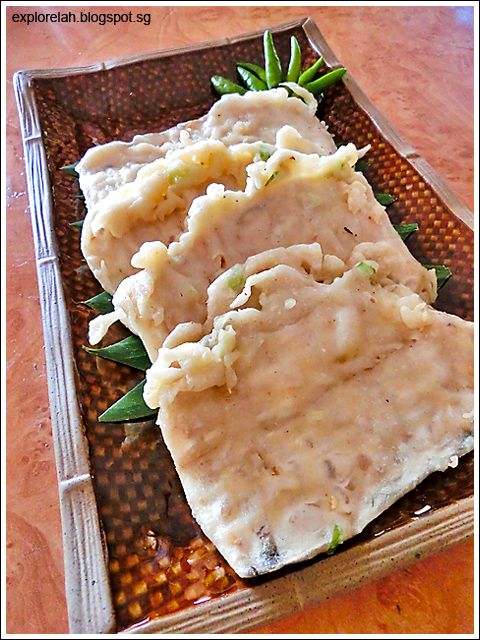 We eased into lunch with Tempe Mendoan (Rp20,000), which is fried soy bean cakes in a savoury batter that fires up the tastebuds when eaten with the small but spicy green chilli bulbs.
Sate Udang Kemangi - Grilled prawns skewers with spicy herbs and kemangi (Rp50,000); Sup Iga Sapi Asam Pedas - Hot and sour spare rubs soup (Rp40,000); and Pecak Gurame - Fried marinated carp in coconut milk with herbs (Rp48,000).
Amongst the delectables at Ayiur Cafe, my favour went to Sup Buntut (Indonesian oxtail soup, Rp47,000).
And no meal would be complete with staples eaten with Nyiur Cafe's tongue-flaming concoction of chilli pastes and sauces!
Our gastronomic journey at Nyiur Cafe came to a sweet ending with an assortment of mocktails and the delicious Pisnag Goreng Keju (banana fritters topped with flaked cheese, Rp20,000).
Ancol Ocean Eco Park
Address : Taman Impian Ancol, Jl. Lodan Timur, Jakarta Utara, p.
Tel : +62 21 29222222.
Hunger satiated, we headed over to the nearby Ancol Ocean Eco Park (5 minutes ride) for a breath of fresh air in the urban city. Coming into form in 2011, the Ocean Eco Park has 4 zones (Eco Energy, Care, Nature and Art) to raise awareness and inculcate environment-centric civic coexistence. The park is free to visit.
Yesteryear kampong lush is resurrected with tall coconut palms and attap stalls lining a path that leads to a pond and waterway where bumper capsules and rides await.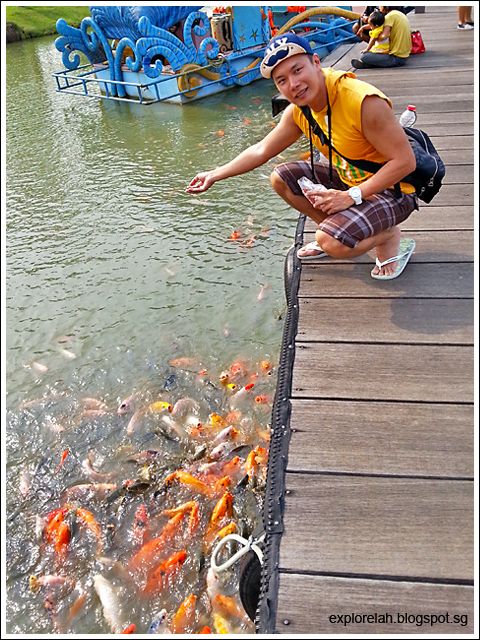 But the real hardcore action comes from the fanatic horde of kois hungry for feed, which can be bought at the ticketing booth for rides.
Ostentatiously decked out in oceanic themes, sculptured floats ferry visitors down a canal that winds through the park.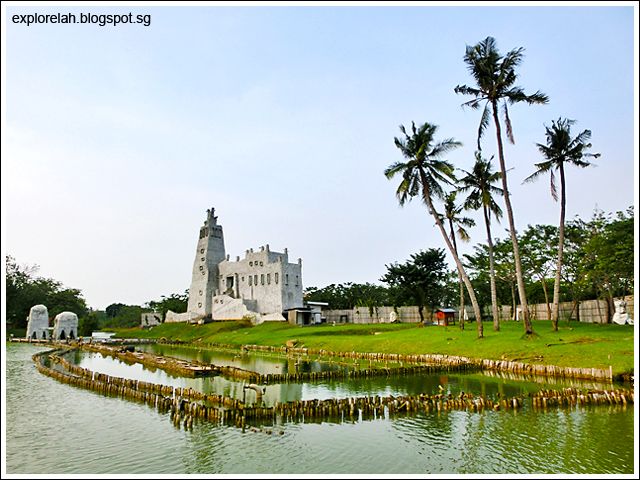 Our ride took us to the edge of a set where aquatic performances are held at the park before we disembarked on a deer enclosure...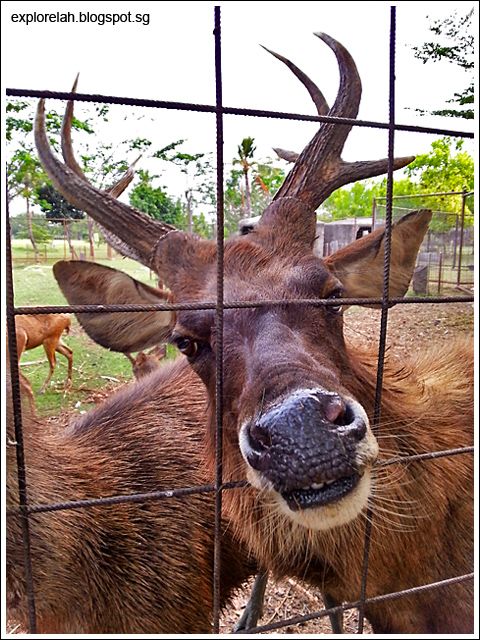 ... and were welcomed by stags...
... and a following of adorable doey-eyed deers. Eye contact is guaranteed to melt hearts.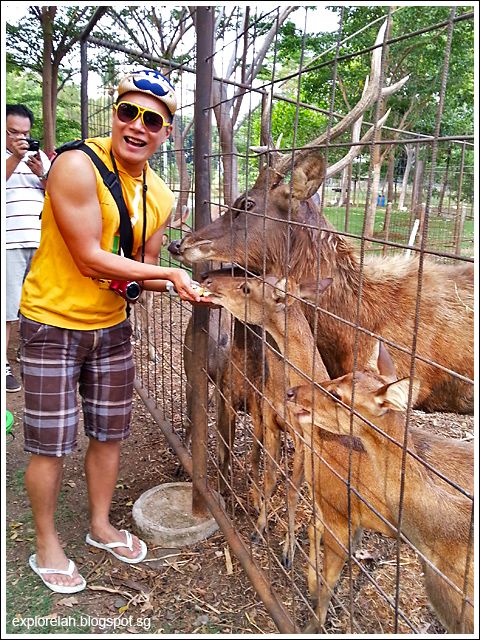 Feed consisting of apples and fruits can be obtained to lure the deers for a close encounter. It was magical to feel their wet tongues on my hand and trusting that they won't bite me. And the enclosures didn't smell bad.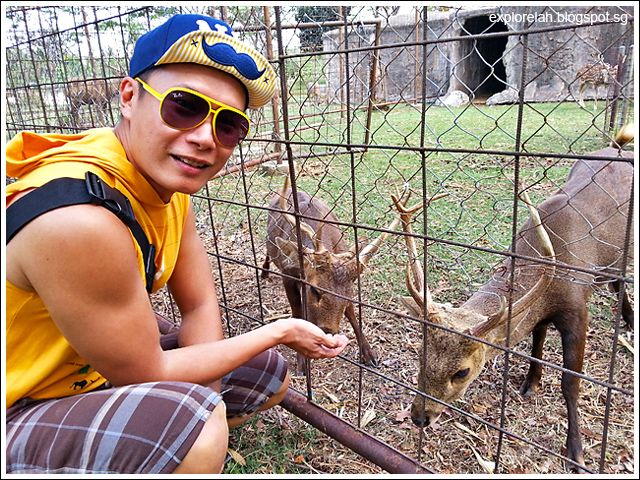 Ancol Ocean Eco Park has a few deer species of which these dwarf deers stole my affection. So tempted to smuggle one home!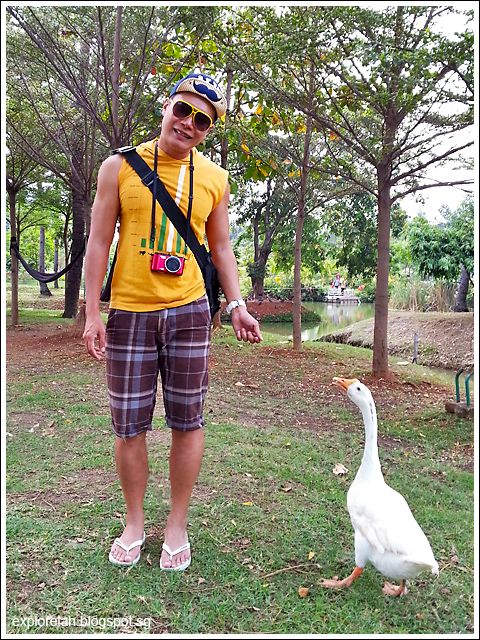 Deers are not the only 'wildlife' to get friendly with. Roaming freely around the grounds are geese and a collection of water fowls who are shy but can't resist a hand-fed treat.
I've worn down the letters C, U,T, and E on my keyboard while writing this blog post! I tried to 'hypnotise' this young fawn which I've grew so fond of into following me home. But instead, it hypnotised me into making it a point to visit the deer enclosure if I come to Jakarta again with those eyes. Heh heh...
Our brief tour of Ancol Ocean Eco Park saw only the iceberg's tip of attractions and activities that the park has to offer. Urbanites would find the greenery and rustic throwback to idyllic kampung days a rescue for the senses while the deer enclosures and park pets provided plentiful opportunities to nurture animal doting.
Ancol Ocean Eco Park is the meditative space amidst Jakarta's choked traffic and urban cacophony.
This post has been made possible by
Jakarta Tourism Office
(represented by Russell Cheong, Winsemius Consulting). For more vacation insights on Jakarta, visit http://jakartasavvy.com/
Related Posts :
Jakarta - Culture & Sensory Adventure
An Islandic Escapade to Putri Island & Sepa Island