Date of Exploration :
24 - 25 Jun 2013
Scratched into the luscious wilderness of Yilan's hilly outback, SanFu Leisure Farm has what I would call the Snow White effect. Remember the scene where Snow White sang in the woods and butterflies, birds and forest critters gathered around her? Well, it's sorta something like that at SanFu where the abundance of wildlife flutter, hop and call from every corner. And I didn't even have to sing. Or maybe it's
BECAUSE
I didn't sing.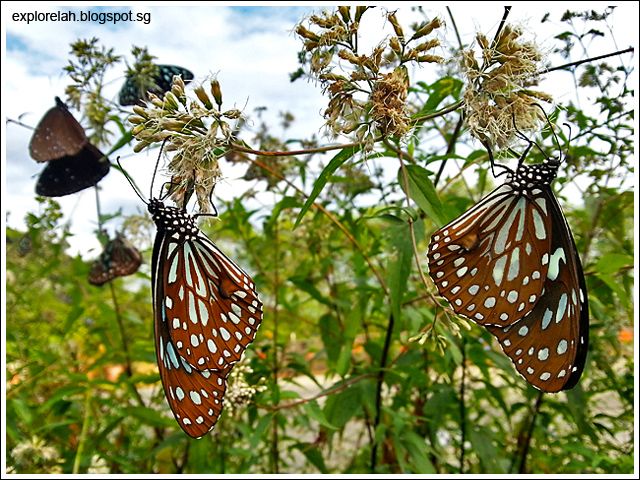 Blue Tiger and Euploea (紫斑蝶) butterflies fed and danced around a shrub right in front of our accommodation block. There were so many, I could just pick them off the bush like living petals.
We arrived at SanFu Leisure Farm at about 9pm to spend the first night of our week-long exploration of Taiwan's farm-stays. As soon as we arrived, we were whisked off on a night tour of the farm to meet some of its nocturnal residents.
For the lot of us city dwellers who count encountering an occasional cockroach at home or cat at the void deck as being an adventure with Singapore's wildlife, it wasn't long before shrieks and squeals escaped us as we were introduced to exotic frogs and bugs foraging under the cover of darkness.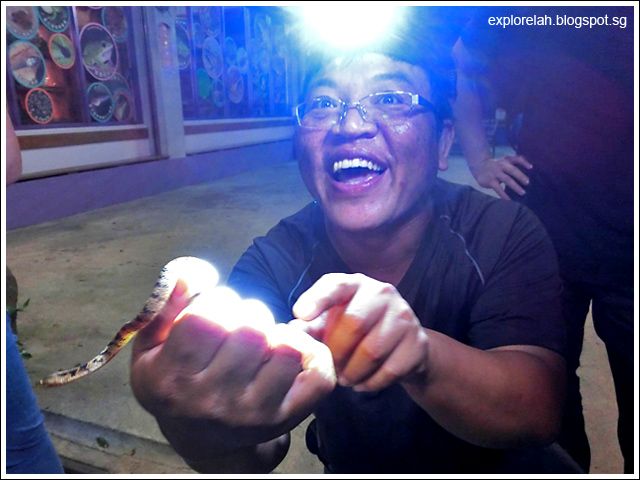 Our guide enthusiastically welcomed us with a small snake he caught wandering onto the farm's reception porch. Even if creepy crawlies are not your thing, his passion and enthusiasm about them would make you a convert.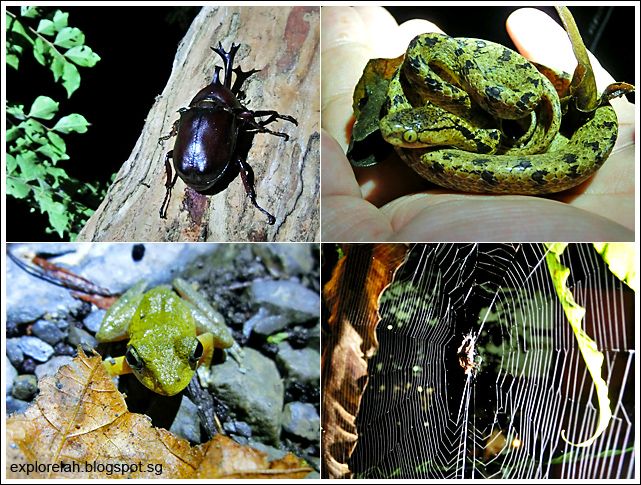 During the tour, we were introduced to insects and amphibians as they were found in their natural habitat. One of the really interesting bugs (not pictured here) was this green stick-like insect that emits a smell that resembles ginseng when under threat. The smell is supposed to be offensive to predators but loved by humans. And there was a species of spider whose web is not sticky on the frame threads but extremely sticky on the radius threads. It also eats its web every night and spins a new one for each daily hunt.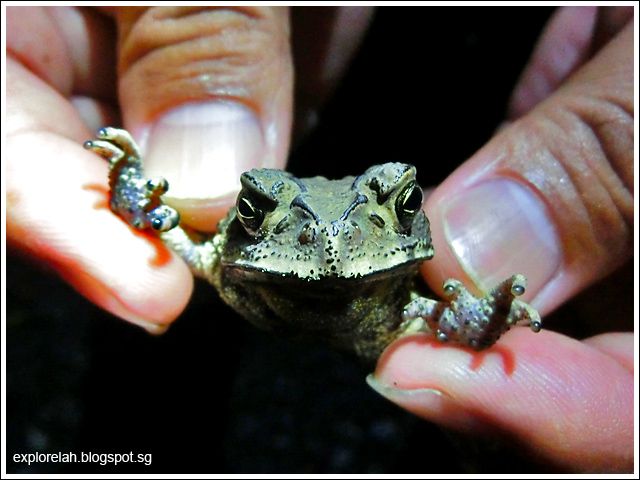 Up to 60% of Taiwan's frog species can be found at SanFu Leisure Farm along with a wide variety of toad species. This toad squirts a jet of fluid from its parotoid gland when it is mad. So handle with care! Or not at all.
Being someone who fascinates easily with the breathing creations of nature, I totally enjoyed the brief tour and getting a first glimpse of the premises. I couldn't wait for daybreak to check out more that the farm has to unfurl under the sun!
On an Ecological Crusade
Situated near Renshan Botanical Garden (Taiwan's National Botanic Garden of Yilan County), SanFu is bequeathed with pristine ecological conditions which the farm vehemently protects. No pesticides, insecticides or chemical additives are used on its crops for pest control so that the natural ecosystems remain untainted by synthetic products.
An example of pest control without the use of insecticide is the ingenious deployment of spawning pots all around the farm. These pots are filled with stagnant water to attract mosquitoes to lay their eggs. But the owners have placed guppies into these pots which feed on the wigglers, thereby decreasing the number of adult mosquitoes at the farm.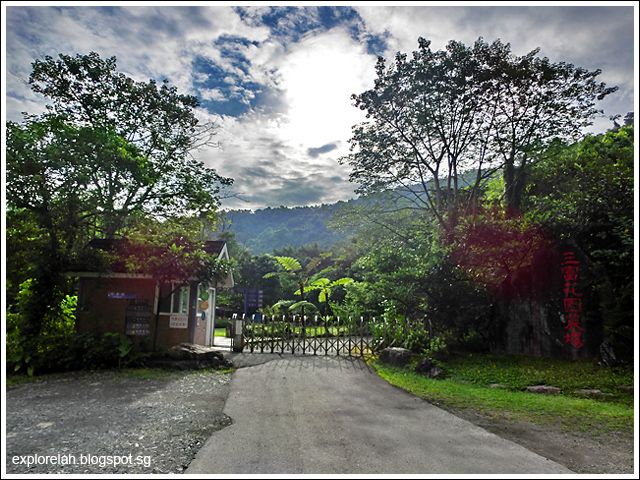 Entrance of SanFu Leisure Farm.
Apart from opening a window to eco-friendly and organic farming methods as well as providing ample opportunities to meet an assortment of butterflies, caterpillars, spiders, beetles, frogs, and birds, Sanfu has a restaurant that serves up healthy farm-fresh cuisines and activity centers to wield your creativity on DIY handicrafts, enjoy the amiable antics of parrots and parakeets, or just sip purple coffee (that's right, purple coffee!) by a koi pond.
For the more adventurous, go on a hike around the farm, indulge in macro photography of stunning insect specimens, or venture out to the nearby Renshan Botanical Garden, Shin-Liao Waterfall, May-Hua Lake, Luodong Forestry Culture Garden as well as Luodong Night Market. As my stay was very short, I did not get to check out these other sights or know how close they are to the farm but I guess you can enquire and arrange transportation through SanFu.
Although I was rather tired from the flight the previous day and the excitement of my first farm-stay, I woke up extra early to explore more of SanFu as my appetite to meet more of its natural inhabitants was whetted during the night excursion.
While the farm has a huge landscaped pond and accommodation that's rather done up, most parts of the premises are left pretty much untouched so wandering beyond the built environment, dirt paths covered with fallen leaves and untamed forestry take over.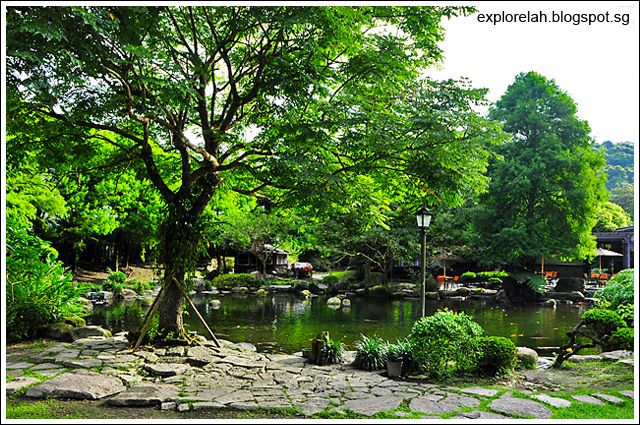 A huge pond near the entrance to SanFu Leisure Farm extends a picturesque handshake to welcome visitors.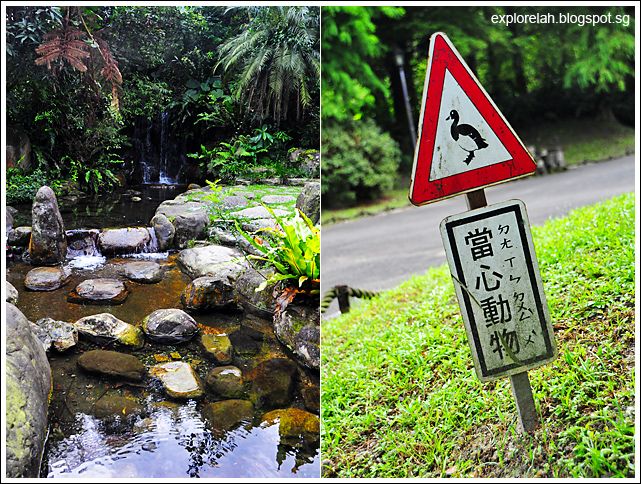 A mini waterfall streams pass a stone path while signs reminds visitors to be mindful of animals roaming the farm's grounds.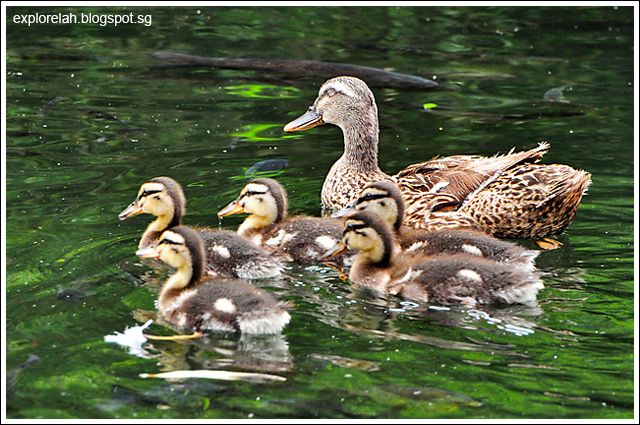 There were quite a number of ducks and geese running free in the farm. They minded their own business most of the time but do watch out for duck poo that littered pathways around the pond.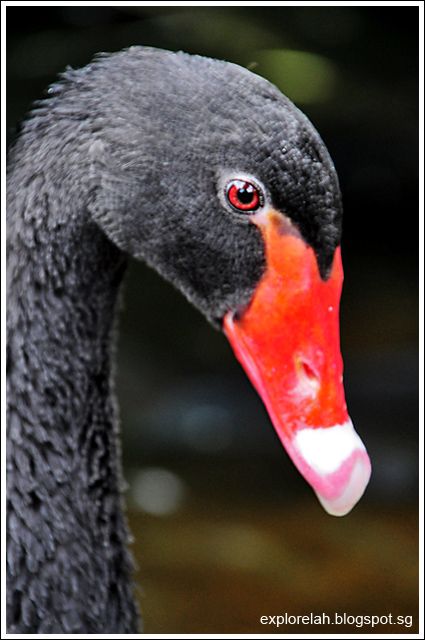 A pair of elegant black swan was spotted at a pond near the farm's main restaurant.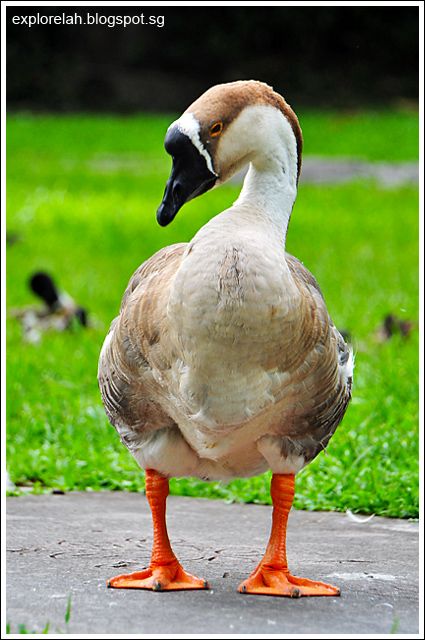 My stomach growled when I took this shot. I shall call this feather dish... Roast.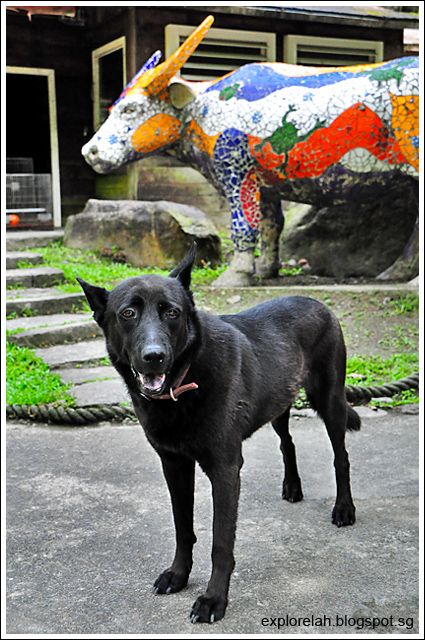 This handsome blackie is Officer Kuro, SanFu's resident watchdog.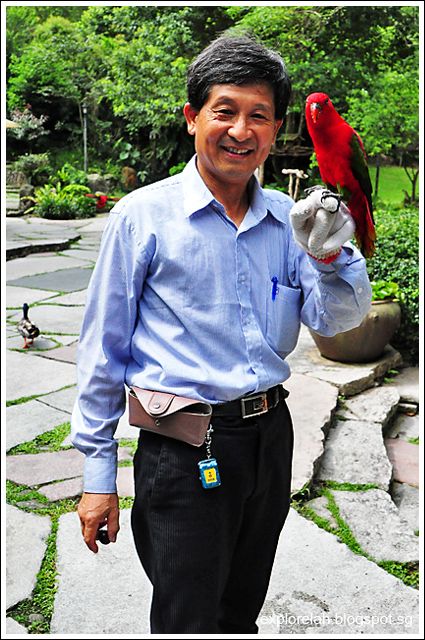 One of the owners of SanFu hand-raised parrots, parakeets and lories as personal pets and show birds to delight visitors.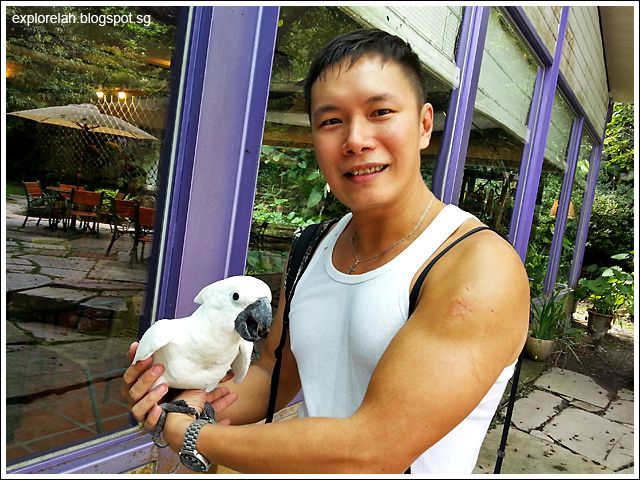 This white macaw parrot was a little hostile initially and kept pecking at my fingers when I tried to touch it but my persistence convinced it of my sincerity to make a connection. After it got on my hand, it didn't want to go back to its metal stand. Aww... I would've brought this new friend home.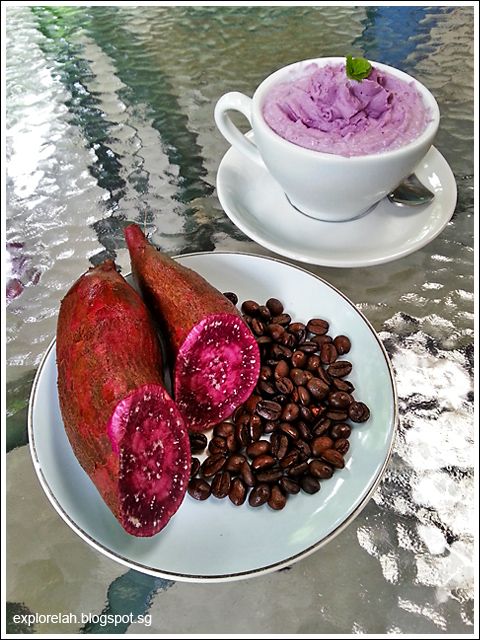 And this is the Purple Coffee that SanFu is famous for. Actually, the coffee is just like any regular roast but the top cream made with magenta sweet potato added that touch of whims.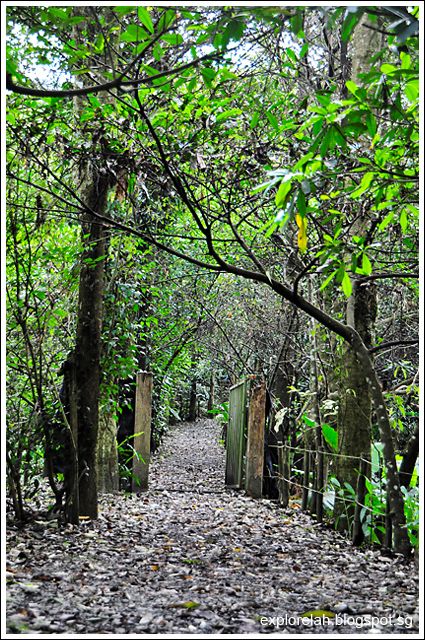 A rustic leaves-paved path circles the farm for that enchanted forest escapade. Wear insect repellent though as the mossies here who survived the breeding pots are commando-trained.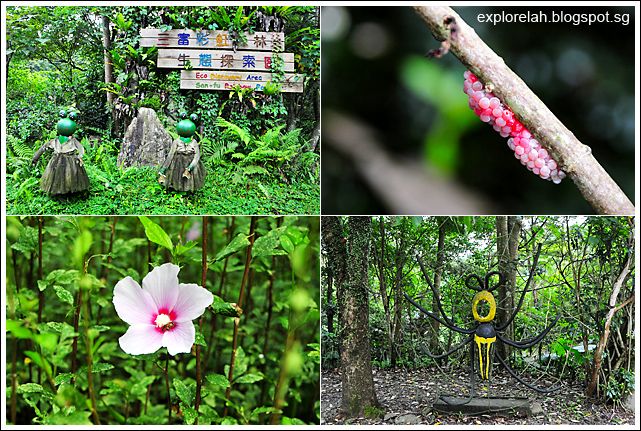 Environs and discoveries around the farm.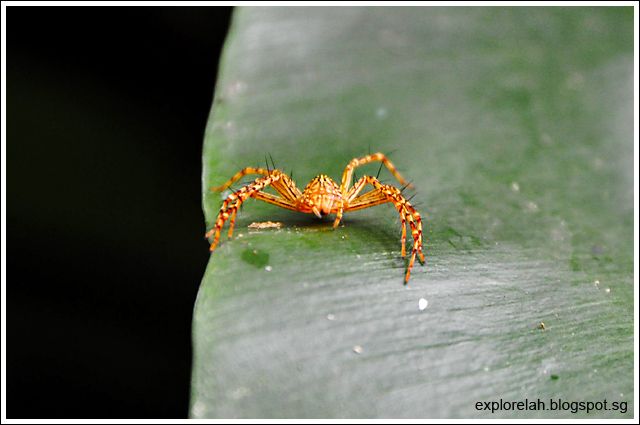 My search for something unusual amongst the green was rewarded by this brilliantly variegated spider with mean spiky hair. So beautiful!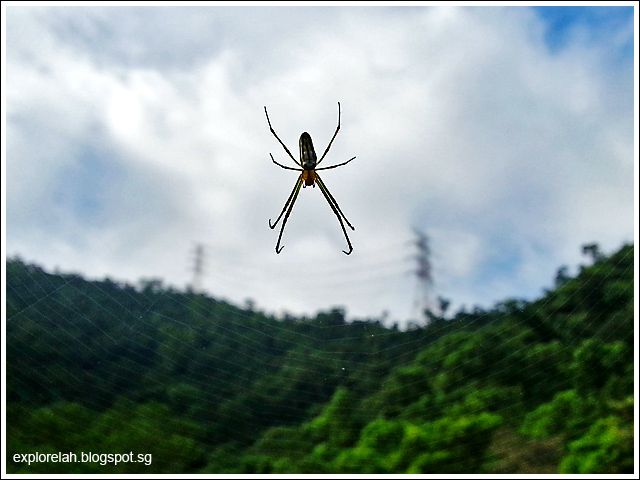 Having shot quite a collection of orb weaver spiders, this is one of my favourite as the spider seem to hang in mid-air between the web of power transmission towers. This shot was taken with my mobile phone camera.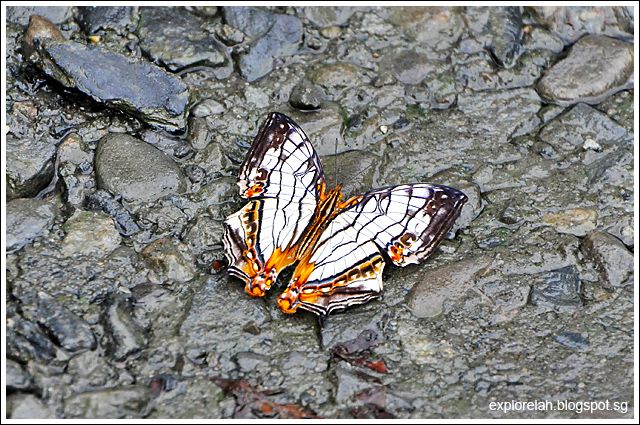 A Mapwing Butterfly extracting moisture from the ground. We were told that on certain days, huge gatherings of butterflies can be spotted around the grounds of SanFu drinking their fill.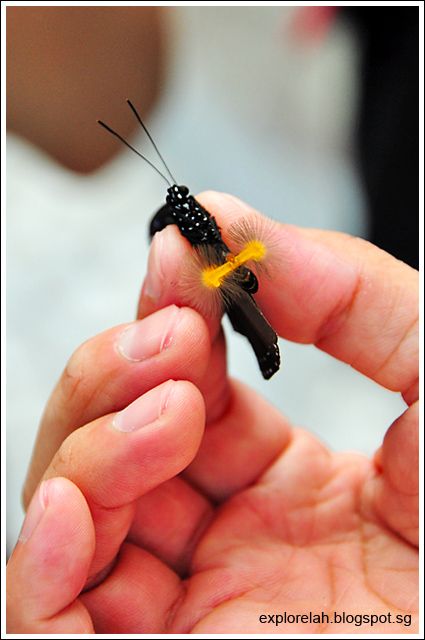 Just learnt something really interesting... The Euploea Butterfly (commonly called the Common Crow) 'flowers' from its behind when it feels threatened.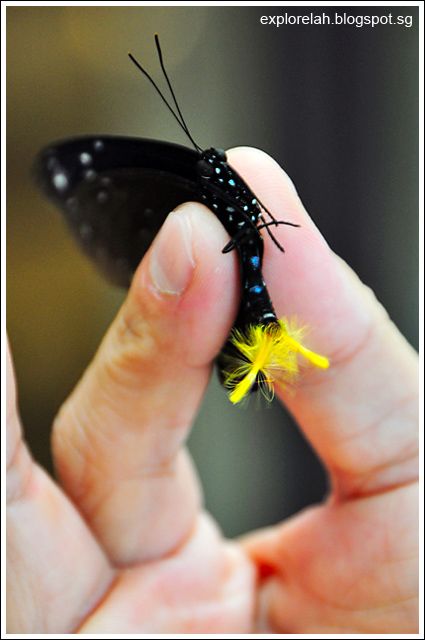 A butterfly that farts flowers... How bizarre!
And when the butterfly fails to scare its threat away with the fanny blooms, it plays dead because no predators like to eat a carcass. When it detects that it is no longer under threat, it suddenly wakes up and flies off. Amazing!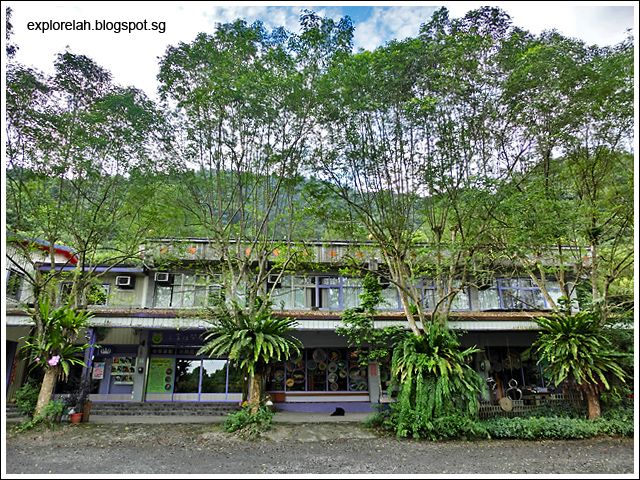 Reception annex of SanFu Leisure Farm. This is where the check-on for accommodation happens.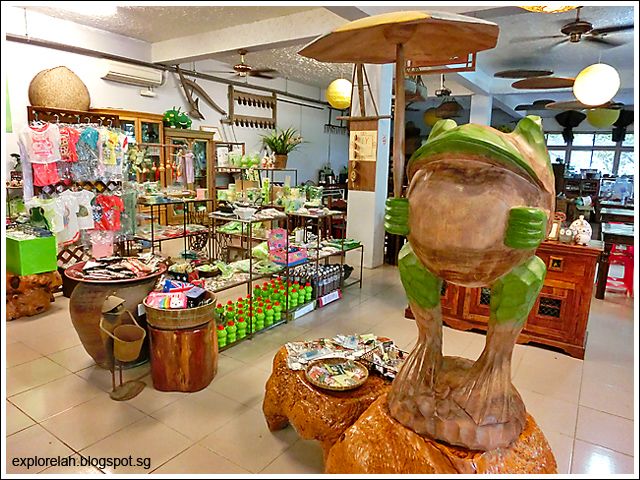 Inside the reception is a gift shop that is stocked with frogs and owls memorabilia.
She's the daughter of SanFu Leisure Farm's current owner and the successor of her family's business.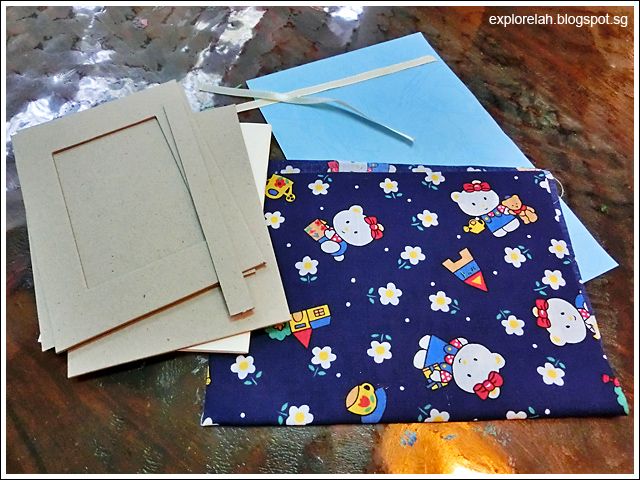 The reception also houses a few benches where DIY activities take place. We got to try our hands at making a notebook. This Hello Kitty rip-off is my choice for the cover. Cute hor?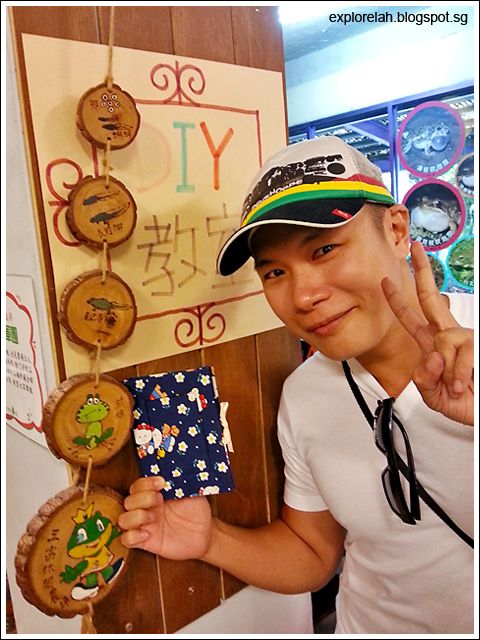 Kawaii neh! I meant the notebook. LOL
The accommodation block is situated higher up the hill behind the reception annex.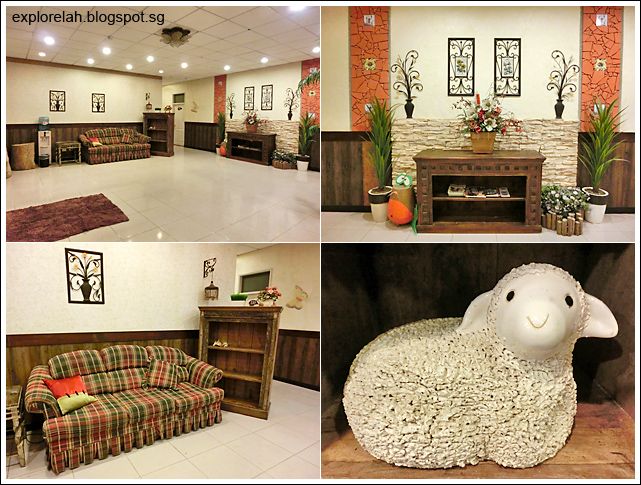 An attempt at country revival was apparent at the entrance foyer of the accommodation block.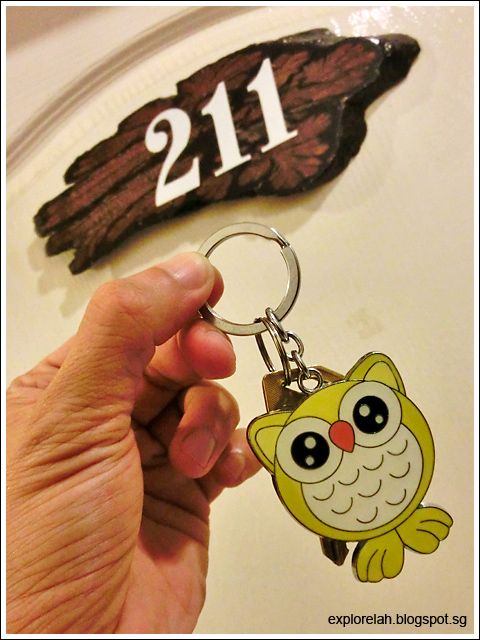 My room... And I hope I won't be an owl for the night (which would meant that the room is uncomfortable)!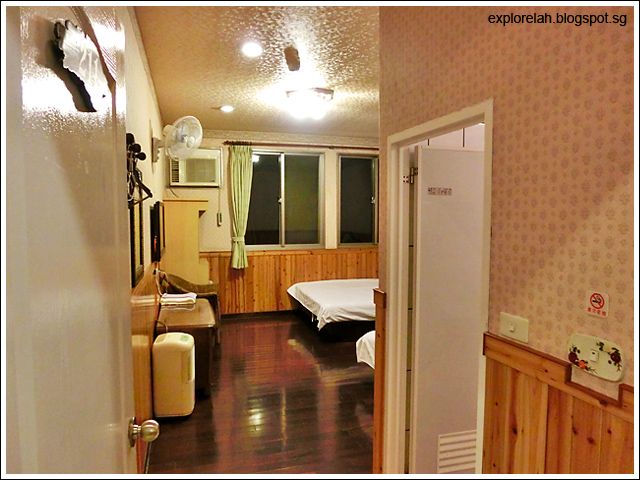 View of the room at the entrance. Looks spacious with cute wallpaper.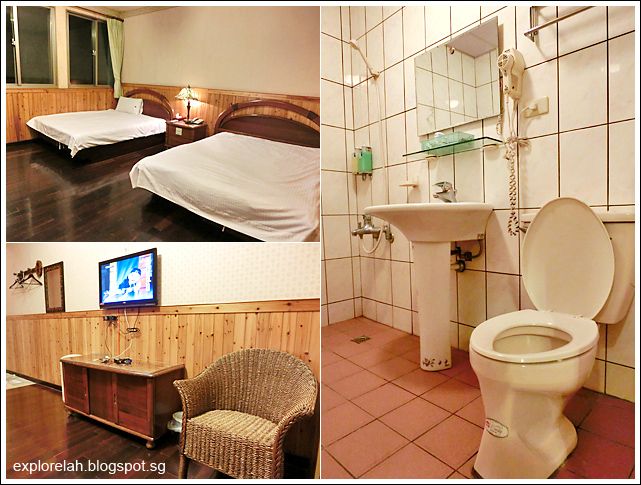 Interior of the room (got flatscreen TV wor) and the toilet-cum-shower.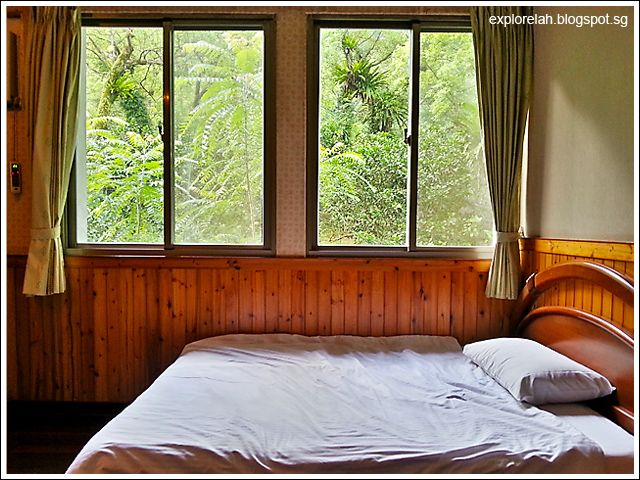 The view that greeted me at daybreak. A duet by crickets and cicadas told me bedtime stories while birdsongs serenaded my wake, some think it's noise, I think they are more interesting to listen to than the traffic outside my window back home.
Having not stayed in any farm before, my first experience at SanFu Leisure Farm went really well. There's a good mix of rustic laid-backness with decent comfort while Mother Nature held me snugly in her palm.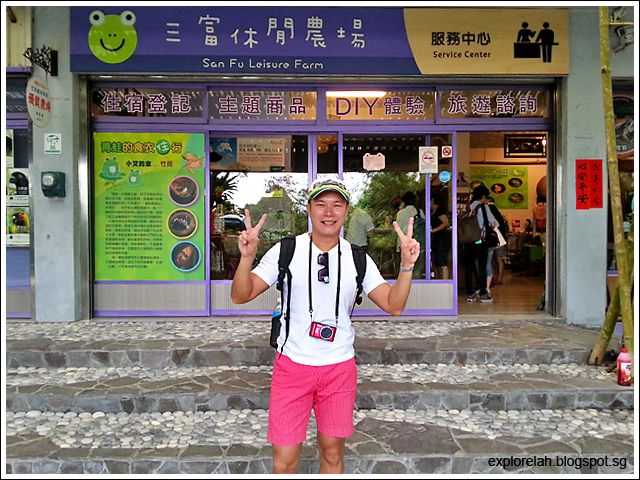 SanFu, which means "3 riches", promises a rich encounter with nature, rich appreciation of our environment, and rich experience of hospitality.
We've spent barely 24 hours at SanFu Leisure Farm but already I felt that city life was a poisoned apple I've bitten into for too long. I breathed easier with the country air and my mind began to unclutter, filling instead with the simple joy of watching butterflies dancing in the air, and the delight in care-free tranquility.
Getting to SanFu Leisure Farm
There are 2 ways to get to the farm from Taipei Taoyuan Airport :
1. From Taipei Taoyuan Airport, take the Kuo-Kuang Bus to Taipei Bus Station (Gate 13-14 at 4th Floor) and take the Kamalan Bus to Luodong Train Station. From Luodong, take a taxi to SanFu Leisure Farm (approx. 15 minutes).
2. From Taipei Taoyuan Airport, take the CityAir Bus to Taipei City Hall Bus Station (Gate 12-16 at 1st Floor) and take the Capital Bus to Luodong Train Station. From Luodong, take a taxi to SanFu Leisure Farm (approx. 15 minutes)
CTC Holidays
provides an affordable 2 nights' stay for 2 persons with return transfers from Luodong Train Station, daily breakfasts, 1 lunch, 1 dinner, as well as a DIY activity starting from just S$338.
SanFu Leisure Farm
Address : No. 82, Lane 161, Xinliao 2nd Road, Zhongshan Village, Dongshan Township, Yilan County
Tel : +886-3-9588690
Website :
www.sanfufarm.com.tw