Date of Exploration :
24 Mar 2015
Stowed away at the end of a nondescript plain lane next to Johor Bahru's Tebrau Highway, Arulmigu Sri Rajakaliamman Temple is what I would call a 'genie in a bottle'... where a big personality is trapped inside a small existence.
My curiousity to check this place out was seduced by the temple's claim to be "the first glass temple in the world", but other than the temple being covered in tiny pieces of mosaic mirrors reminiscent of some of the sparkling wats (Buddhist temples) in Thailand, what fascinated me more were the statues that I found inside.
Getting to Arulmigu Sri Rajakaliamman Temple
Not to be confused with Arulmigu Rajamariamman Devasthanam Temple, which is a major Hindu temple in JB a stone's throw away from City Square Mall, Arulmigu Sri Rajakaliamman Temple is a much smaller and lesser populated monument of faith. It is also not too far from City Square Mall.
While it is possible to walk from Arulmigu Sri Rajakaliamman Temple from City Square Mall by walking along Jalan Tun Abdul Razak (which is an arterial main road fronting one side of the mall) it is easier to just take a cab there which will cost under RM10 from the JB immigration checkpoint. The journey takes under 10 minutes without a traffic jam so it is pretty accessible.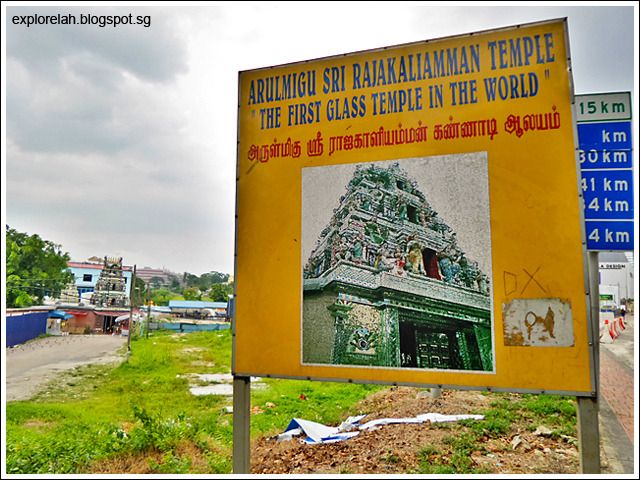 Signboard next to Tebra Highway that advertises the site of Arulmigu Sri Rajakaliamman Temple. My suggestion is to print out photos of the temple and show it to cab drivers as they may think that you are going to the more prominent
Arulmigu Rajamariamman Devasthanam Temple instead of this one.
Mirrors, Mirrors on the Temple...
... who's the shiniest of them all? Personally, when I first arrived at
Arulmigu Sri Rajakaliamman Temple
, I was like "We're here already?" I was expecting something more bewildering than the petite,
can't tell it's made of glass
temple before me.
Facade of Arulmigu Sri Rajakaliamman Temple, the first glass temple in the world.
Compared to the Thai wats with massive chedis adorned with coloured, mirrored glass pieces I'd come across in Bangkok, this seemed rather 'little gas' (小气) and not world's-first-something kind of wow. The temple's brag unlocked my jaw. But unfortunately, it didn't drop.
But on closer examination, it does present a marked differentiation from conventional Hindu temples that are coloured solely by paint or terracotta and not a mix of paint and hued mirror tiles.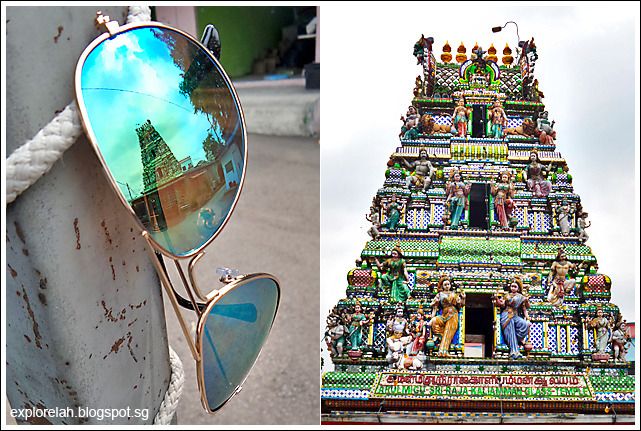 Containing the colourful gopura of the temple within an eyeful of my sunglasses.
The structural form of the gopura is covered in a mosaic of mirrored tiles but the Hindu deities and statues are painted.
We arrived at 2:24pm on a Tuesday because according to online sources, this is when the temple is open to foreign visitors. But we faced this door, although beautiful, it wasn't open! We hung around the closed doors and chased down the occasional humans walking around the temple and realised that it's closed for a special prayer session. But if we waited till 3pm, which is half an hour later, the doors will open.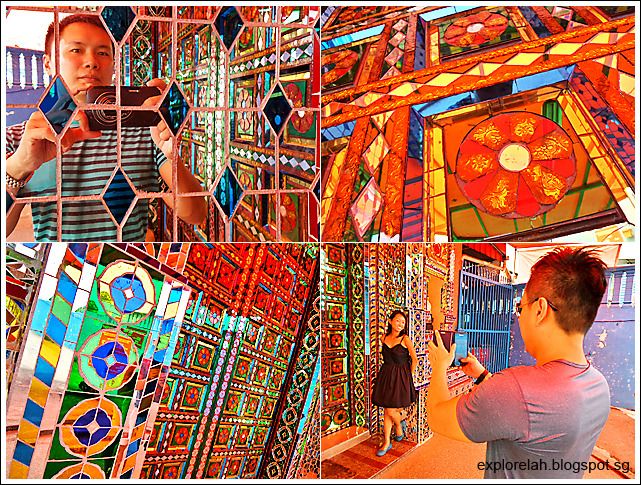 So we spent the minutes clicking away at the colourful mirrored doors of the temple. On hindsight, it is lucky that we encountered the temple when the doors are closed so we can truly appreciate geometry of the mirrored decorations.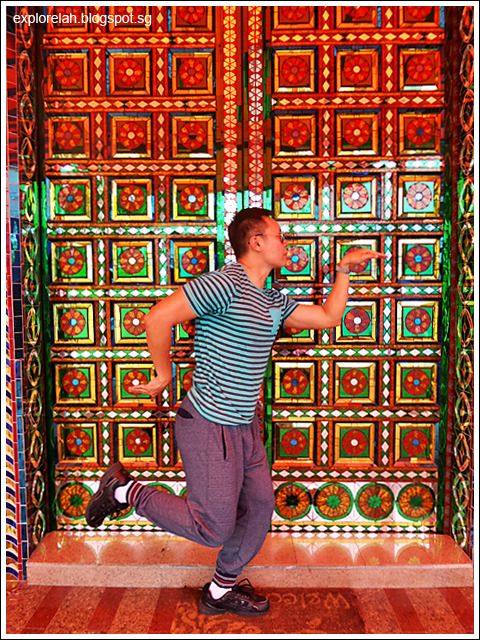 30 minutes later and the doors are still shut. So I went round to the back of the temple and waited to sight anybody to inquire if temple wasn't receiving visitors that day or we should wait some more. I was told the temple will open shortly. So we waited...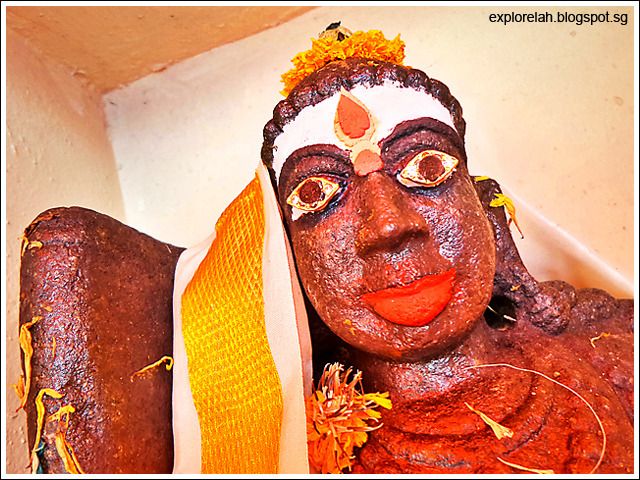 A rudimentary stone statue of Shiva guarding the entrance to Arulmigu Sri Rajakaliamman Temple. It is an inheritance from the temple's early beginning as a shrine in 1922.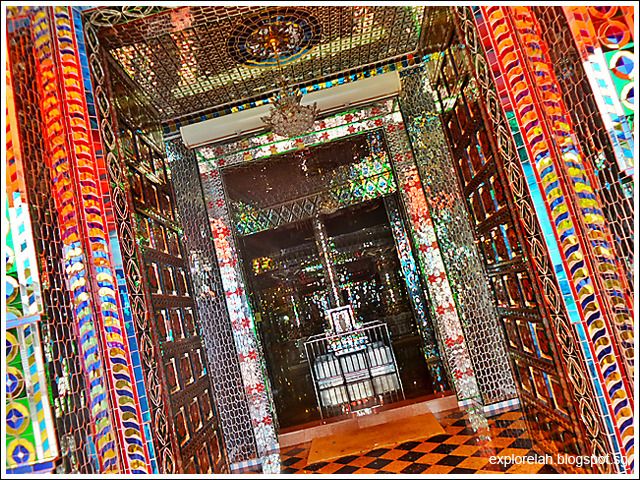 Finally, after almost an hour's wait (we arrived at 2:24pm), the doors were open at 3:20pm! According to online sources that have links to the temple, foreigners' visitation hours are between 1pm - 5pm that's why we came after 2pm. The temple is marketed as a tourist attraction in JB so visits are welcomed with a RM10 entrance fee.

Perhaps the day we visited was a special prayer day so the temple wasn't opened as scheduled or it just doesn't adhere to stipulated tourism hours I'm not sure. But if you encounter closed doors within the stipulated visitation hours, try to spot the temple staff and ask.
A Reflection of Acceptance
Since we were the only 3 visitors to the temple, the staff didn't bothered to on the interior lights and it was rather dull. So we requested for the lights to be switched on and when they were, the magical colours of the place sprang to life. You can see the above photo for when the lights were off and the photo below for when the chandeliers were turned on.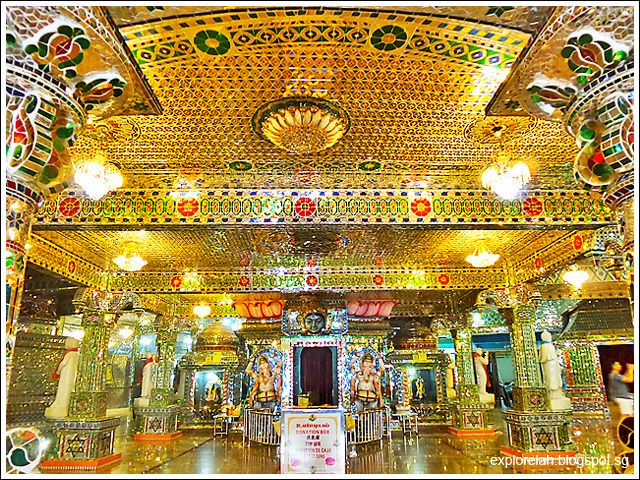 Politely request for the lights inside the temple to be turned on if they are off as the lighting makes a huge difference to bring out the beauty of the mirrored ceiling and columns.

Not to be a bitch, but Arulmigu Sri Rajakaliamman Glass Temple does charge a RM10 entrance fee for tourists so rightfully, it should keep its side of the deal and help make the visit experience fuller. But do ask nicely as there may be religious services going on or there may unknown reasons the temple is keeping the lights off.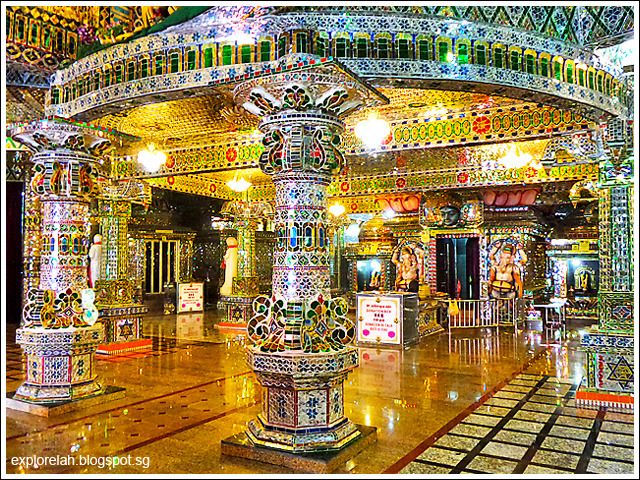 It's like walking into disco ball nation with all the reflective mirrored tiles. The inspiration behind
Arulmigu Sri Rajakaliamman Glass Temple's

glistening choice of decorative material were the Thai temples of Bangkok.

When Guru Bhagawan Sittar, the temple's chairman and chief priest visited Bangkok, his attention was captured by the sparkling roofs of Thai temples that have reflective glass in a distance. Inspired, the guru applied the mirror glass approach in dressing up
Arulmigu Sri Rajakaliamman Glass Temple as he expanded what used to be a shrine into the full-fledged temple it is today.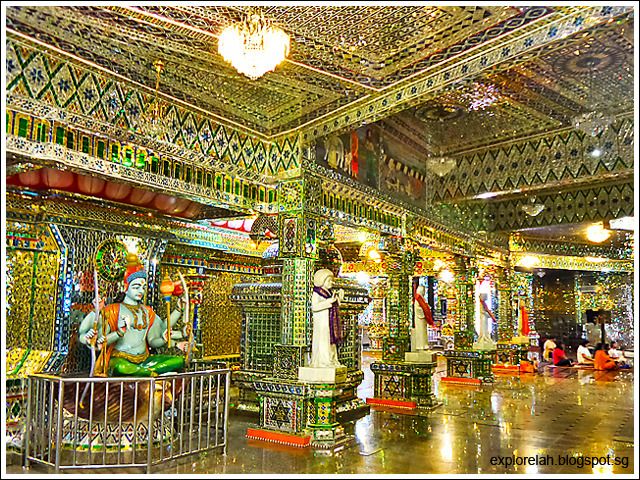 But what captured my attention in the temple were the line-up of holy figures from other religions.
Though a Hindu temple, you can find tributes to other religions in the form of statues of representative religious figures, where permissible (Islam teachings forbids the visual depiction of the prophet Muhammad), included within Arulmigu Sri Rajakaliamman Glass Temple's prayer hall.
Amita-llujah-maste
Would I be persecuted for mish-mashing the greetings and proclamations of Buddhism, Christianity and Hinduism? To me, I view the choice of faith, if there is a choice, as choosing a belief of the after-life. Whether it is the belief of an endless cycle of samsara (reincarnation) till the soul attains nirvana or a definite eternal resting place for the soul in heaven or hell, faith, deals with what happens after life ends because in this life, our experiences and what humanity goes through are all the same.
For that matter, in my simplistic view, all religions share a common foundation in laying down a code of conduct or morality for humanity to aspire towards self-betterment through love, compassion, kindness, empathy and peace with all that is around us. So a choice to follow a system of belief, or the choice of not having one, shouldn't be a contest for supremacy but an acceptance that the vastness of life contains a myriad formulations to equate good and decipher death. Just like food for you and me to sustain life is not food for all animals, insects, plants or microbes... and vice-versa. So, you know, like the saying goes, let's not make this life a living hell for others.
A statue of Buddha, Jesus Christ and a religious holy man lined the pillars encircling the holy shrine flanked by Ganesha, the Hindu elephant god.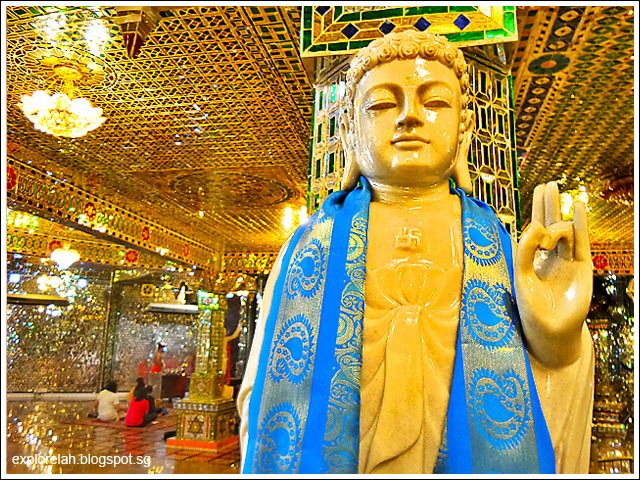 Amitabha... the enlightened figure of Mahayana Buddhism in a surya mudra (ring finger to thumb) pose. The fingering conveys a blessing of vitality and energy.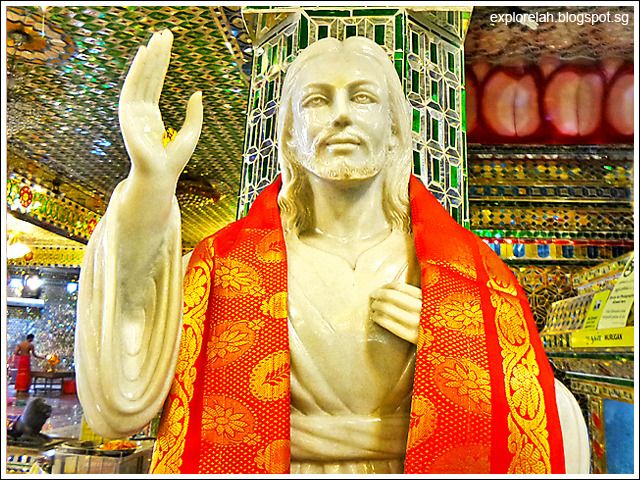 Hallelujah! I am Christian and if I were the old me, I would think that a statue of Jesus Christ amongst the statues of Hindu gods amounts to blasphemy because in the tradition of Abrahamic religions, there is only one true god and not a plethora of gods. But the new me accepts the different faiths, learn from them and expand my the human element in me.

Mother Teresa... a recognition of the Roman Catholics' belief system in the Hindu Arulmigu Sri Rajakaliamman Glass Temple.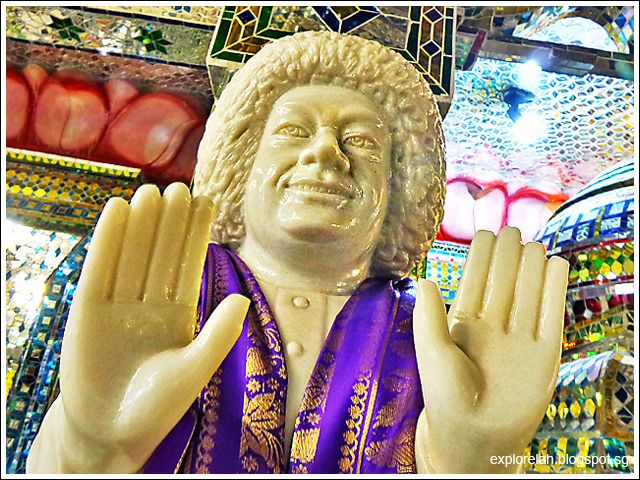 Namaste. Here's a statue of Sathya Sai Baba, an oft controversial religious figure whose doctrines usher in a new age of interfaith beliefs and traditions.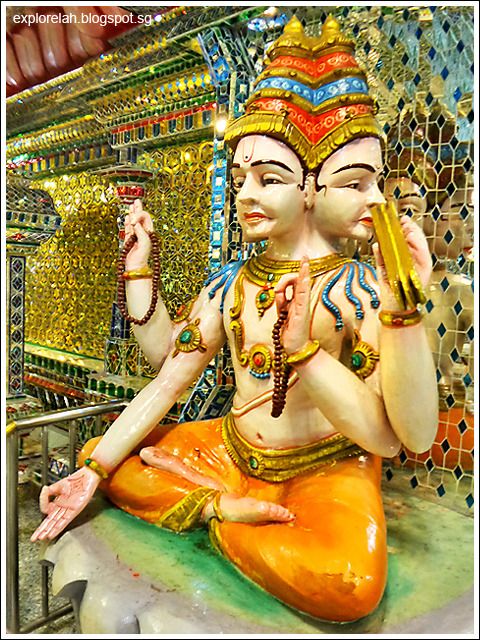 Brahma... the four-faced god of creation in the Mahabharata concept of Hinduism. He is a third of the trinity of supreme gods which consists of the said deity, Shiva (the destroyer) and Vishnu (the preserver). In Hinduism, destruction is a part of creation. Evil, is as necessary as good.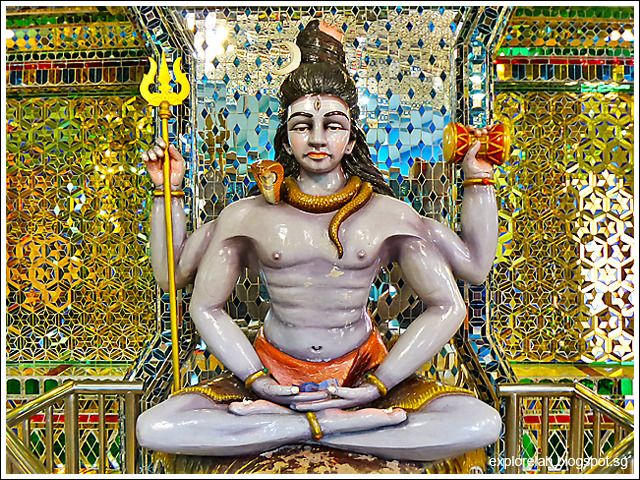 Statue of Shiva with a cobra around his neck. The cobra represents all the bad things (evil, demons, etc) and this statue is a devotional consolation that good will always triumph over evil.

A golden statue of Kali, the goddess of time and change, and a feminine manifestation of Shiva is also honoured in Arulmigu Sri Rajakaliamman Glass Temple. Shiva is the god of destruction, so is Kali, the fearsome goddess that signifies death and the vanquish of evil.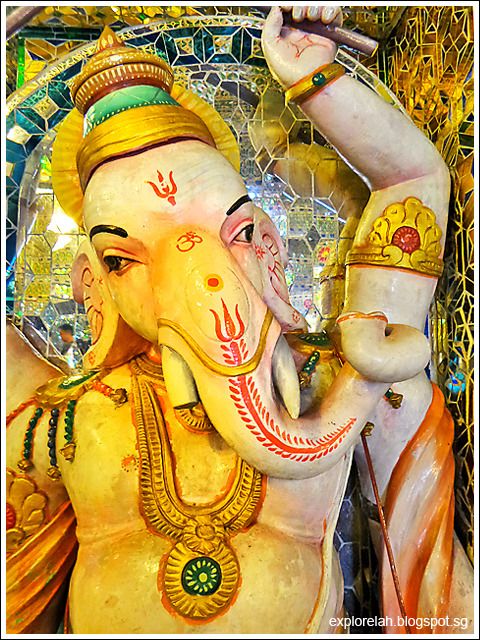 Here is Ganesha (remover of obstacles), one of the most beloved and prominent deities in Hinduism. Ganesha is the son of Shiva and Parvati and embodies the spirit of 'rising above the odds', god of success, wealth, knowledge, and all things good in mammoth proportions.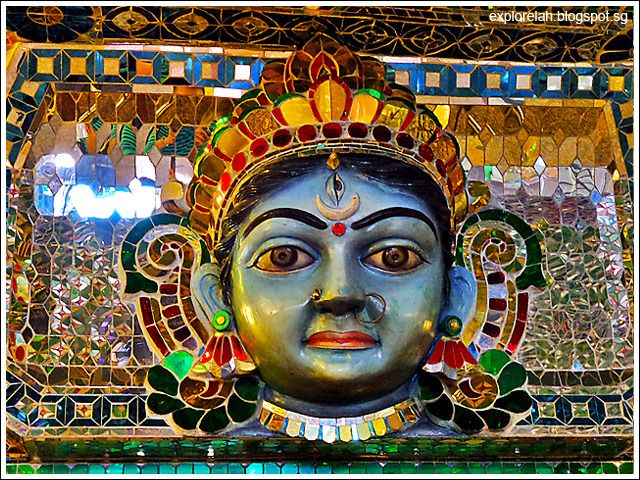 A head relief of the goddess Kali eyes every visitor that comes into the central ritual shrine of Arulmigu Sri Rajakaliamman Glass Temple.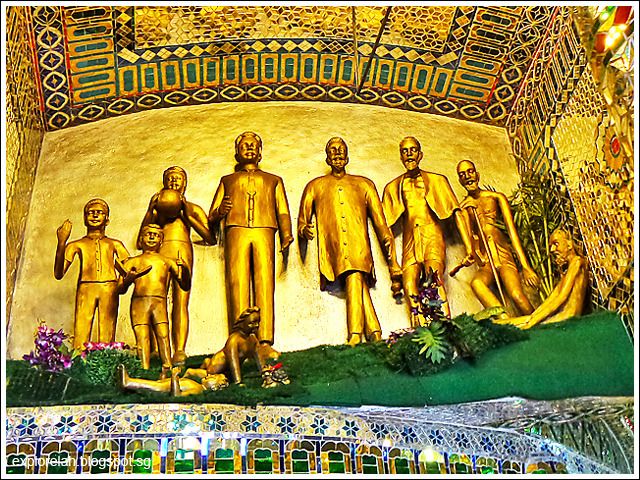 From cradle to grave, this 3D dioramic depiction of a man's life urges all to see life in perspective... that it is transient. Spring heightens into summer, fades into autumn and passes into winter. So don't take things too hard or hold on to anything for everything shall pass with the different stages of life and ending ultimately in death.
I'm not familiar with Hindu rituals, perhaps you can enlighten me, but we came across a prayer session where only women attended.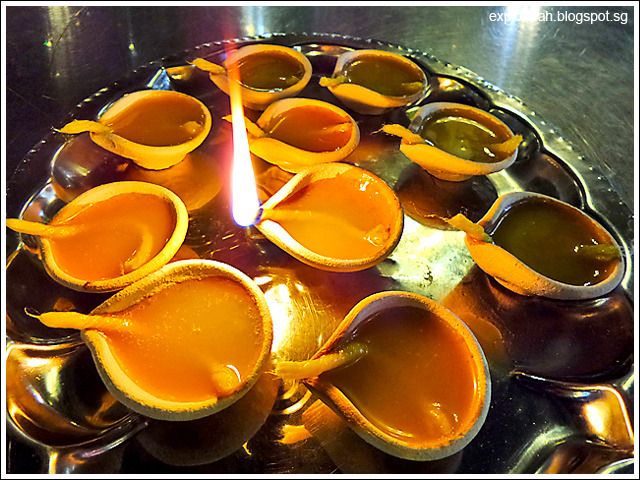 It was enlightening to visit Arulmigu Sri Rajakaliamman Glass Temple for its open acceptance of different religions. The temple challenged the confines of my mind about faith and I'm glad I left a bigger person.
Or so I would like to think :)