Date of Exploration :
28 - 29 Jun 2013
I can't help but smile when I saw the English name of this farm. I imagined men in pink tutus skipping across a lake with spades, rakes and axes. Only problem was, there is no lake to be found at the farm or anywhere near it. I was still plotting my Asian version of the Village People when my comical reverie was interrupted by our guide...
"There is no lake here, so why is the farm called Fairy Lake?" he asked.
"There are no fairies here either," I thought to myself.
View of surrounding hill-scape from Fairy Lake's accommodation zone.
Our guide, a man in his twenties, is the 6th generation successor of the Wu family farm. In Taiwan's modernized economy, a youngster like him who would resist the temptations of city life to takeover the family's agricultural business is rare.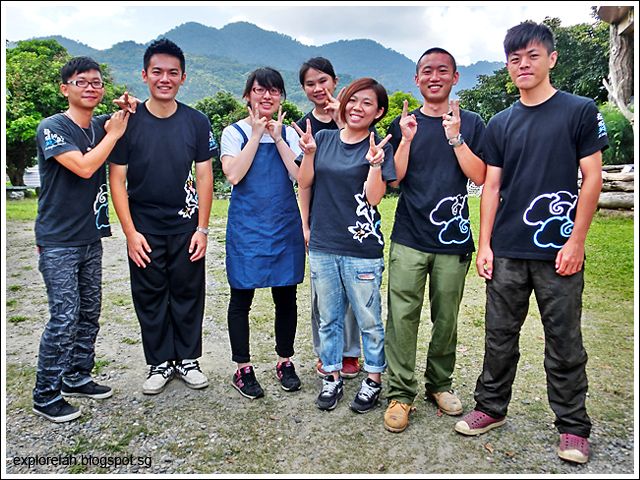 A harvest of young blood to carry on the agricultural trade... Young master Wu (2nd from right), his wife (3rd from right) and the crew at Fairy Lake Leisure Farm. Some of the farm-hands are actually students studying leisure farm tour management attached to the farm on internship.
Anyway, back to conundrum of its name. According to young Master Wu, the farm was named Fairy Lake due to the formation of large masses of clouds in the morning, dusk and after rain around the hill that the farm sits on. The celestial vapour creates the illusion of an oasis embraced by an ethereal floating lake. Hence the name "Fairy Lake"!
Lychee Harvesting
Fairy Lake specialises in the farming of longans and lychees as well as midland coffee. Different produce ripens from spring through early autumn so these periods are the best times to visit to sample the choicest harvests.
Our visit coincided with the end of the lychee harvesting season but we were given the chance to harvest the remaining fruits. How fortunate!
This is my first time encountering lychee trees and their method of harvest.
Father Wu with a freshly plucked bunch of succulent red globes.
There are 3 species of lychees at the farm with the Sesame Lychee being most prized. It is called sesame because the pit is really small (see photo above). The flesh is thick, juicy, and delightfully fragrant. Whatever we plucked, we can bring home. I gathered the least in the entourage because I couldn't stop eating while harvesting! They were THAT delicious.
Fairy Lake Farmstay
After the excitement of walking into a lychee plantation and uncontrollable gluttony, we boarded the coach for a short ride to the farm's lodges where all the facilities are located for our farmstay.
To the left is a carpark for visitors while the accommodation cabins, restaurant and other facilities are located further upslope to the right.
Fairy Lake's accommodation consists of individual hillside chalets in the style of Western log cabins.
Photos : Interior of my cabin and view from my window. I get the feeling of living inside a treehouse. The 2 huge beds can comfortably sleep 4. Remember to close the window in the toilet as someone standing on the porch of the next unit can look in.
Moth on Moth Orchid. A Phalaenopsis extended a spray of blooms to welcome our stay.
Found this tree with trunks that resembled a pair of dinner folks rather amusing. This species is known as Fraxinus Formosana (a.k.a. Griffith's ash or Formosan ash) and is grown for its timber in Taiwan.
A short scenic upslope walk from the accommodation cabins leads to the activity centre of the farm where the restaurant, outdoor café, viewing deck, animal enclosures and swimming pool are located. Yes, there's an inviting pool here that overlooks the hill but it was closed for maintenance during our visit so I didn't take photos of it.
View of restaurant, various seating areas and outdoor stoves.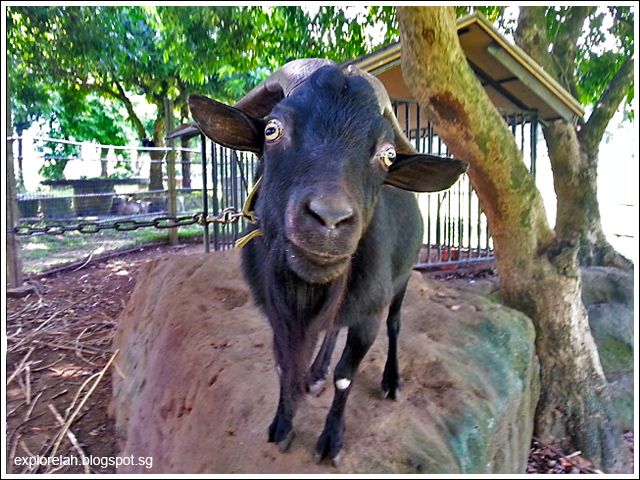 Friend #1 : Bleeeaaaaaaccck sheep. Well, it's actually a mountain goat at Fairy Lake's outdoor enclosures for farm animals.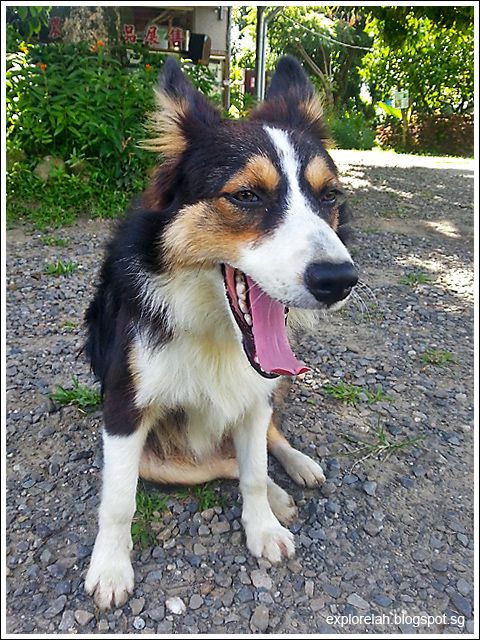 Friend #2 : This is Porsche the farm dog who appeared in the MTV of a Malaysian singer. After I took some photos and stood up to leave, it throttled over and started humping my leg! Maybe the smell of Joy and Rainbow (my 2 canine princesses at home) were on me so Porsche was especially frisky friendly.
An elevated viewing deck that provides a 360 panoramic view of the surrounding.
Not a fairy moment but a Hadouken impression to commemorate the youthful energy that this delightful farm has.
Café with a view.
Fairy Lake Leisure Farm grows, harvests and brews its own coffee so one of the must-do here is to enjoy a cuppa while letting the eyes feast on the scenery.
Being on a hill fringing Tainan city, Fairy Lake Leisure Farm offers a stunning vantage of sunset over the distant urbanity. Bewitched, I parked myself at the farm's viewing platform to shoot a 2-hour time-lapse of the sunset. I was prepared to have a very late dinner but one of the staff brought dinner for me. There are fairies here after all.
This is the sunset I was shooting. Beautiful isn't it?
Nightfall as viewed from Fairy Lake Leisure Farm. Unfortunately, my hand got into some of my time-lapse photos and destroyed the sequence. Over 2 hours of shooting gone to waste. Perhaps that's a sign that I should come back here to shoot again.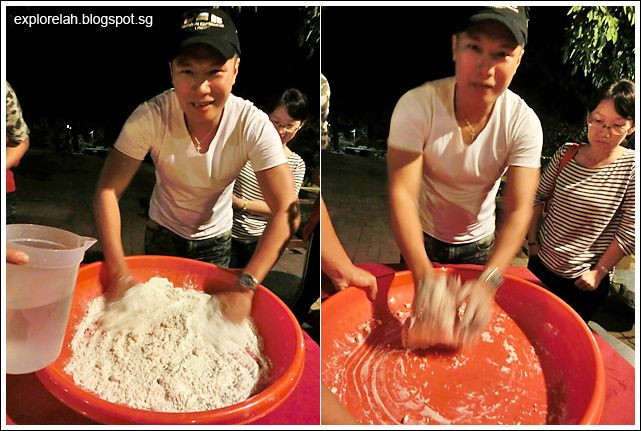 Despite the failed time-lapse shoot, my night got kneaded the right way with an induction to the art of making...
... ang ku ueh! The are white here instead of red because no colouring was added to the flour. It was kinda fun trying to strike a balance between filling and dough size so that the condiments do not break the skin. Our creations were then steamed in a stove fired with longan / lychee wood. Imagine the flavor!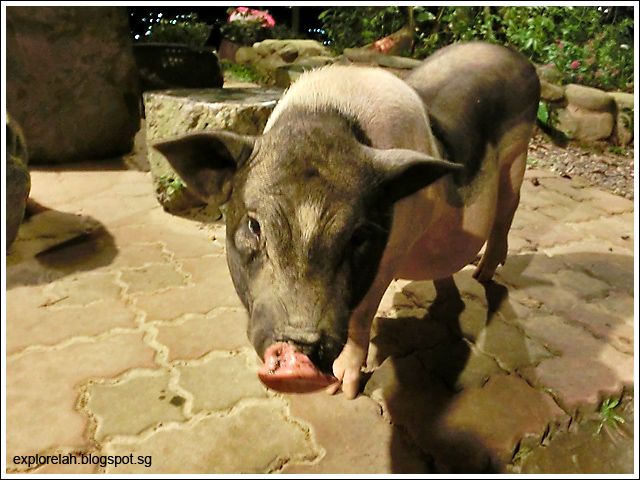 Fairy Lake is an agricultural farm so animals found here are pets rather than meat on hooves. There was a pair of oinks roaming the grounds that were rather friendly.

Friend #3 : My first time getting so close and petting a pig! The pig is the one that's not wearing a black cap and carrying a haversack.
With a name like Fairy Lake, I was expecting some kind of magic and I wasn't disappointed. Of the 5 farms I've stayed in during a marathon one-week exploration of Taiwan's agricultural outback, Fairy Lake Leisure Farm appears to have it all... nature at the doorstep, fruits to pick, a gorgeous sunset, tasty meals, interesting activities, and even some new friends to make!
As the farm is off the mainstream transport routes, getting there can be a challenge but not difficult. The best way is to arrange with the farm for transport pick-up at Tainan Xinying Train Station.
A better way to visit the farm would be via
CTC Holidays
which provides an affordable 2 nights' stay for 2 persons with return transfers from the train station, daily breakfasts, 1 lunch, 1 dinner, as well as farmer experience and DIY activity starting from just S$398. This is definitely a good deal because an a la carte booking of all the items would cost around S$500 for 2 persons!
Fairy Lake Leisure Farm
Address :
No. 6-2, Neighbour 1, Nanshi Neighbourhood, Tongshan Township, Tainan County.
Tel :
886-6-6863635
Website :
www.senwho.com
This post has been made possible by Weekender Singapore.