Date of Exploration :
24 - 28 Apr 2013
Some of the most exciting experiences I had during my visit to Pulau Gaya and stay at Gaya Island Resort were the gastronomical voyages we made. I call it a voyage because eating at the resort was as much about the cuisines as the scenic locations we savoured them in.
From beachfront breakfasts to poolside luncheon to picnic at a secluded bay to fine dine and wine to dining in a private pavilion overlooking the ocean to sampling the tribal tastes of Sabah, our palates travelled all over the world whilst remaining rooted on the island.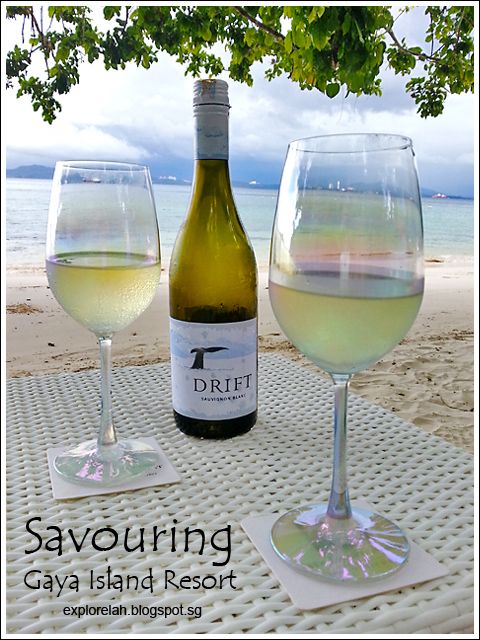 As Pulau Gaya is isolated from mainland and lacks substantial public developments other than 3 private resorts, the only F&B outlets are the ones available at the resort one stays in. I don't know about the food offerings by the other hoteliers, but Gaya Island Resort earns multiple nods for variety, quality, taste and creativity!
Feast Village
Feast Village is Gaya Island Resort's quintessential main dining hall that serves breakfast, lunch and dinner. Situated at the breachfront with peek-through wooded screens rather than concrete walls, the restaurant lets in lots of natural light during the day and offers a pleasing sea view that is a feast for the eyes.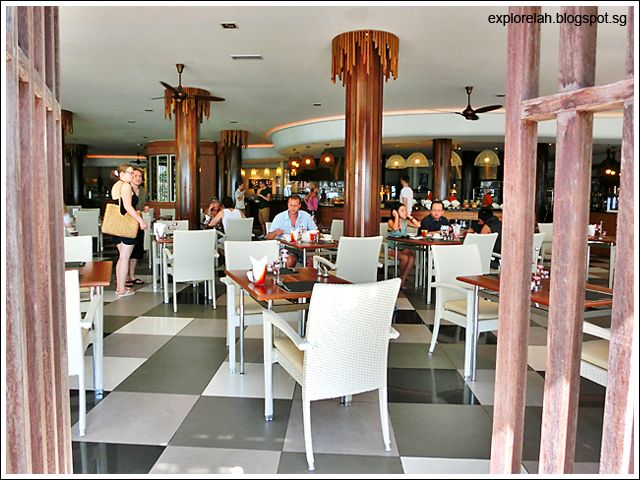 Interior of Feast Village.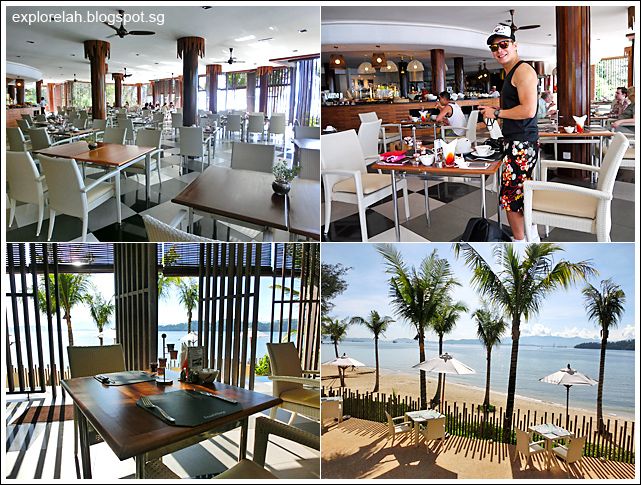 Ample indoor seating as well as outdoor tables for dining next to the beach.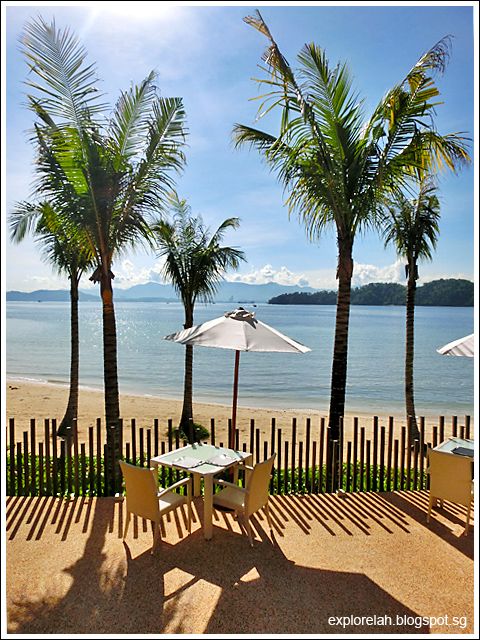 Our view that looks out to the South China Sea and Mount Kinabalu while having breakfast.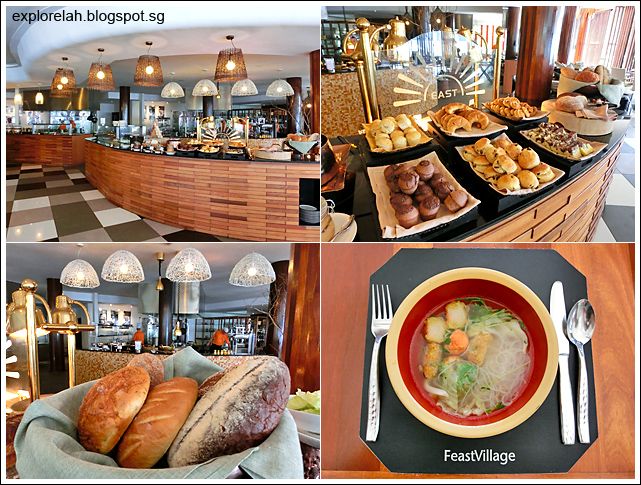 Feast Village's buffet breakfast (RM80++ per pax) consisted of assemble-yourself Nasi Lemak with Chicken Rendang, Asian noodles in soup and stir-fry, specialty breads and Western favourites such as cereal, bacon, cheeses, salads and assorted preserved meats.
The egg station where we ordered our preferred style and it will be delivered to the table. No need to wait for the chef to cook like in most hotels!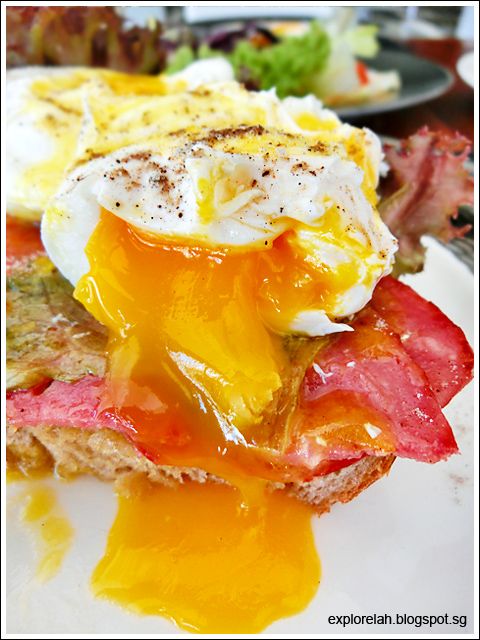 Eggs Benedict oozing with perfection. The eggs came on ham, toast and some side greens. Lovely! However, the breakfast spread was the same throughout our stay. Perhaps varying the spread on alternate days would make waking up more exciting.
A glass of fresh fruit juice in the morning is a great way to 'clean' the body system and freshen the appetite. The World's Sexiest Vegan, Mimi Kirk, starts her day with a glass of fruit juice in the morning and she looks like a 40-something, feels like a 20-something, even though she's over 70 years old!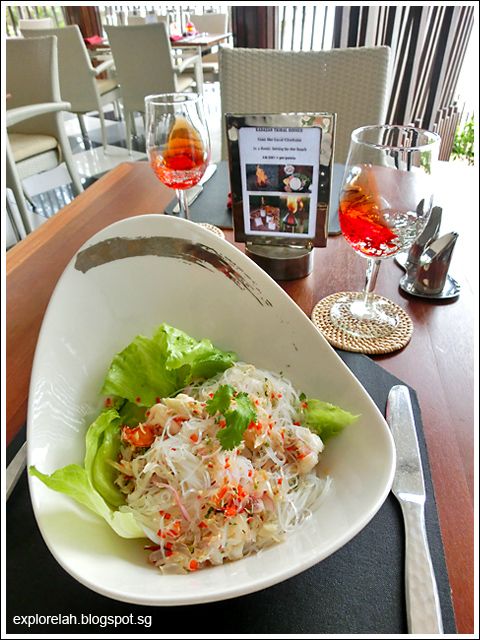 The lunch menu at Feast Village is also a Western-Eastern profusion of familiar recipes and favourites for appetisers, main courses and desserts. We ordered this Thai-inspired Glass Noodle Salad (RM45) with crab meat, prawns and squid but it was too dry. The glass noodle was a little stringy and I felt there wasn't enough lime sauce.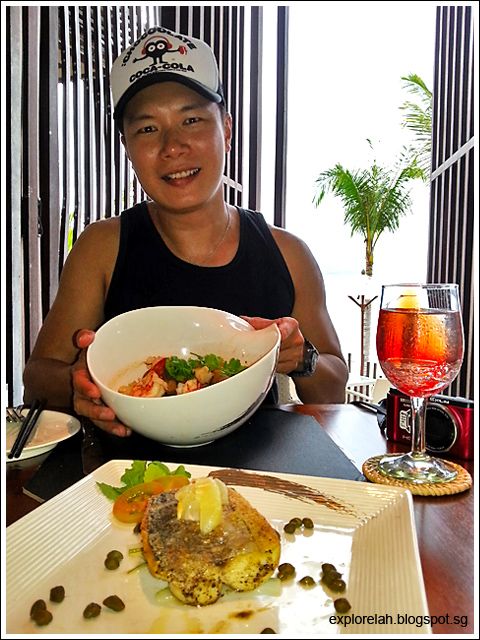 Still on Thai, we ordered the Tom Yam Talay (RM55). The soup noodle dish came with prawns that were fresh and the size of golf balls, but the broth shied away from taste. The Borneo Fish (RM65) on the other hand was nicely done with crispy skin complementing firm fish meat that's cooked for the right amount of time.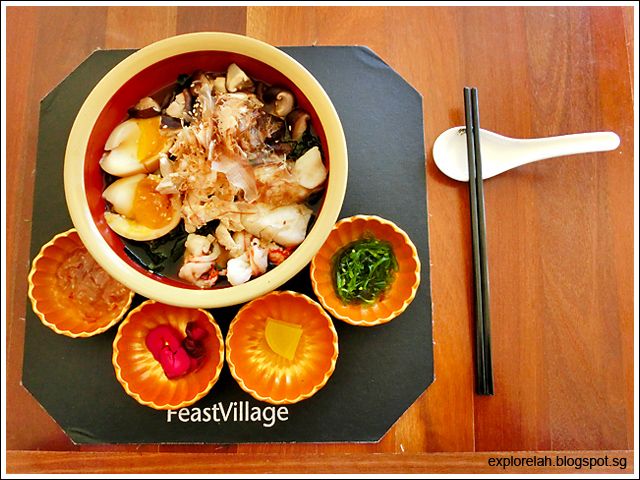 The Udon Suki (RM60) tastes as good as the resplendent presentation it comes in.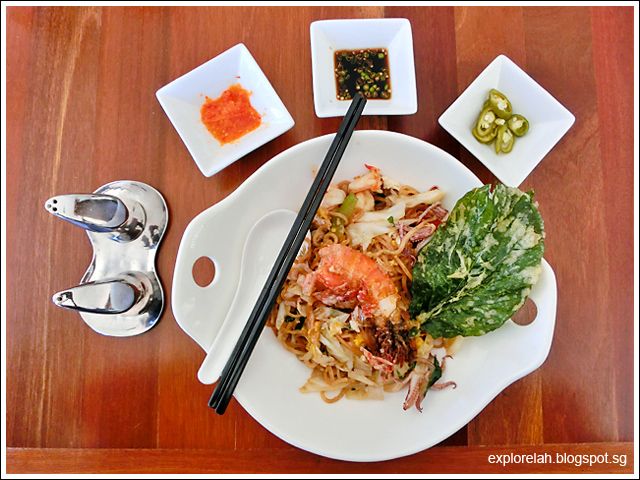 Our thumbs up went to Tauran Mee (RM60), a local fried noodle dish in Sabah. Something that brought together the best of Hokkien Mee and Char Kway Teow, it was really, really yummy. Totally worth the carbs and highly recommended!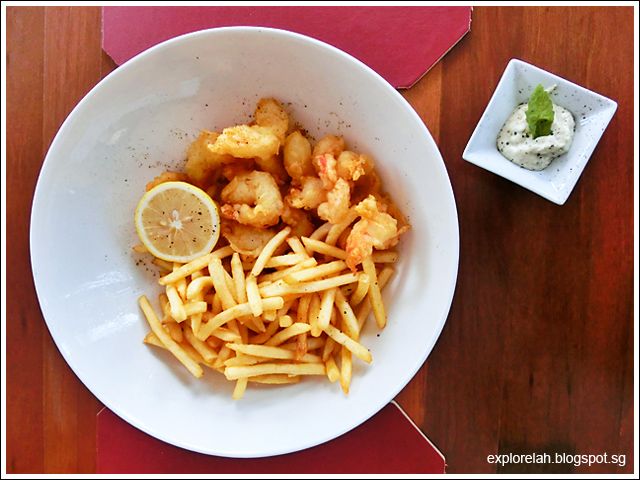 Another not-to-be-missed is the Seafood Fritters (RM55) with lightly battered prawns, squid and fish fried till golden brown. It is an appetiser but the generous serving could very well qualify as a main course.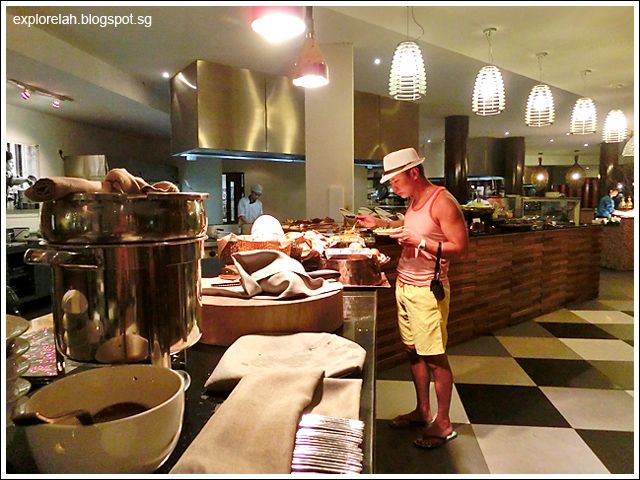 At dinner time, Feast Village serves up a buffet of side dishes and desserts to complement main course selections from the menu that spans Signature Dishes, Borneo Specialties, Teppanyaki Selections, From the Land, Western Selections and Italian Selections.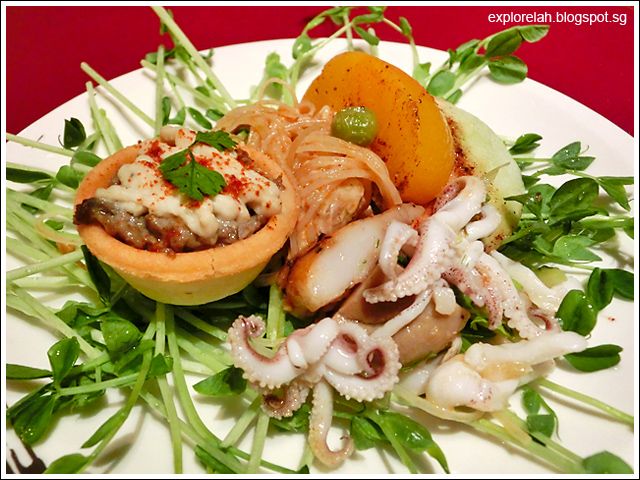 My appetisers sampling plate of Mushroom Beef Canape, Fennel Seafood Salad, Guava with Sour Plum, and Glass Noodle with Chicken in Tom Yam Dressing. All yums!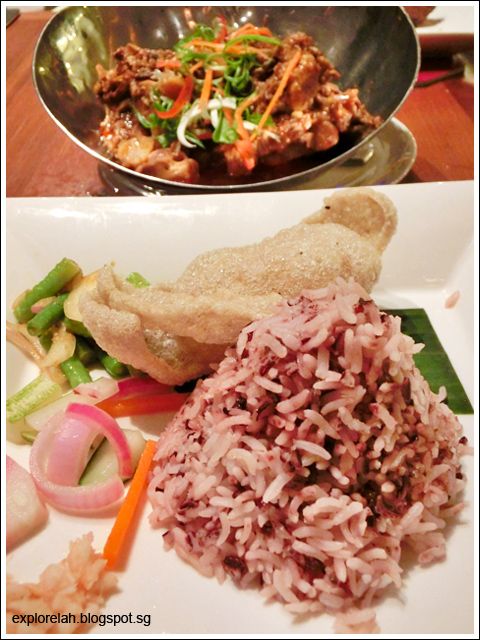 Oxtail Asam Pedas (RM110) served with Borneo Wild Rice. This is probably the most exotic item on the dinner menu and we didn't regret ordering it. The flavour was robust and alive with the apparent hints of fine Malay culinary traditions.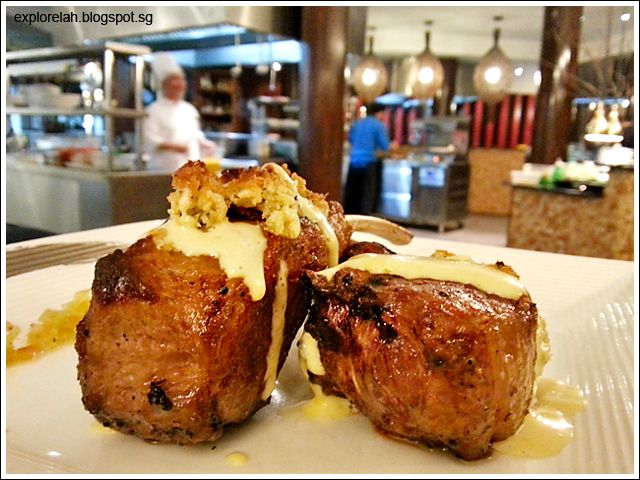 I ordered the Roasted Nut-Crusted Lamb Rack (RM135) medium done and it was superb! The meat didn't taste gamey and was fine-grilled on the outside while juicy on the inside.
I was told that the dessert chef at Gaya Island Resort is excellent. Although I don't have a sweet tooth, the spread of traditional kueh-kuehs such as odeh odeh and Western confects were very mouth-watering.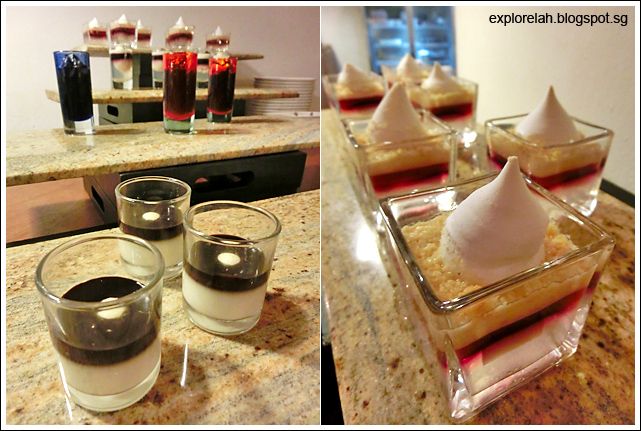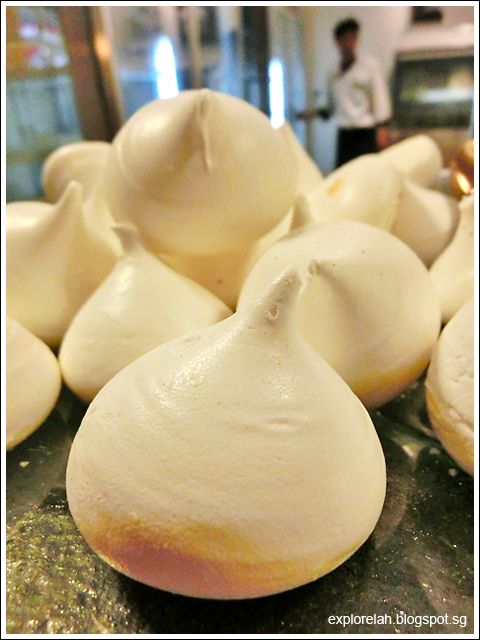 The Pavlova at Feast Village has apparently garnered quite some online rave reviews according to Juliana. I have not seen the reviews but I think it deserves the calories.
Lunch by the Poolside
The other place to catch the sun's reflection while enjoying lunch is Gaya Island Resort's poolside café / dining area. Located between the resort's reception and Feast Village, the poolside diner shares the same menu with the latter.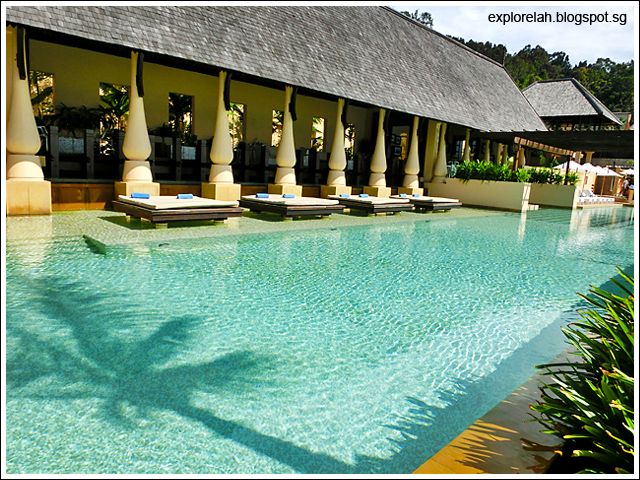 A meal or drink accompanied by ripples and reflections raises the chill factor beyond the cool scale.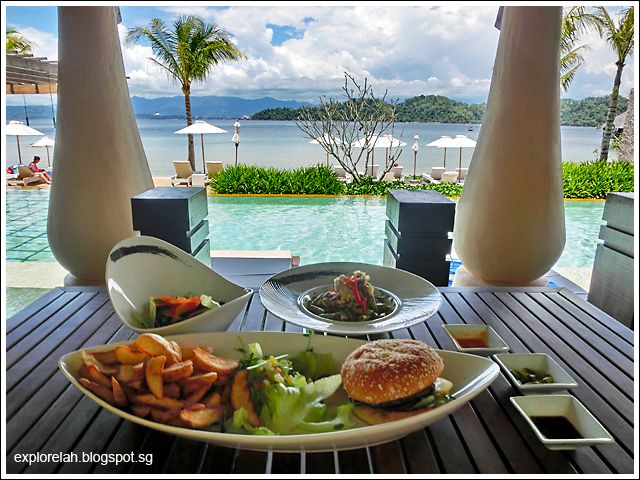 Our poolside meal order - Seaweed Salad (RM40), Presto Genovese Pasta (RM65) and Island Burger (RM70).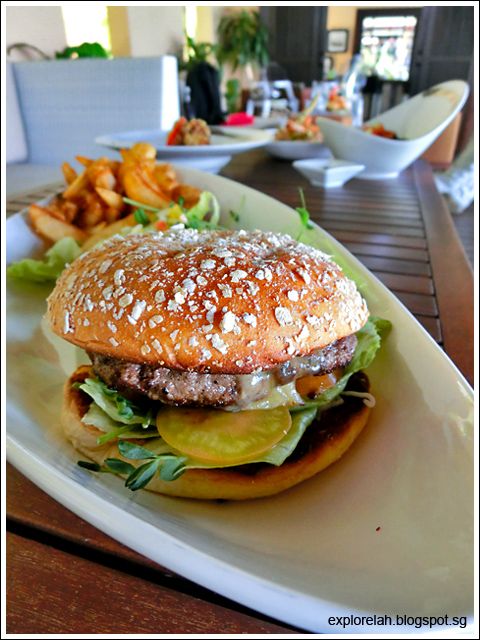 I'm not a fan of burgers but I absolutely love the Island Burger that comes with a juicy home-made beef patty smoked just right!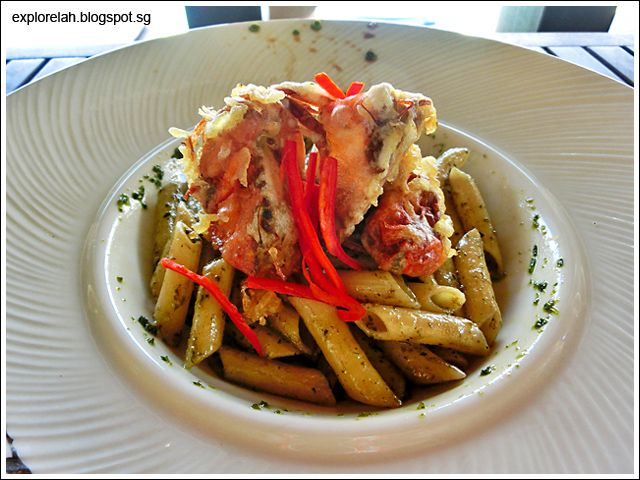 Presto Genovese... a.k.a. Soft-Shell Crab pasta. Yummers!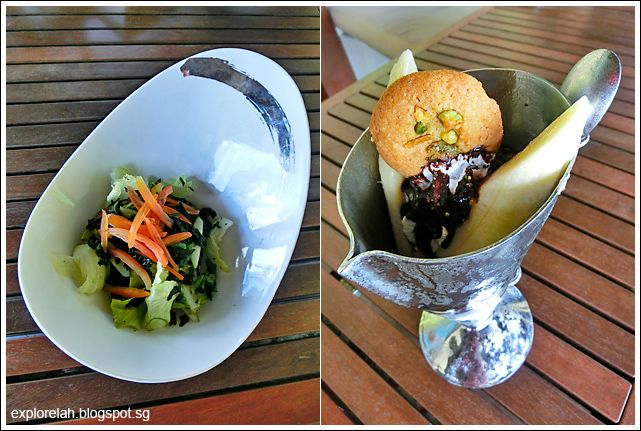 Totally enjoyed the Jap-influenced Seaweed Salad and the unconventionally presented Banana Split (RM32).
Gourmet Picnic at Tavajun Bay
A 5-minute boat ride from Gaya Island Resort transports guests to a secluded beach known as Tavajun Bay. A private stretch of untouched coastline belonging exclusively to the resort, Tavajun Bay has that lost Eden feel with the absence of major developments and presence of abundant greenery.
It was here that we spent a lazy afternoon sipping wine and snacking on gourmet selections under a picnic package offered by the resort at RM250 per person. Ah, life should be one long picnic by the beach!
A free boat shuttle departs hourly from Gaya Island Resort to Tavajun Bay and vice versa.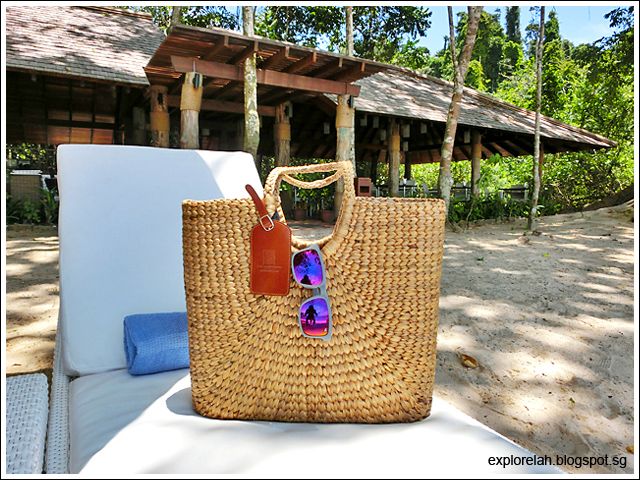 Sun deck chairs line this private beach that also houses a dining hut and mini aquarium cum marine rescue center (slated to be opened in late 2013).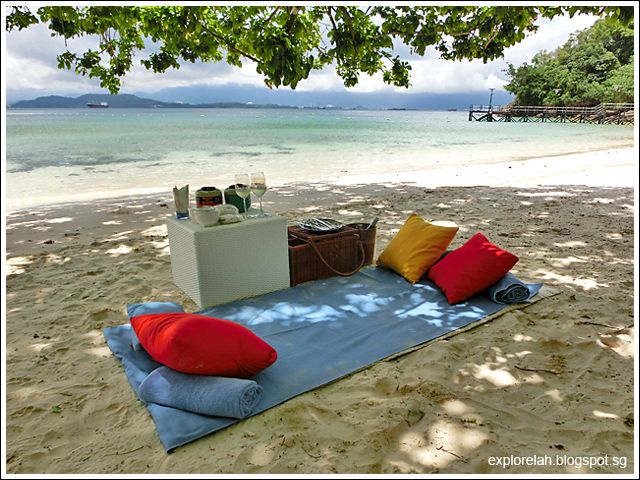 How's this view for a picnic?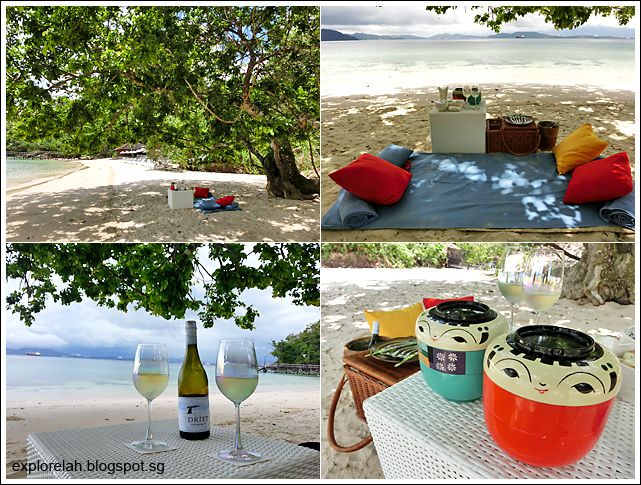 Our picnic was set up by a personal butler under a tree away from the cluster of sun decks. It was an exceedingly romantic setting but it rained halfway into our picnic lunch and we had to continue under the shelter of the dining hut.
Even though the ambience reads like a page off a romance novel, the novelty of a beachside picnic still makes it an interesting luncheon to connect with family and friends. I enjoyed the picnic with Lady Salah! Haha.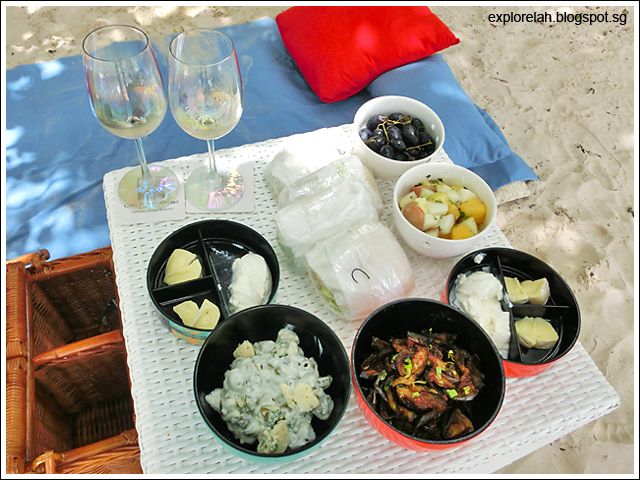 The 2 cute Japanese lacquer ware open up to reveal our choice of side dishes. Guests get to choose food items when booking the picnic and the package comes with a bottle of white or red wine. I felt that the height of the white cube table was a little too high though.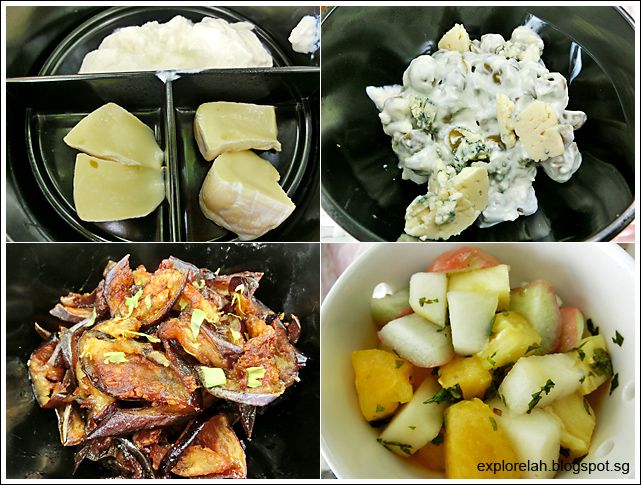 We chose an assortment of cheeses and an absolutely yummy eggplant side dish with fruits for dessert. The Brinjal (eggplant) with Thai Chili was our favourite.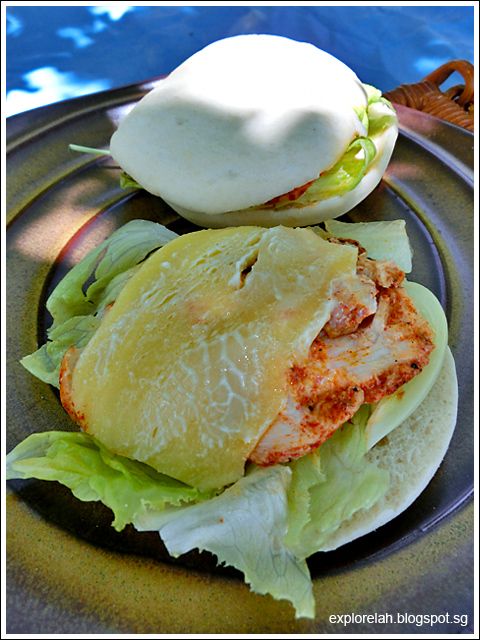 For main courses, we had pita wrapped with chicken...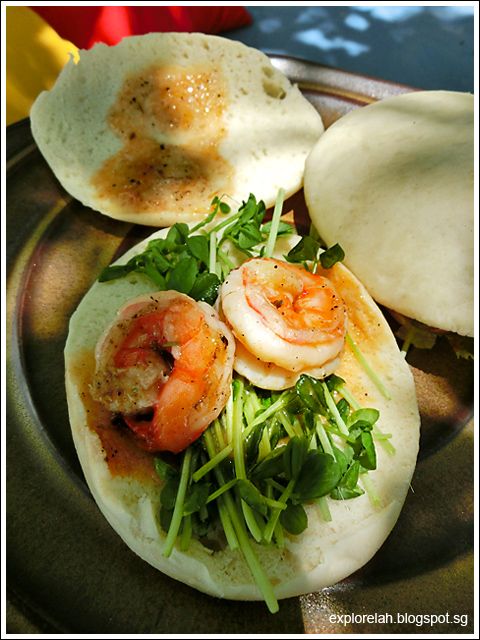 ... and prawns. Quite a few ants joined our picnic but they weren't a real bother. I treat them as moving sesame seeds.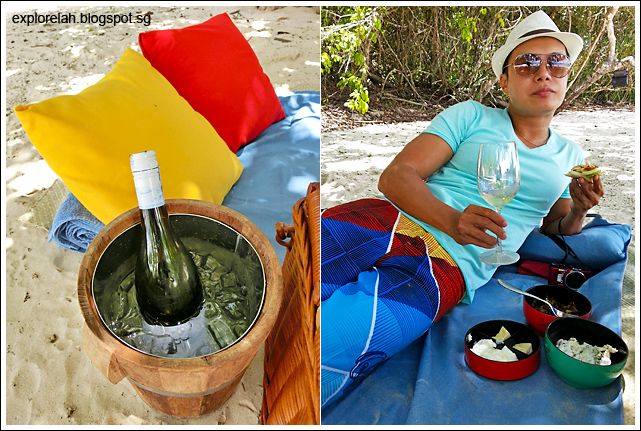 A leisurely afternoon listening to the waves and watching clouds float by with a glass of ice-cold white wine in hand... friends sent me hate mails when I posted this kiam pah (Hokkien for 'owing a beating') photo on Facebook. LOL.
Private Steamboat & Fine Dine at Fisherman's Cove
On the third day of our stay in Gaya Island Resort, we stumbled upon the fine dine restaurant, Fisherman's Cove. Located directly above Feast Village, the diner is itself a micro destination for it is surrounded by a beautifully manicured rooftop garden. It was here that our tastebuds got really spoilt with a private steamboat dinner and fresh catch on its menu.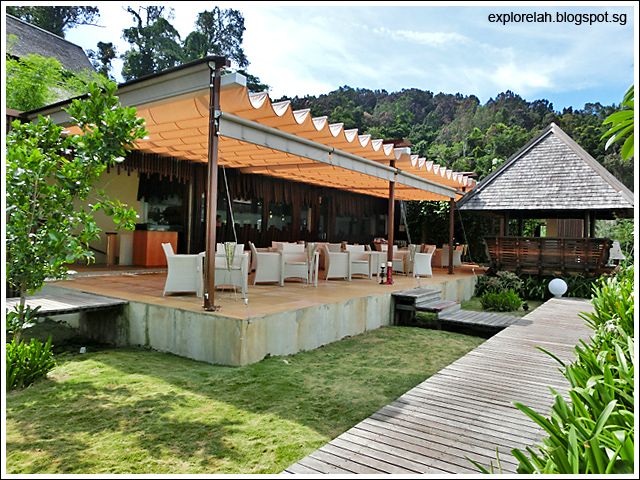 The rooftop garden that Fisherman's Cove sits on even comes with 2 pavilions that overlook the seascape.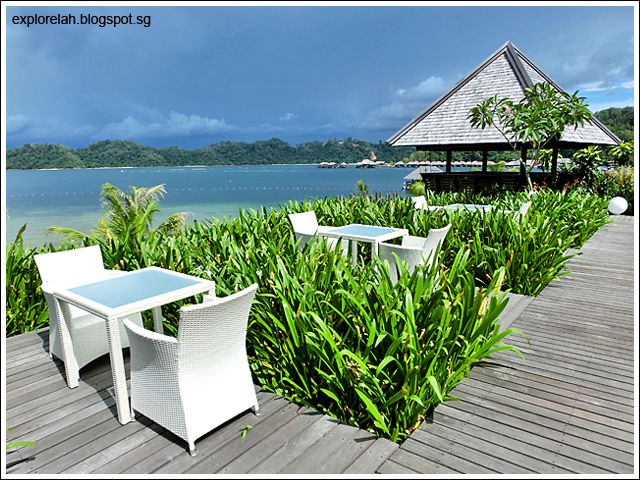 Fisherman Cove operates only during dinnertime, that's why the open tables are not shaded.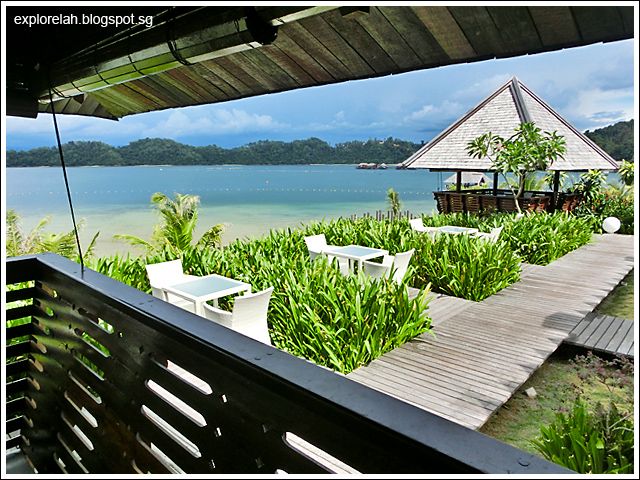 The 2 pavilions are available for private dinner bookings.
Eating inside one of the pavilions while the moon hanged high and twinkling city lights in the distant KK City felt like we were dining inside a painting.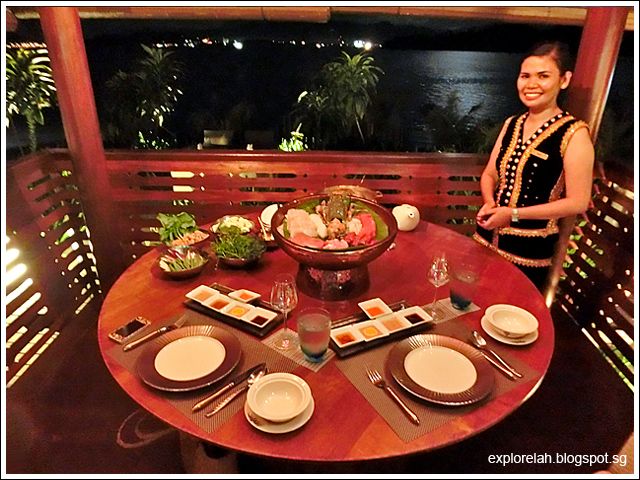 Our Sinigang Steamboat dinner (RM280++ per pax) was made more wonderful by Suri, our personal hostess in traditional Kadazan costume who wore smiles that could bright out the moon.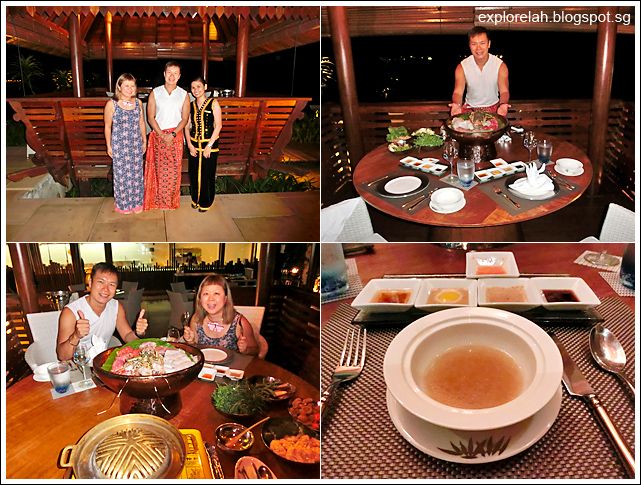 Fisherman's Cove has a no surf shorts, singlets and slippers dress code. I wasn't aware of that but the restaurant has a solution at hand... sarong. Just for the chance of also being in traditional costume for dinner, I would flout the dress code! Haha.
On a breezeless night, it felt pretty hot dining in the pavilion. A floor fan would make the dining experience more comfortable. And some music would be nice too.
A platter of fresh, succulent seafood and choice cuts accompanied by a medley of vegetables caused a foam party in our mouths. Ultimate drooliciousness!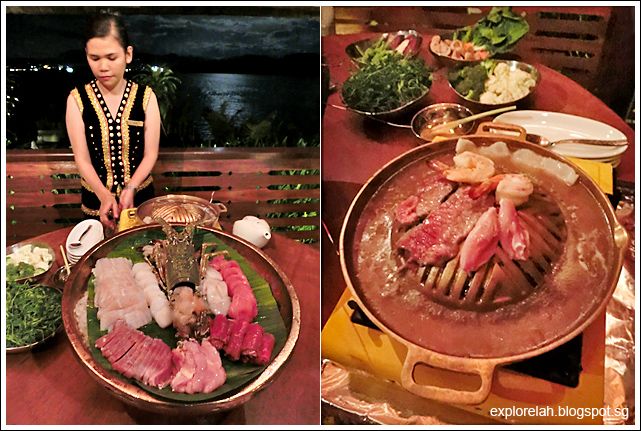 I've not seen a steamboat that looked like this before. The fact that it is gold in colour notwithstanding, its UFO shape with a grilling center and broth boiling like a lake surrounding a mountain is so unusual.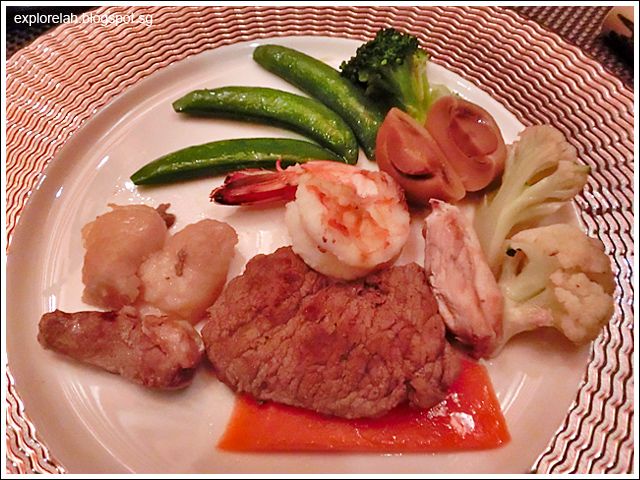 Goldilocks would approve of this... not over or under cooked, the meats and vegetables were all done just right! But the best part was yet to come. Pairing the cooked food with the delicious sauces / dips brought our tastebuds to another high. The drool party is starting in my mouth again as I'm recounting this steamboat dinner.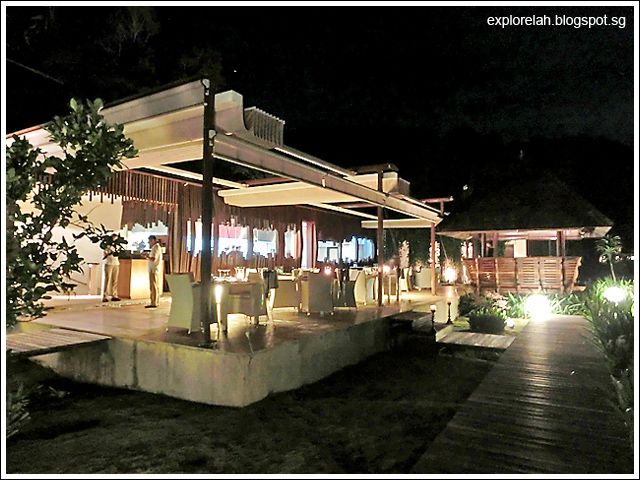 At nightfall, the draped ceiling of the main dining area folded up and voila!... al fresco dining under the stars!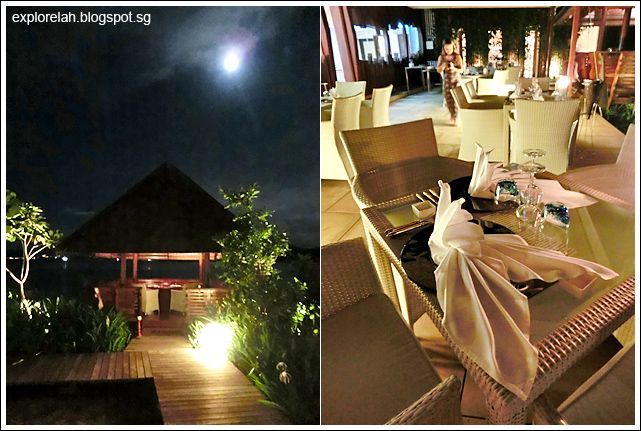 A couple was celebrating their wedding anniversary at Fisherman's Cove and their table was dressed up with elegant napkin birds. Love the creative touch.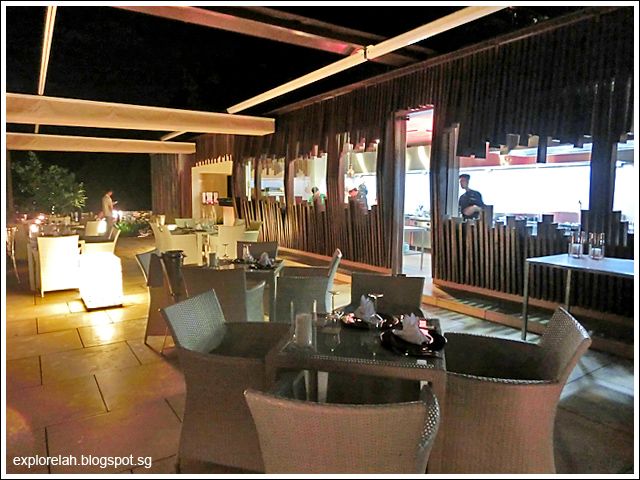 The fish tank kitchen allows guests to watch the chefs at work while taking a break from conversations.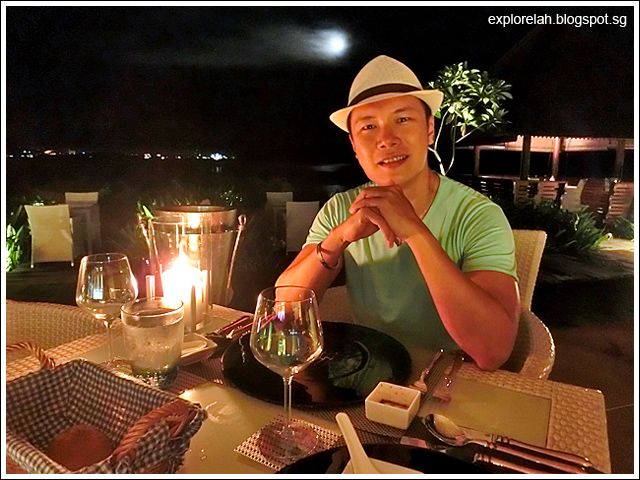 Before I turned into a werewolf.
We sampled the main menu at Fisherman's Cove the next night and our 3-course dinner started with Gaya Island Resort's custom-made lime sherbet.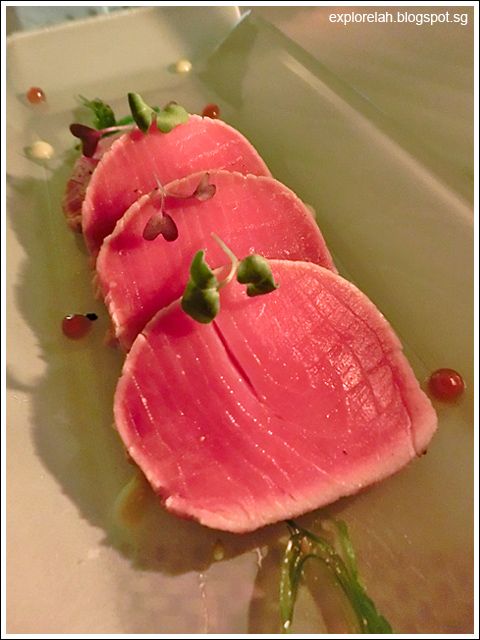 For appetiser, we ordered the juicy tuna (highly recommended)...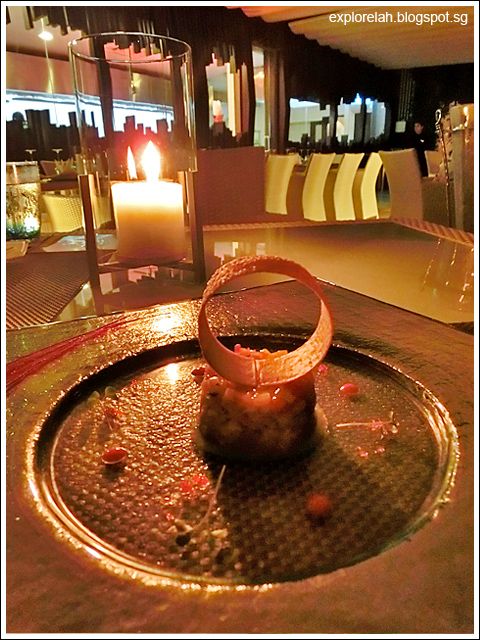 ... and artistically plated mud crab.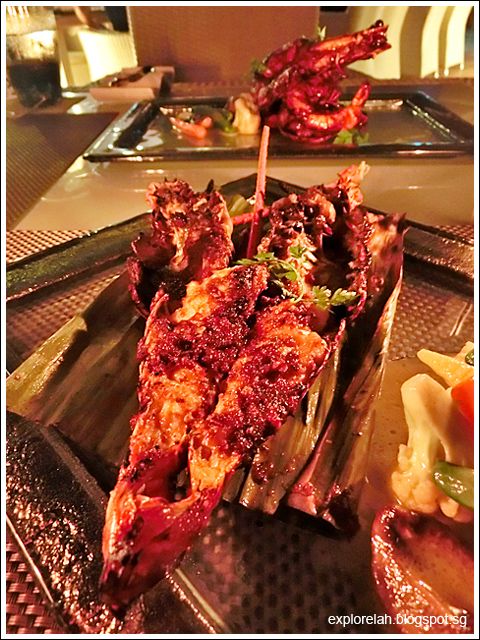 Main dish 1 - Lobster wrapped in banana leaf. A nice recipe that managed to infuse the meat with a distinctive Sabahian flavour.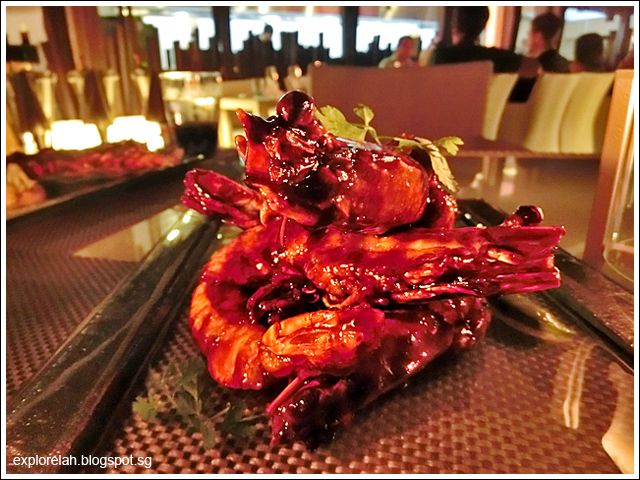 Main dish 2 - King prawns in sweet and sour sauce. When they said king prawns, they weren't kidding. The prawns were almost as big as a toddler's forearm!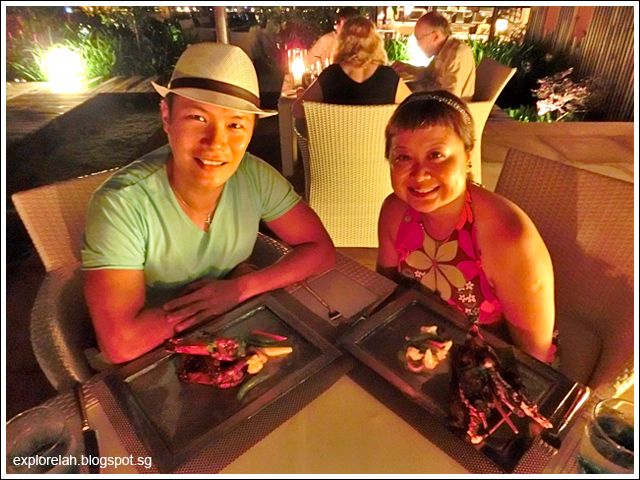 Hold that smile and keep the yao gui in!
A platter of bite-size dessert provided a sweet ending to our fine dine experience at Fisherman's Cove.
Beachfront Tribal BBQ Dinner
Do you still have the stomach space for more glorious food? Because there's one more dining experience I would like to whet your appetite with. In my opinion, this dinner embodied the most authentic of Borneo culinary traditions... a Kadazan Barbeque Dinner (RM280++) by the beach.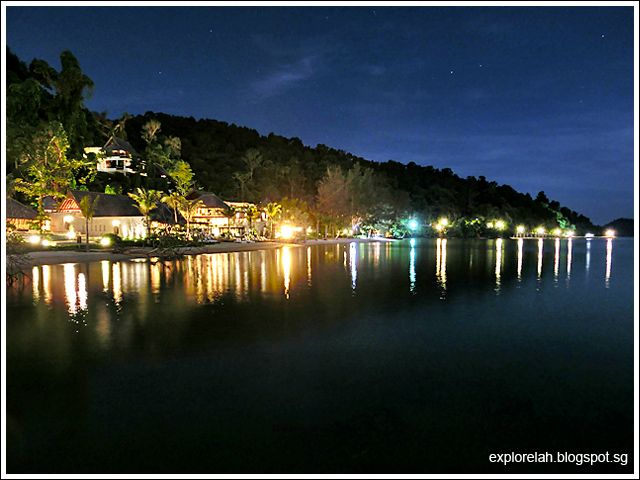 The shimmer of Gaya Island Resort at night.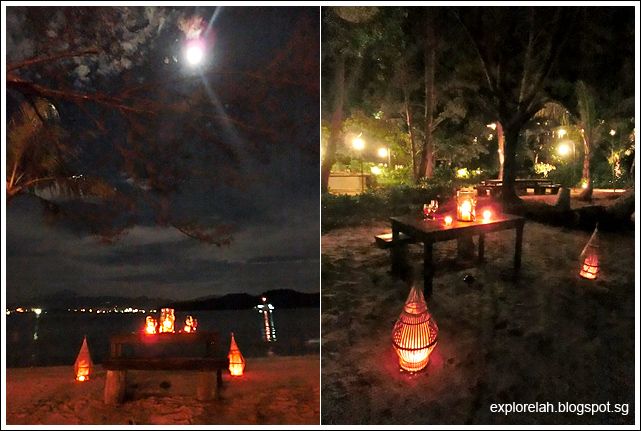 Another lyrical setting to enjoy a meal in. A gasp escaped my breath where I arrived at the scene of our Kadazan dinner. Kadazan is one of the 13 major tribes that inhabits Borneo and it is well-known for being a tribe of head-hunters.
Moonlight, candlelight, and endless delights! Oh, and quite a few mozzies feasted on me too.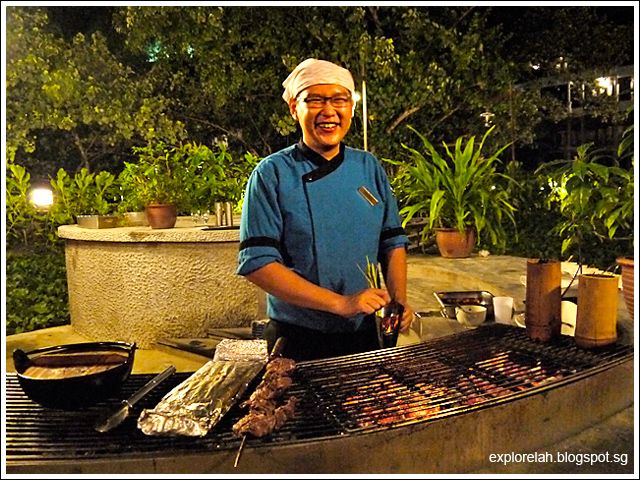 Alvin, our cook for the night. We were told that most of the local staff has lineages to the Borneo tribes.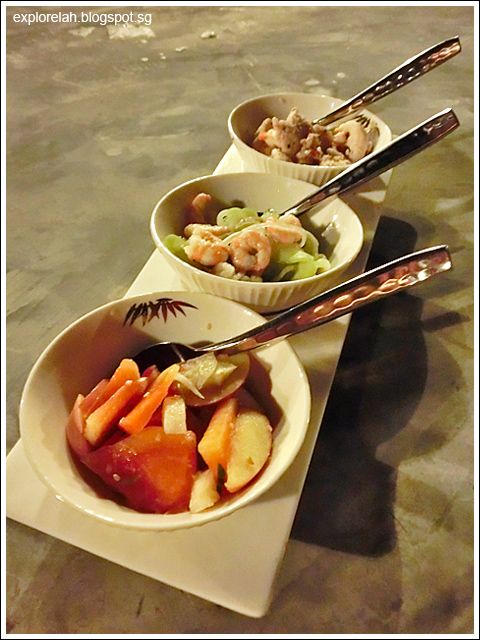 Appetisers were a trio of fruit salad, prawns with bittergourd and something with fish.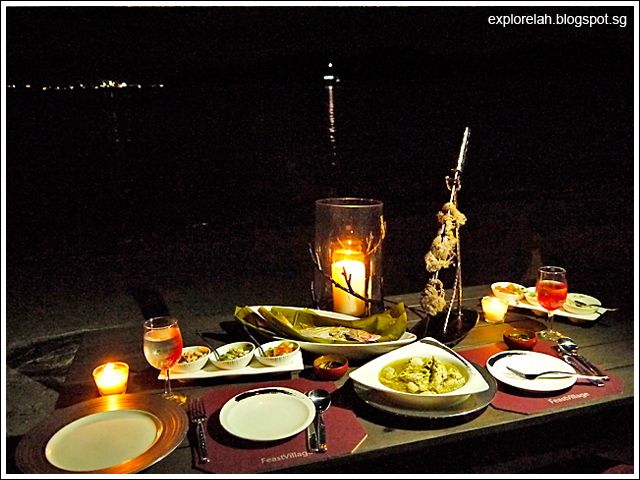 It was rather dark so we could hardly see our dinner let alone photograph the food. This photo was taken with the aid of shining a mobile phone spotlight on the table. Other than the appetisers, there's a fish BBQ in banana leaf, beef on skewer, and chicken cooked in bamboo with Li Hing wine. The wine is a really fragrant local rice brew that made the soupy Li Hing chicken our favourite dish!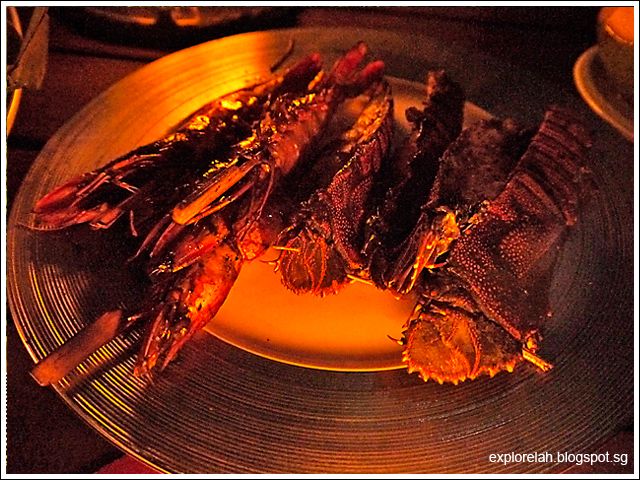 BBQ shellfish... my perennial favourites!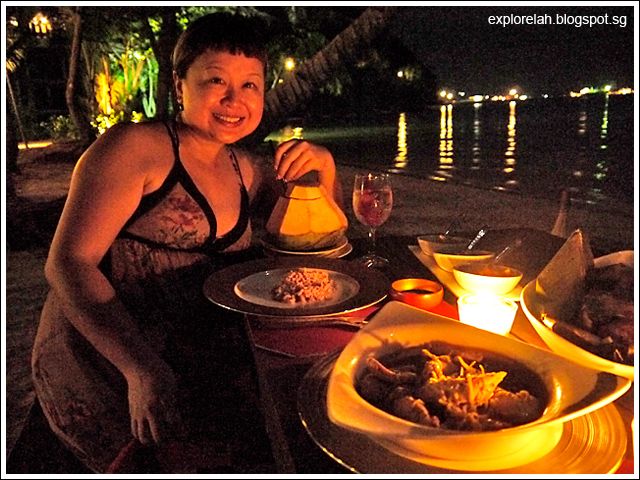 She didn't look like this when we first arrived on Pulau Gaya... I mean normal. Did you see what she wore for picnic at Tavajun Bay?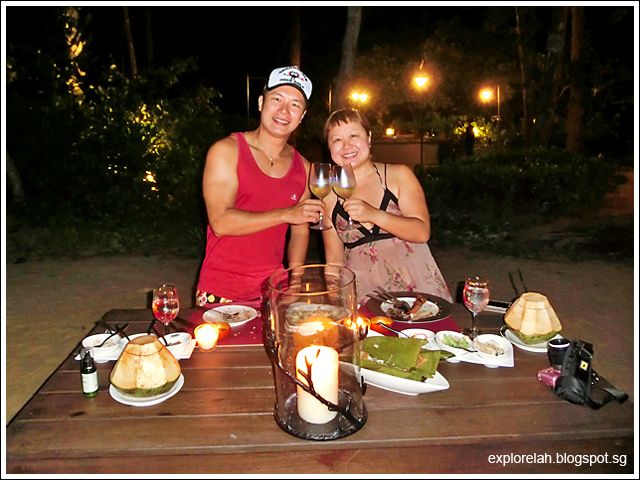 A toast to all the great chefs and service staff who made the meals at Gaya Island Resort such an amazing voyage of tastes, presentations and unforgettable experiences. Cheers!