Date of Exploration :
24 May 2013
There are many beautiful places in the world, but few have a soul. On the flipside, there are many soulful places, but they aren't always pretty to look at.
Soulful places to me, as much as they are open to definitions, are not churches, mosques, temples or holy destinations where the spirit comes to sought liberation; but somewhere that reaches me in a humanistic, non-religious manner. And I stumbled upon one such place during my trip to Southern Thailand...
... the Hat Yai Railway Station. It is one of those places not big on looks, but ambience.
Also spelt 'Haadyai', the railway station forms part of the kingdom's Southern Line that connects Malaysia to Bangkok and was built in the early 1900s.
It isn't listed as a tourist attraction in Hat Yai but we decided to check it out since the station is within walking distance from the city's prime downtown district anchored by the famous Lee Gardens Plaza and Hotel. It takes only about 10 minutes to walk from Lee Gardens Plaza to the station in the direction of Rodfai Road.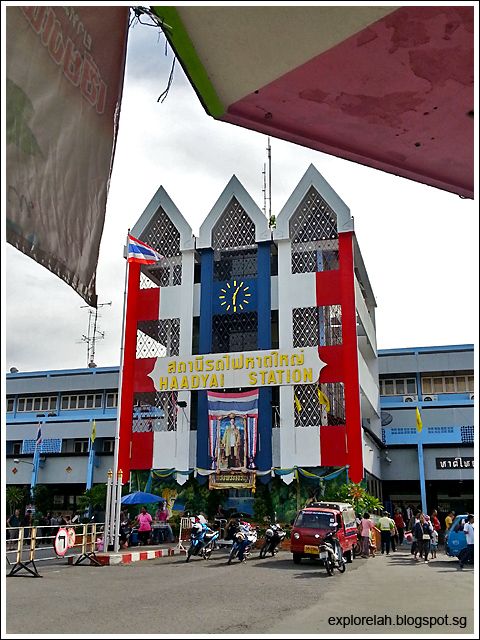 Entrance of the train station framed by the corners of a banner and shophouse to compensate for the dull sky.
Our visit to the railway station wasn't planned as it rained earlier during the day and the gloomy weather prompted us to switch sightseeing plans with a browse around the city's shops and cluster of shopping complexes instead.
So I left my DSLR and compact camera in the hotel and only had my phone camera with me. Darn! All photos on this post were shot with my Samsung Galaxy S3 mobile phone but I think it did a pretty decent job.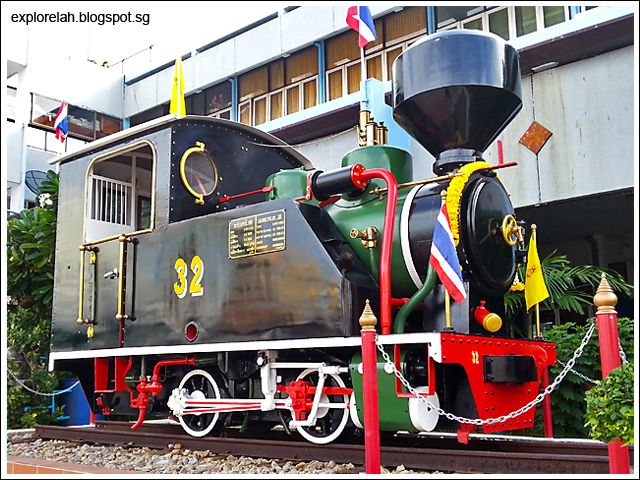 Choo-choo... Locomotive of Train 32 which was put in service in 1950 and decommissioned in 1965.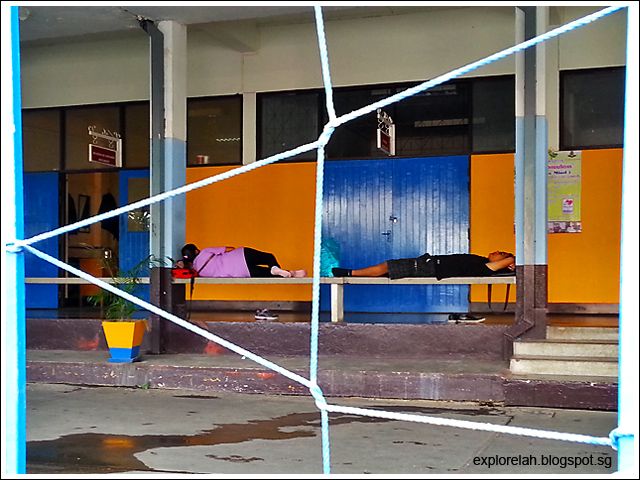 These 2 passengers formed a human train on the express way to dreamland.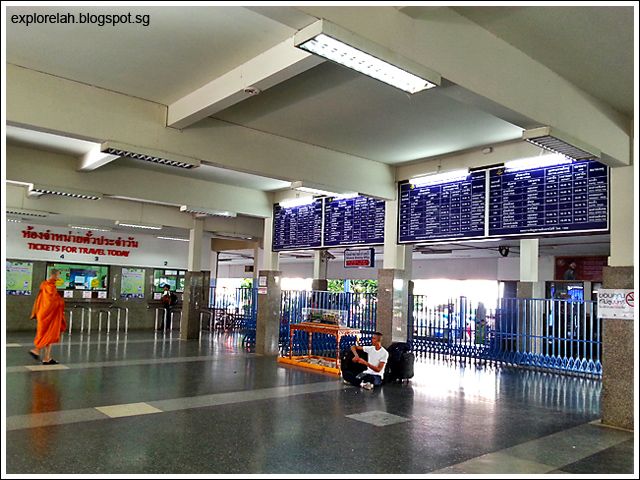 Ticketing hall of Hat Yai Railway Station. I find this photo 'cute' in the sense that the monk was on the move while the young guy was staying still. Normally it's the other way around.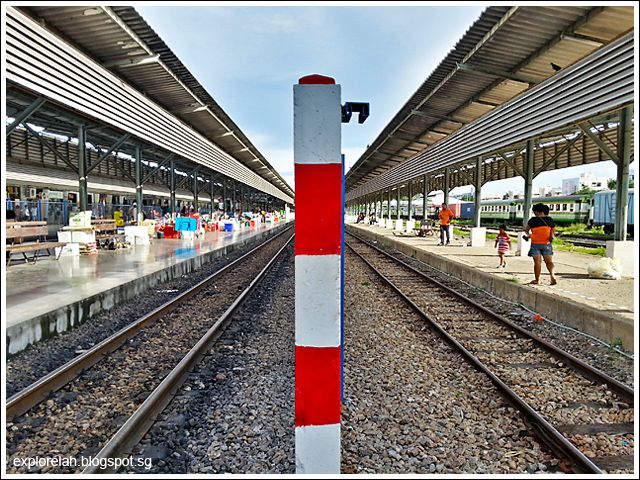 Both sides now... the most defining moments in life have to do with arrivals and departures.
离别的失望,还是到达目的地的盼望?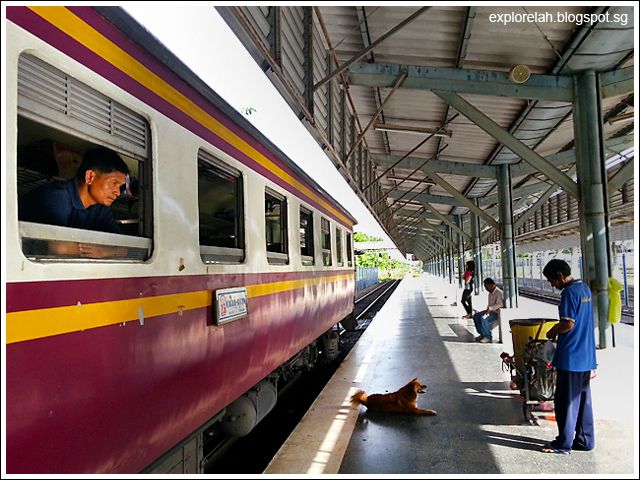 Waited a long time for the man on the train and the dog to look in the same direction for this shot because man or beast, we all head down the same way. Aiyoh, just realized this caption so emo after penning it. LOL!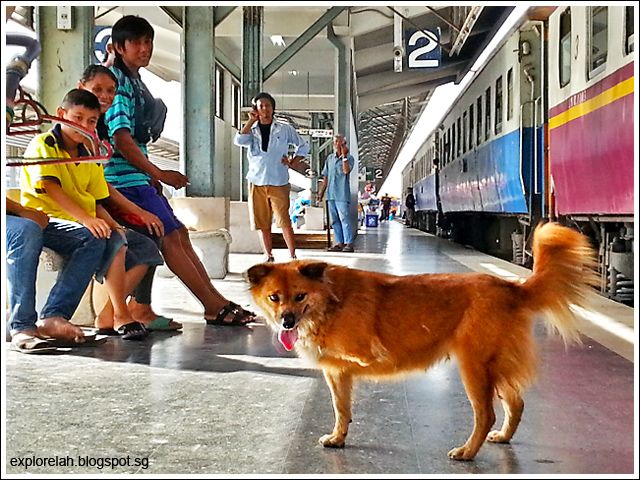 The dog has only 3 legs... *heartache* But it ran faster than 4! *smile*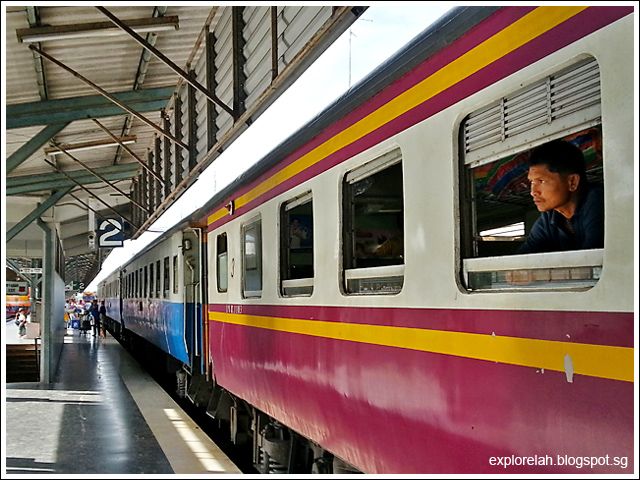 Boarding for a brooding.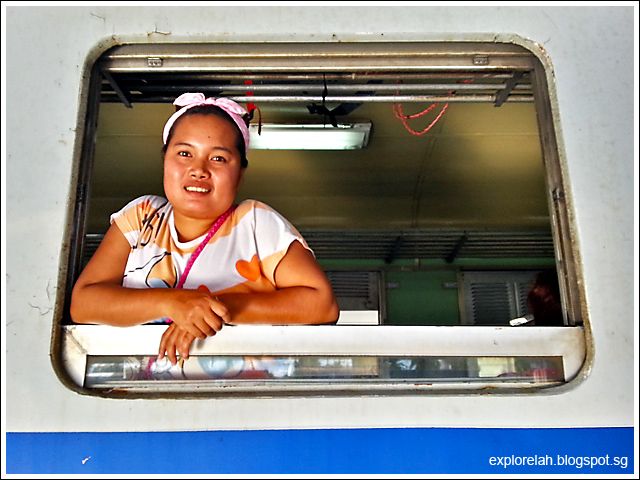 One of my favourite photos. Her dressing and smile befits the setting.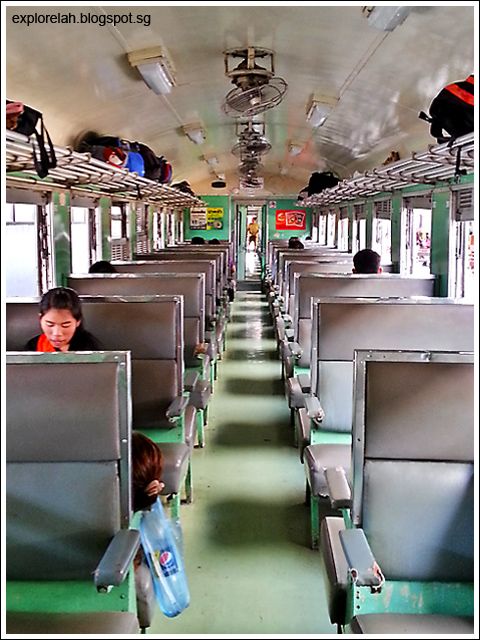 Inside the carriage.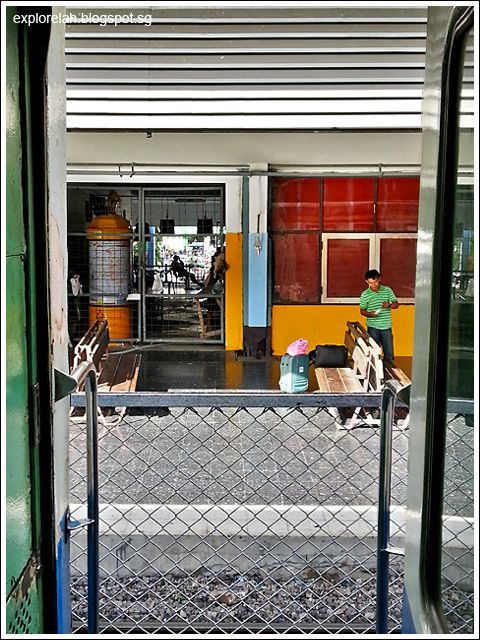 Two men waiting.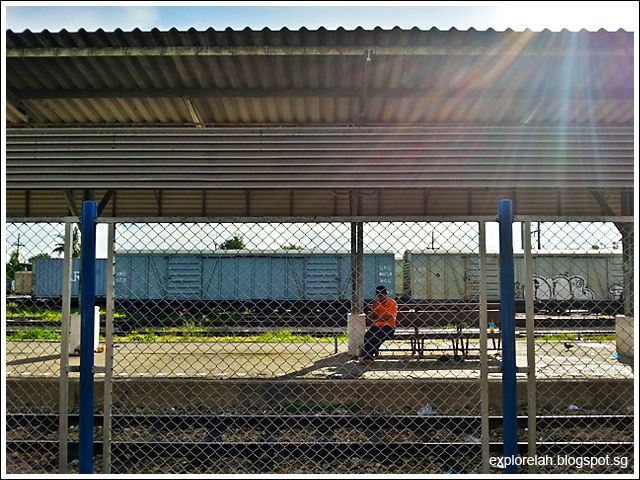 One guy pining.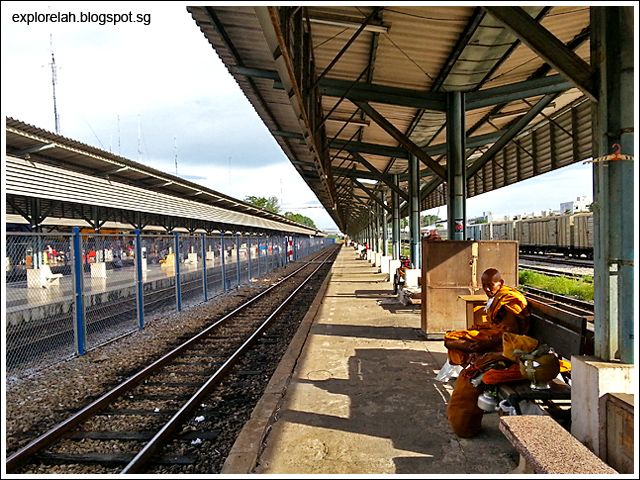 A monk wondering...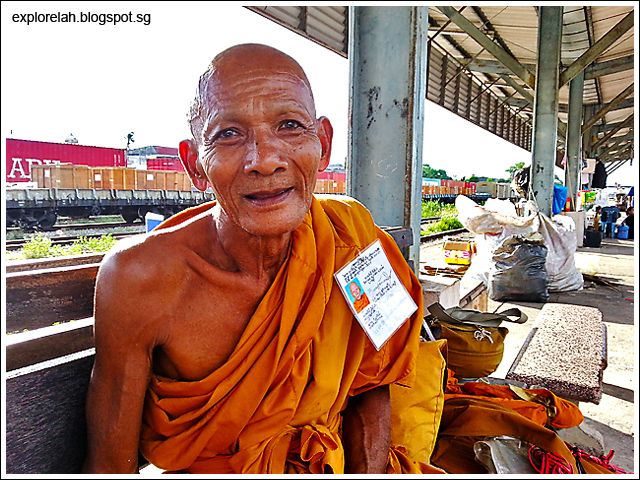 ... wondering why I kept holding up my phone at him in every angle! Haha. He looked so serene and sagely sitting by the tracks and gladly posed for photos when I asked. What struck me was his smile. It was toothless but it ignited a sense of inner joy for me.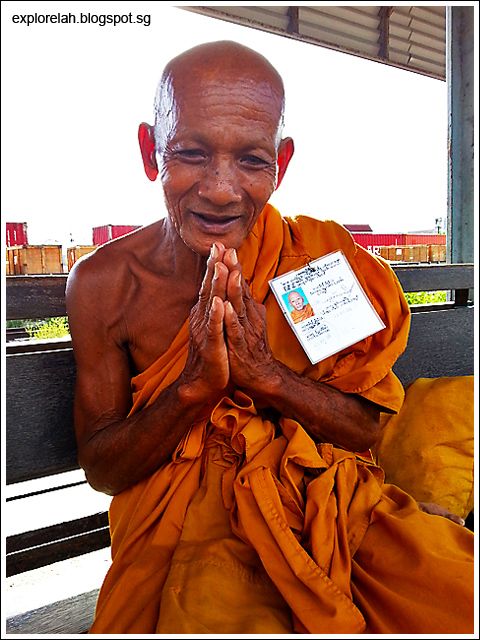 After taking his photos, he muttered a long prayer in Thai. Was he trying to exorcise me? Or giving me a shower of verbal blessings? With his smile, I think it's the latter. Although I'm not Buddhist, it's nice to get blessed by a monk on Vesak Day!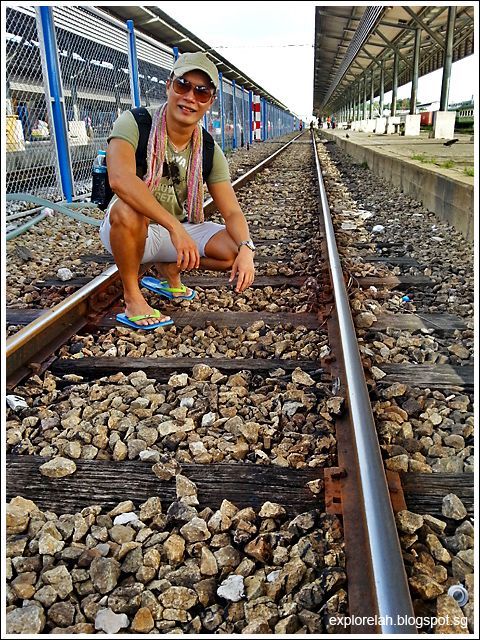 Where will my explorations take me next? If I'm not careful, it'll be to the hospital! While getting this photo taken, a train was coming into the station on this track. There wasn't a station guard to warn or get us off the tracks so keep a lookout when you are taking photos here.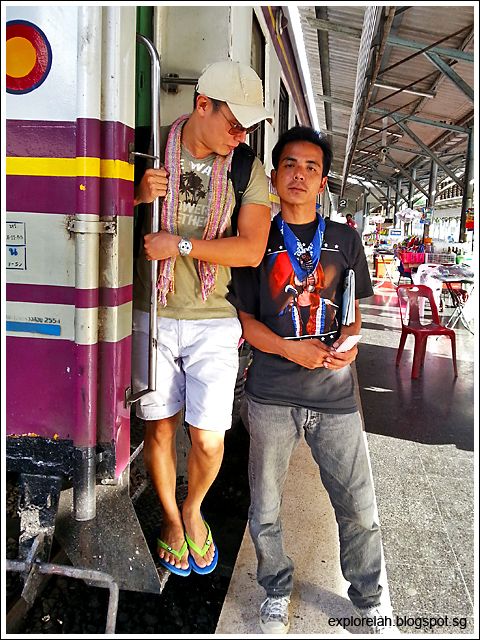 Photo bombed! I was posing for a shot when this guy stood next to me. I was like "Who the hell are you"...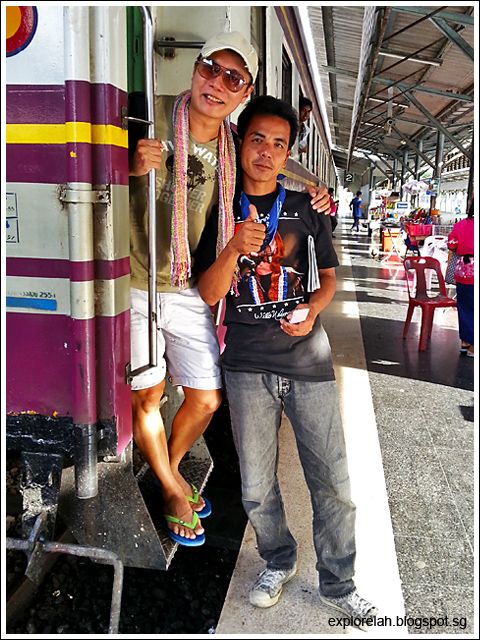 ... but my WTF spark dissipated quickly when I realized he was just pulling a playful prank to be in my photo. Funny guy.
We came to the station at about 4pm and left around 45 minutes later. By then, the evening sun made itself felt and casted long shadows within the station.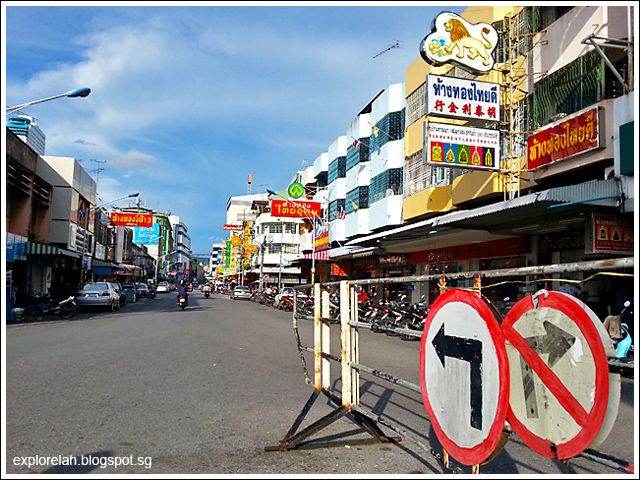 Thamanoovithi Road in front of the station. After our unplanned photo outing to Hat Yai Railway Station, we took this road back to the hub of shopping centres and street hawkers.
Visiting the station was a beautiful 'accident'. In a photographic point of view, I think the place offers many photo ops from great perspective shots of the tracks to capturing the emotions of travellers. Some of them are happy and excited, some pensive and deep in thoughts.
I think 4.30pm would be a good time to visit to catch the atmospheric lighting as the setting sun peeks into the station. However, do check the train schedule if you don't want to just get photos of empty tracks.
Chok-dee mak mak
(lots of good luck) in your explorations and arriving at places that touch your soul! :o)