Date of Exploration :
7 - 10 Jun 2013
If I may dare lay claim, I'm something of a mini walking Google on Kuala Lumpur hotels after having been to the Malaysian capital countless times and staying at a different lodge during each visit. From S$28 a night budget cells with dirty beddings and no windows to S$600 luxurious suites I don't want to check out from, I have been through hotel heaven and hell. But no matter where I stayed, I never sleep far from the city's Bukit Bintang shopping district.
On this trip however, under the invitation of
Ascott Kuala Lumpur
, I stayed at its premium serviced apartment at the centre of KL's financial district anchored by the iconic Petronas Twin Towers. I'm unfamiliar with that locale and truth be told, was rather uneasy about leaving my comfort zone bounded by Times Square, Sungei Wang Plaza and Pavilion.
But after calling Ascott KL home for 4D3N, I discovered that staying out of the crazy busy Bukit Bintang area offers the nerves a rare chance to get untangled yet remaining close to where all the action is!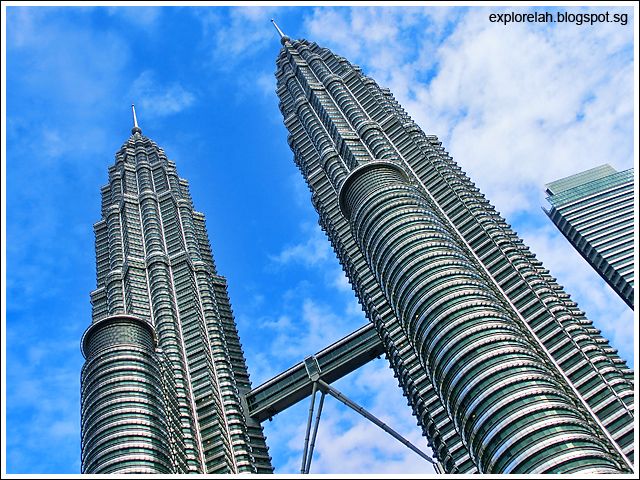 Location, location, location. The Petronas Towers is just across Ascott KL, which makes getting to the serviced residence really easy. Simply take the LRT to KLCC Station and walk over to Ascott KL... that is if you can resist the temptation to start shopping at the towers' mall!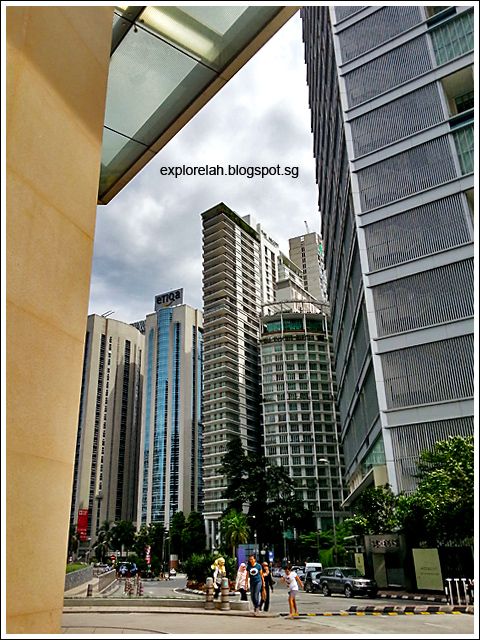 View of Ascott KL (tallest building in the middle) from an exit at the Petronas Towers. There's a bridged linkway near Ascott KL that connects to Pavilion and the famed Bukit Bintang shopping district so it's pretty convenient to go places.
A Tall Order of Luxury
Being the largest international serviced residence owner-operator across Asia Pacific, Europe and the Gulf region spanning 70 cities in 20 countries, the Ascott brand to me, is a proven mark of quality and luxury so I was naturally more than happy to stay at its KL property. But the conundrum was, Ascott KL is a serviced residence, not a hotel.
What's the difference between the two? Does living in a serviced apartment mean that I have to make my own bed, do housekeeping and cook my own meals (mum would approve!)?
After staying at Ascott KL, I am convinced that it has considerable advantages over a hotel by providing that homey feeling with the convenience of having friends and family (if one is travelling in a group) staying within the same unit. It has all the facilities and full services of a hotel
(phew, I don't have to clean up after myself)
, yet offers the flexibility of an in-room kitchen to cook my own meal if I choose to and a living room to chill.
Having always stayed at hotels, I'm new to serviced residences but if every one is of the high standards created by Ascott, I am a willing convert! Now let's check out what Ascott KL has to offer in terms of facilities and amenities and how my initiation into serviced residences has been one pleasurable experience...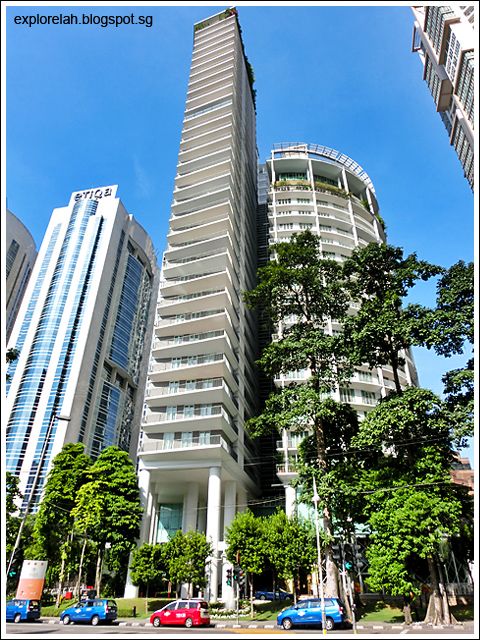 I thought I was looking at Kate Moss when I saw the residence's visage for the first time. It got me wondering if the rooming units were going to be anorexic but I soon learnt not to judge a building by its façade. The rooms at Ascott KL are spacious!
Ascott KL occupies the sleek building on the left while the semi-circular block on the right belonged to another development. They look like an odd couple that stood out amongst the architectural crowd along Jalan Pinang.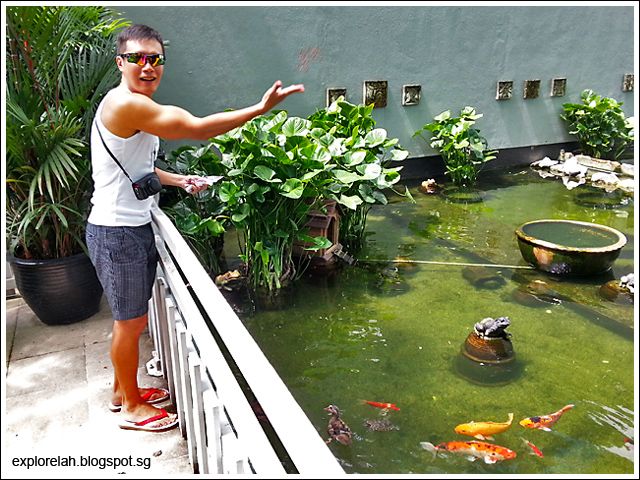 My favouritest spot at Ascott KL's lobby is the outdoor koi pond shared by tortoises and a pair of Mandarin Ducks! I think my biceps grew bigger from feeding them. Feeds are available at the reception free-of-charge from 9am to 6pm daily.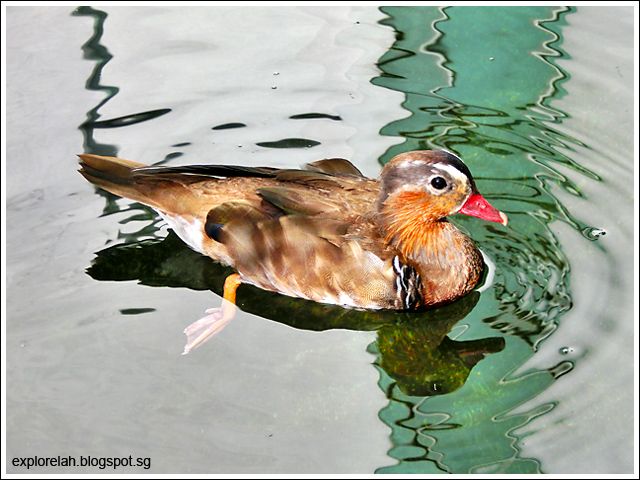 It was such a thrill to see the colourful ducks (鸳鸯) at the residences' property.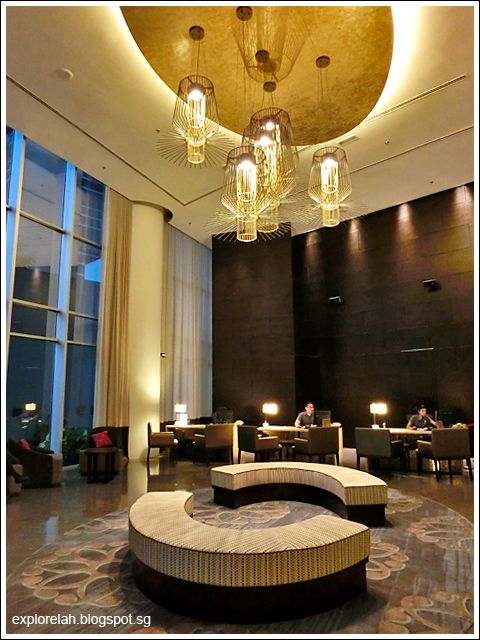 The classy and open reception at Ascott KL has a welcoming casual appeal.
Inspired by traditional Malay fishing baskets, the pendant lamps overhead gave culture a modern weave.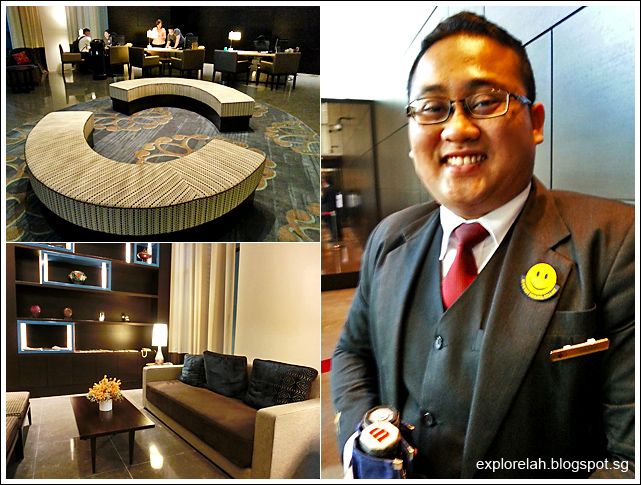 Service, needless to say, was top-notch and staff wore smiley badges as a pledge to always provide friendly assistance to guests.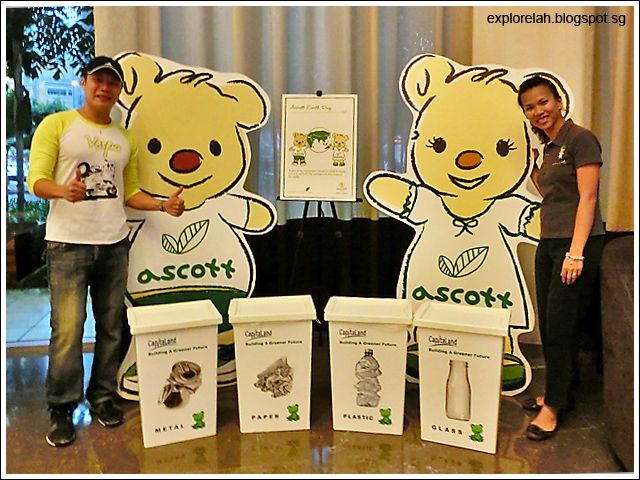 As part of Ascott's effort to raise eco-consciousness, guests are encouraged to dispose of recyclable materials in the bins and staff don polos emblazoned with their koala mascots on Fridays.
I made this trip to Kuala Lumpur with my usual travel buddy Eugene and we put up at the 2-Bedroom Deluxe unit (number 702) that can comfortably sleep 4 people.
As we opened the door to our unit, our hearts smiled... the spacious interior was bright, cheerful and looked really handsome. The furnishings were of substance and a personal greeting note topped off the Ascott welcome.
Floral batik impressions decorate the corridor leading to the rooms.
Outside our unit was this single silver flower on the wall that had a Zenifying effect. It acted as some kind of mind-cleanser before I enter the room.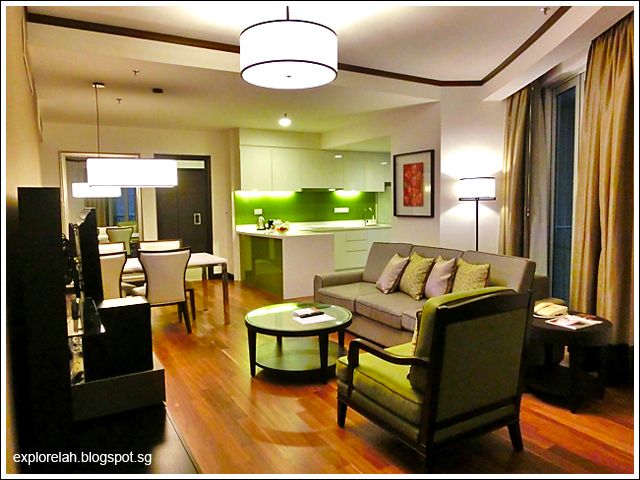 The spacious and well laid-out living room. We spent many hours lounging on the sofa and had a hard time peeling ourselves off it to go out.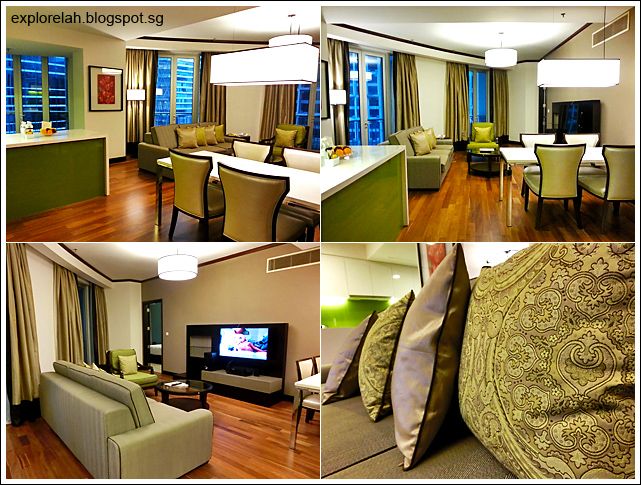 The combination of wood and greens is very unobtrusive and calming. Home theatre system with DVD player, free wifi and broadband connections are available in the units. Woohoo!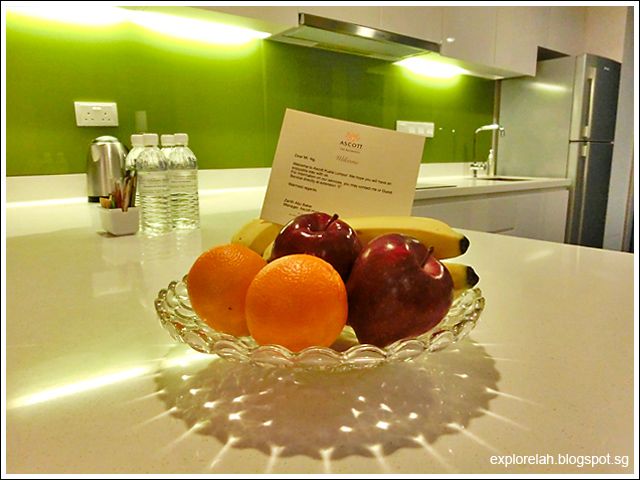 For long stays, it makes sense to cook in and the kitchenette is equipped with everything you need to be the next Jamie Oliver or Nigella Lawson.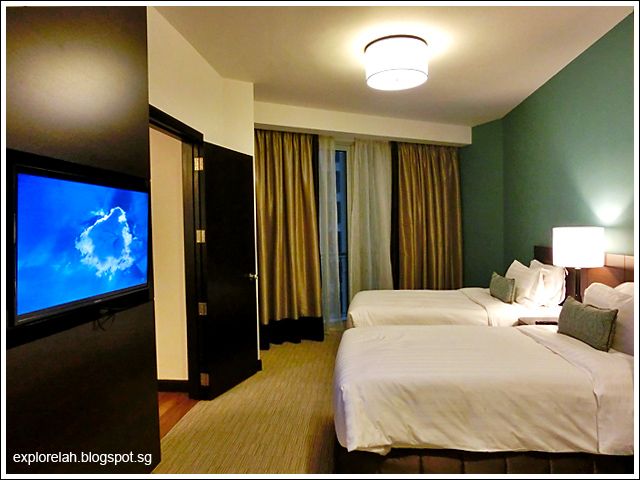 One of the room comes with 2 single beds with an attached bathroom.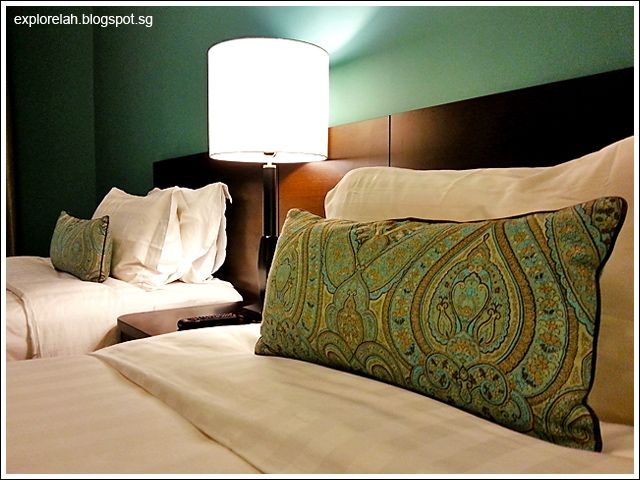 Love the choice of cushion covers throughout the unit.
The marbled bathroom attached to the room. Comes with a bathtub too.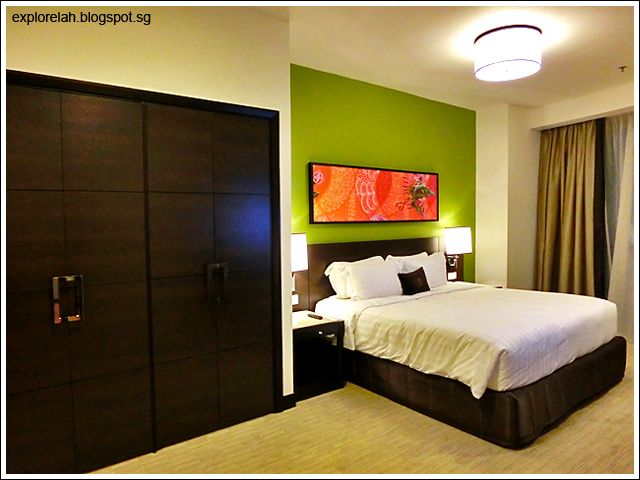 I took the bigger master bedroom with a king-sized bed and a dash of red to liven up the room.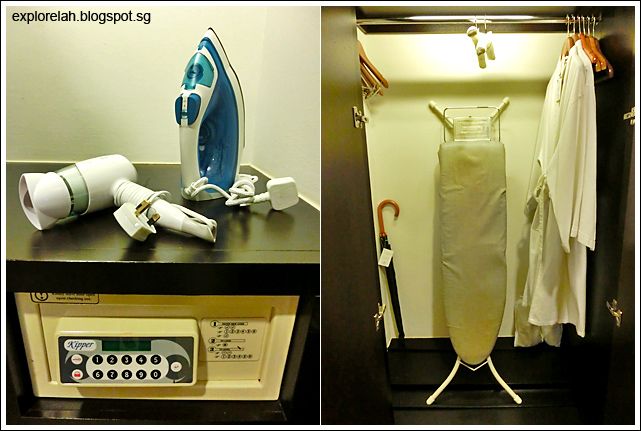 Things you find in the closet.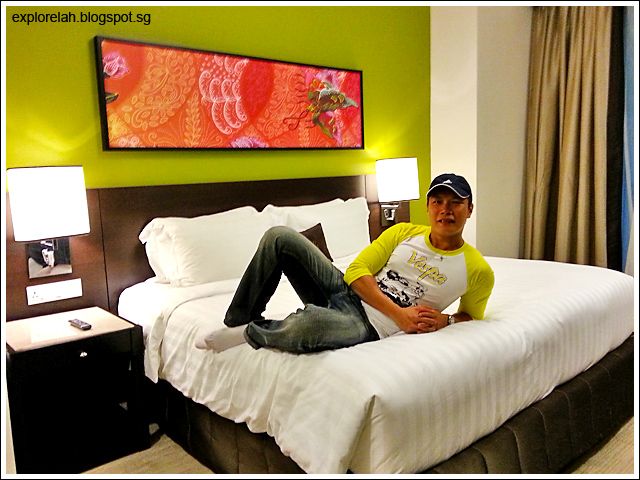 Such a pity I enjoyed the very comfy bed alone.
The master bedroom comes with a work desk that has wired broadband connection.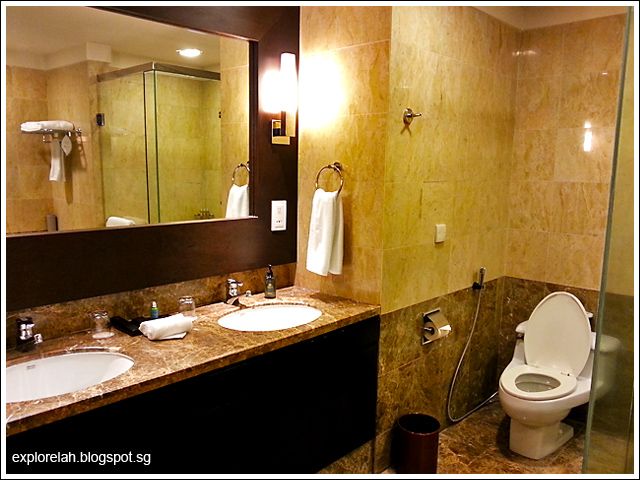 Attached bathroom of the master bedroom with separate washers.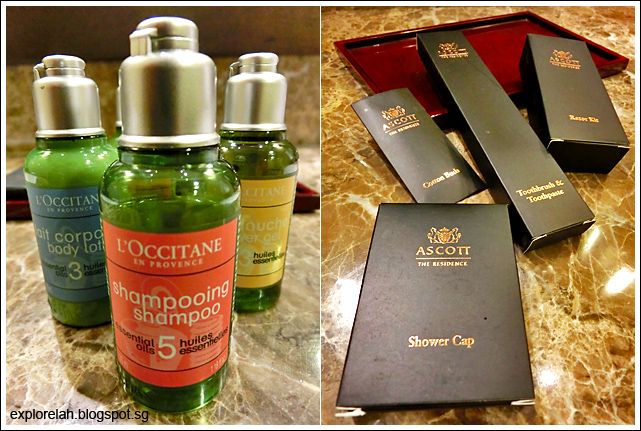 If the gorgeous living space hasn't sealed the deal, the branded French toiletries did. I'm a one-soap-wash-all kinda guy when I travel but having the L'Occitane collection at Ascott KL got me to really take my time in freshening up for the day and before bed time.
Wellness Hub in the City
One of the first things I check when booking an accommodation is whether the hotel has a gym. As I tend to eat a lot while on vacation
(don't we all? haha)
, having a gym to burn off some calories would make me less guilty about my gluttony.
While many decent hotels have gyms nowadays, most are small, sparsely equipped, and/or not well maintained. Some even smell worse than my socks at the end of the day. Ascott KL on the other has a spacious and clean gym that's well-stocked with cardio machines, muscle isolation trainers and free weights.
For non-gym rats, there's a sizeable lap pool, a tennis court and even an outdoor rooftop Jacuzzi for some R&R.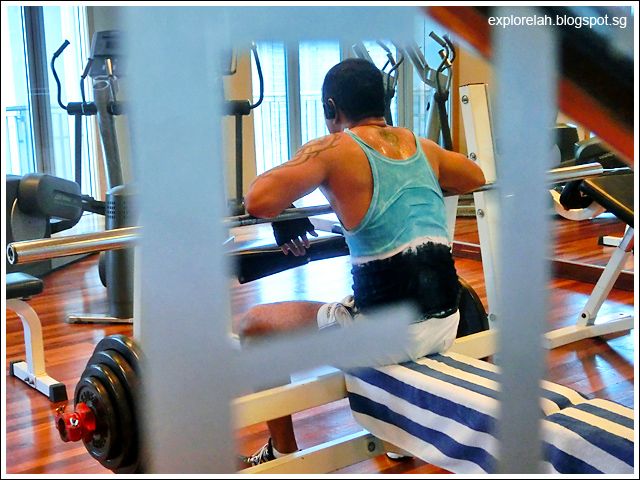 The Ascott KL gym is built for some serious muscle blasting action or a leisurely sweat session on the cardio machines.
Being on the 22nd level, the gym overlooks the Kuala Lumpur Convention Centre and the surrounding skyscrapers.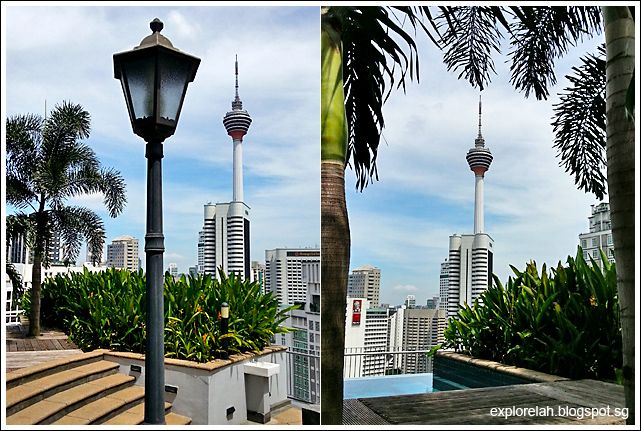 After a good workout, I headed out to the Jacuzzi which is also on the same level.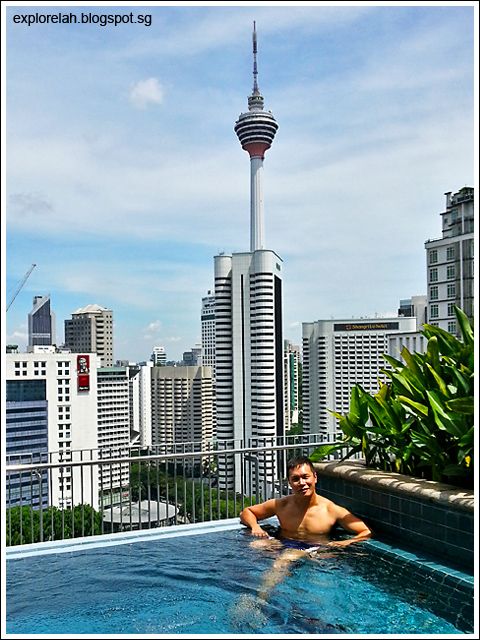 Although the jet power of the Jacuzzi was rather mild, I enjoyed the edge of the world feeling and the awesome city view!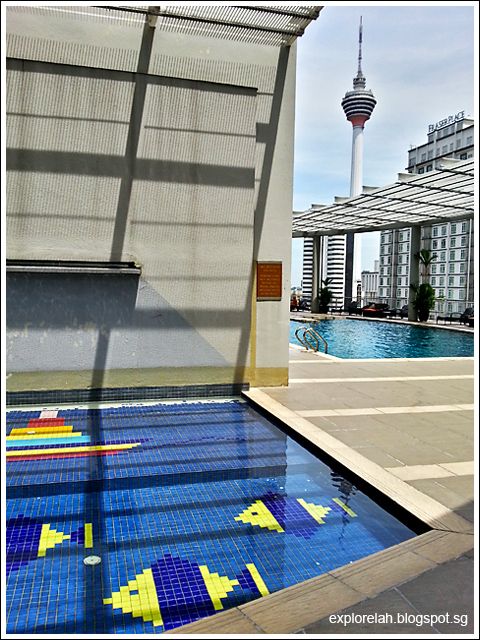 Other than the Jacuzzi, there's a toddlers' wading pool...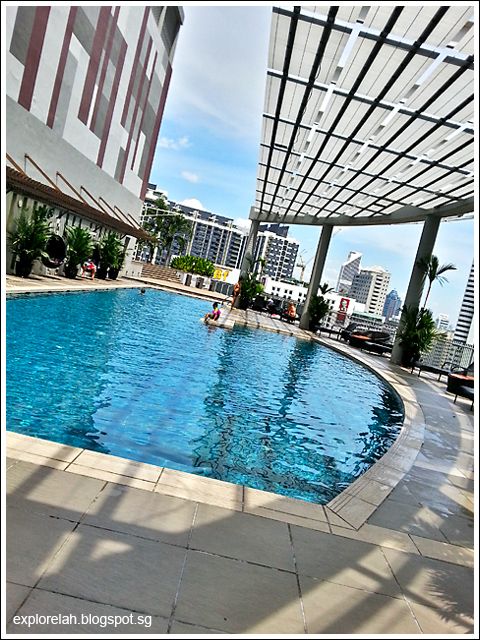 ... and a pool long enough for lap swimming. Surrounding the pool are island loungers that are great for chilling with an ice-cold beer or wine.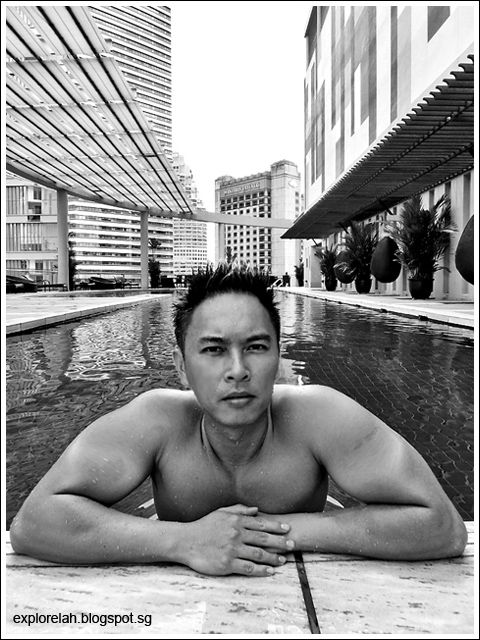 Another thing the pool is good for is some 写真集 shots. Got Eugene to flex and pose for this portrait which I think can be used to bluff 小妹妹. LOL...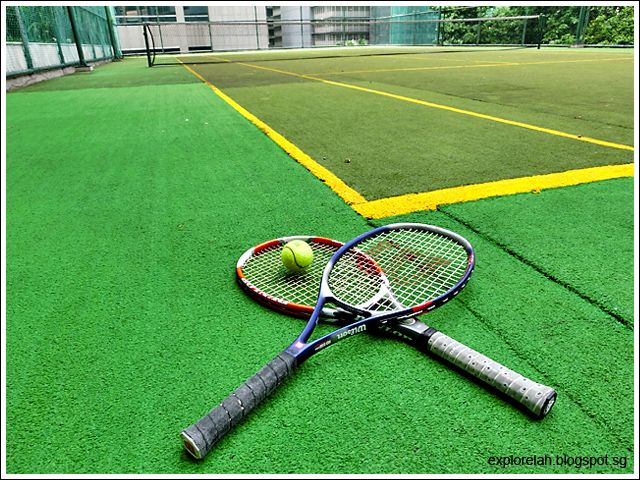 Tennis rackets and balls can be rented at RM20 at Ascott KL's reception. But remember to book the court with the concierge first.
Next to the tennis court is a children's playground where the tots can play.
With so many fitness facilities and environs conducive for a great workout, swim or simply just to unwind from the city's hustle and bustle, Ascott KL is indeed one of the healthiest places I've stayed in. Remember to pack extra t-shirts and shorts for gymming and swimming gears when checking into this serviced residence!
Eat, Play, Live at Tujo Bar-sserie & Grill
If your room booking comes with breakfast, it is served at Tujo Bar-sserie & Grill, an independent restaurant located on the ground level right next to Ascott KL.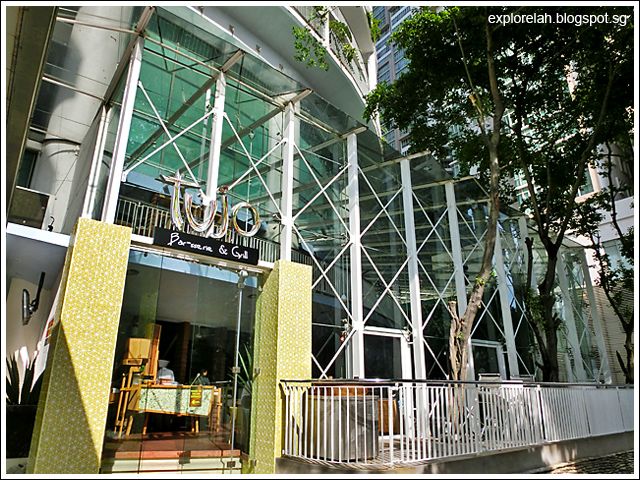 Tujo is a spin on the Malay word which means 'seven'. The name was chosen for the significance of the number in both Western and Eastern cultures. To me, it means I need 7 stomachs to savour all that the restaurant-bar has to offer!
Mealtime feels like playtime with a collection of retrolicious toys that provided a focal point of the restaurant's deco.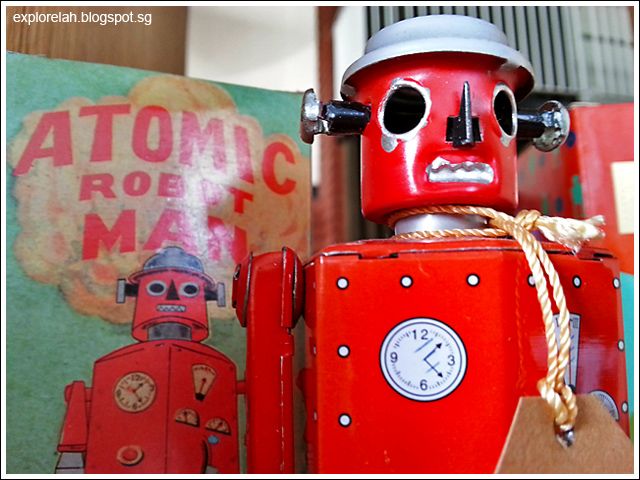 A revival of childhood for the little 'uns and the young at heart is the founding principle of Tujo which has 'play' in its tagline.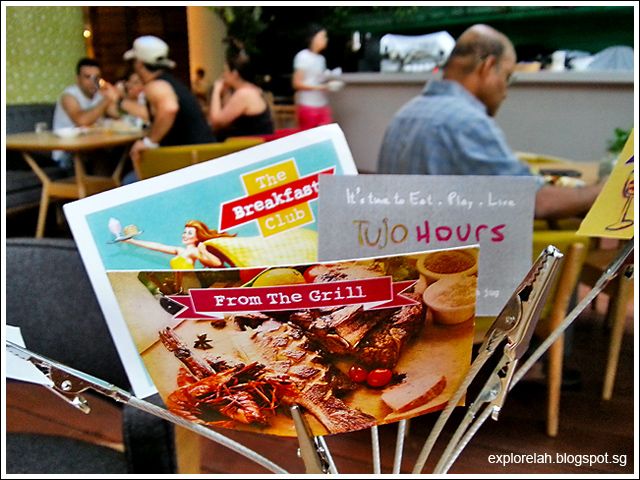 Tujo serves breakfast for Ascott KL guests as well as a selection of robust grills and meals for lunch and dinner. At night, it is transformed into a bar.
The breakfast spread is an East-meets-West affair with fresh greens, cereal towers, breads and a selection of hot foods which changes daily.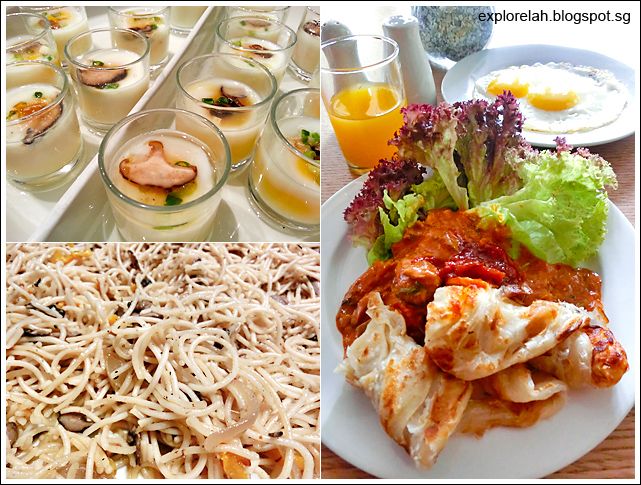 Photos : Chawanmushi, spaghetti and my personal assembly... Roti Canai with Sardine Sambal.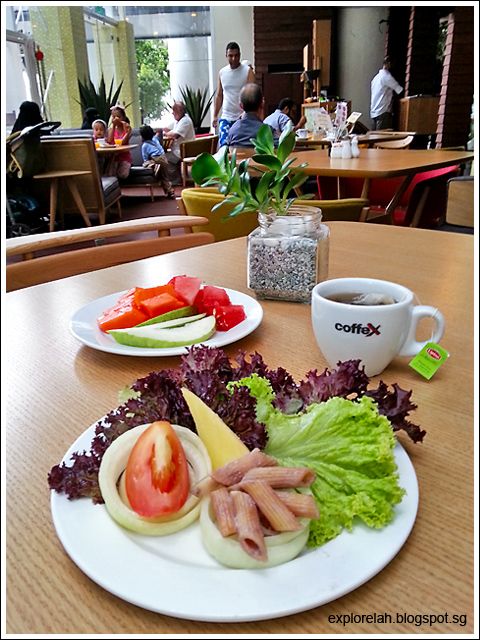 I really love the salad and fruits section at Tujo because they are fresh and crisp. The fruits are ripe, juicy and sweet and the salad leaves are blemish-free. I like starting my day with a clean palate but sometimes when I look in a salad bowl and have sickly vegetables staring back at me, my appetite just commits suicide.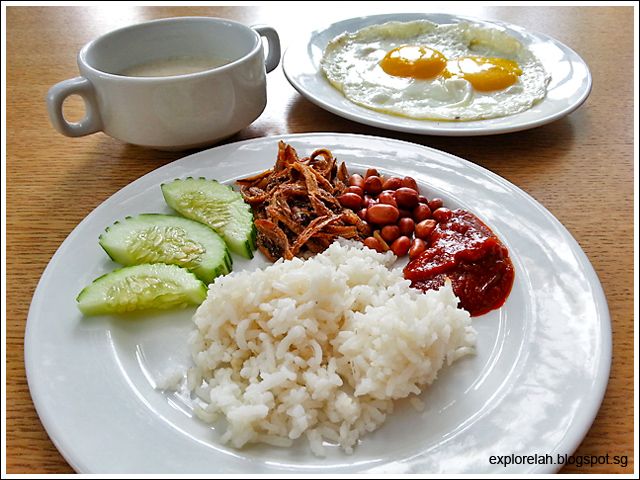 One of the mornings, I decided to silence my diet conscience and give in to the fragrant Nasi Lemak. The rice was delicious and the sambal reminded me of the Nasi Lemak I had at my primary school tuckshop. Totally worth gaining calories on this!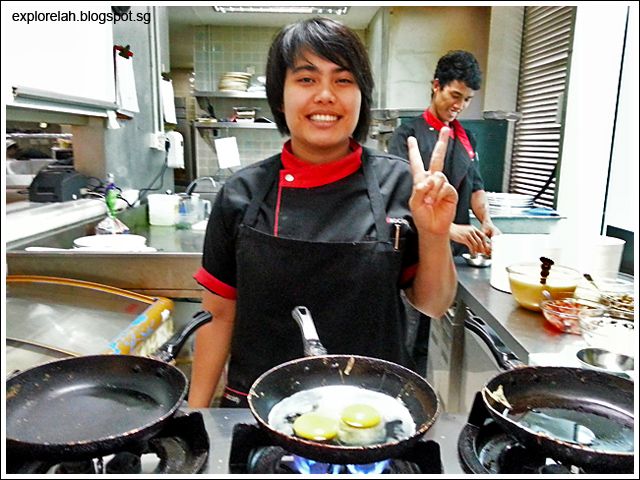 This is Didid. She has such a bright and sunny personality that made my daily orders of 2 Sunnyside Ups extra tasty even though it's just unflavoured fried eggs.
Best of Both Worlds
It used to be that getting to the Petronas Towers and KLCC from the Bukit Bintang shopping area involved a good map and playing a game of Frogger with KL's notorious traffic. Not anymore. There's now an elevated walkway that links the KLCC area to Bukit Bintang (via Pavilion shopping mall). From Ascott KL, it took us only about 10 minutes on foot to start shopping!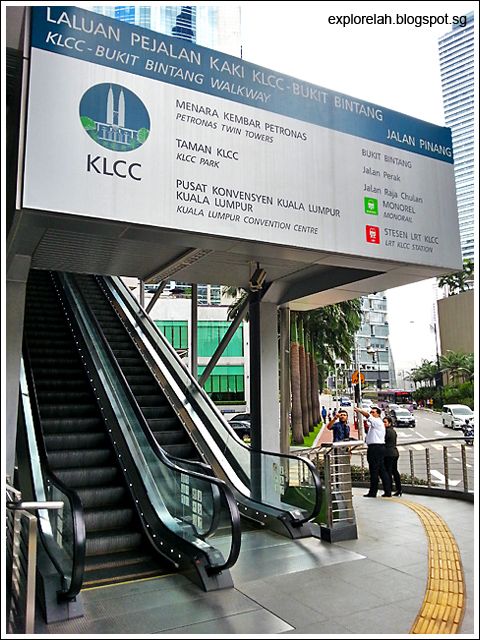 One of the linkway's access point is located along Jalan Pinang, which is a short walk down the road from Ascott KL.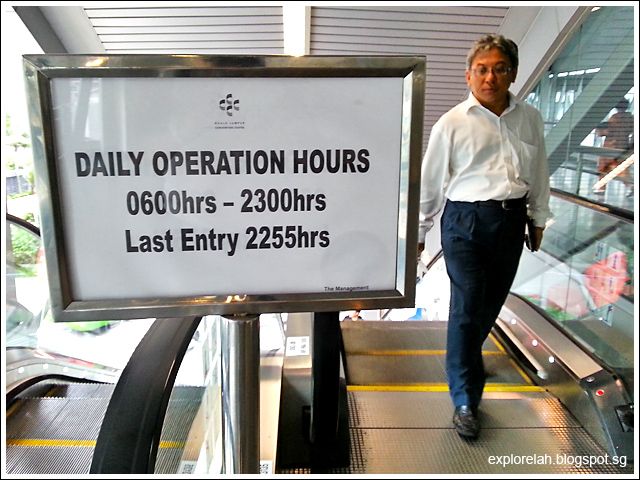 The linkway is not opened all day though.
The above ground linkway is wide and spacious with air-conditioning for a comfortable stroll.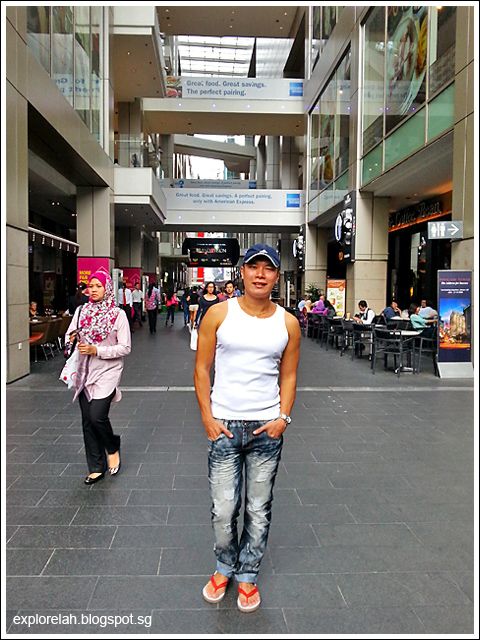 After about 10 minutes, we arrived at Pavilion and onward to Bukit Bintang and beyond!
While good hotels are great, Ascott KL serviced residences truly provided an attractive alternative for vacationers like me. Instead of being cooped up in a single room, I had lots of space to roam in its apartment unit and felt the comforts of home while exploring a foreign city.
Best thing is, I get to stay near the iconic Petronas Towers in a quiet and safe neighbourhood away from chaotic traffic yet remaining close to shopping and dining hotspots. It's the best of both worlds!
Ascott Kuala Lumpur Address :
No. 9, Jalan Pinang, 50450 Kuala Lumpur, Malaysia
Nearest LRT Station : KLCC
Related Links :
Ascott KL website
|
Ascott Living
|
Ascott The Residence Facebook Page