Date of Exploration :
22 - 23 Dec 2012
Pockmarked dusty mud paths adjoin smooth paved roads while swanky developments are juxtaposed with dilapitated shorthouses so apparent in disrepair, any visitor to Batam cannot escape the stark inconsistency of urbanisation on the island. I got an eyeful of untamed naturescape, man-made rustic, and modern edifices all within the first 30 minutes of my 2D1N Batam packaged tour. As our minimally comfortable chartered bus rode from Sekupang Ferry Terminal to the island's town centre, a continuous scene of beauty-ugly-clean-dirty-manicured-disarrayed swept past my window. "Such glorious haphazardness!" I thought to myself.
Batam is identified for economic experiments by the Indonesian government and attained its status as a Trade Free Zone in the 1980s before entering a Special Economic Zone pact with Singapore in 2006. These agreements turned the island into a hotbed for tariff-free trading and liberated red-tapes limiting foreign investments and commercialisation. The result is an infrastructure struggling under the weight of rapid developments that piled Batam with more than it can handle.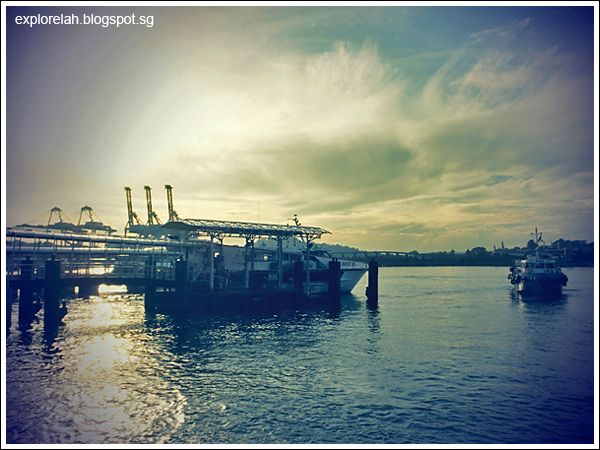 Took the 8:20am boat from HarbourFront Cruise and Ferry Terminal to Batam's Sekupang Terminal. Shot with Casio Exilim ZR1000 ART (Toy Camera) Mode.
Not quite an unabashed island resort like Bintan or reaching a level of modernisation to be considered metropolitan, Batam's identity crisis could perhaps be founded in the haste of its development to mirror Singapore. Sitting on a transitional crossroad just a 45 minutes boat ride south of our tiny red dot, influences drift quickly across shores with Singaporeans forming the largest group of tourists to Batam (58%), making the Singapore Dollar an unofficial second currency on the island.
Batam's popularity as a holiday destination is fed by the many 2D1N packaged deals sold here as well as it's notorious nightlife and reputation for being a taxi driver's harem. One of my uncles, who is a taxi driver, kept a Batam mistress once for a couple of years.
2D1N Batam Package (Pacific Palace Hotel) by Deal.com.sg
This post is the outcome of taking one of those 2D1N tours sold by
deal.com.sg
that included ferry transfers, accommodation, and a one day tour for S$55. The price excludes surcharges (Departure Fee, Fuel Surcharge, and Terminal Fee) amounting to S$27. An additional S$2 is payable to the local guide and driver and a S$10 weekend surcharge is levied so
the total is actually S$95 and not S$55
. The deal requires a minimum of 2 to travel.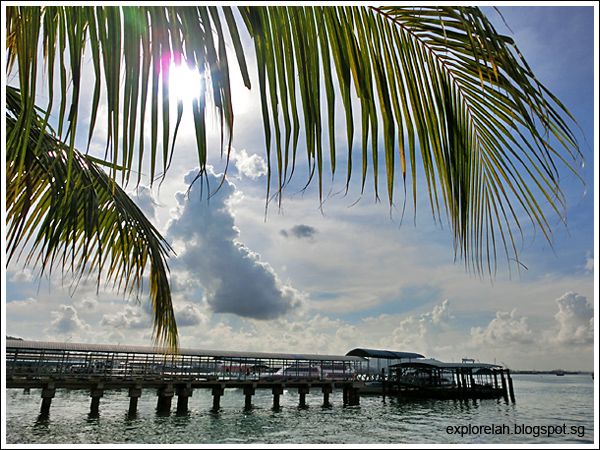 Sekupang Ferry Terminal. There are a number of ferry terminals on Batam providing access to different parts of the island's developments. Batam Center Ferry Terminal is the most happening with a shopping mall across the terminal and a hotel next to it. Sekupang Ferry Terminal has no lifestyle developments that support tourism nearby.
So is the deal any good? It depends. I think it's a reasonable price point for anyone who doesn't want to incur the hassle of making à la carte arrangements for ferry, hotel and day tour. The downside of following the tour is that you'll have to sit through activities that doesn't interest you. For example, if some in the group is going for a 1 hour massage, those not having the massage will have to wait an hour.
And the deal.com.sg package lists a lot of activities and places to visit but in actual fact, it's not possible to cover everything. When there, the local guide is more interested to take you shopping instead of sightseeing as presumably, they get a commission when you spend at the shops. Our itinerary included a visit to a Chinese temple but the local guide used psychological tactics to manipulate us such that it is our decision to skip visiting the temple.
Here's an account of my 2D1N Batam experience with Deal.com.sg which listed the following in its itinerary :
2-way ferry and transfer to hotel

1 night accomodation at Pacific Palace Hotel inclusive of breakfast

7-course seafood lunch (Golden Prawn Batam)

Choice of 1 activity - Go Kart (10 mins), Flying Fox, Paintball (20 bullets), Massage (60 mins), or 1 bowl bird's nest. We chose massage.

1 day city & shopping tour - Local produce shop, Polo Ralph Lauren shop, chocolate shop, layer cake shop, batik shop, factory outlet shop, and shopping mall
Items listed in the itinerary but we were not brought to :
Watersport

Chinese Temple

Golden Cheng Ho

Otah-otah Factory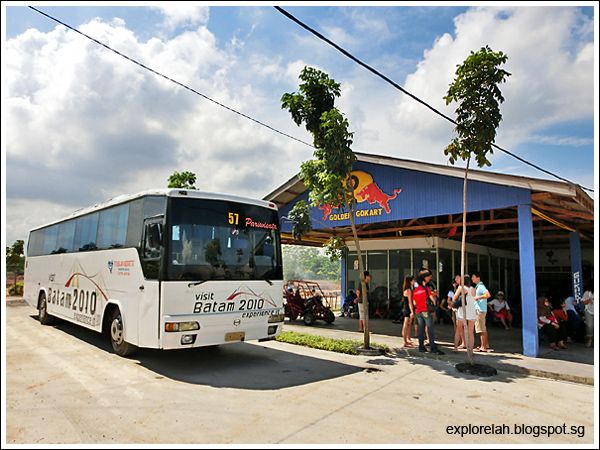 Our first stop was the Go Kart activity for those who opted for it. We chose massage so we had to wait about 20 minutes for the Go Karters to finish.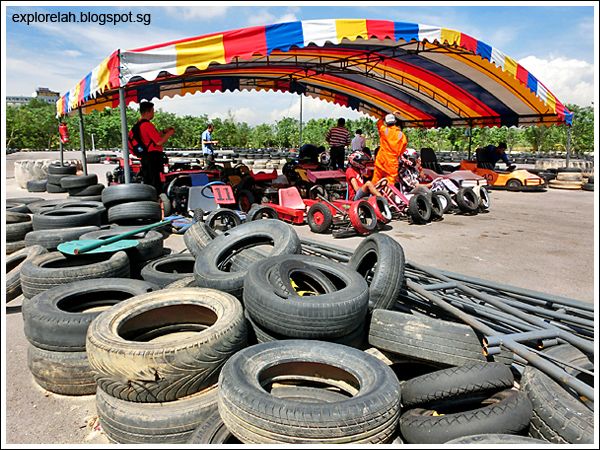 Vroom-vroom... feel the speed under the heat!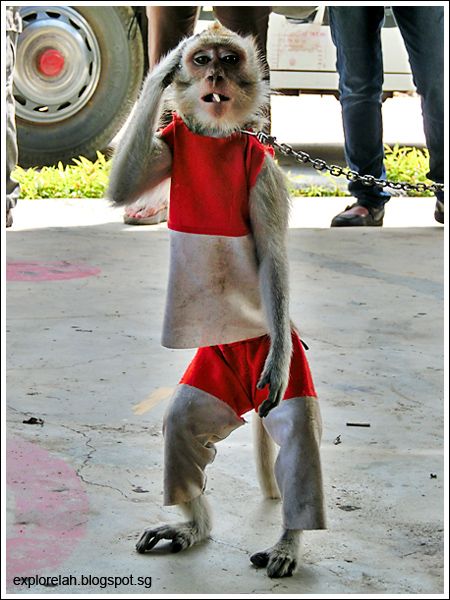 Do you think I'm sexy? A man did some monkey business where he got the animal to perform some tricks and asked for money while we waited.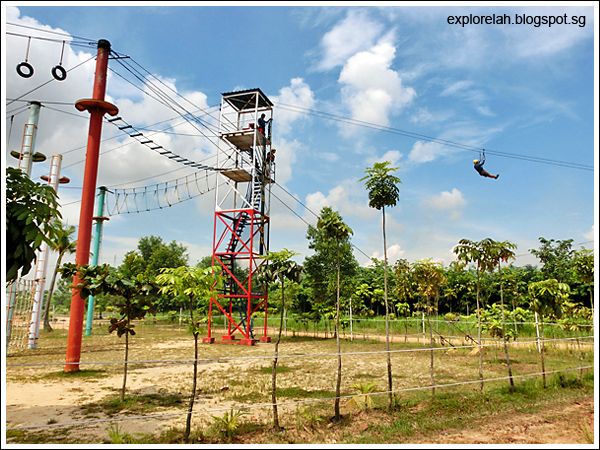 After Go Karting, we were driven just round the corner for those who chose Flying Fox to get their thrill. If you would like to experience any of the activities in addition to the one included in the package, you can top-up on the spot. Charges ranged from S$6 - S$15 per additional activity.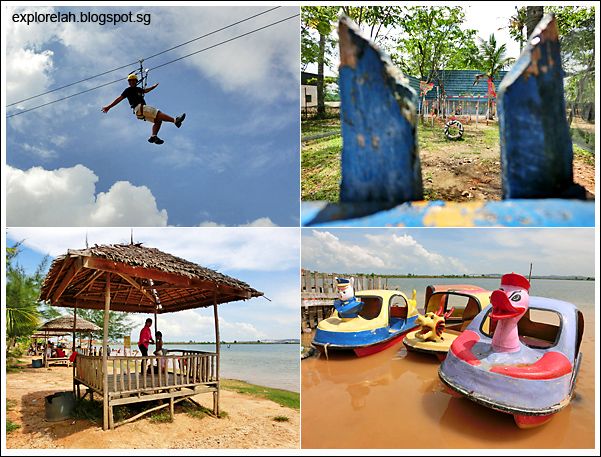 There's a small paintball range within this adventure zone and a muddy lagoon nearby.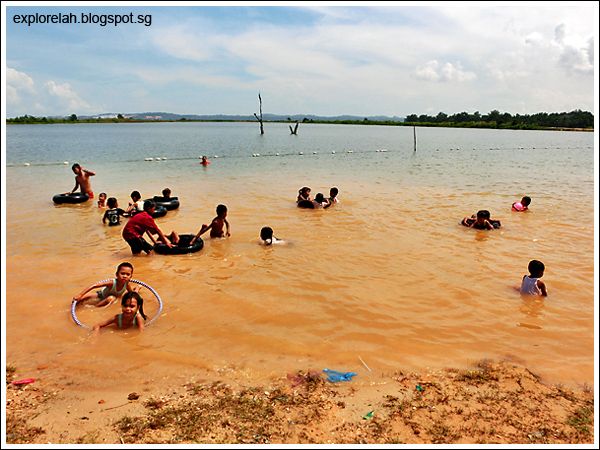 While waiting, I wandered off to the lagoon to meet the locals.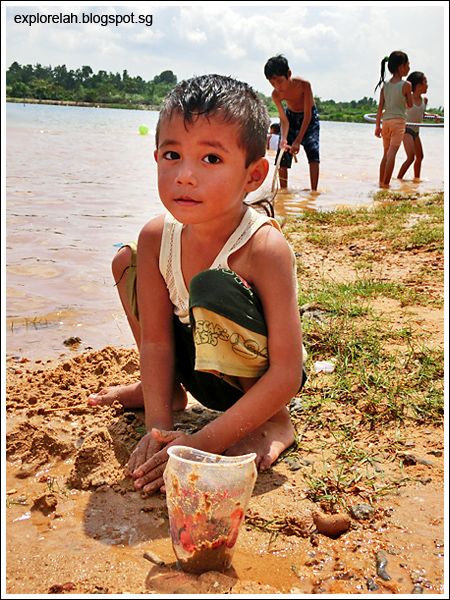 The beachside is more of a muddy wetland with murky waters but the children were having a good time.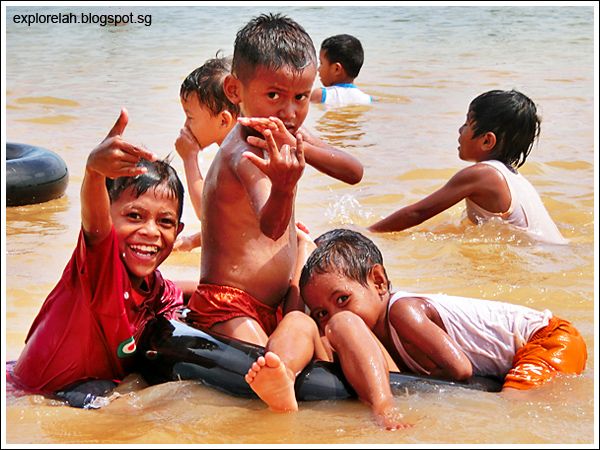 These few kids love posing for my Casio Exilim ZR1000 compact camera!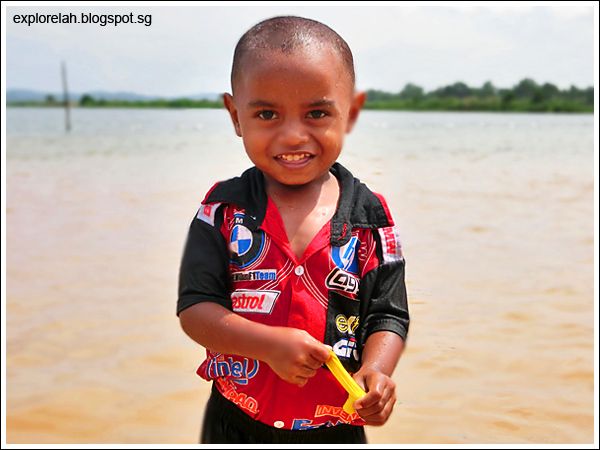 Shot with Casio Exilim ZR1000 Best Shot (Blurred Background) Mode. This in-camera function mimics the depth-of-field effect of a portrait shot with a DSLR by keeping the subject sharp while blurring the background.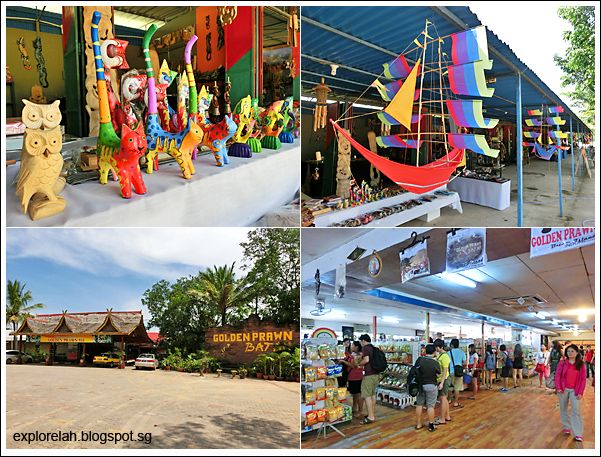 Not far from the adventure zone is a row of stalls selling local handicrafts. We were discouraged to browse in the interest to save time. Next, we were brought to Golden Prawn Batam to shop for local produce and to have lunch.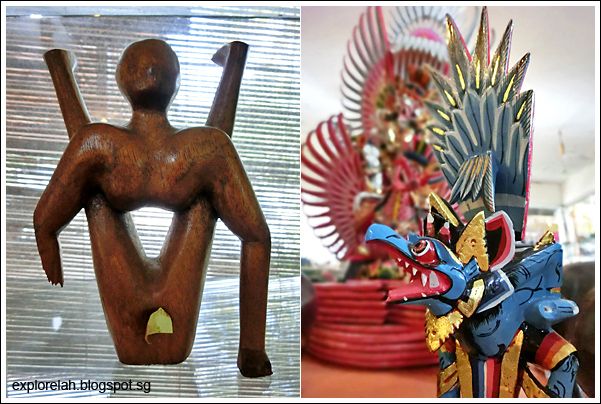 The local produce costs more here. A big packet of fried fishball crackers was priced at about Rp48,000 (S$6). I bought a same-sized packet of the crackers of a different brand, but taste equally good, at a local supermarket for Rp28,600 (S$3.60). Since I didn't shop, I went around the shop taking photos instead.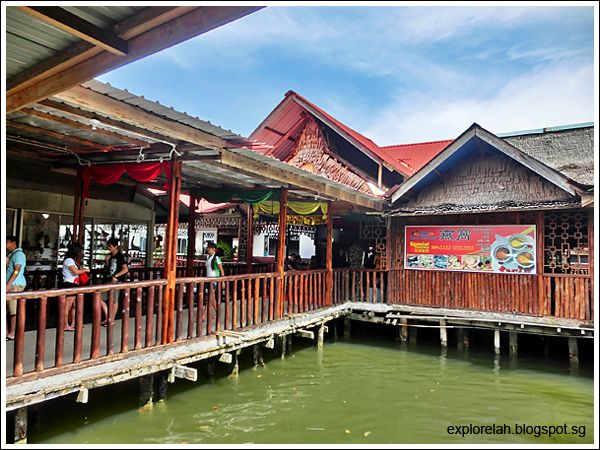 Existing from the local produce shop, we proceeded to have our seafood lunch at Golden Prawn Batam. The greenish water surrounding the kelong-styled restaurant drained my appetite.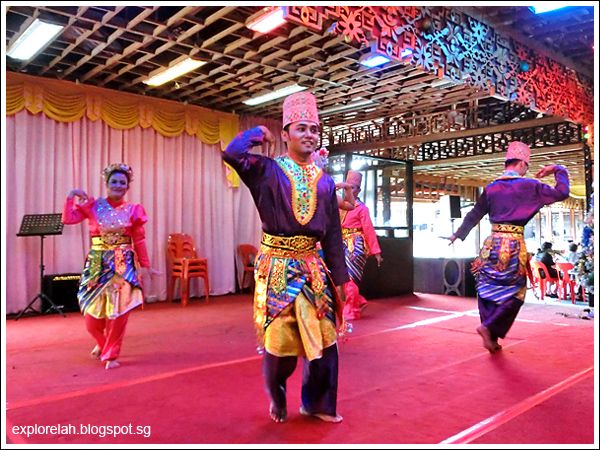 A colourful and energetic cultural dance show entertained us for a while.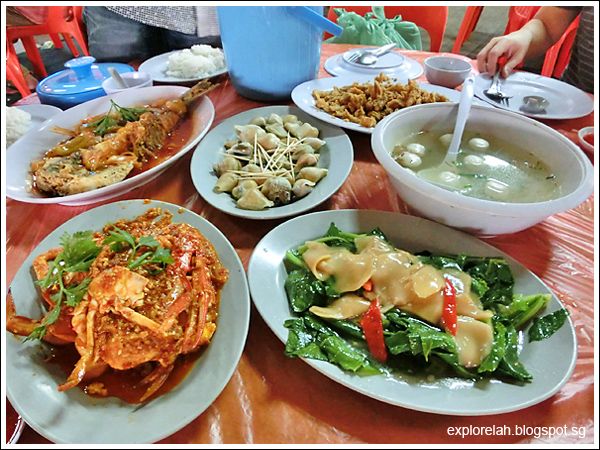 The 7-course seafood lunch was so-so. While the Chilli Flower Crab, Stir-Fried Baby Kailan with Mock Abalone, and Steamed Conch Shell (called 'gong-gong' locally) were fresh, the fish was so stale, even the sweet and sour sauce couldn't mask the taste of rot. The Fishball Rice Vermicelli soup was bland, and the Fried Calamari cold and tough. The food portion was also insufficient for 8 hungry stomachs.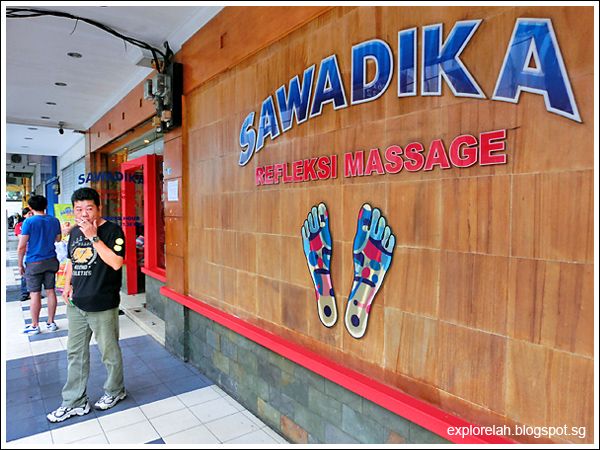 Perhaps they didn't want us to have too full a lunch because after that, we headed for massage after a brief stop at a dried goods shop.
From the moment we got on the tour bus, the local guide tried getting us to upgrade our normal oil massage to aromatherapy oil massage by paying S$10 more. And for an additional S$5, we can extend the 60 minutes massage to 90 minutes.
If we wanted to extend the massage to 90 minutes without upgrading to aromatherapy oil, then the charge is S$10. I hate these sales pitches and hidden costs so I stuck to my original deal. The massage was unsatisfying as my masseur was too light. But the worst part was having this lady customer who talked non-stop. She belonged to our our group although I can't identify who she was as there were 44 of us. That's the peril of going for a massage with a huge tour group.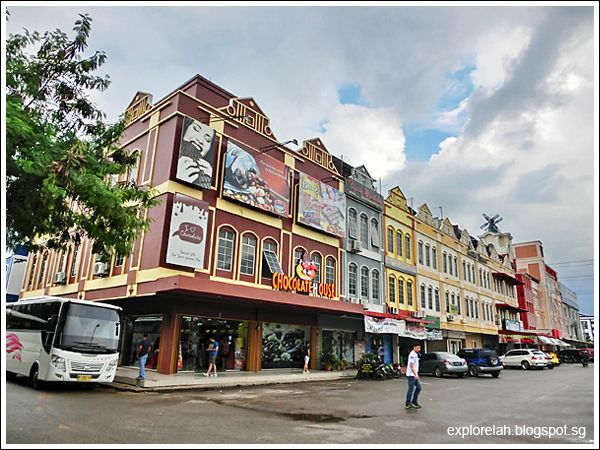 Following massage, we arrived at the chocolate factory which sits at the end of a quaint row of shophouses.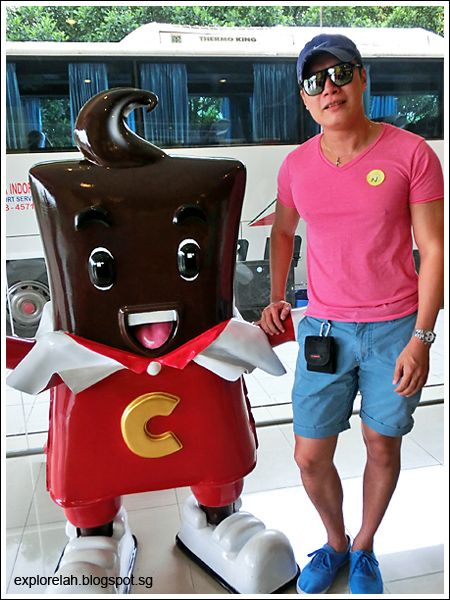 Prices weren't cheap so I left yet another shop empty-handed.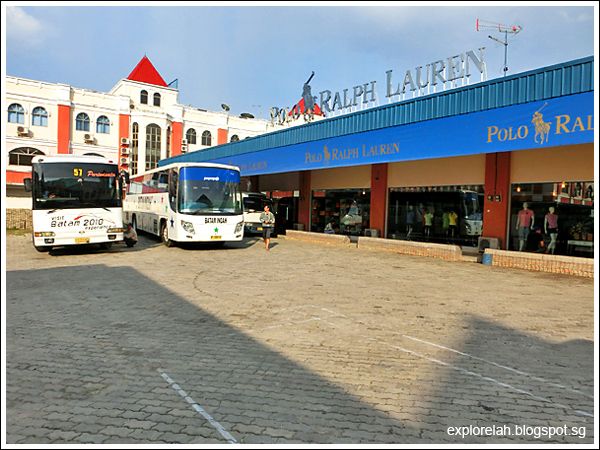 More waiting as others shopped at the Polo Ralph Lauren outlet.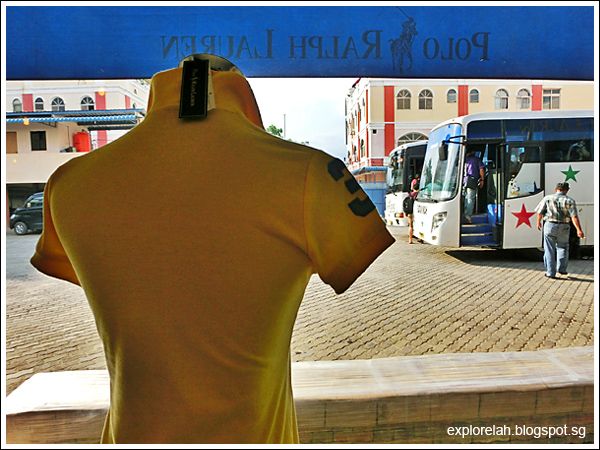 Merchandise at the outlet shops are purportedly genuine Polo Ralph stuff but costing about 30-40% less than the boutiques in Singapore. That's because Indonesia is one the destinations where the luxury brand produces its merchardise and extras are distributed to these shops in Batam for retail.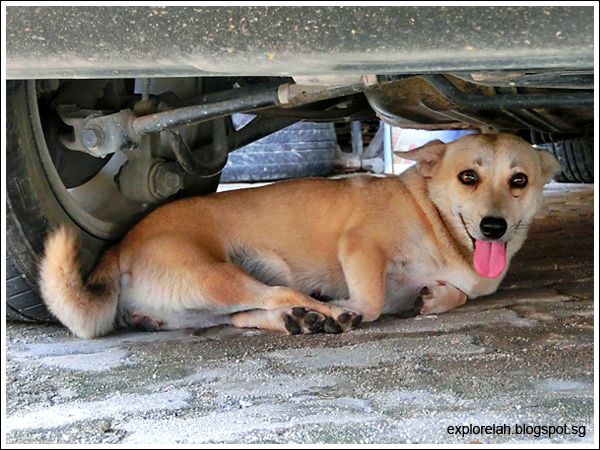 Saw this absolutely adorable stray outside the Polo Ralph Lauren outlet that walked with a hind limp.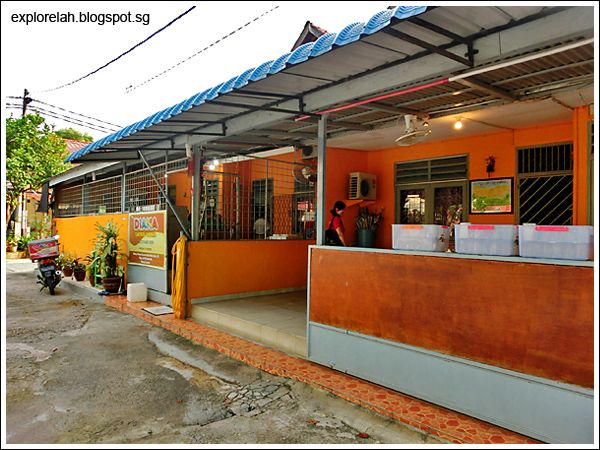 More retail therapy continued with a visit to a homemade kueh lapis (layered cake) factory. Housed within a bungalow turned into a bakery, a large cake go for between S$25 (normal) and S$29 (with prunes), which is about half the price in Singapore.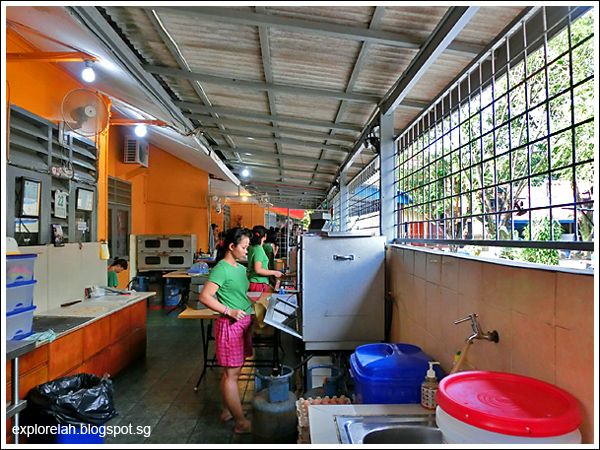 The cakes are freshly baked everyday with no added preservatives. I tried a sample piece and it didn't raise any eyebrow.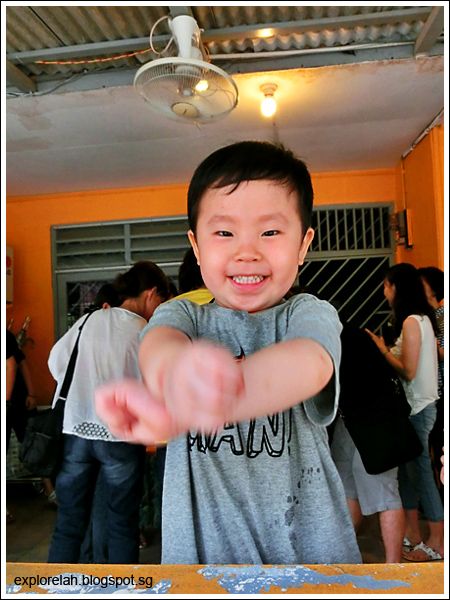 This is Aidan, the only kid in our entourage. He's really friendly and promptly did a Gangnam Style pose when I asked him to. So cute!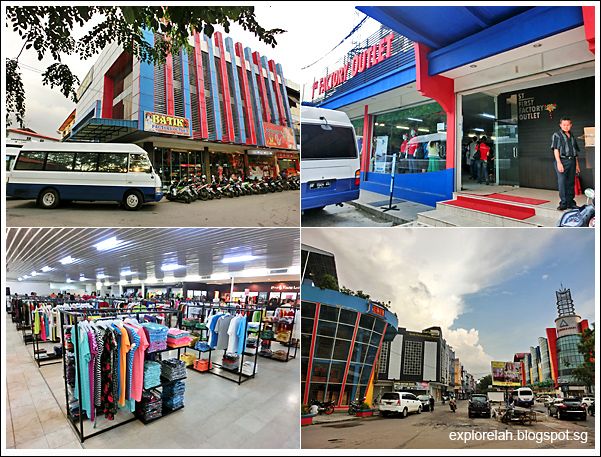 After the cakes, we came to the Batik shop and a Factory Outlet store opposite it.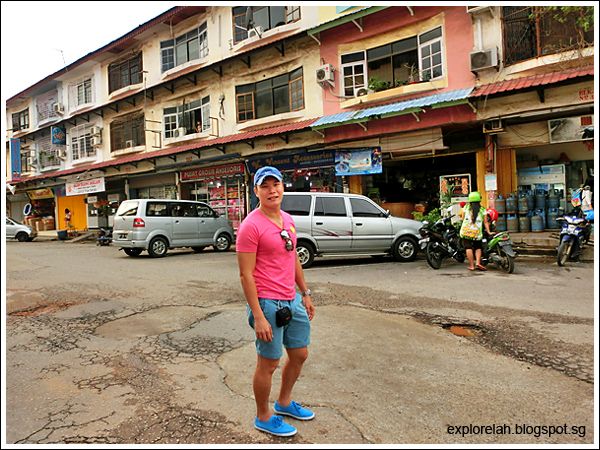 Nothing fancied me at the shops so I roamed the surrounding streets to take in the local flavours.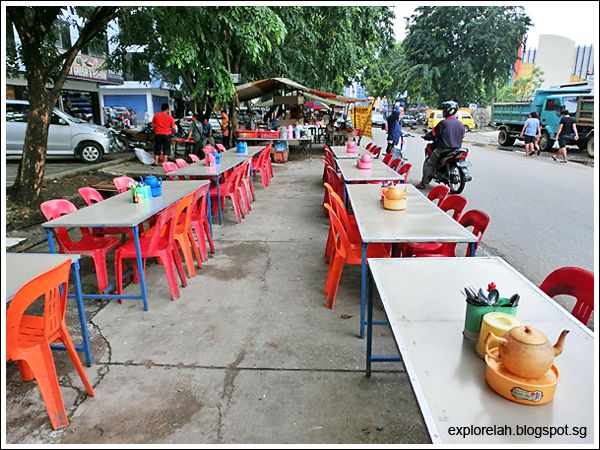 Numerous makeshift foodstalls lined a busy road to create a dining with death experience. Hygiene standards don't seem to be at the highest so eat at your own risk.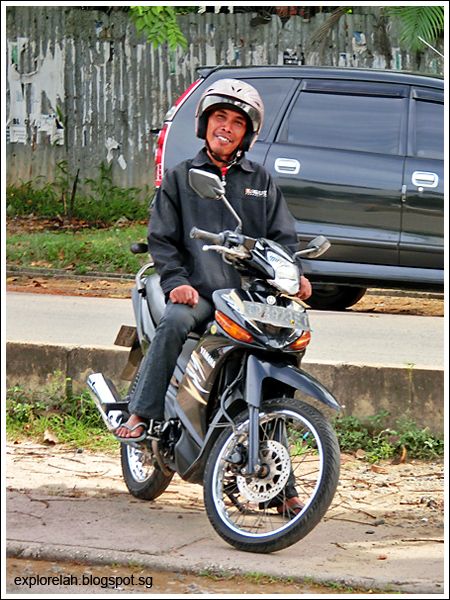 The locals seem rather friendly and those I encountered readily smiled for a picture. But do watch out for pickpockets. A lady in our tour group got her handphone picked from her handbag.
As you can see, the city and shopping tour was actually all shopping and not much of getting acquainted with the city except through anecdotes shared by our very humourous Chinese-speaking guide, Nelly. She's really quick-witted and funny.
The tour lasted from 10:30am till about 7:15pm (Batam time. Indonesia is 1 hour behind Singapore). Although we arrived in Batam at 8:30am, it took us almost 2 hours to clear customs and wait for all the other members on the tour to board the bus before setting off. The hold up was unusually long due to the Christmas weekend. If you visit on a weekday, tourist traffic is much less.
Our very last stop of the day trip was an hour at a shopping mall where we were encouraged to have our dinner. But order dinner early. We dined at a pizza and steak restaurant and even though it wasn't full house, we spent an hour waiting for our food to arrive. In the end, we had to takeaway as our allocated time was up. So a better strategy would be to order takeaway in the first place and take the time waiting for your orders to be prepared to browse the mall.
Pacific Palace Hotel
The package included a night's stay at the 3-year-old Pacific Palace Hotel which takes the shape of a cruise ship on land! The package allowed us to choose between Novotel or Pacific Palace and we picked the latter for its unusual design. The 2 hotels are just opposite each other anyway and I'm glad we made the better choice. The hotel does offer a rather unique holiday experience.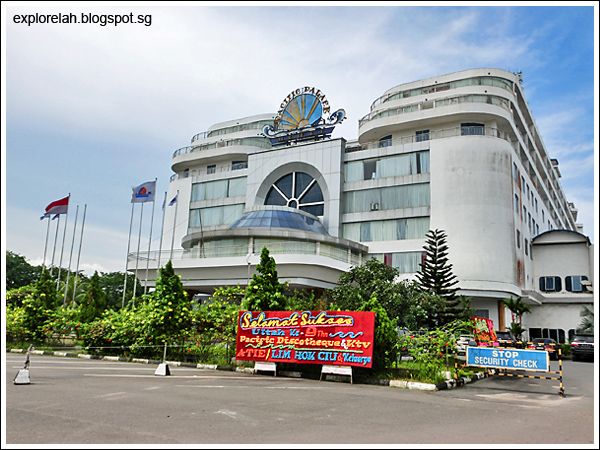 Entrance to the hotel is at the butt of the ship.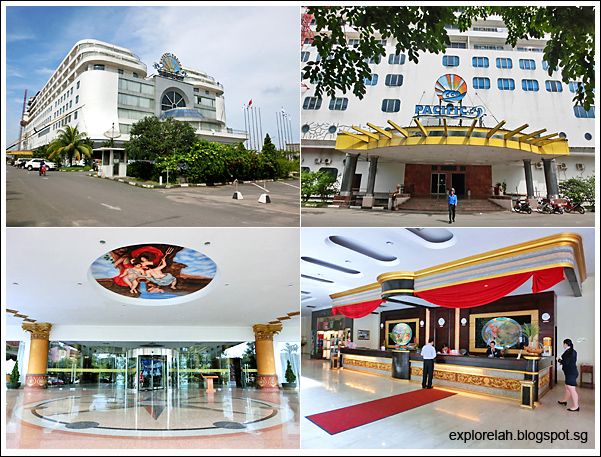 There's a huge discotheque at the hotel that has quite an amazing laser light show and deafening music favoured by clubbers using mood enhancers. The club had quite a lot of young girls in short skirts and a guy tried to introduce 2 to me. I didn't stay very long as the club wasn't smoke-free and my eyes were stinging. On my way out, a girl said hi and I understood why Batam's nightlife is infamous and wives should worry about their husbands working here.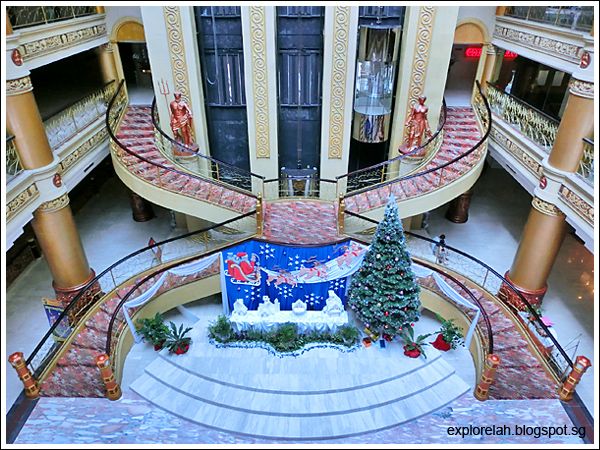 Faux Baroque resurrected a rather grand European flavour for Pacific Palace Hotel. I'm reminded of my time spent on Royal Caribbean Legend of the Seas cruise.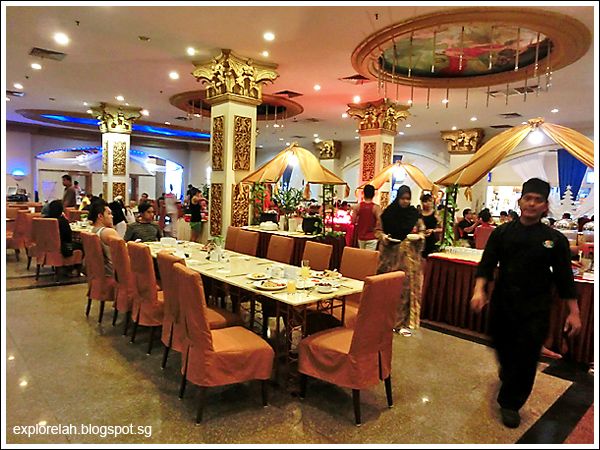 Breakfast was included in the package and the spread was varied enough although the cooked food section didn't offer any tasty delights. Staff were friendly and pleasant though.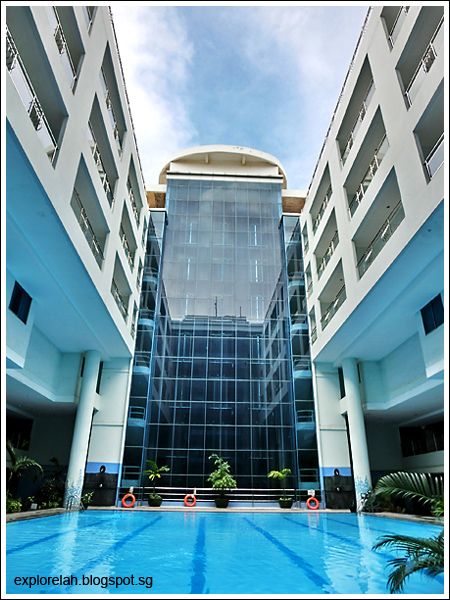 At the heart of the hotel is a sizeable swimming pool that became sort of a water stage for guests living in the rooms to watch while you swam.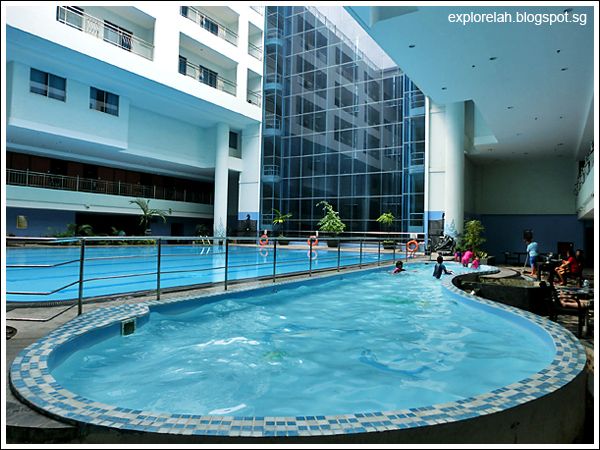 There's also a kid's whirl pool and jacuzzi at the sides.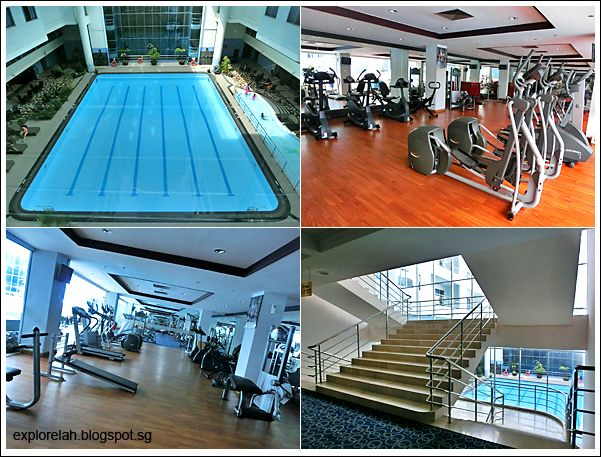 The gym which is located next to the pool ain't too shabby at all with decent machines for a good workout.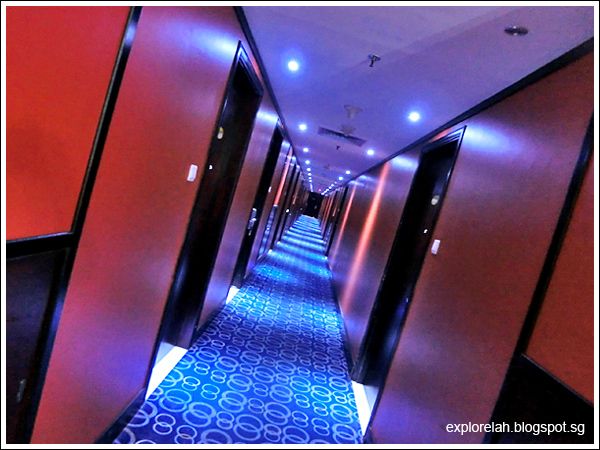 Hallway leading to our rooms on the fifth level.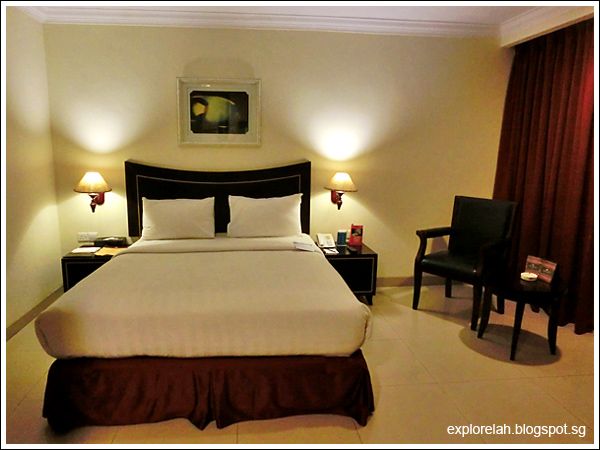 The room is rather spacious, clean and pleasing to the eye. And the bed was surprisingly comfy.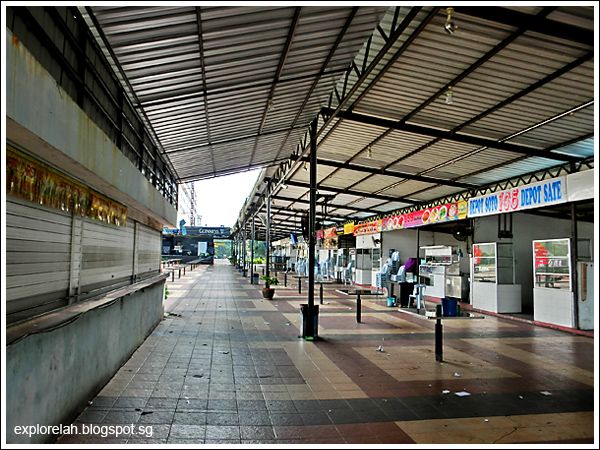 In front of the hotel, or should I say at the bow of the ship, is a foodcourt that opens at night. On hindsight, we should've just shopped at the mall and have dinner at this foodcourt.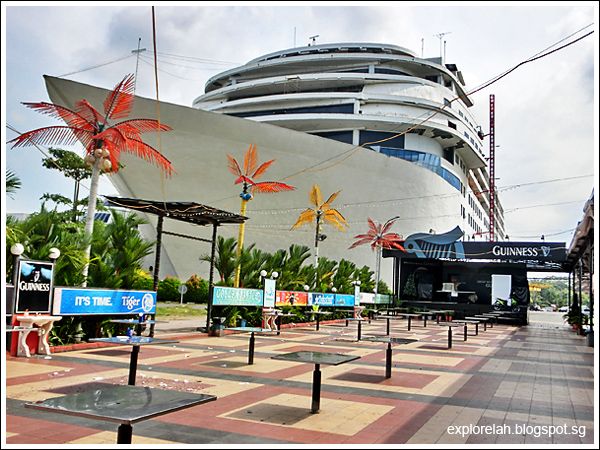 View of Pacific Palace Hotel from the foodcourt.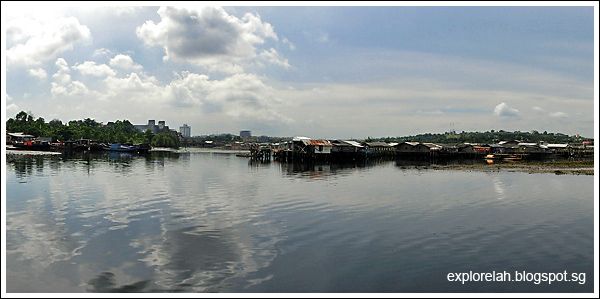 The foodcourt leads to the waterside where the stilt houses of orang laut (fishermen) provided one of the last links to Batam's past.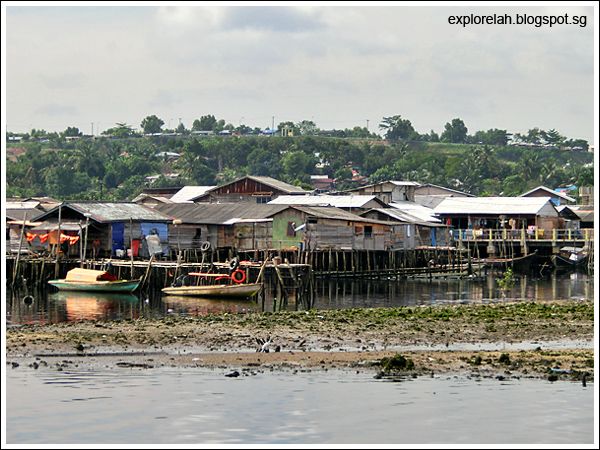 While taking photos by the water edge, decaying rubbish floating along the coastline slapped me constantly with their stench.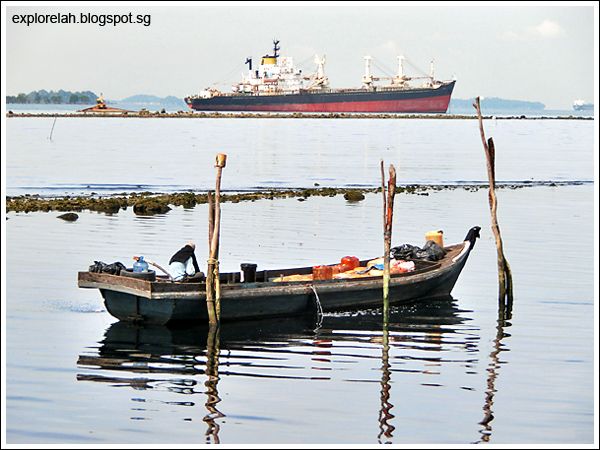 A simpe life continues to reflect under the currents for Batamians as the waves of modernity sweeps through the island.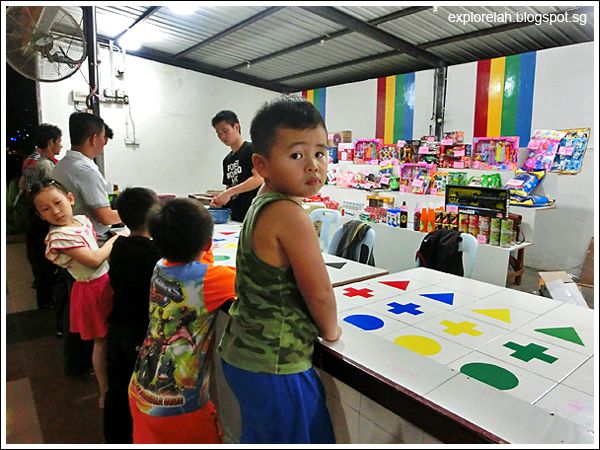 During sundown, the foodcourt comes alive with carnival games as well as seafood zi-char. This boy asked me why I took his photo. I said I'm a tourist. He asked, "Who is a tourist?" I'm lost for a reply.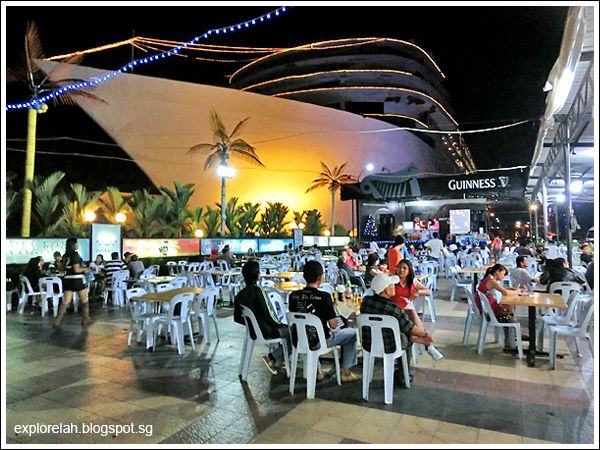 Deserted during the day, the huge outdoor eating place turns into a beer garden with some entertainment such as football games on huge screens and communal Bingo on stage at night.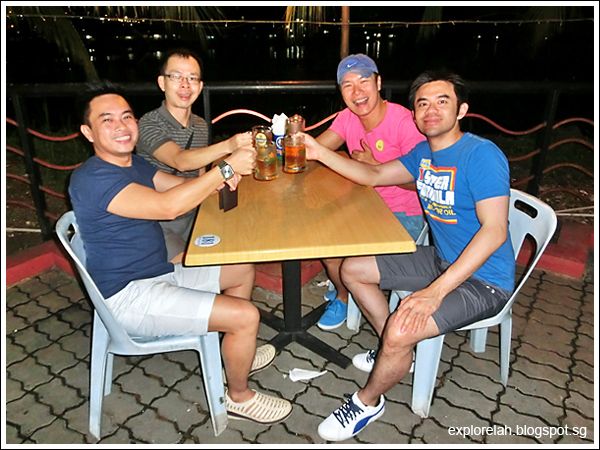 Cheers to great company! Eating at the foodcourt was rather affordable. Our total bill for satay (10 sticks), otah (5 sticks), stir-fried vegetables, hotplate tofu and 4 bottles of Bintang beer came up to about S$20.
As a whole, I think the Batam package by Deal.com.sg is reasonable at S$95 (all charges in) for people who love shopping. To claim that the package originally costs S$168 and we save 68% is kinda stretching it. Most hotels would provide free land transfers and the seafood lunch couldn't have cost much based on the quality. Moreover, an hour-long oil massage could be had for S$12 - 15.
With the package, we didn't get to enjoy much of the hotel as we checked in pretty late due to the tour and checked out at 11am the next day to be whisked off to Batam Centre for a 3:20pm ferry home. We wanted to take a later ferry home but was told by the guide that due to the peak season, all other ferry timings were full.
For those who prefer not to feel the rush of being in a tour group and interested to sightsee (although there aren't many high-grade tourist attractions in Batam), opting for a free-n-easy tour package where the deal covers only ferry and accomodation may be a better choice so that you have the time to really relax and enjoy the hotel's facilities.
Or if there is 4 in your company, an à la carte arrangement may provide an experience of higher quality - a return
Batamfast
ferry ticket inclusive of all taxes and surcharges costs about S$47 per adult, a night's stay at
Harris Hotel Batam Center
starts from S$70 per twin-share room, and a taxi can be booked for a day for S$60 - S$70. This works out to be about S$100 per person and you are the master of your own time, plus you can order better quality seafood.
Batam may not be the most appealing of holiday destinations for me but I think the island does moderately well as a weekend getaway for a change of scenery given its proximity to Singapore.
Related Posts :
Batam - A Sampan Experience
Day 357 : A Batam Hopover
Day 358 : Rustic Backwaters of Batam