Period of Exploration :
23 - 26 Aug 2012
Following 4 days of non-stop exploration of Taiwan's southern coast, we came to Kaohsiung to begin the next part of our journey. And this odyssey took us to Penghu, an islandic attraction in Taiwan that is a favourite escapade with Taiwanese but yet to become a key draw for many Singaporean travellers.
Before the trip, I checked with many of my friends who have been to Taiwan and none has visited Penghu or knew about it. Likewise, I've only heard about the place in a popular Chinese folk song, Grandmother's Penghu Bay (外婆的澎湖湾 by 潘安邦), and thought Penghu exists between a fable and an imagination. This trip changed all that and I can finally understand why it deserves to live in a song.
Getting to Penghu
Penghu is an archipelago of over 60 islands off the south-western coast of Taiwan. There are 2 ways to get to Penghu - by flight from various states such as Taipei (Songshan Airport) and Kaohsiung (Kaohsiung Domestic Airport) or via boats and cruises from Kaohsiung.
For our trip, we flew with
Uni Air
from Kaohsiung Domestic Airport. The airport serving Penghu is known as Magong, which is the name of the chief city representing the Penghu archipelago.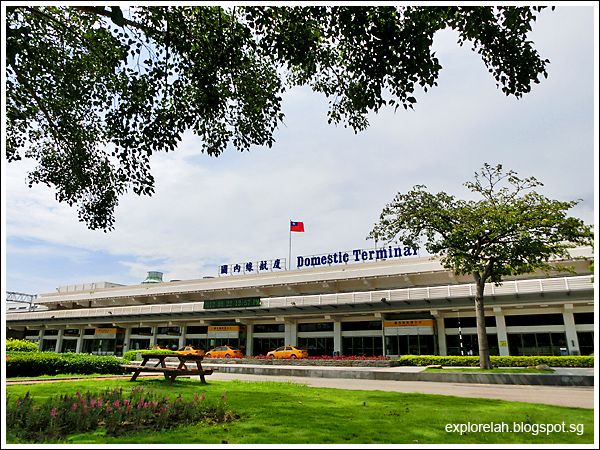 Kaohsiung Airport Domestic Terminal.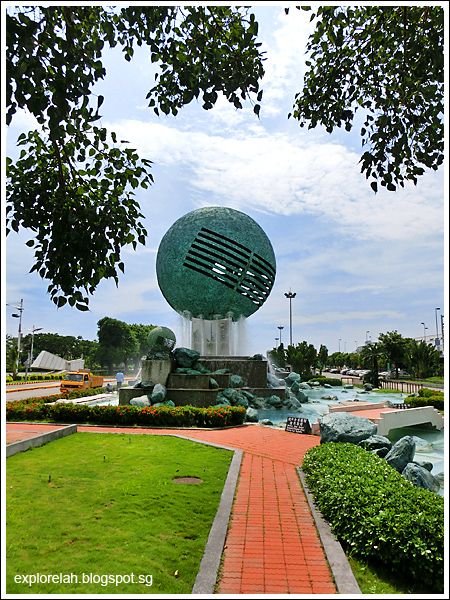 Fountain park in front of the Domestic Airport.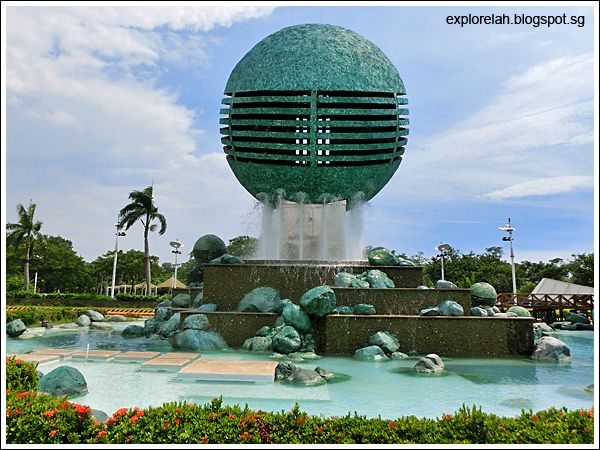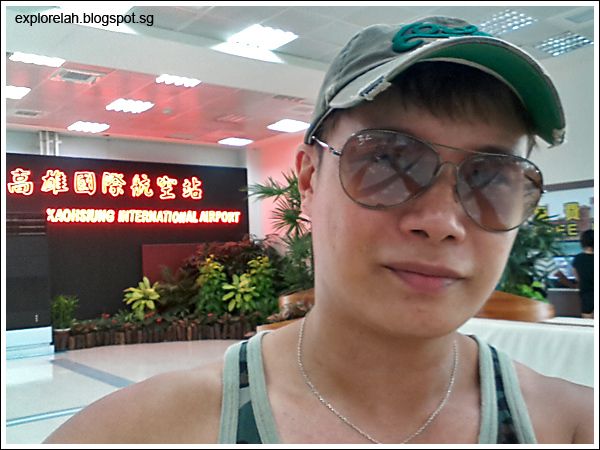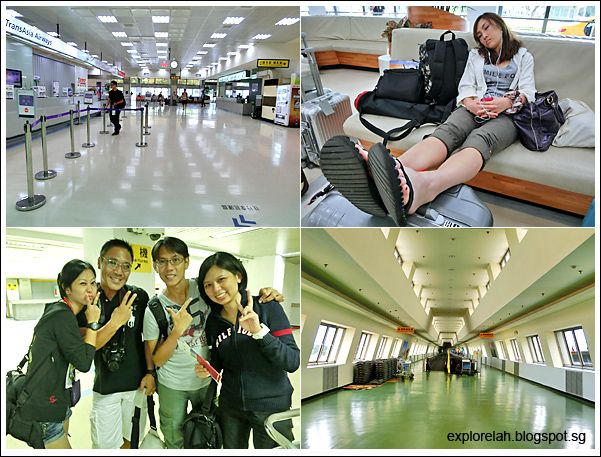 Kaohsiung Domestic Airport is well-maintained and not shabby at all as many domestic airports often show signs of second-class treatment and neglect.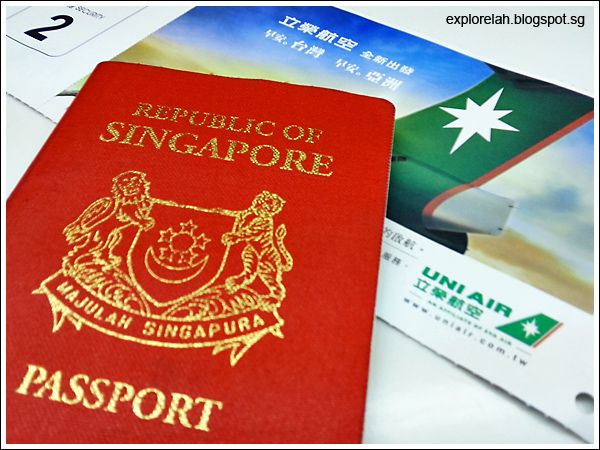 The generous folks at Uni Air sponsored our flight. Depending on season, price may fluctuate a little but expect to pay about NT$1,500 (approx. S$62.00) one way.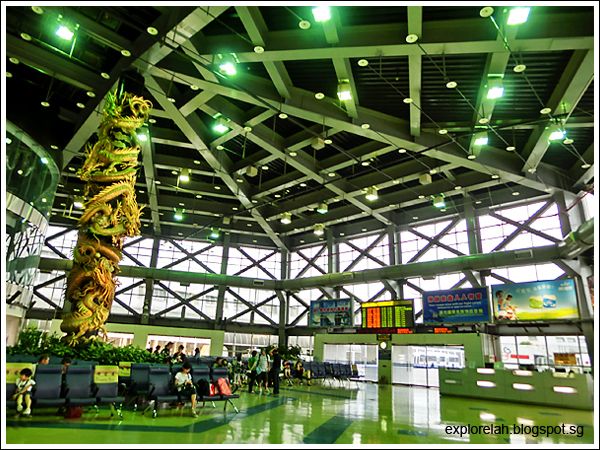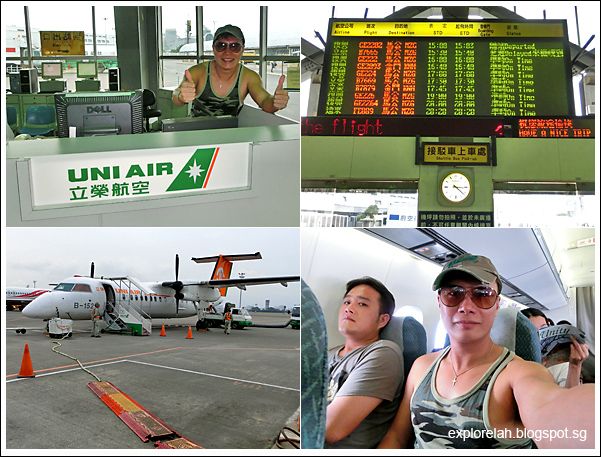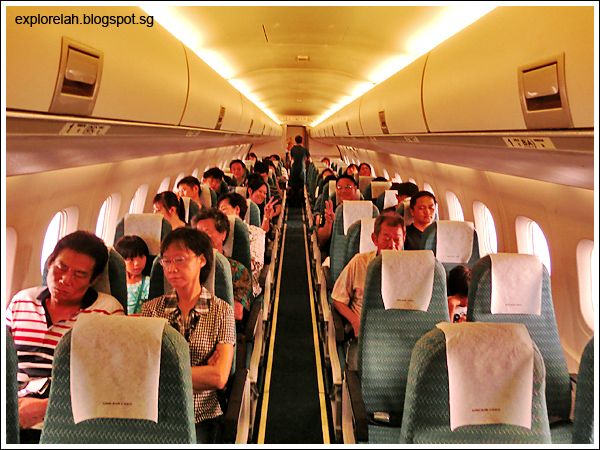 Flight duration from Kaohsiung Domestic Airport to Penghu (Magong Airport) : approx. 45 mins. Uni Air operates several flights a day to Penghu but book early during the peak period (Apr - Oct) as it will be hard to get a ticket.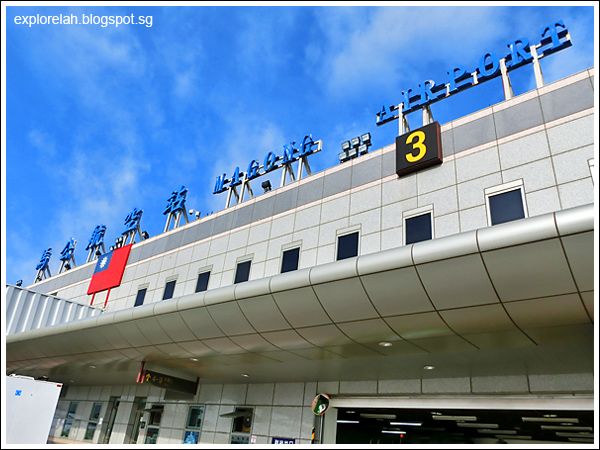 Magong Airport.... gateway to the Penghu group of islands such as the popular Ju Dao, Jibei, Qimei, Wangan, etc.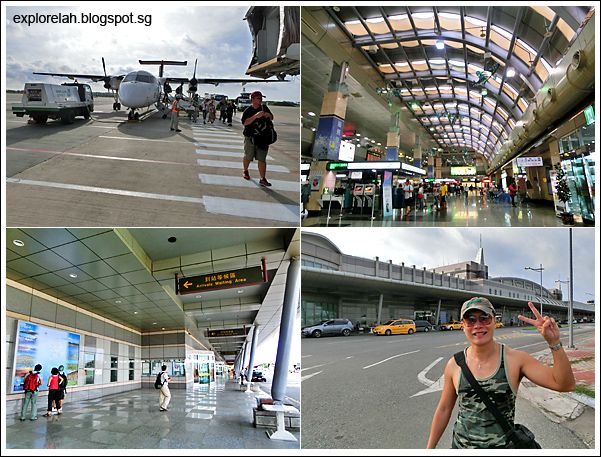 Again, I'm impressed by how efficient and modern Magong Airport is even though it is a relatively small airport.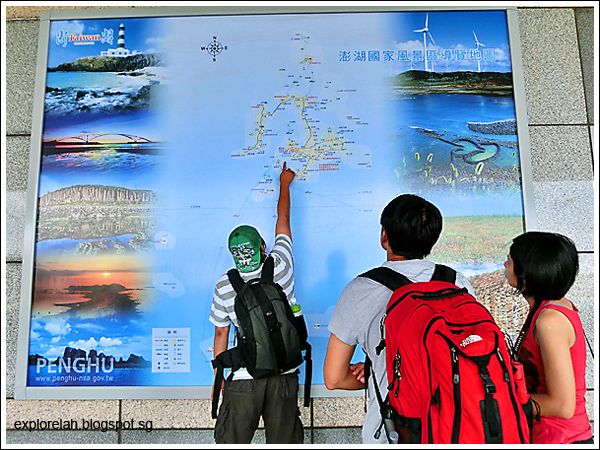 Huge map outside Magong Airport showing the archipelago formation and the sights to behold.
Transportation and Accomodation
Traffic is sparse and cabs and public buses seem scarce or even non-existent, especially on the off-shoot islands such as
Jibei
, Wangan, Qimei, etc. On the chief administrative island known as Judao, where Magong City and the airport are located, cabs and public buses are available but I didn't encounter them often during this trip.
Perhaps the lack of cabs is due to an artificially low tourism season brought on by the badgering of Typhoon Tembin on Taiwan's southernmost tip. Penghu sits rather close to the south end of Taiwan.
From what I observed, the best way to get around Magong City would be by renting a scooter but you would need to produce an international driver's license for rental. You can also rent a bicycle or book a cab for a day to get around. From Magong Airport to the Magong City, you'll have to catch a cab which costs about NT$200 - 300 for a 15-minutes ride. Magong is the most populous in the archipelago of Penghu.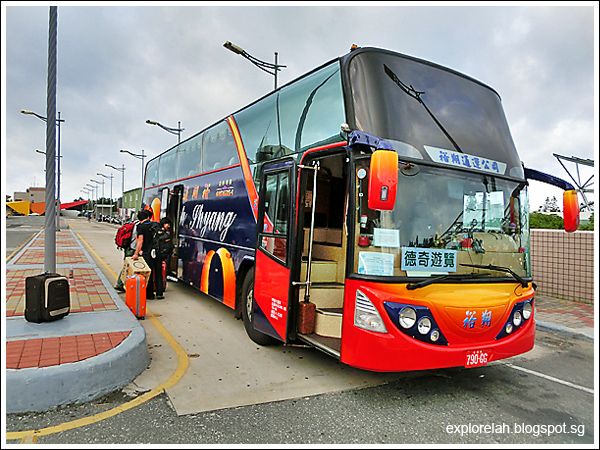 Our spacious and luxurious coach and took us around Judao.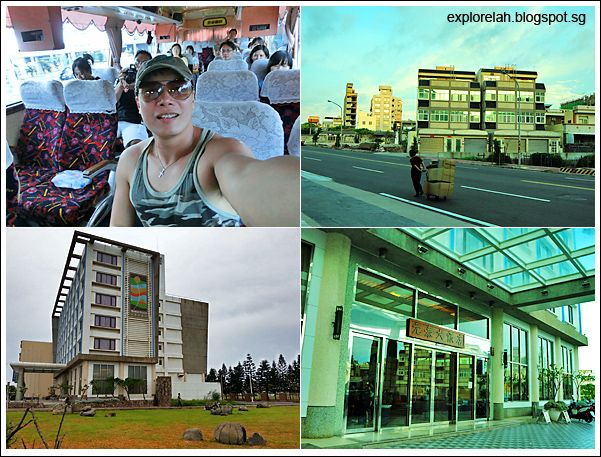 The roads are well-paved and maintained without pockmarks and cracks that plague the roads of some more famous cities. Cars there are left-hand drive and rental of motor vehicles are relatively affordable.
For accomodation, our stay was hosted by the stellar 5-star
Yentai Hotel
. It is located about a 15-minutes walk to Magong City centre.
Penghu Visitor Centre
The best place to start exploring Penghu, believe it or not, is actually the Penghu Visitor Centre. The centre has a delightful tactile gallery that replicates some of the key attractions in 3D! There's also a theatrette that screens an introductory video about Penghu and in about 5 minutes, I got a pretty good grasp of what to see and do.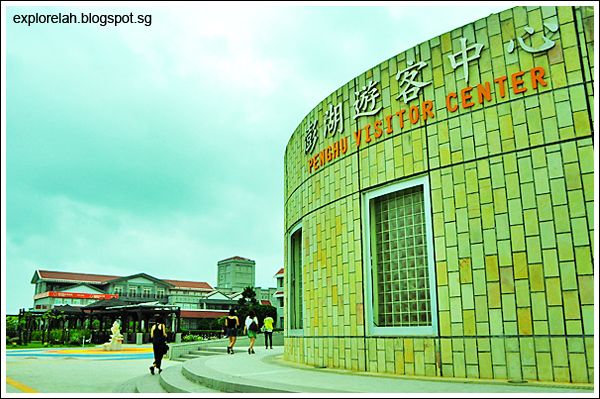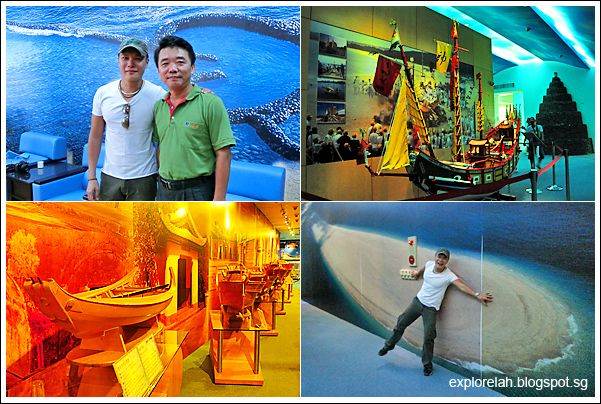 Top Left : With Mr Chang Lung-Cheng, Director of Penghu National Scenic Area Administration, Taiwan Tourism Bureau. Top Right : Ceremonial vessel used during festivals. Bottom Right : Replicas of fishing boats found in olden day Penghu. Bottom Right : Mural of Shawei beach on Jibei island.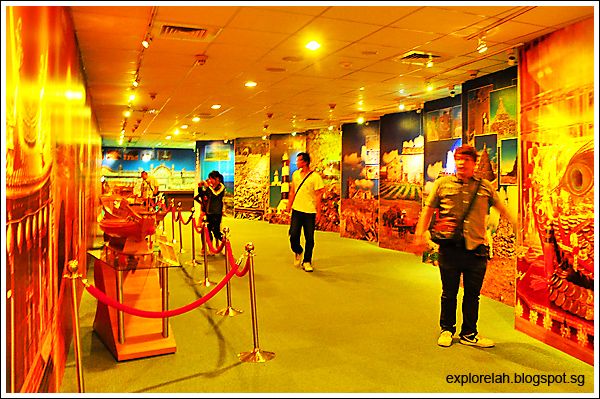 Gallery that introduces the colourful festivals and attractions of the Penghu islands.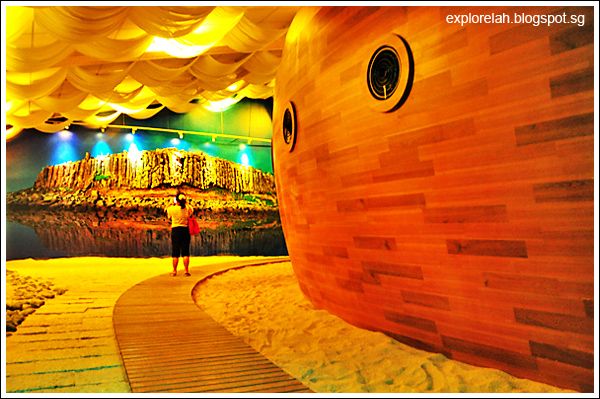 The gallery even brought the beach to visitors!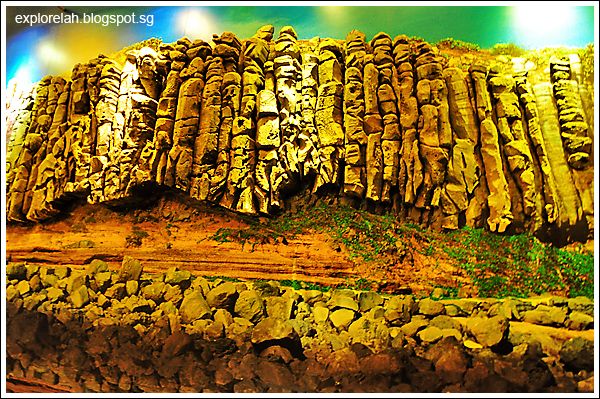 A 3D wall relief of Penghu's famous volcanic basalt geological wonder.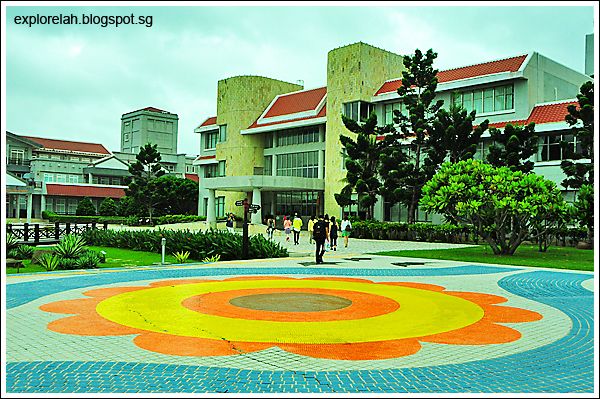 After getting better acquainted with Penghu at the Visitor Centre, we walked over to the adjourning Duty Free Shop to get the shopping started.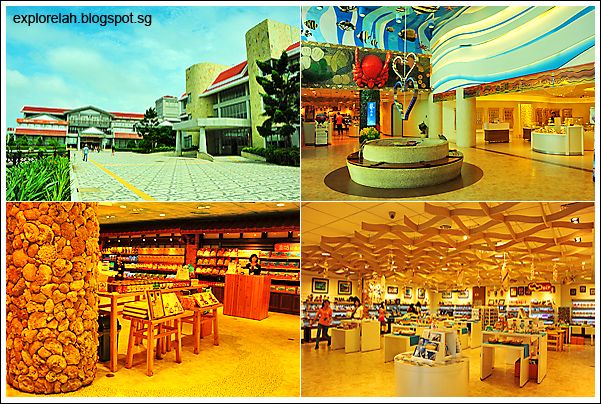 Thoughtfully designed with motifs representative of Penghu, the DFS sells local souvenirs, snacks and big brand fashion, perfumes and cosmetics.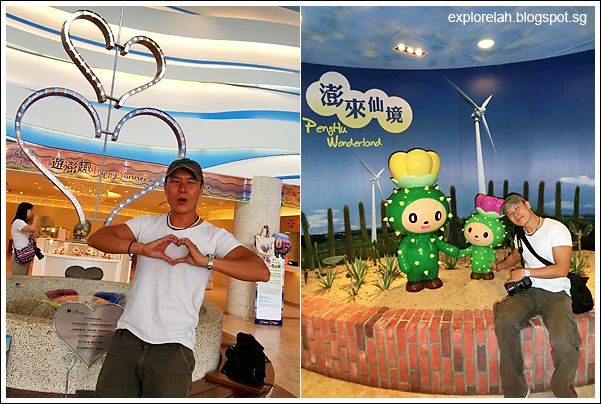 Acting cute with some icons of Penghu... a representation of the famous Twin Hearts Stone Weir and cactus. Penghu is big on freshly blended cactus juice.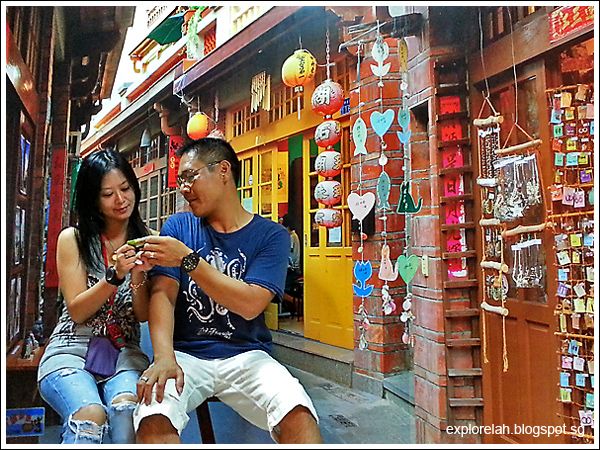 Such a lovely pair... The backdrop is actually a printed wall mural of Penghu Old Street.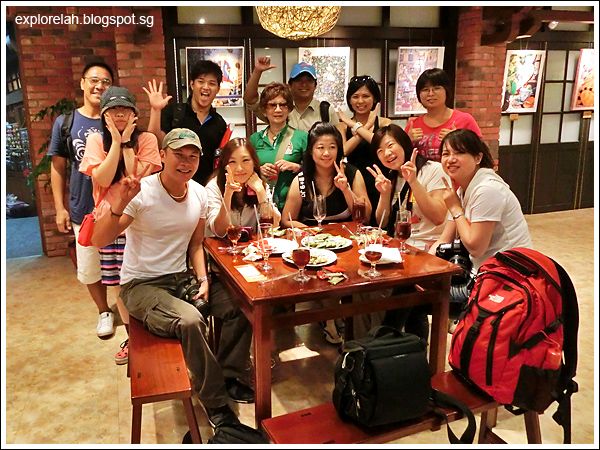 All fed with knowledge about Penghu and first tastes of popular local tidbits and we're all ready to explore!
Penghu Trans-Oceanic Bridge (跨海大桥 Kua Hai Da Qiao)
One of the most prominent symbols of Penghu is the graceful arches that marks the entrance of the Trans-Oceanic Bridge which connects Baisha Island to Siyu Island. A major feat of engineering back in 1970 when it was completed, the 2.5km bridge was the longest in East Asia to cross an open sea.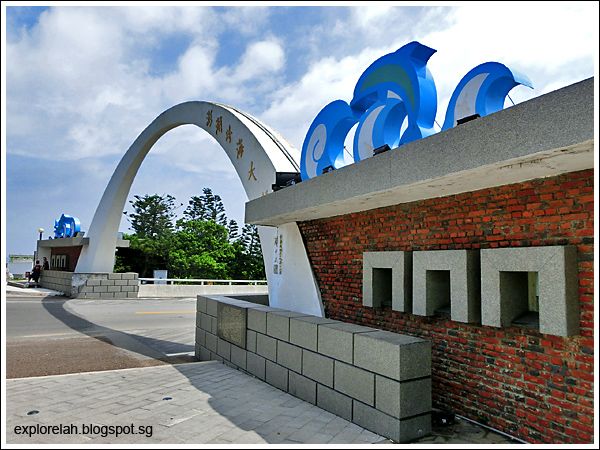 The bridge that is in use today has been rebuilt in the 1980s due to erosion of the original one and it expanded to allow two-way traffic instead of the initial one-way street. Travelling across the bridge, remember to look out to the seas on both sides because this is where Penghu got its name.
The waters on one side of the bridge is choppy and lively while on the other side, the sea is calm and serene like a lake. Hence the name "Penghu" (澎湖) which means "vibrant lake". Going beyond the namesake, the tumultuous sea created great construction challenges that would stretch even today's architectural technologies.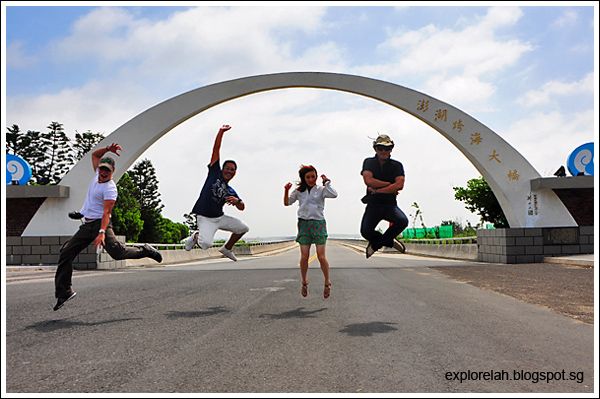 Please do not follow our example of doing a jump shot in the middle of the road! I found out later that authorities actually moved the sign to the right side so that people can get a shot with it safely.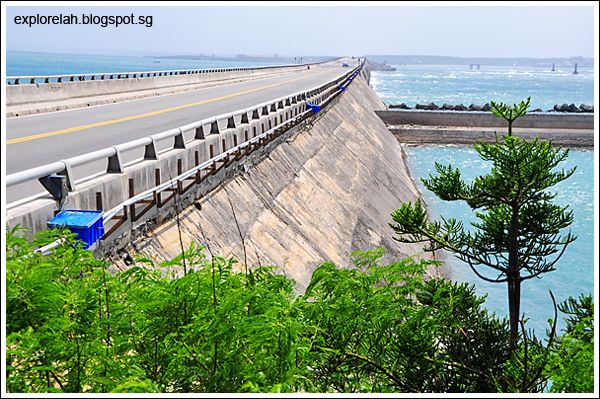 To truly appreciate why this seemingly nonedescript linkway is an architectural marvel, one would have to look out over the side of the bridge. The sea it crossed is a bitch that had devoured numerous vessels which failed to overcome the rough waters. Remnants of the old bridge can still be seen alongside the current one on certain parts.
In front of the Penghu Trans-Oceanic Bridge is a quaint little gift shop that housed two treasures that were uncovered during the construction of the bridge. The unusual finds are so bizarre, they fascinated the locals and visitors to this day.
Curious to find out what they are? Read on... :o)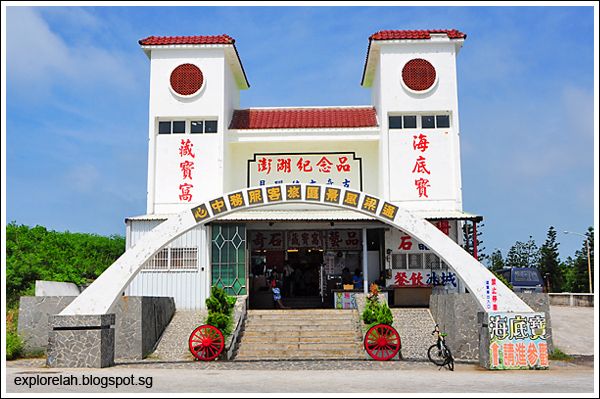 Gift shop and home to the 2 treasures dug up during the building of the bridge.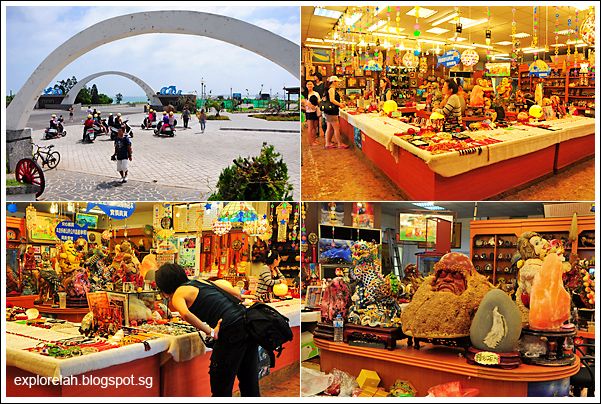 Inside the gift shop with an eclectic collection of souvenirs that overwhelm the eyes.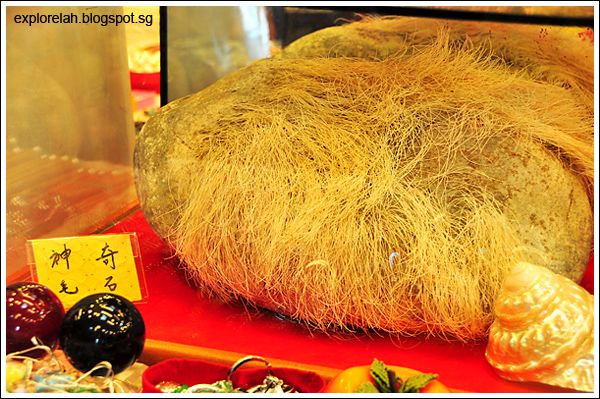 This is one of the treasures... a rock that grows white hair!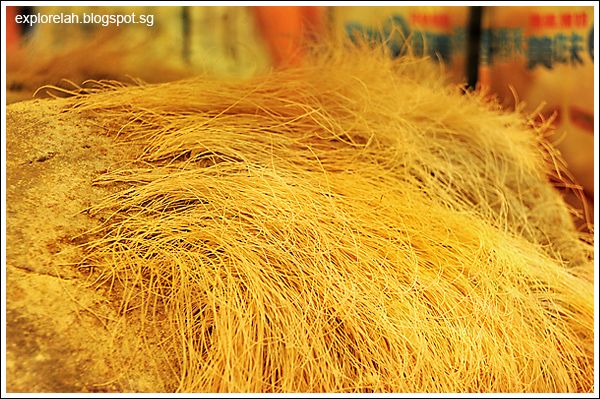 The 'hair' is actually a type of fungus that grows from the rock.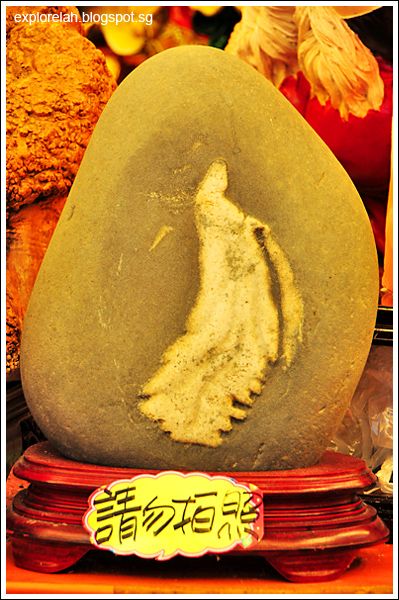 This is the second treasure... a rock with a natural formation that resembled the Goddess of Mercy. Legend has it that the building of the bridge went smoothly after the discovery of this rock. Photography is not allowed of the treasures but we were given special permission.
Jhongtun Wind Power Area
Rising 30 metres by the coast of Jhongtun Village in the township of Baisha like giant dandelion stalks, Penghu cements its commitment to green energy with a wind farm amidst a lush scenic park. This was the first time I'd seen wind turbines that is not on a postcard or in a film. The size of these iron flowers are mind-blowing.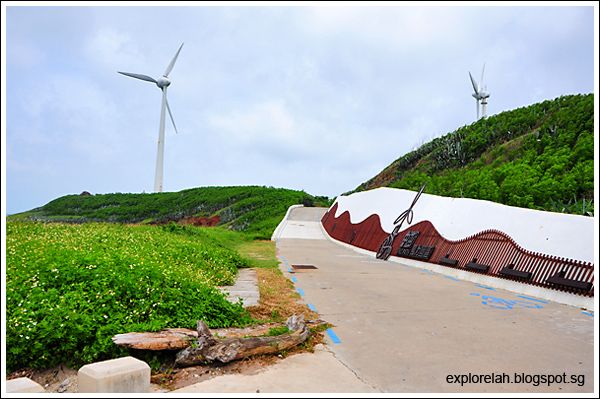 Pathway leading to the turbine park.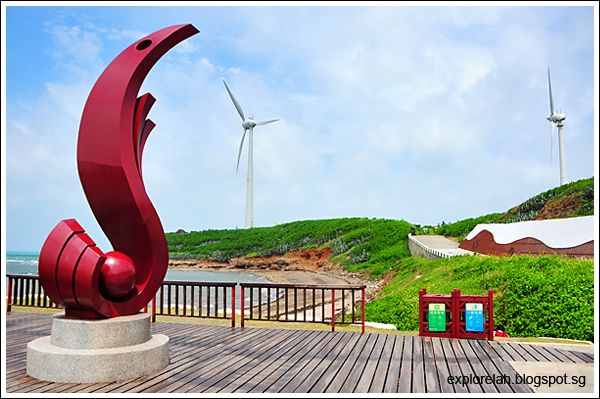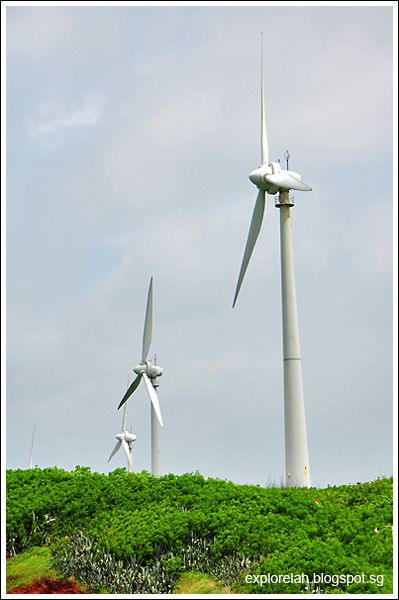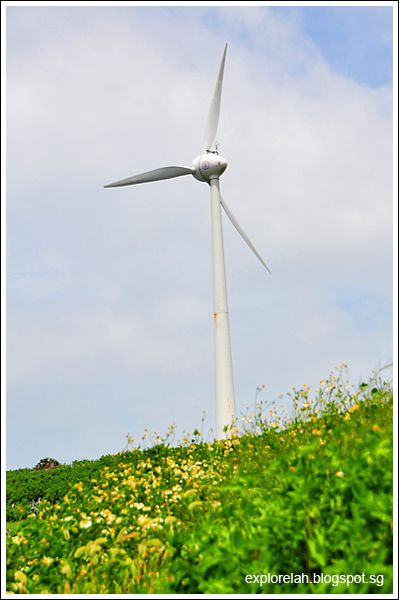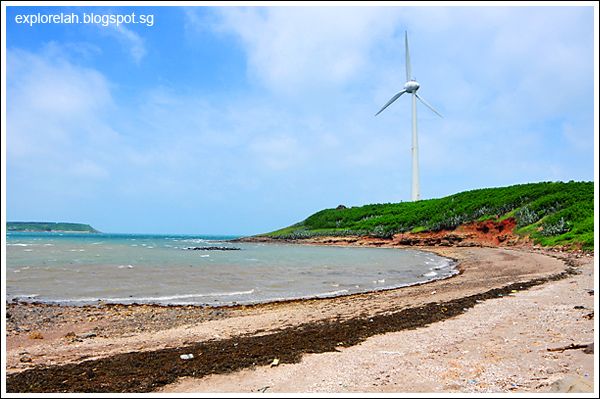 We didn't spend a lot of time here although I would've loved to trek inside the park to get closer to the turbines. For their purpose, it goes without saying that they are built at a place with wild winds so remove all caps and hats when visiting.
Another attraction we came to was Yuwongdao Lighthouse which is situated at a highland at Waian Village in Siyu Township. Built in 1778, the lighthouse is the first to be built in Taiwan and listed as a historic site.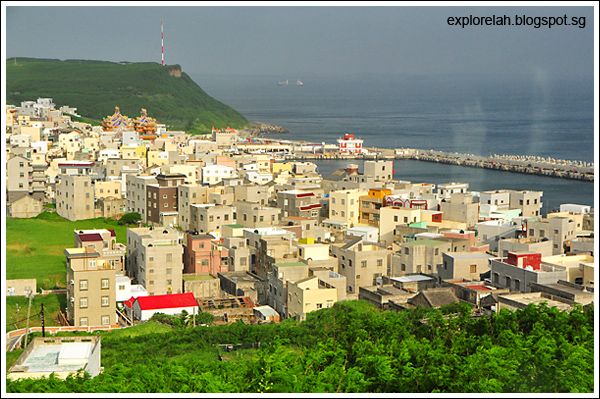 On our way to Yuwongdao Lighthouse, I got an aerial glimpse of a neat and tightly knitted coastal settlement. The houses look so homogenous and neat.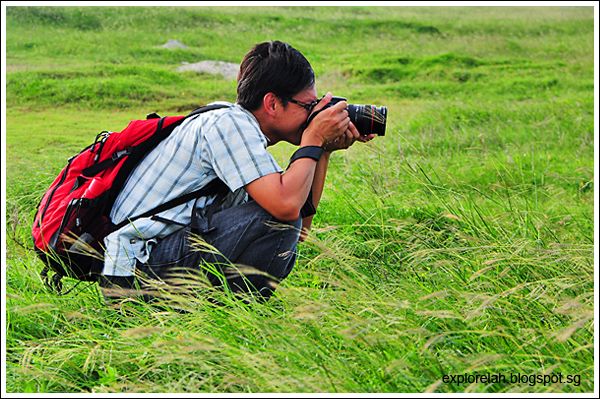 Boon Ho the sniper snapper braving the hilltop strong winds for a shot.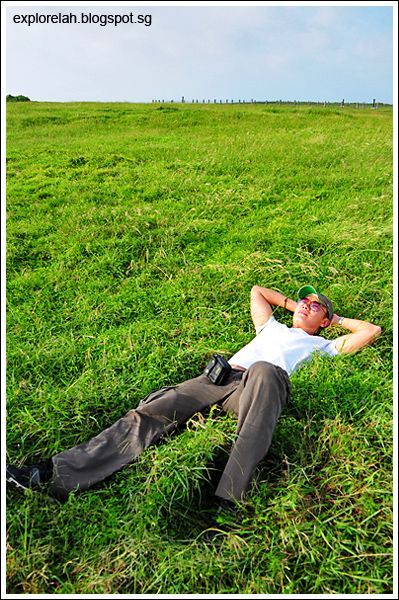 Not a worry in the world! I wish. To get to the lighthouse, we had to pass by a green field that had no end in sight.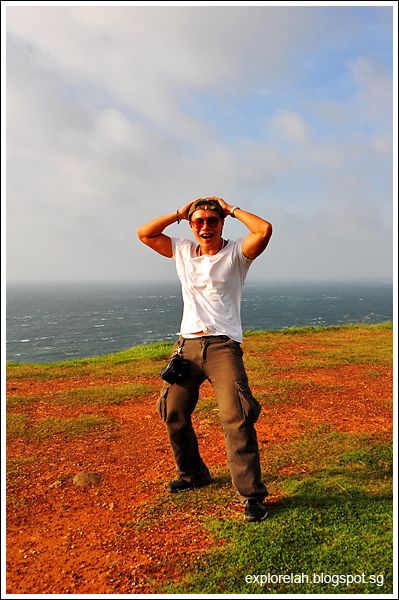 Holding on to my cap from the robbing winds.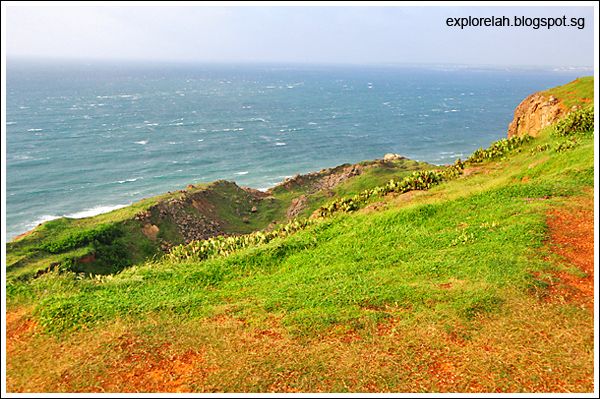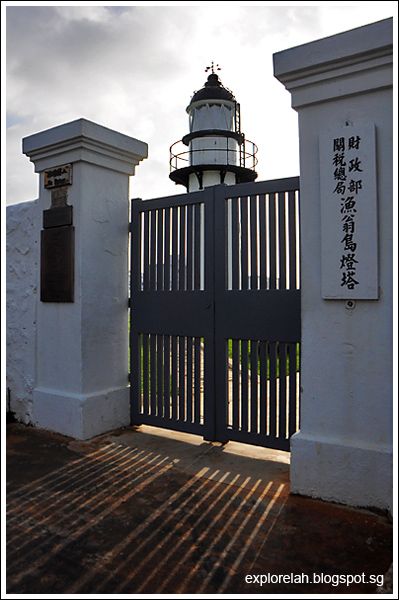 Around the lighthouse is a military base where photography is strictly prohibited.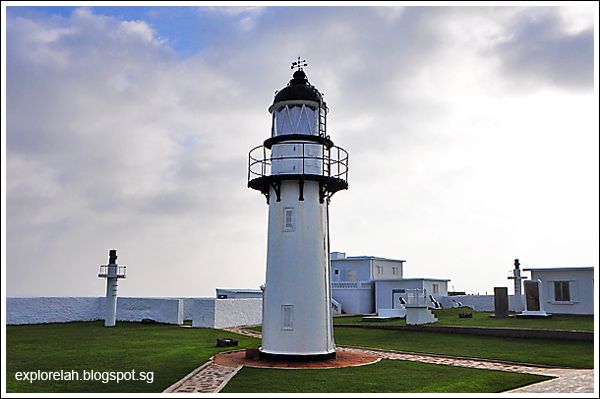 Yuwongdao (also Yuwengdao and Yu Weng Island) Lighthouse.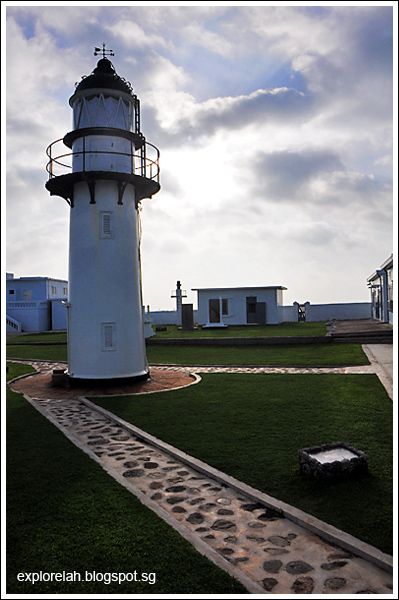 Around the lighthouse are living quarters for caretakers.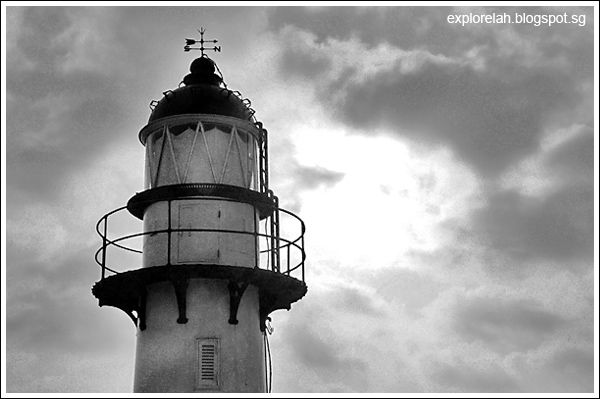 Serving as a guardian angel for ships and vessels for over 2 centuries, the lighthouse looked not a least bit tired. Except for its historical significance, there isn't very much to see since we cannot enter the lighthouse's compound and can only take photos over a low wall that guards it.
Concrete Tranquility
Before coming to Penghu, I was half expecting rural landscapes attempting to modernise. I had no idea that this place is so well built-up and organised. I'm particularly impressed by how clean the streets are and how very neat the developments looked with an air of casual relaxation lulling in the islandic breath.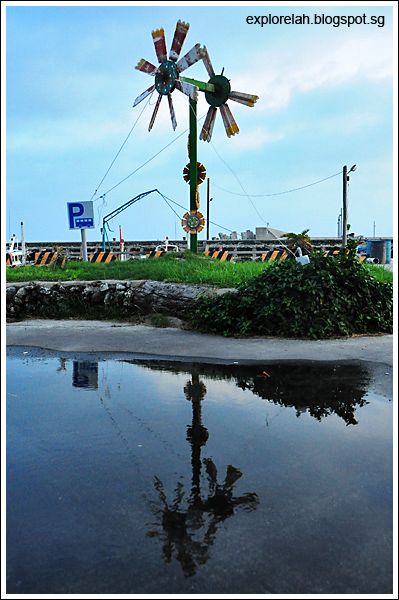 Life has got plenty of time for reflection with Penghu's casual pace and languid aura.
A honey-coloured sunset welcomed my first night in Penghu. With the absence of very tall buildings, sunsets are simply gorgeous here.
We went to a lot of sights in Penghu so this post is the first part to a series of entries that will uncover more attractions of the archipelago. So stay tuned! :)
Related Posts :