Date of Exploration :
23 May 2011
After mustering enough courage and saying our prayers, we decided to do it... We crossed the crazy busy junction to Hoan Kiem Lake. It was not that we had a death wish, offering ourselves up to be potential wheel carpet for the city's gazillion wheezing motorcycles, but
that sense of disorder and danger just heightened Hanoi's retro charm which we were about to discover. Order and rules are as forgotten as its tumultuous past.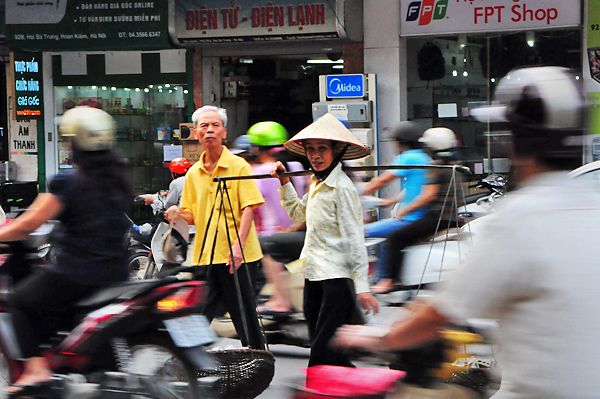 The adage is to close one's eyes and just cross the busy streets of Hanoi. I wouldn't bet on that and think it's best to keep both eyes wide open when crossing. But don't bother looking left, then right, then left again because the stream of traffic doesn't seem to cease.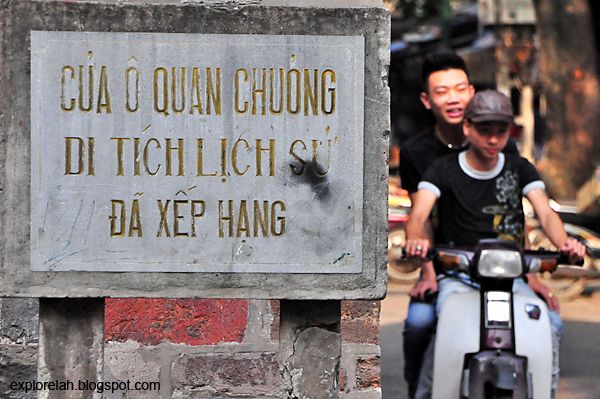 Helmets not necessary. With an estimated 30 deaths due to road accidents daily, traffic is the top killer of young people in Vietnam's capital.
Hoan Kiem Lake
Making it to the other side was something of a minor miracle and our triumph over the traffic marked the beginning of our exploration of Hanoi's Old Quarter.
Our first stop was Hoan Kiem Lake, a.k.a. Lake of the Returned Sword or simply, Sword Lake. Considered to be the center of Hanoi, the lake holds within its greenish waters, the legend of a nation. Its venerated standing at the heart of Vietnamese culture originated some 600 years ago when Emperor Le Loi was taking a boat trip on the lake a golden turtle appeared and took his precious sword.
The sword, belonging to the Golden Turtle God, was discovered by a fisherman who presented it to the emperor as a gift. With the sword's mighty power, the emperor finally defeated invading Chinese forces who had ravaged the land for many years. Since the enemy was vanquished, the Golden Turtle God repossessed the sword and
the legend lived on in Vietnamese folklore popularly retold through water puppets.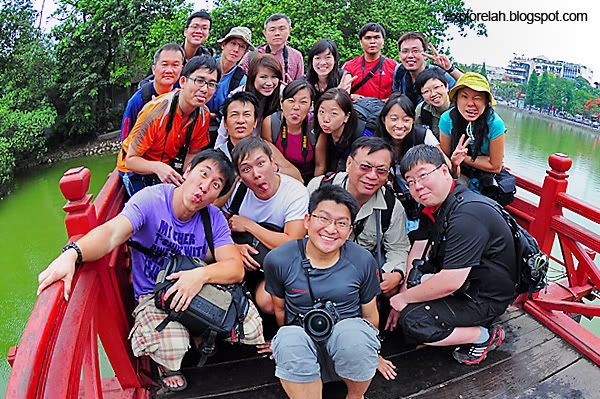 A wacky time on Huc Bridge (Flood of Morning Sunlight Bridge) with the folks who joined this
SGTrekker
Hanoi photographic trip. It's a pugilistic meet of the cameras!
Our order of business here at Hoan Kiem Lake was an arranged model shoot amidst the scenic setting. Unfortunately, the weather wasn't welcoming of our enthusiasm to bring home the lake's full beauty by being grey and overcast.
A scenery may be naturally beautiful, but weather is the make-up!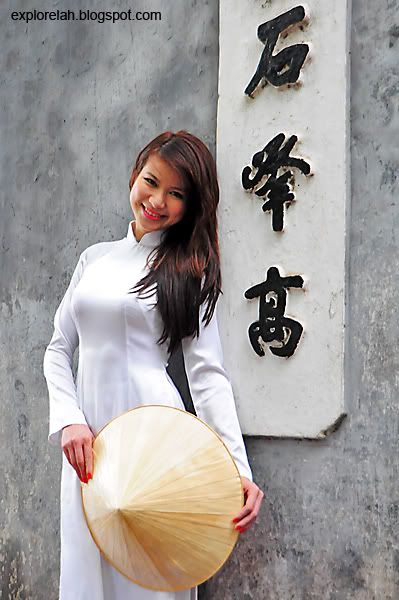 Our good-looking model who later went on to be a contender in Miss Vietnam.
Our model shoot took place mostly at Ngoc Son Temple (Temple of the Jade Mountain) which sits on a tiny island on the lake. The 13th century Chinese temple honours General Tran Hung Dao whose numerous defeats of the unstoppable Mongolian army under the command of Kublai Khan is considered as one of the most spectacular tactical military achievements in world history.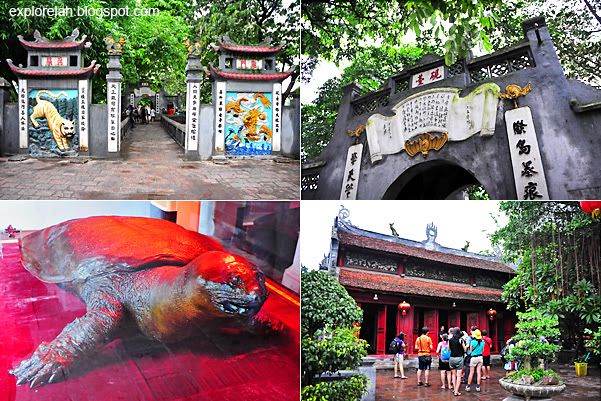 Adorned with celestial Chinese motifs and auspicious symbols, Ngoc Son Temple keeps a stuffed golden tortoise as its tribute to the Hoan Kiem Lake legend. The tortoise is believed to weigh 250kg when alive!
Whoops... no peeking while model adjusts her costume but check out where the camera is pointing!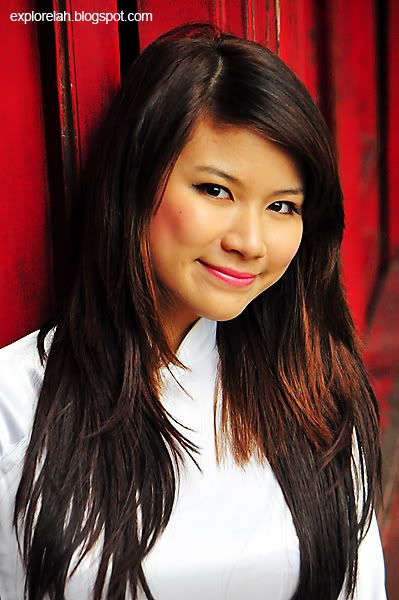 This shot is about the best I could get of the model with so many photogs jostling for space and angles. I was feeling rather overwhelmed and intimidated by their pro-ness and lost my mojo to shoot during the session. But it was a good practice for me.
No airs and attitude, she's such a sweet and accomodating model who gave her best to every photographer.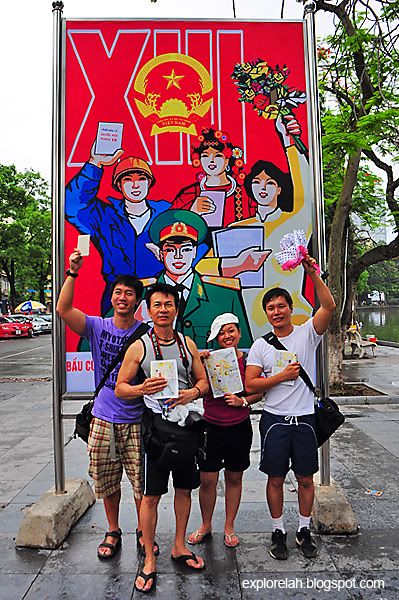 After cam fighting at Sword Lake, we were off to snap up more of Hanoi's historical sites and street scenes with maps and umbrella in hand.
Nha Tho Lon (St Joseph Cathedral)
Ten minutes on foot brought us to the generously goth-flavoured Nha Tho Lon (a.k.a. Hanoi Cathedral and St Joseph Cathedral). Completed in 1886 and christened Glass Cathedral of Saint Joseph, the French-built Catholic church emulated the architectural visage of its famous Parisian mother, the Notre Dame.
When our tour coach drove past Nha Tho Lon, I knew I had to come here for a shoot.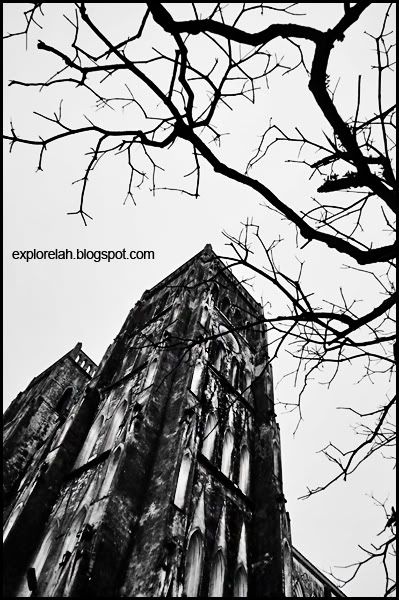 Grey weather and withered trees successfully recreated the somber allure of a European winter although it was about 30°

C.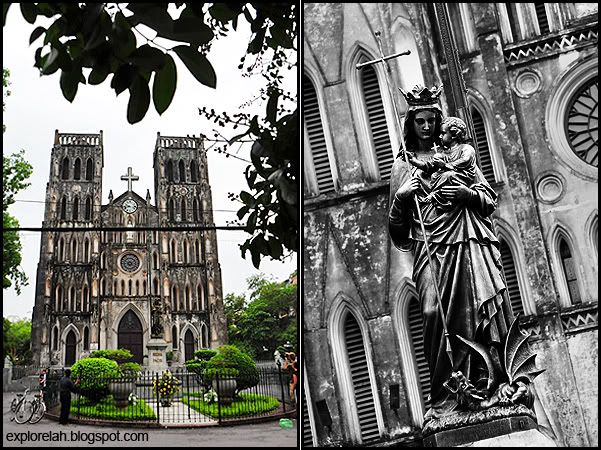 The neglect of the church's appearance actually made it more visually appealing and upped the photogenic factor.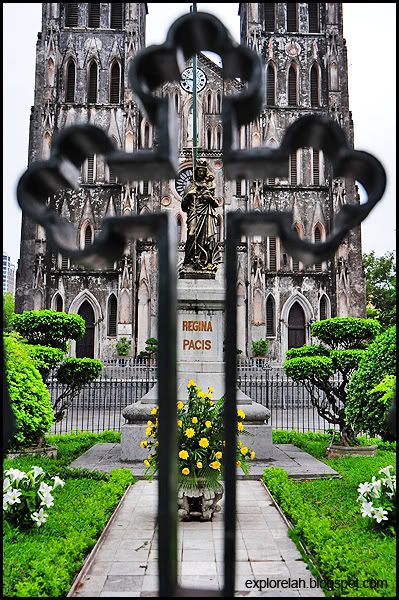 Regina Pacis means 'Queen of Peace'. Indoor and outdoor masses are still held at the cathedral every Sunday in the evening.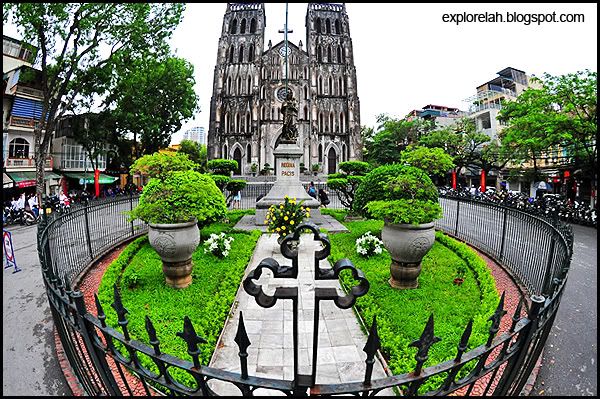 The side road lined with shops and tea-bars to the left of the cathedral is known as Church Street, a popular meeting place for young people on weekends.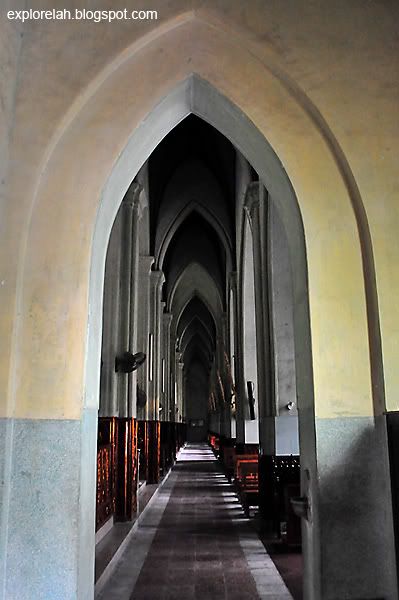 Entrance into the cathedral was via a door at its side. We were lucky that it was opened to visitors on that day and we were the only ones inside. Hallelujah!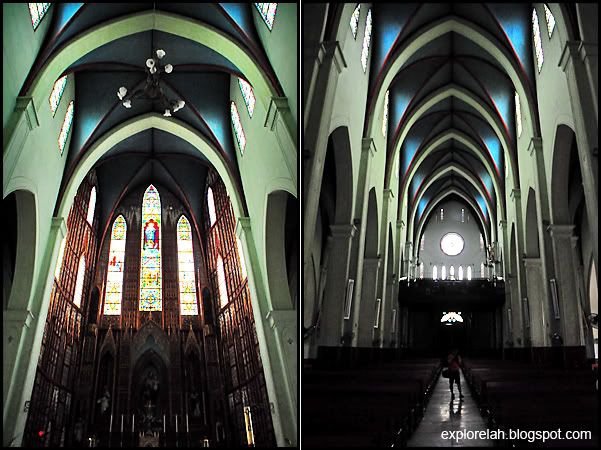 There's a sort of lime-green austerity about the cathedral's goth interior.
Pointed arches are one of the quinessential features that define Gothic architecture and Nha Tho Lon has an overcrowding of them! But the result is an aesthetic feast. It took me quite some time to frame this shot that included as many arches as possible of the cathedral's different layers. Can you count how many arches there are?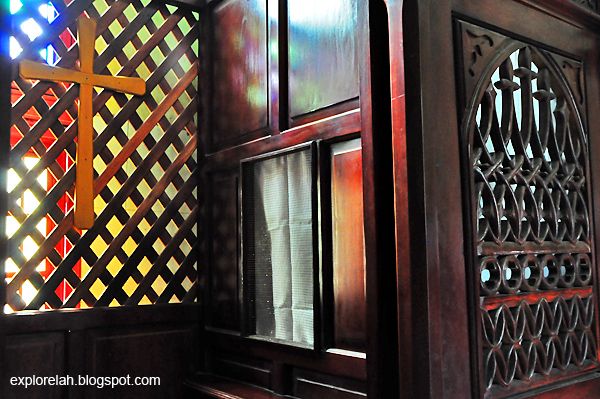 God knows I have a ton of confessions to make!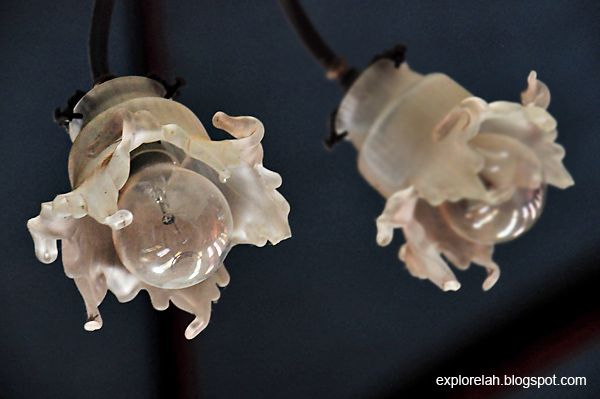 Pretty floral shades dance like a flowy skirt around the light bulb.
Of the many churches and cathedrals I've been to around Asia in my wanderlust so far, I would say Nha Tho Lon is one of those that left a deep impression because of its architectural merit and feel of time in its aura. Well worth a visit!
Temple of Literature
(
Văn Miếu)
Continuing with the exploratory trek marked out in our hotel provided map, we arrived at the Temple of Literature which was built in 1070 to honour Confucius and the scholarly traditions of the Chinese. The vast temple went through various rounds of refurbishment and upgrading in its existence of almost a millenium so it also served as an unofficial architectural record of the various dynasties outside of China. It is also the site of the oldest univeristy in Vietnam.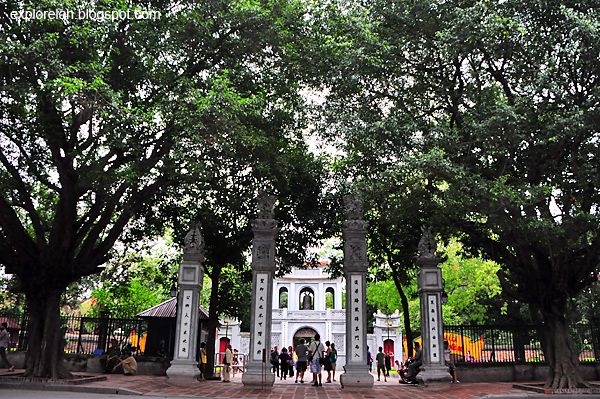 An adult entrance fee of 20,000VND (Vietnamese Dong) is applicable to visit the Temple of Literature. Opening Hours : Tuesday - Sunday, 8:30am - 4:30pm. Closed on Mondays and national holidays.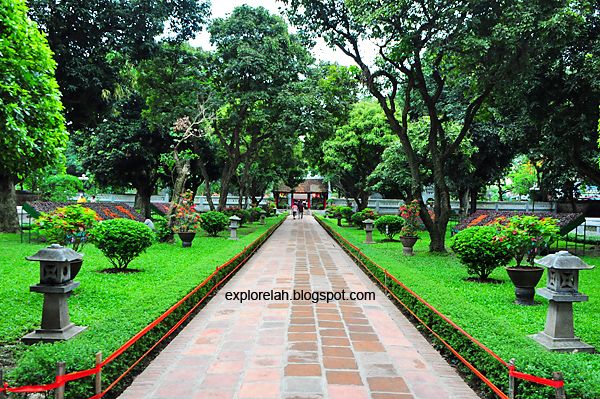 First courtyard leading into the second. There are 2 side entrances in the courtyard called Attained Talent (Dai Tai) and Accomplished Virtue (Than Duc).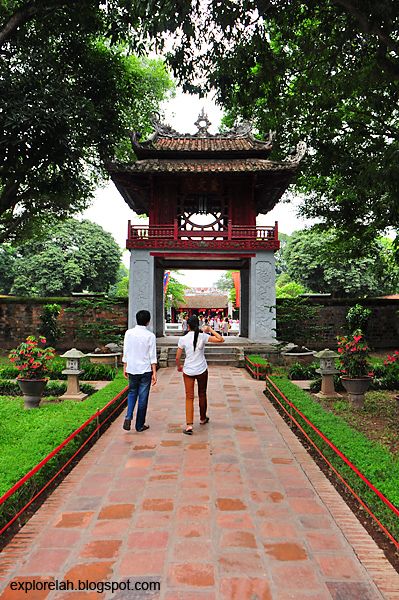 The second courtyard ends with the red Constellation of Literature gate that leads to a pond.
Third courtyard houses the Well of Heavenly Clarity.
Steles on turtle bases that list the names of scholars who passed imperial exams.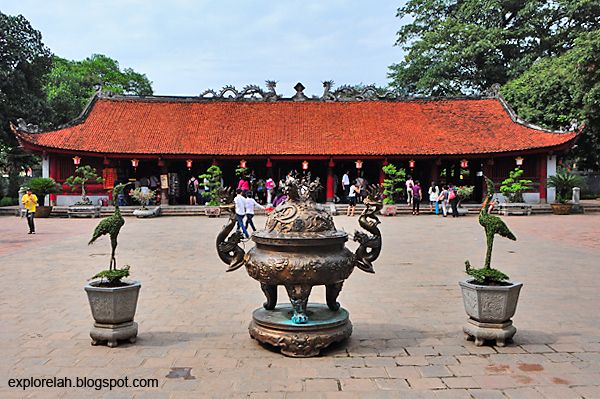 Fourth courtyard that features an ornate incense urn adorned with lots of dragons. I was fascinated by the mastery in pruning and cultivation of the 2 bonsai cranes on tortoises by the side.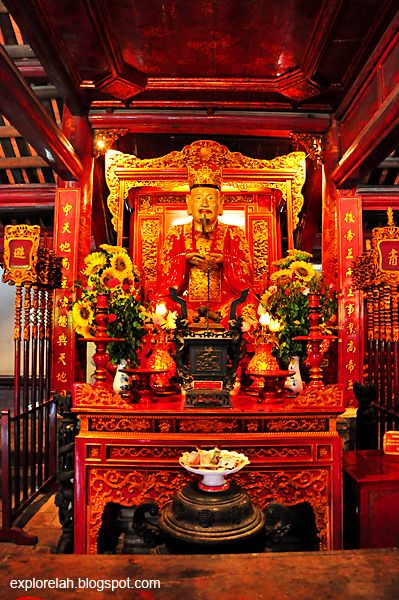 The temple has a number of courtyards that lead to the altar of Confucius.
The traditional Chinese word on the tablet reads 'Book'. Is this geek heaven? LOL.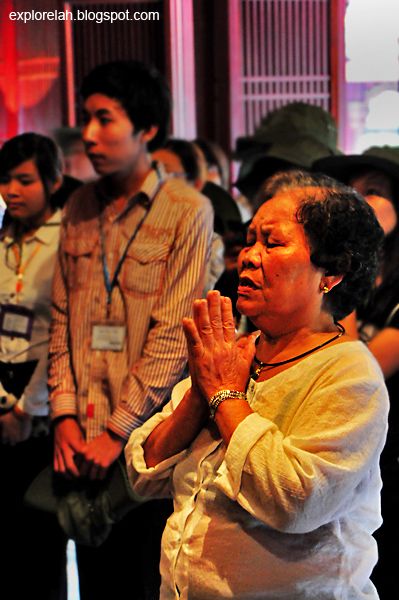 Bobee bobee. Apparently, good grades are not the only things devotees come here to pray for. I was told that young men and parents pray here during the Vietnam War to avoid military service. Recruits to serve in the war were picked via a draft lottery system according to birthdays. The war that lasted 20 years (1955 - 1975) killed and wounded an estimated upper limit of 2 million Vietnamese.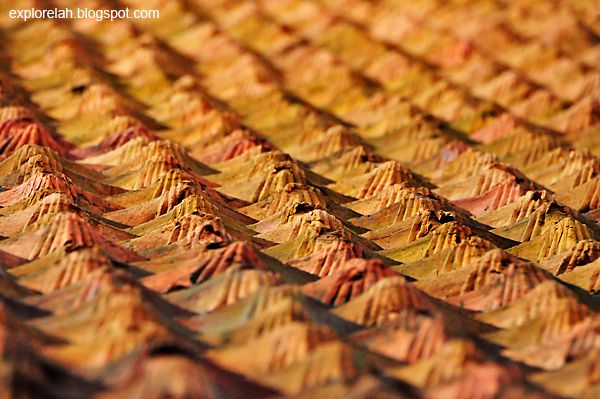 I found the tiling on the temple's roof to be very unusual. They resembled an undulating cluster of mountains, a design I'd never seen before.
Saw this handsome and elegant lady in the temple's courtyard and my lens got lusty.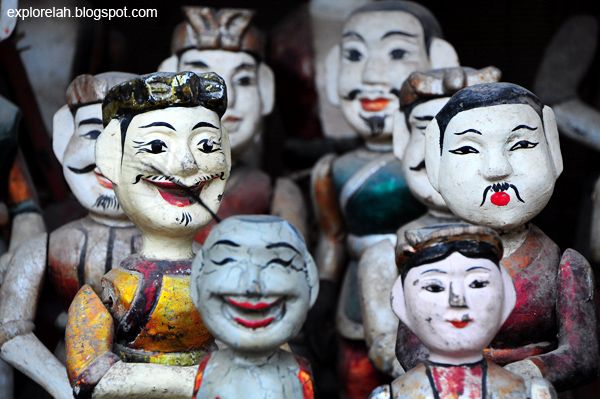 Traditional Vietnamese water puppets on sale at a gift shop within the temple's compound.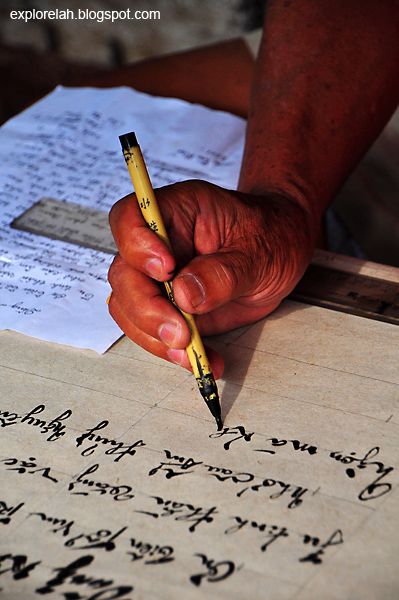 On new year, calligraphers assemble at the temple to brush well wishes in traditional Vietnamese and given free to visitors. This photo is of a calligrapher I saw on the street leading to the temple.
The Temple of Literature was the final stop on our photographic trek of Hanoi's Old Quarter, which was the earliest development site during the turn of the 20th century. The Old Quarter consists of 36 streets, many of them named after trade specialisations (eg. silk, blacksmith, jewellery, etc) in the olden days.
Touring the heritage district really felt like a walk back in time as buildings and establishments seem to evolve little from their original state. Thankfully, the streets are adequately marked so our non-Viet tongue and the locals' minimal English didn't need to spar with each other.
To get to know Hanoi, this walking tour of the Old Quarter is worth every footprint. But watch your steps and look out for the motobikes!