A new publication has hit the streets of Singapore and articles from this blog will be featured in it! I really looked forward to this inaugural issue which adapted the blog stories of my Mediterranean fly-cruise adventures onboard Royal Caribbean International's Liberty of the Seas. It's surreal seeing my photos and words in print and distributed across the country.
Called 'Weekender', a free weekly newpaper that promises to be "Your inspiration to a weekend filled with fun and happiness", readers can look forward to interesting articles, useful suggestions, places and DIY projects to unwind over Saturdays and Sundays.
But the coolest thing about Weekender is its sociopreneur endeavour. The paper trains and employs disadvantaged Singaporeans in its distribution, providing them with a sense of purpose and empowerment.
As printed circulation is limited,
click here
to read the first issue of Weekender. On page 10 is the article adapted from my series of
Liberty of the Seas blog posts
.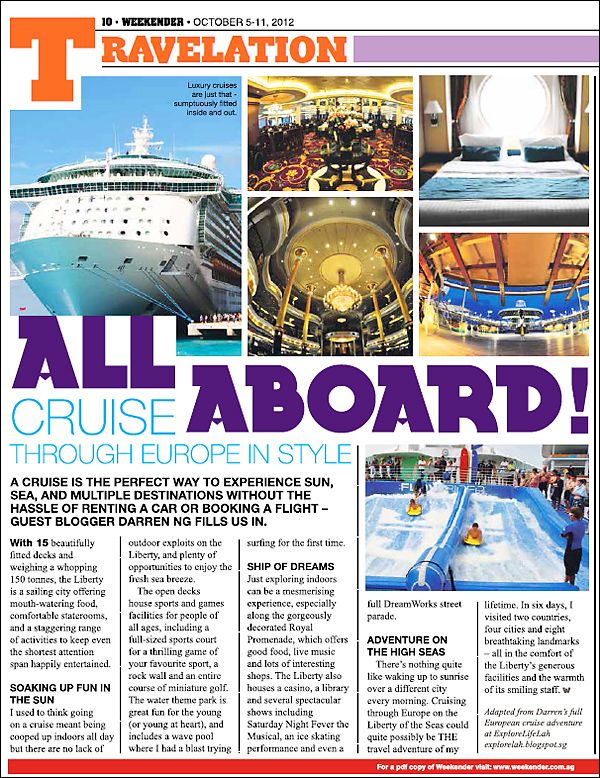 Here's a listing of blog posts on the Liberty of the Seas Mediterranean fly-cruise experience :
An Epic Travel Adventure
Royal Carribean - Liberty of the Seas
Liberty of the Seas - Salivalicious
Liberty of the Seas - Cannes (Scenic French Riveria)
Liberty of the Seas - Pisa & Florence (Italy) Part 1
Liberty of the Seas - Florence (Italy) Part 2
Liberty of the Seas : Rome Part 1 - Vatican City
Liberty of the Seas : Rome Part 2 - Trevi Fountain
Liberty of the Seas : Rome Part 3 - Roman Forum
Liberty of the Seas : Rome Part 4 - Colosseum