Duration of Stay :
5 - 7 Oct 2012
A vacation, for many in Singapore, means hopping on a plane, coach or cruise to get out of our reclaimed shoreline to some faraway land. But that definition is set to change with the rise of an oasis in the eastern coast of our tiny red dot. Holiday bliss now caresses closer to home.
At the heart of this micro paradise is
Capri by Fraser
, a hotel-residence seamlessly integrated with an eco-concept mall known as
Changi City Point
. I had the privilege to be invited for a 3D2N staycation at the
resitel
and I was so mighty impressed on so many levels, this will be one megamassivehugebigcolossalmammothenormousgigantictremendouslyextensive blog entry to capture all the things that make Capri by Fraser a choice development for an in-country escapade and a stay above the rest for business travellers.
Changi City : An Oasis in the East
Call me
sua ku
(mountain tortoise) but before the staycation, I had no idea something called Changi City has sprouted on our eastern soil. Other than Changi Airport and the massive convention halls of Singapore Expo, I hardly come to this area and used to think it is somewhat of the boondocks with scarce housing and lots of industrial parks.
But the mini city approach to jazz up Changi has shaped it into a lifestyle destination with much to offer. I would even say it is tourist-worthy even though it's away from the central cluster of tourism hotspots like Orchard Road, Marina Bay, Chinatown, Sentosa, etc. Then again, Singapore is so small and transportation so convenient, far is never far enough.
View from the boarding platform of Expo MRT Station. Capri by Fraser is the middle building behind Changi City Point mall.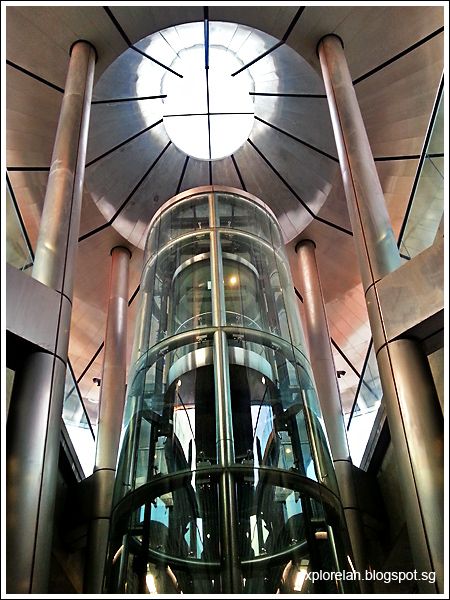 It was my first time alighting at Expo MRT Station and I feel in love with the station design instantly. It's stylistic and radically different from other stations of the transport network.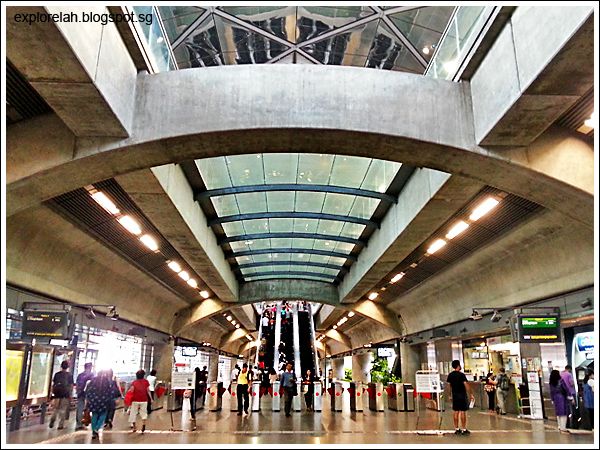 I wish I'd taken a photo of the station's exterior which looked like the USS Enterprise from Star Trek has landed. The station's futuristic industrial-meets-sci-fi chic is refreshing.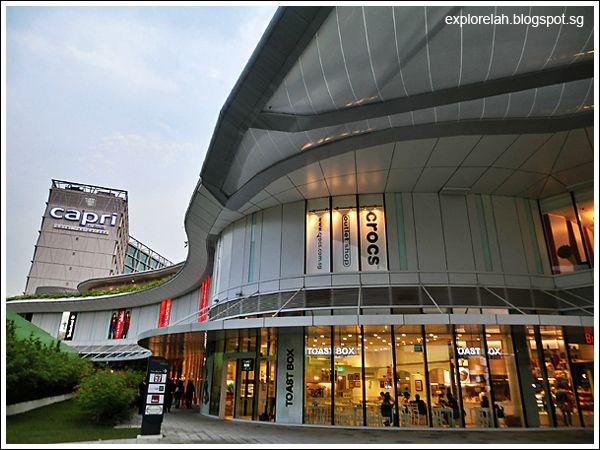 Side facade of Changi City Point mall leading to Capri by Fraser. The resitel is a less than 3-minutes walk from Expo MRT Station, that is if one could resist the temptation to start shopping at the mall!
Capri by Fraser Hotel Residences : Smart, Stylish & Sensational
Introducing a new accomodation concept to Singapore's hospitality landscape, Capri by Fraser cleverly fuses the comforts of home with the amenities of a hotel and the conveniences of serviced residences. Though not new to the world, this hybrid hotel-residence brainwave is the first-of-its-kind here.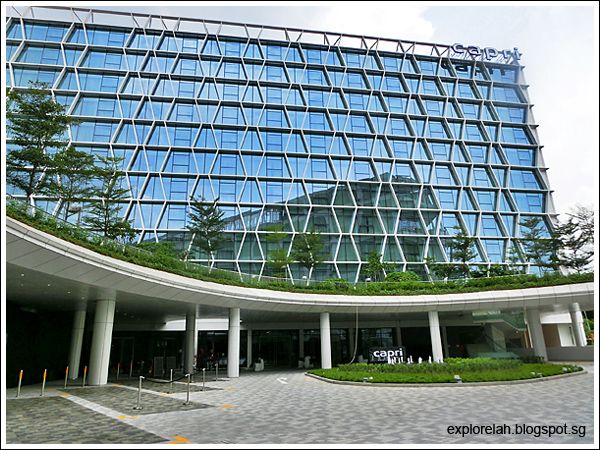 The honeycomb facade of Capri by Fraser. Sweetness awaits within.
So, what makes a resitel? Typically, besides rooms, a hotel of good standing would have various amenities such as various F&B outlets, gym, pool, meeting rooms, banquet halls, etc. Residences (a.k.a. serviced apartments) on the other hand, would have lesser amenities but come with in-room kitchenettes and self-service laundromats within the building.
Also, period of stay for serviced residences is usually above a week whereas a hotel would accommodate a night's lodging. Hence, a resitel is an accomodation arrangement that contains all of the above facilities with stay duration ranging from one night to as long as you are legally allowed to stay!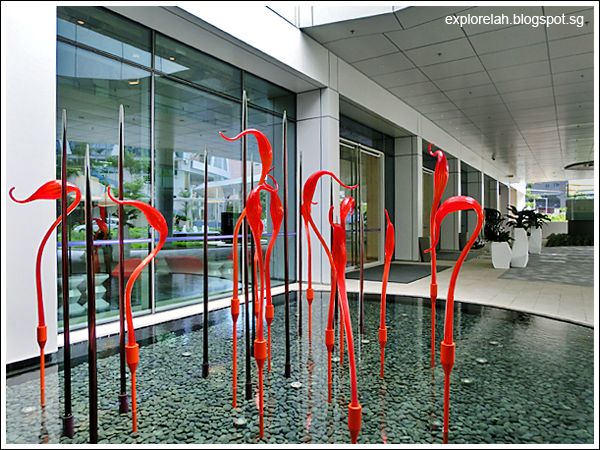 Entrance of Capri by Fraser flanked on the left by these flowy, organic stalks that brings to mind the grace of flamingos.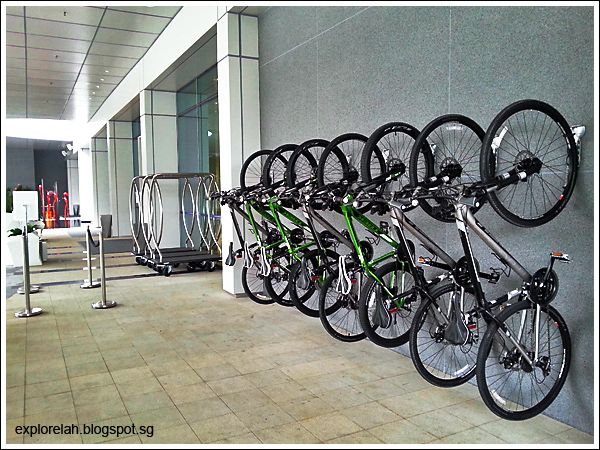 Guests at the resitel can borrow these bikes for free to ride around Changi City or head towards East Coast Park (approx. 1 hour ride away at leisure pace). Return the bikes by 7.00pm.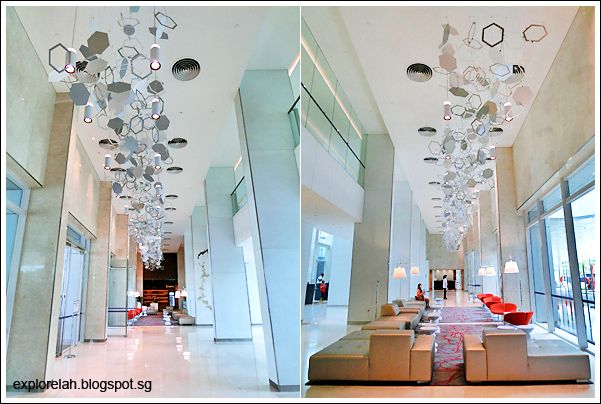 Left and right perspective of resitel's interior upon entrance. Felt as if I walked into an installtion art gallery.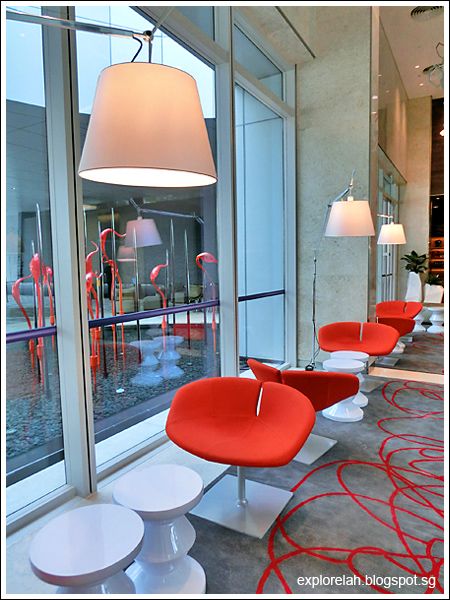 Take a seat on rose petals.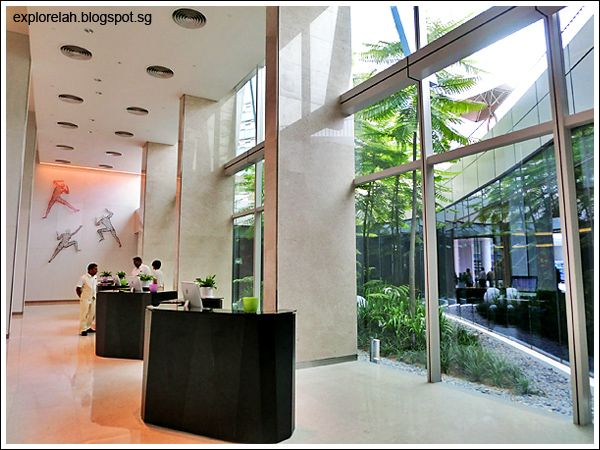 Capri by Fraser's reception and check-in counter favours the casual where staff and guests can intermingle.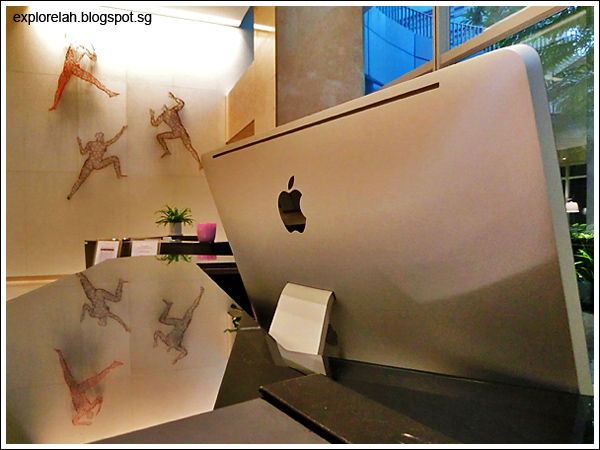 Capri climbs to the top with hi-tech bytes and bites. The resitel utilises smart technology such as iPad check-ins for repeat guests, hi-speed Wifi and a host of integrated gadgets that will have Apple fans crunching for more.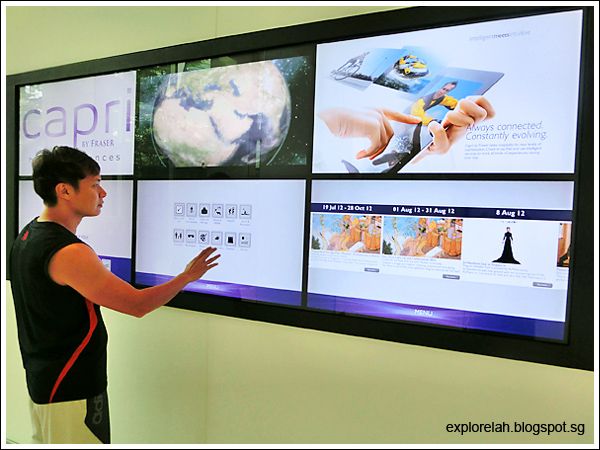 Innovative touchscreen e-Concierge that is linked to flight and transportation info as well as acting as a one-stop navigator of surrounding attractions and things to do.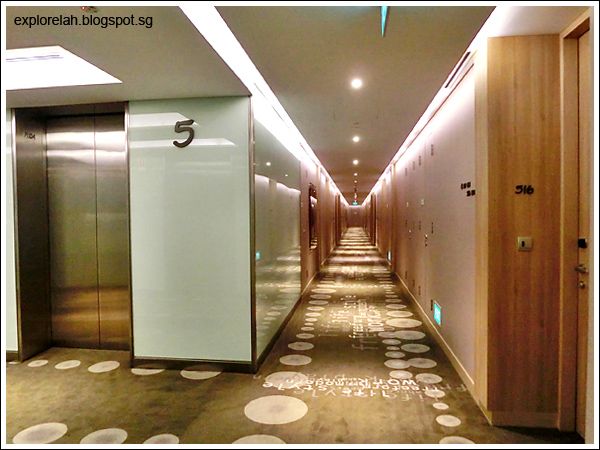 Sprightly carpeting paves the way to the rooms.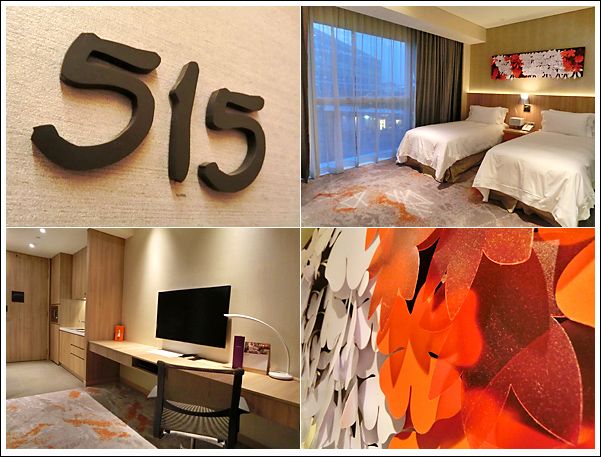 I stayed in a Studio Deluxe room on level 5. The room sure doesn't stinge on space.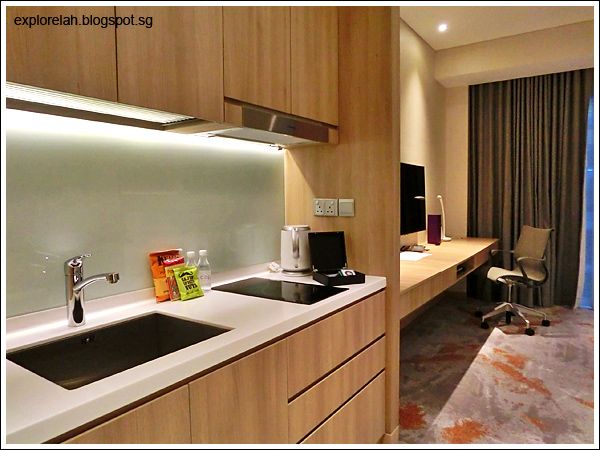 In-room kitchenette next to the room's entrance.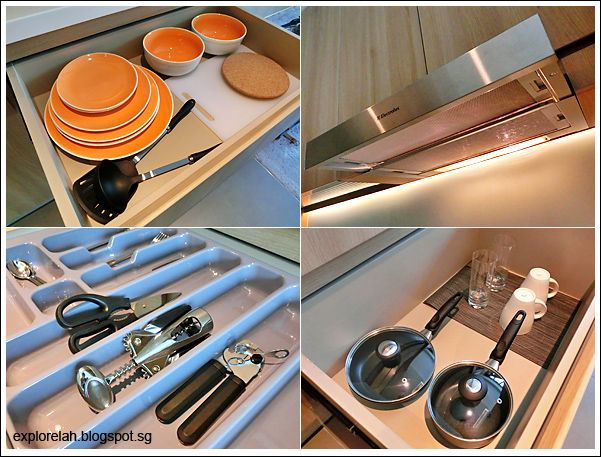 Adequate collection of utensils and cutleries for simple cooking. There's a chopping board but can't seem to find any knives for a MasterChef impersonation.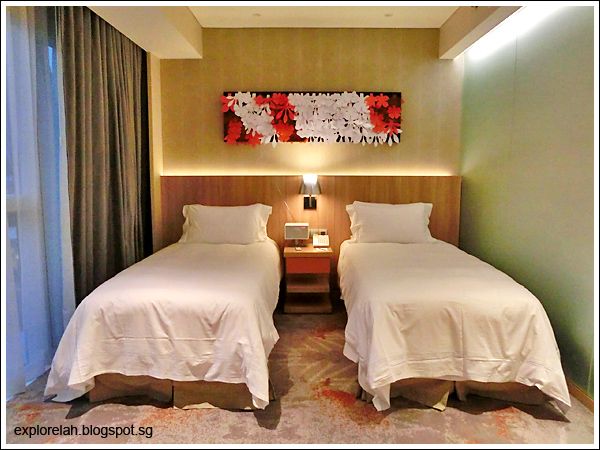 Bed is Goldilocks-approved... not too hard, not too soft.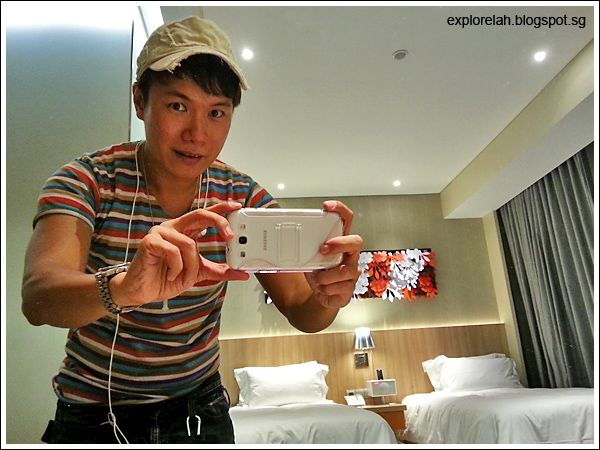 But of course, I'm far from looking like Goldilocks.
The room comes with an iPhone / iPod dock-cum speakers. To turn it on, tap on the invisible button on the top-right corner of the box. Very cool except that I don't own any i-gadget so it's a white elephant to me (iPhone in photo belonged to my staycation buddy). The other cool thing is the cordless phone.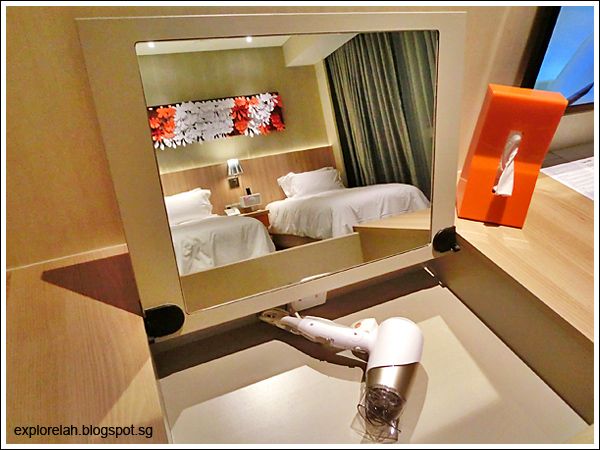 A hair-dryer is hidden under a flip-up vanity top next to the flatcreen TV.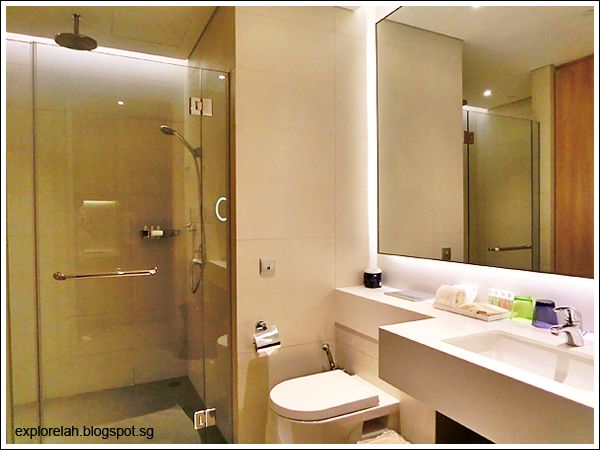 Interesting maximisation of space in the bathroon cum toilet cum walk-in closet.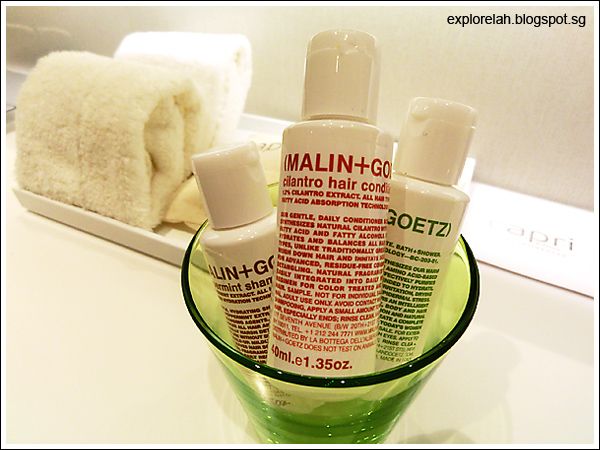 Bathrooms come with the botanic infusion brand of (expensive) Malin+Goetz toiletries. Capri by Fraser is the first to use this luxury personal care range from New York.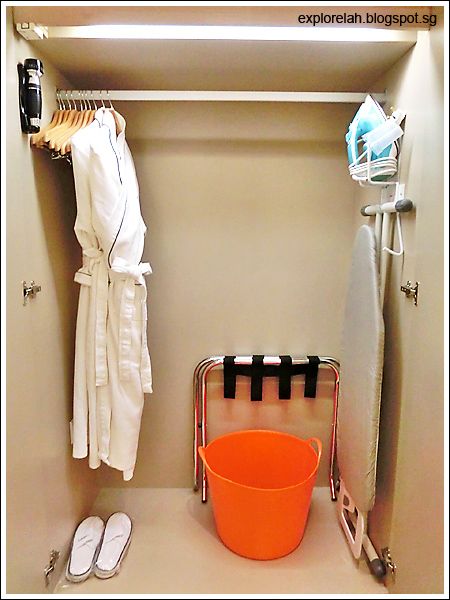 Items in the built-in closet opposite the vanity top. Next to it is a safe deposit box that comes with wires to charge your mobile gadgets while keeping them locked up. How thoughtful is that?!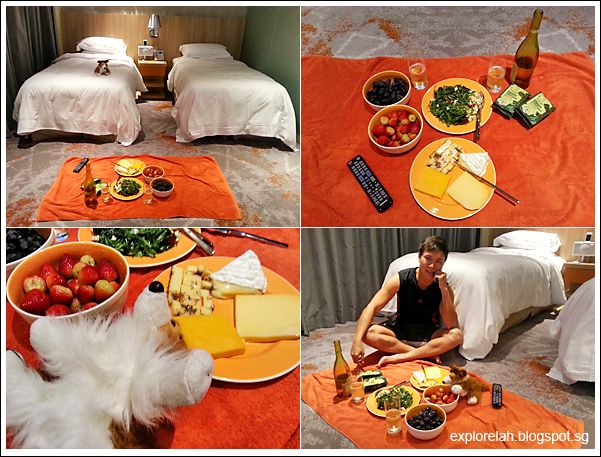 I was tempted to stir-fry petai with belachan to test how well the hood and hob breathes but the lack of kitchen knives thwarted my diabolical plan. Instead, we had an in-room picnic. But the dog didn't make it with the platter of stinky cheese.
More Dirty Laundry Please
It may sound strange, but the defining highlight of staying at Capri by Fraser has to do with smelly clothes. Mum does my stinky laundry at home but if washing used wearables is anything close to the Spin & Dry
rooms
funhouses at Capri, she could save on the smelling salts.
When staying here, you MUST definitely check out the Spin & Dry laundry rooms even if you can
tahan
wearing the same set of clothes for two or more days (I'm guilty of that sometimes, that's why mum needs salt revival).
I'm an advocate for hydro-conservation... less laundry = less water used. But there's no need for a dirty reason to enjoy the Spin & Dry rooms which come equipped with 'toys' to occupy the time while your second skins have their spa time.
Every rooming level comes with a Spin & Play room and guests are not limited to their lodging floors to do laundry... and play!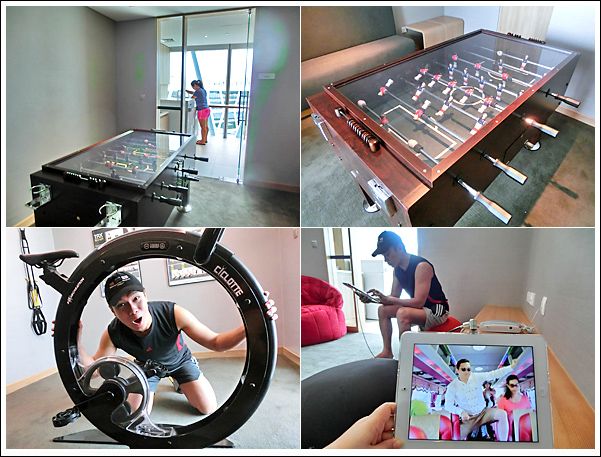 Collection of playthings found on the twelve levels of Capri by Fraser's Spin & Play laundry rooms.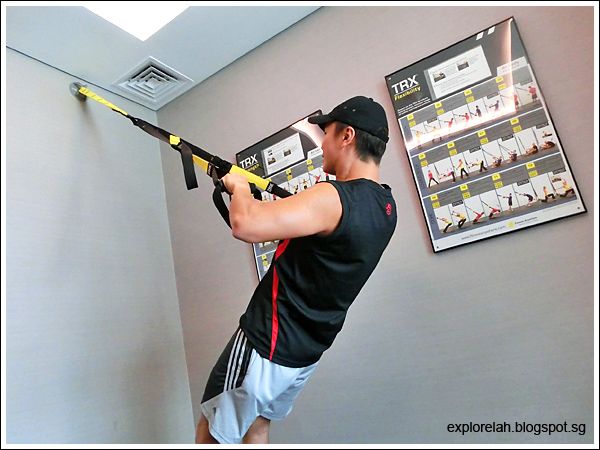 First time trying TRX and man, it can really work up a sweat! Or maybe I'm too heavy that's why it was so strenuous to lift my own weight.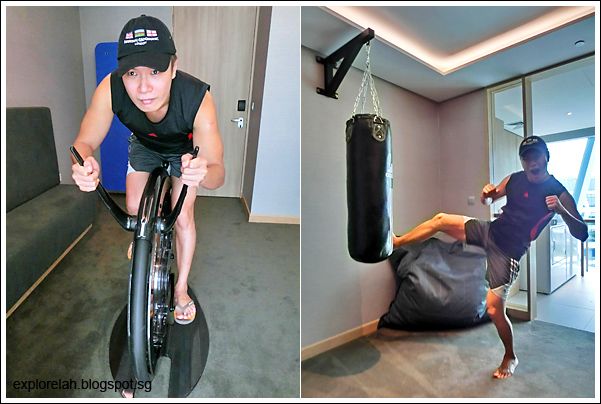 I discovered a really good workout at the Spin & Play rooms... It's called posing.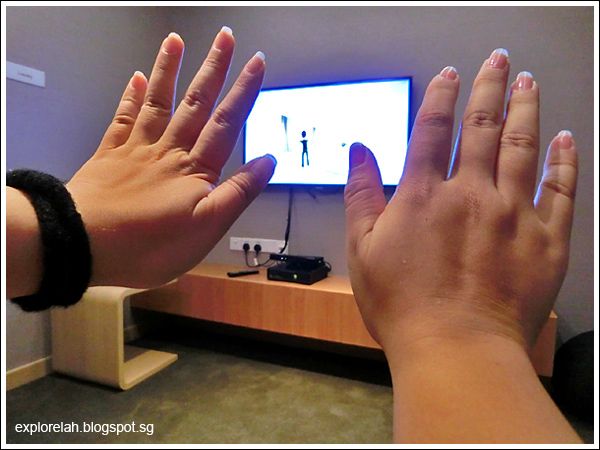 Our level's launderette came with the ultra-fun Xbox Kinect.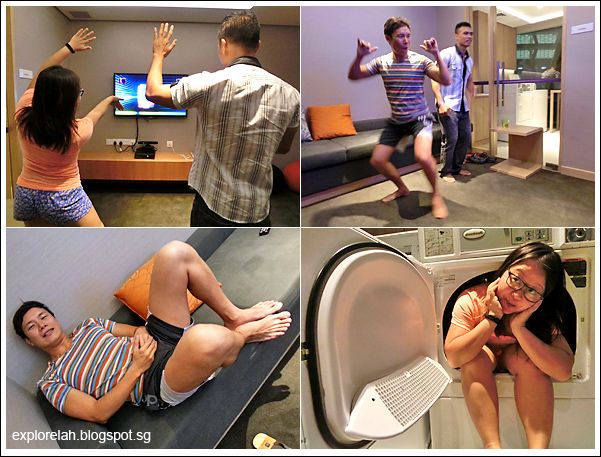 We shaked our bon bon to a dancing game, played virtual bowling and volleyball on Kinect. Even the washing machines got a bundle of our good clean fun.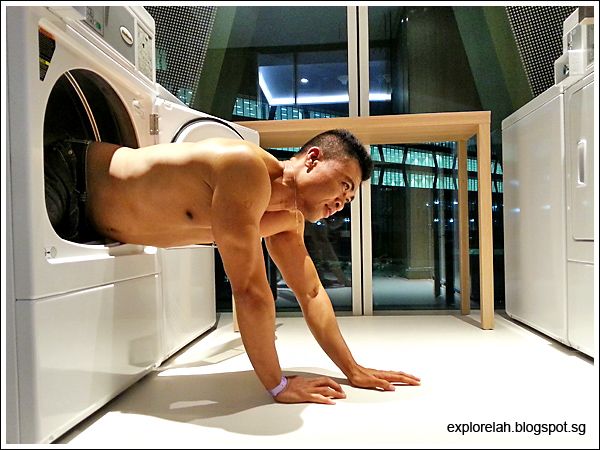 Sadako reloaded? Maarof welcomed Halloween early this year with his fABulous reprise of The Ring.
With Xbox Kinect, foosball, punching bag, TRX Trainer, iPads, and Cicollette, the Spin & Play launderettes are definitely what set Capri by Fraser apart from other serviced residences and reasons not to leave the resitel.
Artify the Senses
Apart from tech muscle, Capri by Fraser has got the looks to complement the smarts. Featuring contemporary sculptures and installations from seven international artists to explore the theme of 'Movement and Connectivity' between today's travellers, my camera went on overdrive to fill its memory card.
From the reception to the communal spaces to the room to the restaurants right down to the cutleries used and even something as little as the resitel's pen, art and style breathes through every wall, corner and knick-knack.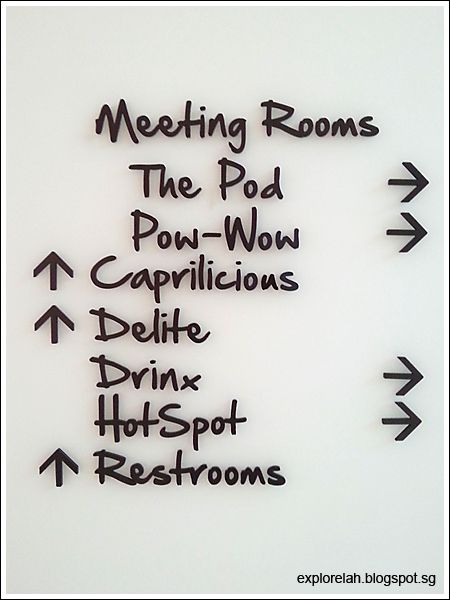 The care-free letterings felt like someone just scribbled directions on the wall. So hip!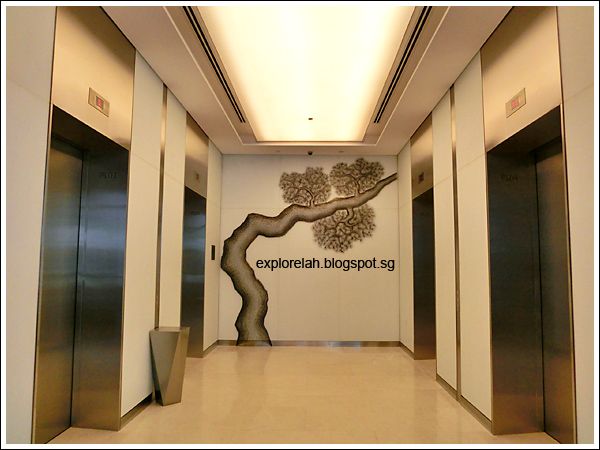 Old Pine Eternal Tree by award-winning Korean artist Lee Gil Rae at the lift lobby has a magnetism about it that makes it hard to look away.
The tree close-up is made up of inter-locking stainless steel rings. Creating an enigmatic focal point at Capri by Fraser is Jumper, Jori, and Then As Now by German artist, Rainer Laggerman. They brought out the wannabe-Spiderman in me.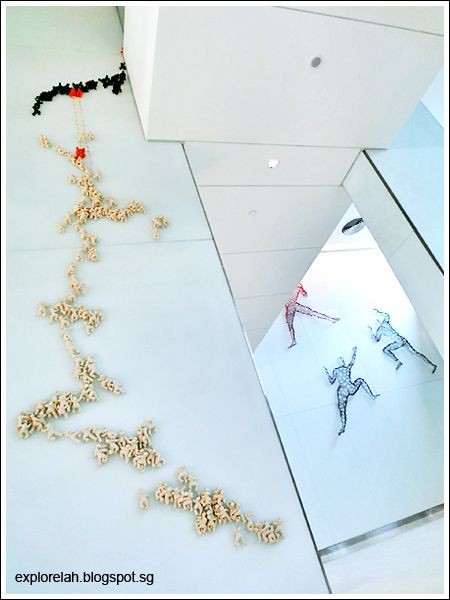 These 198 handmade clay 'bo-men' figurines by Belgian artist Daisy Boman tickle the curiosity for a closer look.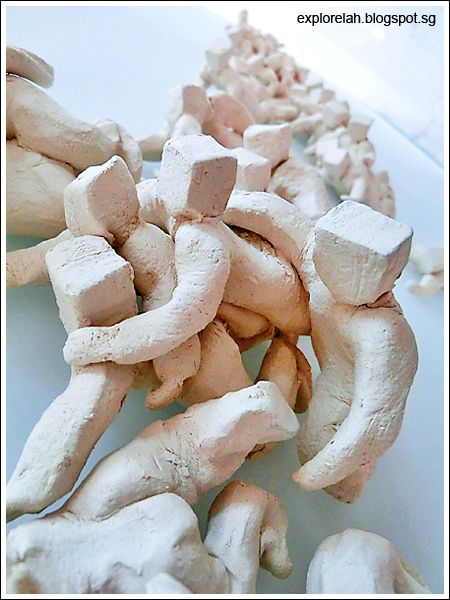 Titled 'Men on the Road', the uniform and colourless figurines depict equality and neutrality of race and class.
Lonely at the top? A solitary bo-man on the second floor. I think it's never lonely at the top because many people would want to be around you. If you feel lonely, you are not at the top yet.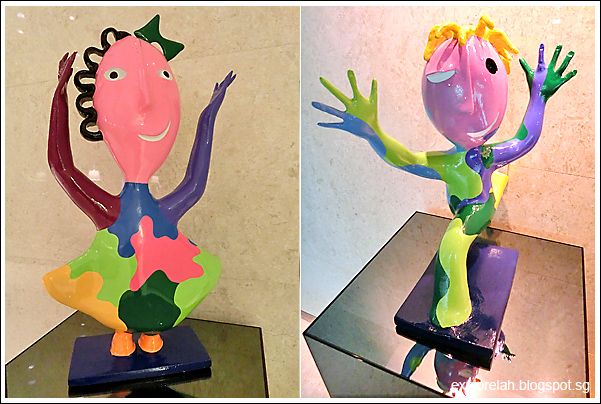 Ripolles by Juan Ripolles (Spain).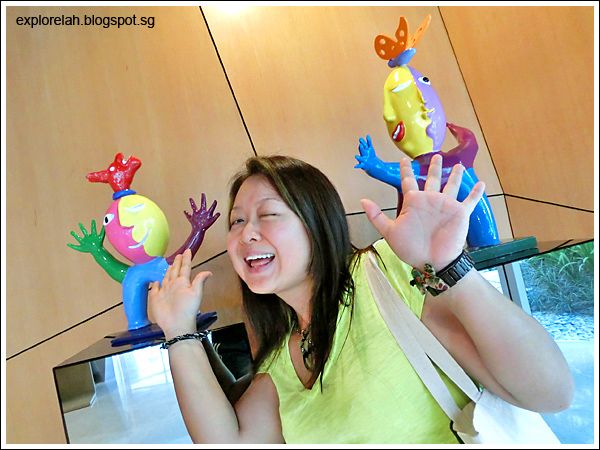 Three's a party! Juliana looks right at home as a work of art herself.
The Pod is an open concept function space that can be booked for private parties and events.
Love the unusual seating islands and furnishings. One of the walls can also be turned into a huge projection screen to broadcast soccer matches or entertainment videos.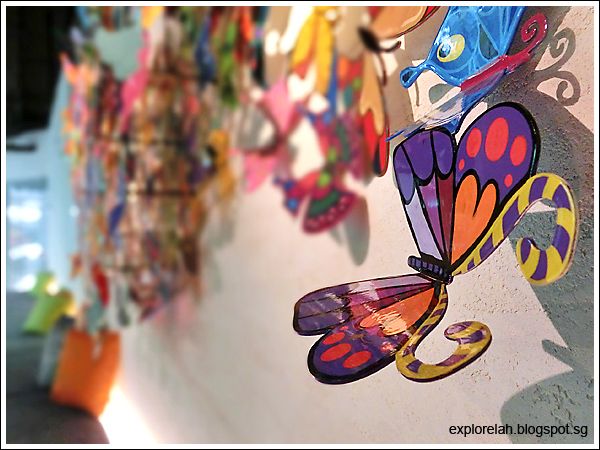 The Pod's mural of colourful butterflies titled 'Passing with Flying Colour' is by Russian artist, David Kracov. The artwork's name sure says it about the revolutionary Capri by Fraser.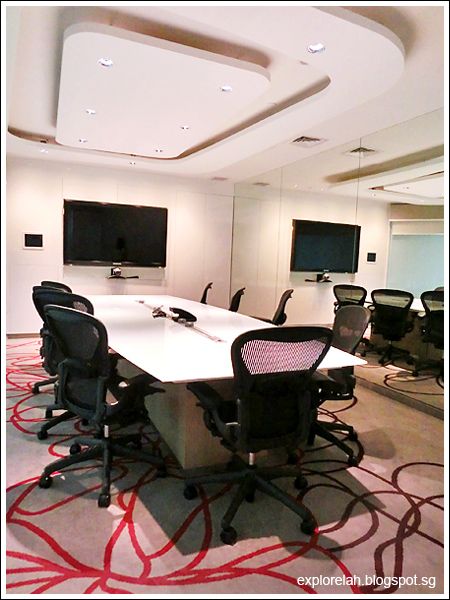 Hosting up to 10 people, the resitel's board meeting room feature an iPad control panel and camera below the TV screen for video conferencing. It even comes with a name that packs a punch as the meeting room is called 'Pow-Wow'!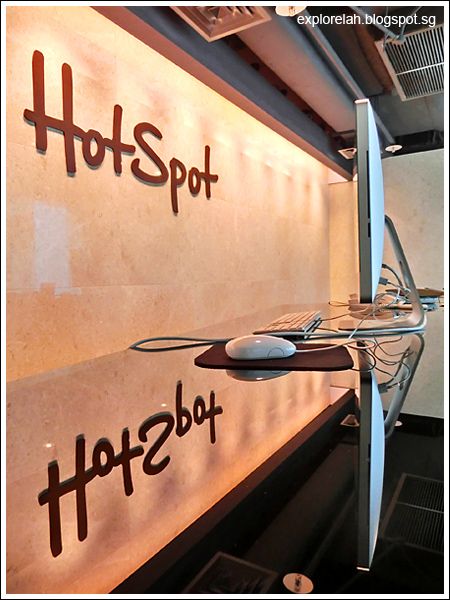 Replacing the conventional business centre, HotSpot provides iMacs for business and leisure use (free) with printing, binding and laminating capabilities (nominal fee applies).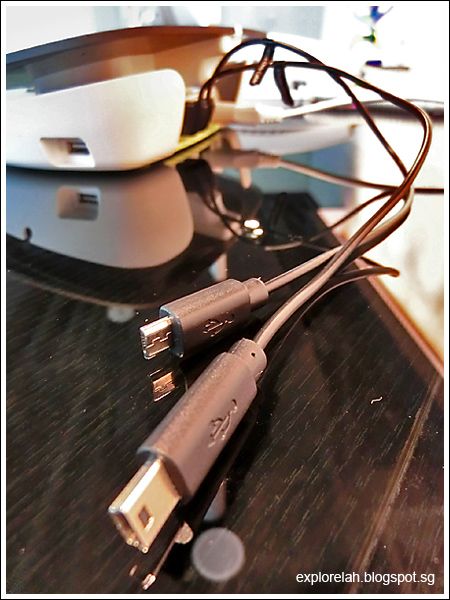 Multipoint charging docks are available here to feed the perpetual hunger of smart phones.
HotSpot touches all my right spots as I charged my phone while working on a blog entry. A stool to sit on would be nice though.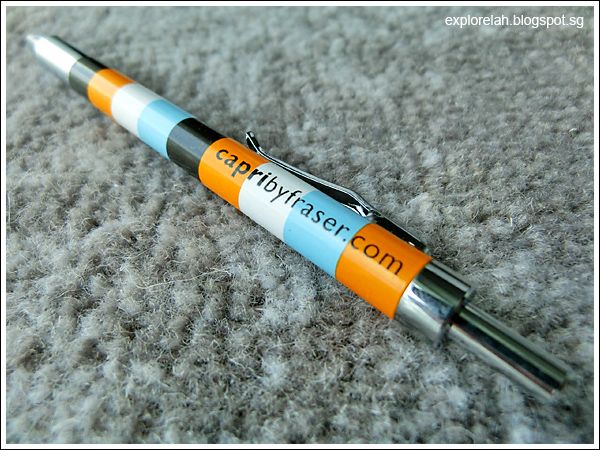 The prettiest hotel pen I'd ever seen. Makes a great souvenir and it writes very well although the shorter and skinnier pen body makes it rather hard to get a firm grip. And I have small hands.
Dine in Style
Having seen the art and serviced residence side of Capri by Fraser, now let's check out the facilities that also make it a hotel... multiple F&B outlets and a suite of relaxation treats.
I didn't get to try the food at the resitel (other than breakfast) but it seems that western cuisines are its specialty. There's a cafe-deli type set-up known as 'Delite', the main restaurant called 'Caprilicious', and the 'Drinx' open bar.
Salad bar with fresh greens. Health is on the menu.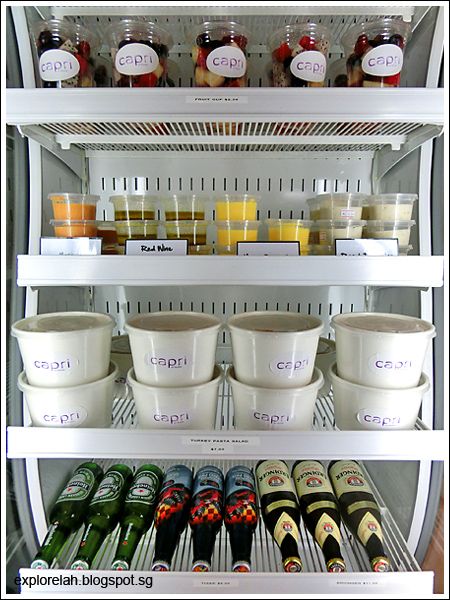 Prices are pretty affordable. Eg. a fruit cup at the top of this chiller at Delite costs only S$2.00 and the white tubs of Turkey Pasta Salad goes for S$7.00.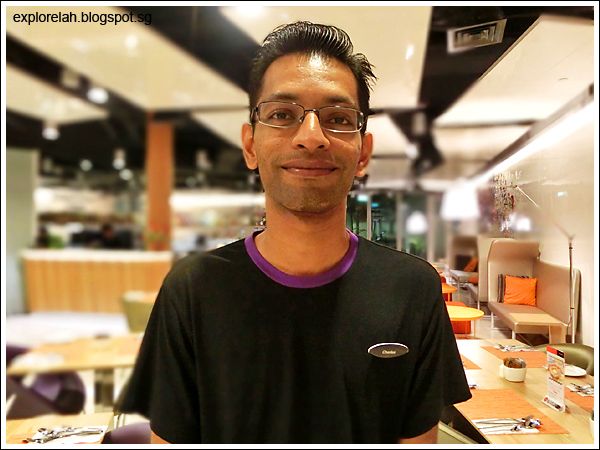 This is Charles. He was very attentive and helpful when I walked into Caprilious to just have a look around. His friendliness didn't feel like it comes in a plastic bottle. In fact, all the staff members I encountered at the resitel were absolute angels. And I really love the casual uniforms, a refreshing departure from stuffy suits that allowed staff to wear their personality as representing of Capri by Fraser instead.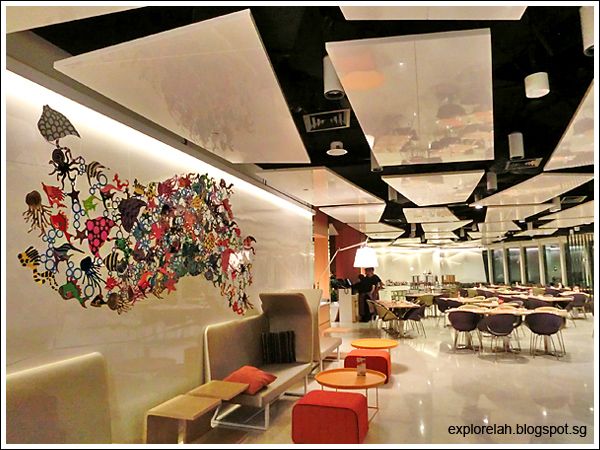 Layout of Caprilicious with a funky aquatic mural by David Kracov titled 'Go with the Flow'.
Chill out pods that make me want to get in a horizontal position.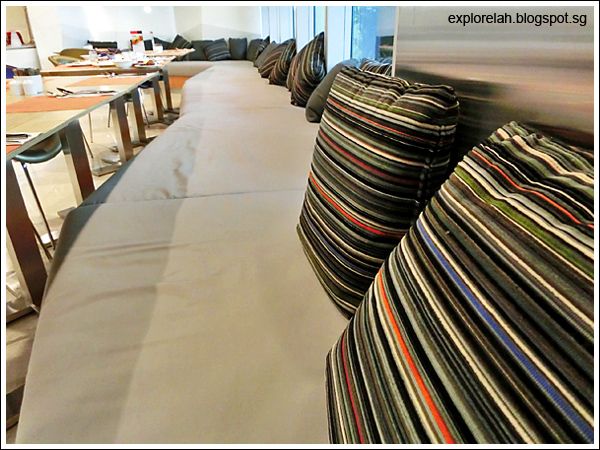 The cushion train seating at Caprilicious blurs the line between eating and sleeping.
Breakfast buffet spread at Caprilicious.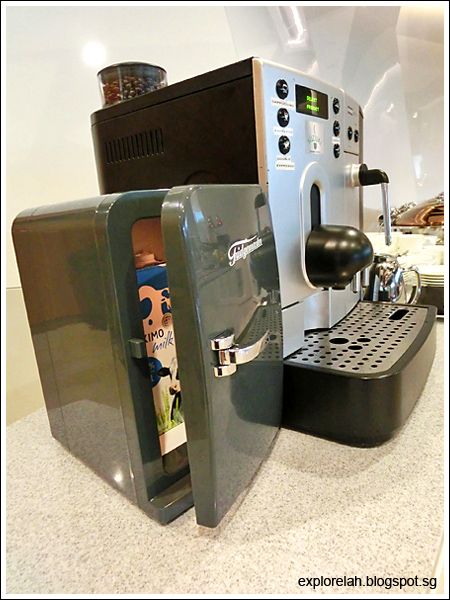 Coffee addicts would be pleased with the automated machine that makes a sharp brew and the cute retro mini fridge that holds the milk.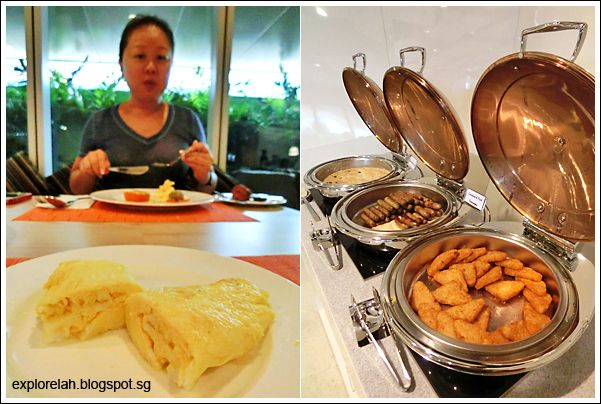 Juliana longing for my eggs. The kitchen will whip up an omelette (plain or with vegetables) or sunny-side ups upon request.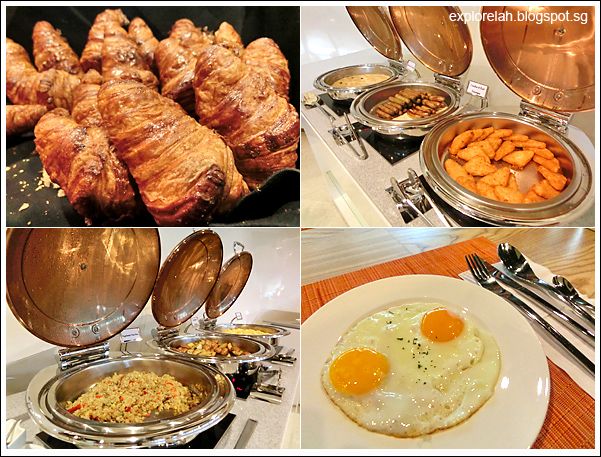 Breakfast spread was chiefly the standard western staples of sausages, scrambled eggs and baked beans with an Asian offering in the form of Vegetarian Fried Rice on one day and Chicken Congee on the next.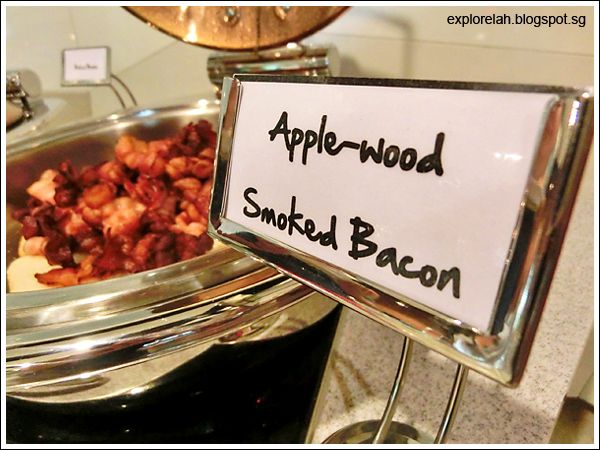 Not much of a bacon fan but the Apple-Wood Smoked Bacon was worth the gym time later.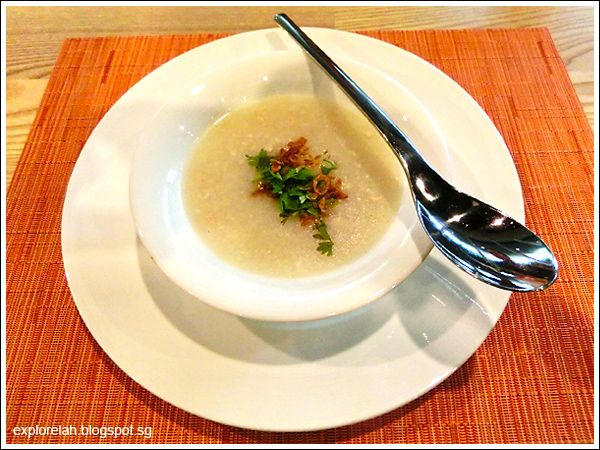 Caprilicious uses the Vision series of cutleries by WMF from Germany. WMF produces elegant scratch-proof cutleries that defy wear-and-tear.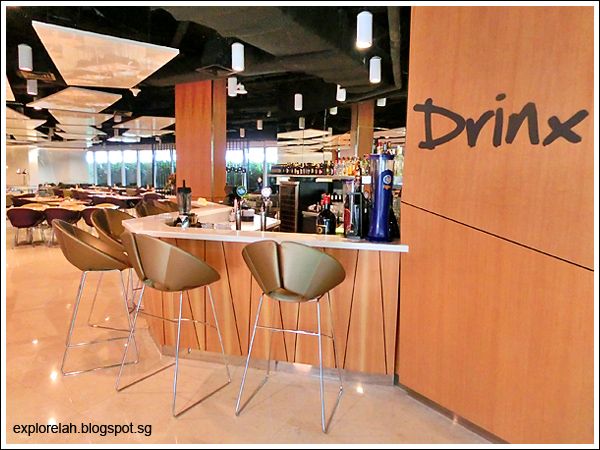 Tucked in a corner is Drinx bar that offers a one-hour liquor buffet on week nights from 6 - 7pm for only S$20 (walk-ins). Registered guests of the resitel get to drink during that hour for free!
Destination Relaxation
It is usually rare to find that hotel or serviced residence to offer a full range of pampering treats. If there's a steamroom, a sauna is usually missing. If there's a pool, the gym would usually be miserably equipped, and that's hoping the pool is more than just a wading puddle.
At Capri by Fraser, there are so many facilities that are well-conceived and working properly that the body is subjected to relaxation abuse. I was greedy, I tried everything all at one go (except spa massage).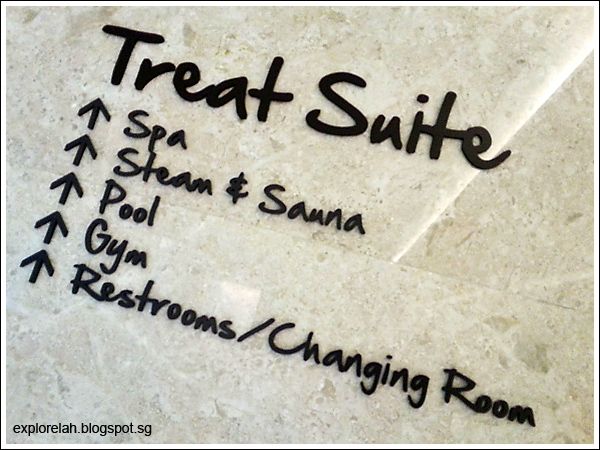 It is possible to abuse your body with relaxation at Capri by Fraser.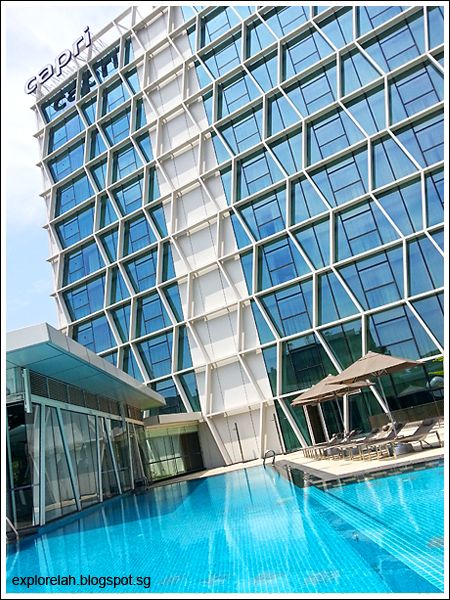 The Treat Suite is located on Level 2.
Gym by the waters.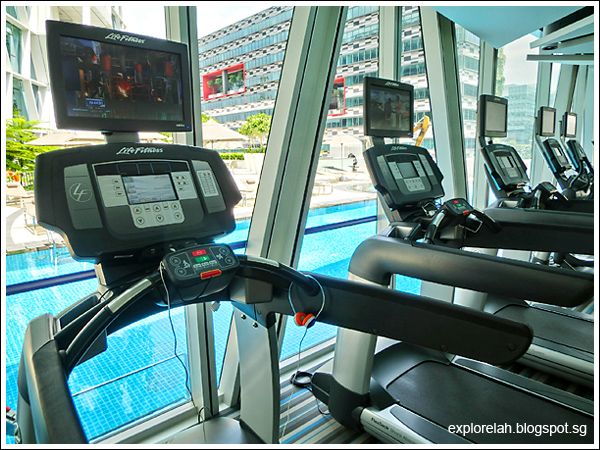 The gym comes with state-of-the-art cardio machines that are integrated with personal entertainment modules and docks to tap your personal iPod / iPhone for your favourite music and movies while working out.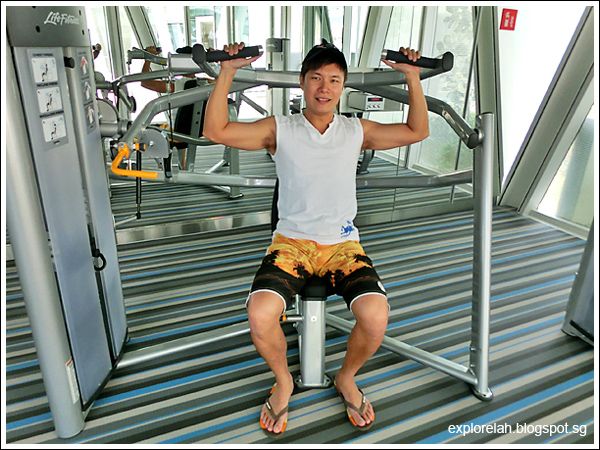 Working out the Apple-Wood Smoked Bacon. The gym is open 24 hours! I think all hotels should have open their gyms all-day.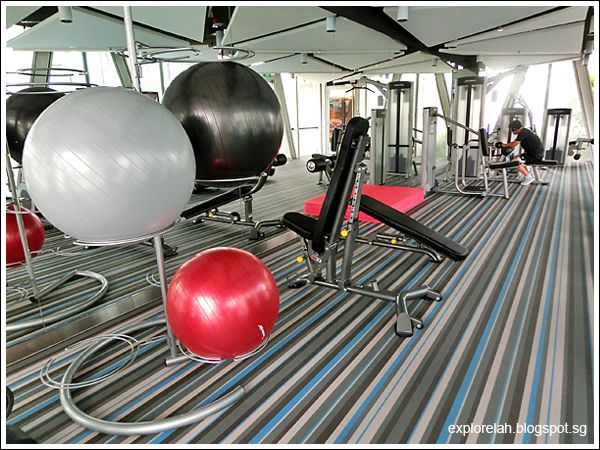 The gym isn't shabby with its equipment at all. There's a comprehensive range of machines and free weights for a good workout.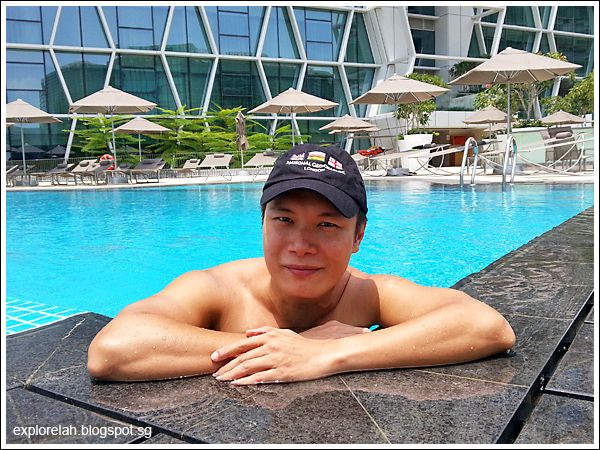 Doing my favourite workout... posing.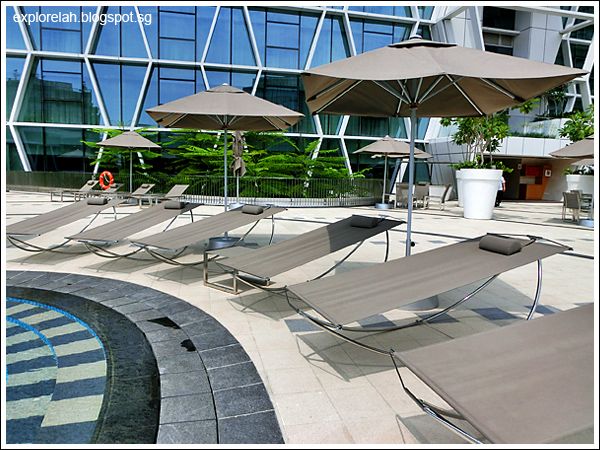 The innovative rocking hammock pool beds are so unusual and cool!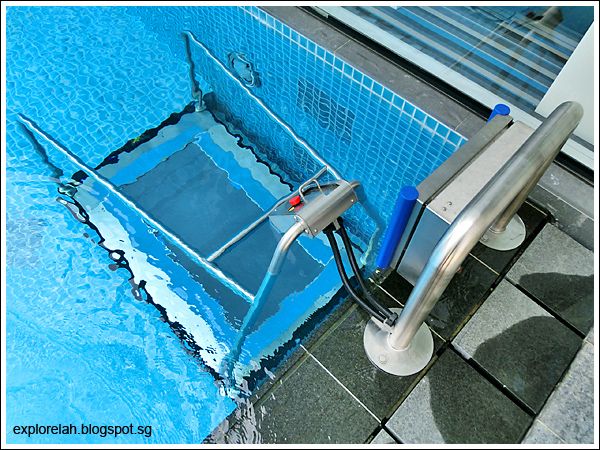 Ariel would approve of this. Capri by Fraser is the first hospitality establishment to have a hydro treadmill in Singapore.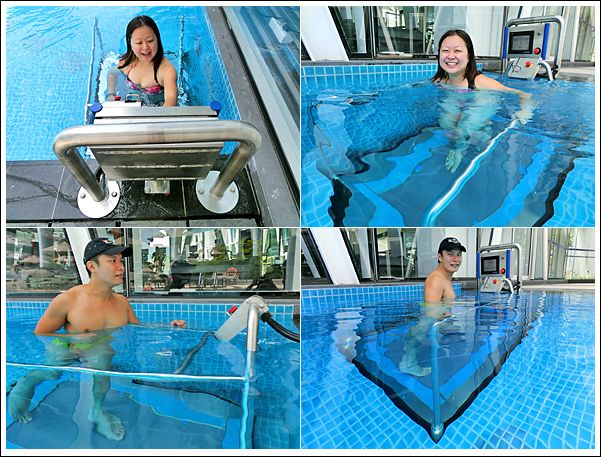 Feels like walking / running on the moon.
Outdoor jacuzzi with a difference. Catch a tan while bubbling the tension and stress away.
WILDLIFE ALERT! We have a beached dugong.

Buaya Girl with her Anna Della Russo crocodile-rimmed sunnies and dugong kungfu ballet.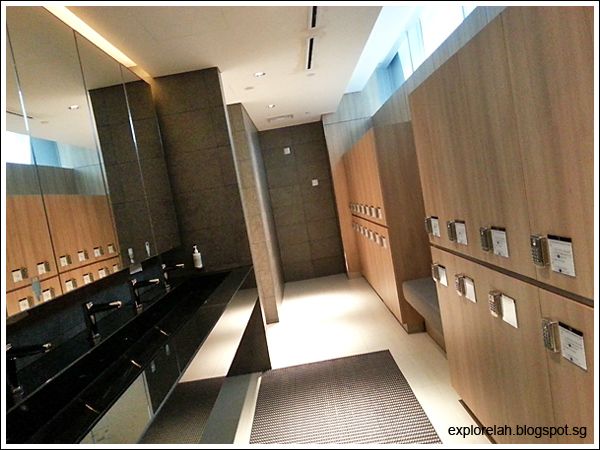 Interior of changing and shower room at Treat Suite. No towels here so do remember to get one from the pool area.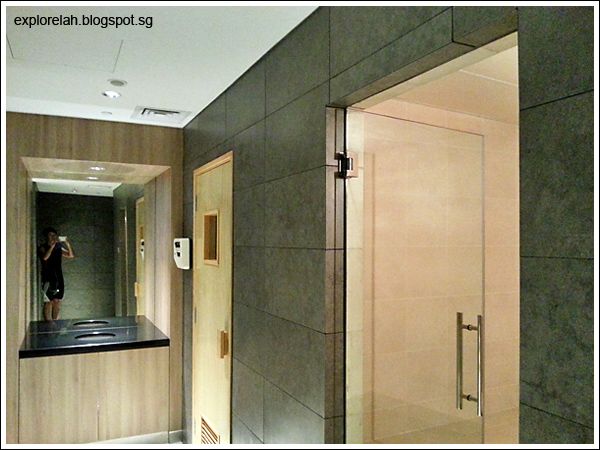 Sauna and steamroom. They are self-operated and runs on a timer. As they take some time to heat up (especially the sauna), my suggestion is to turn them on before you end your swim or workout. The steamroom takes about 3 minutes to spew vapour after pressing the On button on a controller insider. So if you turned it on and nothing seem to be happening, wait. After a while, you should hear the chugging of water and the hissing of steam. I think instruction panels on the operations of the rooms should be put up to help idiots like me.

Changi City Point : Factory Outlet Haven
Acting as an extension to the wholistic staycation experience at Capri by Fraser is the attached access to Changi City Point mall. It was my first visit to the shopping complex and I think it is an attraction all unto itself with a beautiful roof garden, outdoor waterpark and a generous collection of factory outlet stores for reputable brands.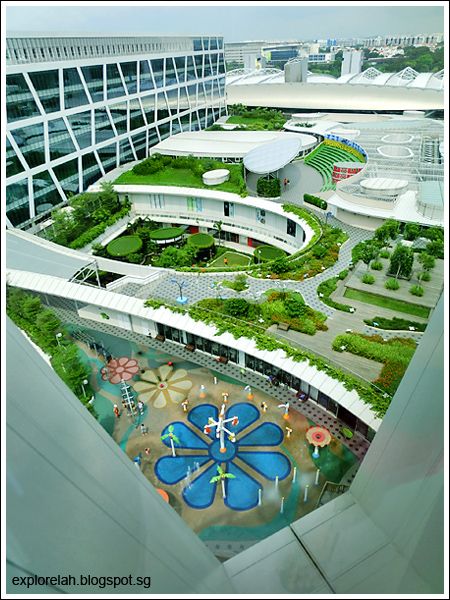 View of Chang City Point mall's waterpark and roof garden from Capri by Fraser's Spin & Play room on level 12.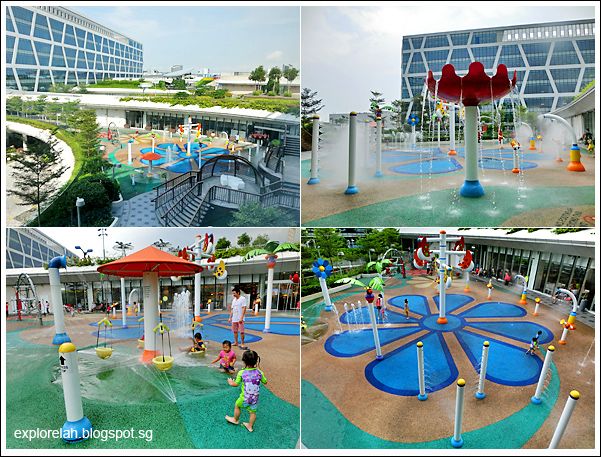 The top left photo is the view from my room on level 5.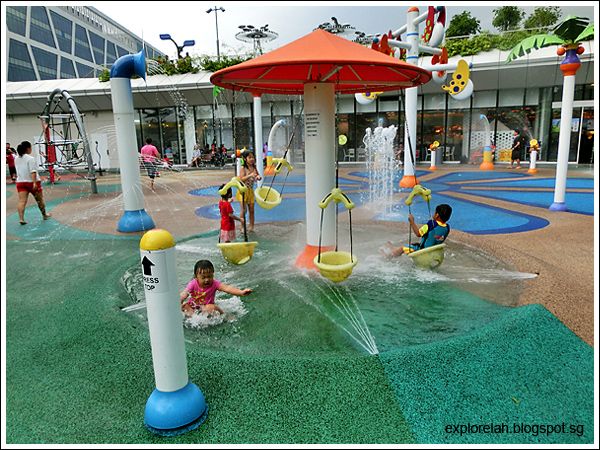 Kids really love it here. The man-child in me was very tempted to join in the fun by pretending to be the father of one of the kids. Heh heh.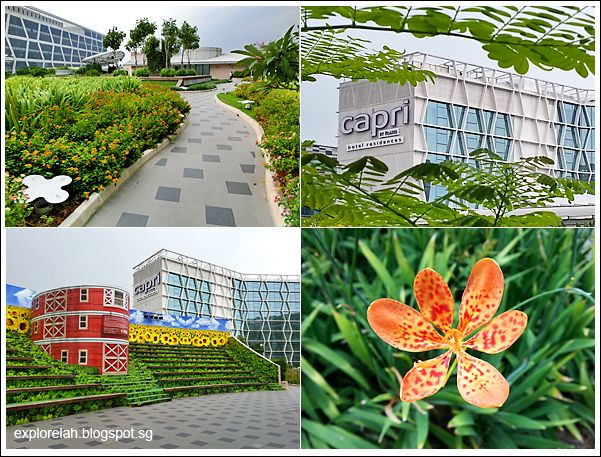 The manicured roof garden is home to some pretty interesting blooms.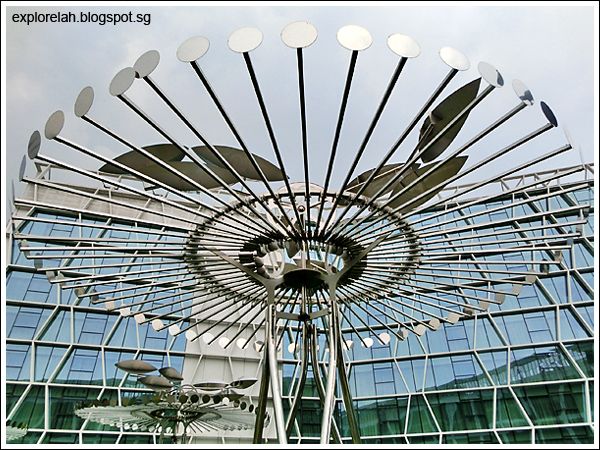 Wind-powered scultptures added a hi-tech yet organic movement to the enchanting garden.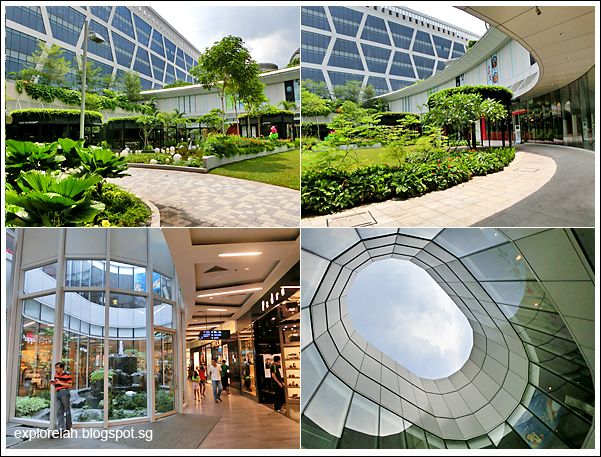 It's like shopping and dining in a garden with ample greenery outside and within the mall.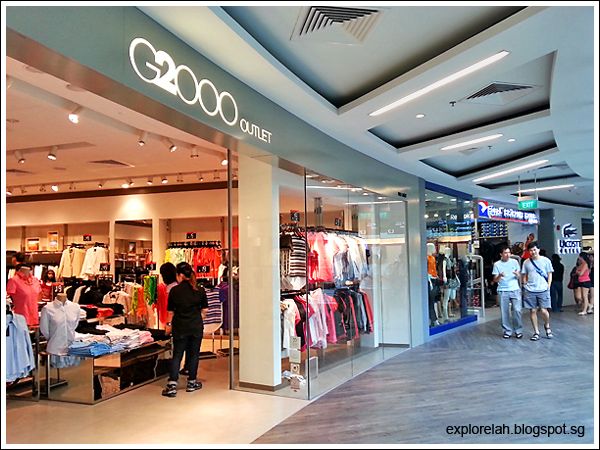 Just a few of the many factory outlet stores at the mall. And across the road at the other side of Expo MRT Station are the Expo convention halls where huge sales by branded retailers are frequently held.
A Great Stay for Business or Leisure
If you made it this far with this long post, you would see why I totally enjoyed my stay at Capri by Fraser. Although the hotel-residence is conceptualised and built for tech-savvy business travellers in mind, I think it is one of the best places for a weekend vacation getaway for locals. Room rates are reasonable too with non-peak prices starting from S$230 per night.
Capri by Fraser will have its official launch in early 2012. To celebrate its soft launch, the resitel is offering a great 3 nights' stay for the price of 2 (
Stay 3 / Pay 2 promotion
) till 6 Jan 2013! Don't miss it!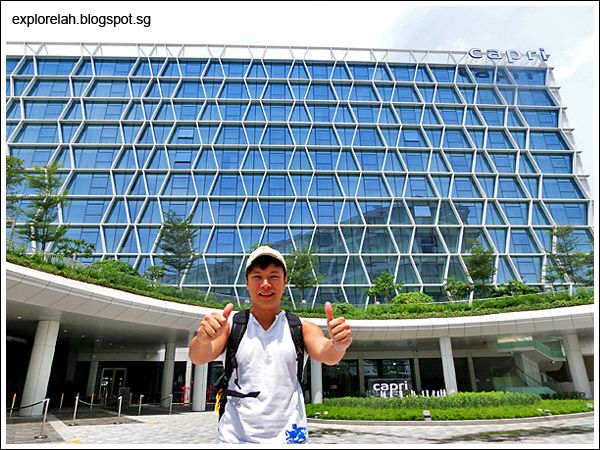 What you don't see is that my big toes are doing the thumbs up too!
Address :
3, Changi Business Park Central 1, Singapore 486037
Tel :
+65 6933 9800, 1800 338 0800 (local toll-free),
Fax :
+65 6933 9888
Email :
singapore@capribyfraser.com
Website :
http://www.capribyfraser.com