Date of Exploration :
10 Dec 2011
If the mention of Peranakan sends your tastebuds into overdrive, well, don't stop at your gut. It's time to drive further down the Straits-born Chinese highway to bask in its colourful culture.
During a recent trip to Penang, I finally appreciated the full distinctiveness of the nonya and baba heritage. It goes far beyond just
Otak-Otak
(charcoal cooked fish meat in banana leaf),
Ayam Buah Keluak
(signature nonya dish of chicken stewed with keluak nuts, a black nut that originates from Indonesia), the mouth-watering
Assam Laksa
and colourful
Kueh-Kuehs.
The people's penchant for bright colours and intricate designs, like their fusion of culinary traditions, is no less a feast for the eyes as it is for the stomach.
And the best place to soak in the finest example of Peranakan home and decor would be the stunning
Pinang Perankan Mansion
. Here are the reasons why this historical gem is one of the many pride of Penang...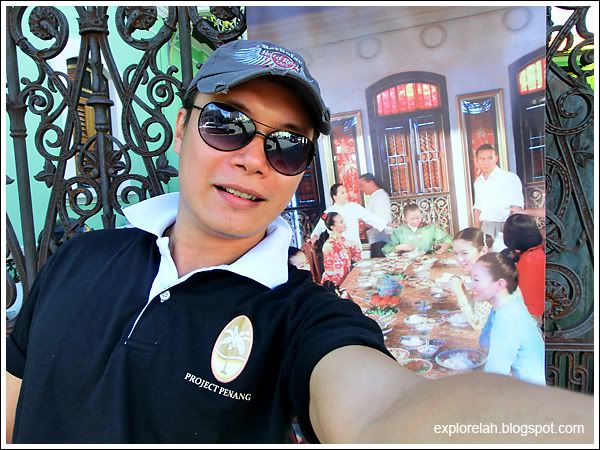 Familiar Singapore actors greeted my visit through a banner proclaiming that the hugely popular drama series 小娘惹 (Little Nyonya) was filmed on location here.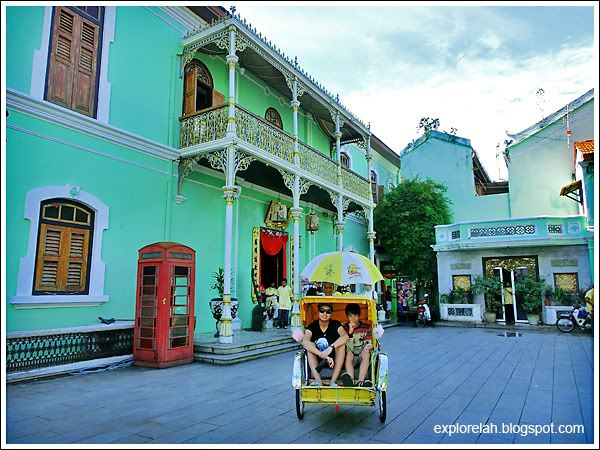 The mansion's eye-catching flourescent green visage serves as a teaser of the even bolder colours and hues housed within.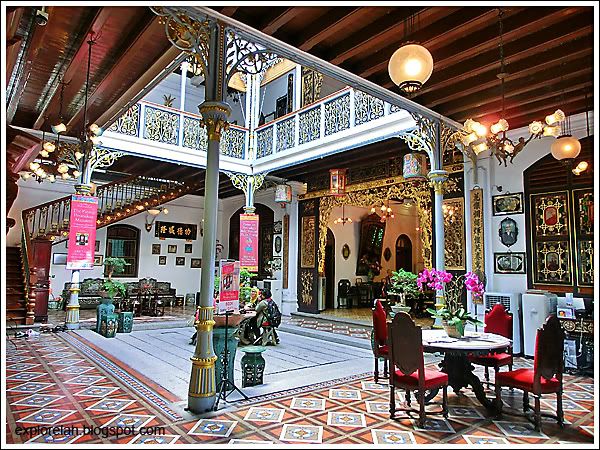 Upon stepping in, my breath was momentarily taken away. I thought it was going to be some lame museum. Instead, it was a walk-in wonderland of how the wealthy colonial Peranakans lived.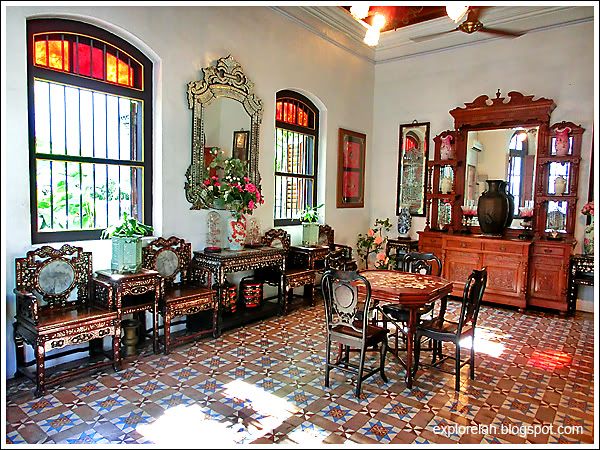 Opulent, busy and eclectic. From the multi-coloured window panes to the furnishings to the home accessories, everything has a design on them. This recreational room for mahjong and all other functional rooms had my camera spellbound.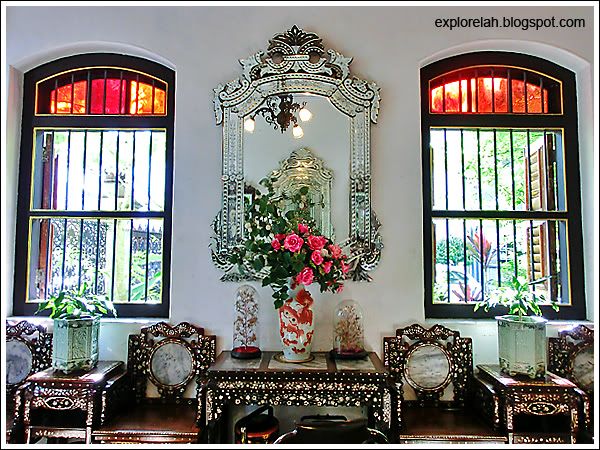 Infinity mirror. In the art of Feng Shui, I think placement of infinity mirrors symbolises longevity. Or since these were placed in the mahjong room, it's to look into the other player's cards!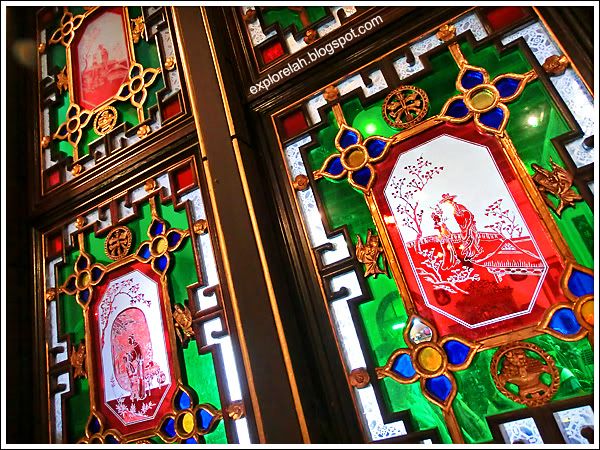 A glassy twist to Chinese silk and paper screens.
The mansion has 2 levels. Ground floor houses halls and function rooms while the upper level is where the bedroom chambers are located.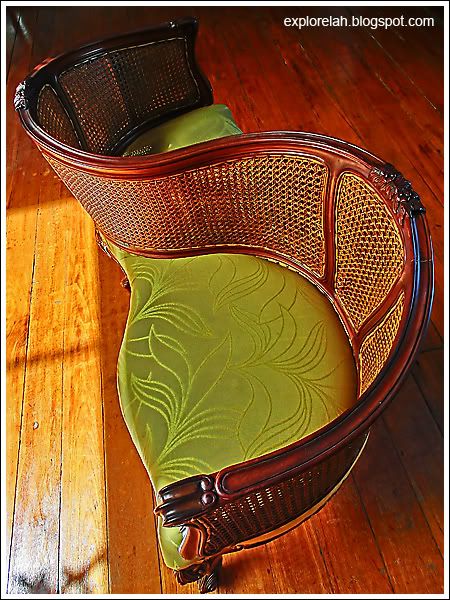 Oh lala... Nice curves!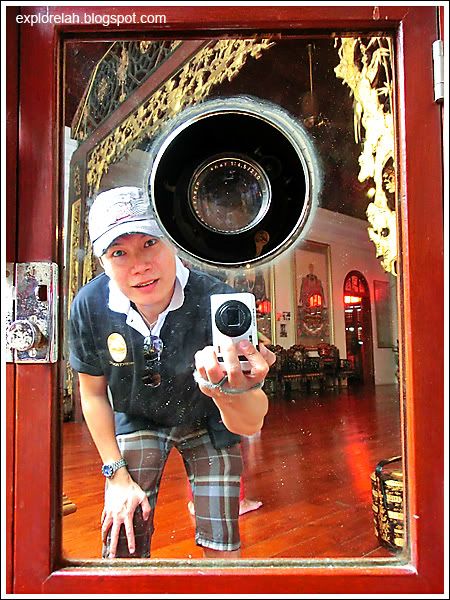 Casio Exilim ZR100 meets its ancestor.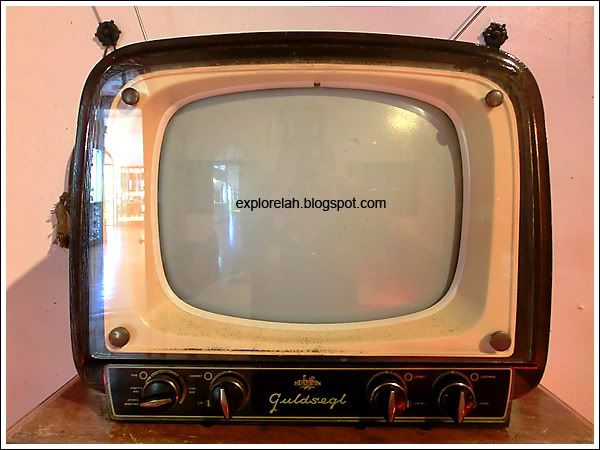 Before flat screen, there's fatscreen.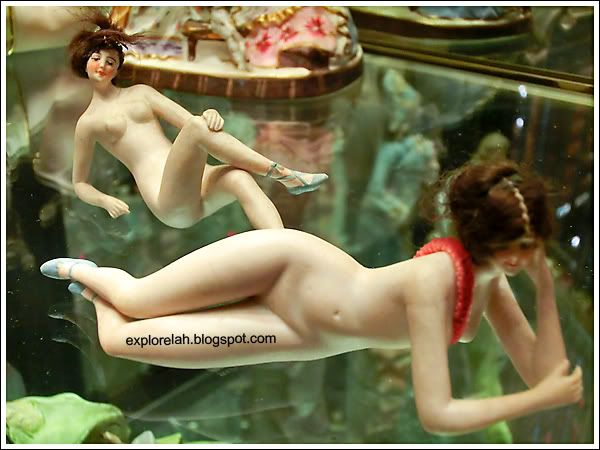 Old world erotica or Barbie's grandma?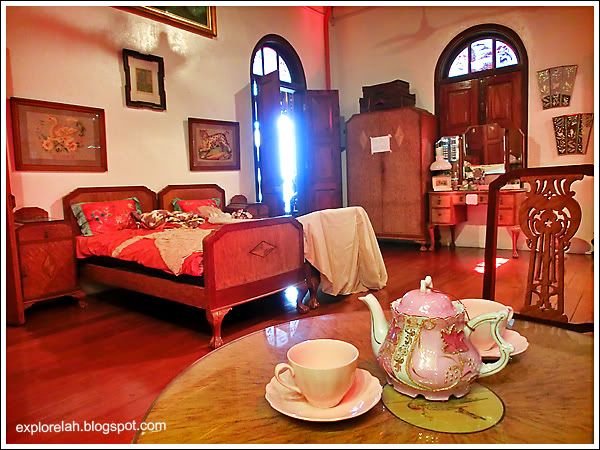 Set-up of a bridal room.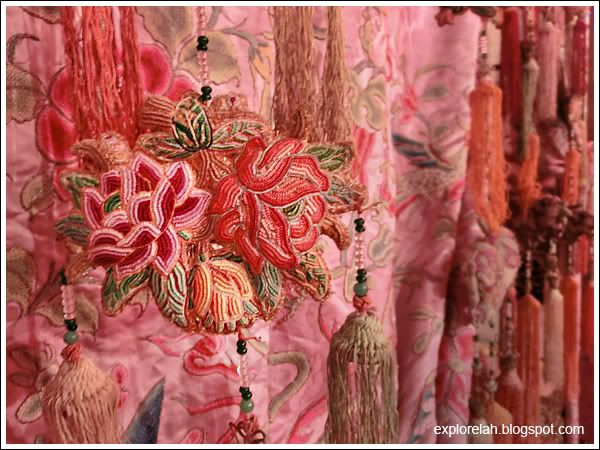 Nuptial decorations.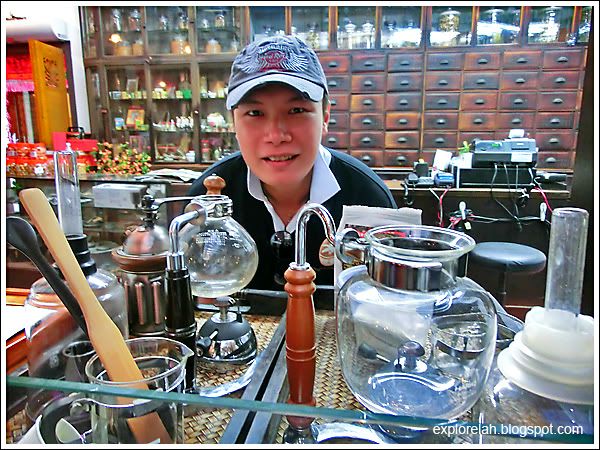 Photo idea by Star newspaper's photographer, Chan Boon Kai. This was taken at the mansion's 'kitchen' where local coffee and nonya kuehs are sold.
A separate building next to the mansion is the ancestral temple. Don't miss stepping in to have a look.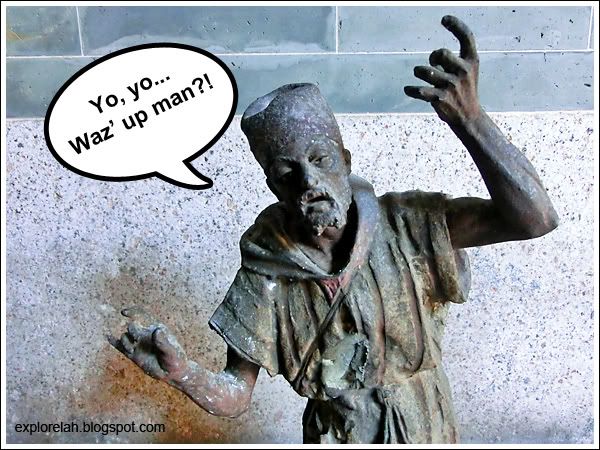 Hey homie... Darren in da' Peranakan Houz! Love the rendering of clothing texture on this sculpture that is so full of expression in its body language.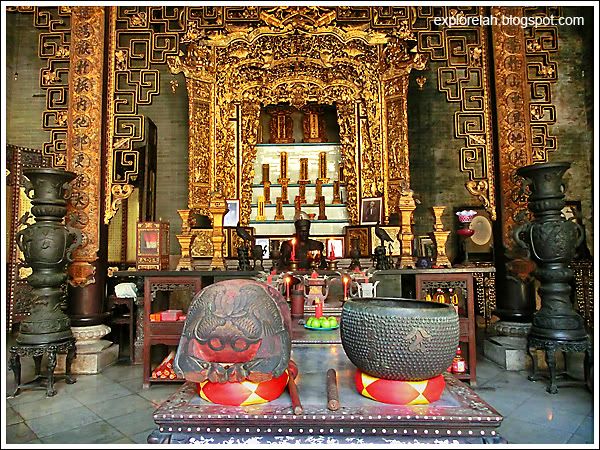 Such a grand altar for the ancestors.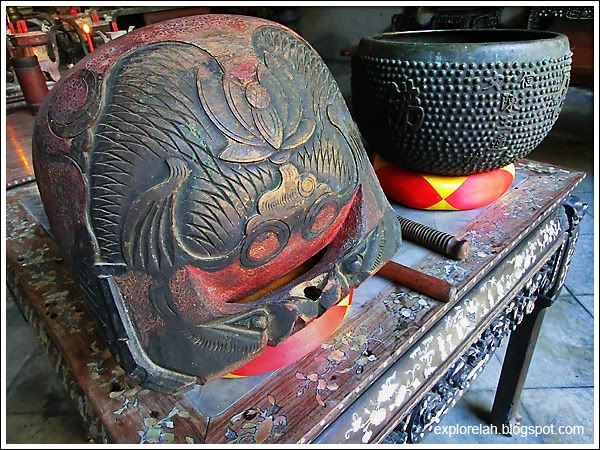 Even the 木鱼(wooden fish) and 颂钵(singing bowl) are so elaborately decorated.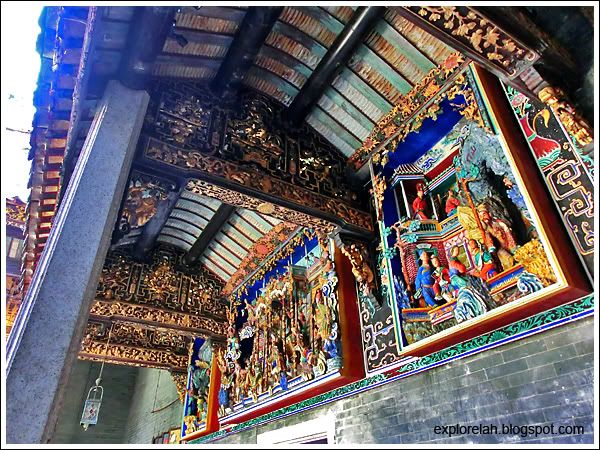 On both sides of the ancestral hall are sculptured reliefs depicting the scenes of heaven on one side, and hell on the other.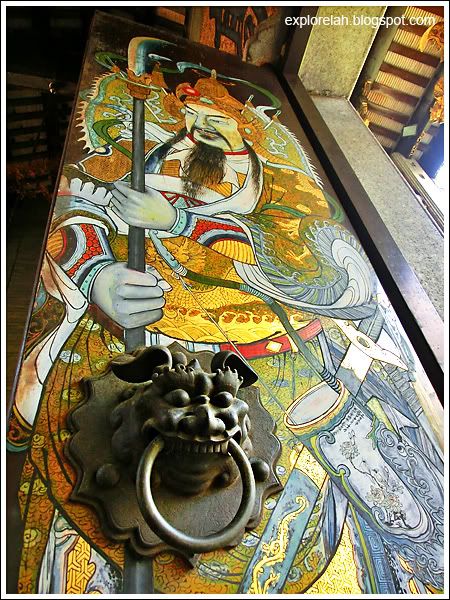 What a fierce and huge knob the 门神(door deity) has! I wonder if the knob was intentionally placed at where the god's *ahem* should be.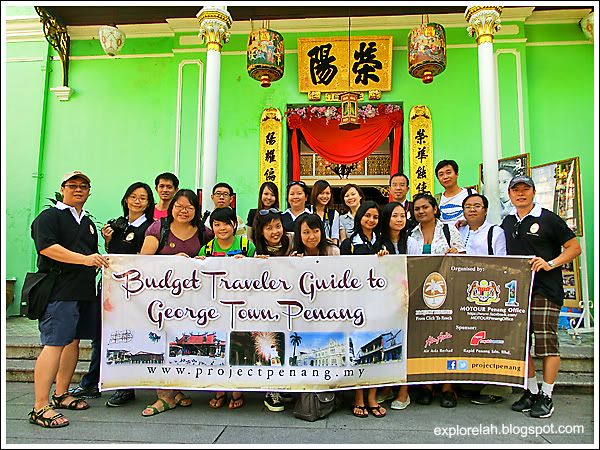 Group photo with fellow travellers to uncover the best of Penang on a budget.
The Peranakan Mansion is truly an eye-opener. I wished I had more time to explore this house that was so spick-and-span. I can't imagine the work that goes into cleaning all those furniture and tons of decorative glasswares.
We had a guide who explained the various highlights of the mansion but he didn't sound enthusiastic about what he was telling us so I wandered off on my own. A good guide is ever so important to breathe soul into a place.
Hope this post gave you an idea of what to expect at the mansion. For more history about the Peranakans, do drop by my
post on Malacca
. The Malaysian state is considered to be the birthplace of the baba-nongya culture during one of Zheng He's sea voyages. Happy exploring! :o)
Address :
29, Church Street, 10200 Penang, Malaysia
Tel :
604-264-2929
Opening Hours :
9.30am - 5.00pm daily (incl. P. holidays unless specified)
Admission :
Adult - RM10.00, Child - RM5.00 (below 6yo free)