Date of Exploration :
6 - 7 Jan 2012
Hey ya... hope your 2012 has been off to a great start! :) I took my first trip of the year with a short weekend getaway to Bintan, the largest island within Indonesia's Riau Archipelago of 3,200 islands.
I bought the tour package through Deal.com.sg, an online portal touting great savings for products and services in the range of 40% to 79% off the original price. Such massive price cuts! So tempting right? Being the budget-conscious traveller that I am, I thought I've found my vacation wet dream.
That is until I bought this
2D1N Bintan Agro Beach Resort
deal from them and woke up to a nightmare. The site should be called
ordeal
.com.sg.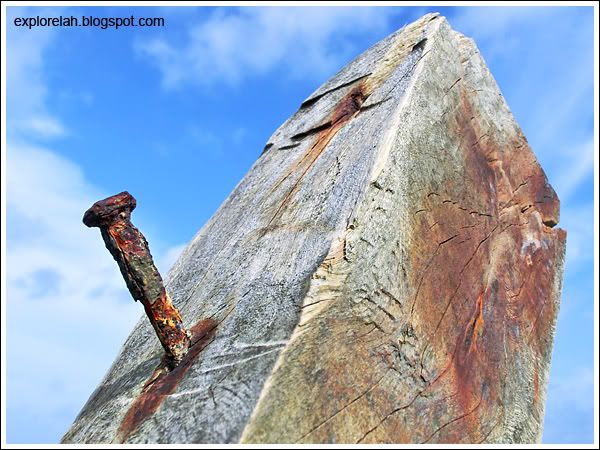 Like a nail to the coffin, my Bintan orDeal sealed vacation bliss in a place no one wants to get to.
Here are the reasons why this orDeal.com.sg offer sucked :
1. MAKING RESERVATIONS WAS A PAIN WITH ANITA TRAVEL
When I purchased the package from orDeal.com.sg, I was emailed a voucher which I have to redeem with Anita Travel, a smallish tour agency located on level 3 of Parklane Shopping Mall. I bought the package on 21 Nov 2011 and I had up to 30 Nov 2011 to email the voucher to Anita Travel to make a reservation. So I emailed the agency the very next day. The agency didn't respond immediately to acknowledge receipt of my booking. I waited. And waited.
It was getting close to the 30 Nov cut-off date. Concerned, I called the agency on 28 Nov to enquire. They've received my email, but hadn't processed it. After another follow-up call, I finally got a confirmation email from them on 29 Nov. In it, they asked for passport details. I replied immediately. And it's another waiting game.
It was well into December when I called again to ask what's happening with the reservation. That's when they told me they couldn't open the voucher pdf file I forwarded them from orDeal. What the #&*%! I sent the file so friggin' long ago and they tell me now that they can't open it?! So I forwarded the voucher again. And waited.
Anyway, after some more calls and follow-ups, I finally received a confirmation email from them with the ferry details and itinerary. I was told to go down to the agency to collect the documents and make payments for seaport taxes and extra weekend levy. Such a hassle!
2. IT'S A LOUSY DEAL
The 2D1N Agro Beach Resort package, according to orDeal, costs S$198 per person but the site is offering it at 50% off. So it costs only S$99 per pax but requires 2 to travel. Isn't that the same as paying S$198 for a room?

The deal is pencil-thin with slim offerings of activities and meals that's of any real value.
Below is a listing of what the package includes. I've placed the actual costs of the items in brackets if you were to purchase them a la carte :
- 1 night stay in Agro Beach Resort Deluxe Room (S$110 according to the hotel's website)
- Return ferry tickets (S$45 / person)
- 2-way ferry terminal to hotel transfers (S$10 / person)
- 1 Indonesian lunch, 1 Indonesian dinner, and buffet breakfast for 2 persons
- 30 minutes bicycle rental (S$5 for 30 minutes / person)
- 30 minutes kayak rental (price unknown)
- 5 minutes Banana Boat ride (price unknown)
It excludes seaport tax (S$22 / person) and weekend levy (S$30 / person). In total,
we paid S$302
for the package. That's
S$151 per person
instead of the S$99 offer screaming on orDeal's webpage.
Considering the package
originally costs S$500
[(S$198 + S$22 + S$30) X 2], paying around S$300 ain't bad. But what sucked is that what we got is totally not worth S$500 in value! In other words,
THERE IS NO DISCOUNT, WE ARE PAYING THE ACTUAL VALUE OF THE PACKAGE.
I felt kinda scammed by orDeal.
Why do I say so? Here's the math...
Agro Beach Resort Deluxe Room - S$110 / night (sleeps 2 adults)
Weekend surcharge for 2 adults - S$60
Return ferry ticket for 2 adults including taxes - S$134
2-way ferry terminal to resort transfer for 2 adults - S$20
Total lodging and transport costs : S$324
30-minutes bicycle rental for 2 bikes - S$10
30-minutes kayak rental for 2 - Assume S$10
5-minutes Banana Boat ride for 2 - Assume S$10
3 meals for 2 - Assume S$20 for lunch and dinner, S$20 for breakfast
Total activity and meal costs : S$70
Actual cost of package : S$394
S$394 doesn't seem too far off from S$500 you may say. However, you have to consider the reality of actually utilising all the activities listed. In other words, they can have a long list of fringe benefits added to jack up the value of the package but you don't actually get to enjoy all of them or the length of time stated is excessive.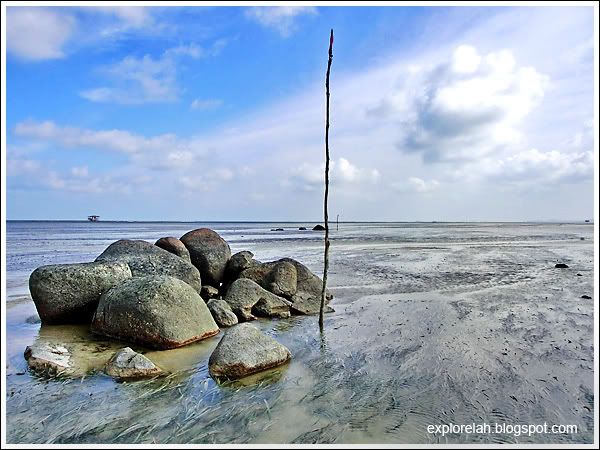 The receded tide during the day exposes a muddy shoreline that stretches for miles, making water-based activities impossible.
For example, we redeemed the 30-minute bicycle ride but were told we could only cycle around the resort. Within 5 minutes of riding in a leisurely pace, we were done. There's nothing much to cycle around for in the resort. And the coupon for the bike rental was printed with the kayak rental. As it was extremely low tide on the day we rented the bikes, we couldn't kayak. The next morning, we wanted to row since the tide is back but realised that we've given the coupon the previous day for bike rental and don't have one to justify the kayak rental entitlement.
As for the Banana Boat ride, it's stated that each ride needs a minimum of 3 pax. There was only 2 of us. So in reality, we only got to realise the bike rental which in my opinion, is totally boring and not worth it being listed as an item in the package.
Anyhoo... enough of the grouses. Here's a photologue of the trip...
Tanah Merah Ferry Terminal
Ferries leave Singapore to Bintan from the Tanah Merah Ferry Terminal. Our departure time was 9:10 am and check-in was 1.5 hours before the ferry departs. Coming back, our ferry departure time was 2:35 pm (Indonesian time).
I'm not sure if a later time to come back from Bintan can be requested with the travel agency as the last ferry is at 8:15 pm.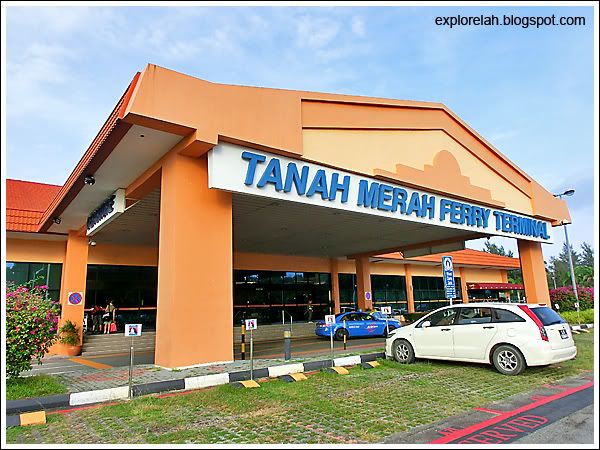 How to get to TMFT : Take MRT to Tanah Merah MRT Station and leave through Exit B. It leads to a bus-stop where you can take Bus 35 to TMFT. Bus 35 Frequency : 15 minutes (peak), 20 minutes (off-peak). The ride takes about 10 minutes. Alternatively, you can take a cab there or drive to the terminal and park overnight.
Inside the Departure Hall.
It's a 1-hour ride from Singapore to Bintan.
Our ferry was operated by Bintan Resort Ferries. The photo has been tilted on purpose to illustrate that the boat ride can be rather bumpy.
Air-conditioned and comfortable. There's a small deli onboard selling snacks and drinks.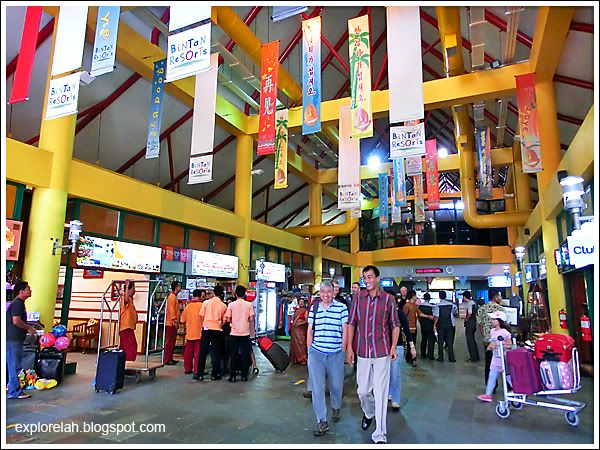 Bintan Bandar Bentan Telani Ferry Terminal. Bintan is 1 hour behind Snigapore.

A chartered van picked us up from the terminal to Agro Beach Resort. It was small and old. The return van was worse. It looked ready to fall apart.
Bintan Agro Beach Resort
After a 1 hour 10 minutes uncomfortable van ride, we arrived at Agro Beach Resort. Look-wise, the resort suffers from an identity crisis. Its architecture and style of decoration is a confusing conglomeration of retro, townhouse-chic, rustic, and Balinese.
Evidently, the resort is trying to take itself seriously, but not succeeding. The accomodation blocks look pretty good, but the rest of the resort's compound and amenities are starved of attentive care.
Check-in time was 3 pm but we arrived at 10:30 am. The reason was that check-out time was 12 pm and the resort needs time to freshen the room.
Hwah.
We have 4.5 hours to kill until we get the room. But the receptionist was kind enoughto issue our key when we went back at 1pm.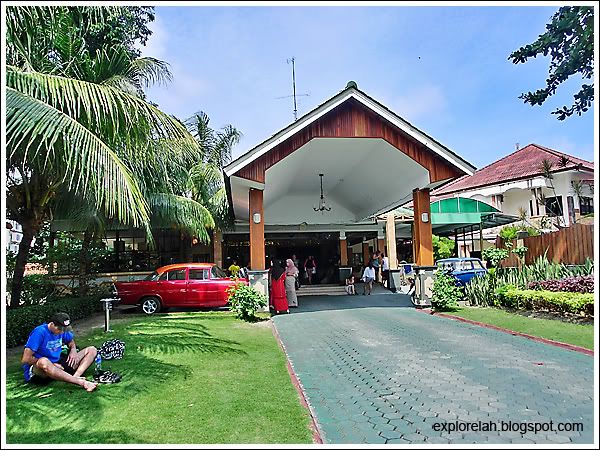 First impression of a hotel starts with its reception lobby. Agro Beach Resort's front desk was rather shabby, a sharp contrast to the fine looking townhouse-like accomodation block next to it.

The best looking block in the resort. Looks like it is a new addition.
You need to be a scientist to figure out the room numbering. Our room was 3201 but it's located at level 2. Typically, the first number denoates the level the room is on.
Maybe because of the reception, I wasn't expecting much of the room. But I was pleasantly surprised. It's clean and rather handsome. Especially the picture window that looks out to the beach. They ran out of twin rooms so we had to take a king-size bed.
The other piece of clever design here other than the room numbering is the power sockets. The sockets are 3-pinned but the electric kettle and hair-dryer the resort provides come with 2-pin rounded plugs. Duh...
A small balcony outside the room. Our view was partially blocked by a coconut tree.
Directory and path pointers. What's indicated here but we didn't see was Horse Riding.
An open-air corridor leading to the Asiana Restaurant where dinner and breakfast was served and the gym.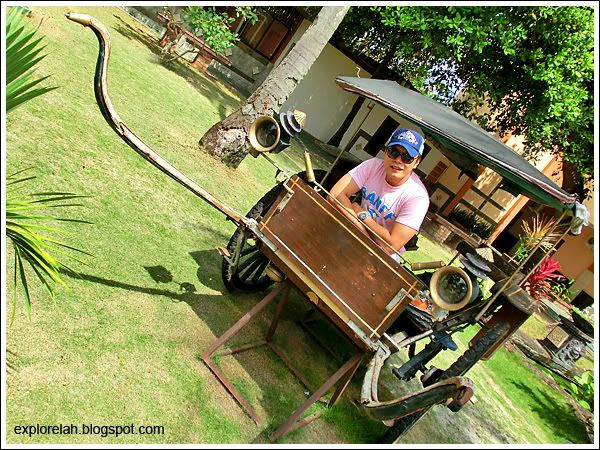 An antique horse-drawn carriage attempting to be a point of interest outside Asiana Restaurant. Looks out of place and kinda salah (wrong).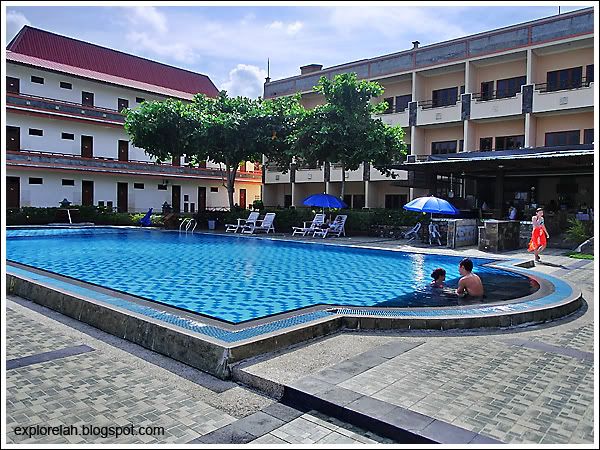 The Asiana Restaurant looks out to a second pool within the resort that is much bigger than the one next to the lobby.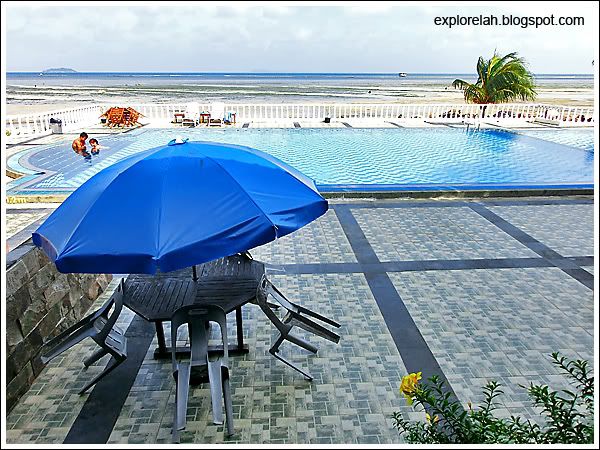 View from Asiana Restaurant.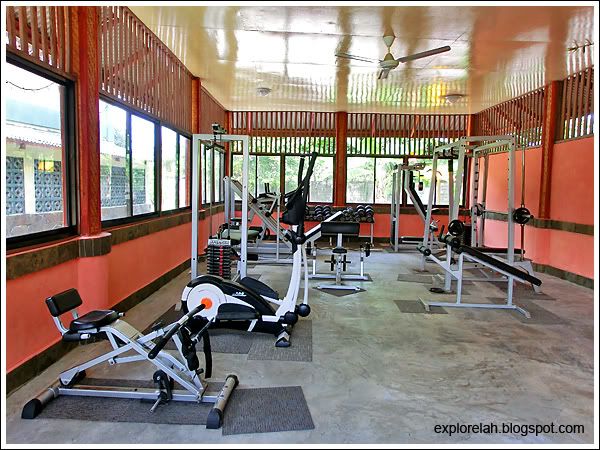 The hotel's Fitness Center is not air-conditioned which means that while working out, your sweat will act as dinner bells for mosquitoes.
Saw this gorgeous tree with an almost horizontal spread of branches at the mouth of the driveway leading to the reception.
The wooded sign said it. But calling it a zoo needs a lot of imagination as all there is was a few badly maintained cages with some birds and lots of rabbits. I came across a species of tortoise that really closes its shell all the way, unlike those I'd seen that leave a small gap where the head is after it retracts.
The cages were in such a bad state, I thought I would be looking at animals on the way to becoming carcasses. But they were all healthy, sprightly and well-kept. Thank goodness!
This rabbit enclosure was secured only by a piece of twig, which translates as an invitation for my itchy fingers to interact with the bunnies.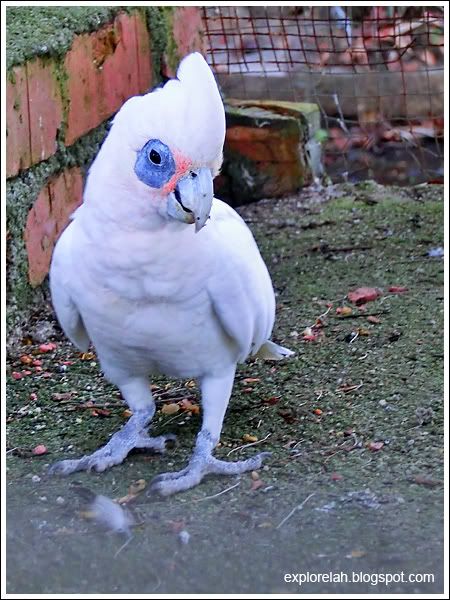 This white dwarf parrot was very jumpy. It jumped every time I moved.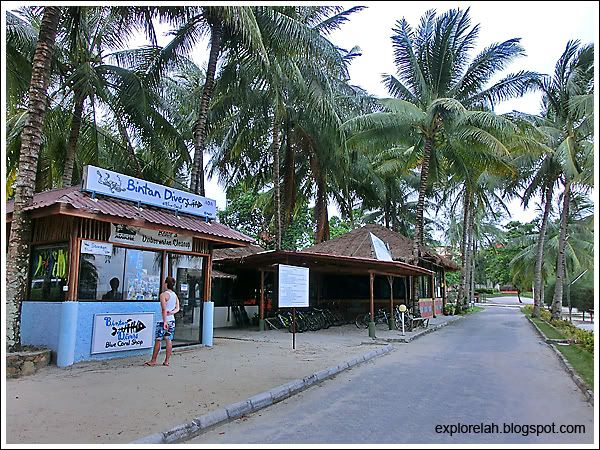 Sea sports center where kayaks and bicycles can be rented.
Main road outside Agro Beach Resort. There are no street lamps so not a good idea to be out here at night.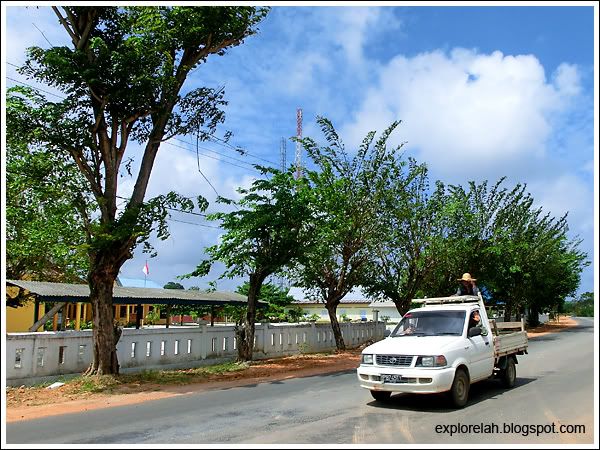 Took this photo without realising that the passenger was actually waving at me. The people on Bintan Island are pretty friendly. English proficiency is inconsistent amongst the local folks.
An eatery and provision shop along the road outside Agro Beach Resort. Prices at the provision shop is cheaper than the convenience store at the resort. A 500ml bottle of mineral water costs Rp2,000 (S$0.30) here as compared to Rp6,000 (S$0.90) at the resort.
Electricity is unstable at Agro Beach Resort so bring along a torchlight. We experienced quite a few blackout episodes throughout the night.
Culinary Injustice
When I saw that the package included an Indonesian lunch and dinner, my tastebuds sprang into a Legong frenzy. I was imagining all kinds of exotics since that the pre-discount package price would buy. Never mind the lack of price justification with the activities, perhaps food is where the bulk of value is concentrated at.
For lunch, we had it at Sun Moon Restaurant while dinner and breakfast were at Asiana Restuarant.
The kelong-styled Sun Moon Restaurant provided a dining ambience that's outside of the usual.
Lots of school groups seem to favour Bintan as a destination for overseas outings. Met an assembly of CHIJ girls at the restaurant and a horde of SJI boys at the ferry terminal when leaving Bintan. Sun Moon Restaurant had a communal dining hall and air-conditioned room that was partially cordoned off for karaoke.
This was our Indonesian lunch. It came with a salted vegetable soup for 2. That was all. WHAT THE #$%&?! People pay S$500 (original package price for 2) for this? What an injustice to Indonesian cuisine and misleading advertising by orDeal.com.sg! The so-called 50% discount it offered was no discount at all. We just paid for the actual value of what the package is worth.
And they are very smart. The food portion wasn't very big so we ordered extra. The prices of food weren't cheap. The exchange rate was Rp10,000 = S$1.50. We ordered an additional small Butter Oatmeal Prawn at Rp78,000 (S$11.00).
At S$11.00, the price differed little from what we would get at Singapore zi-char stalls considering that the prawns were small, not very fresh and with a similar serving size.
I was utterly disappointed with the food. After the lunch, I gave up on photographing the dinner which was a individual serving of
chap chye soup
(mixed vegetable soup) and a platter that's the same as what we had for lunch but the fish was replaced with a skinny chicken drumstick in Indonesian BBQ style. Totally unsatisfactory.
Breakfast was slightly better. Simply because it had variety and it's a buffet to make up for the under-feeding during lunch and dinner. But again, don't expect too much. I don't think Agro Beach Resort represents the taste of Indonesia well.
Trikora Beach
And now, let's move on to the biggest disappointment of all... the beach. I've been to Bintan a couple of times and I've stayed at Mana Mana Resort, Mayang Sari and Bintan Lagoon. These resorts are located at the northen tip of the island and I recall that I've enjoyed the beaches tremendously during those visits.
That's why I was willing to come back to Bintan again with the orDeal package. But this trip changed everything.
Agro Beach Resort is located at the eastern part of Bintan. I imagine that it would offer a beautiful sunrise view because the sun ascends right in the middle of the horizon. I wanted to wake up for a sunrise shoot but overslept.
Whoops!
Back to the beach. The stretch along the eastern coast is known as Trikora and it is separated into 4 sections - Trikora 1, 2 ,3 and 4. I'm not sure which section is Agro Beach Resort on but when we were there, it was low tide and the water receded so far out, the muddy coastline stretched endlessly.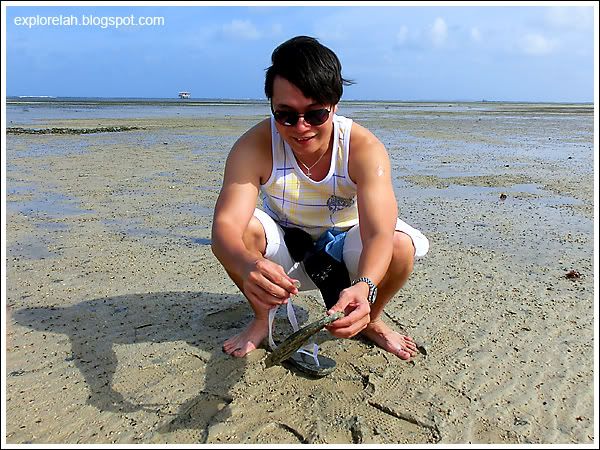 The mud was so sticky that my Haviana slippers got 'ripped'.
Something's lurking in the water...
We got bored walking endlessly on the beach so we decided to take jump shots to self-entertain.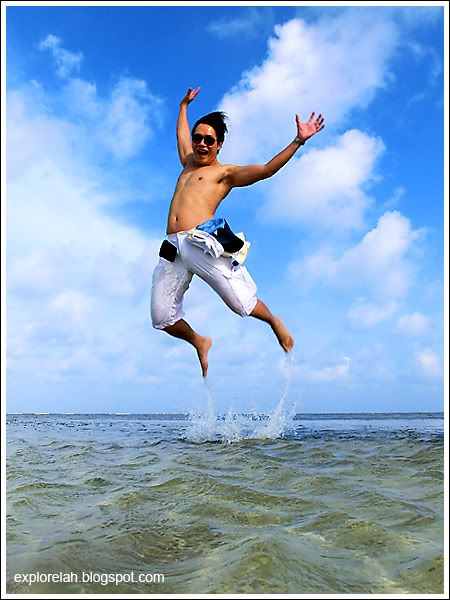 Low-angle jumpshots with water in the foreground were the most fun we had.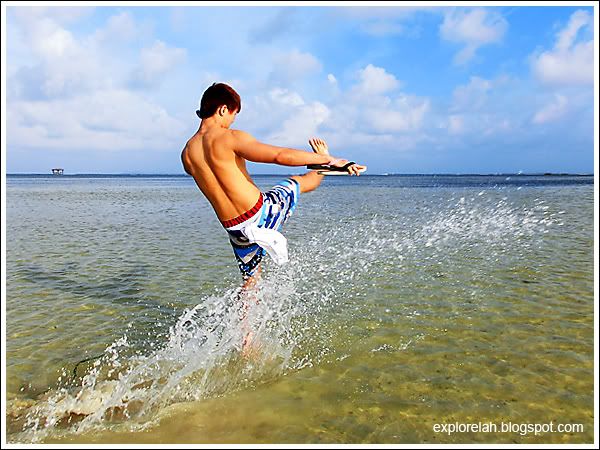 The other fun thing to do was taking splash shots since the water level was constantly low with no waves.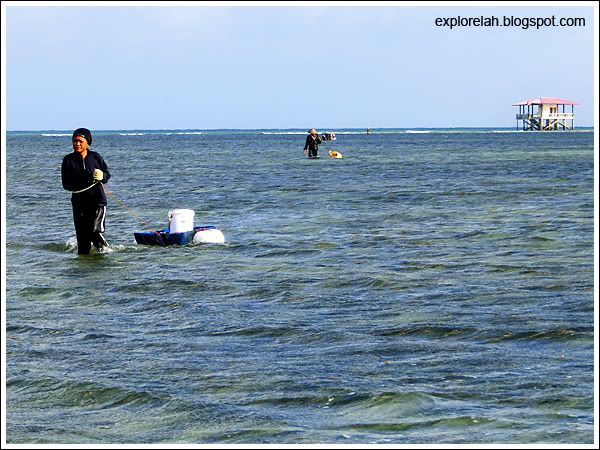 Saw this few ladies tugging something behind them... what's in them? Notice how far out the last lady was at. Where I'm standing, I was already very far from shore. This shows how shallow the water was.
The ladies were out harvesting cockles and other shelfish during the low tide.
We've Bin here.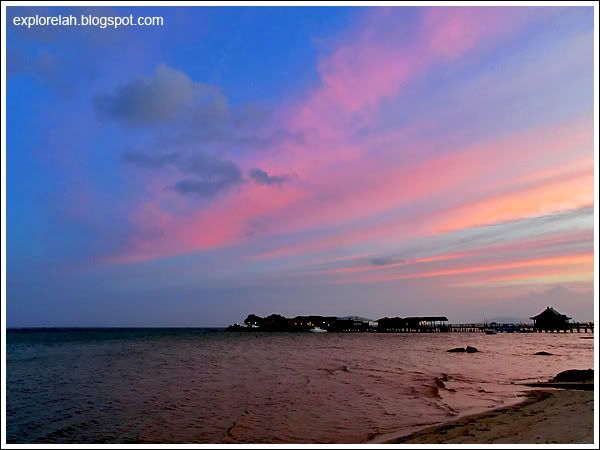 Evening hues at Bintan Agro Beach Resort with the Sun Moon Restaurant extending out the sea. Finally the ocean rushed back to shore but by then, it's too late frolick in the waters.
I hope this post gave you an idea of what to expect with the 2D1N Agro Beach Resort package offered by deal.com.sg. I felt cheated by the promise of a 50% discount from the original price when I'm paying the actual value of what it was worth.
When things sound like a such a good deal that orDeal makes them out to be, be wary. They are often misleading and comes with a Catch-22!