, Surrounded by iconic buildings and structures on all sides, the Marina Bay basin is perhaps the most Singapore of Singapore. Some of the definitive architecture found within this waterfront neighbourhood include the
Singapore Flyer
,
Art Science Museum
,
Marina Bay Sands
,
URA City Gallery
, Merlion Park, Esplanade Bridge and
Esplanade Theatre
.
Shot with EX-ZR100 Panoramic mode.
The marina is beautiful when viewed or photographed from any angle day or night. But when it comes to getting a photographic perspective that is unmistakably Singapore, then a visit to the Merlion Park is a must.
Home to our nation's tourism Mascot, the Merlion, the coastal park includes a viewing deck that offers a great vantage point to take in all of Marina Bay.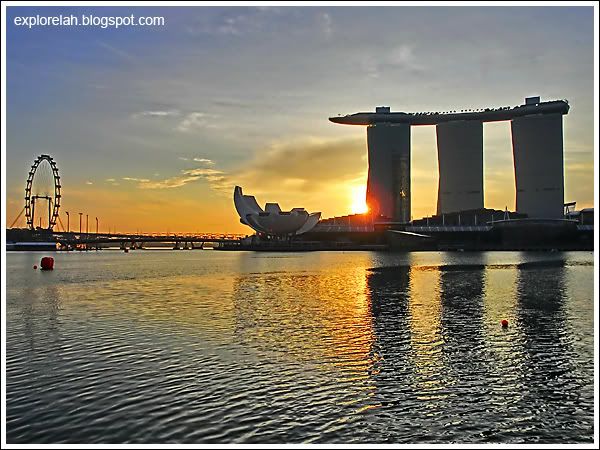 Sunrise at Marina Bay. Shot with EX-ZR100 HDR-Art mode.
But more than just an ideal spot to snap evidence of having been to Singapore, I recently discovered that the Merlion Park can be quite a nice location to shoot an urban sunrise.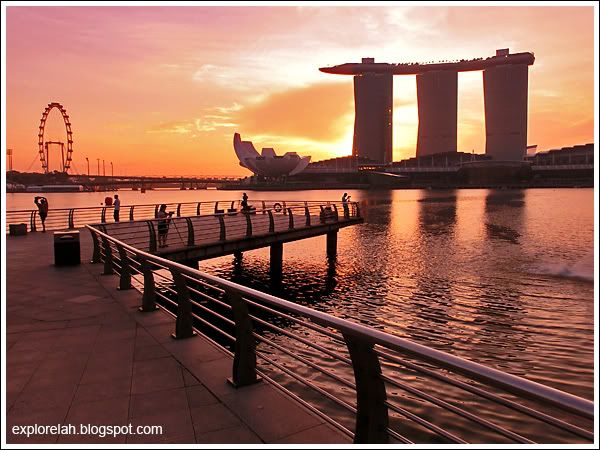 Simulating the golden hues of a sunset at 7:06am with EX-ZR100 Best Shot (Sunset) mode.
To shoot sunrise, I arrived at the park at around 6.45am. A few photogs were prowling the area for shots too while early risers sweated in and out of my shots during their morning jogs and workouts.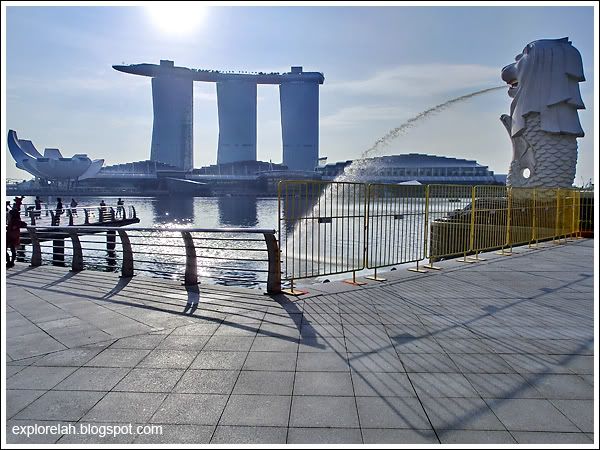 Can't fight the yellow railings so decided to make use of their shadows to compose this shot. Taken in HDR mode of the EX-ZR100.
The moment I arrived at the park, a major "Aaaaarrrrgggghhhh!!!" escaped my breath. There's nothing more agonising than making that extra effort to wake up before dawn, taking the first bus, enduring hunger, only to find an
ugly
argh-gly yellow barricade marring the shots.
I wonder when will the railings be removed.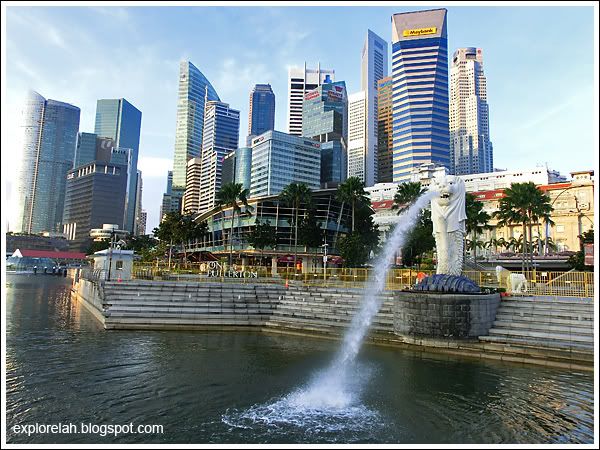 Framed against the towering skyscrapers of the Central Business District (CBD), this is the quinessential angle to take a "I was here in Singapore" shot.
The 8.6m Merlion statue at the park is the original. There are 4 other replicas of varying sizes found in around Singapore. This signature Singaporean symbol was designed by Fraser Brunner in 1964, a curator with the now defunct Van Cleef Aquarium.
The statue was made and installed at the mouth of Singapore River in 1972.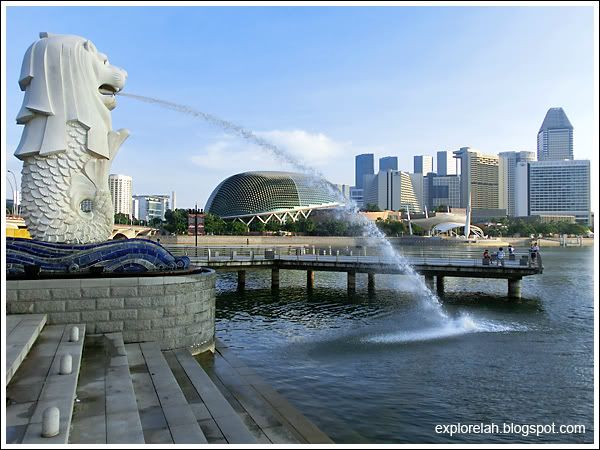 Another view of the Merlion with the Esplanade Theatre's beloved durian roof and Marina Square in the background.
The current location of the Merlion is not the original. After the Esplanade Bridge was built in 1997, view of the statue was blocked. So it was shifted to the Merlion Park in 2002.
As its name suggests, the Merlion is half fish (to represent Singapore's origin as a fishing village) and half lion (an allusion to Singapore's early name,
Singapura
, which means Lion City).
Met a couple who was walking and taking photos of their dog. And the owner is using the same camera as me! The Casio Exilim ZR100.
Such a fine looking dog with a good nature. I would never dream of Joy and Rainbow, my Min Pin and Jack Russell, to sit still for me to photograph. I think this is a puppy Golden Retriever.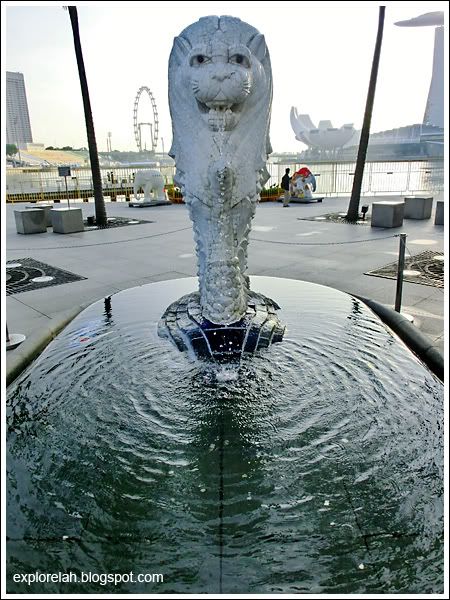 A cub statue sitting behind the larger one welcomes visitors to the park.
The Merlion has sort of become a figure of speech for us locals. When someone is puking a lot, we say that person is doing the Merlion.
Here's an example of how to use it in speech : "I was so drunk, I was Merlioning the whole night." It was once my frequently used sentence.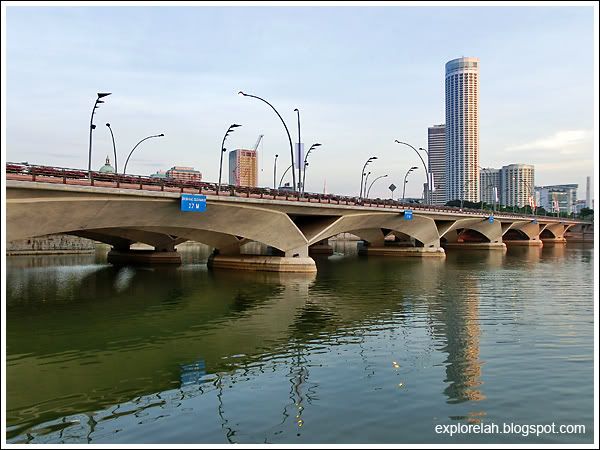 Esplanade Bridge with City Hall in the distanced marked by the very tall Swissotel The Stamford.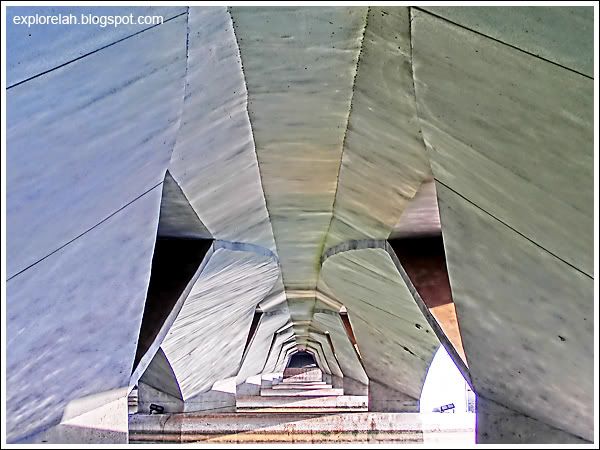 Underneath the Esplanade Bridge. Shot with EX-ZR100 HDR-Art mode.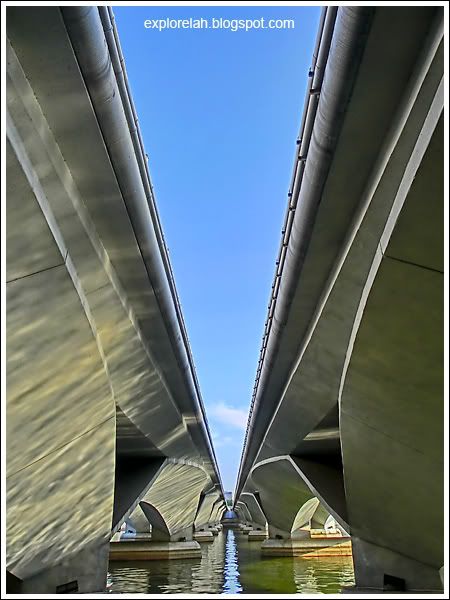 The bridge offers a spectacular vanishing point for perspective shots. I shot this with the HDR-Art mode and no Photoshop enhancements have been done to it.
Apart from the Merlion Park, don't forget to get under the Esplanade Bridge to take some amazing perspective photos. The above image was taken at 8:05am. I think that's a good time to shoot because the rising sun rays filtered in under the bridge and hit the water surface causing a textured reflection on the bridge walls.
Can see how shack I looked and my eyes were puffy from lack of sleep. And my hair...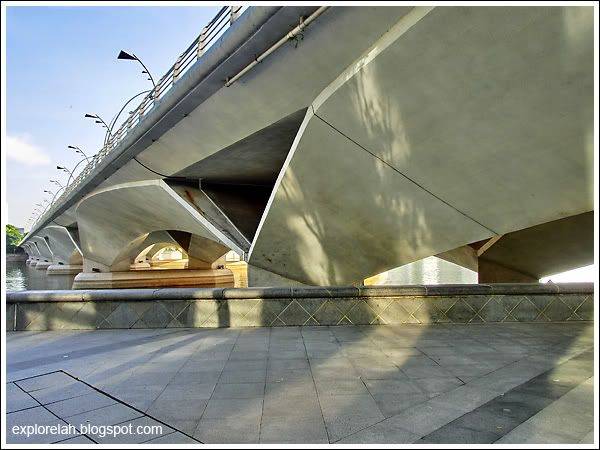 Haven't done sunrise photography in a long time because I'm not the bird-that-catchesthe-worm sort. But this impromptu shootout has rekindled my interest.
By 8.30am, troops of tourists were marching in. I'm always happy to see visitors to my homeland, but it was beginning to get harder to get clean scenic shots without hats and umbrellas blocking my view.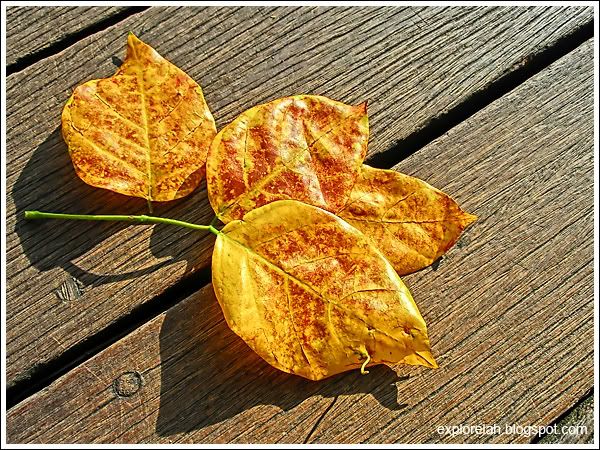 What a glorious day for photography but alas, my EX-ZR100 was running out of juice. It was time to retire the camera like these drained leaves shot in HDR-Art mode.
I hope this post has given you an insight about shooting sunrise at one of Singapore's key tourist attraction.
All photos have been shot with Casio Exilim ZR100 with minimal Photoshop post-processing done. I'm using the camera as part of a blogging challenge to explore its capabilities.