With the unprecedented flooding of Bangkok and her surrounding regions, one district had headlined news around the world as one of the critical strongholds against this Day After Tomorrow catastrophe. The district in the spotlight is Don Muang (now spelt 'Don Mueang'), home of Bangkok's former international airport which now serves as the hub for domestic air travel.
The airport also became a temporary headquarters for the Thai Flood Relief Operations Centre (FROC) during the crisis until 29 Oct 2011. FROC beat a hasty retreat when the airport showed signs of going the way of the Titanic, forcing it to relocate operations to somewhere near the famous Chatuchak Weekend Market.
I've passed through Don Mueang Airport in my earlier Bangkok trips before the swanky Suvarnabhumi International Airport took over in 2005. I don't recall much of the older flight terminal but the name Don Mueang rings fresh with me. Just over a year ago, I visited one of the district's lesser known attraction,
Muang Boran
(also spelt Mueang Boran).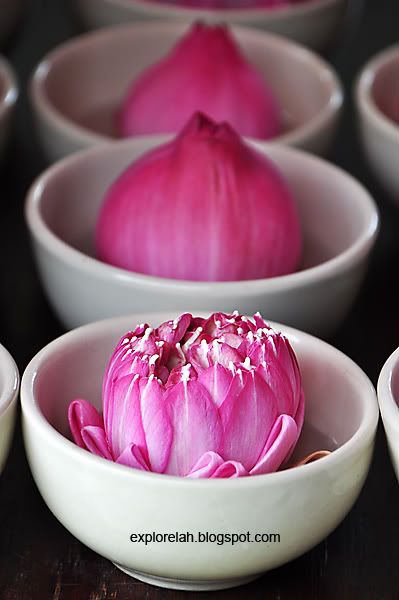 Muang Boran is like a budding flower yet to blossom as a must-see touristic attraction in Bangkok.
Bangkok's Best Kept Secret
In many ways, I consider Muang Boran to be the best kept secret of Bangkok as few people know about it and even fewer travel guides mention it. Even Bangkokians and local taxi drivers seem to have no idea where it is!
We took a cab with a
map of how to get to Muang Boran
and still the driver didn't know his way. We also got lost a couple of times because apparently, those people on the streets whom the driver stopped to ask for directions were equally clueless and sent us on a dodo hunt. Either that or the driver really liked having me in his car.
What was supposed to be
an hour's drive from Bangkok's city centre
took us about one hour and a half to get there. The cab meter registered 215bht (approx. S$9.00) but the driver wanted to give us a penalty discount as he took it upon himself for losing the way. Seeing that he's so apologetic, we paid for his mistake.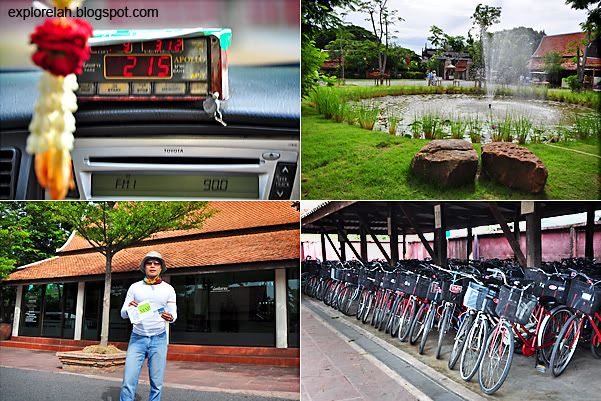 Address : 296/1 Sukhumvit Road, Bangpoo, Samut Prakan 10280, Bangkok, Thailand.
Tel : +660 2709 16448. Opening Hours : 9:00am - 5:00pm. Admission : 400bht (adult), 200bht (child).
My Muang Boran trip was made on
31 Jul 2010
, and I think it is definitely a sight worth checking out. But perhaps not now, as it could be flooded although
its website
didn't post any warning or closure notice.
So what's the big deal about this place? It is a BIG deal alright. Shaped like the map of Thailand, the sprawling park houses more than 100 replicas, some of them full-scale, of ancient Thai architectural marvels found all over the country.
From grand palaces to temple ruins to majestic pavilions and massive sculptures, the park is an open history book that traces Thai architecture during the monarchic periods of Dvaravati, Ayuthaya, Lanna (13th - 18th century), Sukhothai (12th - 14th century), U-Thong (12th - 15th century), etc.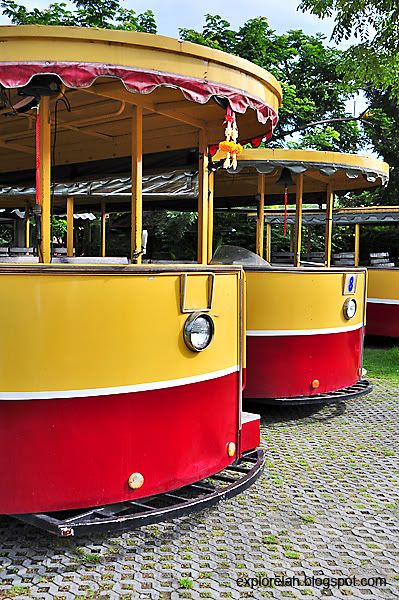 Trams are available to ferry visitors around the park. But I think the best way to see Muang Boran is on bicycle. Bikes can be rented at the ticketing office cum visitor centre.
If there's one advice I would give about visiting this place, that would be DO NOT attempt to cover Muang Boran on foot. There are simply too many things to see and not enough time to see them!
Especially if you're into photography, this place brings all the iconic architectural designs of Thailand together against scenic backdrops that make for great looking pictures. And it's not just the outside of the buildings that look fantastic, the inside of the various palaces and villages are also immaculately fidel to details and decorations.
It's a pity that the sky was mostly overcast during my visit. One aspect I think Muang Boran can improve on is its opening hours. It closes at 5pm. I think it should operate till 8pm to allow time for shooting sunsets at the park. I can imagine it would be beautiful.
'Muang' means city or land and 'Boran' means ancient, so the name translated into English is literally 'Ancient City'.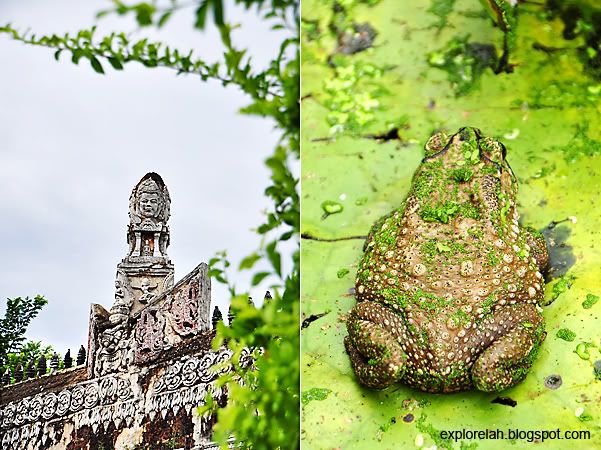 The entrance gate is crowned with the faces of bodhisattva facing the 4 cardinal directions. It reminded me of the Bayon stone faces at Siem Reap, Cambodia. Also looking like stone reliefs were some toads I came across at a pond. A reminder that nature provides inspiration for the many things that man built.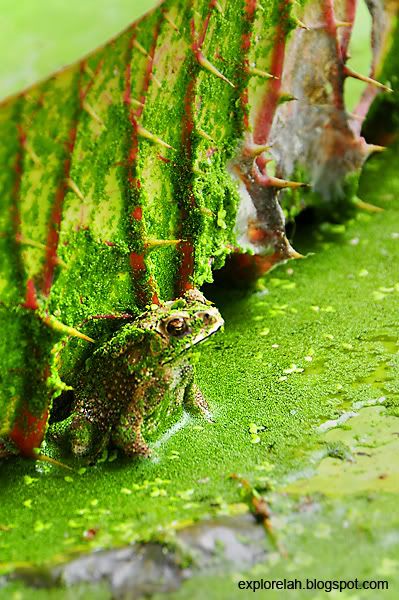 Seems like this toad is meditating. I got carried away photographing the jumpers and didn't notice the bad-ass thorns on the huge lily pad. I got pricked when I tried to shift the position of one of them. Ouch!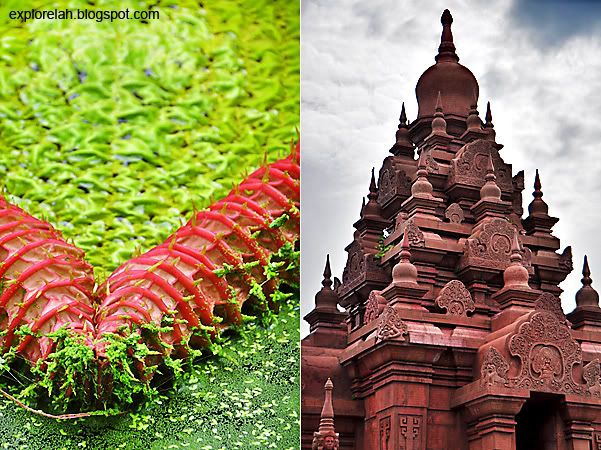 (Left) The unfurling leaf of Victoria Amazonica with a red underside. This giant leaves of lily speies can grow up to 3 metres in diameter! (Right) Replica of Phra Maha That, Chaiya, Surat Thani with the top of its stupa resembling an unopened lotus / lily bud.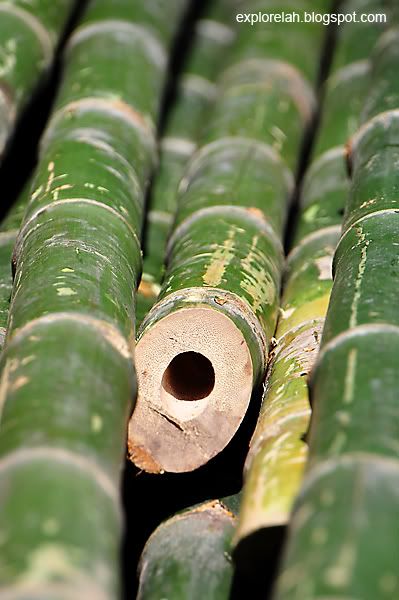 Before sandstones and bricks, early Thai houses were of bamboo and thatch. They were often stilted to accomodate flooding, escape predation and to keep livestock.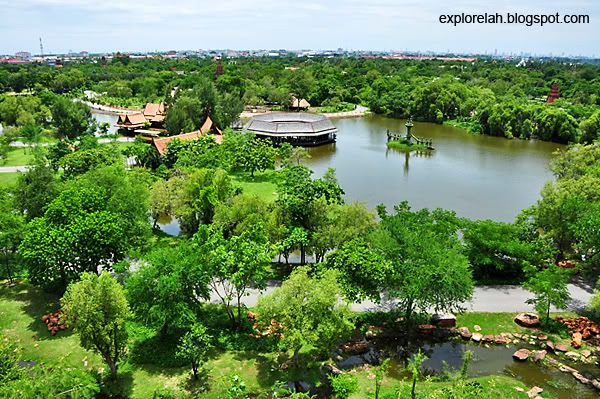 Elevated view of Muang Boran. This is only one part of the whole park. Visible is a sculpture from the Hindu creation myth, Churning of the Sea of Milk, and a cluster of huts at the Waterside Village.
The Architectural Collection at Muang Boran
With their distinctive pointy roofs and flamboyant porticos, traditional Thai buildings are an embodiment of the kingdom's rich cultural heritage and religious beliefs. But more importantly, they are also built with a common sense of the climate, geography and community needs as Thailand is a vast country afterall (51st largest country in the world in terms of land mass).
What we've come to recognise as Thai architecture today is a culmination of influences from her surrounding neighbours such as Cambodia, Laos, Malaysia, Indonesia and China. Hence, it is not surprising to find the practicality of Borneo's long houses shared in Thai stilt houses, a similar use of sandstone for construction predominant in early Khmer masonry, and colourful chien nian (剪粘) techniques used to decorate Chinese temples resplendently reinterpreted in Thai dwellings.
And they are all collected here in Muang Boran. Within walking and cycling distance of each other. What a touristy orgasm for me!
Stupa of Phra Maha That, Ratchaburi.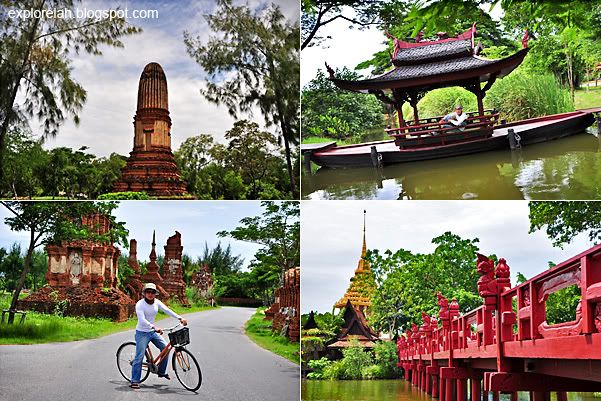 I didn't manage to cover every nook and cranny of Muang Boran because it was exhausting. Come covered up if you don't fancy a sunburn and be prepared to perspire.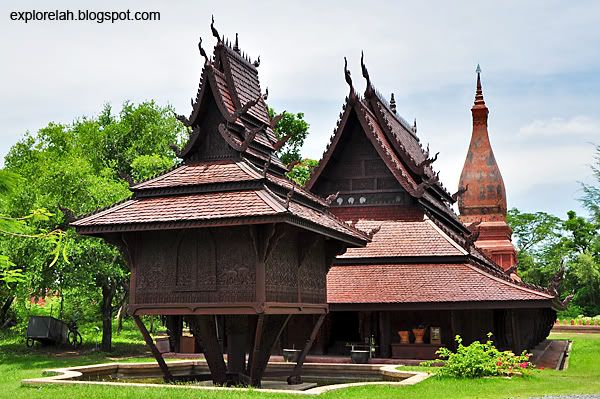 Chofahs are the iconising emblems of any distinctively Thai building. They are the curvy fingernails that extend out of roofs as a symbolic ornament that represents the Garuda, a half-bird-half-man protective guardian that serves as the transport for the Hindu god, Vishnu.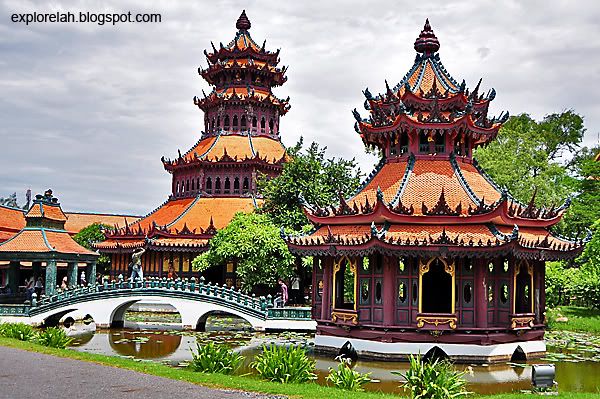 The harmonious Thai-nese Phra Kaew Pavilions.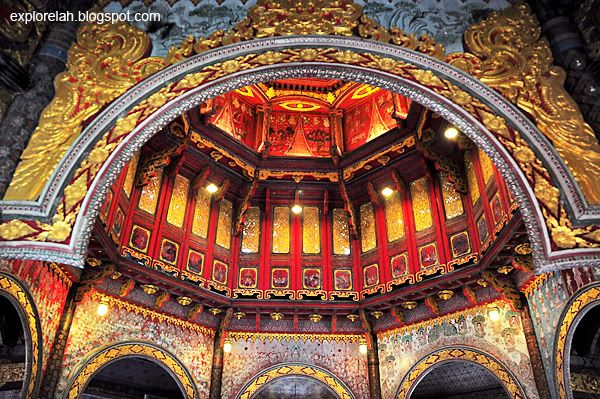 Highly decorated interior of one of the Phra Kaew Pavilions.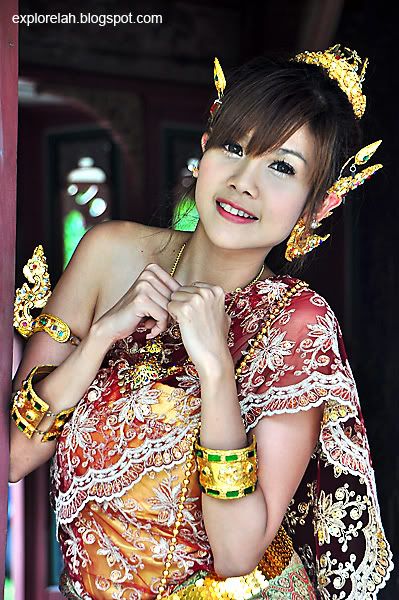 Na rak mak mak (very cute)! A group of photographers were having a shoot outing with 2 pretty models in traditional Thai costumery. After the men had their shots with this model and moved away, I went up to her and asked to take a photo too. So lucky to get this shot!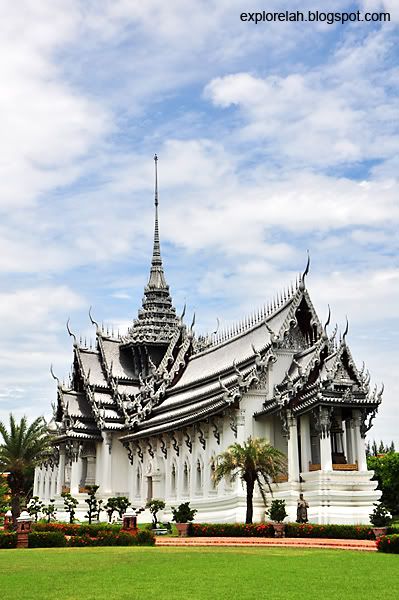 The Sanphet Prasat Palace uses greys and whites to great effect.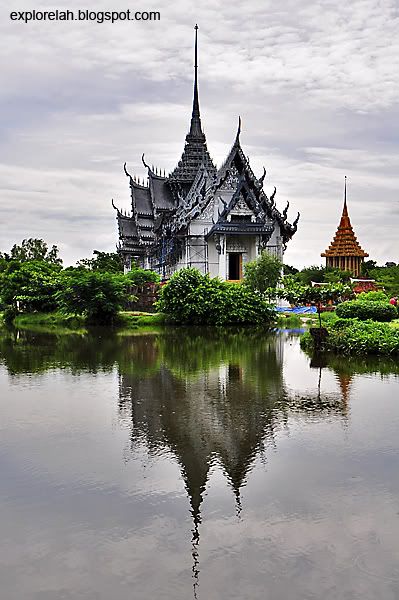 Another view of the Sanphet Prasat Palace reflected on a lagoon.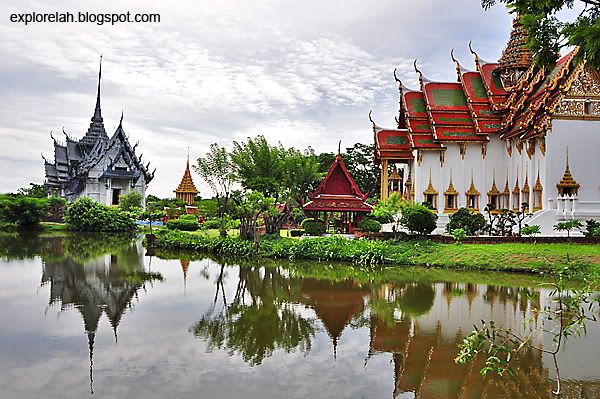 Faux lakes and lagoons are strategically placed around the park to add a component that not only relaxes, but creates picturesque sceneries for photographs.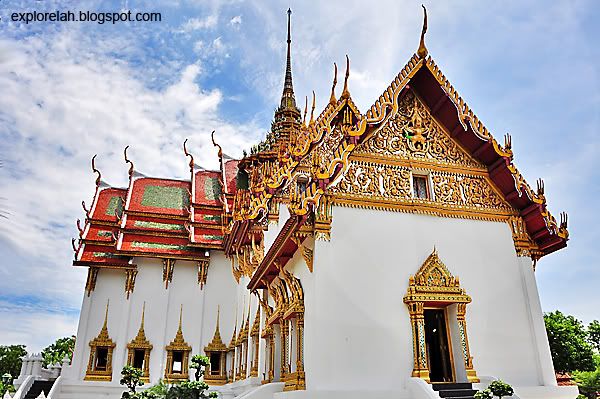 Exterior of the Grand Palace (Dusit Maha Prasat Palace)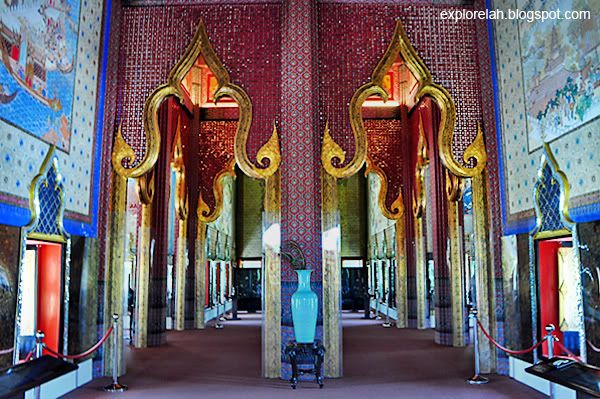 Opulent arching doorways and ornate floor-to-ceiling decorations within the palace.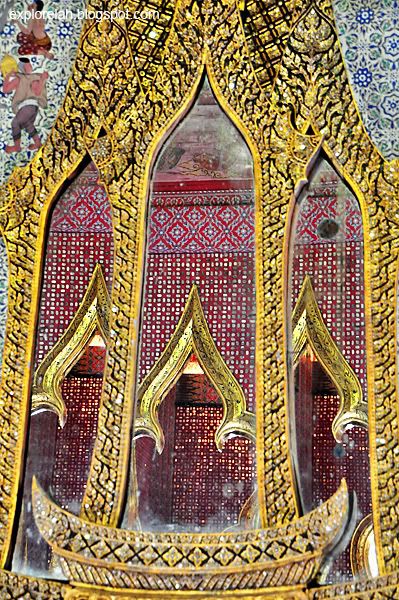 "Mirror, mirror on the wall, who's the prettiest of them all?" Mirror replies, "I am the prettiest of them all!" Tough luck for Snow White's evil queen if she's trying to outdo this palace mirror.
Can't remember the name of this pavilion but it has a Moscow-gothic look with a fairytale quality.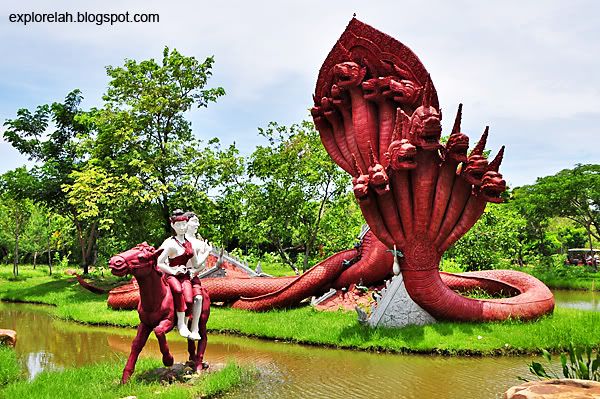 Garden of Pha Daeng-Nang Ai. This sculpture tells the tragic love triangle of King Pha Daeng, Princess Nang Aikham and the serpent prince, Naga.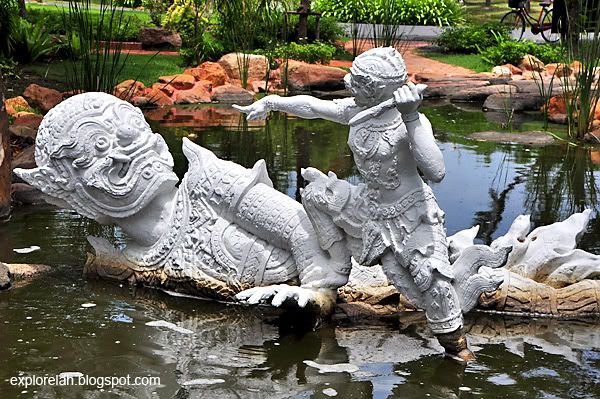 The Ramayana Garden immortalises the battle between devas and asuras within a fountain.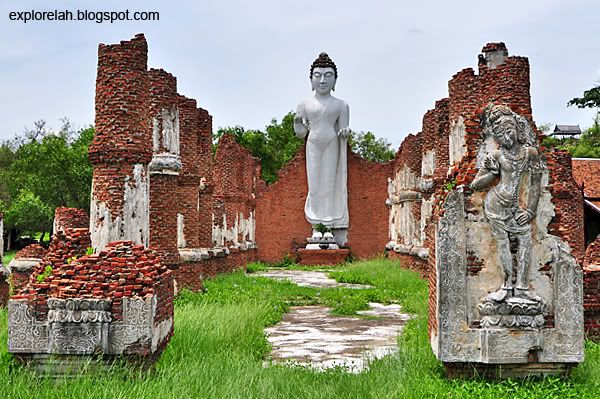 Remnants of a wihan from the Dvaravati period. A wihan is a room where meetings and prayers are held.
Again, can't quite recollect what's this site about but it's up on a hill plateau at Muang Boran.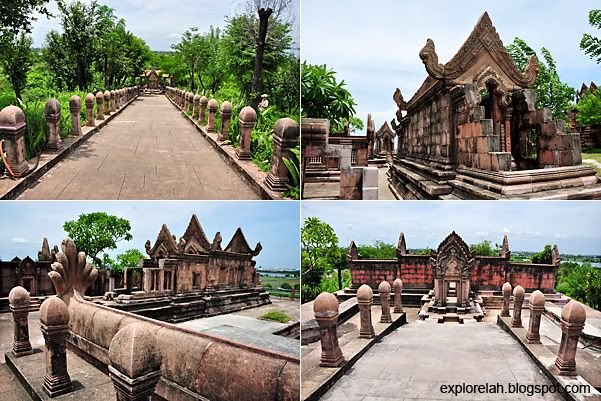 The site is lined with these pahllic-shaped stones that I assume to representations of Lord Shiva. The Hindu god is frequently represented in the shape of a penis to confer fertility.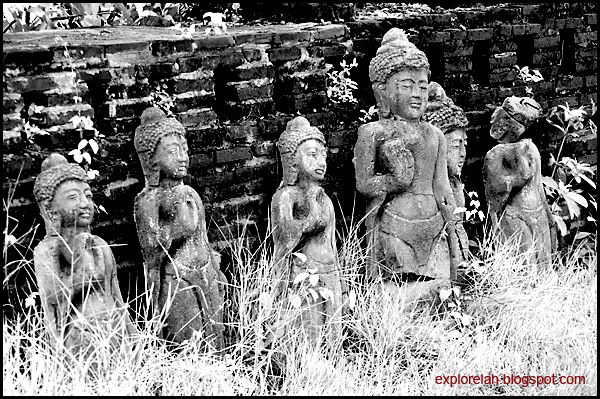 Experimentation to see how Muang Boran looks in black and white. Pretty good I think.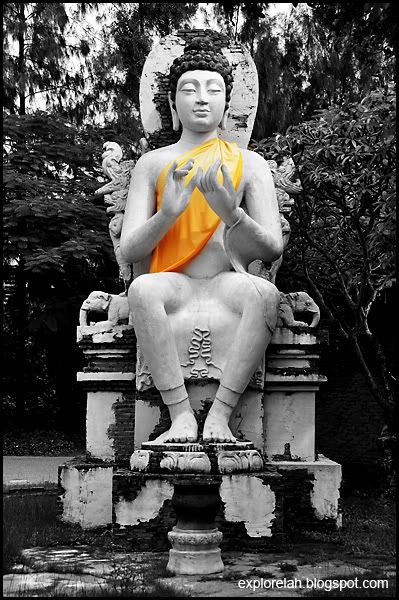 Attempt at colour splash photo processing (black and white photos with a dash of single colour) with this Dvaravati period Buddha statue seated in a teaching position.
Well, this brief account of the exhibits is just a scratch of the architectural collection found at Muang Boran. I find the replication works to be so fine and authentic, it's as good as seeing the original monuments!
Old Market Town
Other than the buildings, olden day lifestyles are also resurrected at the Old Market Town of Muang Boran. Street shows and processions take place here amidst shops selling souvenirs and items of nostalgia.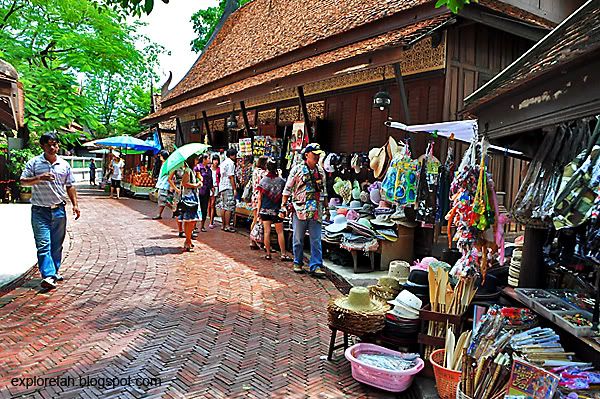 We came to the Old Market Town in the morning as it is not too far from the park's entrance but all the shops were closed. We passed by it again on our way out of Muang Boran at around 4.00 pm and the place was abuzz with activity.
Retro sweets and toys! Those white egg-shaped candies with an orangey taste were one of my childhood favourites.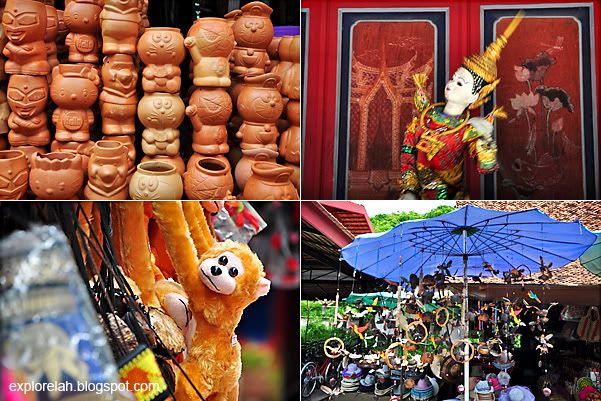 Knick knacks for sale while a traditional streetside puppet theatre showed what kept villagers entertained in the yesteryears.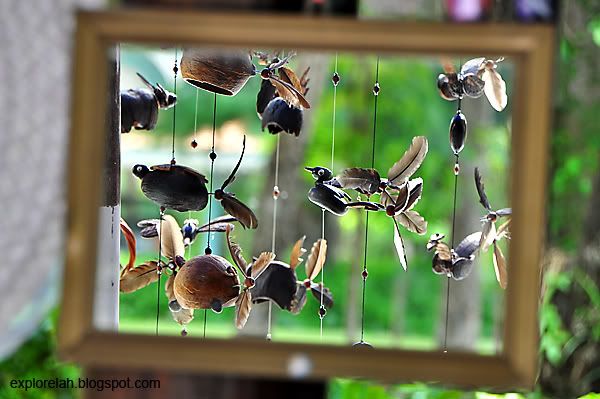 Hanging mobiles fashioned out of natural materials such as coconut husks, wood chips and feathers.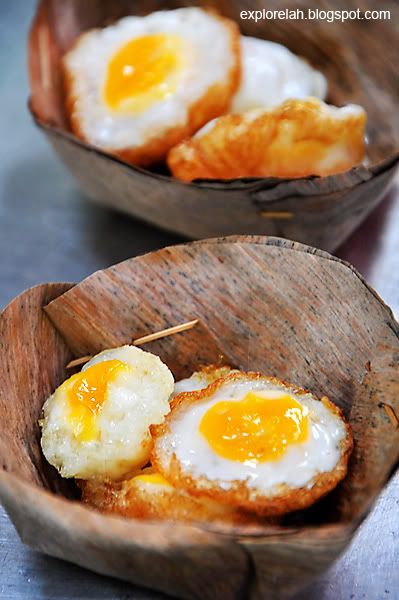 Fried quail eggs! Sinfully heavenly!
Waterside Village
There are a few F&B outlets around Muang Boran but the best place to eat would be at the Waterside Village. Here, you can dine on traditional Thai favourites by the waters and enjoy some respite. All the park staff were in traditional costumes so it was a rather amusing dining experience.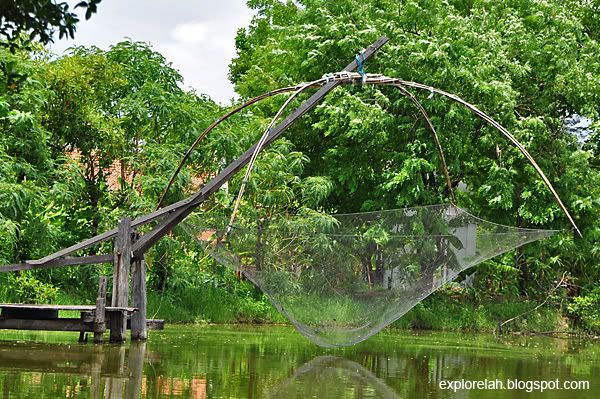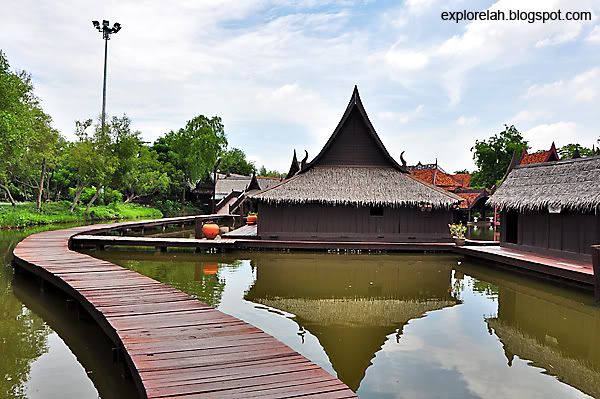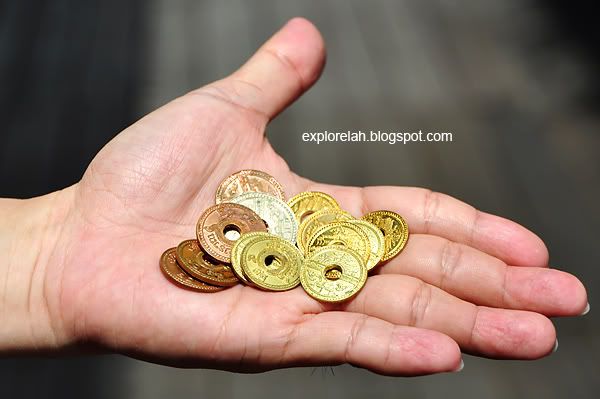 Thai baht is no good at the Waterside Village. To make purchases, we had to convert our bahts to these copper coins which were used in the past.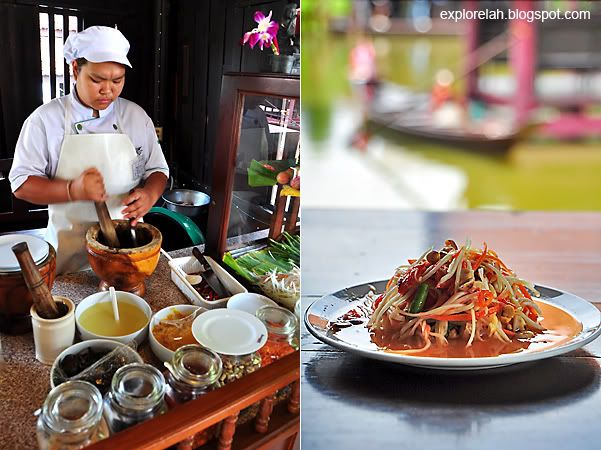 Freshly made som tam (spicy raw papaya salad).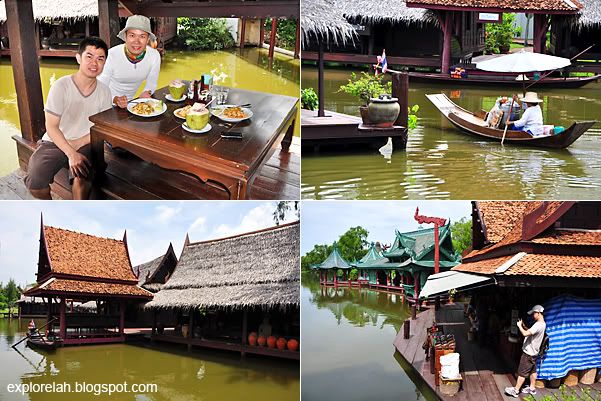 My day trip buddy, Yik Fan, and I found the whole waterside dining experience refreshing though sitting on the floor was a little uncomfortable and there's no air conditioning. But well, being here is all about getting a taste of living in the past right?
A New Tide in Bangkok's Tourism
Once the best loved vacation spot for many, Bangkok is currently a tourism taboo due to the floods. It is estimated that it'll take 3 months to reinstate all affected areas. I hope the recovery would not take so long. I can't wait to visit Bangkok again.
I'm not sure if Muang Boran is drowned out as well although it seems likely. I was looking through my photos taken during my visit and found this shot...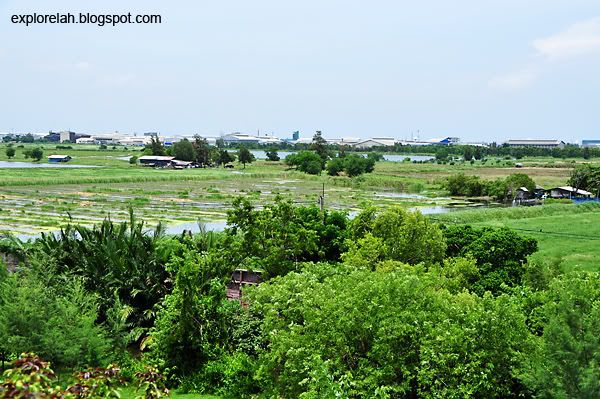 It was taken atop a small hill. To one side was the overview of Muang Boran you saw earlier in this post and to the back, it looked out to what seem like factories. I wonder if these were the ones that were inundated. I hope not.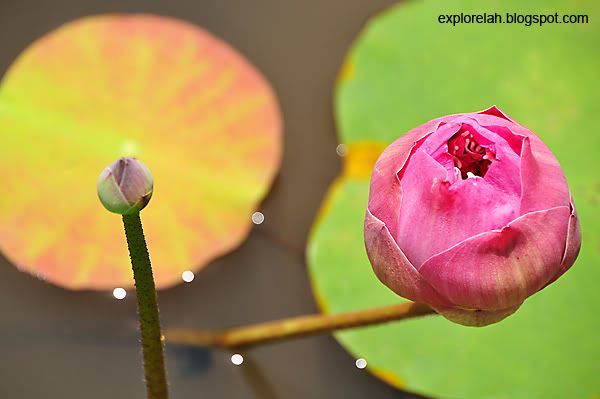 Here's my wish for the Thai people during this crisis... may your resilience carry you above muddy waters and have you blossom yet again. Hang in there!
Thailand's worst flood in decades is most devastating. Not just for the loss of property, livestock, and human lives but for a tourist like me who love the country.
I pray that this monstrous tide will pass over soon and as Bangkok rebuilds itself to welcome visitors once more, may Muang Boran radiate as one of its best attractions yet!