After the previous post about the foods that are bound to kidnap all plans to diet, this entry will form the blueprint for your escape from the clutches of those seductive cuisines. So join me to find out what are the things we can do onboard Legend of the Seas. A friend claimed he never understood why people would enjoy a cruise holiday because it's boring and there's nothing to do.
I think he must be vacationing on a
sampan
(a row boat found in Southest Asia). Either that, or he's a boring person to begin with. How can you see vibrant colours with a pair of dark shades permanently 'protecting' your mind? Release yourself in order to have fun!
And there's no better way to taste freedom than being at the highest point of the ship. Legend of the Seas comes with an onboard rock climbing wall that takes you to the pinnacle of adventure on the high seas. I've done rock climbing at SAFRA Yishun before but climbing while sailing takes the thrill to a whole new level!
Christine and I both climbed the middle section which was the toughest part of the wall. Old guy vs young gal... who will win? Gender or age?
The difference between climbing on land and the sea is this... the view. With the Yishun wall, the scene is static when I look down or around. Onboard, I could see the ship leaving a long trail on the ocean that stretches to the horizon. With the wind blowing in my face, I felt some kind of spiritual rush.
But regretfully, I didn't spend too much time at the top to enjoy the view because the others were waiting to have their turn. Plus I was having a hangover from partying at the Viking Crown Club last night. Moreover, my arms were straining to hold my new weight caused by the buffets in the last two days.
The middle wall looked easy but it was not. I did regular rock climbing at SAFRA Yishun for a couple of months some years back but even with that background, I still found it a challenge to reach the top.
Anyone can sign up to rock climb except very young children but you have to register the day before with the administrative desk. There's no extra charge for this activity. The wall is located on Deck 9 and it's hard to miss. It has 3 parts - left being somewhat easy, middle is the hardest, and the right is the easiest to climb.
A pair of climbing shoes will be on loan and if you're icky about wearing shared shoes, you don't have to worry. The disinfect every pair on-the-spot after it's being worn and unlike those funky smelling ones at bowling alleys which also feel like stepping on mouldy cabbage, the shoes here are clean and dry. Christine even wore her thin lace socks with the shoes!
Will foot fetishists please thank me for the photo below?
Climbing Tip : The correct method to rock climb is to push up with your legs and not pull with your arms.
Talking about Christine, she's one iron beauty. We were the only two in the group who conquered the middle wall. She did it first and I tried after. I was told it's a hard climb but I thought to myself, "A petite girl can do it, how hard can it be for a bigger guy?" Well, this is one instance where size doesn't matter.
Christine said I 'cheated' because I'm taller so it's easier to negotiate the wall. I beg to differ. That middle section was quite something. I fumbled a few times before I managed to get an inch off the ground and half-way up, I wanted to just give up! But I pressed on because I don't want to lose face in front of everybody. And we were being videoed. So die die must reach the top and sound the bell. The satisfaction of making it this time round was much greater.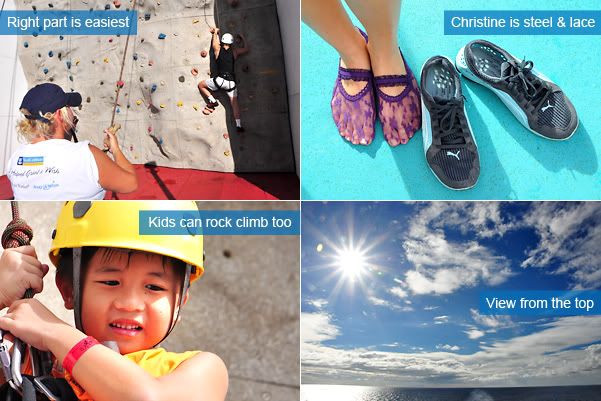 Rock climbing is definitely a MUST-DO on Legend of the Seas. As for who is the better climber between Christine and me, well, the effortless charmer wins... and I'm referring to her, not me! LOL. I'm so shameless.

For those who don't like strenuous activities or the gym to burn off calories, here's an alternative... shopping! I shared in my
preview post
about the price match guarantee when you shop onboard but as we were given a tour of the shops and boutiques, I realised that the value of shopping here goes beyond the promise of a good price.
Let guys take you shopping? Why not?! Associate Hotel Director, Dean (back), and Retail Manager, Vedad (front), showed us the best buys.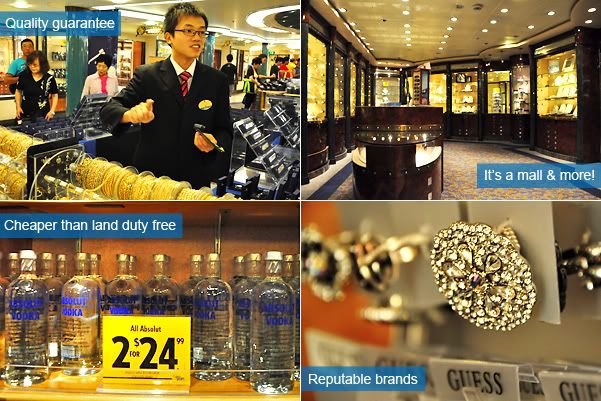 Almost everything can be found on Legend of the Seas from fashion and accessories, to sundries, to branded personal care products, watches, cameras, jewellery... and there are daily spotlight bargains at the shopping foyer that will cause the wallet to haemorrhage.
My biggest excitement on the tour was seeing the precious Tanzanite for the first time. I'm heard about it and seen photos but not in real life. Why does this gem holds such fascination for me? According to what I've read, Tanzanite is one of those rare crystals that has very strong triclinic qualities, which means that the gem when viewed under different light, has a different colour.
Not quite the fictional Heart of the Ocean in Titanic, but the rare and highly-sought Tanzanite can be found onboard. The mining of this gem can last only one generation, which means supply is limited.
In this photo, the Tanzanite set in the ring appears blue. But when I saw it at the showcase, it was actually purple in colour! This gem is derived from the mineral zoisite which ranges in colour from blue to lavender / lilac to purple.
It was first dicovered in 1967 in the hills of Tanzania, East Africa, and was initially named blue zoisite. That sounded like 'blue suicide' so its name was changed and named in honour of where it was found. Legend of the Seas is part of the Tanzanite Foundation, a non-profit organisation that safeguards the commercialisation of this gem due to its rarity.
Christine looked like she was ready to pawn her dress to shop until she saw the bargain. It took her some time to get over her incredulity then she wasted no time charging to her SeaPass Card.
Possibly the best buy onboard besides duty-free booze are these gift boxes containing watches and jewellery with accompanying male and female accessories. They look really good, of high quality and expensive but cost only US$39.99 for 2! My apologies to people who bought them as gifts and claimed them to be of higher value. I've exposed the real price here.
This T-shirt says it all about my cruise experience! There are other designs and cost 2 for US$20. Quite a good deal to remember the vacation by.
I'm not naturally inclined to shopping so I didn't buy much except an expandable sling bag for my Sea Cave Canoe Tour and two Royal-Caribbean T-shirts to commemorate my virgin trip on Legend of the Seas.

Food is not the only thing of variety onboard the ship. There're just as many facilities and activities to fill everyday. I didn't include everything into my series of posts because some of them are best experienced and not talked about (eg. learning the waltz and line dancing, partying at Viking Crown Club, sunset jogging on Deck 9, gymming with the waves, etc).
The other part of items I left out were those I wanted to do but didn't have time. Like the main title of this post suggests, I need to clone myself to do eveything! Amongst the stuff I didn't do but intended was catching a movie.
The latest Hollywood blockbusters are screened at the Anchors Aweigh Lounge and That's Entertainment Theatre according to a schedule printed on the Cruise Compass, a daily programme guide. Since I didn't get to catch the movie experience, I got the ladies to create our very own movie fun! Try identifying the shows we were trying to portray...
My leading ladies... Can you guess the TV series / movies? Hints : (Top pic) Theme song was sung by Jack Jones; (Bottom Left) Ah Jack and Ah Rose; (Bottom Right) Lucy Liu, Cameron Diaz, Drew Barrymore.
A missed movie can be watched on DVD or be acquired through the most widespread 'crime' of modern history - cyber priacy. What's too colourful not to be missed are the 'live' shows and musicals at That's Entertainment Theatre on Deck 4. The Welcome Show on the first night and musical performance of Absolutely Fab on the second night were a visual treat.
Broadway-style 'live' acts and musicals at That's Entertainment Theatre are not to be missed!
Cozy up to a loved one on the comfy seats or get up for some fun during the humourous and interactive show on welcome night.
To keep the element of surprise, I shan't divulge too much about the shows but they're big on entertainment value. The Welcome Show was a one-performer spectacular that would normally require the combined talents of a troupe.
Helmed by world champion juggler David DiMuzio, the segment saw him performing jaw-dropping juggling stunts and he even wrote and sang he songs on his show. Except for one song, 月亮代表我的心.
World Champion Juggler, David DiMuzio juggles many talents and helms a one-man show that is in a class of its own.
Yes, I know what you're thinking... this ang moh guy can sing in Mandarin! And he's better than many of my Chinese friends! You can hear him perform the song in his self-made video below. If you love his singing, you can visit daviddimuzio.com for more of his original compositions.
On the second night, That's Theatre presented their adaptation of familiar songs that would have you singing along in no time. What's interesting about the show was that even though the stage was pretty small, they managed to create the illusion of a changing backdrop with the creative use of lights and simple projection panels.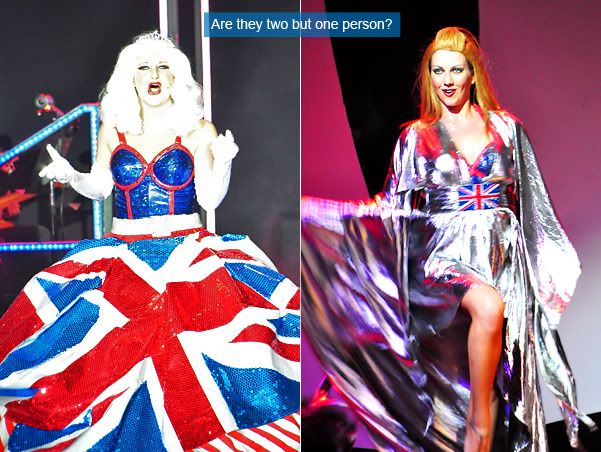 Absolutely Fab is not the title of their performance but a description of the good-looking cast. I think everyone would concur that Legend of the Seas has got an attractive multi-national staff team onboard.

As for kids and teens, there are dedicated playrooms onboard to distract them while you free yourself for some pampering. There's the Video Deck, Optix Teen Center and Ocean Club room for toddlers, and they're all located next to each other on Deck 10.
The video arcade was deserted during my visit because I think the kids were more attracted to the pool and water features on the sun deck.
Wanted to take more photos of the Ocean Club Ocean playroom but the female staff inside didn't allow it. I can understand that some parents don't like their child to be photographed but the room was empty.
Nothing much to share here because obviously I'm over-age but thought I'd include this part for parents to have a rough idea of what's in store for their kids. You can check the Cruise Compass for a listing of guided activities at Club Ocean.

Apart from all the fun and games, there're also lessons to be learnt onboard. On top of dancing instructions, there's the cake making demonstration, wine and martini tasting session, napkin folding workshop, seminars on health and beauty, etc. But possibly the most interesting of them all would be the Towel Folding Demonstration. During my trip, it was held on Day 4 of the 5D4N Isles of Southeast Asia cruise.
Thrill your loved ones and friends while on vacation by learning how to fold adorable towel animals such as dog, elephant, turtle, and monkey during the towel folding demonstration at the Centrum on Deck 4.
As you'd probably seen in my
earlier post
, you would be welcomed back into the room by a very cute towel pet each day.
Many would try to figure out how they were folded only to end in frustration so this demonstration teaches you how the towel origami is done. There are more than a dozen designs but they only showed four. In the video before, I shared the steps to make the dog, elephant and turtle because Youtube only allows a maximum of 10 minutes per video.
I still have footages of how to create the monkey so if you'd like to know, leave me a comment here. If many of you want to learn it, I'll post the video. Else, I take it that you prefer to go onboard the ship and learn it in person!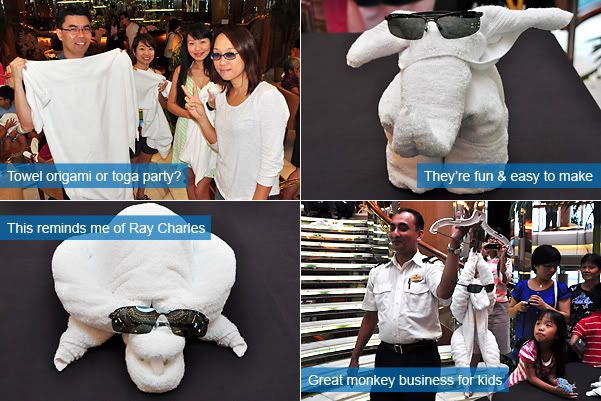 The demonstration is pretty popular so go early to reserve a place as the big towels need a big surface for folding. A big bath towel, medium face towel and small hand towel would be issued at the venue so you don't have to bring your own. Here's the video on how to make three of the towel pets.
It is 9:00 pm on 31 December 2010 as. In a short while, we'll step into the new year. I would like to take this opportunity to wish you, your family and friends a very blessed 2011 filled to the brim with all things good. May it be a smooth sailing year for everybody! :)