When I started creating this entry about all the activities one can do onboard Legend of the Seas, I wanted to talk about the eating, sports, shopping, entertainment and partying. But when I finished compiling all the dining photos and talking points, I realised the topic on food alone could fill an encyclopedia. If I added on the other parts, this entry could cure insomnia.
Not that those experiences are not exciting, but all at one go may cause sensory indigestion. Talking about indigestion, I had my first one in years onboard the ship. A good friend of mine nicknamed me "The Vacuum Cleaner". I contest that title because no doubt I eat a lot and I usually finish up everything left on the table because I hate to waste food, but I don't eat trash.
The problem while on Legend of the Seas is that honestly, the food is pretty darn good. And it is served all day long. All you can eat. Anytime. And that's what I did. Vacuum cleaner mode on full power. You can imagine my impending peril. By the fourth day, I got indigestion. My gastric juices were all topsy-turvy and my stomach did the camel. But instead of water, it stored all the food I ate the previous day and refused to stool. I had to
sayang
(pat lovingly) it and say, "It's okay, I know the food is good, but don't hold on to it, let them go!"
Apparently, I was talking to a mule because I continued to feel bloated in the last two days. I couldn't eat anymore. It was a torture. There was all this great looking food lying around, spreading themselves... the hot savouries playfully veiled by sexy steam, the pastries dressed in light, fetish-inducing translucent sauces, some of the food were so fresh, they postured stark naked... seducing my mouth. Yet my appetite chose to be celibate.
I suspect it was due to my gorging on gourmet cheeses the night before. There were so many, so tasty, the amount I had might have just drained a cow dry. Moral of the story? Too much of a
moo
-ood thing is
baa
-ad. Gosh... I'm speaking like a cow and sheep. I think all that beef and lamb is still in me.
"It's okay, I know the food is good, but don't hold on to it, let them go!"
Having read my ordeal, let this post be a warning. Beware of the seductive food that'll bring about a high on the taste at the three food outlets of Legend of the Seas -
Windjammer Cafe
,
Romeo & Juliet Dining Room
, and
Pizza & Burger Bar
. Like delicious sirens, they will lure you to become gastronomically promiscuous.
Windjammer Cafe - All Day Long Buffet
Located on Deck 9, Windjammer Cafe is open from 6:00 am to 9:00 pm daily. There's no dresscode and you can stroll in for a meal anytime. I have a theory why this restaurant is called Windjammer. You'll be eating so much, get heavy and the wind can no longer sway you with its force. You jam the wind. Go in as kite, come out as windjammer.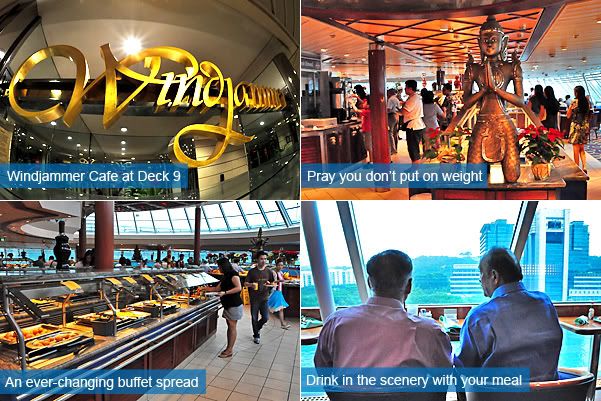 Initially, I thought ship food would be like airline food... defrosted, pre-heated, wrapped in aluminim foil and taste like doing housework with your tongue. But far from it. The food is prepared fresh onboard and the most amazing thing is that the spread changes 4 times a day, everyday!
It's a different set of food for breakfast, lunch, afternoon snack, and dinner; you can sample the world all in one place... Italian, American, Mediteranean, Indian, Chinese, Vietnamese, Japanese... they are bound to turn your belly into a globe.
Romeo & Juliet Dining Room - Fine Wine & Dine
Located on Deck 4 and 5, this lavishly decorated restaurant is open daily according to a schedule. Refer to the daily Cruise Compass publication for the meals that R&J would be serving. But dinner is always served here and there're two seating times - 5:45 pm and 8:00 pm. The seating time is printed on the SeaPass Card along with the assigned table number.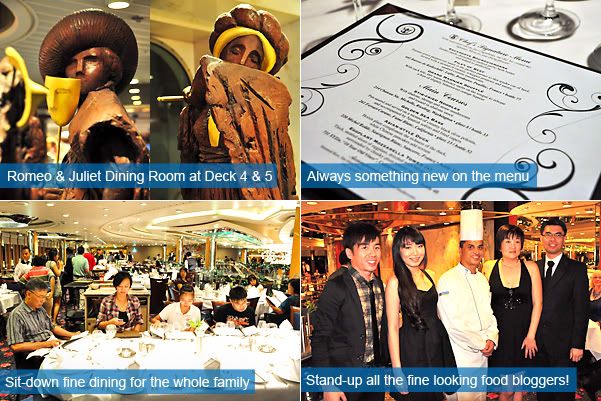 R&J favours the smart-casual dresscode and on the night of the Captain's Welcome Ball, formal wear is required. While packing for this trip, all of us were unsure how formal we need to get. The advice was gowns for ladies and suits or tuxedos for men. Aiyoh, very
mah fun
(troublesome) leh, still must pack suit.
But the experience was worth it. We all felt so glamed up sipping champagne (in my case, gulping down the bubbly wine) under the the twinkle of chandeliers. Our Captain's Welcome Ball happened on the second night at Anchors Aweigh Lounge and dinner was served at R&J thereafter.
Oh, one pointer though... there's no iron onboard so press your gowns and suits before boarding. Or hang them in the bathroom the moment you get on. When you take a hot shower, the steam and moisture will work to soften the creases.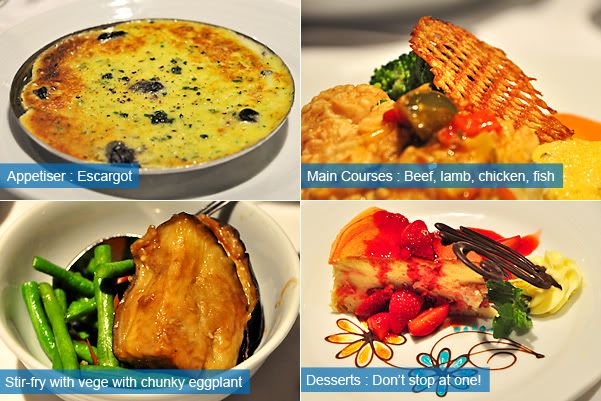 Again, the 3-course menu changes every night the wow-factor here is that if you don't like what you ordered, you can order another. Regardless of whether it is the appetisers, main courses or desserts, you can keep ordering till you get bored of hearing your own voice. There are two words to describe a dining philosophy like this... SATISFACTION GUARANTEED!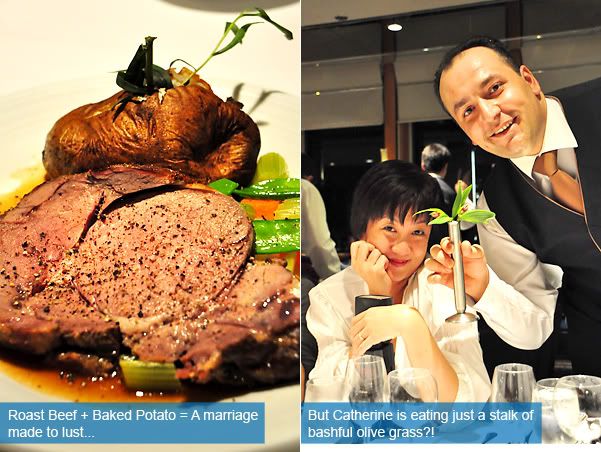 However, there's more to R&J than the satisfaction of taste. Eating here goes beyond fine wine and dine. It is the pleasure of being cradled by the nape of pampering. The serivce is just so... so... please accept my inability to describe it be the best compliment to its excellence.
Each table has one or two dedicated waiters depending on group size. We're at Table 47 served by Dong Biao and Antonio who didn't just serve us dinner, but humour and a level of attention most personal. While Antonio joked with us and posed for a photo with Catherine holding the table vase, Cherie was surprised beyond words by Dong Biao who brought her a cup of honey water because she told him that she was having a sore throat during dinner the night before.
I should've told Dong Biao I'm broke. I wonder if he'll serve me a plate of cash... LOL.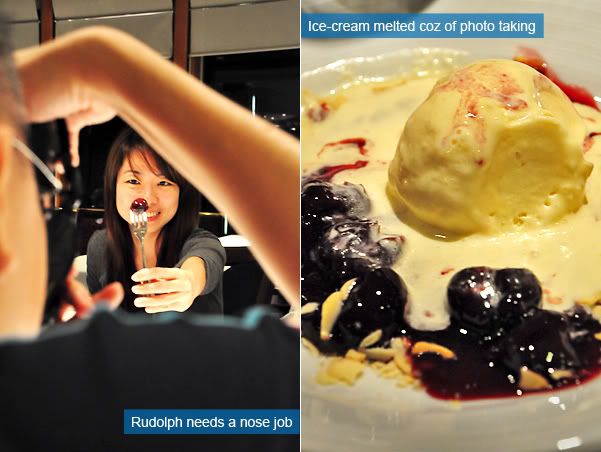 The added fun of having a sit-down dinner at R&J was of course the company of my newfound friends. It's funny how I've never met all of them (except for Catherine who I met during our
Singapore Blog Awards
Hong Kong
trip), but we didn't feel like strangers. I guess blogging broke down our barriers.
Then again, blogging has developed a nasty habit in us. The thing about having a meal with bloggers is that we taste the food with our cameras first. We must appear so comical to Antonio and Dong Biao. Each time they put a plate on the table, we zoom onto it like piranhas with cameras and we won't eat until everybody has taken a good shot. Then again, you can't blame us, the food on Legend of the Seas are all supermodels in the culinary world.
Pizza & Burger Bar - Quick Snack On-the-Go
Located on Deck 9 within the Solarium, the Pizza & Burger Bar is open till 2:00 am and serves hotdog as well (I think frankfurter is better description because these things are quite huge). I didn't try the food here so I have no comments. Besides, I'm already constantly stuffed at Windjammer Cafe and Romeo & Juliet Dining Room.

After the gastronomic ride across all three main food joints, let's dive underbelly to where it all happens. The 10 of us went on a Kitchen Tour on the fourth day and although it was complimentary for us, guests can take the visit too by purchasing the Savor cookbook (US$26.90) which has a collection of onboard recipes. Our tour was hosted by the Executive Chef, Suresh Balal. I overheard someone commenting that the master chef is quite a dish himself.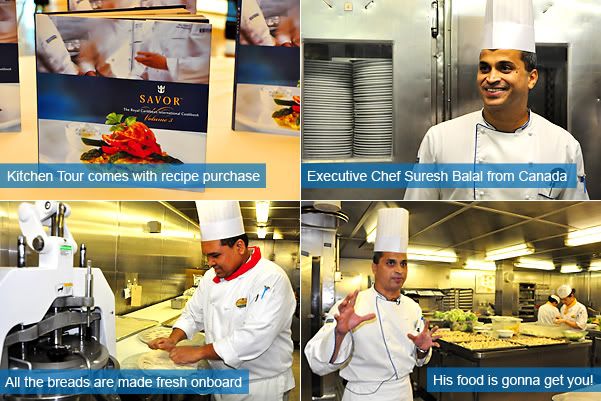 During the tour, we got an inside look at the huge kitchen which spans two floors and divided into various sections such as hot foods, cold dishes, bakery and desserts. There are a total of 120 kitchen staff onboard to prepare a mind-boggling 12,000 meals every day! Woah! Guess I'm not the only one who's overeating.
My favourite part of the tour was the area where all the day's menu is lined up for tasting by the chefs. If a dish passes the taste test, it becomes a standard to be served. If not, adjustments are made at this stage before being subjected to taste test again.
Presentation is also a big deal and the display dishes serve as examples for replicable quality. Like beauty queens on a pedestal, the food of Legend of the Seas has to go through a gruelling process to ensure high standards in both aesthetics and substance. No wonder my mouth and stomach were so seduced!