Darren :
"Hello Kuala Lumpur, my old friend! It's been quite a while that we haven't met."
KL :
"You used to visit me at least once every year, but I've been missing you since 11 August 2008. What happened?"
Darren
(apologetically)
:
"Erm... I love your retail therapy and food, but that's all you offer. There's nothing new or happening with you."
KL
(hurt)
:
"Why do you only seek what's new with me? Have you ever found out what's HAPPENED to me? Do you know how I got my name? Why many Hindus come to me? Or the treasure I hold that is the source of national pride?"
Darren
(guiltily)
:
"No, I was too caught up with doing what was easy and never bothered to look deeper. Tell you what, this shore excursion offered by Legend of the Seas, I'm going to choose one tour that'll let me know more about you."
KL
(smiling)
:
"Thank you my old friend! Good to see you again. And oh my, how you've put on that middle-age weight in the last two years."
7 Dec 10 (Day 2) - We arrived at Port Klang, Malaysia, and guests are free to stay onboard to enjoy the activities for the day or join a shore excursion.
And so amongst the five land excursions offered by Legend of the Seas onboard the Isles of Southeast Asia cruise with stops at Kuala Lumpur (KL) and Phuket, I chose the Batu Caves and City Experience Tour for a more historical exploration of my old friend in Malaysia. Our gateway to the Malaysian capital city is the cruise immigration at Port Klang.
Port Klang is the largest and busiest port in Malaysia and among the world's top 20 ports for transhipment and container traffic. But it felt like the boondocks for a passenger who just alighted from a luxury cruise. The area is pretty sedate and mostly industrial. To get any action, we have to take an hour's coach ride into Kuala Lumpur.
Our land trip will take us to the Independence Square (Dataran Merdeka), Royal Selangor Visitor Centre, lunch at Dorsett Regency Hotel, and KL Tower. Although the tour was quite a rush, it's a great way to explore some of the top sights in the city with comfort and the convenience of transport. Our tour guide, Elango was also at the top with the history of Malaysia and the places we visited.
And I'm glad to be exploring with Yee Leong who has a very keen eye for photography and a natural ability to get his human subjects to share with him their stories. For Yee Leong's excellent Chinese post of our experience, please
click here
. We disembarked the ship at 7:30 am to begin our tour which ended at 4:30 pm (8 hours)

Our first stop was a 15-minutes browse of the Independence Square, a.k.a. the Padang, a.k.a. Dataran Merdeka. The day was overcast and gloomy. A perfect weather to explore a shelterless tourist attraction but the photos are gonna need a lot of colour enhancements with Photoshop to not look like black and white shots.
To compensate for this problem, Mui Yee, who took another land tour package to explore KL but had the Dataran Merdeka in her itinerary as well, used
Photoscape
to create some fancy colouration effects to enhance her photos. I've not tried the program, but according to her, it's a freeware. So you may want to try it out to enhance your holiday pictures, especially on a grey day. To check out Mui Yee's creative use of the program, please
click here
.
The Dataran Merdeka is the place where Malaysia first celebrated its independence on 31 August 1957 and has since been the usual venue for the country's annual National Day Parade. There are a number of historic landmarks around the square but we didn't get to visit except for some quick photos of the Sultan Abdul Samad Building (which currently houses the offices of the Malaysian Ministry of Information, Communications, and Culture) and the St. Mary's Anglican Cathedral.
Behind the Sultan Abdul Samad Building is the meeting of two rivers. This convergence is of great importance to KL. If you would like to find out why is it important, read to the end of this post. (I know, the length of this post is a test of patience!)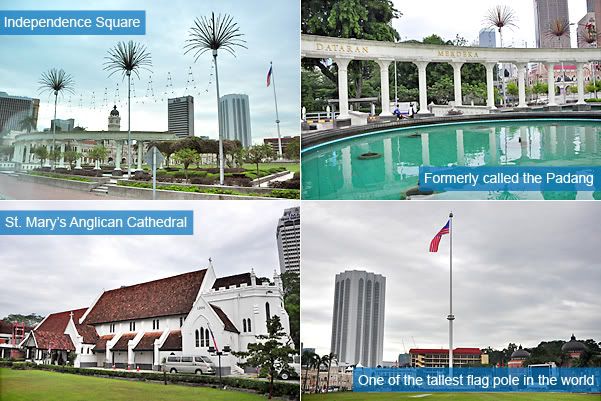 If I had more time, I would definitely love to explore within the buildings and the other historic remnants in this district but we were herded back on the coach as quickly as we alighted. Elango apologised for the rush because we definitely have to be back at Port Klang by 4:00 pm as the ship has paid for docking charges till 5:00 pm. Maybe in my next trip back, I'll make it a point to come back for more.

After about a half-hour's drive, we arrived the main attraction of our tour... the sacred Hindu mountain temples at Batu Caves. I've been here once when shoulder pads were still cool so I don't have much recollection of the place. But I was sure my childhood memory didn't record this gigantic golden statue standing guard at the foot of the caves!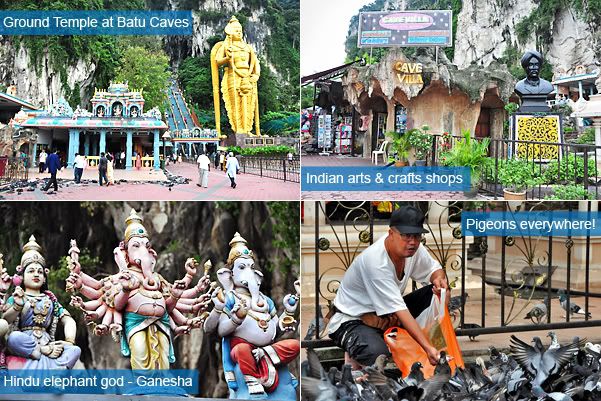 Batu Caves is famous for being one of the most popular Hindu shrines outside of India dedicated to Lord Murugan. The limestone mountain that houses the caves is said to have risen from the sea (because of seashell fragments found within the rocks) and estimated to be around 400 million years old.
Every year during the Hindu festival, Thaipusum, Batu Caves becomes a hive attracting more than one million devotees and thousands of tourists. Even during the off-peak period, Hindu devotees still comes here for prayers and devotional rituals such as this elderly man carrying a simple kavadi on his head.
It was heart-warming to see that he wasn't making the spiritual journey alone and his family was there to climb the steps with him, holding him, supporting him, till they reached the main temple at the inner cave. I saw all these not because I stalked them but our paths crossed a couple of times both on the way up and down. Perhaps we are destined to meet.
To get to the caves, we have to climb 272 steps to the top. It sounds daunting but it is definitely not a suicide mission. I've seen quite a few elderlies traversing the stairway with much greater ease than I did. But having said that, don't expect this to be a walk in the park either. Especially when your every move is being watched by bandit monkeys!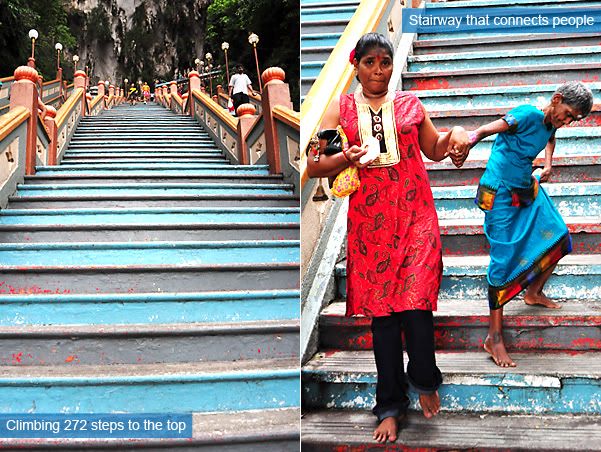 If you keep moving, it's fine. But when you stop to rest for a while, be vigilant of your belongings. The monkeys have the audacity to come up and snatch half-eaten food right from your hand. I don't understand how someone can eat while panting from the climb but that's what one lady was doing. Mid way up, she decided to stow her remainder food away and as soon as her hand came down with the plastic containing her chow, a monkey snatched it.
That happened just a few steps ahead of me. Seeing that, I slowly turned to look at my right side, the side closest to the forested slope and saw two monkeys staring at me. I took some photos of them, tightened my grip on my camera and ascended the steps ever faster.
  
The rather steep stairs weren't the only challenges I faced at Batu Caves. The other big headache was trying to get the exposure right due to the extreme lighting conditions within the cave.
With my half-past-six camera handling knowledge. It took me quite some time to get my settings right. Then a few steps in, my settings have to change again.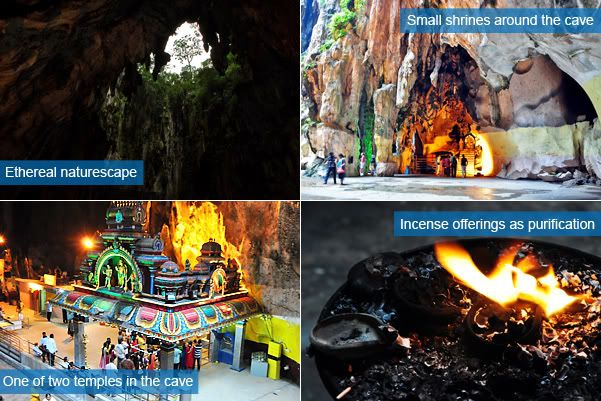 The caves have got potential for quite some nice shots because of the contrast created by Hinduism's very colourful expressions against the stoic serenity of nature. But alas, I need to brush up on my photographic skills before being able to best capture that lively tranquility.
If I go again, I'll need to acquire an external flash and bring my tripod along. But thinking about climbing those stairs with so many equipments... *shudder*
Apart from technical and equipment inadequacies, time wasn't on my side to experiment during this tour. We were given one hour at Batu Caves and if we didn't report back to the coach on time, it will leave without us and we have to catch a cab to our next destination.
I think I was about a minute or two late and they weren't kidding about leaving me behind. Thankfully, Yee Leong stopped the coach and I managed to get on. Thanks a lot buddy!

From one of nature's wonders, we were transported to a wonder of man's artistry in the form of elegant pewter wares. Our next stop was the Royal Selangor Visitor Centre. It's about a 15-minutes ride from Batu Caves.
I find the location of the centre and factory somewhat peculiar. Out of what seemed like a largely residential estate stood the home of this iconic Malaysian export. The unsurpassed quality and aesthetic calibre of Royal Selangor branded pewter echoes far and wide. But where the swanky, ultra-hip centre is situated, one wouldn't expect to find it within such a nondescript neighbourhood.
Royal Selangor was founded in 1885, a period where the tin mining industry was thriving in Malaysia. Since pewter contains about 85-99% tin (according to Wikipedia) alloyed with other metals, the adoption of this very malleable metal as the tin industry's other sibling is only natural.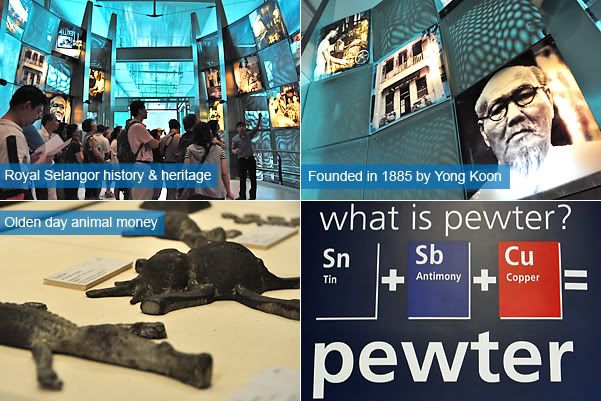 One of the most interesting artefacts at the centre's Pewter Museum was the ancient tin currencies shaped like animals! And they weren't small and handy change, no they weren't, but could literally be used as assault weapons. I wonder how do the ancient people lug them around? I sure don't want to be a rich man in those days!
The tour lasted an hour I think. It's too long in my opinion. I can't help feeling that the extended stay was so that us tourists can find something to buy. I was browsing and re-browsing the showcase for so long after the heritage and factory tour, I almost whipped out my credit card to purchase some Lord of the Rings figurines. Thankfully I was able to resist their spells because I'm not a collector although they look great and were on discount.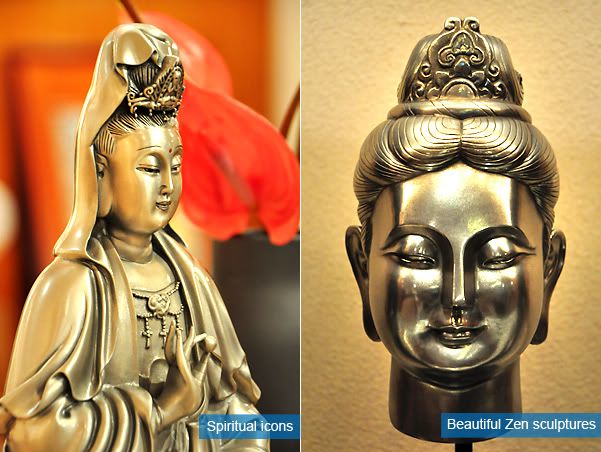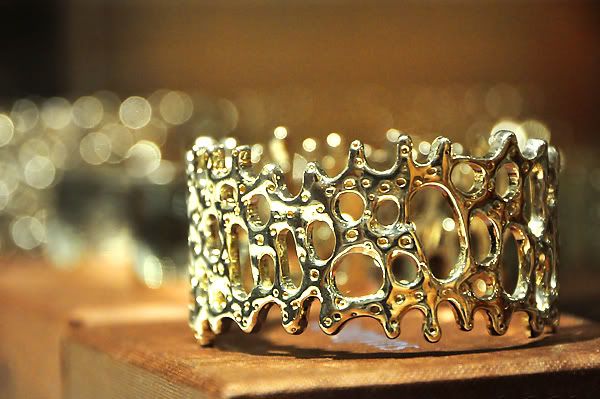 As a whole, this part of the tour was pretty educational and interesting. The fine craftsmanship and details accorded the pewter products were very enticing to own a piece and they were priced within reach. However, I felt we could've accorded some of the time here to stay longer at Batu Caves. Then again, that's just my preference. You cannot please everybody.

After Royal Selangor, we were brought to a photographic spot for the Petronas Twin Towers en route to lunch. I've seen and photographed the strapping skyscrapers on numerous occasions and in my view, much better vantage points so I didn't go shutter crazy at where we were brought to.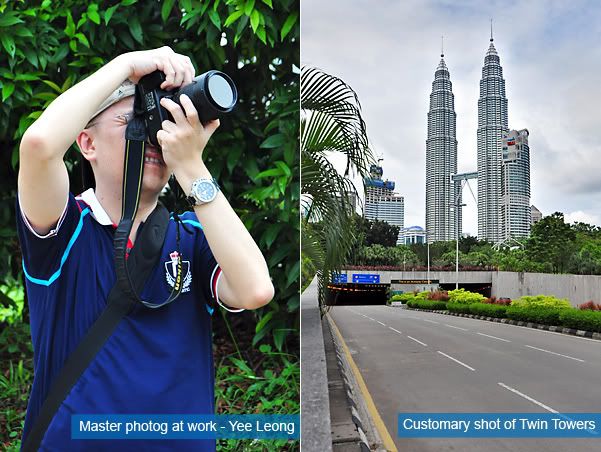 We spent a few minutes to get some "I've been here" shots before proceeding to lunch. I was famished because I had a very light breakfast prior tour to avoid needing a place to 'bake' while on the road. It was a short drive to our lunch venue - Dorsett Regency Hotel.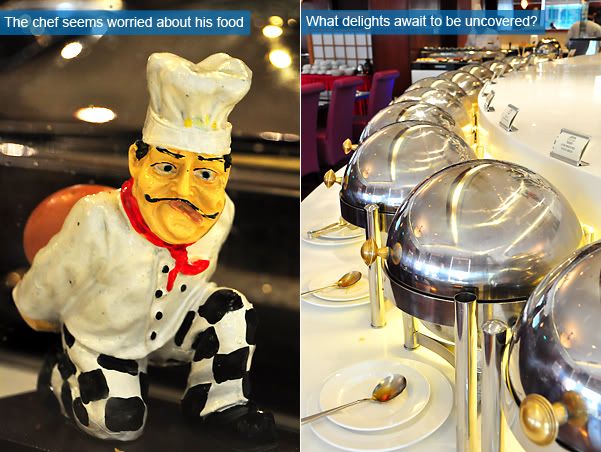 The hotel's visage was screaming for a makeover but the interior was cozy and comfortable. Too cozy perhaps. The dining tables were kinda small to sit four. Food-wise, the selection and taste got my thumbs up. Although the food portion was cozy like the tables, the spread was decent for such a petite buffet dining area.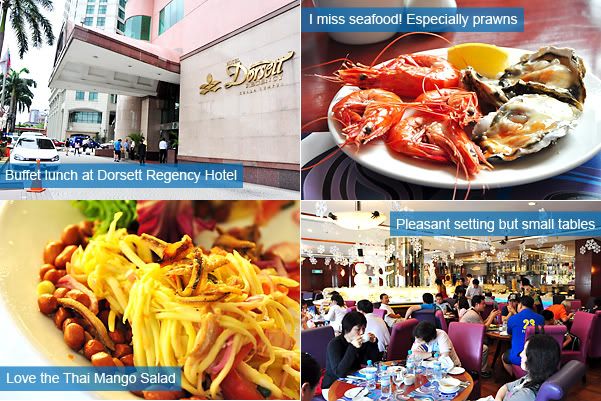 There's the usual cold dish section with boiled prawns and fresh oysters (although they barely refilled it after the first round), meats section, vegetable stir-frys, Western, Eastern, desserts, etc, but my favourite were the Thai Mango Salad and this do-it-yourself steamboat section.
The exterior of the hotel beguiles this quaint little buffet restaurant that is unpretentious and offers some pretty great tastes. My only groan is for it to please refill the prawns and oysters. After the opening presentation, those two items didn't look like they ever got replenished. Erm... this is a buffet right?

Our last stop was the KL Tower, formally known as Manara Kuala Lumpur. It is a telecommunications tower built atop Bukit Nanas to improve the quality of telcomm and broadcasting transmission.
Needless to mention, we're here to get a 360 all-round view of the KL skyline. The view alone is worth making the trip!
During the development of the tower, special care was taken to protect the forest reserve of Bukit Nanas. Apparently, a special retaining wall was constructed around a 100-year-old Jelutong tree at a cost of RM430,000 to preserve it. I wanted to look for the tree but the Animal Zone and its parrot distracted me. I welcomed the distraction. It's nice to also admire the biological architecture of nature.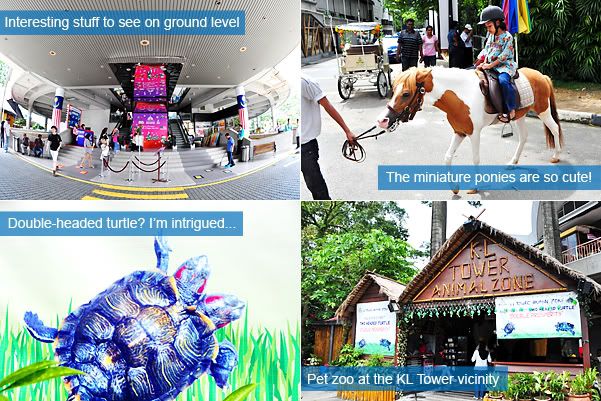 There's no better way to conclude a visit to KL than a panoramic bird's eye view of the bustling city. The cityscape must look even more stunning at night. And although I can't see the estuary which KL got its name from from up at the Observation Deck, I understand now the name of my friend... 'Kuala' means the confluence or mouth of a river, and 'Lumpur' means muddy.
It was so named in 1857 by the Malay chieftain, Raja Abdullah, who was out looking for a new tin mine and came across this crossroad where the Klang and Gombak rivers met. Today, the confluence is no longer muddy but a paved intersection of two waterways that can be seen from the Sultan Abdul Samad Building I mentioned earlier.
Darren
(jubilantly)
:
"There my friend, I know the origin of your name now."
KL
(pleased)
:
"Well done, Darren. I'm glad you took the time and effort. And I think climbing those 272 steps has shed some weight off you."
Darren :
"Hahaha... you're always such a tease. But that's what I like about you. I have to go now. I'm off to visit another long time friend of ours, Phuket."
KL :
"Take care my friend. Great to have you again and don't let me wait another two years to see you. Bon voyage onboard Legend of the Seas and send my love to Phuket!"