Travel Period :
27 - 30 Oct 2010
Exchange Rate :
S$1.00 = 23bht
Took part in
Tourism Authority of Thailand
's Ultimate Thailand Explorers contest in Oct 2009 with my colleague, Jimmy, and won the
Judge's Favourite team
under the Koh Samui category (you can watch our contest video
here
). The prize is a 3 nights' stay at Ao Prao Resort, Ko Samed, valued at US$1,000. So here we are!
Many have heard of Koh Samui, but few know about Ko Samed so I shall share in detail about this island that sits at the crossroad of having both rustic charm and the extravagance of total relaxation. Since we booked the stay months ago, I was looking forward to sun-soak myself in Samed's immaculate waters but an unexpected touch of good fortune thwarted my plans to go lobster red during this trip. I was selected as a finalist for the
Urban Homme Icon Challenge
.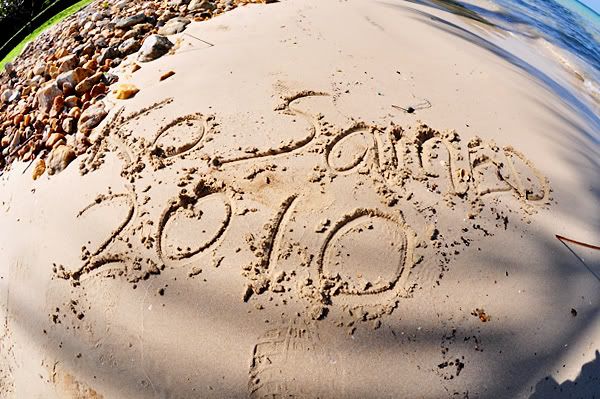 If you've been following my
Urban Homme entries
, you would know the hi-tech treatments I'm going through and why I must stay out of the sun's damaging rays at all cost during the contest period. No basking in the sun at a beach resort... it's like having a corked bottle of wine but no opener.
So throughout my stay, I was either holed up in the room watching TV or at the hotel lobby plaguing my friends with my lamentations on Facebook. I wanted to go out and explore more of the island, but it's a hassle and madness to keep dressing up like this...
Getting to Ko Samed from Suvarnabhumi Airport
To go to Ko Samed, you have to get to Ban Phe (in the Rayong district) to take a boat. There are two ways you can get to Ban Phe from the airport :
1) Book a pick-up transport with the resort
you've made a reservation to stay at. Cost starts from 500 bht and there's a stipulated minimum number of people to travel. If your group size is less than that, you'll have to pay the difference. Eg. Minimum of 4 people to travel for the price of 500bht per pax (2,000bht). If only 2 of you, then you'll have to pay the price for 4 (2,000bht). Journey takes about 3 hours.
2) Take public transport
which costs about 200bht per person. Journey takes about 4 to 5 hours.
- Take
Airport Rail Link
(at B1 of Suvarnabhumi Airport) to
Makkasan Station
(15bht). Exit station and go to
Phetchaburi Station
.
- Take MRT from Phetchaburi to
Asok Station
(20bht). Exit station and go to
Sukhumvit Station
(they're linked).
- Take BTS from Sukhumvit to
Ekkamai Station
(25bht). Exit station and walk to
Eastern Bus Terminal
.
- Take bus from Eastern Bus Terminal to
Ban Phe / Rayong
. If you buy a one-way ticket, it's 157bht. If you buy return, the coming back ticket costs 117bht (40bht discount), so total cost is 274bht.
Rayong District - Gateway to Ko Samed
The spelling for Ko Samed can be confusing. Sometimes it is spelt with a 'd', sometimes with a 't' as in Ko Samet. But they mean the same place. 'Ban Phe' is also sometimes spelt Baan Phe, while Ao Prao can have the following permutations - Ao Phrao and Ao Phoa. A case of being different but same, same. However, it caused me some concerns because in Thailand, a letter difference may land me in a totally different place (eg. Chiang Mai and Chiang Rai. 'M' and 'R' dictates totally different destinations). After much research and comparison of websites, I decided that the common spelling are 'Ko Samed', 'Ban Phe', and 'Ao Prao'.
The difference in spelling was not the end to my confusion. When I posted on Facebook to ask for help in getting to Ban Phe Pier, I got directions on how to get to Rayong. Fact is, Ban Phe is located in Rayong, so are a few other piers, and it's sort of the gateway to get to Ko Samed.
Rayong is a very small seaside fishing town with the very pronounced and distinctive smell of sea harvests such as fish, shrimp and squid drying in the sun. Which means that if you're going to purchase dried seafood here, they're guaranteed to be 'fresh'.
I don't know the price of the boat ride but I think there're two options - bumboat and speedboat. We were given the speedboat land-to-island transfer which took less than 15 minutes. I presume it takes longer with bumboat and ferrying duration may also vary according to which pier you're landing at on Samed. Although fast, the speedboat ride was rather bumpy, but I liked it because it jostled my bones after a long bus ride and added excitement!
Transport on the Island & Sai Kaew
Ko Samed is not a very big island shaped like a gun and there're a few ways you can get around the island - hire a 'taxi', rent a motorcycle, or rent a four-wheel dirt bike. My advice is take the 'taxi' which is a small pick-up lorry rather than a car. They don't run on meter and it's a fixed rate according to distance. Getting from Ao Prao to Sai Kaew, another beach resort across the broadest section of the island, cost us 200bht one-way. The ride was about 20 minutes not so much because Sai Kaew is far, but because the road is unpaved and very bumpy.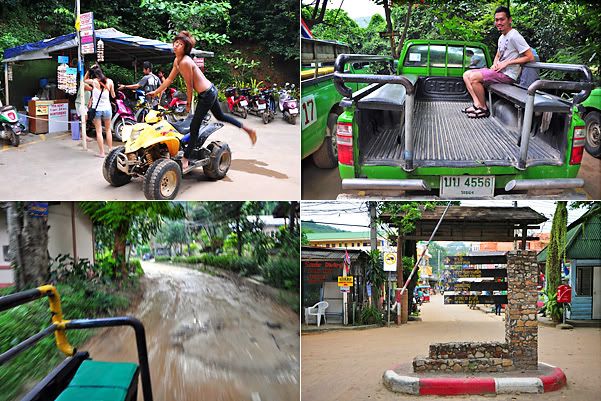 Especially when it rains, water is trapped in the many potholes of the muddy road and you'll have to be prepared to get dirty riding the motorcycle or dirt bike. As the roads are unpaved, it is also not advisable for anyone without experience in riding a motorcycle to try because the road conditions are accident-traps.
The four-wheelers are a better and more stable option. It looked fun too and I almost wanted to rent one and ride around the island on the last day there but decided against it since Jimmy left a day earlier and I was all alone. Best not to venture when no one knows your whereabouts in case something happens.
Ao Prao Resort
Tucked in a private and secluded spot at the end of Ao Prao Beach, Ao Prao Resort is a quiet sanctuary filled with lush greenery and offers a great sunset view. It incorporates the natural surrounding into its landscape and design, giving it a back to nature feel with the comforts of the modern necessities an urban folk like me is used to.
Jimmy and I were very thrifty. We usually filled up on breakfast so that we can skip lunch because eating at the resort was financial homicide. An order of Pineapple Rice cost about S$16.00 and a Chicken Burger with fries and salad on the side cost S$13.00. But I must say, the Pineapple Rice was worth that price with the fresh succulent prawns and presentation in the hollowed out husk of a pineapple.
We had wanted two single beds but we were told it's further up hill so we decided to stick with this king-size bed room which offered a fantastic view of the beach with a floor-to-ceiling picture window and was located right next to the resort's reception and restaurant.
The room was spacious and delightfully furnished with natural wood, a look that instantly brings about an inner calm and relaxation of the mind. The only bummer was the lack of a bathtub to soak in, especially in the still of night, and just listening to the gentle waves washing ashore outside.
Ao Prao Beach
As mentioned earlier, there are several beach coast on Ko Samed. Ao Prao Beach is probably one of the shortest and most accessible stretch from mainland. The beach has fine white sand and extends for a few kilometres into the sea. I could walk very far offshore with my my head still above the waters and the surf is very gentle and great for swimming.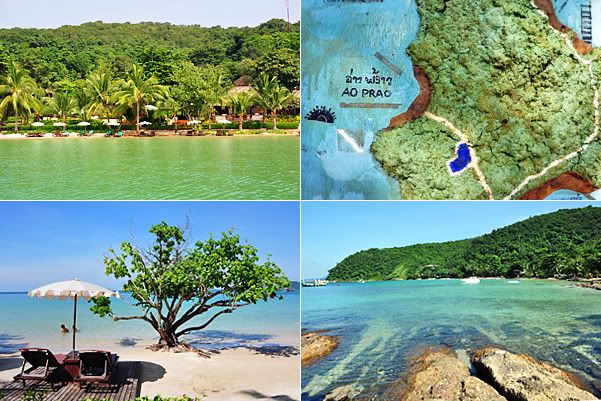 In many ways, this trip felt less than fulfilling. Firstly, it was because I couldn't exposure myself to too much sun and secondly, given the kind of setting and atmosphere, Ao Prao Resort and beach would be great for romance or enjoy a private time with family and friends. Being there with a colleague didn't bring out the full potential of the place although Jimmy is forever a creative and interesting person to hang out with. But somehow, something is amiss.
But I am very thankful to the Tourism Authority of Thailand for this opportunity to explore Ko Samed and putting a destination on my next romantic escapade!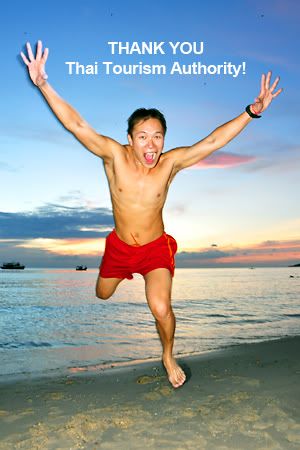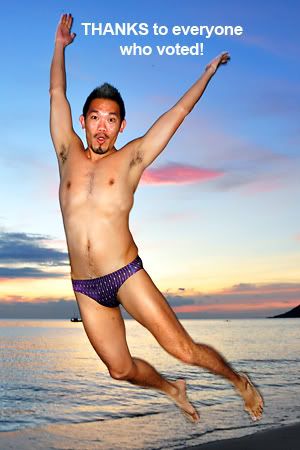 For more photos, please visit my album
Ko Samed-ness
.