What stories does the Legend of the Seas (LOTS) behold? Join me on a nautical exploration onboard this 70-tonne cruise ship!
The last time I took a cruise holiday was when wavy perms and baggy pants were in vogue; and Enya's Orinoco Flow urged all to "sail away, sail away", bringing about a revival of the Celtic voice in New Age anthems. Point is, that's a long time ago. My cruise memory dates so far back, it has become somewhat of a personal legend where I have a consciousness about it, but I cannot prove it happened because there are no details for recall or photos of my encounter.
So when I'm invited to join a bloggers' contingent on a half-day tour of the Legend of the Seas cruise liner, I wasted no time in signing up. And here are my first impressions of the ship on this very short visit...
LOTS to Explore!
When I first saw the cruiser, I was wow-ed by the size of it. But it is still considered a baby compared to the biggest ship in the Royal Caribbean fleet - the soon-to-be launched Oasis of the Seas which weighs in at 220 tonnes. If LOTS is already so massive, I can't imagine the size of its new sibling.
The Romans call him Neptune, the Greeks revere him as Poseidon. No magical seafaring legend would be complete without the likeness of him.
Owned by the multiple award-winning cruise operator,
Royal Caribbean International
, LOTS sailed its maiden voyage in 1995 and has gone through refurbishment recently.
If you 'smell' something fishy about my camera angles, that's because I'm using my new fisheye lens which I bought to coincide with this half-day excursion. Been wanting to get a fisheye lens for the longest time and this is the perfect excuse to get it despite the chagrin of my dieting pockets. I hope it'll turn out to be a worhtwhile investment.
This is the central axis that runs through various deck levels of the ship.
According to the ship's cross-section plan, there're a total of 11 decks that house a myriad of activity areas for children, youths, adults and the whole family. Facilities include various lounges, dining rooms, a casino, library, day spa and fitness centre, solarium, theatre, shopping arcade, and sporting nodes on the sun deck. More about the ship's highlights
here
.
LOTS to Chill...
This is the first time I'm meeting so many bloggers on a face-to-face basis. There were more than 50 of us! I really enjoyed the fellowship and opportunity to learn from many of them in that short time. They were so friendly and helpful, it felt as if this wasn't the first time we met.
The Anchors Aweigh Lounge is where one can relax to live jazz music or hold a private function in a spacious, yet cozy setting.
Before the tour started, all of us gathered for a briefing at the Anchors Aweigh Lounge. Even though the lounge wasn't operating, I can imagine sitting in the cushy emerald couches, sipping a cocktail and just relaxing to the sounds of smooth jazz.
LOTS to Shop!
One of the things that surprises onboard was a mini shopping 'district'. It's a district because there weren't just one or two shops but a collection of shops selling all kinds of stuff from clothes to skincare products to souvenirs to my favourite... booze!
Prices onboard the ship are in US dollars and there's even an ATM machine for cash withdrawals. However, a cashless system is in place where expenditures onboard are charged to a tap card (called SeaPass) issued to every passenger. The expenses are consolidated and charged to the credit card or settled in cash upon disembarkation.
LOTS to Contemplate
For the bookworms, there's a well-stocked library offering various genres ranging from popular novels to biographies, children's books, periodicals, and self-help titles. Looking at the bas reliefs of literary intellects surrounding the library, I already feel so smart without even touching a book!
There are no fools in knowledge or no knowledge in fools?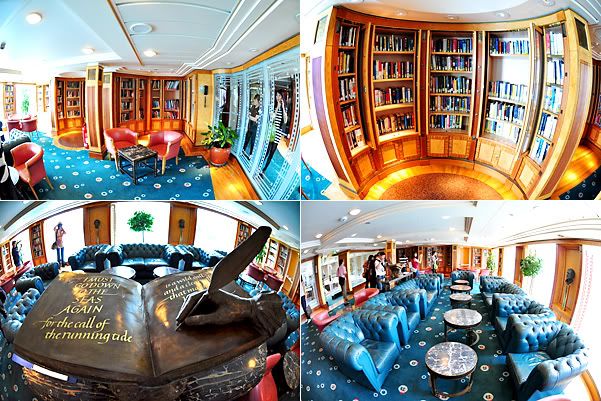 Can you imagine sitting on the large leather sofa with an interesting read, your favourite music plugged into the ears, drinking wine and see a different scenery each time you look up from the book and let your imagination be projected onto the seawater?
LOTS of Comforts
Having watched enough of seafaring disaster movies, I'm convinced that living quarters aboard all ships are the same. They are crammed, claustrophobic pigeon holes. That has always been my impression, so since I have a dislike for confined spaces the size of all the seven seas added together, going for a cruise vacation was never enticing.
But having seen the different rooms that hoi pollois like me can afford, their roominess ain't too bad. They weren't the sardine jackets in my head. The room comes with attached bathroom, sofa seating area and a small television.
The cabin rooms were not as small as I imagined them to be and looks very comfortable. Pretty girl not included.
There are also oceanview rooms where you can wake up to dancing waves outside your window and rooms with a balcony to sit and just let your thoughts unwind over the vast expanse of sea and sky. The prices for the various room types are listed on
Royal Caribbean
's website, but as a rough guage, it costs about S$500+ per person for a 3 nights' cruise around Malaysia.
You can also choose different routes that can last between three to nine days around Asia. The cruise will make stops at key ports around the region and you can take land tours to explore the area.
With ultra posh decor and interior furnishings, the Royal Suite would tease even Neptune out of the waters.
Although the rooms were in the midst of being prepared and tidied, I could see that when done, the common cabins would be clean, decent and good enough for a comfortable stay. But if you print money for a living, then it's definitely worth splurging on the luxurious oceanic suites. The most grand of them all is of course the Royal Suite which comes with a piano in the living room! Imagine your darling playing the piano and crooning Titanic's love theme 'My Heart Will Go On'...
*choi!*
LOTS of Fun!
The swimming pool could be considered the crown jewel of every cruise liner and the one on LOTS sits like a gleaming aquamarine under the glorious sun.
Apart from the pool and outdoor jacuzzis, the sun deck also comes fitted with a jogging track, mini golf course, floor games and get this, a rock climbing wall! It must feel awesome to be on top of the wall and looking out to the ocean at such a high point.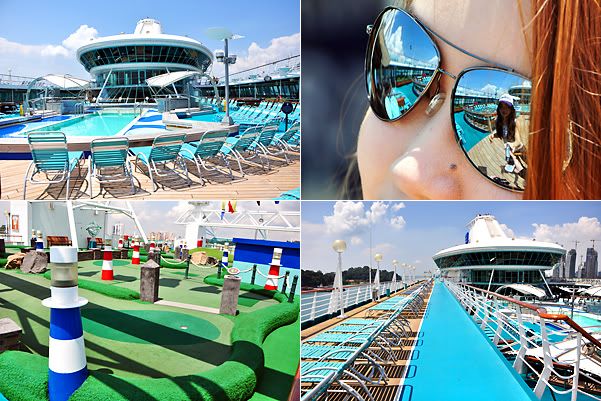 I can sooooo see myself baking on the open deck for hours and lazing the hours away, never mind that the UV rays causes skin damage and premature aging. No point having youthful looks but no youthful activities!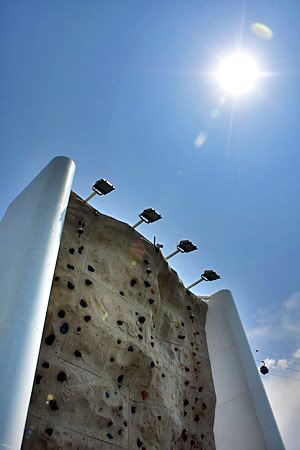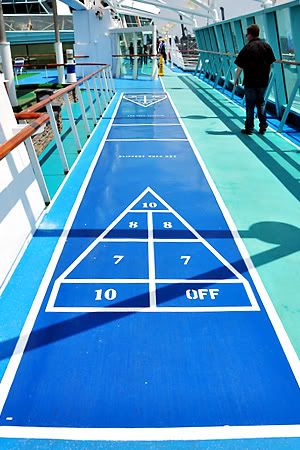 This visit to LOTS is an event organised by Omy.sg and amongst the bloggers who did the half day tour and blog about it, 10 will be chosen to go on a 5 days 4 nights Isle of Southeast Asia Cruise. If you see more posts about the cruise in upcoming weeks, you know I'd made it. Else, I hope this post gave you a good idea of what's it like to enjoy a holiday aboard LOTS.
LOTS to Eat!
But of course, the facilities, the rooms and the sun deck are just mere enablers to experiencing the greatest part about LOTS. It's the service. It is excellent beyond words and the place to truly taste it is at the Romeo & Juliet Dining Room.
Mutton's tastier than this lamb shank I had. The meat slides right off and retains the nice mutton flavour that is simply baa-arvellous.
Don't get me wrong, the staff at all the other sections be it our tour guide James or the many housekeepers I came across were all courteous and very ready to greet with a smile, but it was at the dining room that I had the immense pleasure of experiencing the full extent of it.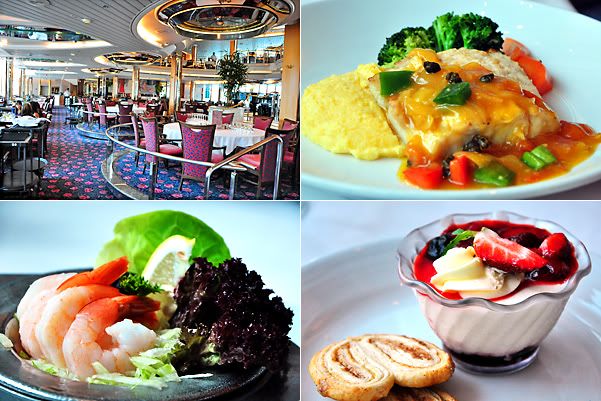 I think the service was more delicious than the food although I did enjoy every bite of my lamb shank. The eating experience was well seasoned with a service standard that's 5-star to say the least. Other than the Romeo & Juliet Dining Room, there are a couple more eating outlets and a buffet-style restaurant. The buffet spread had as many choices as there are creatures in the sea.
I hope this blog has given you a useful glimpse into the Legend of the Seas should you consider a cruise vacation. I would like to thank the organisers for this opportunity to add a new experience to my memory, and this time, I have photos and a record of it.
Take a break from land tours. Why not take a vacation at the oldest manifestation of nature... the sea? Have a great flow... :)
For more photos of the outing, please click
here
.