Knell /nel/
n
(usu
sing
) the sound of a bell rung slowly after a death or at a funeral.
The acronym of Kuala Lumpur spelt and summed up the knell of a time I had during this most recent trip. Maybe it's because I had been to KL too many times within the past 3 years and my last trip was only about 3 months ago. The shopping is still great, especially since it's going to be Hari Raya Puasa soon and so the height of the sale frenzy. Food-wise, it is good value because of the exchange rate, but clubbing is a less than fun experience compared to Singapore.
We went to Farginnapi Bar, Onovu and Namiso and they charged an entrance fee of between RM$25 to RM$30 for one standard drink. Onovu serves the worst vodka orange I had ever tasted. The orange juice is diluted and there's hardly any taste of vodka in it at all. The bar price is RM$20 for a bottle of Heineken Beer and RM$80 for a jug of vodka orange. Apparently, the KL dwellers only club on Saturday. I don't know if that's because of the month of Ramadhan, but Onovu was rather empty on Friday, full on Saturday, and closed on Sunday. Namiso was opened on Sunday but you can number the patronage easily.
SKYBRIDGE de-TOUR
Other than that, I still didn't get to go on the Skybridge tour of the Petronas Twin Towers. I read that we have to queue for about 1 to 2 hours to get the free tickets for the tour and only 1,300 free tickets are issued daily. During the weekends, people start queuing as early as 7.30am for the first tour that starts at 8.30am. There's an exhibition about the Twin Towers and Skybridge on the ground level but you're allowed only 10 mins on the Skybridge itself. The Skybridge is on the 41st level of the towers and offers a vantage view of KL city. However, part of that view is blocked and a better way to view the city is to actually go to the KL Tower instead. A taxi driver told us that some 5-star hotels have tickets reserved and will release it to their guests, or you could pay someone RM$15 per ticket to queue for you. The queue is shorter during the weekdays, but the tour is closed on Mondays. So after considering the odds, we decided to give the Skybridge a miss and also because we didn't wake up early enough.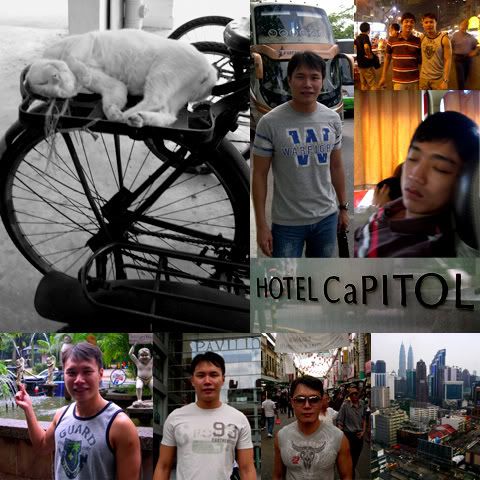 TRAVEL FACTS
Transport :
Transtar Premium 39-seater coach (S$47.00) / Transtar First Class 16-seater coach (S$41.00)
Travel Insurance :
S$28.00
Departure (SGP) :
5 Oct 07, Friday, 8:30am, Golden Mile Complex (Arrived at KL 1:30pm)
Departure (KL) :
8 Aug 07, Monday, 6:00pm, Pasarakyat (Arrived SGP at 10:00pm.)
Accommodation :
Capitol Hotel Deluxe Room, RM$230 per night (RM$70 per night for additional bed).
Sandwiched between Plaza Sungei Wang and Plaza Low Yat, the hotel is really right at the heart of the major shopping complexes. But, good location is the ONLY advantage this hotel has to offer. The hotel and room looks neat and spanky (as compared to some of the other worn-out mid-range hotels around Bukit Bintang area), but the room is really small and the hotel is skim on facilities. There is no swimming pool, no gym, no bathtub in the toilet, and does not include breakfast. And the service staffs have no smiles.
The safe deposit box in the room was jammed and I had to call the reception 3 times in over half an hour before someone finally came and fix it. And the receptionist sounded like she was either going to faint from her Ramadhan fasting or Marilyn Monroe drawing her dying breath. Then on our second night, the tap in the shower burst and we had to change room. The new room, which was just across from our old one, had a weird layout. The room door was just in front of the cupboard door and they open into each other. But that was all still acceptable.
What wasn't acceptable was the fact that we booked a wake-up call, but that call never came! A morning call is probably the most basic service that a hotel needs to get right. We booked a call for 10am so that we could make it to the Skybridge by 11am to get a ticket for the tour. We weren't woken up at 10am and by the time we roused from bed, it's too late to get a ticket. Thankfully it wasn't a life and death matter. Imagine if we were to miss a flight or business meeting just because the hotel cannot be relied on for a morning call? There're 3 of us in the room so it can't be all 3 not hearing it and I've known hotels to knock on your door if you fail to pick up the morning call. And one of my friends actually heard the reception staff bickering right in front of a customer. I didn't see it personally, but if that was true, then I would've experienced the worst in hotel service.
Exchange Rate :
S$1.00 to RM$2.29 (Travel Expenses : S$400, exclude transport, accommodation and insurance.)
WHAT I LEARNT ABOUT MYSELF DURING THIS TRIP
1) That I can still dance like a caffeinated monkey who had too much sugar for more than 2 hours, non-stop, no drugs.
2) That I'm more impatient than I thought I am patient.
3) That I'm less forgiving than I believed myself to be.
4) That I can never be romantically attracted to someone too much younger than me.
5) That I cannot resist buying something that I don't need just because it is cheap.
6) That I continue to eat, even though I'm already full, as long as there's still food on the table.
THE BEST THING DURING THE TRIP
We met this most charming waitress at Olio Dome located at Lot 10. The Indian girl is all smiles and chatty with a warmth that is sincere and very natural. So compelled were we by her personable service that we each wrote her a compliment on the feedback forms. I think her name is Kiruba. One smile can really soothe a bumpy mile…