Date of Exploration :
12 Mar 2015
Call it an identity crisis or all-under-one-roof comprehensive, there's no denying that Nong Nooch Tropical Botanical Garden and Cultural Village is anything but your average flora and foliage type of green attraction. Apart from a flourishing array of flowers and exotic plant species arranged into thematic gardens, this largest tropical garden in Southeast Asia also contain a staggering amount of sights and activities one can do on the park grounds. There is elephant riding, elephant shows, cultural performances, sculptural showcases, a mini petting zoo, an aviary, dining venues, an automobile showroom, and lots and lots of animal dioramas that defy numbering.
To me, it feels kinda like Singapore's Gardens By The Bay and Haw Par Villa rolled into one with a dash of zoo thrown in. The effect is a haphazard buffet of experiences that holds a delightful surprise at every turn. Because of all it has to offer, Nong Nooch Tropical Botanical Garden is a top draw for tourists and local school groups which culminate to chaos during the showtimes and a long wait for photobombs to detonate at scenic hotspots.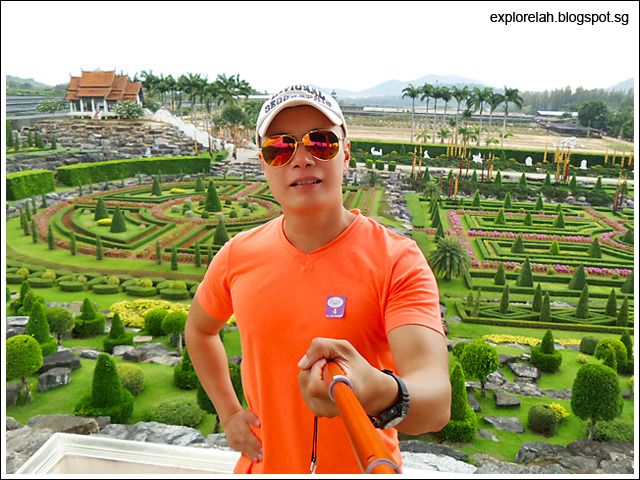 Selfie with the French-inspired manicured garden and a traditional Thai pavilion in the background. The plants are so well behaved!
Opened as a public attraction in 1980, the original plans for the 600ha site was for it to be a plantation of the Nong Nooch family. Instead, the owners decided to turn it into a conservation sanctuary for wildlife and tropical plants and eventually shaped it into one of Pattaya's go-to tourist attractions.
Tips for Visiting Nong Nooch Garden
Unless there are 4 of you in a group to charter a cab, the best way to visit Nong Nooch is to join a packaged tour. If you go on your own, chartering a taxi for a full-day costs 800bht (from South Pattaya). The taxi will send you to Nong Nooch Garden, wait for you and send you back to the hotel. The fee does not include the 500bht entrance fee to the garden. So if you are travelling alone, you will be paying 800bht + 500bht = 1,300bht to visit without a package.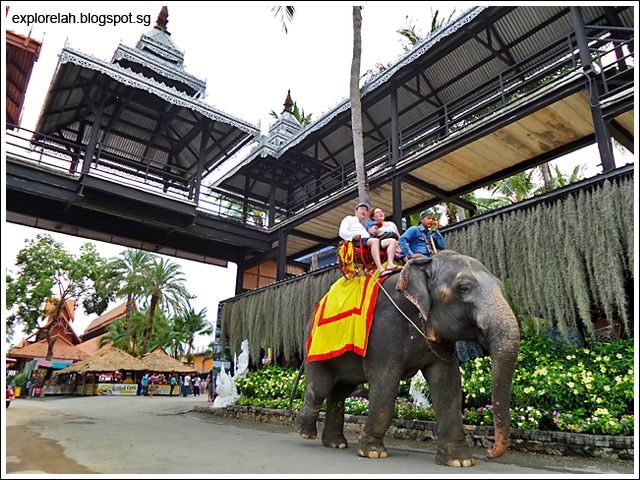 Elephant riding at Nong Nooch Garden which is available at an additional charge apart from the entrance fee.
A packaged tour costs 600bht (half-day, 8:30am - 1:00pm) and 900bht (full-day, 8:30am - 5:00pm) which are inclusive of 2-way transport and entrance fee. The entrance fee includes a ticket to the cultural dance and elephant shows. The full-day tour includes a buffet lunch. I took a full-day tour so that I have more time to explore and I'm glad I did as a half-day is too short and rush to see all of Nong Nooch Garden.
But the problem with taking a packaged tour is that a 14-seater van will go around the city to pick up other tourists. We spent almost an hour doing the rounds to various hotels before transferring to a bigger 36-seater coach to head to Nong Nooch Garden, which is a journey of about 30 minutes from South Pattaya (approx. 30km).
You will be issued with a sticker for the packaged tour. Don't lose the sticker or take a photo of it as it has the phone number of the tour operator. Going back can be quite chaotic so in case you lose sight of the tour guide, you can get Nong Nooch Garden's guest services to call the guide to pick up you up.
When visiting, it is prudent to bring an umbrella, slap on some sunblock and also insect repellent. Some parts of the garden are unshaded and can get pretty hot and I got quite a few mossie bites.
As the park is pretty big, you may want to take a buggy that takes you around instead of walking everywhere for a fee.
Thematic Gardens
Nong Nooch Garden is divided into various zones, displays and gardens according to plant species as well as design themes. There's the Pottery Garden, Orchid Garden, Cactus Garden, French Garden, European Garden, Stonehenge Garden, Butterfly Hill, etc). Within the vicinity is also a resort for overnight stays and a cyad research centre.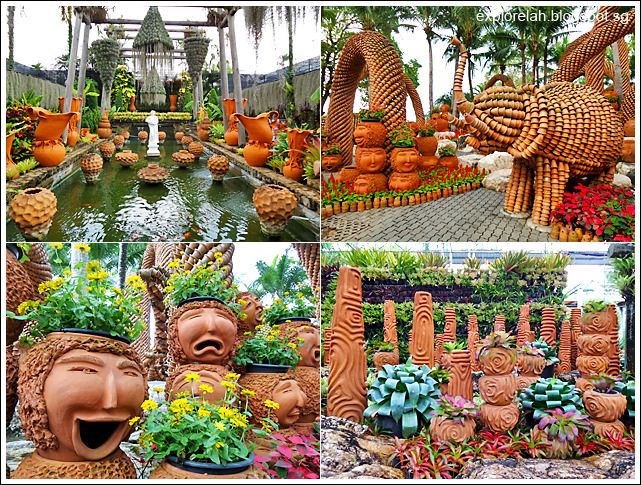 Arches and elephants made out of flower pots and other tribal as well as whimsical pottery sculptures can be found at the Pottery Garden.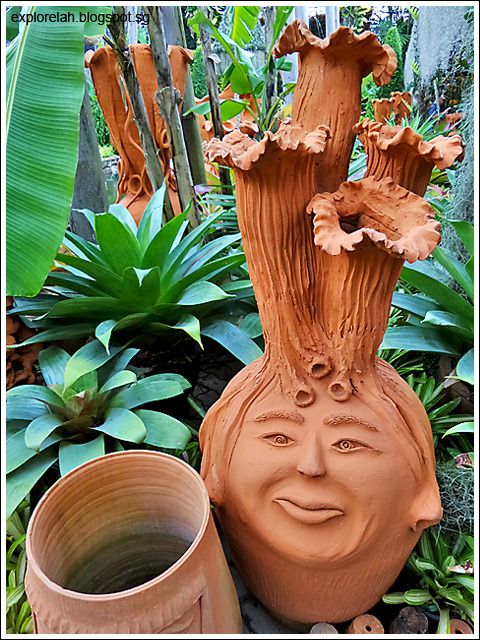 Call the police, good taste just got murdered. This thing that shouldn't have been in the kiln creeps the hell out of me.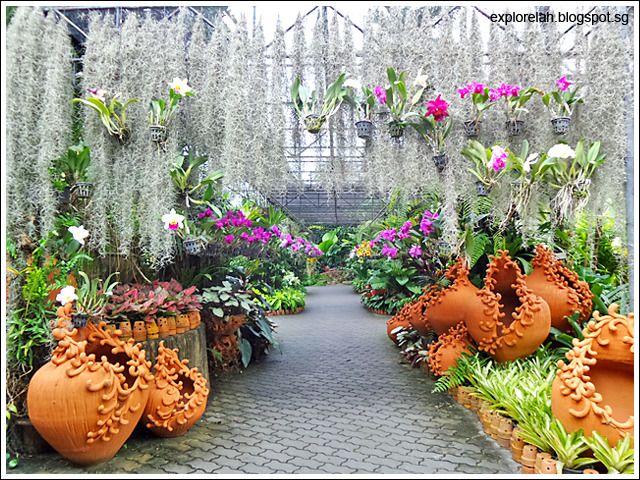 Merging with the Pottery Garden is the Orchid Garden that features one of the biggest collection of these beautiful blooms in Thailand.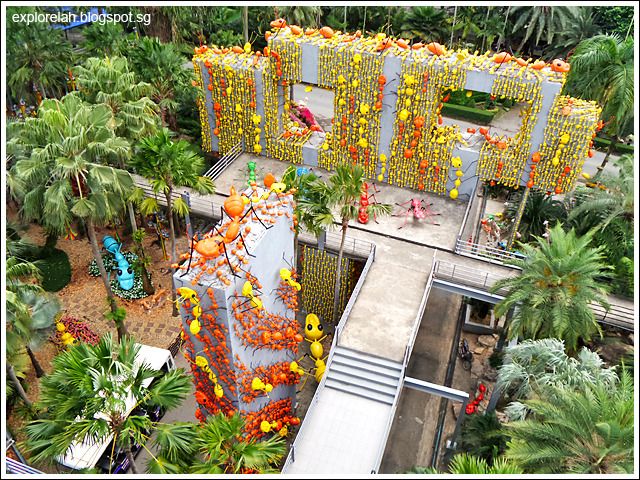 Do these walls make your skin crawl?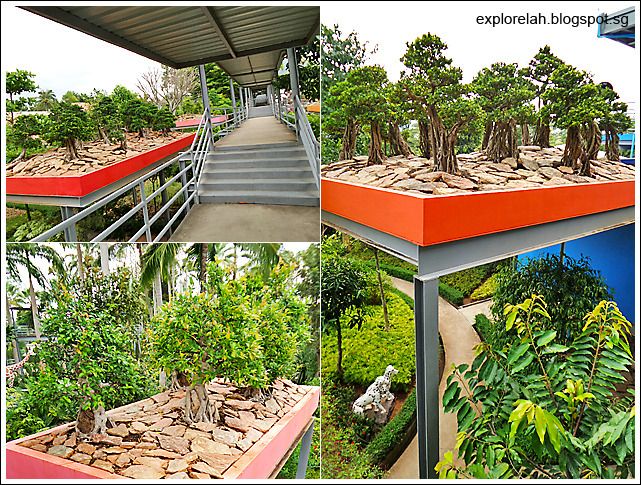 One of the rather interesting and unusual displays are these trees rooted on rooftop planters lining a section of the elevated walkways that link the whole Nong Nooch Garden. Following the aerial path is a good way to start taking in the entire park ground.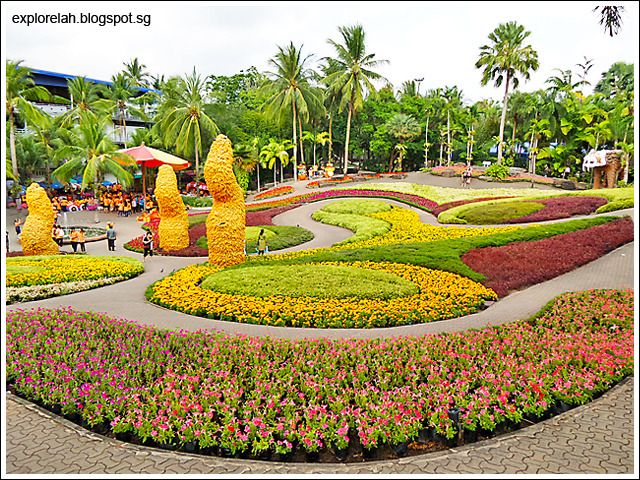 Butterfly Hill. I thought it's a butterfly enclosure with lots of fluttering wings but it's so named because the floral ensemble resembled the patterns of a butterfly wing.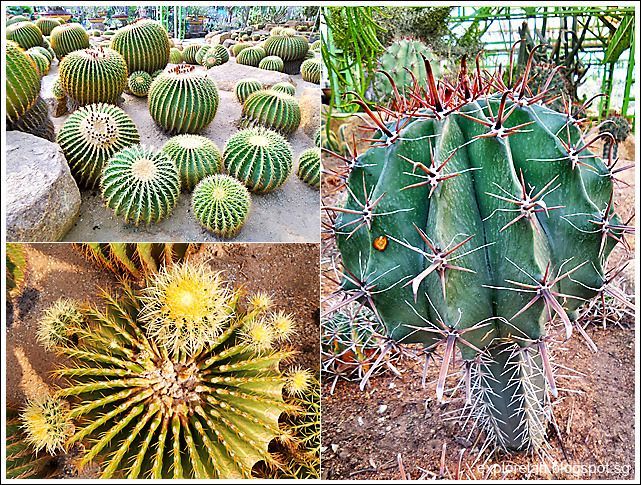 The S&M masters of the plant kingdom. Pricklies and succulents at the Cactus Garden basks quietly in the sun at a less visited section of Nong Nooch Garden.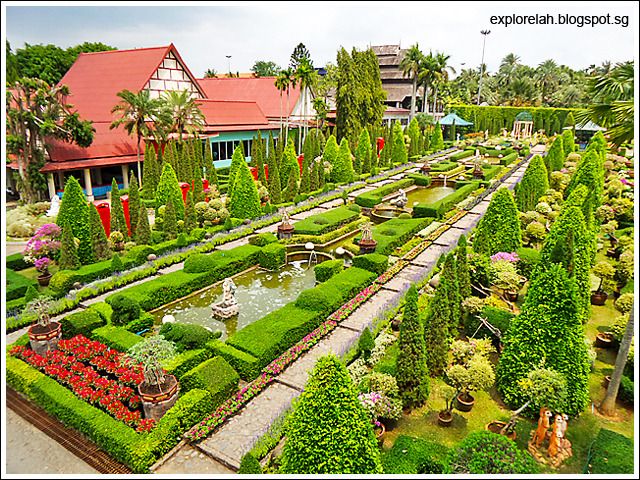 European Garden. Surrounding the garden are places to eat.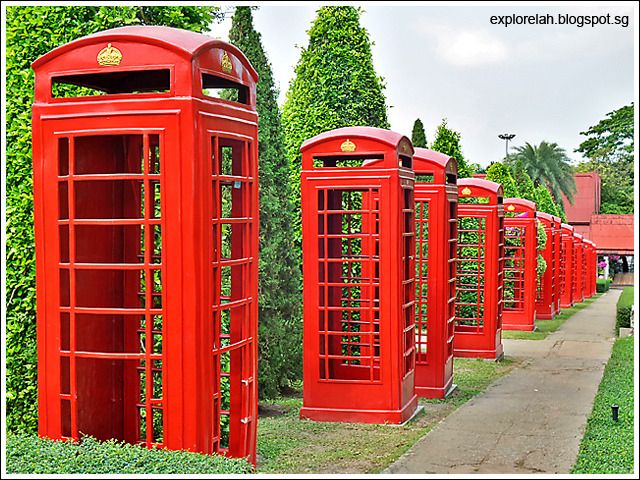 Hello? Retrolicious UK phone booths find a second life as an oddity at the garden but because there are so many of them in a row, they look well at home.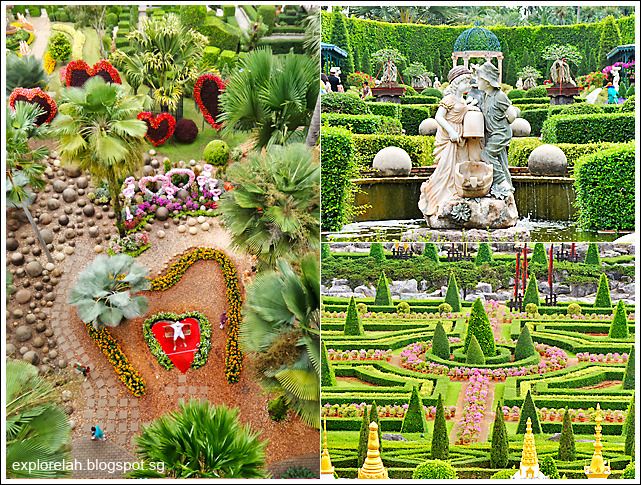 Nong Nooch Garden feels like Legoland using plants as bricks.

The most spectacular section of Nong Nooch Garden is the section where the Stonehenge Garden neighbours the French Garden framed by an eclectic mix of cultural pavilions and a mountain in the backdrop.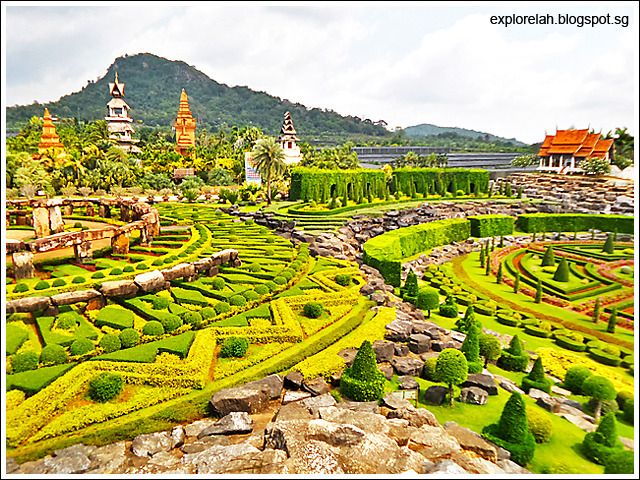 You can admire the intriguing design of the Stonehenge Garden and French Garden but there are no points of access to go into them.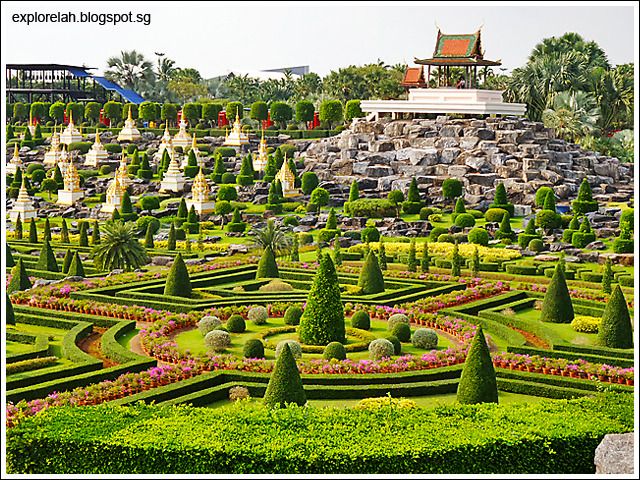 Another view of the French Garden. The traditional Thai pavilion is the best spot to take a photo of the Stonehenge Garden with the French Garden with a mountain backdrop like the 2 photos above.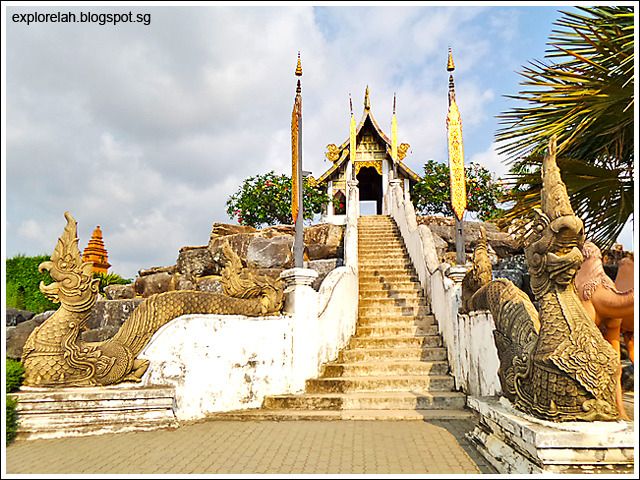 The ornate and regal Thai pavilion at the other side of the French Garden offers another perspective of the sculptured gardens.
Cultural Shows, Petting Zoo, Cars and Dining
If walking around the garden aimlessly gets to be a bit of a bore, there are other
distractions
attractions in Nong Nooch Garden to get acquainted with.
Included in the entrance fee, whether you buy at the door or included in a packaged tour, is admission to a Thai cultural dance and martial arts performance and elephant show where all visitors are herded to watch. There are a number of shows in a day and each show lasts about 30 minutes.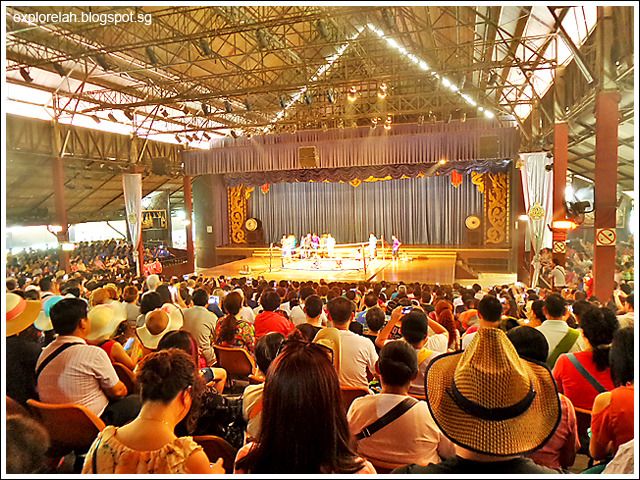 Performance hall of the Thai cultural dance and martial arts show. The arena is pretty huge but it's packed with people and rather warm. The show quality is not bad with changing backdrops and costumes that doesn't look amateurish but the theatre is filled to standing-room only capacity. I arrived 10 minutes before the 10:30am show and already all the seats were filled and I had to stand at the back.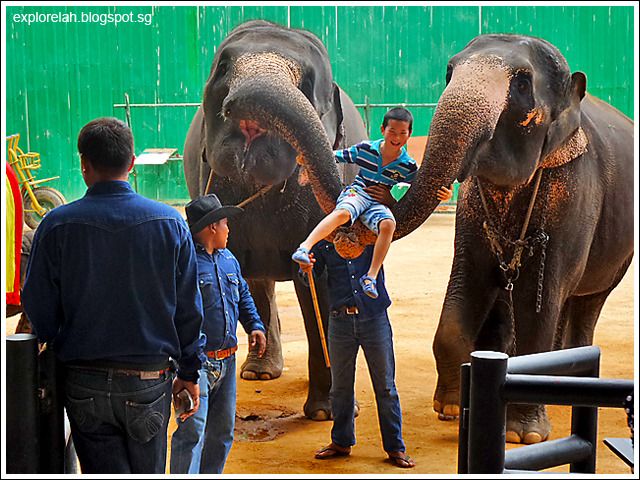 After the cultural show, visitors are directed immediately to the elephant show. Feeling kiasu, I left the cultural show before it ended and headed to the elephant show to get a seat but again, it was already pretty filled with tourists, mostly from China, and I had to sit at a corner section. The show features elephant football, dart throwing, painting and other tricks.

The mahouts (mostly from Cambodia as that region has the best mahouts) dressed as cowboys constantly solicit visitors to take a photo with the elephants for 100bht.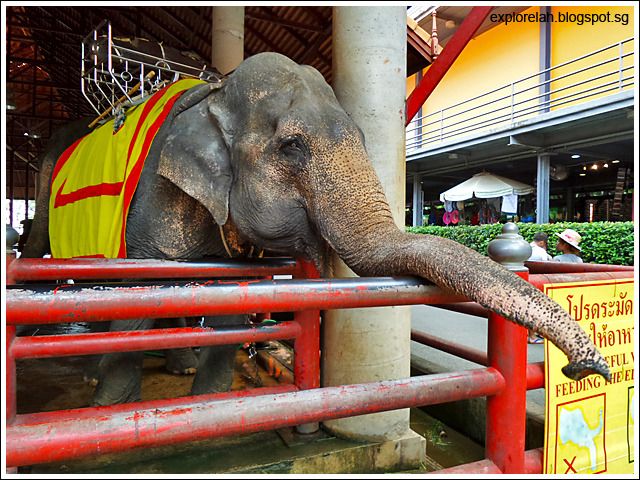 If you would like to reward these magnificent beasts, bananas can be bought to feed them.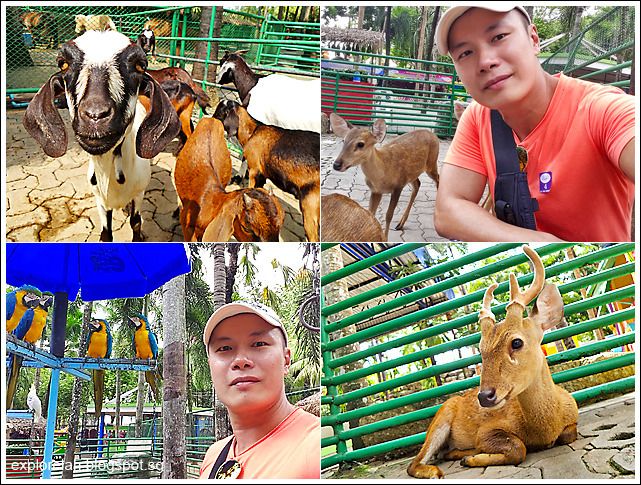 Nong Nooch also has a small petting zoo stocked with deers, goats, ponies and a few macaw parrots. Among the macaws is a cockatoo that can say "Hello"!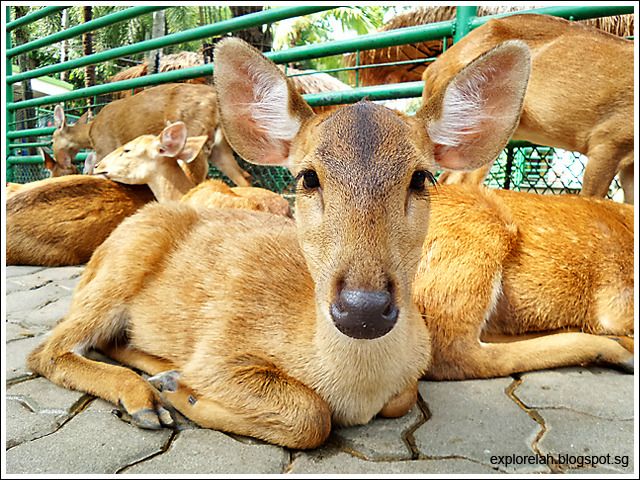 Get in my luggage and go home with me you cute thing! Vegetables can be purchased at 20bht a bunch to feed the animals. One trick I've discovered about photographing these petting zoo animals is to feed them first then take their photos. This way, you earn their trust.
But it's still pretty hard to get a selfie with the deers.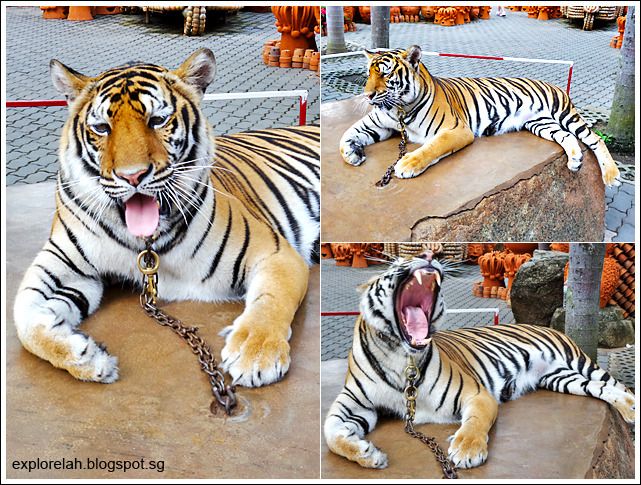 A n umber of big cats are placed at strategic locations at Nong Nooch Garden for visitors to get a photo taken (100bht). I wouldn't pay the money to take a picture with them because the choke chains are so short, the poor beasts cannot even stand up fully to stretch or walk about but be forced into a lying position. The tigers look healthy but I can't help feeling this is animal abuse.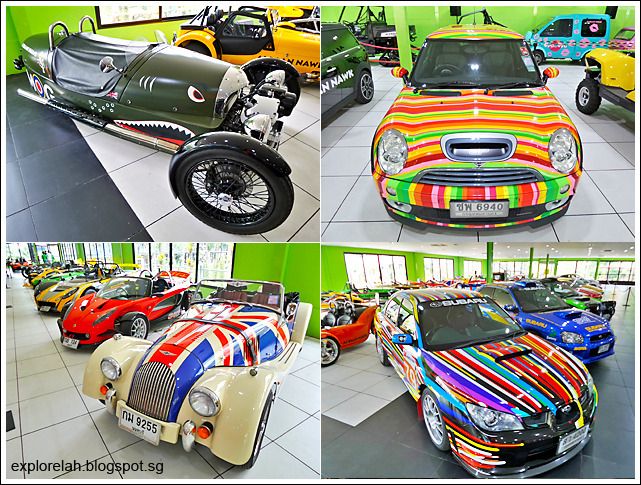 Oddly, there's a car showroom of vintage and unusual wheels at the garden. The air-conditioned exhibition area provides relief from the heat.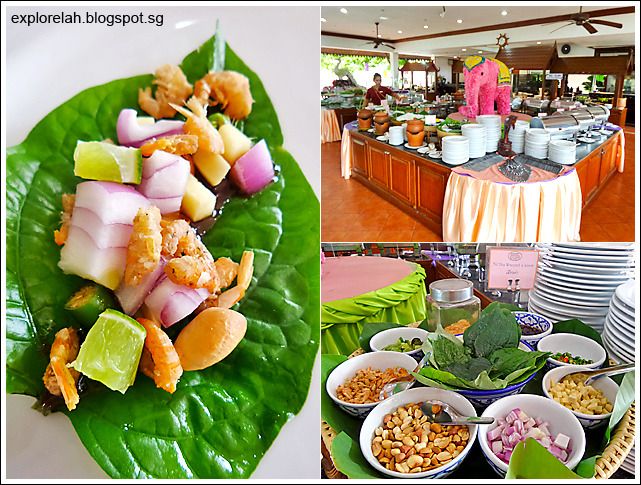 My full-day package included a buffet lunch and the spread is not too shabby at all. There's a small section of sushi, a western spread and lots of Thai favourites to fill up on. I encountered a do-it-yourself wrap with fragrant leaves and after one, I couldn't stop. Yums!
Wildlife Dioramas
Conventionally, the star attractions at gardens and parks are the greenery and blooms but at Nong Nooch Garden, the limelight is shared with a multitude of animal dioramas littered all over the site at a scale that is truly mind-boggling.
Personally, I think the dioramas overshadowed the plant species as I found myself drawn to the stone animals rather than noticing the plant species around them. While most of the wildlife sculptures are disarmingly adorable and easy on the camera, some of them seemed a tad tacky. But all in all, Nong Nooch Garden's bewildering collection of wildlife dioramas of indigenous animal species found all over the world is what makes this garden so unique and a formidable challenge to find and photograph every one of them!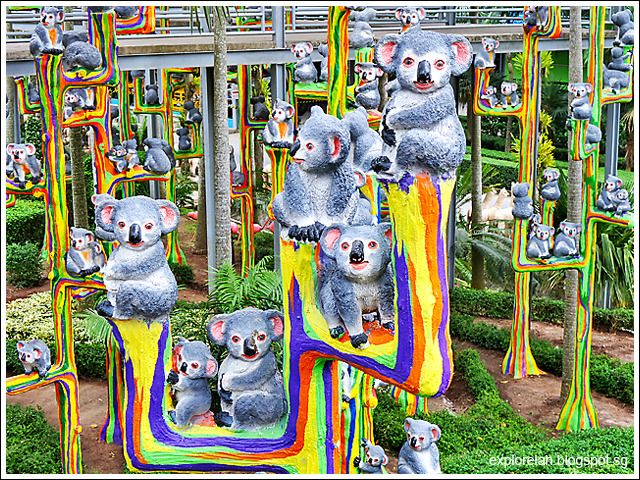 The animal dioramas are found in clusters all over the garden. It could be a gathering of koalas on psychedelic trunks at a clearing, a pack of cheetah under a bridge, or platoons of giant ants scaling walls, Nong Nooch Garden is awash with whims and an air of fun through the dousing of sculptures.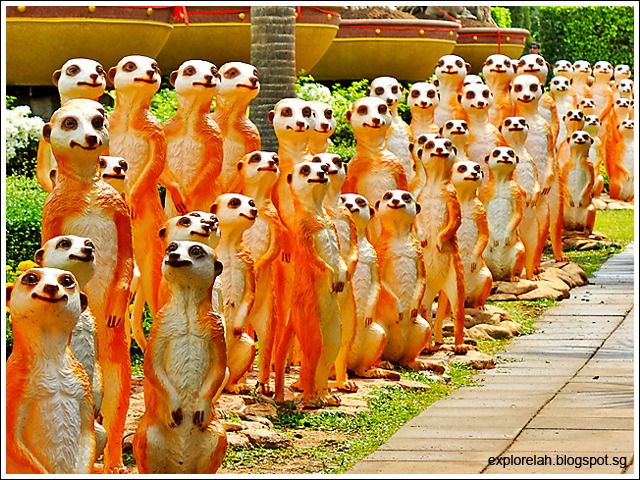 Nose-bleed kind of cute!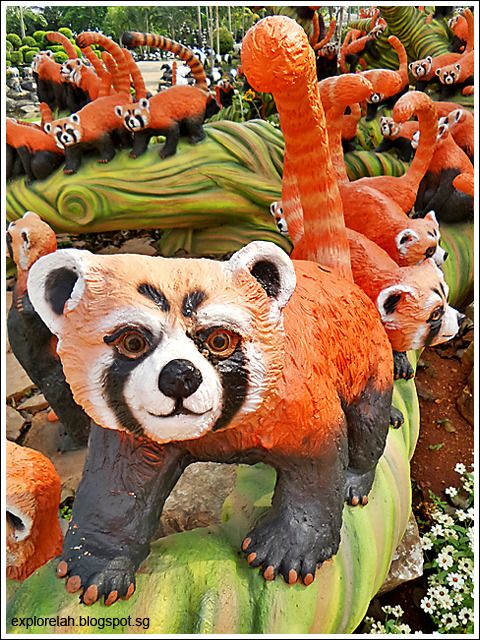 Finally get to photograph a red panda coz I can never get a clear photo of them at the zoo with their constant pacing and fidgeting.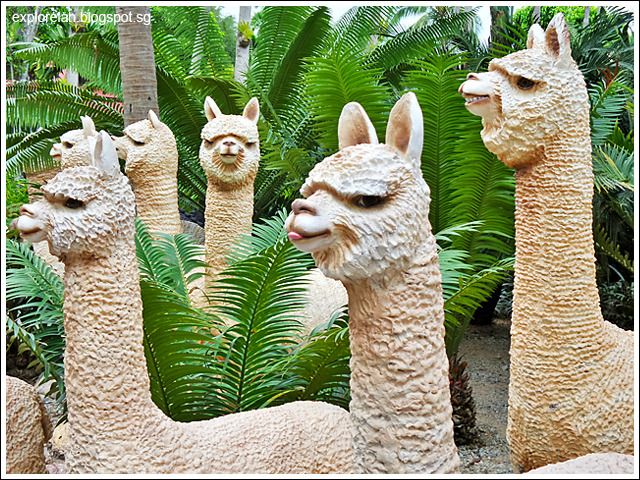 Never seen a llama in real life so these sculptures will do. the one sticking out its tongue is just so cheeky!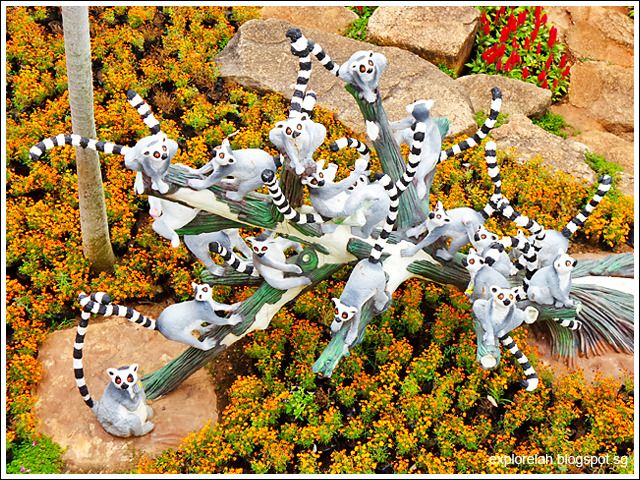 An explosion of lemurs.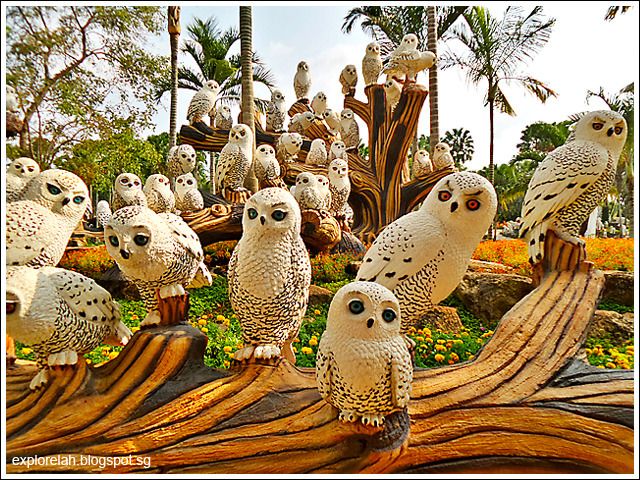 Harry Potter would be so happy here.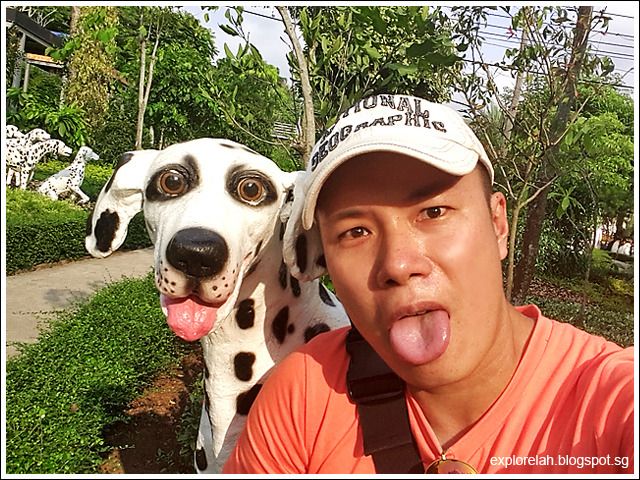 Tonguefie with a dalmatian.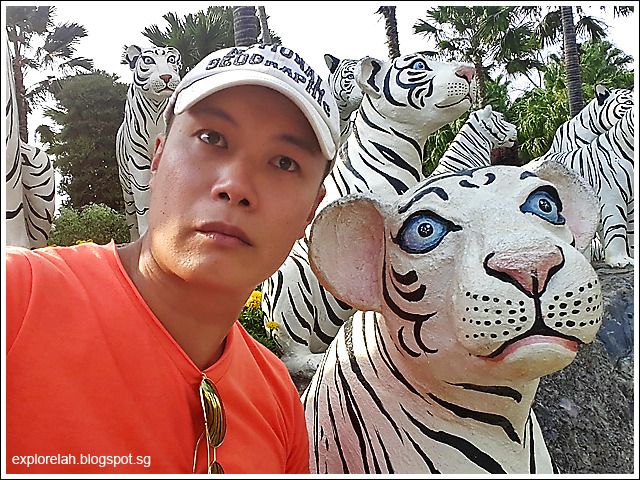 Perfecting "I'm innocent" blank stare.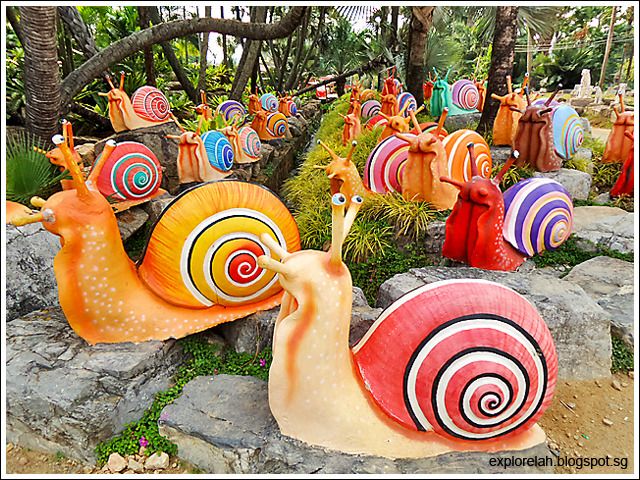 Show Slow me the way... happy snails at the entrance to the Cactus Garden.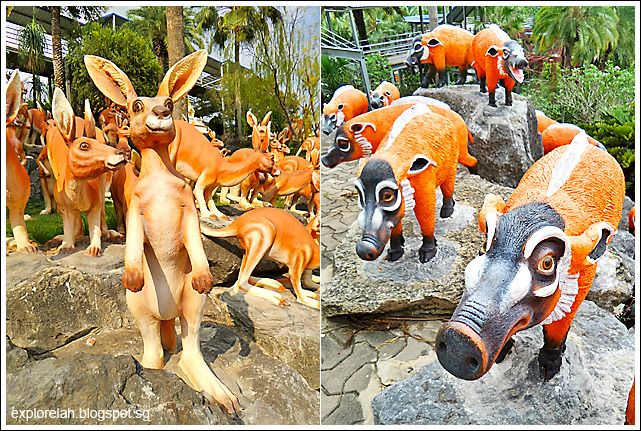 Hop and snort... some of the sculptural works are quirky and kooky.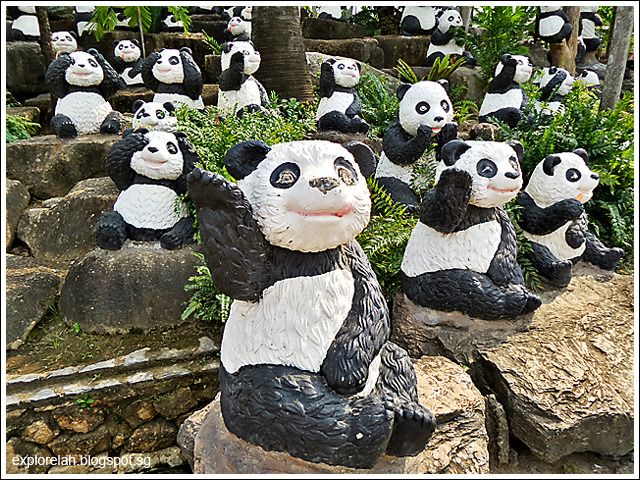 This panda looks like he's giving himself a 'happy ending'.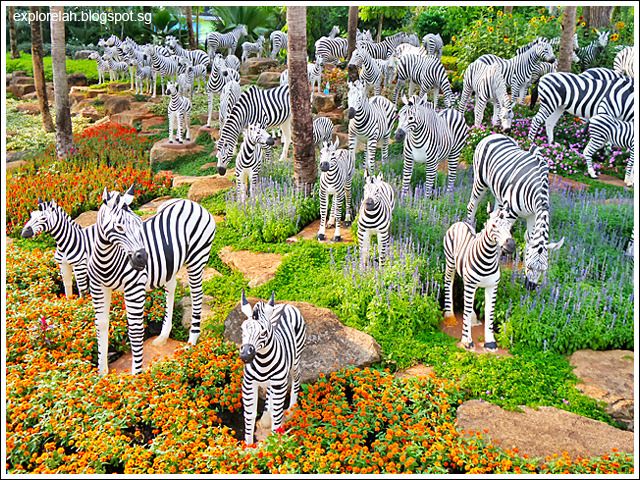 From afar, some of the settings with the stone animals
look pretty authentic to scenes in nature

.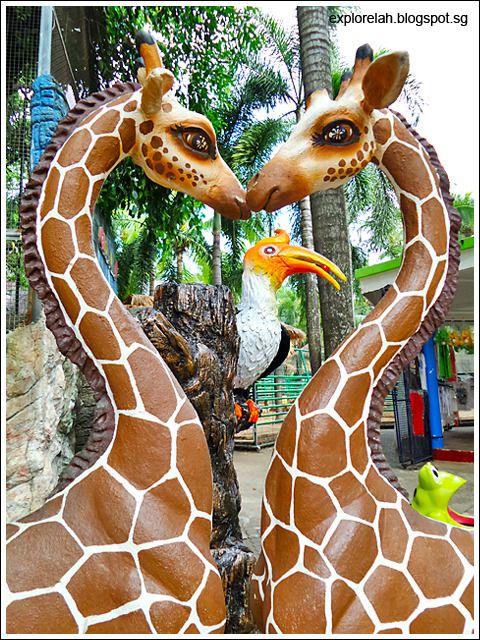 第三者 | Third Party.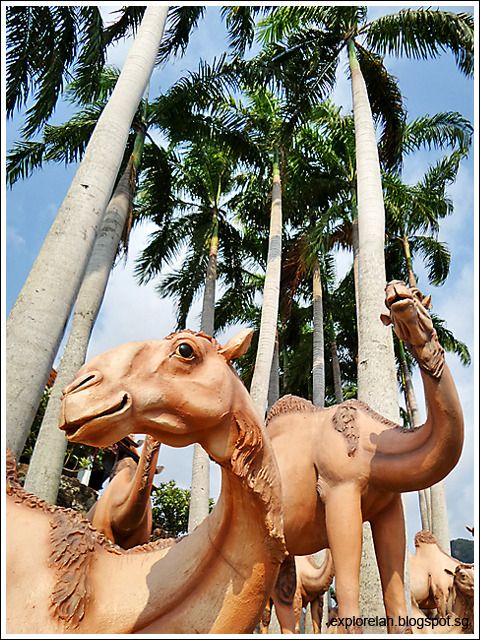 Feels like the Middle East in Pattaya.
Okay, I shan't bore you with more portraits of the wildlife dioramas. I have a lot more because hunting down the different animals for a photo quickly became an obsession of mine at Nong Nooch Garden. Because I'm on a full-day tour, I had the time to stroll and snap.
For those on a half-day tour, they only got about 60 minutes of free roaming time in total (10 minutes at the Pottery Garden, 20 minutes before the start of the cultural show and 30 minutes after that) before boarding the coach back to town. If you want to search and shoot the frozen herds, a full-day would allow you to explore at a more leisurely pace.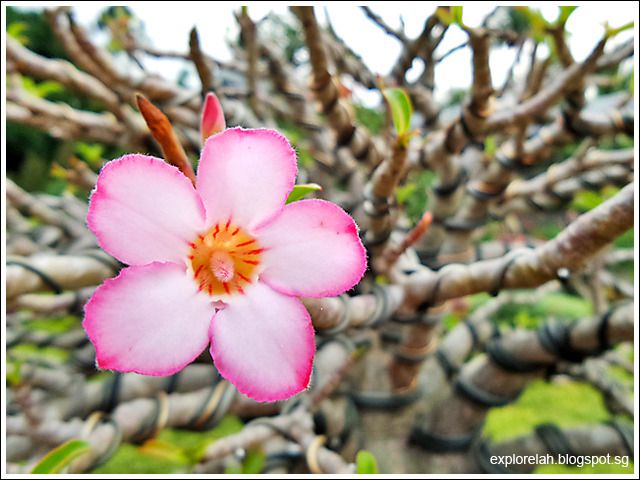 Oh, I got so distracted with the animals, I forgot what I came here for. It's for the garden. So here's a shot of the only flower photo I took at Nong Nooch Garden. It's a single desert rose in blossom on the whole shrub. It's a very small flower but it brightened up the entire plant.

Life's little joys makes up one big happiness :o)
Nong Nooch Tropical Botanical Garden and Cultural Village
Address :
34/1 Moo 7, Na Jomtien

,

Sattahip

,

Pattaya, Thailand
Phone :
+66 (0)38 429 321, +66 (0)38 425 748
Email :
info@nongnoochgardenpattaya.com (I emailed to ask for info but received no reply)
Website :
http://nongnoochgardenpattaya.com
Opening Hours : 9:00am - 6:00pm daily
Entrance Fee : 500bht (Adult Foreigner)