Length of Stay :
10 - 12 Mar 2015
Spent 2 nights at Hotel Beverly Plaza while visiting the pulsating seaside city of Pattaya and it was hell with blood suckers lurking between the sheets. I'm not one who is fussy with accommodation as long as the room is clean and the hotel is at a convenient location with affordable rates. I can put up with musky carpeting, mouldy bathrooms, chipped furnishings, basic amenities and a variety of housekeeping negligence and still call it a good stay.
What a hotel lacks in certain features, it usually makes up for in pricing. So I was over-the-hill when I found Hotel Beverly Plaza for my trip to Pattaya. The hotel is located under 5 minutes on foot to the city's famous Walking Street, Pattaya Beach and has the unique position of being plugged into all kinds of action (eating, shopping, massages, nightlife, etc) yet serving as a sanctuary from all that hustle and bustle. The rooms look huge from the photos and it even comes with a pool. All these plus points for just S$33.50 a night, which is a good price point since I'm travelling solo!
However, reviews of the hotel are mixed. While its location gets the thumbs up, most guests find Hotel Beverly Plaza rather old, staff unfriendly, and a few even warned about bedbugs. As I don't mind old hotels and don't need staff to be Mr or Miss Congeniality, although it would be nice, I decided to take a chance with the bedbugs and booked. Maybe the problem of bedbugs has been exaggerated.
It is no exaggeration at all.
The frills-free facade of Hotel Beverly Plaza, Pattaya. The hotel sits in a recessed plot from the main road lined with shops, massage parlours and restaurants so it is near a hive of tourist-convenient trades without the sting of a noisy, boisterous environment that makes it hard to sleep. Some hotels nearer the beachfront or nearby Walking Street suffer from noise pollution from nearby clubs.

Hotel Beverly Plaza seem to be favoured by Indian visitors as there were may of them during my stay and at night, they turned the lobby area into a makeshift 'pub' with their cans of beer and the men sprawled on the sofas and lounge chairs.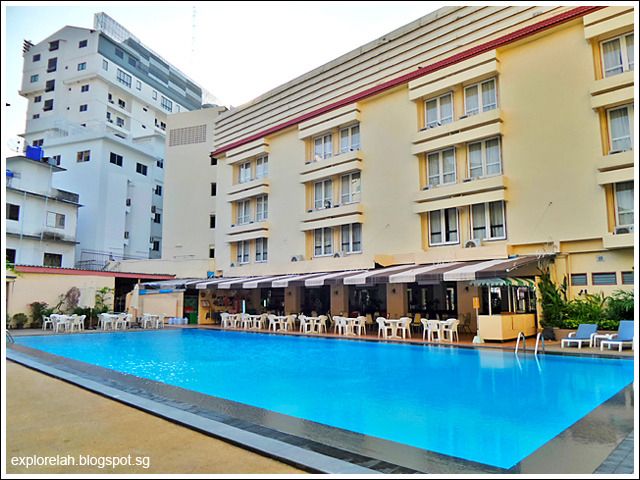 The pool of Hotel Beverly Plaza actually looks pretty enticing for some serious laps.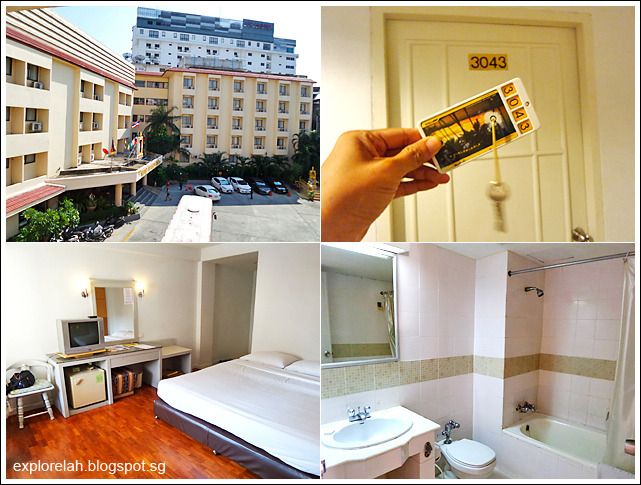 I was given the room 3043 that looks onto the entrance carpark. During my online booking, I requested for a king/queen sized bed since I'm a single traveller but the twin room I was issued has 2 single beds. I attempted to change room at the reception but I was told the bigger beds were all taken. They offered to change my room to one with a queen-sized bed the next day but I declined as I don't want to pack and shift my luggage again.

While I was still at the reception, the chambermaid proceeded to join the 2 beds to form a single bed. I would've preferred to keep them separate since the ridge at the joint would be uncomfortable to sleep on. But it's done so I ended up with a bed like this...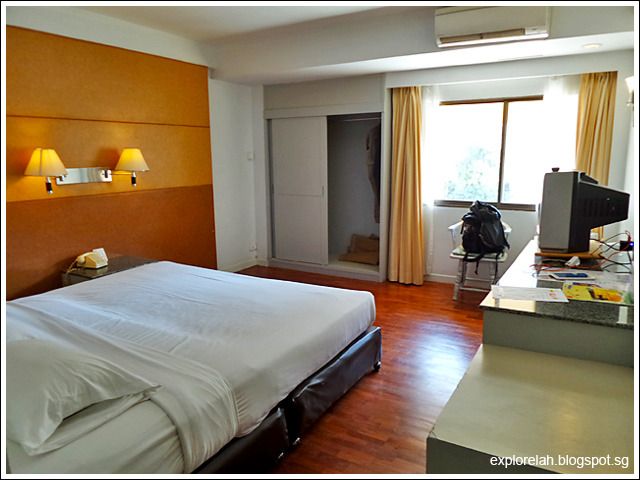 The room is comfortably sized and rather retro looking. Pretty good, I thought to myself. But when the lights go out, the horror began...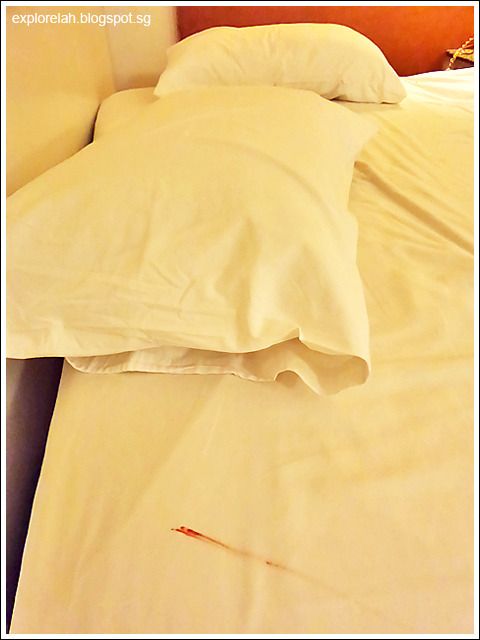 I woke up feeling intense itch on my chest, back and legs. I thought there were mosquitoes in my room but being too tired to get up and go on a hunt, I covered myself with the blanket, all the way up over my head, to try and keep the mozzies out and try to get back to sleep. The itching was rather unbearable but as I was scratching on sore spots, new ones made themselves felt.

This can't be right, I've covered myself up so the mozzies shouldn't be able to cause more itchy bites. Could the mozzies have been trapped inside the blanket? Tired and drowsy, I flipped the blanket aside, turned on all the lights and looked to the room for signs of mosquitoes.

I didn't see any flying around but a brown dot scurrying across the white sheet caught my attention. Eeks! It's a bedbug! Instinctive reflexes immediately took over me and I squashed the blood sucker but it refused to die so I dragged it across the bed with my finger. That's my blood streaking across the sheet.
The dead bedbug that had a feast of my blood. After killing this one, I looked around the bed some more and not finding another, I turned off the lights and tried to sleep again. But it was hard to sleep knowing there could be more of them bugs and the itch has a slight burning sensation that's more severe than mozzie bites.

Then, just as I was letting my guard down, I felt more itch spots surfacing. I began another round of hunt.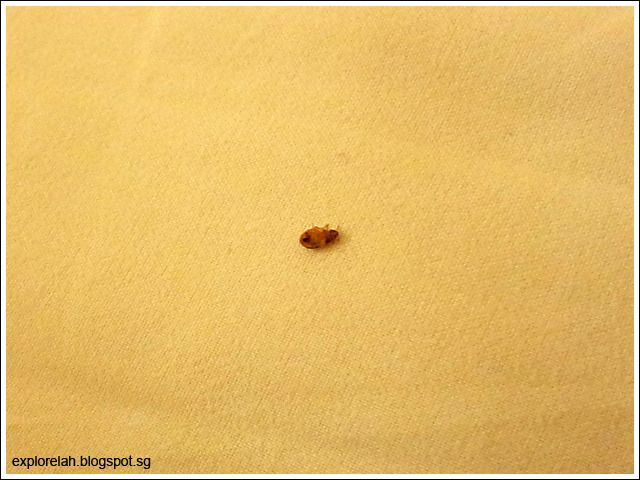 Another 'vampire' found and put to the stake of my fingernails. All in all, I killed 4 adults and 2 tiny juvenile bedbugs over about 20 minutes.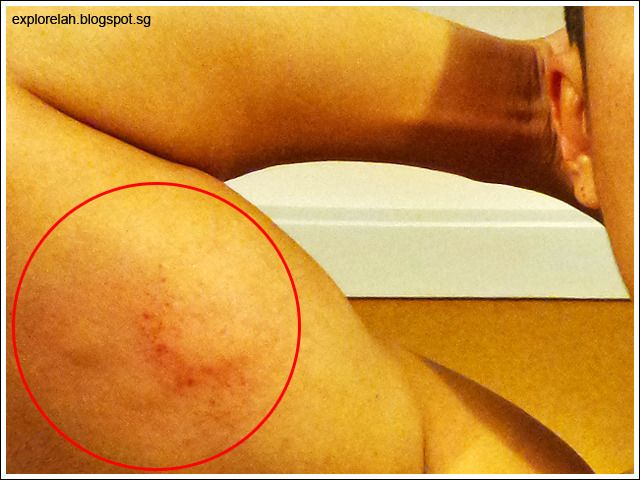 Bedbug bites under my right bicep... these were the most itchy and swelled up with my skin starting to break.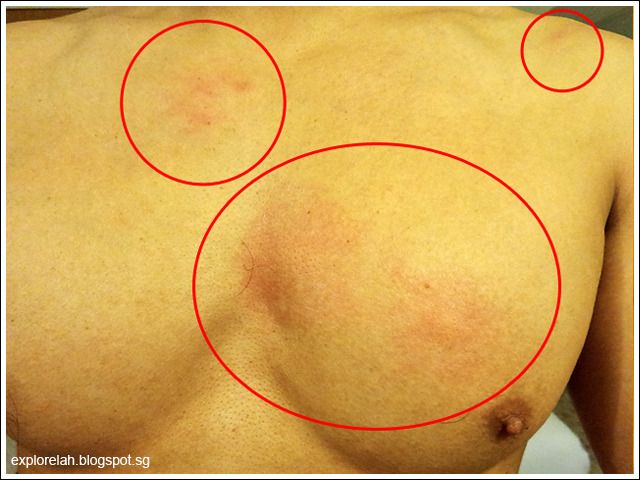 More 'hickies' from the bedbugs on my chest and shoulder. More bites on my back, thighs and calves.

Frustrated by the terrible itching and possibility of more bedbugs waiting for me to be buffet, I called reception at 3am and requested for a room change. I had my doubts if another room would be bug-free but it's better than staying in this one. When the staff came to my room to ascertain the situation, he involuntarily let out an astonished gasp when he saw the bite marks all over. I was promptly given another room 4 doors away on the same floor.

Thankfully, the new room was bedbug-free but sleep was fitful as I kept vigilant of any sensation on my skin. I drifted off to sleep out of exhaustion and didn't hear my alarm the next morning and my sightseeing schedule got disrupted. It's a good thing I was exploring Pattaya on a free-and-easy basis at my own pace.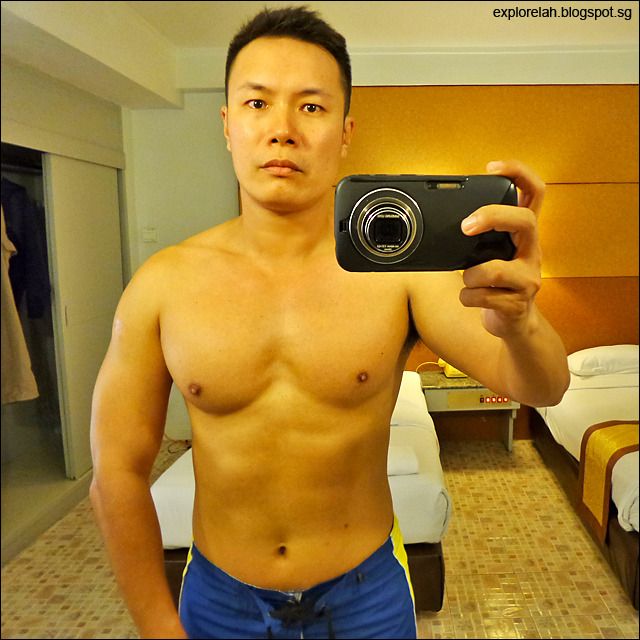 The bites swelled up so bad, I thought they would leave marks but luckily, they subsided without a trace by the time I returned to my new room (3035) after a day out. The reception offered to change my room to one that has a queen-sized bed but I decided not to since I didn't get bitten in this one. Who knows if the queen-sized bed is another den for those blood-thirsty pests.
Without the bedbugs, Hotel Beverly Plaza is actually a pretty good accommodation deal considering its prime location and reasonably spacious rooms at a very competitive price. Most hotels at the S$30+ price range are either further from the beach and center of activities or fully booked. And I thought the staff were rather friendly and helpful. Or perhaps it's because they felt bad for my ordeal.
But without knowing which room is free of bedbugs makes staying here a game of Russian roulette. The chance of having a sleepless night because you ended up in a room with the bugs is just not worth risking no matter how cheap the rooms are.
The worst case scenario is the bedbugs finding their way into your luggage and continue terrorising you at home! From this experience, I've learnt to trust the advice of other travellers from online reviews and rather stay away from Hotel Beverly Plaza then risk suffering the bugs. Hopefully the hotel would find a resolve and not be bugged by this infestation someday.